Sea to Summit Thermolite Reactor Extreme Liner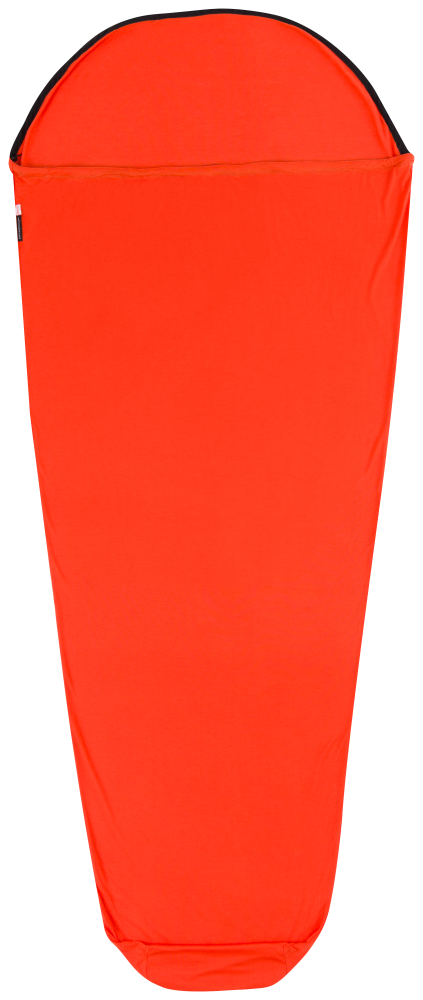 Not a vital piece of gear, or one I tend to use much (being honest). But it's versatile: can be used alone, in the intended form (to sleep in), or even wrapped around an inflatable sleeping pad, to add a few °F of warmth and also some comfort and convenience (to keep sleeping bags and pads cleaner).
Pros
Versatile
Compact and lightweight for the benefit provided
Helps keep sleeping bag clean
Soft and comfortable to the touch
Much easier to wash than a sleeping bag
Cons
Not as compact or lightweight enough for UL backpacking or camping
Sleeping comfort is very subjective and personal. But if the concept of "layers" applied to sleeping system insulation makes sense to you, a sleeping bag liner can be a very effective and versatile way to add a few R's (or °F) to a sleeping bag.
The110g/m2 Thermolite fabric is quite stretchy but very comfortable to the touch. It's a mummy-shaped liner with drawstring closure at the top, and comes in a nice Ultra-Sil stuff sack. Weight is around 390g and expected temperature gain is 25°F, or 15°C on average.
It can be hard to get actual performance, so we're left with our overall feeling. I've found the advertised gains to optimistic. But it does improve comfort and warmth to a decent degree in my opinion. 
I oftentimes use it by inserting my sleeping pad into the Reactor liner (instead of myself).
This is basically what Sea to Summit does to its Ether Light XT Extreme. Only they add a double-density layer of Thermolite to the inside top and bottom of the inflatable pad, instead.
I'm not sure the result is exactly the same R6.2 of the Ether XT Extreme, but I'd hazard a guess it's at least a 3.0 or 4.0 (final, based on my feeling), because according to my feeling the result comes very close to the Nemo Tensor Insulated, which is rated at R4.2.
The Ether XT Extreme is a true 4-season pad, and to be honest my Ether Air with the Reactor Extreme is an improvement but won't reach that level of insulation.
Besides, the final weight my Ether Light XT Air (509g/17.4oz) added of the Reactor Extreme's weight (380g/13.4oz) is still bellow the weight of the large-wide Ether Extreme pad (1050g/37oz). It's a heavy pad.
As shown in the image bellow, I just insert my S2S pad into the Reactor. This turns my relatively cold Ether Light XT Air (a measly 0.8R) into more of a 3-season sleeping pad (4-season for us here, as it doesn't snow in the winter).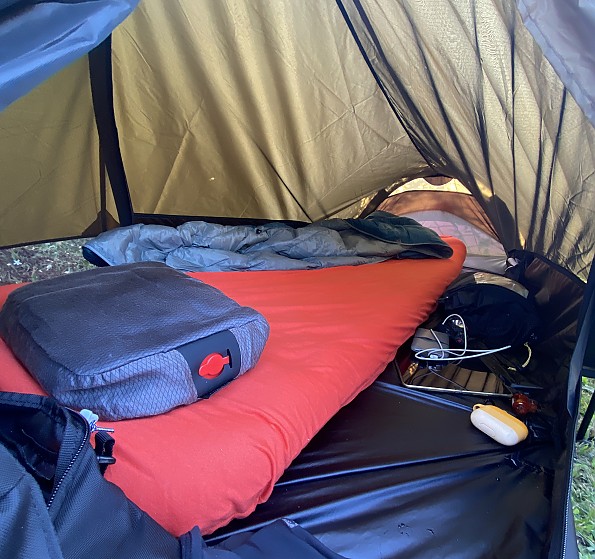 This also makes it very comfortable to sleep on, as the Thermolite fabric is great to the touch. Since I tend to use my sleeping bag as a blanket, with only the feet into the closed portion of the sleeping bag, this adds just the warmth I need when sleeping on my hammock or bivy tent. 
Liners provide great versatility, and can be used alone too. 
When used alone, it also provides an intermediary insulation for situations when it's not cold enough to use a sleeping bag, but some protection and warmth is welcomed. Like during the summer, or shoulder season. 
Oftentimes I've left my sleeping bag at home, and used the Reactor only. I also take it when I'm staying in hostels or hotels where the bed and sheets looks and smells a bit suspicious. You know the kind. Having my own bedsheet adds comfort in these moments.
When it's cold and I want to walk around camp after leaving bed, I can wrap it around my back and remain warm without having to wear a jacket. Bottom line, it's a pretty versatile piece of gear, but it's totally dispensable. A comfort item, basically. 
Liners protect the pad and sleeping bag from being too dirty.
This is a big plus, because they're easier to wash than those. I'm still not too happy when I get mine dirty, but find solace when I look at my clean down bag at the end of a trip. Just throw it in the washing machine and let it dry, it's ready for another round.
Experience
I've used nylon and silk liners before, but honestly only occasionally. It's not a piece of gear I tend to care much for, though it gets used alone during summer or shoulder season, or when I'm traveling abroad and don't know about the sleeping conditions of the places I'll stay in. All in all, it's a versatile item, but comes at a cost and also weight (and bulk), so UL backpackers should take all that into consideration.
Source: bought it new
Price Paid: US$ 72 + shipping and import taxes

See through fabric. Can't expect it to hold in warmth. Is expensive and heavy. Will keep a sleeping bag interior clean, but that's about it.
Pros
Will keep skin oils and dirt off the inside of your sleeping bag
Stretchy material
Doesn't get 'twisty' in the middle of the night
Cons
See through fabric, can't expect it to hold in warmth
Expensive
Adds maybe 1 degree F of warmth
Heavy
I really wanted to love this liner, but I just don't. The possibility of adding up to 25°F to my sleeping system was very appealing! Especially as I was gearing up for test #1 in -25°F outside temperatures. At ~14 oz, this is a bit heavy, but I was willing to bring it along if it added warmth.
Easy enough to get completely inside with my medium build 5'1" frame; has mildly stretchy red material so pick your butt up when getting inside. I am pleased it never got twisted up around myself in the middle of the night (I don't move much), but am not pleased that it is not warm.
Test 1: Was excited about getting this liner so I did a simple test inside my house. Sitting in a 78°F room, I climbed all the way in the Reactor liner and sealed it with the cord over my head. The material is basically see-through so I had no worries about breathing inside it.
I was wearing this outfit: polyester gym pants, a long sleeve Icebreaker 260 wool turtleneck, and wool socks. I had an infared thermometer inside the liner bag with me. After 10 minutes, I took a temperature reading. My body heat had warmed the air inside the liner about 1 degree F.
This same test of sealing myself inside only a -30°F sleeping bag, 78°F room: temperature increased so much that I had to get out of the bag after 7 minutes without a temperature reading (so I didn't faint)...
Test 2: I originally bought the Reactor Extreme liner because I was going cabin camping (moderately insulated cabin heated with a wood stove) when it was -25°F outside. I had a -30 rated sleeping bag, and I was hoping this would add a smidge of warmth. No such luck.
I was wearing fleece pants over Patagonia Capilene 4 pants; top was a fleece top over spandex-y shirt with a thin fleece layer on the inside. Hot water Nalgene bottle at feet, hot hands feet pads on both feet, two pairs of wool socks on. Cabin never warmed up enough to melt the snow I tracked in next to my bunk.
I was still very cold inside the liner and sleeping bag. Enough to sleep but my body woke me every hour to warm up my gloved hands. At least the liner kept my sleeping bag clean.
Test 3: I was thinking maybe my other tests weren't completely fair. Test 1 was only wearing the liner and no other "shell." Test 2 happened during extra extremely cold temperatures. For Test 3, I went on a two-night RV trip in sunny 50-55°F weather (45° minimum both nights). The RV had an electric heater running and I estimate inside temperatures were around 70°F when I fell asleep and 60-65F in the middle of the night.
I slept on a mattress with this liner *inside* of the Sea to Summit Fleece 'Toaster' liner. I wore the outfit described in Test 1: polyester gym pants, a long sleeve Icebreaker 260 wool turtleneck, and wool socks. Was still very cold all night. 
I wore the described outfit to sleep in a 69°F room (sans socks) with only two blanket layers on top of me (two fluffed cotton blankets which keep me was warm as two fleece blanket layers) and I am very comfortable. Anyways, if this Reactor Extreme liner actually could add even 2 degrees of "warmth," I should at least be in the lower end of 'comfortable' when the RV temperatures were 67-68°F (before temps dropped off at night), instead of cold. I was eating ridiculous amounts of carbohydrates on this trip so my core body temperature was already getting a boost.

Test 4: Repeat of Test 3 but inside a 60 degree house. Felt very cold all night.
Conclusion: This liner may actually add warmth for some people, but it's not for everyone. For me, the Reactor liner is overpriced and ineffective for....anything...except keeping a sleeping bag interior clean. Don't expect any real added warmth besides maybe a placebo effect.
Source: bought it new
Price Paid: $68

Provides a 7-9° F increase inside the bag. For the size and weight, I would recommend it as a comfort item, if you can fit it into your budget.
Pros
Misunderstood and misused piece of gear
Packs small
Adds versatility to a bag you already have
Cons
Misunderstood and misused piece of gear
Expensive
I was very skeptical about the +25 degrees claim of the Thermolite Reactor Extreme so, I set up this little experiment to see just how well the liner worked. Because sleeping comfort is such a personal thing, I will try and provide as much information here as possible so that you can make your own informed decision.
I used a sleeping bag rated at the current outside temperature, a low R-value sleeping mat to insure I wasn't gaining a lot of warmth from the mat, and a hammock to insure I wasn't gaining heat from an enclosed space. I also wore a medium weight base layer to provide a good surface to measure temperature that was not skin. The hammock was open and the sleeping bag top was fully exposed.
Weather Report:
Temp: 30° F Precipitation: 60% Wind: 0-5 mph Conditions: Cloudy with light sleet
Equipment:
Test conditions: All temperatures taken from three locations (center of chest, center of body and center of left thigh) using an infrared thermometer and then averaged. When I added the liner, I got out of the sleeping bag and allowed 10 minutes for it and the pad to cool.
Ground Temperature at start of test 28° F
Temperatures at 5 minutes w/o liner
Outside of sleeping bag w/o liner 42° F

Inside of sleeping bag w/o liner 66° F

Base layer w/o liner 75° F
Temperature at 15 minutes w/o liner
Outside of sleeping bag w/o liner 45° F

Inside of sleeping bag w/o liner 69° F

Base layer w/o liner 77° F
*Added Thermolite Reactor
Temperature at 5 minutes w/ liner
Outside of sleeping bag w/ liner 43° F

Inside of sleeping bag w/ liner 64° F

Sleeping bag liner 68° F

Base layer w/ liner 82° F
Temperature at 15 minutes w/ liner
Outside of sleeping bag w/ liner 44° F

Inside of sleeping bag w/ liner 74° F

Sleeping bag liner 80° F

Base layer w/ liner 86° F
As you can see from the numbers, the sleeping bag and pad was working at their designed levels and keeping me comfortable with a base layer temperature of 75-77° F with an outside temp of 28-30° F. When I added the liner, I went from being comfortable to being very warm as my base layer temperature went up to 82-86° F with the outside temp still at 28-30° F.
Now, about the +25° F claim. I have no way of knowing what a 7-9° F increase inside the bag equates to in temperature range outside the bag but, I can say this. For the size and weight, I would recommend it as a comfort item, if you can fit it into your budget.
While this test/review isn't comprehensive, I did apply somewhat of a scientific approach and tried to give you something better that "this is great" or "this sucks".
Stay Warm,
JR
Source: bought it new
Price Paid: $64.95

This liner did exactly what it is supposed to—it made my summer bag 20 degrees warmer. Worth the purchase. Kept me warm and cozy on cold nights.
Pros
Warm
Soft
Lightweight
Packs down small
Adds layer of warmth
Protects sleeping bag
Cons
Timely to get in and out of
Expensive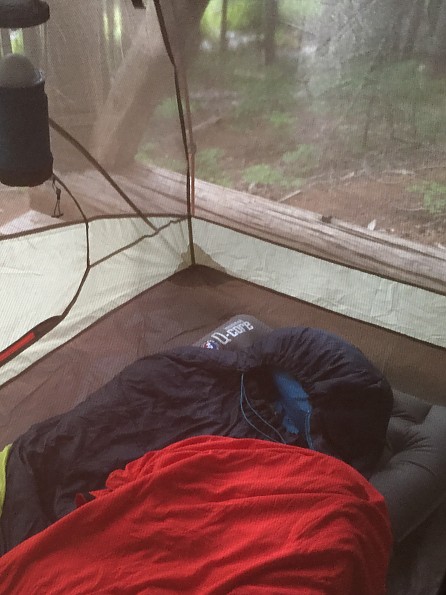 Thermolite used with cheap 45°F bag seen here. 

I bought this product to use with my cheap summer sleeping bag so I didn't have to spend a lot of money on a warmer bag. This product worked exactly as it should. It added considerable amount of warmth.
There are three different ones and each one adds more warmth. I bought the Thermolite Extreme. It was very soft, very warm, easy to use, and lightweight. For under $100 this was worth the purchase at the time. The best thing about a sleeping bag liner of any kind is that it keeps your bag clean inside because you never actually touch the inside with your body. A liner is easier to wash than a bag, so it is a great investment. 
I used this liner for the first time at Sunrise Camp in Mt. Rainier in September. It got very cold during the night well under freezing. There was frost on my tent in the morning, but I was warm inside with my 45 degree summer bag and this liner. 
The only thing I did not like about the liner is that it is hard to move around inside a liner inside your sleeping bag. You're pretty much in for the night. So when I woke up at 0300 to go to the bathroom it was kind of a pain getting out of everything, but still worth it and not a reason to not buy one.
I will be buying a silk liner for my new winter bag just to preserve the bag. If you spend upwards of $500 on a down filled bag it's worth the extra $50-$70 to use a liner with it to preserve the bag, because washing down is kind of a task in itself.
Source: bought it new
Price Paid: $67

Don't count on this liner for an additional 25 degrees of warmth, or even 15 degrees.
Pros
Lightweight and small
Super-soft fabric
Cons
Does not deliver the warmth it claims
Was getting wrapped up and tangled in it
Very disappointed in this liner. I had my 30-degree bag and knew I'd be on the borderline temp wise. I'm a cold sleeper, and was excited to try this out. There is no way this 'increases warmth by up to 25 degrees."
Thankfully at the last minute tossed my fleece bag liner in the car. At 3 a.m. I finally gave up on the Reactor and switched to the fleece — and slept toasty warm for the rest of the night. I was surprised since I've read good reviews about other Thermolite Reactor liners.
I'd suggest testing it out—and having a backup liner—before you take this out into more extreme conditions. You could end up having a very cold night or possibly suffering from hypothermia.
Source: bought it new
Price Paid: Somewhere around $70

Your Review
Where to Buy
Help support this site by making your next gear purchase through one of the links above. Click a link, buy what you need, and the seller will contribute a portion of the purchase price to support Trailspace's independent gear reviews.
You May Like
Specs
Price
Current Retail: $74.95-$79.95
Historic Range: $39.72-$79.95
Reviewers Paid: $64.95-$72.00

Weight
14 oz / 399 g

Dimensions
84 in x 36 in / 210 cm x 90 cm

Stuff Sack Size
6.5 x 4.5 in / 17 x 11.5 cm

Added Warmth
Up to 25°F

Recently on Trailspace