Sierra Designs Cloud Airshell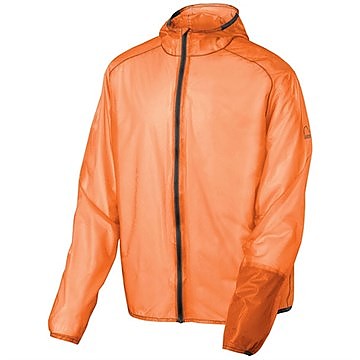 The ultra-light, compact, rain-proof outer layer of the three-piece Cloud Layering System: This simple, 3-season, hooded shell provides full waterproof protection and comfort for any activities where the rain shows up.

The Cloud Airshell's breathable fabric keeps you dry while hiking or resting, but not in aerobic activities. Its regular fit (some room in the torso and arms, enhanced by the fabric stretch) gives room to be worn over most any insulating layer. The Cloud Airshell packs into a corner of any pocket or bag, so it can be used anywhere, anytime.
Pros
Packs down to a 2 1/2" sphere
Weighs only 4 ounces! 4.3 ounces with the included stuff sack
Stretchable yet water-proof fabric is quiet, unlike a hard shell
Plenty of hem, hood, and sleeve coverage to keep the rain out
Quality YKK zipper keeps venting within quick, reliable reach
Easily layers over other clothing or layers
An impressive DWR treatment considering the light-weight nature of the jacket
Rear hem doesn't ride up because of only partial elastic binding, and improves breathability and ventilation during warmer rains
Cons
Lightweight means a lack of pockets or a hem draw-cord
First jacket had a pinhole at the shoulder seam
Transparent material and somewhat boxy cut creates a weird look style-wise
Partial elastic binding on cuffs, hood, and hem absorb water and may wet other layers due to capillary action
Sierra Designs Cloud Airshell Jacket:
THE WATERPROOF PART OF SIERRA DESIGN'S 3 PIECE CLOUD LAYERING SYSTEM: Designed with 3 purpose-built layers for ultra-light back-packing and hiking in varying conditions: a highly breathable Cloud Wind (proof) Shell worn over your base layer creates a micro-climate, keeping you warm, dry, and protected while on the move. When you stop to rest or the temps drop below freezing while you're on trail, layer the Dri-Down filled Cloud Puffy to keep you comfortable and continue on, without worrying about sweating on it. When and only when it rains, layer on the Cloud Airshell hooded jacket and Cloud Airshell Pants to insure that the cold and wet doesn't get the best of you.  The entire 4 piece (including the 3.5 ounce pants) layering system disappears into your pack and weighs only 25.5 ounces.
Scope of Testing:
I used the Cloud Airshell mostly in moderate to cold rainy weather while hiking, running, camping at rest, backpacking, and general use in elevations from sea level to 6,000ft, and in temperatures of 77 down to 35 degrees, in the mountains of Angeles and Cleveland National Forests and San Jacinto State Park in Southern California, as well as on a cool day hike in the Green Lake area near Seattle, WA.
User Info and Experience:
Male; 6' 2", 195 lbs trail runner, mountain biker, and backpacker, as often as possible.
Jacket Features and Specifications:
Size Large. Sierra Designs proprietary Illusion 2 layer, low denier, nylon tricot fabric with DWR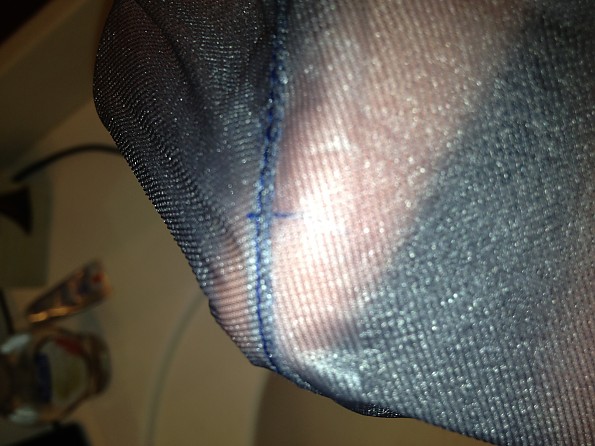 Weighs 4.0 oz on my scale, matching the manufacturer's claim of 4.0 oz).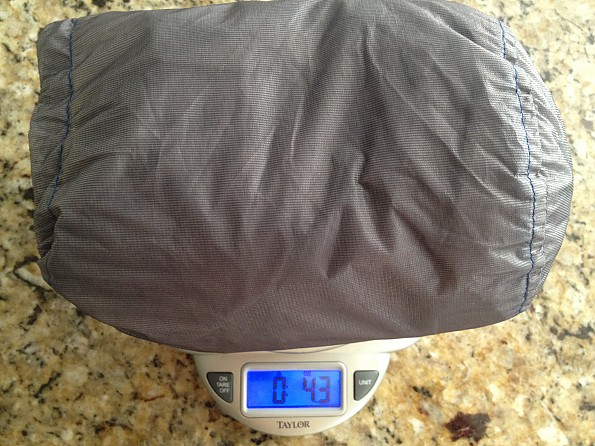 The Cloud Airshell jacket compresses to a 2 1/2" sphere, smaller even than its stuff sack-packed dimensions. It's amazing how small it really is. In fact, there's ample room in the smallish stuff sack for an additional lightweight baselayer.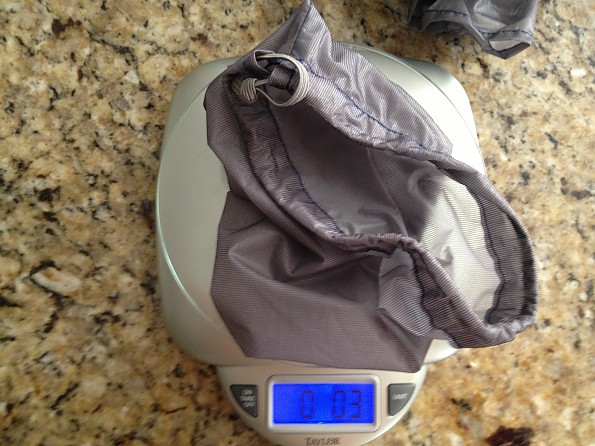 The Airshell has no pocket, a trade-off for the superlight designation. Another weight tradeoff is the lack of a draw-cord hem. A full front zipper is from YKK, featuring a full length draft flap as well as a zipper garage at the collar to protect your neck 
The dropped rear hem extends 30.5", and the sleeve length is 37.0".
The hood stretches around nearly any kind of hat, puffy hood, or helmet.  Even at 4 oz, the jacket is fully seam sealed with pvc free tape except for the sleeve cuffs. More on that later. The Illusion material is a super thin, strangely transparent nylon.
Starting with what you see first: the regular fit design is simple, much like the Cloud Windshell, as even the SD logo is small, on the sleeve, and in a blue screening color that matches the fabric in subtlety. While a somewhat baggy, see-through jacket is not my style, it doesn't look bad over the puffy, where the sleeve logos on both pieces line up pretty well for a 3D logo effect. Still, the Windshell is more function than form. Be advised - people will see whatever you do or don't wear underneath the Airshell.
Fit, Comfort, and Adjustability:
The fit is regular, and compared to the other parts of the Cloud Layering System, is perfectly sized (for me anyways) to layer over my other outdoor apparel without a billowing drape. Stretchy fabric combined with the partially elastic cuffs make it easy to pull the hood over your head (regardless of what's on your head) and your hands. Long sleeves mean you can almost completely cover your hands (and thumbhole equipped cuffs of the other Cloud layers – good system integration) from the rain as well.  
Case-in-point: I could fit the Sierra Designs Cirro puffy jacket or the Cloud Puffy, a thin base layer, and the Windshell beneath it with no compression of the Puffy's loft. The Airshell can theoretically be worn over a thin baselayer for rain protection in warmer climates or seasons. The open bottom hem would allow some additional cooling in those conditions. A future warm-weather tropical climate rain test is in order.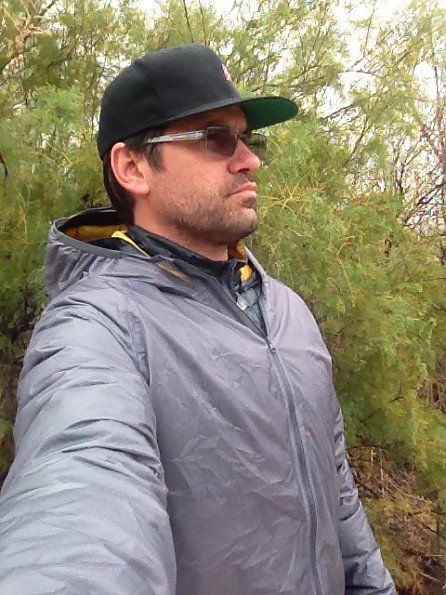 The Cloud Airshell's fit makes it easy in which to move around, and it is unobtrusive because it's so light. However, the fabric is not going to hold up to snagging branches. Wear with caution if you're bush-whacking. The partially elasticized cuffs, hood, and hem do work well to keep things in place, but contain one flaw in my opinion: they are not seam sealed or taped, and the exposed elastic and thread absorbs water, even into the inside edges of the jacket. Any skin or sub-layers of clothing that come in contact with elastic will get wet (and cold).
When you're done using the Airshell and it's time to stow it, an included waterproof stuff sack allows you to put the jacket away without leaking on everything else. The Airshell does dry quickly, especially if the rain is gone again and you give the jacket a good whip-shake to shed water. Take advantage of that quality DWR!
Wind and Water Resistance:
On my first test of the Airshell combined with the Windshell, during an Anza Pechanga Trail hike:  "light rain prompted layering Shell over Windshell. Cloudburst – heavy rain for 30 minutes? Dry except for top back of right shoulder and cuffs. Leaked through Windshell also (expected). Merino blend T shirt base layer got a wet spot, 57 degrees. Plenty warm on the go. Unbelievably light."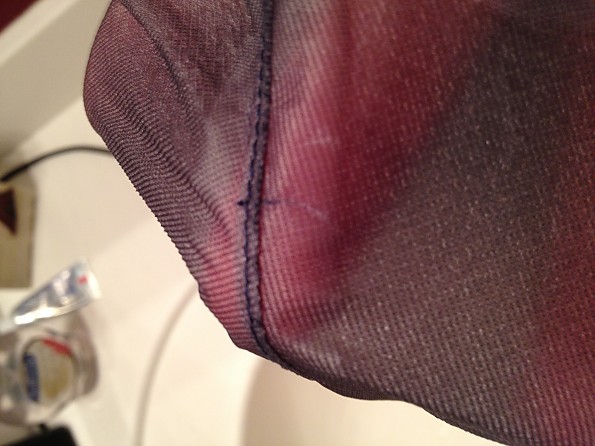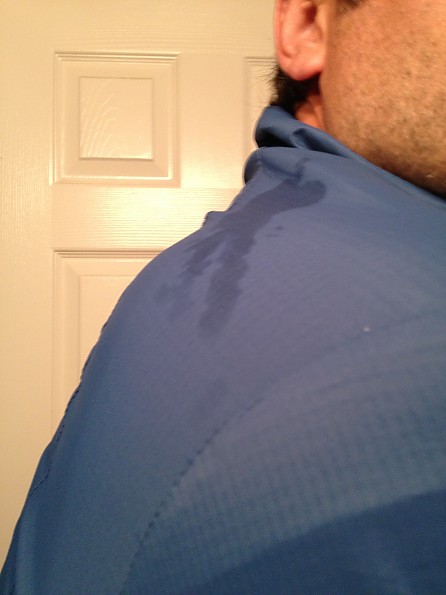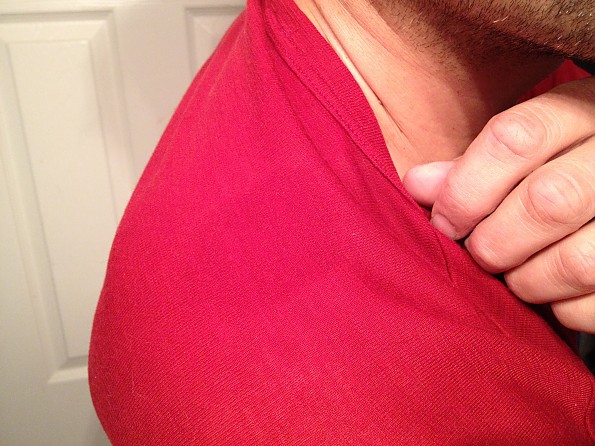 NOTE: I alerted Seth (Review Corps Coordinator) about the pinhole in the shoulder seam, and promptly received a replacement from Sierra Designs. The replacement had no protection issues whatsoever.

Notes on other outings:
"Dripping Springs Wild Horse Canyon Trip day 2: 60+ minutes of rain while on-trail, with several 3-5 minute downpours and wind gusts to maybe 25 mph. 54-56 degrees. Mid-30's night before. DWR worked well. Fabric soaked but did not wet out. No water on Power-Dry (Polartec) baselayer (l/s). No wire brim like my Gore-tex Pro Shell. Wish I had brought a cap, as hood doesn't keep driving rain off my nose. Hiking speed ave 2.6 mph. Stayed warm but cold spots at wrists where cuffs soaked through. Not clammy, with only light Power-Dry LS shirt. Would be cold if in contact with skin. Breathed well. Golite Gamut shell fells more breathable based on memory. Breathes better vs. Pro-Shell."
Temecula Creek hike: "Periods of moderate rain surrounded by consistent drizzle, gusty winds to 15 mph. SS base layer, 59 degrees. Arms were cool when at rest. Breeze updrafts a little under the hem (only felt it once while scrambling – bent over). Wish I had the Windshell with me (stupid) to seal me up. Does breath. Can't believe how light it is, even when soaked on the outside. Just weightless."
Breathability & Moisture:
In addition to notes above - Green Lake trail jog: "Stayed dry in light to moderate rain. Stayed warm layered over LS baselayer and Windshell." Low 50's. Got sweaty fairly quickly when the pace increased, but breathability is good at hiking pace or slow jog.
Warmth:
It's not labeled as an insulating layer, but in keeping you dry, the Cloud Airshell does trap some your body heat when you're on the move and it's not windy. I found that wearing it over the Cloud Puffy creates enough wind resistance (combination of it's fabric plus the Puffy's shell fabric) to keep you dry, warm, and wind-protected, unless winds top 25 mph. Then you need to add the Windshell to keep out effects of the wind.
Layering:
Smooth fabric and elastic hems/cuffs means this shell slips easily over the other Cloud layers, and means the same when you add one of the other Cloud layers or similar on the in or outside. The Cloud Airshell is very well-integrated into the Cloud layering system, doing precisely what it's designed to do: keep you and the other inner layers dry. The hood fits very well over the Cloud Puffy's hood, and doesn't pull back to expose the Puffy's hood to the rain when you move your head around.
Durability:
I have treated this jacket, and the faulty one before it, with the extra care one should use when relying on an ultra-light piece of clothing. But the Airshell has held up well underneath backpack straps. As is the case with all of the pieces of the Cloud Layering system, the DWR is still going strong after 2 washings. The fabric is consistent in its weave and uniformity of thickness, drape, and texture.
Function:
I found the build quality to be merely satisfactory on the Cloud Airshell. The other layers outshine it somewhat in this category. The entire Cloud layering system is made in China. The cuffs have some extra thread floating around loose. I found this on both the first jacket and the replacement. Fabric quality and the seam taping were actually quite good, save for the missed spot on the shoulder of the first jacket which allowed the leak. Stitching is straight and precise though, and the YKK zipper worked flawlessly.
I would have appreciated one small exterior chest pocket, even if it only had a flap cover with a small velcro fastener. Otherwise I'm forced to put things in an interior pocket of a layer underneath.
Conclusion:
The Sierra Designs Cloud Airshell Jacket excels at keeping one dry but not clammy, especially considering its featherweight fabric. It keeps water off you in all types of outdoor activities, and works in synergy with the other parts of the Cloud layering system to let you forge ahead without being weighed down. The Airshell packs away into the corner of anything, making it a crucial item for any trail adventure, whether on a day hike, at a sporting event, or a through-hike. I still cannot believe it works so well for what it is – incredibly light-weight.
The Cloud Airshell is part of a flexible layering system, one that adapts to almost any conditions normally experienced in three seasons. It is vastly superior to my Pro-Shell and Golite Trinity fabric shells in terms of its waterproofness-to-weight ratio (and pack-ability), albeit with less warmth.
Add the Windshell and the system beats those other single shells in both total weight, pack-ability, and warmth. Because of the the initial jacket's defect, and the elastic cuff/hem design that lets water permeate the other layers, I reluctantly have to deduct a full star. A simple redesign on the elastic cuffs/hems and a little extra QC would make this a 5 star piece.
I wish to express my appreciation to Sierra Designs for letting me review this jacket.
Source: received for testing via the Trailspace Review Corps (Sample provided by Sierra Designs for testing and review)

Your Review
Where to Buy
Help support this site by making your next gear purchase through one of the links above. Click a link, buy what you need, and the seller will contribute a portion of the purchase price to support Trailspace's independent gear reviews.
You May Like
Specs
Men's
Price
MSRP: $125.00
Historic Range: $138.95

Women's
Price
MSRP: $125.00
Historic Range: $37.49-$138.95

Recently on Trailspace