Sierra Designs Cloud Windshell

The Cloud Windshell has been discontinued. If you're looking for something new, check out the best wind shirts for 2023.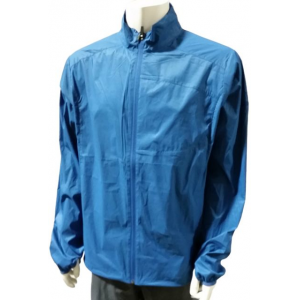 The micro-climate, windproof layer of the three-piece Cloud Layering System: This uber-light, three-season wind shirt provides extra comfort for a myriad of activities when the biting wind shows up.

Next to your base layer, its breathability keeps you dry and warm while you're active. It's not an insulator when you're resting, but it resists rain. Combined with the Cloud Puffy, it makes for a warm rest or camp down to the low 30's. Its regular fit (some room in the torso and arms) plus technical features allows wearing over or under the Puffy.
Pros
Packs down to about a 4" sphere
Very light (5.9 oz) but not light on important wind-shirt features
1 zippered, self-stowing chest pocket on the interior that includes an audio port
Has all of the features needed to keep the wind outside
Great DWR treatment, craftsmanship, and fabric
Breathes very well, yet windproof
Cons
Light weight means a lack of exterior hand pockets
Little stretch in the supposedly 2-way stretch fabric
Cut a little baggy for a next-to-base layer design as it's labeled
Sleeves are clumsy and awkward when thumbholes are not being used
Sierra Designs Cloud Windshell Jacket:
THE WINDPROOF PART OF SIERRA DESIGN'S 3 PIECE CLOUD LAYERING SYSTEM: Designed with three purpose-built layers for ultra-light back-packing and hiking in varying conditions: a highly breathable Cloud Wind (proof) Shell worn over your base layer creates a micro-climate, minimizing evaporative heat loss to keep you warm, dry, and protected while on the move. When you stop to rest or the temps drop below freezing while you're on trail, layer the Dri-Down filled Cloud Puffy to keep you comfortable and continue on, without worrying about sweating on it. When and only when it rains, layer on the Cloud Airshell hooded jacket and Cloud Pants to insure that the cold and wet doesn't get the best of you.  The entire 4 piece (including the pants) layering system disappears into your pack and weighs only 25.5 ounces.
Scope of Testing:
I used the Cloud Windshell Jacket for many activities, including cool weather hiking in both dry and rainy weather, mountain biking, camping at rest, two overnight backpacking trips, and general use in elevations from sea level to 6,000ft, and in temperatures of 62 down to 27 degrees, in the mountains of Angeles and Cleveland National Forests and San Jacinto State Park in Southern California, as well as on a cool day hike in the Green Lake area near Seattle, WA.
User Info and Experience:
Male; 6' 2", 195 lbs trail runner, mountain biker, and backpacker, as often as possible.
Jacket Features and Specifications:
Size Large. Sierra Designs proprietary Kenosha 2 way stretch fabric, low-denier ultra-light polyester rip-stop with DWR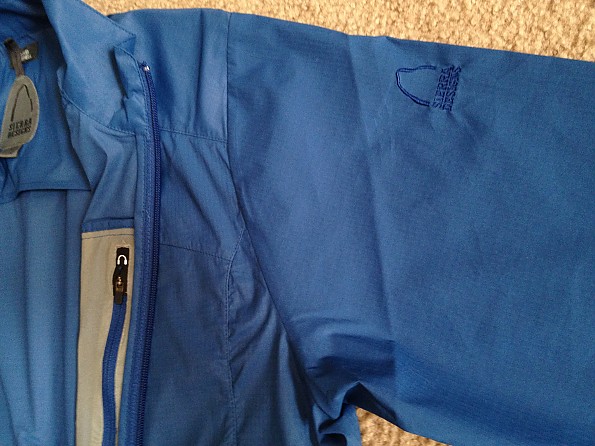 Weighs 5.9 oz on my scale (manufacturer claim 6.0 oz), and the Cloud Windshell compresses to a 4" sphere, smaller even than its pocket-packed dimensions.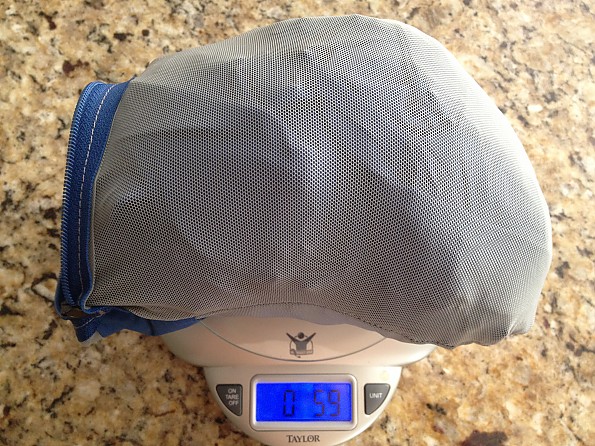 The Windshell has one pocket —a zippered inner chest type, in which you stow the jacket. It's an outside zipper so sealing up the jacket when it's stowed takes a little extra dexterity, and is not one you could perform while wearing thick gloves.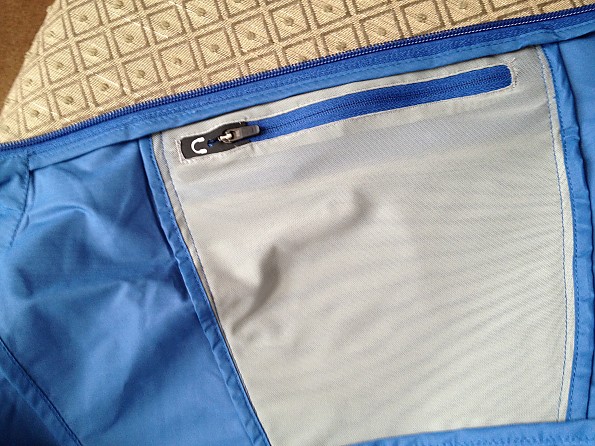 Like its teammate, the Cloud Puffy, there are elasticized thumbholes at the end of the long sleeves. A full front zipper with draft flap is from YKK, and includes an inspiring design cue on the flap (PICTURE below).
The dropped rear hem extends 29.5", and the sleeve length is 36.0" (excluding the thumbhole/hand-cover area). The Kenosha material is super thin ripstop.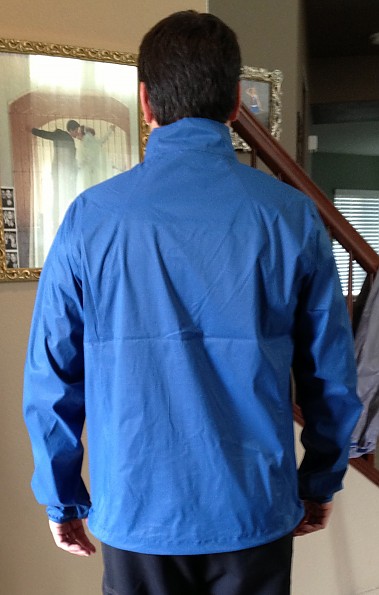 Product Testing and Review
Starting with what you see first: the semi-active design is standard and relatively subdued, as even the SD logo is small, on the sleeve, and in a stitching color that matches the fabric. The cool blue color is easy on the eyes. I haven't received compliments on it in public as I have the Sierra Designs Cloud Puffy and Cirro jackets. The Windshell is more function than form.
JACKET COLOR AND LOGO PICTURES
Fit, Comfort, and Adjustability:
The fit is semi-relaxed, somewhat boxy and oversized for a layer defined as a "next to base layer" design. Although the overly boxy design left gaps between my body and the jacket, likely reducing the "microclimate" warmth that Sierra Designs touted, I will say that the loose fit does allow for your base layer to be pretty thick and/or for you to use to layer over your insulation layer in cold, windy conditions. There is little stretch in the fabric, but it's hardly noticeable due to the bagginess of the cut, so there are few situations where you'd stretch the material as it is.
Case-in-point: I could fit the Sierra Designs Cirro puffy jacket or the Cloud Puffy, and a thin base layer underneath it with little compression of the loft. Be advised, however, as the Windshell lacks a hood, and in sub-freezing temperatures will not stop the bite from the neck up.
I will point out here that if you have all three pieces of the Cloud layering system, you could use the Cloud Airshell (waterproof outer layer with a hood) over the Windshell and the Cloud Puffy to help somewhat keep wind at bay in sub-freezing temperatures — the Airshell is not very breathable, however, and as such should be worn with caution if you're active in freezing weather…
The Cloud Windshell's loose fit makes it easy in which to move around, but while backpacking, the down-side is that the loose fabric, on the sleeves especially, can snag easily on branches. Good news is that the fabric is pretty strong despite its lack of heft. The elasticized cuffs and the long, dropped-back 29.5" bottom hem all seal up to keep updrafts out of the interior. Lengthy sleeves provide full coverage as well, even with my arms extended (helpful while Mountain Biking). Thumbhole cuffs provide coverage all the way to the knuckles.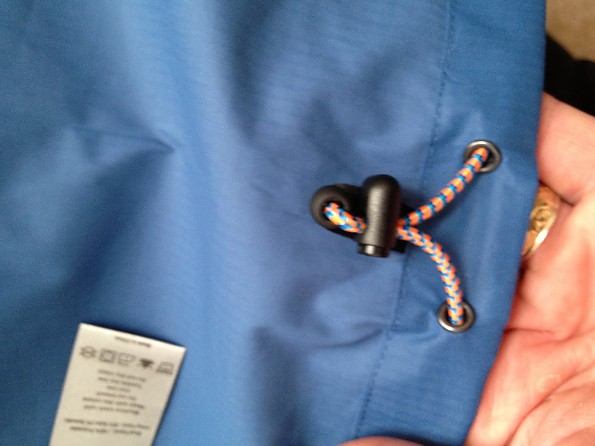 The draw-cords are simple and easy to use, and the front wind flap behind the zipper keeps all wind out. When you're done using the Windshell and it's time to stow it, a mesh stuff pocket lets the wind-shirt breath and dry out better while stowed. The audio port at top of the inner stuff pocket zipper proved handy when I wanted music for my adventure.
Wind and Water Resistance:
While mountain biking at Vail Lake in temps hovering around 50 degrees, where downhill speeds reached 40 mph, I was able to confirm that the Cloud Windshell is wind-proof (to +40mph). I was sweaty and working hard, but didn't feel a chill during the downhill section. I haven't had the weather to test it in wet snow, but the surface has a superb DWR treatment, shedding mist, and light to moderate rain.
These were my notes on a few other adventures:
"Dripping Springs Wild Horse Canyon Trip day 1: Rained very lightly, but consistently for 10 minutes in 10-15 mph winds. 53 degrees. DWR worked well. Did not wet out. Walking on climbing trails 2.0-2.5mph. Warm. Not clammy, with only 150 wt. merino blend t-shirt. Breathes very well."
Anza Pechanga Trail hike: "Windproof tested to 20 mph, gusts to 30. Merino T shirt base layer, 57 degrees. Arms were cool when at rest. Only serves to warm on the go. Super light. Feels weightless."
Breathability & Moisture:
Murrieta Creek Run: "When slowly jogging, Windshell is too warm above 60 deg for me, but great breathability keeps things from getting too moist. Short sleeves on cold, windy days are cold against the fabric when the cold wind is blowing."
Eaton Canyon Trail toward Mt Wilson: "Got a little damp from perspiration in a tough ascent when the sun came out and wind died. Got towards the top, wind started up and sun hid. Got chilled, so I put back on the Windshell and the microclimate was restored, as was my comfort."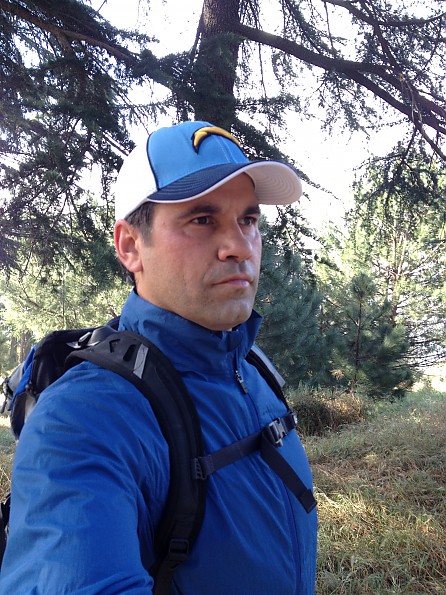 Warmth:
While it's not classified as an insulating layer, the Windshell does trap your body heat when you're on that trail. I found that wearing the Cloud Windshell underneath the Cloud Puffy does enhance the warmth.
Layering:
Smooth fabric means this wind shirt slips over a base layer easily, and means the same when you add one of the other Cloud layers or similar on the in or outside. Dripping Springs trip, where I layered the Cloud Airshell over the Windshell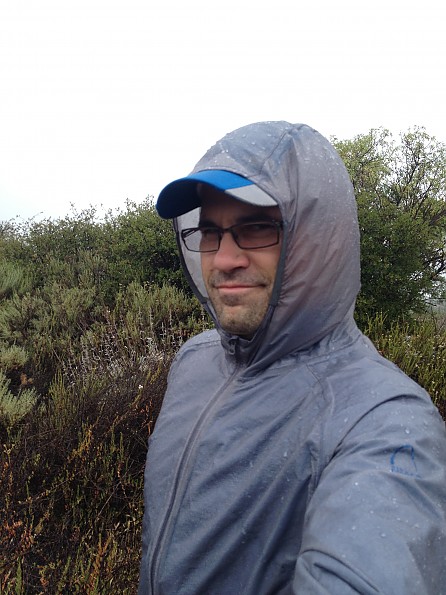 Durability:
I have put this jacket through some abuse, and did snag the arm HARD (so much so that I was spun around 180 degrees in the process) on a branch when hiking, creating a hole. Luckily the rip-stop fabric kept the hole from getting larger. I've yet to repair it. I've also worn it many times for hours underneath a weighted 60 liter pack, without wear in the contact areas – not bad.
Function:
I found the build quality to be very good on the Cloud Windshell. The entire Cloud layering system is made in China. Just like the Cloud Puffy, the thumbholes are very comfortable, with no rough or uncomfortable contact points. Zippers and the pockets all worked as expected.
Thankfully this jacket includes a zippered interior chest pocket for securing smaller item, but I would have liked 2 hand pockets. The only piece of this Cloud Layering System with hand pockets is the Puffy. I also wish the Windshell had a hood. Trade-off for my wish list: both the extra pockets and the hood would have made this a heavier piece – just know that some functional sacrifices are made in the interest of lightness. 
Conclusion:
The Sierra Designs Cloud Windshell Jacket performed its duties well, and held true to form and function in all types of outdoor activities. I would have preferred a closer cut. It does work in great harmony with the other parts of the Cloud layering system.
It is wind-proof yet highly breathable as claimed, and is far and away the part of the Cloud system I use most often because of its feathery weight, wind proof design, and DWR that handles most SoCal precipitation. More severe winds, weather, and time in further testing will test the true limits of the Cloud Layering System.
The Cloud Windshell is part of a flexible layering system, encouraging one to wear it as additional protection in incredibly varied conditions and activities. It contributes well to a lightweight option for backpacking and some milder weather mountaineering. Because of the loose cut for my tastes, I have to deduct a ½ star. The Cloud Windshell is a very good wind shirt.
I wish to express my appreciation to Sierra Designs for letting me review this jacket.
Source: received for testing via the Trailspace Review Corps (Sample provided by Sierra Designs for testing and review)

Your Review
You May Like
Specs
Men's
Price
MSRP: $119.00
Historic Range: $39.73-$135.00

Women's
Price
MSRP: $119.00
Historic Range: $31.99-$135.00

Recently on Trailspace