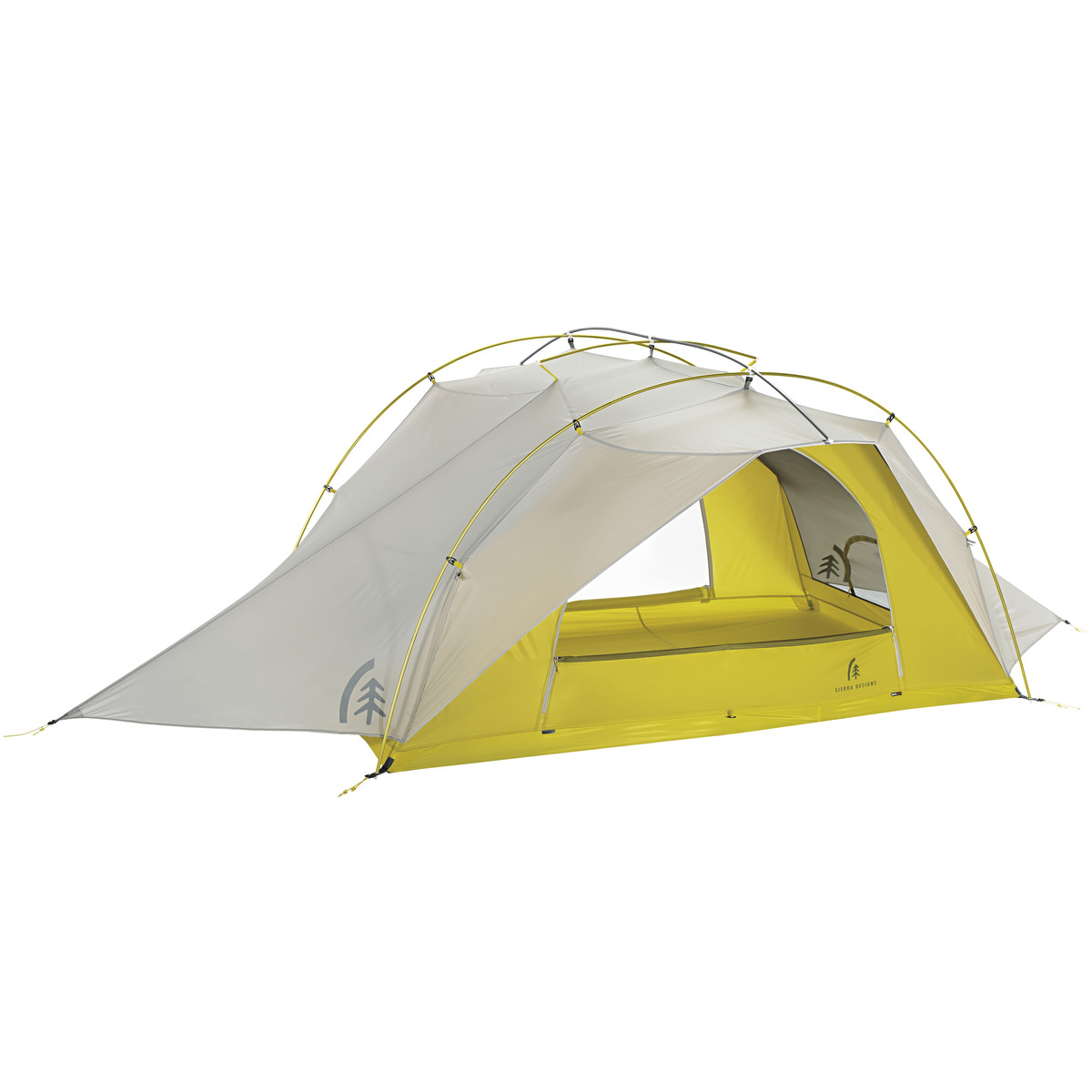 Specs
Price
Historic Range: $199.99-$399.95
Reviewers Paid: $250.00-$255.00

Reviews
2

reviews

5-star:

0

4-star:

2

3-star:

0

2-star:

0

1-star:

0
Lightweight and trail-ready, full size for two people, two doors and two gear vestibules, high ceiling, dry setup, great ventilation, highest quality workmanship, parts and materials, overall a go-to tent for lightweight backpacking and back-country trips for two people.
Pros
Lightweight and compact
Full size for two people
Two doors and two gear vestibules
Great ventilation
High quality parts, materials, and workmanship
Internal vestibules access
Dry and quick setup
Can be used for 4 seasons (cold camping only)
Cons
Poles assembly is a bit complex/confusing
Does not include footprint
No gear loft and no loops for a gear loft
Only two gear pockets on opposite walls
Possible condensation on side walls in high humidity and cold weather
Not a true free standing
Relatively expensive
Why This Tent is Great for Back Country
This tent is a perfect combination of livability and light weight: it only weighs 1840 grams / 4.05 lbs (full package, weighed on my kitchen scale) yet provides full size living compartment for two people using large rectangular sleeping pads (used with Therm-a-rest NeoAir All Season 77" x 25") and two gear vestibules that fit 60 L backpack and footwear (used with Osprey Volt 60).
Because it's so lightweight and compact it's ready for backpacking without compromising on other gear weight. Because it's so livable it's ready for any type of back country trip short or long without compromising on comfort.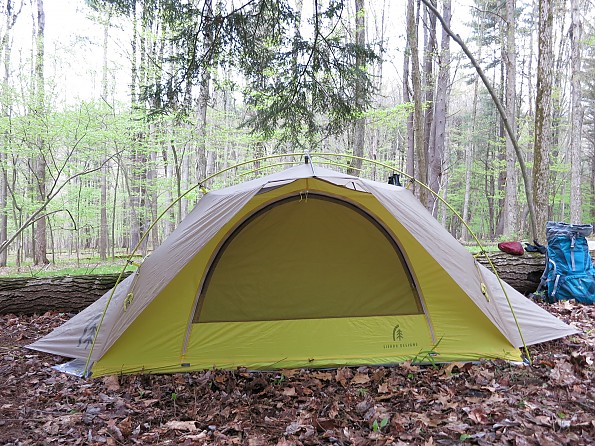 Setup
Setup is quick and easy by one person. It may be initially a bit confusing but once you try it and understand the logic it becomes much faster and easier comparing to "traditional" tents. There are a few key design features of the tent that really simplify and speed up the design:
a single hybrid shell: it's only one piece of fabric that needs to be set up

the poles are not crossing: that allows to attach poles one by one without a need to hold on a tent by another person

quick release Line-Loc for 

guy lines

 make it a breeze to stake out floor and vestibules
Good: Because the tent has a long rectangular footprint it can be set up even in really narrow spaces.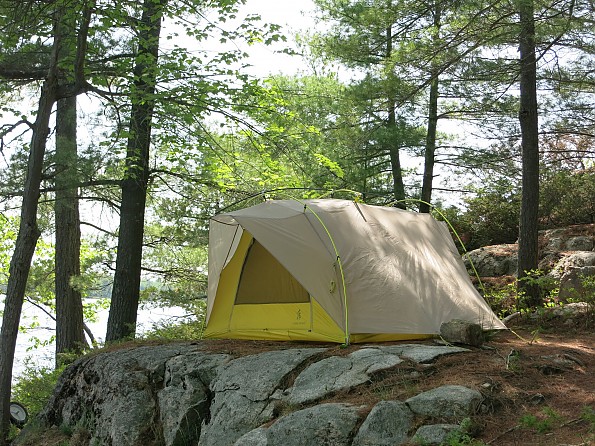 Bonus feature: because Flash 2 has a single hybrid shell construction (both outer shell and inner shell are sewn together) it can be set up under rain and will be dry inside. This feature also works in reverse: fold it wet and the inner parts will still be dry (for some time anyways).
Weather resistance
is great because of the quality materials and workmanship. I have used the tent under rain and snow and it has no leaks. It's also well resistant to wind because air can only go inside the tent either underneath the vestibule walls or through windows and both can be shut down.
Ventilation

Because of the unique "vestibule-less" design ventilation is much better comparing to traditional tents: both doors have mesh windows that can be fully or partially opened in any weather even rain to allow additional air circulation and the vestibule side "air channel" can be regulated by staking vestibule guy lines lower or higher.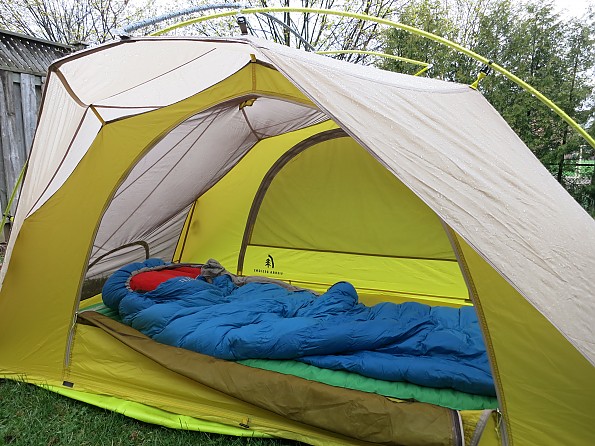 Room and Storage
I am 6'3" and I have plenty of room above my head when sitting inside the tent. Width and length easily accommodate two large full size sleeping pads up to 78" x 25"; doors are wide and allow very comfortable entry and exit.
Because two side vestibules do not block the doors they are very accessible and each can easily fit a 60 L backpack, footwear, and some small items (an axe, a saw etc.) allowing access from inside and outside the tent.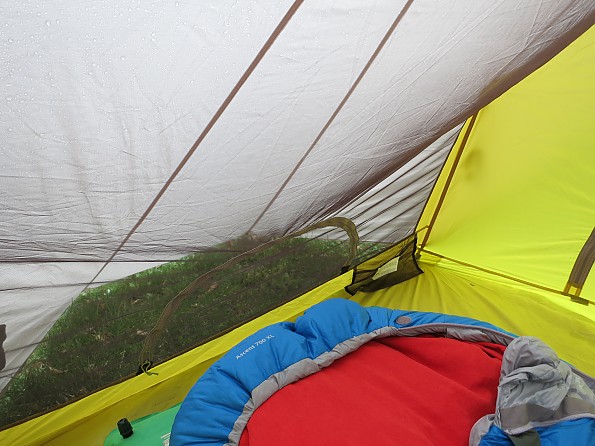 There are only two small wall accessory pockets and they are on the opposite walls and that on my test is not enough.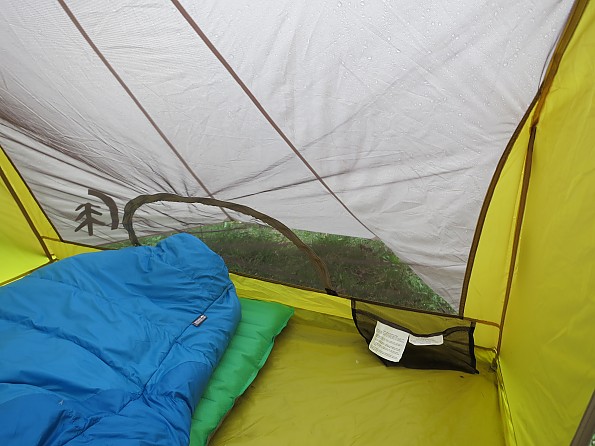 In addition the tent does not come with a gear loft and only has two loops on the ceiling for loft or gear attachment. I can live with that considering that I can put my day clothes inside a sleeping bag and small items in the wall pocket. Plus there is a central ceiling loop for hanging a lantern.
Packability
Is great. Because of the lightweight materials used and smart poles design the tent packs small in only two bags and easily fits inside a backpack including the poles. Though poles could be carried in an outside pocket as well.
Free Standing Setup
The manufacturer claims that the tent is free standing. But this is only partially true. For proper setup the floor should be staked down to the ground or attached to the surface somehow. It's possible to set the tent up without attaching to the surface, but its shape will be distorted and gear vestibules will be unusable. In windy conditions it's also a must to attach the guy lines. This is not a problem by all means, but just a practical consideration.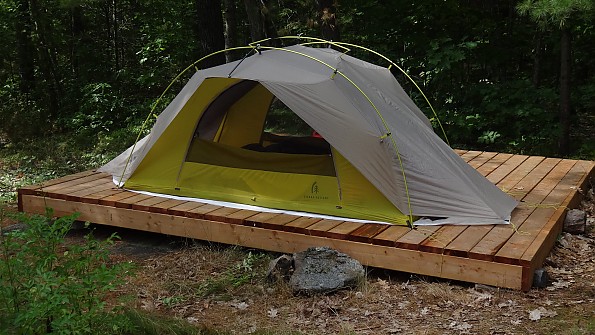 What is not Prefect
No footprint included. Even though the floor is durable enough and waterproof I suggest to use a DIY footprint made from a piece of lightweight technical waterproof fabric similar to Tyvek.
Gear access panels are small and it could get a bit of awkward when trying to access your backpack content from inside the tent.
Gear loft loops are only in the middle of the tent ceiling not in the corners as usual, so it's not possible to use an actual gear loft; though some kind of gear organizer can be used like a line with carabiners or similar.
Condensation could build up on the side walls in high humidity and colder temperatures due to a single shell construction. To avoid that from happening make sure to open door windows a bit for greater air circulation.
There are only two small gear pockets and they are located on opposite walls and opposite corners so if campers sleep to the same side with their heads only one of them will have easy access to a gear pocket.
The external poles are all attached together and that could be a bit challenging when setting a tent up first time: some part could be attached together in wrong direction. This problem usually goes away with getting used to the tent.
Room for Improvement
Even though some things are not ideal, in comparison to all the features of the tent they are minor. I would suggest to make these changes:
Make vestibule access panels larger

Make four gear pockets in each corner

Make four gear loft loops on the ceiling in each corner
Overall Impression
So far I've used this tent in a few backpacking trips in late fall, winter and spring and it has become my favorite because of how lightweight, small, easy handled, and comfortable it is.
Source: bought it new
Price Paid: $255 on sale

First ever tent, pushed this design to its limits in harsh conditions in Scotland, Northern Canada, California desert and Tahoe in rain, snow, hail, and relentless desert sun. It stands up every time to the challenge.
Pros
Very lightweight
Super easy to set up
Rainfly material and design are perfect
Highly effective mosquito/bug mesh
Cons
Rainfly infrastructure bars poked through material
Footprint only works so well, base still soaked in Scotland after relentless rain
Design of the rainfly means in a windy, Scottish rain that you're in for a wild ride even if staked down properly
A couple of years ago, I was in love with a woman. I was young, like 24 or 25, but she meant the world to me then and has left her mark on me still, for sure. Things happened, we went on a "Break", but really, come on, everyone knows it's a break-up just spelled differently. Eventually we started talking again and I foolishly got my hopes up that we were going to get back together, which we did, for a weekend...before I came over one day to say hi after work and she was there in bed with someone else with the shades open on her window...
Well, after that I decided a couple of things really quickly. 1. I needed to just put in a lot of distance between me and the moment, specifically miles on my bike. 2. I needed a plane ticket to somewhere I could ride nonstop that was going to burn my legs and lungs and test my soul (Hebridean Isles in Scotland and Orkneys). 3. I needed a long (I'm 6'2"), highly water-shedding, light, durable tent that could fit all of my panniers.
It just so happened that REI was having their quarterly garage sale in April the month after everything happened with my ex, so, having nothing better to do, I got up at 6 a.m. and headed down to my local REI and camped out with some other equally crusty folks who ended up sharing parking lot-cooked hot dogs and eggs with me along with some very bitter and black insta-coffee.
I got a great deal on the tent and I began my preparation for my upcoming flight to London, several wonderful train rides through rolling countryside and Scottish coastline to Oban, and ferries from there through the isles where I would bike 800+ miles over the next month.
Every night in Scotland on the remote coastlines I liked to stick to was filled with torrential rain the likes of which I have no reference point here in California where I'm from. It was surreal how much water shot down from the blackened, roiling skies there. Despite the precipitation and lack of experience camping in such trying conditions, I had such a great time in my Sierra Designs Flash 2 FL peering out through the zippered rainfly door and mosquito mesh (which was absolutely a godsend in dealing with the micro-demons known as "midges" that proliferate around stagnant pools of water which are everywhere on the coast in Scotland).
The setup of this tent is just simple, I got used to putting it up in under two minutes when I knew the rain was about to really come in. Its weight is a major selling-point and the stakes, tent, and poles all together only weigh like 5 lbs. Not bad.
The guy-lines that come with the tent are plenty reflective (good at night so you can find your dang tent out there in the black mire) and are at points around the tent that make sense to mitigate the effect wind has on the lightweight, airy tent.
I know this tent is just about my experience in Scotland, but if this tent can last there, it can last pretty much everywhere. I've had in the snow here in Tahoe, where I live, and it holds just as fine—you just need to bundle up because its ultralight nature makes it pretty airy, as I said above.
Have a great day!
Source: bought it used
Price Paid: $250

You May Like
Recently on Trailspace