Sierra Designs Night Cap 20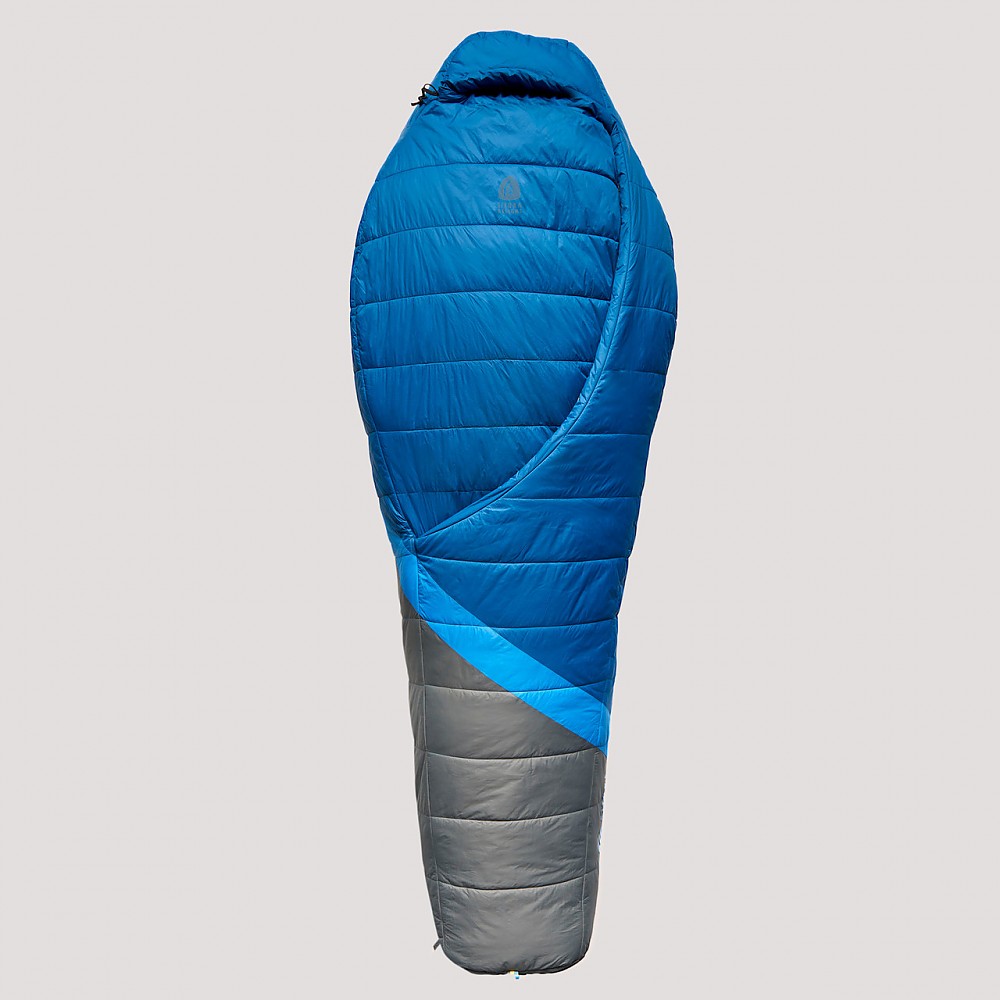 A sleeping bag with a couple of tricks up its sleeve, or in the bag as the case may be. With a zipper-less design and made from recycled materials, it's based on Sierra Designs' best selling Cloud Sleeping Bag, but at a much friendlier price.
Pros
Luxurious feel
Zipperless design
Included stuff sack
Self-sealing foot vent
Made from recycled materials
Cons
Runs a tad small
Foot box a bit cold
No back insulation
Not ideal for side sleepers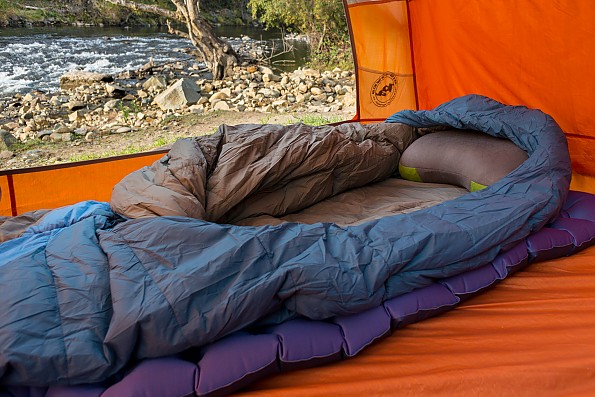 About
Sierra Designs has been around since 1965 when founders Bob Swanson and George Marks decided all people deserve good gear for exploring the outdoors. Their aim was to produce products that were inspired by adventure, trail tested, and trouble free. They continue that tradition today. You can learn more about their story and their products at https://sierradesigns.com/our-story.
I received this Sierra Designs Night Cap 20º sleeping bag for the purpose of this review. It arrived packaged in a plain cardboard box protected by a thin plastic bag to keep it clean with nothing more; other than a few informative cardstock tags. I'd place it at enough to get the job done with the least possible impact on the environment. Two thumbs up.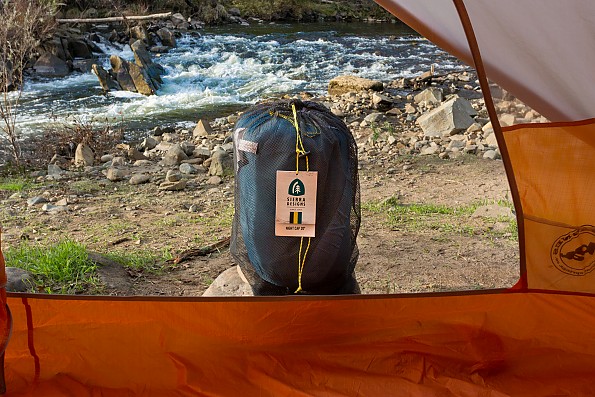 Sizes and Sacks

The Night Cap 20 comes in regular and long sizes, with a women's Night Cap 20 as a third option. The Sierra Designs website says a long is 84" long, a regular is 78" long, and a women's is 74" long; the woman's also has more fill than the men's regular to meet requirements for ISO testing. Do note that internal dimensions are listed as 6" shorter than these dimensions.
It's also worth noting that if you're not planning on using it when it's too cold out, there's a unisex Night Cap 35; the regular is about 12 ounces lighter than the regular sized Night Cap 20.
I received a regular Night Cap 20. It appears well made and built to last. The shell and liner are made from 20D recycled polyester and it's filled with SierraLoft Eco Synthetic insulation, which provides a silkier hand feel, a higher loft, faster bounce-back time after compression, and a much higher warmth to weight ratio than other synthetic insulations.  Synthetic fill absorbs less water than down fill if it gets wet, and it retains more of its insulating properties when damp. It's also less expensive. The tradeoff is of course added weight and bulk. Sierra Designs calls the Night Cap a 20º sleeping bag, but it's ISO rated at 23º/limit and 34º/comfort.
The Night Cap comes with a large everyday storage sack, as well as a smaller stuff sack. It's never good to leave sleeping bags compressed in storage as that can reduce the insulation's ability to, well, insulate. The long-term storage bag is a large netted affair of average quality, good for indoor storage, but it won't keep it free from dirt and critters in your garage.
The included stuff sack is just that; it does not have compression straps. So you'll need to do a good job of tightly rolling up your Night Cap to fit it inside, or as the name implies, you can just stuff it on in there. The stuff sack appears to be made of polyester or nylon and has a cinch top.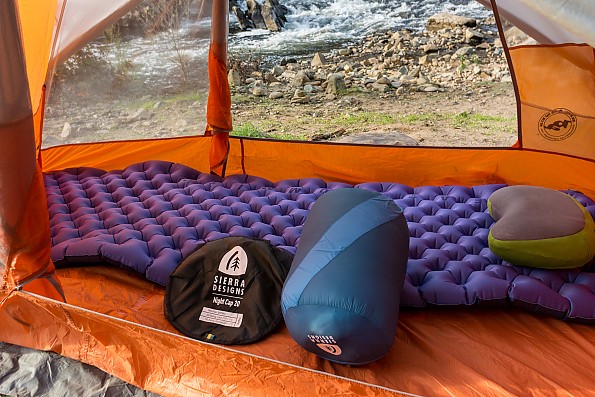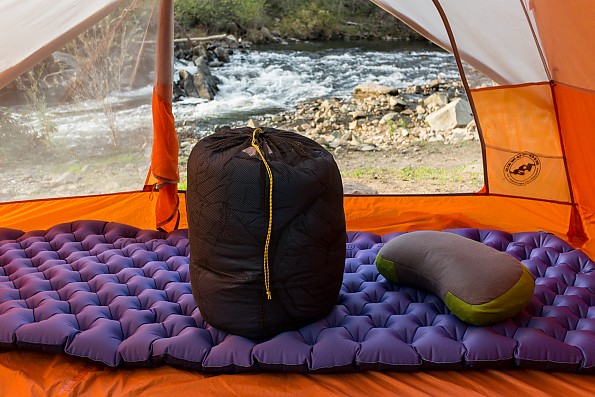 Out of the box I immediately noticed it's quite a bit heavier than my normal bag; three pounds versus two. It's also a little bulkier when compressed in its stuff sack, but to be fair, my regular bag is filled with down and cost more than double what this one cost. When stored in the stuff sack the Night Cap is ten inches around and fifteen tall. More than small enough by car camping standards and acceptable for packing, but it's not an ultralight.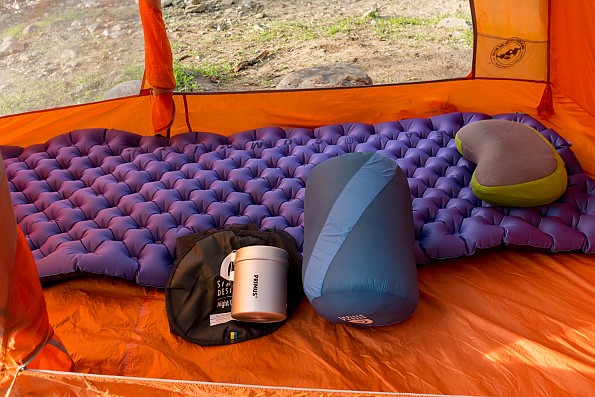 In Use
The liner and shell feel quite luxurious and comfy. As expected, the synthetic fill is a little heavy compared to down fill, but nothing to complain about. There's a cinch to pull the hood tight and a pouch on the back to keep your sleeping pad where it belongs. Unfortunately the pouch isn't wide enough for my 25-inch pad to fit and one was not included, so I'm not able to use that feature though I'm sure it works as designed, keeping the pad in place. The pouch is designed to accommodate a standard 72" x 20" x 3" pad.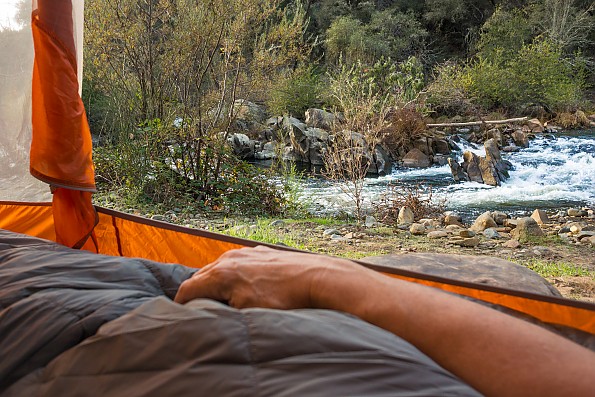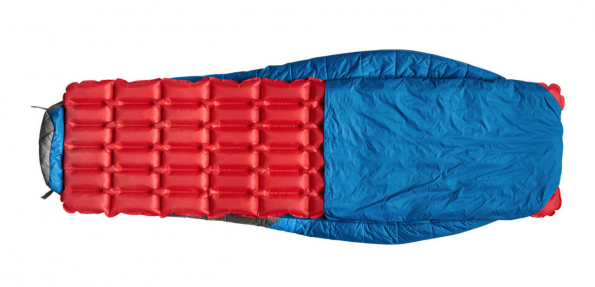 It's worth noting that there is no insulation for your back in the Night Cap 20º sleeping bag. If you sleep on your back and use an insulated pad this shouldn't be a problem. This is probably what Sierra Designs had in mind considering the integrated pad pouch. If you can turn on your side within the bag, this still should not be a problem. However, when I turn, the bag often turns with me because of its size. This leaves my back partially exposed and cold at lower temperatures due to the lack of insulation there.
As for its size I do find this sleeping bag a bit claustrophobic, perhaps a long size would better suit me. I'm 5'9" and 170 pounds; medium build. When lying flat on my back it seems a little short, as it's a bit tight against my feet and head. I measured it and it does indeed measure out to 78" on the outside, empty, and stretched out. However, when filled with my body it definitely feels shorter than the stated, "fits to 72 inches." 
Width wise it is roomy enough up top, but the foot box and knee area are much too tight for my liking. As alluded to above, I find myself unable to turn in it without getting it twisted about on me. Since I do tend to turn a lot when I sleep, this presents a bit of a problem for me, though your milage may vary. 
Unique Features and Cold Weather Performance
I found the zipperless design intriguing to say the least. The opening on the top of the bag is sort of cut into a V with one of the two sides overlapping. It's like having a comforter over your top half that tucks in to stay put. It is nice not having to worry about snagging the fabric in a zipper when bundling up, getting in, or out. It works well when sleeping on your back, but I did find it somewhat cumbersome when turning on a side. It tends to untuck and open up when turning sometimes, which isn't a big deal when it's just a little chilly out, but you do lose a sizable part of your built up warmth on cold nights.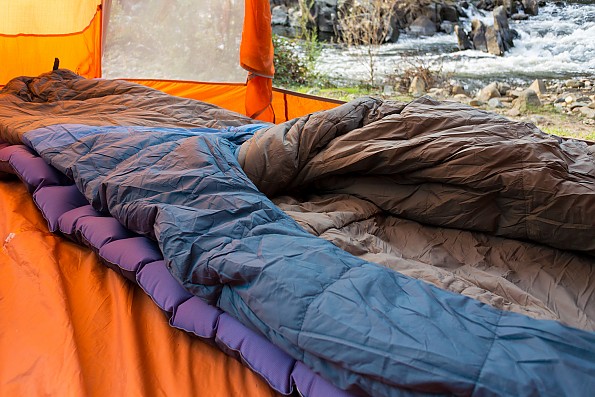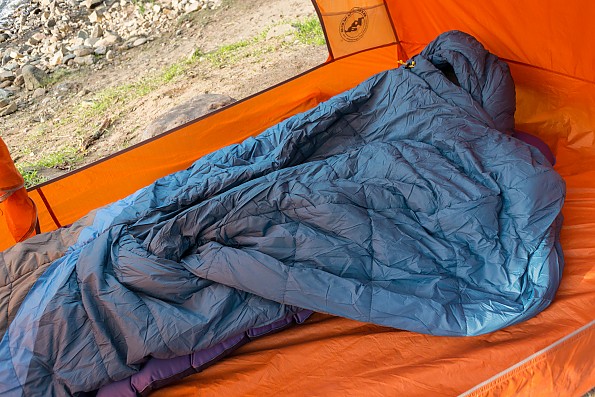 Speaking of cold nights, I found the ISO rating to be accurate in that you probably won't die if it's 23ºF out, but you likely won't be very comfortable either. In the mid to high thirties I found myself comfortable enough, but now that it's getting colder outside I've had the chance to try it out when the temperature dips down into the mid to high twenties. I am cold inside of it in these temperatures, especially my feet.
In my opinion, the foot box could use more insulation. Perhaps I'm spoiled by the extra insulation in the foot box of my normal sleeping bag, but my feet get quite cold in this bag when it's in the twenties outside. Of course this is all relative as we are all different. For reference; I hate the cold.
Talking about the foot box, that brings us to another innovative feature:  the self sealing foot vent. The Night Cap features dual, offset slits about midway between the foot and knee area, on the back side. By sliding your feet along the inside part of the bag there, you can exit them to the exterior of the sleeping bag.
I find this to be a most excellent feature on warmer nights, allowing me to easily regulate my body temperature and remain quite comfortable inside the sleeping bag. It works very well and I absolutely love this feature, though I do wonder if it has something to do with my feet being cold when inside the bag on those cold nights.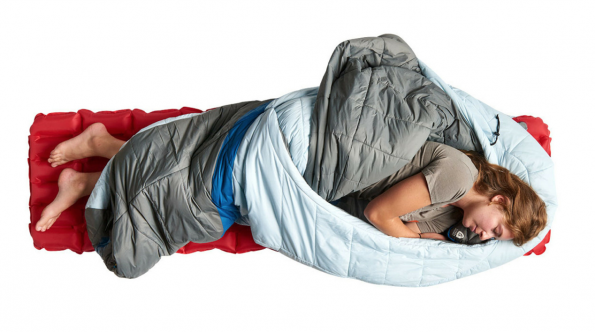 Final Thoughts

So. Overall I'd say this sleeping bag is a solid offering as ISO rated. It's a good choice for anyone that's looking for a quality sleeping bag without breaking the bank, and it should perform well spring, summer, and fall; though I haven't had a chance to try it out in the summer yet. I'll report back with an update when the temperatures once again rise.
I really like the zipper-less design, at least when used within the ISO-rated comfort zone, and I love the self-sealing foot vent. While perhaps the foot box could use a bit more insulation, it is fine when, again, used as ISO rated.
As for being a bit small, that's relative and a matter of personal preference.  The long may be a better fit for someone around my size and taste, although the bottom is only two inches wider on the long size. As a side, sticking my feet out on warmer nights somewhat negates my desire for more room there.  To me, the Night Cap is a viable option on those warmer spring, autumn, or cooler summer nights; with my thoughts on the warm summer nights to follow.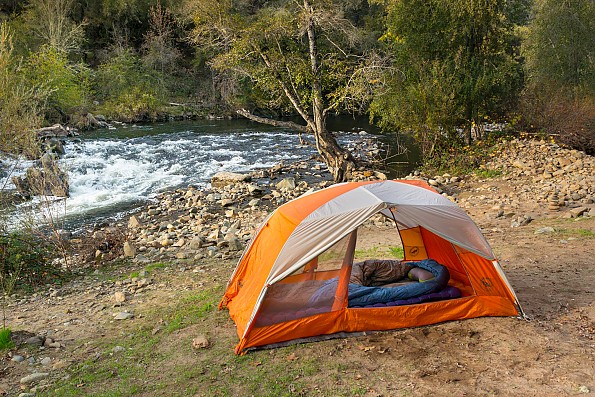 Background
I've enjoyed all sorts of camping throughout my life. My camping adventures over the past decade or so generally involve using a kayak, which affords me a little more space than an average backpack. Recently, I've also gotten myself into amateur astronomy and have once agin found myself car camping; and quite a bit at that. Living in California, my wife and I used to do a lot of car camping before our daughter was born, but until recently, it had been a very long while since I'd been camping that way.

Source: received for testing via the Trailspace Review Corps (Sample for testing and review provided by Sierra Designs)

Your Review
Where to Buy
Help support this site by making your next gear purchase through one of the links above. Click a link, buy what you need, and the seller will contribute a portion of the purchase price to support Trailspace's independent gear reviews.
You May Like
Specs
Men's
Regular
Long
Price
MSRP: $179.95
Current Retail: $110.15-$199.95
Historic Range: $110.15-$199.95

Materials
20D Recycled Polyester

Insulation
SierraLoft Eco Synthetic

Temperature Rating
20°F / -6.67°C

ISO Comfort Rating
34°F / -1.6°C

ISO Limit Rating
23°F / -5°C

Weight
3 lb / 1.37 kg
3 lb 1.4 oz / 1.40 kg
Fill Weight
40 oz / 1133.98 g
41 oz / 1162.33 g
Fits To
72 in / 182.88 cm
78 in / 198.12 cm
Length
78 in / 198.12 cm
84 in / 213.36 cm
Shoulder Circumference
60 in / 147.32 cm
62 in / 152.4 cm
Hip Circumference
58 in / 147.32 cm
60 in / 152.4 cm
Foot Circumference
40 in / 101.6 cm
42 in / 106.68 cm
Stuff Sack Size
7.5 x 15 in / 19 x 38 cm

Women's
Price
MSRP: $199.95
Current Retail: $113.36-$199.95
Historic Range: $113.36-$199.95

Materials
20D Recycled Polyester

Insulation
SierraLoft Eco Synthetic

Temperature Rating
20°F / -6.67°C

ISO Comfort Rating
23°F / -5°C

ISO Limit Rating
34°F / 1.11°C

Weight
3 lb 5.6 oz / 1.52 kg

Fill Weight
45 oz / 1275.73 g

Fits To
68 in / 172.72 cm

Length
74 in / 187.96 cm

Shoulder Circumference
59 in / 147.32 cm

Hip Circumference
58 in / 147.32 cm

Foot Circumference
40 in / 101.6 cm

Stuff Sack Size
7.5 x 15 in / 19 x 38 cm