Simply Light Designs Streamliner SL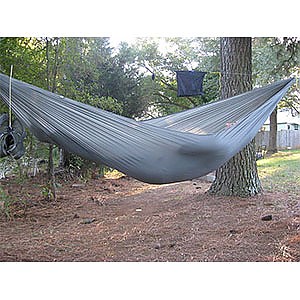 Light, that's what I was looking for and exactly what I found, but the distinct bonus you may not think of when choosing a gathered end hammock is one of the features that makes this my go to hammock for backpacking.

Quality workmanship, the material of your choosing, and exceptional personal service is what makes buying equipment from Jared at Simply Light Designs a no brainer!
Pros
Light
Great pricing
Great communication
Cons
No show room
Must have custom UQ cover to maintain improved visibility
For those of you who enjoy getting off the ground and swinging above the ground in custom comfort Jared could just be your new best friend. After several e-mails in which Jared of Simply Light Designs, (SLD) responded to quickly and in detail I decided to go with a 10' hammock that would just fit under my Warbonnet Edge Spinn tarp with a 10.5' ridgeline. The hammock would be constricted of 1.6 ripstop in gray.
The distinct feature of the SLD Streamliner is the catenary cut on the sides and the reverse catenary cut on the ends. WHY would you do this?? The reverse cat cut provides a progressively longer center line which tapers equally towards each side. The cat cut on the sides eliminate the floppy sides that annoy some hammock hangers that the add shock cord to the sides to mitigate.
What these cat cuts do provide is a pretty flat lay with a minimum width fabric. Now you can purchase the Streamliner in most any width you please, but my goal was to see how light I could go and be comfortable. And my hammock and suspension is 11 oz. SLD also built me a custom bottom entry bugnet out of nanoseeum which weights in at 6 oz.
So 1lb. 1 oz. and it all fits in a very compact double ended stiff sack which was included. I have to say that coming in near the 1lb mark was great for cutting my pack weight as the Streamliner replaced a very bulky and heavy Hennessey Expedition UL which was right at 2 lbs.
I purchased a hammock blank and added a lashit ridgeline, and Dynaglide UCR's I outfitted with a Dutch hook which acts as a drip edge and simply hooks on to the Amsteel Continuous loop I installed in the end channels. These connect to the infamous Harbor Freight lashing straps which are rated at 1200 lbs breaking strength.
I also installed a bag my REI towel came in for a ridgeline organizer using two awesome double ended mitten hooks from Dutchware, which weigh in a 1 gram for 2. I outfitted the bag with two small grosgrain loops and each mitten hook clips in to a zingit prussic loop to allow the bag to be placed anywhere along the ridgeline. Also included in the hammock weight is a 18" lashit dogbone which is larks headed on the ridgeline, a small s biner is used to run thru shoe laces and clip back on to the dogbone to hold my shoes off the ground on the foot end of the hammock.
Remember the feature you may not expect from a gathered end hammock? Visibility, the fabric reduction on the sides and the minimal diagonal lay make this the gathered end hammock as far as visibility I have tried. I really like being able to see out of both sides as opposed to having a wall of material typical and necessary with standard gathered end hammocks.
The removal of the excess material also makes for easier adjustment of the under quilt (UQ). In the summer when I usually avoid hanging out in the woods in normal gathered end hammocks it can be a little challenging at 3 am to reach around and under the hammock and pull the UQ under to warm one's chilled backside.
Another good thing about this hammock is that you can sit up in it comfortably without the ridgeline being in the way. While it is not the best for lounging in it with your legs hanging over the side it can be done, but legs crossed in the hammock is better.
I'm 6' 190 and could hang in 1.1 but since I weigh in at 190 I opted for the 1.6 which is listed for 350 lbs and I was honestly unsure I would stick with the Streamliner and the 1.6 would be easier to sell if it was unsuitable. But I am happy to report that the Streamliner exceeds my expectation for a 9 oz. hammock that will support 350 lbs.
I've had this hammock out in temps from 40° to 70° and have absolutely no complaints for this 10' hammock. No, it is not really quite as comfortable as a 72" wide 11' hammock but for a week in the woods most folks 6' and under will be far more comfortable that laying on the ground.
If you backpack you can easily choose a Streamliner in the size and fabric of your choosing that will keep you off the ground and enjoying the new possibilities of campsites hanging in the comfort of the trees and for a reasonable investment you to can spend your hiking outings swinging from the trees enclosed in the distinctive warmth of down quilts.
Just be aware, you may spend more time in your hammock and return home so refreshed people may start questioning if you really are "roughing it" out in the woods or escaping to a posh resort!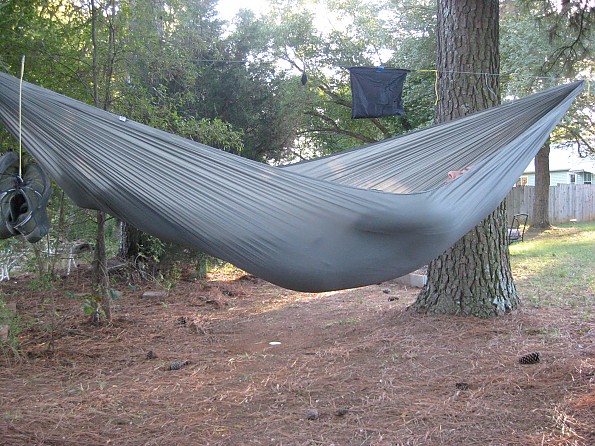 Ample head space.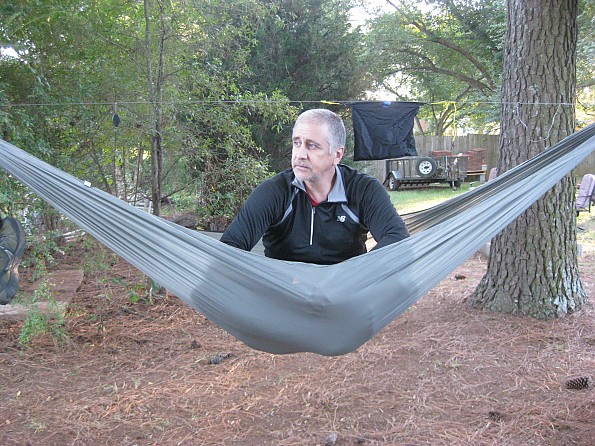 With the "Fronkey" style bottom entry bugnet and Jacks R Better Greylock3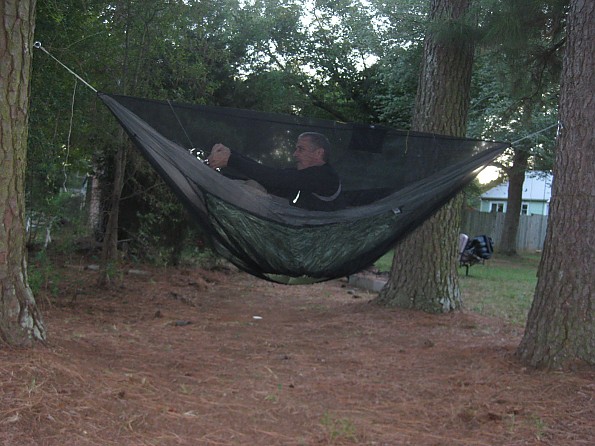 With the Wilderness Logics Summer Series Under Quilt SSUQ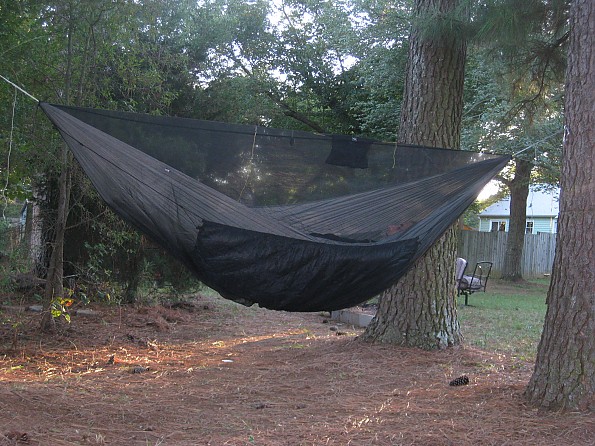 Better look with the SSUQ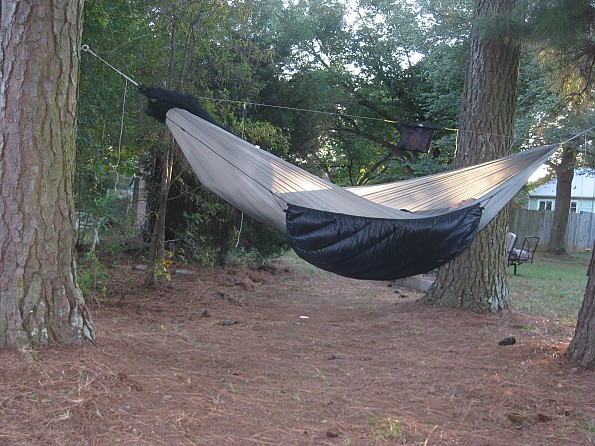 Better Look with the Greylock 3
You can find more SLD hammock info at www.simplylightdesigns.com.
As requested the Streamliner packed in an 8L Sea to Summit Dry Bag mostly compressed to 8.5" x 6". I normally pack it loosely as long as my pack is wide the hammock with bugnet and UQ attached and TQ and pillow in the hammock. That makes for a pretty quick setup time; I'd race a tenter any time! 5 minutes taking my time includes tarp and pack hanging and ready to lounge.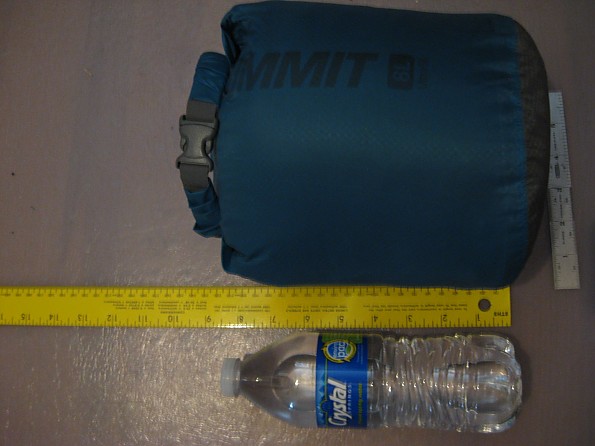 Source: bought it new
Price Paid: retail

Your Review
You May Like