Six Moon Designs Fusion 65

The Fusion 65 has been discontinued. If you're looking for something new, check out the best weekend packs for 2023.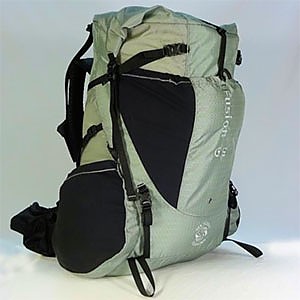 Version reviewed: 2015
Based on the durable materials and construction, I am guessing the primary intent for this design is to carry moderate to heavier loads (loads of 40-50 pounds). In 2015, the new Fusion 65 (67 liter) had two options for shoulder straps. One short and one even shorter (the s-curve). This is a durable pack designed to last for years of trail fun.
Pros
Nice volume for longer excursions without resupply
Reinforced with the right materials in the right places
Stretch fabric in all the right places
Multi-torso-length adjustment for optimal fit
Articulated hip belt for secure fit around the waist
Cons
May not be as suited for heavier loads as intended by Six Moons
"Fusion Packs are designed to carry whatever gear you need comfortably." is the motto for this pack according to Six Moons Designs. You can go to sixmoonsdesigns.com for features and specifications.
This review is based on what I have for what was available at the time. It mostly addresses one of the most important aspects of the pack, which is fit and comfort. It is in no way intended to dissuade anyone from trying this out, just be sure you flush out the comfort aspects before your 30 day try-on period. It is a try-on period, not a tryout period as any signs of use will forego your options to return anything within the first 30 days.  
I have broad shoulders and large chest muscles from many hours in the gym. If you have such a body type, this review is more for you. 
This is a solid 67-liter pack in terms of build quality, but, as with most new designs, there is room for improvement. 
The pack has more of a rigid fit so if you are used to frames that move with you, you will find the stiffness quite different. Not bad, just not cushy. 
I tried the only length shoulder straps they offered at the time, which, based on new harness offerings, I had the short harness. I tried the short harness and the short harness s-curve (again, all they offered). Of the two, I ended up with the s-curve. I adjusted the torso of the pack to my torso length and with 30 pounds, it felt OK. When I went to 50 pounds, the end of the harness, dug into my chest (above the nipple line). It was too uncomfortable to use. Then I maxed out the torso adjustment of the pack (effectively lengthening the shoulder straps) to its longest setting, which brought the buckles down lower on my chest.
Although I would not say it was comfortable (it was 50 pounds), it was more manageable. With my torso length of 19 inches, and a larger chest, I would not recommend going over 50 pounds with the short s-curve or short harness. If you have a longer torso, with this combination of harness and weight, I would not recommend this pack for long distance backpacking. I am still trying to make this pack work for my body shape. Six Moons has offered to pay for the shipping as I pay for another larger harness to "try-on". 
The following redesign ideas can be best summarize my take on the design of the later 2015 season Six Moons Fusion 65 (which is the current version at the time of this writing). 
I liked everything about this pack (so look over website) except for the few areas of improvement, as noted. 
Recommended redesign ideas for the next version.
1. Add a long and regular, S-curve harness option and not just a short S-curve version. 
2. Implement wider shoulder straps which would better suit the design intent.
3. Add a key clip inside the security pocket.
4. Add some back padding between the pack single stay (spine) and the back. 
5. Add a water reservoir hanging clip inside reservoir holding pouch. 
6. Apply more waterproofing on all of the color options like was done on the Gray version.
7. Add one or two upper side pockets to minimize the frequency of main compartment access
8. Increase the depth of the hip belt pockets while maintaining their length.
9. Use stainless steal sliders on the hip belt pocket zippers instead of painted sliders. 
10. Do more testing on the hip belt buckle from different angles as it has unclipped on occasion. Testing it by pulling in one direction, may not reveal any deficiency. 
11. Consider using a dual stay system for heavier weight loads (over 40 pounds) at the expense of some back ventilation. 
Tips for Six Moons Designs
Rename the completely redesigned 2015 pack to distinguish it from earlier 2015 and past design. A name like the Fusion 67 would better represent the capacity and would make a distinction from the prior pack. 
When you introduce a new product, hold back on its introduction until you have all of the comfort features available right out of the gate (like various lengths and shapes of pack straps). 
Evaluate the payback potential of telephone support so folks get more immediate customer service. 
Final Thoughts.
This pack was built to carry heavier loads and to last many miles and many seasons. I am guessing that the firmer foam on the shoulder straps and hip belt was chosen to last. If you are a one pack person who buys backpacks to be used season after season, and you are of average build, you should do well with this design, although it may take some getting used to depending.
Ron and Brandon work very hard to bring new ideas and ways of thinking to backpacking. Helpful comments to them may encourage more innovation. I would suggest giving this pack a try, but if you can not dial it in with the loads you plan on carrying, be preparerd to send it back. 
Source: bought it new
Price Paid: $250

Great pack, good fit.
Pros
Good fit
Lightweight
Durable
Cons
Fit can be hard to dial in
This pack is great. After owning for a little over a year now I really like this bag. The first summer I spent just adjusting the fit. It's a one-size-fits-all pack, so it took me a bit of hiking and adjusting to get the right fit.
I just took a trip and realized it's finally broken in. Fits great and carries up to about 25# really comfortably. I've dragged this thing through mud and up and down rock slabs and through some bushwacking adventures. This pack is still no worse for the wear.
If you're looking for a lightweight and durable pack this is it. 
Source: bought it new

Your Review
You May Like
Specs
Price
MSRP: $250.00
Reviewers Paid: $250.00