Six Moon Designs Silver Shadow Carbon Trekking Umbrella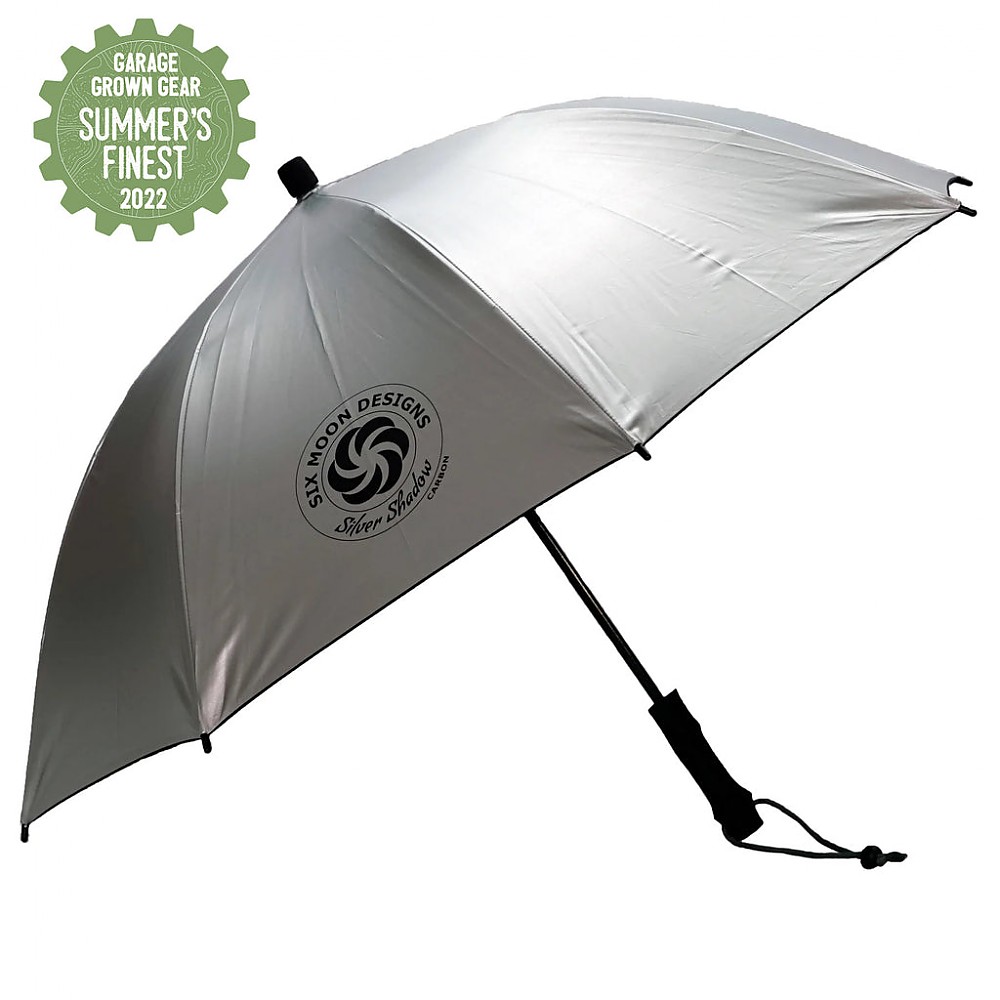 The Silver Shadow Carbon Trekking Umbrella is a versatile, durable and lightweight accessory. It's an easily-deployed shelter from the sun and precipitation. I especially found it useful on the AT when it was too hot to wear a rain jacket but too consistently rainy to suffer days being wet. I've worked out a pretty good system for attaching the umbrella to my pack, leaving my hands free. It also doubles as a pack cover, tent pole, privacy screen, and large animal deterrent.
.
Pros
Protection from sun/UV rays; lowers ambient air temp
Protection from precipitation, keeping the core dry...reduces risk of hypothermia but also increases comfort when hiking in hot and humid environments.
Attaches to backpack for hands-free use
Lightweight—6.2 oz
Sturdy, durable, and multi-use
Reduces need for rain gear and pack cover, saves weight
Deploys quickly and easily
Cons
Price
New ergonomic handle interferes with pack attachment
Length when stored...sticks up above pack and can snag on vegetation, damaging canopy.
Limits field of vision and increases profile on trail...not good for bushwhacking or on poorly maintained trails
More limited use in extremely windy, exposed conditions
People might make fun of you…but only because they are jealous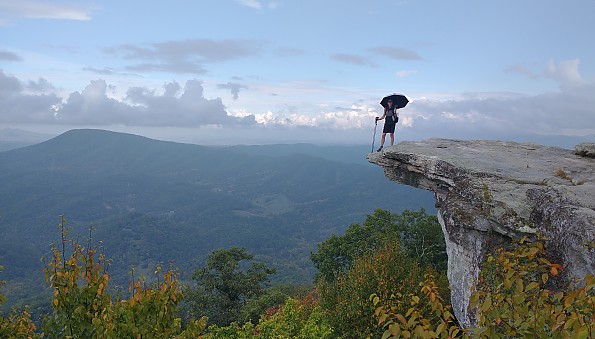 Since I've carried a trekking umbrella for all my thru-hikes thus far, I thought I'd do a rehash review of one of my favorite pieces of gear, albeit a different model and brand to that of my original trekking umbrella, the SwingTrek Liteflex. My main reason for the switch to the SMD Silver Shadow Carbon umbrella was simply the weight savings of a few ounces...and also the fact that after 5,000 miles, it was about time to retire my first umbrella (actually, I gave it to a friend on the CDT and as far as I know, he's still using it).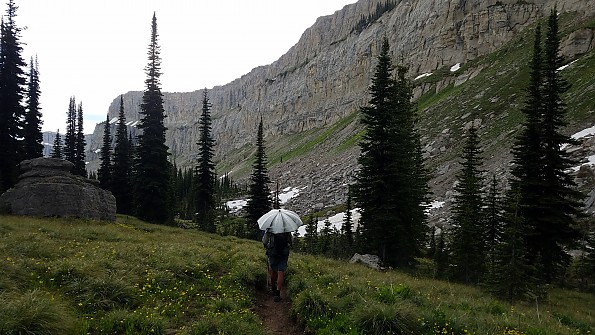 I wrote at length about the many benefits of a hiking umbrella in my first review, so I won't go into as much detail here. But I wanted to highlight a few of the design details that have changed over the years, as well as my own redesigns in pack attachment and best practices for long-term use, which I've learned after a lot of trail and error.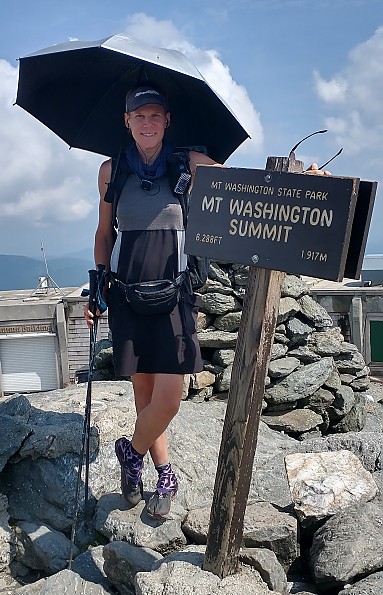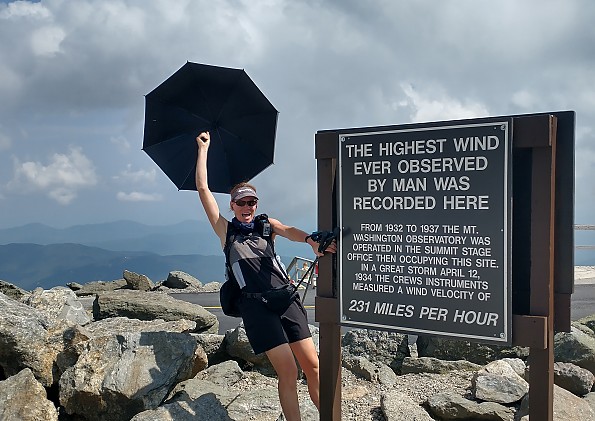 Conditions: I'm now on my second SMD Silver Shadow, my first having survived thru-hikes of the Continental Divide Trail, Arizona Trail, Long Trail, Grand Enchantment Trail, and about 3/4th of the Appalachian Trail. That amounts to about 5,700 miles that I carried this one umbrella, before the poor thing finally gave out. Of course, it wasn't actually deployed for all those miles...best guess is 1000-1500 miles of use in the sun, rain, wind, and sometimes even hail. A few overgrown trails took their toll, as well as the constant rocking about while attached to my pack and in my side pockets.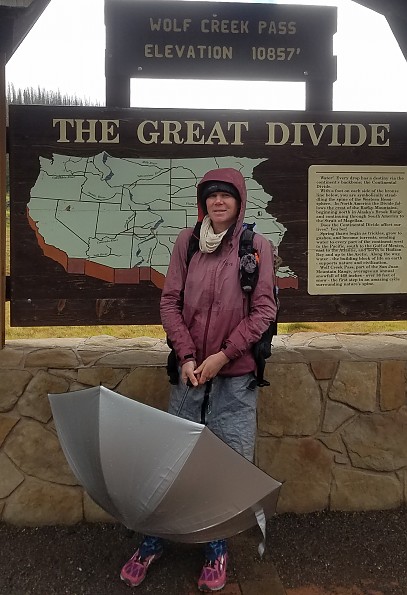 Overview/Specs:
The Silver Shadow Carbon Umbrella is just one of four different umbrellas in the Six Moon Designs lineup. Other Cottage Gear manufacturers, including Zpacks and Gossamer Gear, offer similar rebranded variations, all centering around the original GoLite "Chrome Dome" design. Even Hyperlite Mountain Gear is jumping on the trekking umbrella bandwagon, as I saw a yet-to-be-released version brandished by a company rep on the AT this past summer. Trekking umbrellas are one of those new, trendy things...but I'd tend to agree with the hype about them.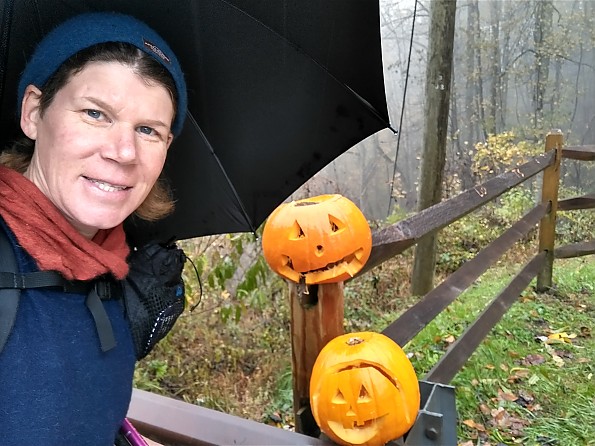 The lightweight race to the bottom has resulted in a few sub-5 oz trekking umbrellas...but beware the more complex folding kinds. Trust me, on the trail, you want simplicity and quick deployment! More moving parts mean more frustration and failure points. Fortunately, the basic and classic "Chrome Dome" design has also come down nicely in weight and price. I paid $50 for my first SwingTrek, but the lighter-weight Silver Shadow Carbon rings in at $40. The regular Silver Shadow can be found on sale for only $24, making it a much more palatable option for a weight penalty of only a few ounces.
Here are the specs on my SMD Silver Shadow Carbon:
Weight: 6.8 oz / 193 g (only 6.2 oz on my scale, after removing the handle strap)
Length: 25" / 63.5 cm
Open Width: 37" / 94 cm
Coverage: 7.5 ft2 or .7 m2
Carbon Fiber Frame
EVA foam handle
UPF 50+ Rating
Does not come with a case...fine by me since the one that came with my SwingTrek never got used and just ended up in the trash
New Features & Attachment Methods:
A unique thing about the SMD lineup, besides the carbon shaft, is an ergonomic handle. It does feel nice in the hand, but as I rarely hold the umbrella, preferring to attach it to my pack, I'm not sure I really like this change. The old handle was smaller in profile and had ribs that aided in my shock cord attachment. The new handle is smooth, allowing the shock cord to slip more easily. It's also so long that it interferes with how far I can slide the shaft up and down in my attachment system, adjusting to various conditions. A second clip, such that I used to employ instead of a shock cord, is probably out of the question with this handle.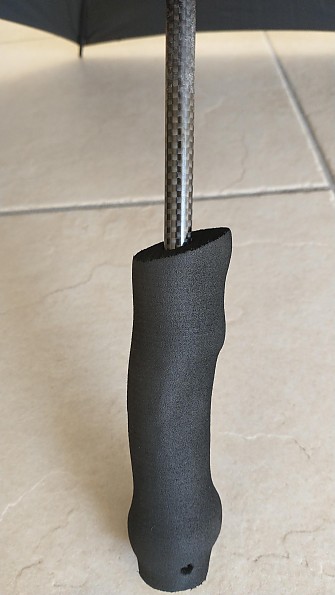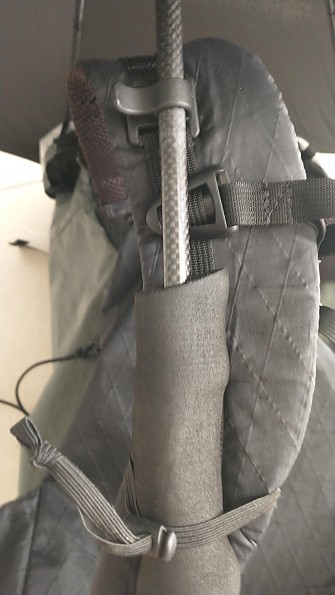 A number of Cottage Companies (Gossamer Gear, SMD, Zpacks) also market umbrella attachments accessories, most of which are some variation of a clip and bungee cord. I made due for years using my own system, which was a pair of converted tent clips and some shock cord. Taking a closer look at Zpacks' clip, I realized that it was very nearly the same kind that came with an old Platypus hose and pack.
With my new Waymark Thru 40 backpack, used for my AT thru-hike, I experimented with several of these new/old clips as well as my own bungee design. I eventually settled on the Zpacks clip and flat bungee, though it's still not a perfect system. The umbrella shaft pops out of the clip too easily and the bungee can also slide off the handle. I do like that these clips attach to the daisy-webbing of my pack with no hassle...a huge improvement over the cable ties used to attach my modified tent clips. However, these clips can inadvertently detach from the webbing...a friend  lost his in this way on the AT. I suggest carrying a spare.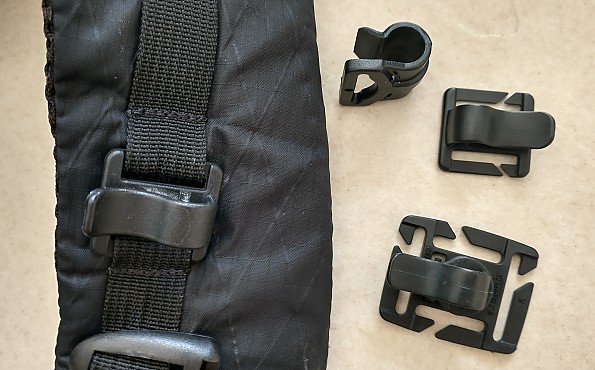 Perhaps the most unique and versatile attachment bundle is that from Gossamer Gear. It's designed to be paired with any pack, not just those sporting daisy-chain webbing. The clip and bungee also seem more purpose-built, hence my inability to replicate them using my own designs. I may experiment with these for my next hike.
Construction and Durability:
I was initially pretty disappointed when my first Silver Shadow broke. It wasn't due to any one event, such as hitting a tree, but rather the cumulative effects of thousands of miles. I hadn't even realized how much the umbrella had suffered through until I stopped to do the math. My recall was of recently purchasing the umbrella, not of the five thru-hikes since that time. I think the AT was especially hard on it, as I used it more than on any other thru-hike. The remnants of three hurricanes in two weeks contributed some to this.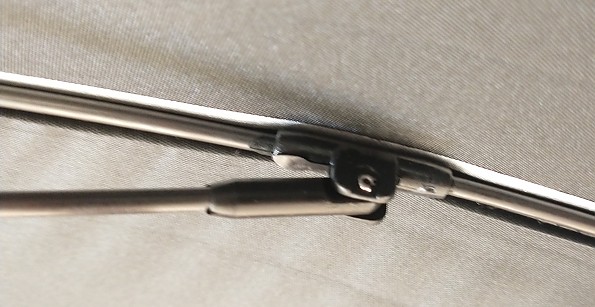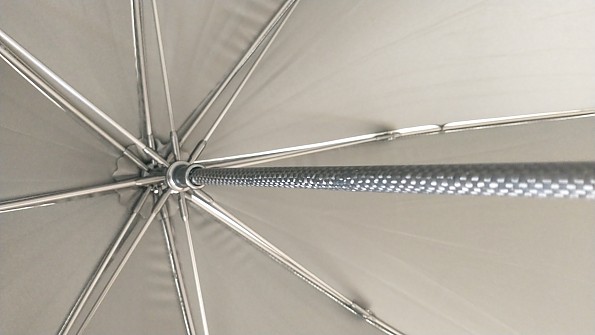 I was lucky that my broken Silver Shadow could still deploy, providing about 3/4 ths protection. This got me through a few more days of rain and 100 miles down the trail to the Damascus outfitters, who miraculously carried an exact replacement. SMD also generously offered me a 15% discount to order a new one online, but it was easier and more efficient to buy locally.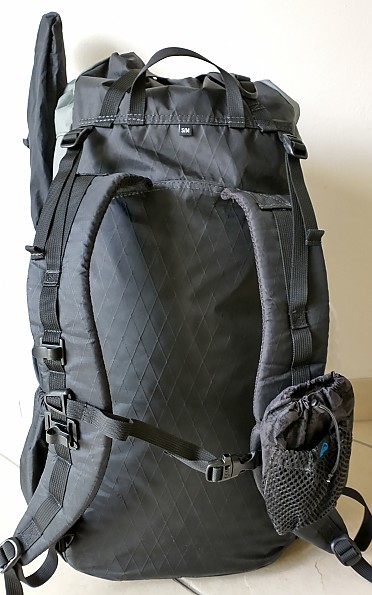 A trekking umbrella unfortunately sees a lot of wear and tear by simply living on the side of a pack. It sticks out above the top and will invariably snag on overhanging branches, deadfall, etc. This was especially painful on parts of the AZT and GET, where every desert plant has some sort of thorn/barb/hook/spike and love to encroach the trails.
I was able to patch such damage with GEAR AID Tenacious Tape, but better to avoid having to do so altogether. In an effort to prolong the lifespan of my umbrellas (as if +5000 miles isn't enough), I'm experimenting with sacrificial protective coverings, derived from items I'm already carrying...mittens, socks, etc. Ideally such coverings can take the abuse instead.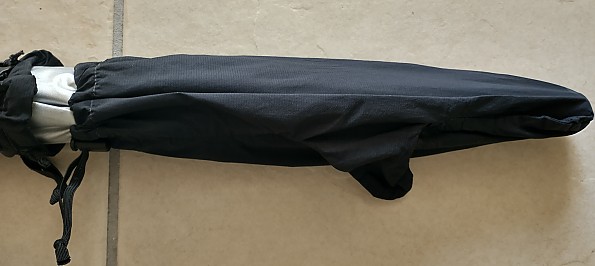 Here's a very brief rehash of some of the benefits of an umbrella (see my original review for the full list)...
Rain protection, both in the cold and heat: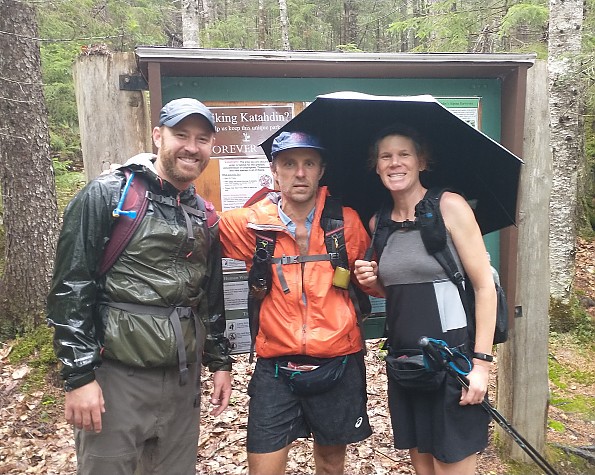 Sun/UV protection: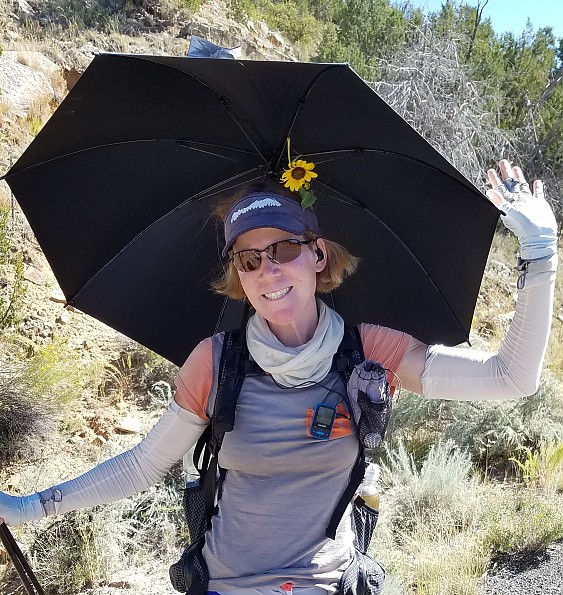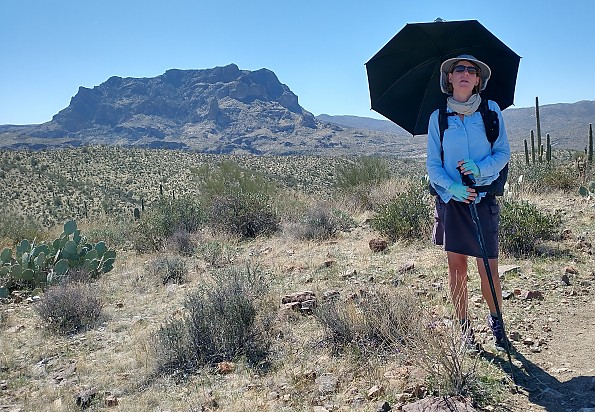 A Multi-Use Item: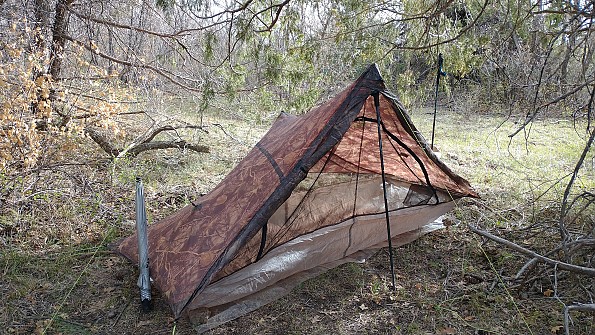 Though I've never had an experience where I could test my theory that umbrellas make good bear/cat/dog and any other angry scary animal deterrents, I did chase away a porcupine with my umbrella once. Granted, the poor porc was probably just as scared of me charging at it suddenly. I also heard from a Tiger King-related podcast that big cat owners use umbrellas to scare lions and tigers. Perhaps it's best that I never have to find this out for myself.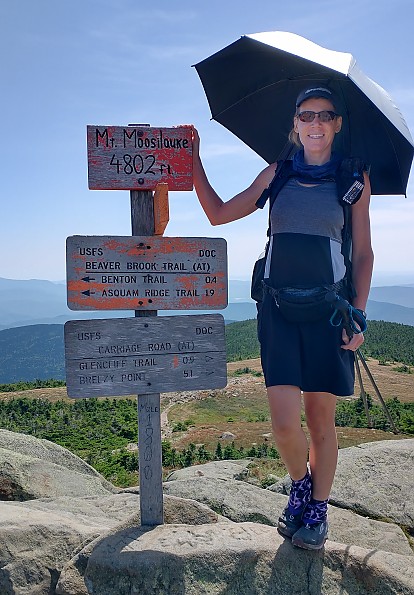 Background
I'm an umbrella queen...I don't leave home without one. 12,000 miles and eight thru-hikes with an umbrella at my side or over my head.
Source: bought it new
Price Paid: $40

Your Review
Where to Buy
Help support this site by making your next gear purchase through one of the links above. Click a link, buy what you need, and the seller will contribute a portion of the purchase price to support Trailspace's independent gear reviews.
You May Like
Specs
Price
MSRP: $45.00
Current Retail: $45.00
Reviewers Paid: $40.00

Weight
6.8 oz / 193 g

Length
25 in / 63.5 cm

Open Width
37 in / 94 cm

Coverage
7.5 ft2 or .7 m2

Shaft Length
23.5 in / 60 cm

Materials
Carbon Fiber Frame, EVA foam handle

Features
UPF 50+ Rating

Recently on Trailspace