Purple Rain Adventure Dress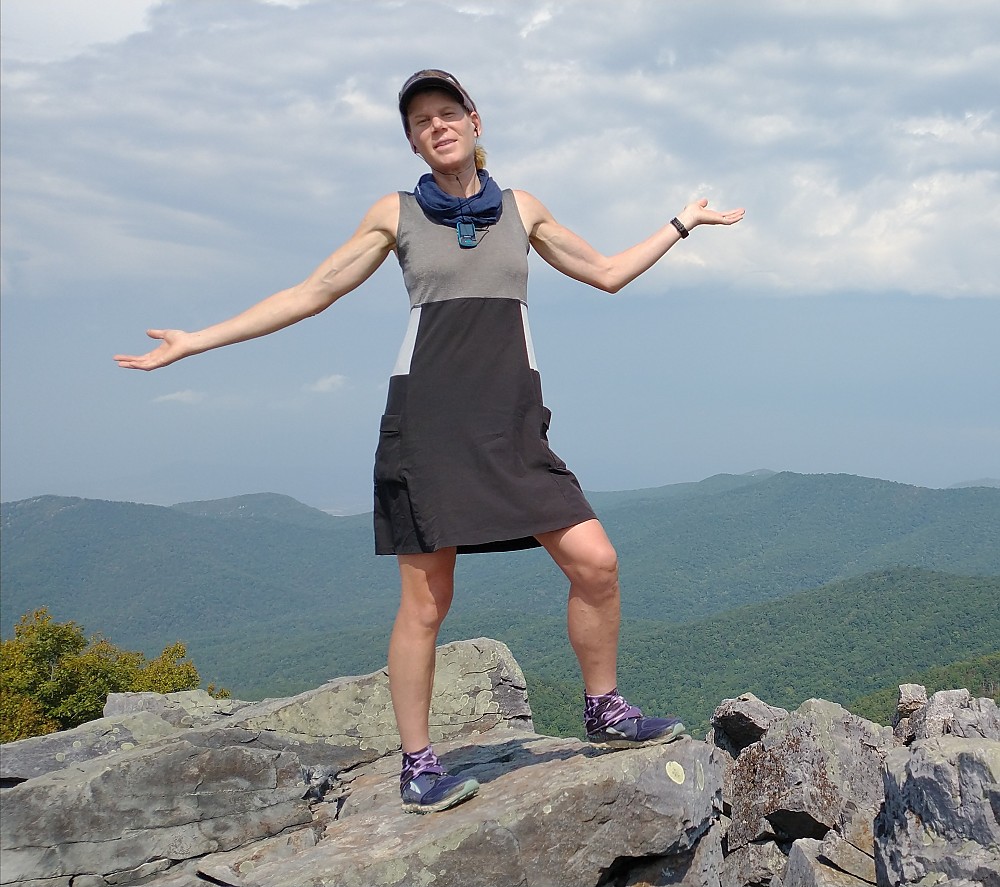 A Purple Rain Adventure Dress is a nearly perfect hiking garment, especially for hot, muggy, and shaded conditions such as those found on the Appalachian Trail. I wore mine continuously for my AT thru-hike. I prized it for its supreme ventilation, simplicity, functionality, durability, comfort, and quick-drying materials. The side-pockets were perfect for carrying my phone, snacks, toiletries, and a myriad of other things. I never thought I'd find a more comfortable piece of clothing than a Purple Rain Adventure Skirt, but the dress design is my new favorite.
Pros
Excellent ventilation and breathability
Made of functional, lightweight, quick drying, long-lasting materials
Facilitates full-range and easy movement
No buttons, waistbands, or zippers to get in the way
Designed/made in the USA by a fellow long-distance hiker
Multiple pockets for carrying cell phones, maps, snacks, etc.
Cons
Tank design allows sun-exposure on the arms and neck
Might allow chaffing for some body types
Length of bottom hem a little short for my body type
Limited production as of this publication, but new dresses of a variety of colors and sizes are in the works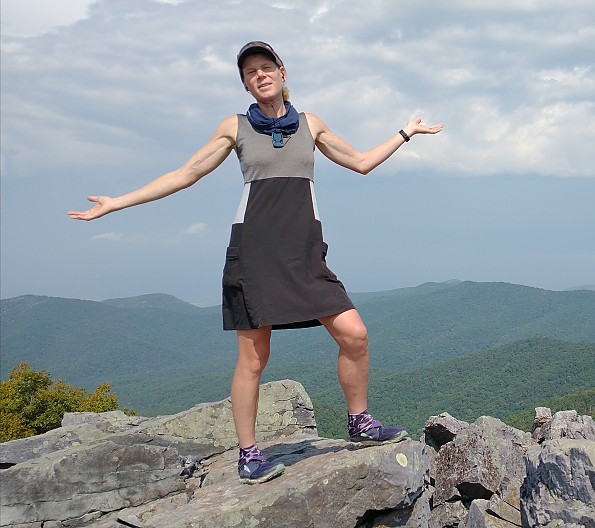 My Background & Experience with hiking skirts and dresses:
In 2017, I began a series of adventures that would eventually lead to a career, of sorts, in thru-hiking. I started with several section hikes of the Appalachian Trail, as well as a thru-hike of the Colorado Trail. These were my first trails wearing a Purple Rain Adventure Skirt, for which I published a review of my very positive experiences at the time.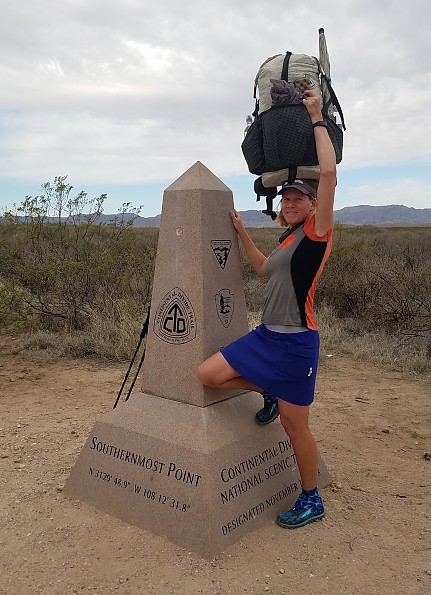 I went on to complete many more thru hikes since then, culminating with my finish of the Triple Crown on the Appalachian Trail summer/fall 2021. I've worn two different Purple Rain Adventure Skirts for all my trails, save for the AT, where I finally graduated to a Purple Rain Adventure Dress.
Here's that resume in a nutshell: Colorado Trail ('17/500 miles/black skirt), New Zealand's Te Araroa ('17-'18/2000 miles/black skirt), Pacific Crest Trail ('18/2700 miles/blue skirt), Continental Divide Trail ('19/2700 miles/blue skirt), Arizona trail ('19/800 miles/blue skirt), Long trail ('20/270 miles/black skirt), Grand Enchantment Trail ('21/800 miles/black skirt), Appalachian Trail ('21/2200 miles/Gray&Black Dress).
So, 12,000 miles later, I could say I have A LOT of experience with Purple Rain garments. First, let me list some of the general advantages and disadvantages I've discovered from hiking in skirts and dresses.
Benefits of hiking skirts and dresses:
Freedom of movement: no restriction around the knees or annoying swish/swish around the ankles or thighs. A dress allows for even more range of motion, since there's no confining waistband.
Ventilation is supreme.
Bathroom breaks are easy, while still maintaining a level of coverage / discreteness. Same goes for bathing and changing underwear, leggings and pants. This is especially useful when staying in communal areas (shelters/huts/hammocks), traversing desert and alpine environments, or hiking through highly trafficked areas.
Great for hiking in the rain, when paired with a rain kilt. Or just let your lower half get wet…. it will dry quickly once the rain stops. Also makes stream/river/mud crossings easier.
Simplicity...this especially pertains to a dress! There's just one piece to put on, take off and keep track of when washing clothes. Layering is also very straightforward..pants or leggings easily slide on underneath and thermal tops and jackets go smoothly over the top.
Confidence! I feel proud to rock a dress or skirt, blurring the lines of traditional gender-norms and femininity with my outdoorsy, tough-as-nails persona. Skirts and dresses are finally coming into their own as non-binary, functional and practical garments for anyone.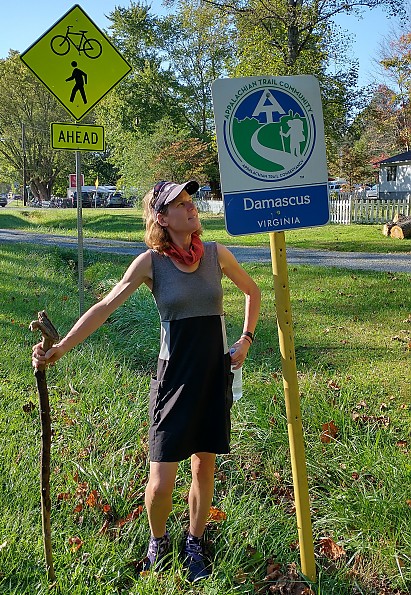 Do consider a few of the drawbacks (most of which can also be said for shorts and a t-shirt):
Sun exposure: I hate sunscreen, so covering-up is my preferred strategy for exposed environments. The Adventure Dress allows a pretty high degree of sun exposure to both my legs and shoulders/arms. For future wear of my dress in exposed conditions, I'll probably incorporate a product along the lines of a shrug or shawl, but an umbrella also does a great job.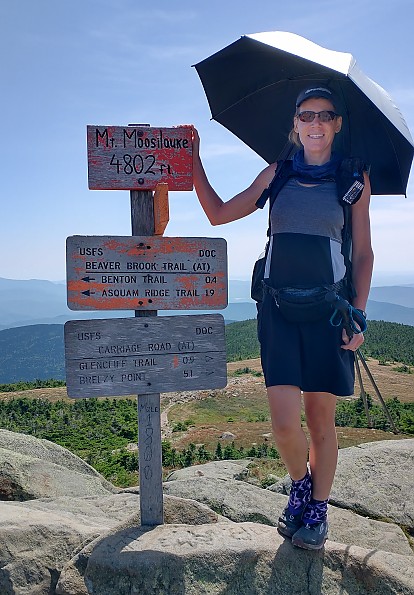 Buggy conditions, i.e. ticks, mosquitoes, flies, ants, etc: I've suffered through some pretty terrible situations and always managed to get by  either covering up with layers or bug spray. I also try to avoid the worst of bug-seasons by hiking later in the year (southbound and fall hikes). As such, I never even saw one tick on the AT.
Overgrown trails/bushwhacking/poisonous vegetation: I've endured some of the worst conditions (i.e. unmaintained routes along the Grand Enchantment Trail in NM and AZ) by wearing compression socks/tights to cover my legs, plus a long-sleeve shirt. I still think the benefits of a skirt or dress outweigh these intermittent risks and annoyances.
Thigh chafe... I have no solution for this other than anti-chafing cream. I'm fortunate not to have this issue but can certainly understand how it could be a problem.
Accidental exposure: sure this can happen but it's really no big deal for me. I wear underwear, which I occasionally intentionally reveal to go swimming (hiker-trash bikini). I've met plenty of hikers that wear nothing under their skirts/kilts, enjoying total freedom. It's a matter of personal choice and confidence.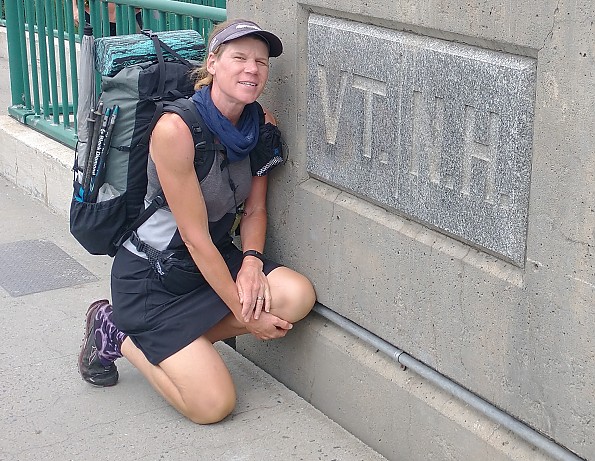 About Purple Rain Adventure Wear: Founded by long distance thru-hiker Mandy "Purple Rain" Bland, her small business started when she couldn't find what she wanted off the shelves, so she began making her own thru-hiking clothes.
Mandy sells her products (skirts/dresses/kilts) through her website and Garage Grown Gear. She also vends at some of the AT/PCT trail events in person. Her stock materials/colors/combinations are limited but she can do custom orders for sizing. On her front page, you will enjoy this slogan: Smart practical hiking skirts for baddasses. Handmade in Southern Oregon.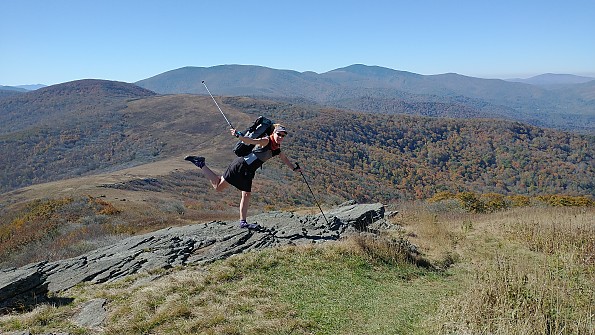 Specifics of my dress sample:
Size: Small

Colors: black, gray, light gray

Weight: 4.8 oz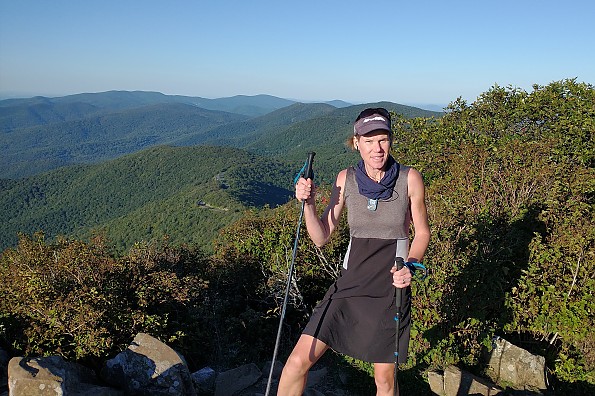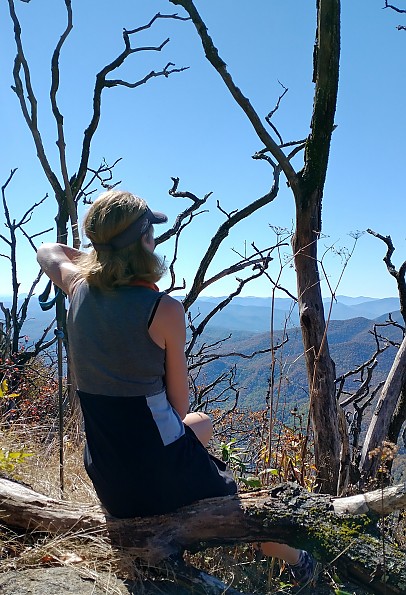 Mandy reached out to me at the beginning of 2021 to ask if I could test one of her dresses on a thru-hike. With the design being new to her lineup, she wanted to know how the materials would hold up over time and distance. The AT was the perfect trail for testing. I received my sample for free, under the condition that I would use the heck out of it and report back on my findings. So here they are:
Fit & Comfort: The minute I first put on my Adventure Dress, I knew I was hooked. It felt like I wasn't wearing anything, most notably around my waist. The dress employs a design known as an Empire Waist, which is basically a dress with a fitted bodice that drapes out from under the bustline, rather than at the natural waistline. The halter top is made of a stretchy material that feels just as unrestricted. The light gray side panels are composed of a mesh-like material that allows for additional ventilation around the midriff.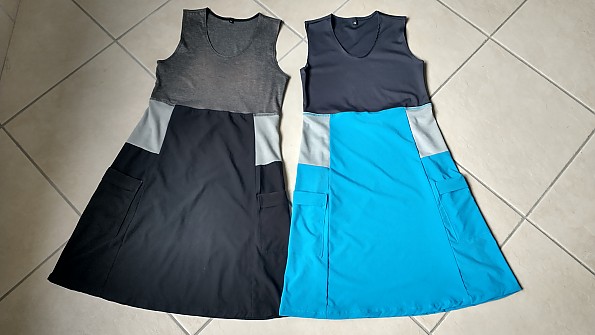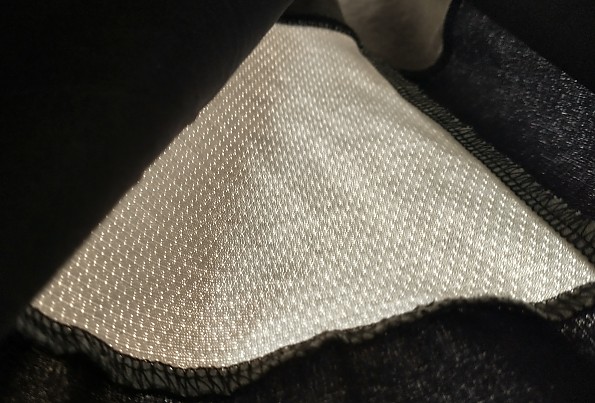 I enjoyed total freedom of movement for a wide range range of activities during my AT thru-hike. These included swimming, bathing, rock scrambling, butt-scooting over slippery rocks and logs, climbing over and under downed trees, sitting on the ground to cook and do camp chores, stretching, massage-rolling, sleeping, and stair-stepping my way into oblivion. To say that I lived in this dress would be both accurate and an understatement. It barely left my body for over three months, comprising my one and only outfit.
This is not unusual, as most thru-hikers wear the same clothes day after day. But I've heard my share of complaints about various clothing choices...this is painfully rubbing me, this is too tight or this is too loose after losing so much weight. I've known plenty of thru-hikers that had to buy new clothing early or mid-way through their hike, either because an item had worn out or was causing severe discomfort.
Throughout my experience on the AT, I reflected on whether there were any other clothes I'd rather be wearing and I always came to the same conclusion: No way! This dress is perfect! It never caused chafe, the seams never rubbed, and it continued to fit me, no matter how much weight I lost.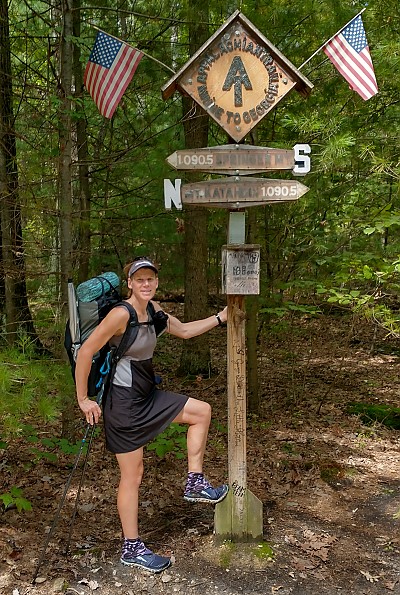 As far as the practicality of such a design, it's spot on. The dress is loose enough not to inhibit movement, but also fitted so that it doesn't snag. I never experienced any problems with the material catching on trail debris, bridges, ladders, etc. The fit was near perfect.
My only wish is that it were a little longer. Considering that I'm rather tall for a size small female (5'9" yet only 125 lbs when I've shrunk down to my hiker size), I wasn't surprised by this. I've long struggled with pants either being a bit short or else too large around the waist. With a Purple Rain skirt, I can pull it down further around my waist and hips, easily adjusting the length as needed. This is not so for the dress.
When sitting on the ground or bending over, the dress can appear a bit too short. I didn't really find this to be a functional problem, as I was still able to carry out a full range of motions as needed, it was mostly just aesthetic. And it's ok to show off my hiker legs, after all, I've worked hard to earn them.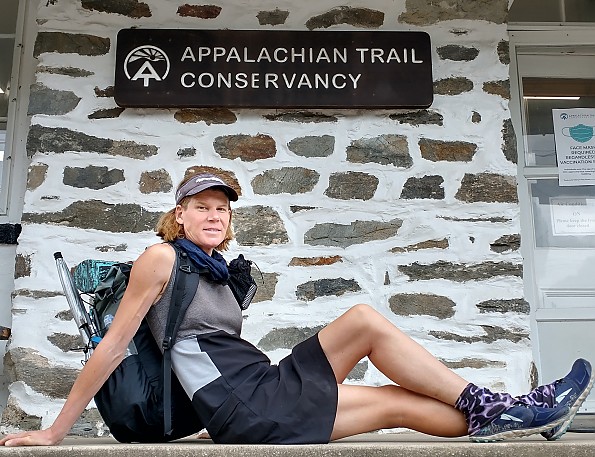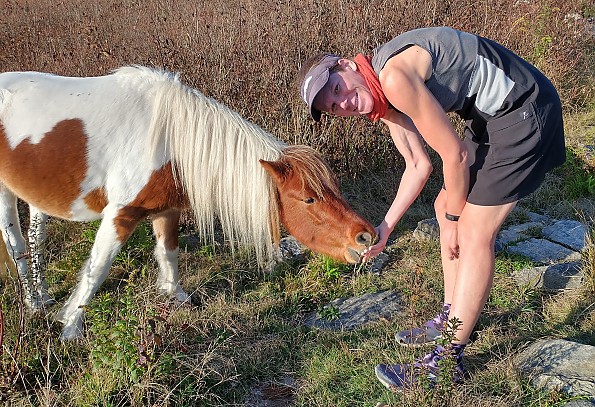 Adjustability: The Adventure Dress embraces simplicity. There are no zippers, snaps, velcro, or other adjustment features. There are also no built-in undergarments in the way of shorts or a shelf bra. At first I thought that a shelf bra might be a nice addition but now I'm convinced the dress is perfect the way it is. Users are free to wear whatever undergarments they prefer (mine are merino wool underwear and bras) or not wear anything underneath at all. In this way, the dress is truly customizable and non-gender specific. This simplicity leads to supreme comfort...even the seams were unnoticeable under my pack or when I slept.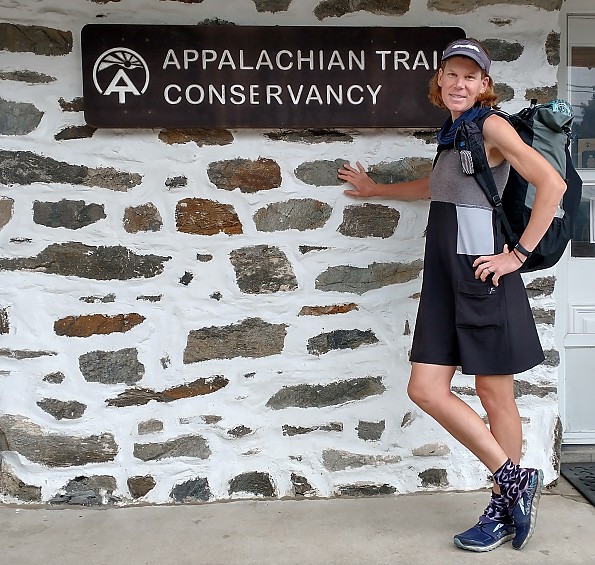 Breathability & Moisture: These are the attributes I appreciated most about this dress, especially while hiking the AT. It was hands-down the most sticky, sweaty, rainy, and hottest trail I've ever hiked. Having lived and hiked many years on the East Coast of the US, I knew to expect a lot of rain and humidity. Even still, I wasn't quite prepared for the remnants of three hurricanes (Fred, Henri, Ida) in the time span of two weeks. So much moisture really impacted my experience throughout New England, not to mention heat index warnings of the upper 90's in New Hampshire.
My clothes were usually soaked with sweat, if not by rain, by 7 a.m. every day for months. And yet, I endured with a higher level of comfort than most. One trick for hot climates, which I discovered from hiking a lot in Florida, is to frequently dunk myself and my clothes in water sources. The evaporate-cooling effect really helps refresh me. This became a once or twice daily routine on the AT, keeping me cool, rinsing the sticky and crusty sweat off my body, and mitigating my hiker stink.
I was really impressed by how well the performance materials of the dress ventilated, particularly the mesh side panels, as well as how quickly they dried. I found that I could soak in a stream 1-2 hours before making camp and that my dress would be mostly dry and fresh by the time I stopped.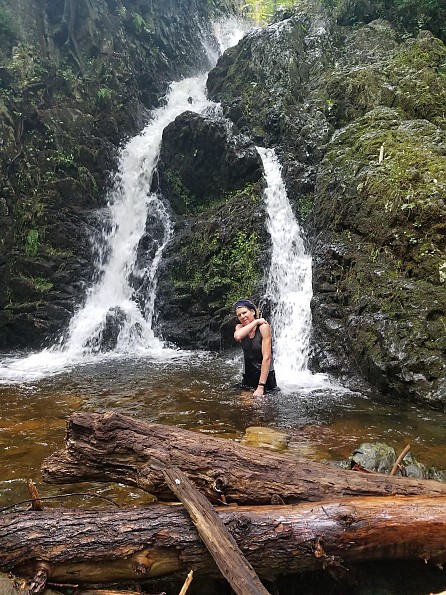 In this way, I was able to often slept in my dress, as it was too hot to change into my tights and fleece. Other times I bathed or swam when I got into camp, hanging my dress and underwear to dry for the night (though nothing really ever dries overnight in such humidity). Putting on wet clothes in the morning is a common experience for thru-hikers but the properties of my dress and merino undergarments made such an inevitability more bearable.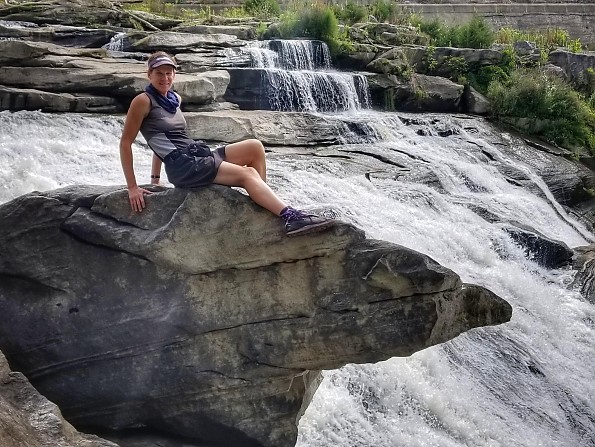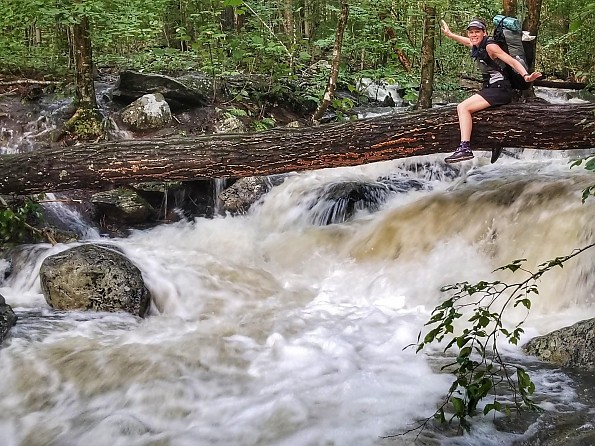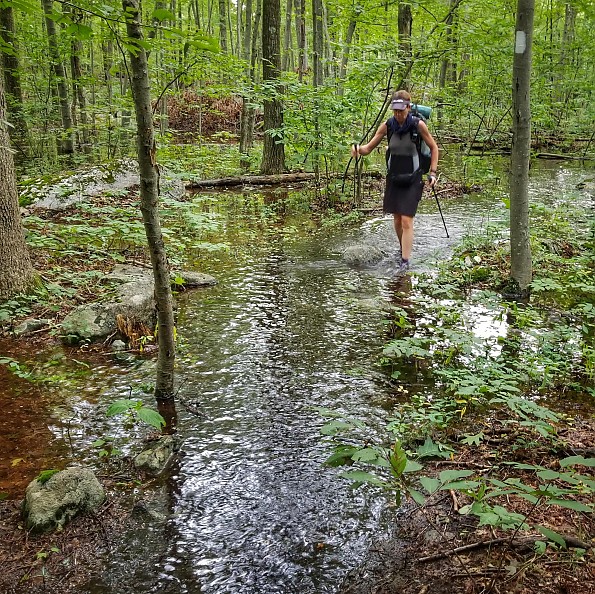 Warmth & Layering: The Adventure Dress is specifically designed to be a summertime garment, as it's ultralight and well-ventilated. However, it's also a very versatile garment for the shoulder seasons of thru-hiking, since it's exceedingly easy to add layers. Whenever the conditions dictated, I simply wore some combination of tights, my Zpacks rain kilt, Appalachian Gear Co All-Paca Crew, Gore Rain jacket, or Montbell Puffy. Such items are the core of my spare clothing carried on nearly every thru-hike and have gotten me by with temps into the low 30's.
For the vast majority of the AT, I hiked in just my dress. It was only in the last few weeks on trail (mid October to November 4th) that I started hiking with the addition of my fleece...this one layer was enough to keep me warm into the 40's, as long as I was moving.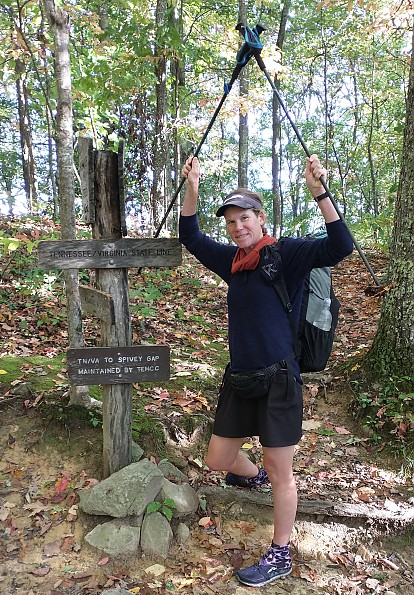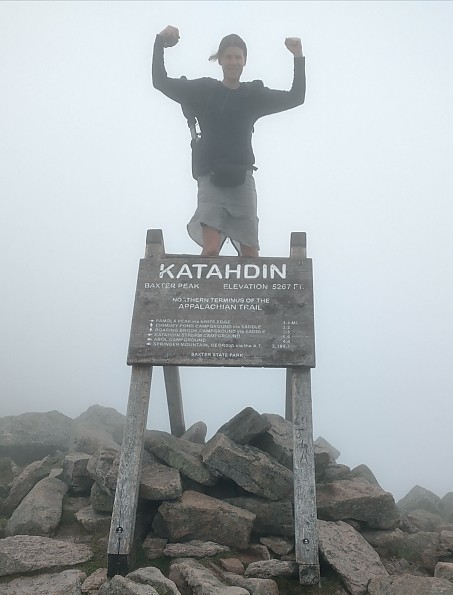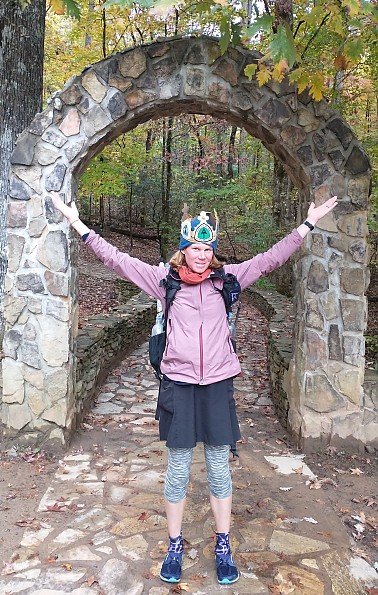 Function & Features: There are several things that set the Adventure dress apart from discount store or second-hand offerings a thru-hiker might be tempted to buy, in order to save money. Most casual dresses are not designed with sports and outdoors objectives in mind. As mentioned before, the dress is made from performance materials that are wicking, quick-drying, and have just the right combination of support and stretch.
Secondly, and perhaps most importantly, Purple Rain products all feature large side pockets. Each pocket incorporates two separate spaces in a layered design, similar to those found on cargo pants. In early productions, the top pocket flap was secured with velcro, but now it's simply sewn at the sides. This creates a pretty secure yet easily accessible pocket for things like money, cards, and small toiletries.
I much prefer the lack of velcro from the original design. I also think the pockets are located perfectly, where they don't interfere with my stride, arms, or bounce excessively against my legs. In fact, I'd say they're the most functional pockets of any recreational garment (pants/shirts/jackets) I own. The only pocket that comes as close to being as handy is that of my Fjallraven Abisko Trekking Tights.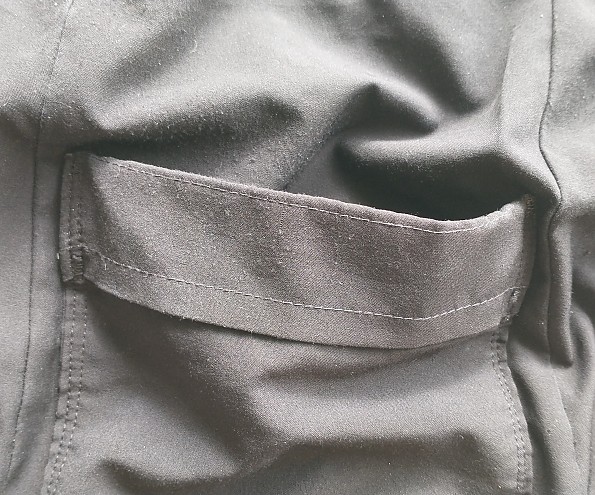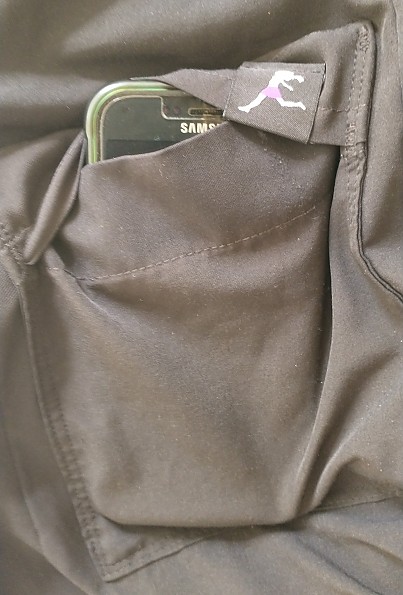 I've carried my phone in these pockets for thousands of miles without serious mishap...a few times it did come out when I tripped because I keep it in the unsecured pocket for ease of use and because my new phone is too big to fit in the secured pocket. I've also used the pockets to stash just about anything I could fit. They even come in handy for carrying Smartwater bottles a short distance when making a run, sans pack, to an off-trail spring.
I love that I always have a spot to carry things, even when I'm not wearing my backpack or fanny pack. When constantly traveling and on the go during the course of a thru-hike, it's really advantageous to wear clothing with pockets!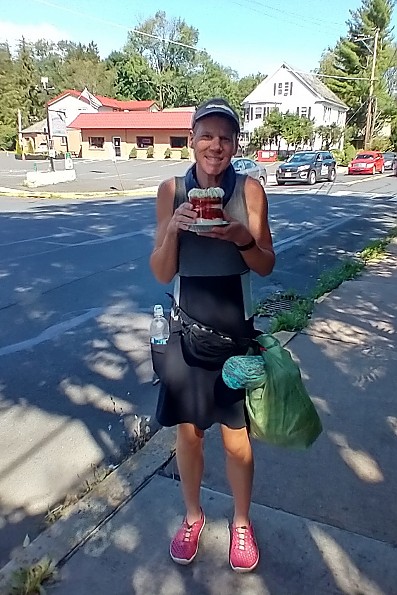 Construction, Durability, & Abrasion: One of my first observations upon receiving my dress was how lightweight it was...in total less than any of my skirts! This was a good trait, as it lightened my worn weight by a few ounces. Yet it concerned me that the material might be too thin.
I'm happy to report that the dress surpassed my expectations of durability. It lasted through my entire thru-hike and it wasn't even until I got home that I noticed any holes. The seams remained perfectly intact and there are no rips or stains. This is pretty incredible given such a strenuous and damp thru-hike, plus the number of times I slipped and fell.
I wish I could say the same for the rest of my gear...I had more gear failures on the AT than I did on the rest of them combined (granted I was reusing some old gear that had already put in the miles on the other trails).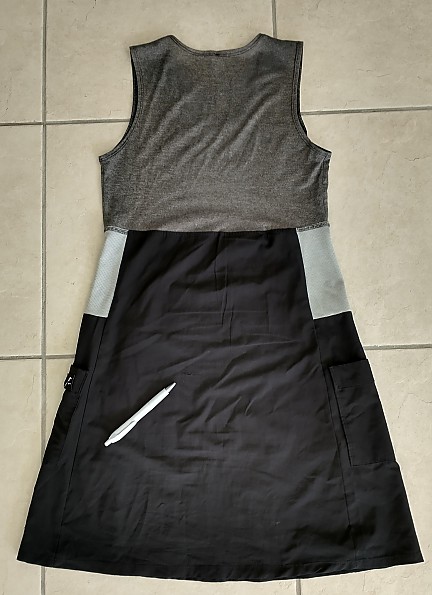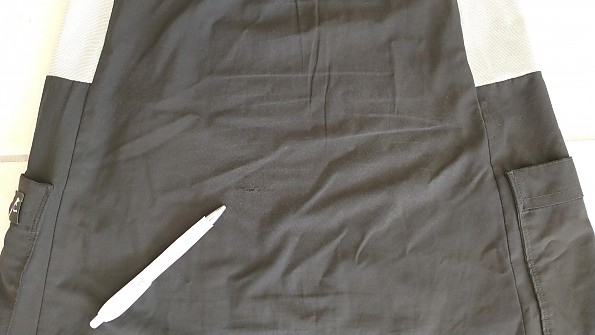 Besides some minor pilling around the thighs and some stress to one of the pockets from the weight of my phone, there's only one area that shows significant wear. As expected, the dress suffered the most abrasion where the bottom of my pack landed on my upper pelvic bones. There are two pretty threadbare regions on the dress here, as well as one hole.
I hadn't even noticed these spots until I closely inspected the dress at home by holding it up to the light. It makes sense that this region would receive the most abrasion. On my old HMG Southwest pack, carried for over 9,000 miles on six thru hikes, my backside completely wore off the padding on the pack! Incredibly, my skin has never suffered any sores or bruises from such rubbing, so apparently I'm a bit tougher than my gear.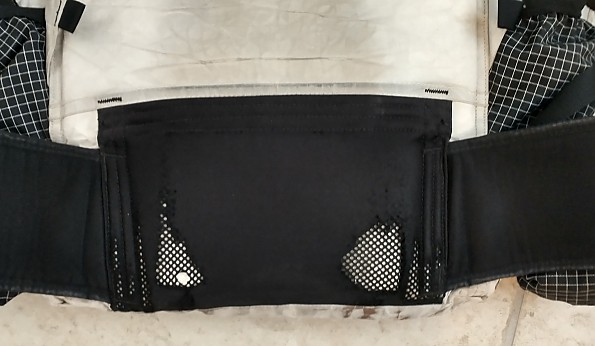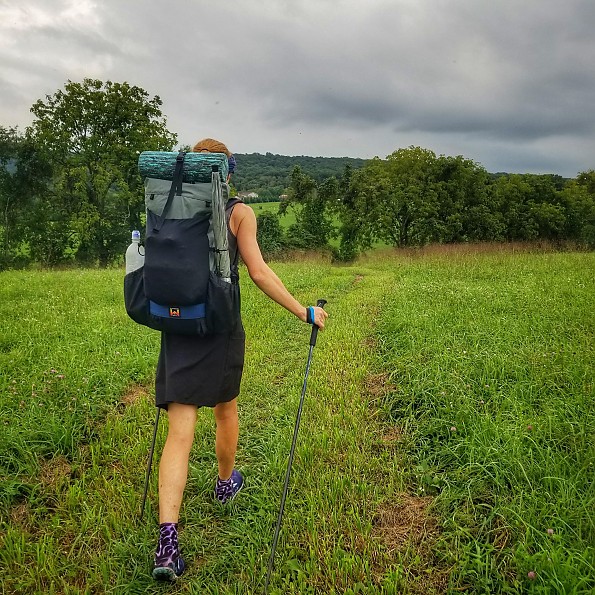 For the AT, I used a new pack: a Waymark Thru 40, frameless and without a hipbelt (review coming soon). Given the more lightweight and nonrestrictive design of such a pack, my shoulders carried most of the load. However, I possibly experienced more abrasion around my lower back because of the free-swinging, belt-less nature of the pack.
I don't fault the dress for not holding up to such friction...clearly the rest of the dress is still intact, having withstood the regular abuse of thousands of miles. I'd still say it's a big win for the dress and hopefully I can get some more miles out of it by patching the affected areas.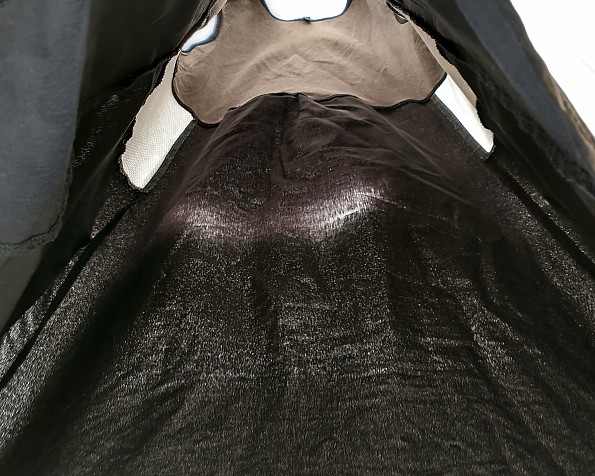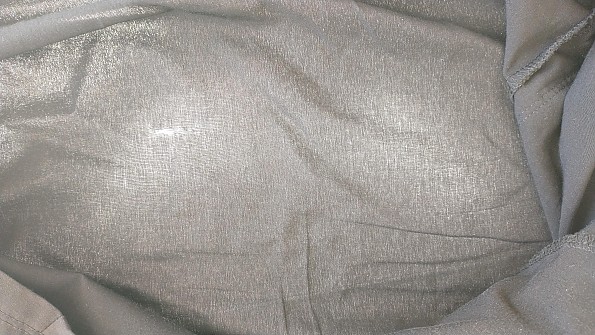 Conclusion: I loved my Purple Rain Adventure Dress well enough to buy a second one. I purchased it during a holiday special, opting for a size XS despite my concerns for the length. Fortunately it's not any shorter than a size small. Mandy also seems to have slightly altered the width of the halter-top shoulders, which I think will be an improvement. Otherwise It seems to be almost the same as my first dress. I look forward to wearing it on my next adventure!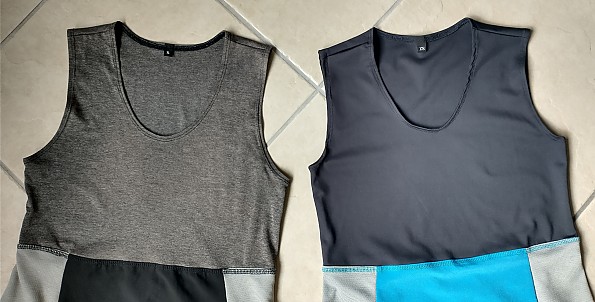 Background
I've hiked and backpacked extensively (10,000 miles) in Purple Rain Adventure Skirts. I wore the Adventure Dress for just over 100 days straight while thru-hiking the entire Appalachian Trail (2,200 miles). I also wore the dress for an overnight backpacking trip in Colorado, prior to the AT as a shake-down trip. I've purchased a second dress for future use, but will continue to wear my first dress for local adventures.
Source: tested or reviewed it for the manufacturer (Kept it.)

The Adventure Dress's weight-to-coverage and comfort are the best of all skirt or dress options for walking, hiking, backpacking, driving, around the house, and everyday wear.
Pros
Unisex—suits men well
Comfortable fit and fabric
Top mesh fabric is cool
4 pockets that work
Stellar blue is great color
Cons
Slightly short length for someone taller than 6 ft.
Not much I can add to Twig's superb detailed review. Mandy Bland's dress design is suited for hiking, backpacking, travel, and so many other uses. Weight is 188g (6.6 oz) for XL and 200g (7 oz) For XXL.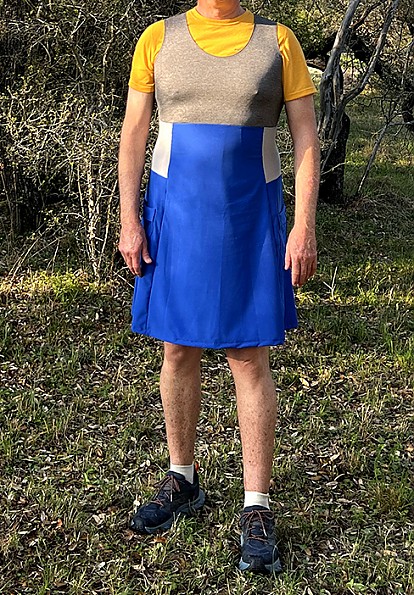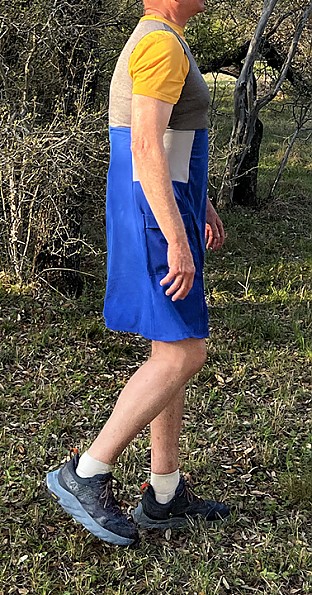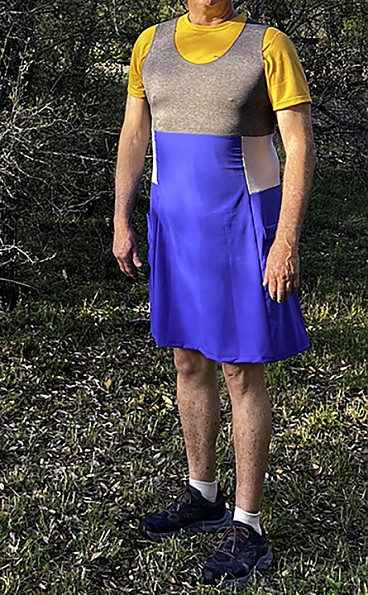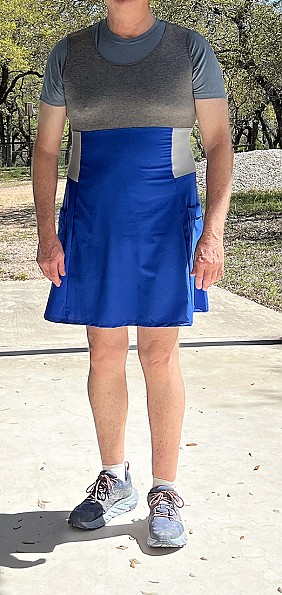 As a male user, it hangs well, feels good against the skin, and dries quickly when wet. The flare is excellent for leg movement, offering considerable range in stride. The dress's shoulder straps stay in place and are comfortable with backpack shoulder harness. It is my favorite dress. Encourage more men to wear this dress on the trail.
Background
Had it for 3-4 months. Worn while hiking, traveling, at home, and while working.
Source: bought it new
Price Paid: $99

Your Review
Where to Buy
Help support this site by making your next gear purchase through one of the links above. Click a link, buy what you need, and the seller will contribute a portion of the purchase price to support Trailspace's independent gear reviews.
You May Like
Specs
Price
MSRP: $99.00
Reviewers Paid: $99.00

Material
eco-friendly recycled stretch polyester

Recently on Trailspace