Zpacks Rain Kilt

#3 in unisex Hiking Skirts
A Zpacks Rain Kilt is a great way to shave weight and still protect your lower half from getting drenched. It is a very simple, compact, ultralight garment with multi-use functions.
Pros
Ultralight (1.9 oz) and multi-use
Easy to take on and off
More comfortable, affordable, and lighter weight than rain pants
Doubles as a windstopper for cold conditions
Doubles as a garment when doing laundry
Cons
Price (but much cheaper than most rain pants)
Slightly see-through
Zipper may leak a little
Regular Waist: 1.9 oz (54 g) / Fits up to 38" (97 cm)
Large Waist: 2.1 oz (60 g) / Fits up to 50" (127 cm)
Length: 27" (68 cm)
Width when opened flat: 52" (132 cm)
About rain skirts/wraps/kilts: This idea probably took hold when someone figured out that wearing a trash bag was far cheaper and more comfortable than rain pants. Even today, the trash-bag method is still widely favored among thru-hikers. Rain pants are often too hot and also tedious to put on and take off. A trash bag allows air to flow, is simple to don, and facilitates easy bathroom breaks, while still managing to keep your lower half dry. Best of all, they are cheaper, more compact, and lighter weight than rain pants.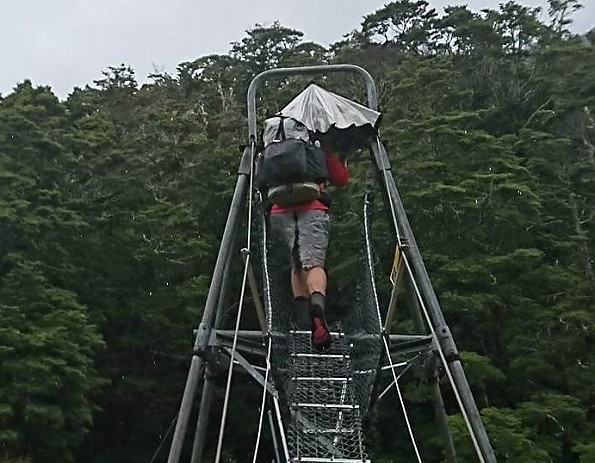 Several companies have seized on this idea of wearable plastic to produce rain skirts, wraps, and kilts. There are a variety of offerings in various materials and designs. After weighing all the options, I went with the Zpacks Rain Kilt because I really like things made of Dyneema Composite Fabric (DCF) and they had one discounted $15 off in their bargain bin. SOLD!
Fit/Adjustability: Zpacks Rain Kilts are more of a one-size fits all item…actually, they come in two sizes (see Specs, above). Mine, a regular, is quite large around my waist but can easily be cinched by the elastic draw cord and cord lock sewn into the waist. It does tend to ride up, especially when I am foregoing my pack's hip belt. But it's usually a simple matter of pulling it down and tightening the draw cord when this happens.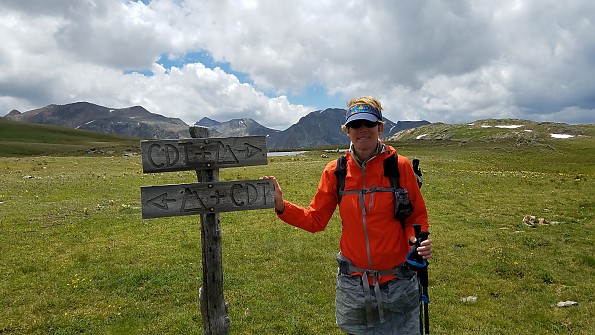 The skirt comes down to just past my knees, but this length is easy to manipulate. I've seen others roll their skirts at the waist to get an optimum length. A guy on YouTube even demonstrates rolling it all the way up and leaving it around his waist, to be quickly deployed for off-and-on rain.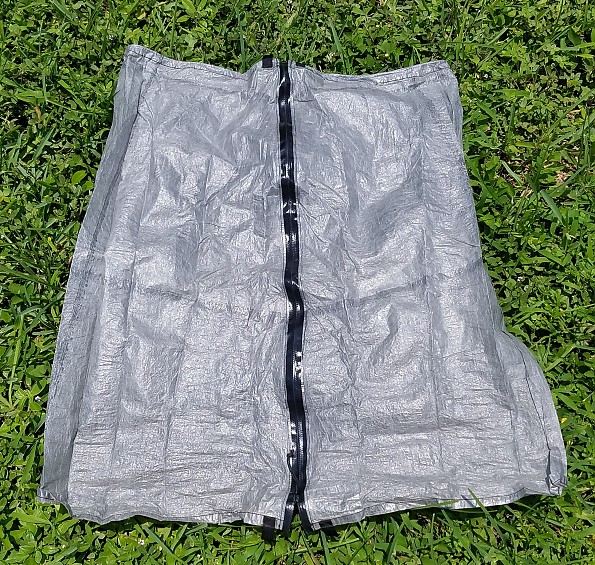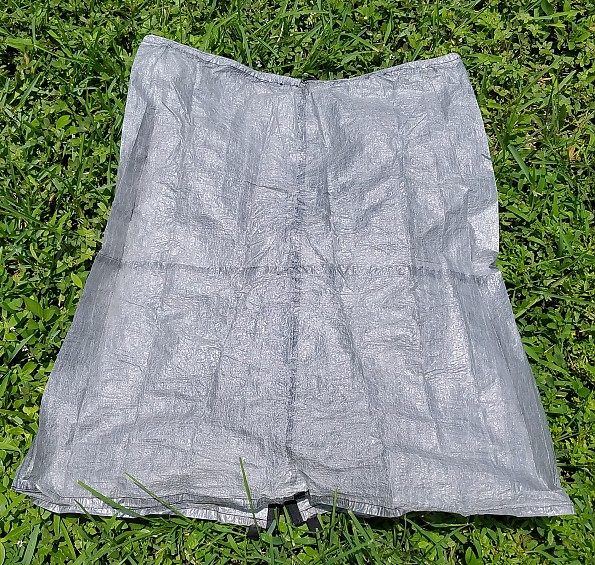 The shape of the Kilt is conical, meaning that it is wider at the bottom. This allows for a broader range of movement. At the same time, the zipper can be opened to allow for an even longer stride. I usually wear it with the zipper open about 12 inches. I am able to do just about anything needed on the trail, from scrambling over downfall to crossing rivers.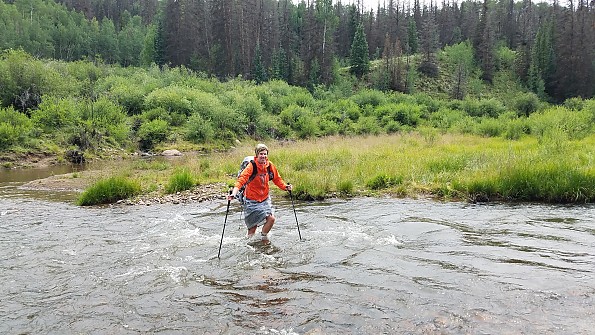 Comfort: DCF material is not breathable but the design of the Rain Kilt is, for obvious reasons. It can sometimes get a little hot underneath, but never as hot as rain pants. I have worn it in summer conditions on the Appalachian Trail and Te Araroa and never been unhappy. If need be, I can lift it up and flap it about, creating a nice fanning effect (just don't do this in public or people with think you're daft).
Its wind-stopping abilities also work to its advantage. There have been times when I needed just a little extra layer for warmth (no rain) and have also found it to be very comfortable in some pretty cold and rainy conditions.

Walking next to a glacier in New Zealand
Layering: How comfortable a rain skirt is may also depend on what you wear underneath it. I wear a Purple Rain Adventure skirt, and the two pair very nicely. Shorts and tights are options as well. Long pants wouldn't make a lot of sense but perhaps they could work. The Rain Kilt also serves as an ideal garment for changing clothes...just like a beach towel, except that it's a little more see-through.
Function: The Rain Kilt generally does exactly what it's supposed to do, and that is keep me dry from the waist to knees when it's raining. When paired with an umbrella, it is the ultimate ensemble for hiking in wet but warm conditions. It also comes in handy on days when the trail is really overgrown with dew-covered vegetation. Conditions like this are probably just as frequent as the rain.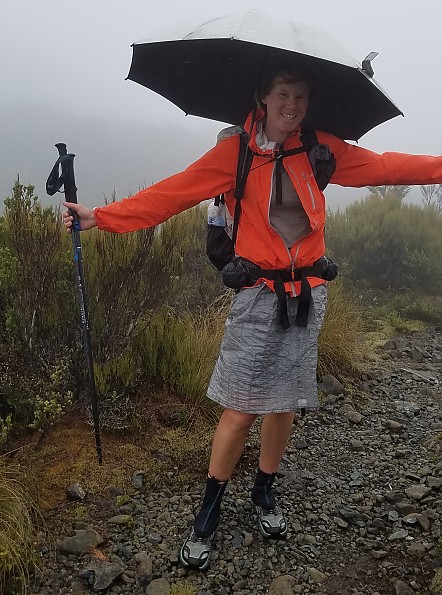 The Kilt will do nothing to keep your shoes dry, but it isn't meant to. In fact, I know of few remedies for dry shoes, so I embrace the lightweight trail runner shoes that gets wet easily but can dry quickly…that's a whole other debate.
There has been one instance where the Kilt seemed to suffer some leakage. It was during a very heavy day of rain for hours on end, where the water was running off my umbrella, onto the bottom back of my pack, and then down onto my rear. After a few hours, I noticed that my underwear were starting to feel wet. I thought maybe it was just from the splashing of water from below…which certainly can happen when wearing a skirt under a kilt. But I suspect there may have also been some leakage through the back zipper (I know the DCF itself is waterproof).
It's also possible that the water was leaking through the back of my rain jacket and down my waist, but I doubt this. It was pretty minimal and not a big deal, since all the while, my clothes were able to dry underneath the kilt, due to air flow and body heat...something that will never happen with rain pants. I am curious to try wearing the Kilt with the zipper towards the front during the next downpour, to see if that makes any difference.
Construction and Durability: The Zpacks Rain Kilt is made from waterproof 1.0 oz/sqyd DCF. It rolls up into a tiny package, secured by the draw cord…no stuff sack is needed. I keep mine stuffed into a hip belt pocket or side pocket when not in use. When worn, it resists tears and punctures really well. I have tested this many times bushwhacking through overgrown trails and downfalls.
After two seasons of thru-hiking, I have not had any issues with wear or damage. The DCF has a lot of micro-creases, which will eventually lead to the break-down of the material. But so far, it is still waterproof.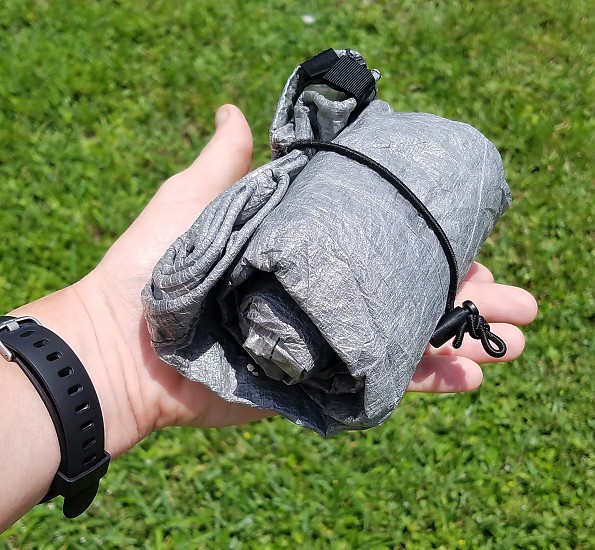 The zipper has also held up well. One time I stumbled while trying to pull the Rain Kilt on, catching my foot on it and splitting the zipper track. It went back together, no problem. All the seams have held together, as well. Zpacks offers a 1-year warranty, but it's unlikely you'll use the Kilt enough during that time to take advantage of it.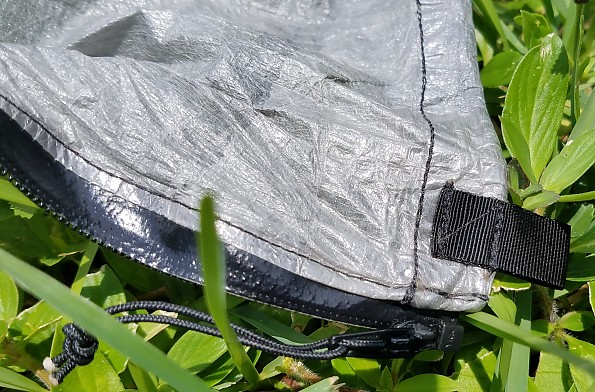 Multiple Uses: The Zpacks Rain Kilt is designed to have additional functionality. It unzips fully to lay flat if you want to use it as a picnic/table cloth, a seating area, for gear storage under a hammock, or even a tent footprint. It could also serve as a pack cover or mini-tarp. It has six reinforced tie-out points for securing it in various positions.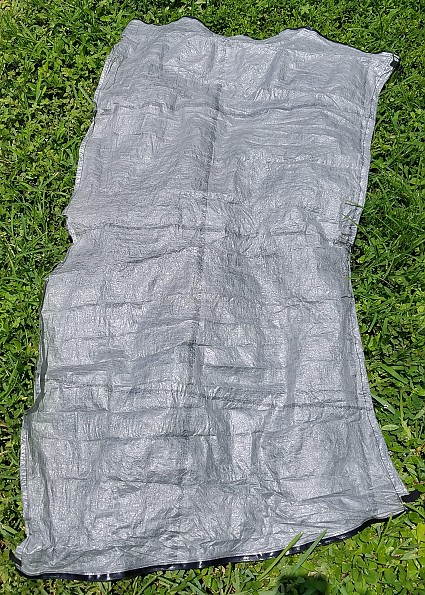 Personally, I have not used it much for anything other than a rain skirt, but it's good to know there are options. I do use it frequently as a cover for my lower half when doing my laundry in town. I look like an idiot and it may be a little see-through but hey, it gets the job done! In general, you'll score really low fashion points while wearing this Kilt, but I like to embrace my Hiker Trash sensibilities. It certainly makes a statement!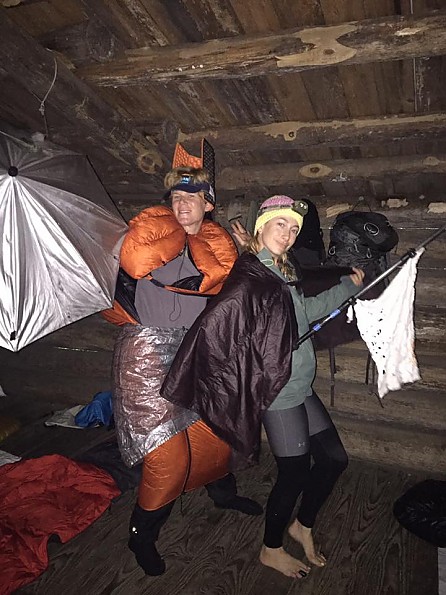 Hiker Trash runway models.
Conditions: I have used Zpacks Rain Kilt for section hikes on the AT and the full length of the Colorado Trail and Te Araroa. I have yet to wish for rain pants on these adventures. I'll report back on how it holds up on the PCT.
Source: bought it new
Price Paid: $45

Your Review
Where to Buy
Help support this site by making your next gear purchase through one of the links above. Click a link, buy what you need, and the seller will contribute a portion of the purchase price to support Trailspace's independent gear reviews.
You May Like
Specs
Price
MSRP: $59.00
Reviewers Paid: $45.00

Length
27 in / 68 cm

Recently on Trailspace