Six Moon Designs Silver Shadow Ultralight Umbrella

Top 25 in Accessories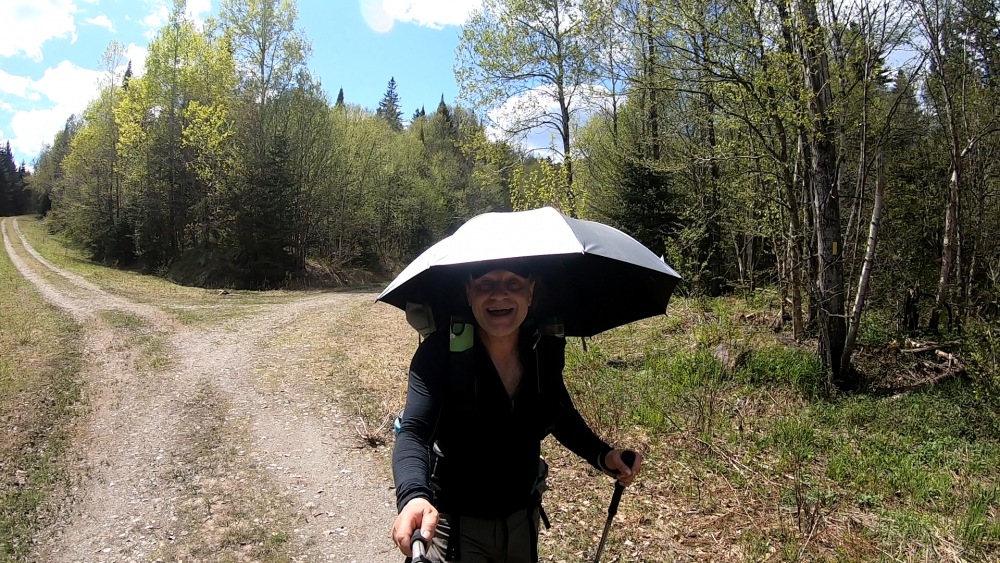 The SMD Silver Shadow is a trail umbrella designed to protect rain or shine. Light and easy to carry it pops up fast and stows easily. Not very functional for bushwhacking, but great for use on open trails, ridges, and road walks where trees don't get in the way.
Pros
Light and easy to carry
Silver top reflects sun
Easy to open and close
Non-reflective interior
Surprisingly sturdy
Cons
Trees and strong wind are mortal enemies
Can block breeze when used as sunshade
Limits vision especially when climbing steeply
Weight - 8.9oz/252g
Length - 25"/63.5cm
Open Width - 37"/94cm
Features & Construction:

The Silver Shadow takes its name from the reflective surface of the exterior of the dome. SMD doesn't list the specifics of this material, but it is a single layer with the interior side a non-reflective black matte finish. There is a small strap with velcro patches which is used to secure the umbrella when furled.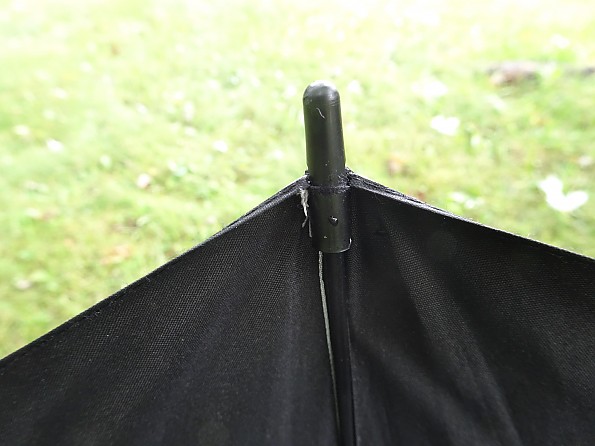 There are eight fiberglass spines that support the umbrella dome. Each is fitted into caps which are sewn into the dome material. The caps are intended to prevent the spines from poking through the material, a common umbrella failure point.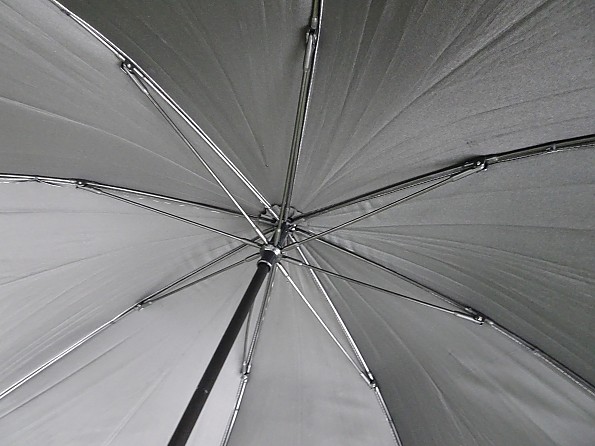 The spines are supported by struts radiating from the 23.5" center shaft. There are no springs used nor are there mechanical catches to hold the Silver Shadow open or closed. When the struts are fully extended as the dome is raised they create a natural pressure which holds the umbrella in place.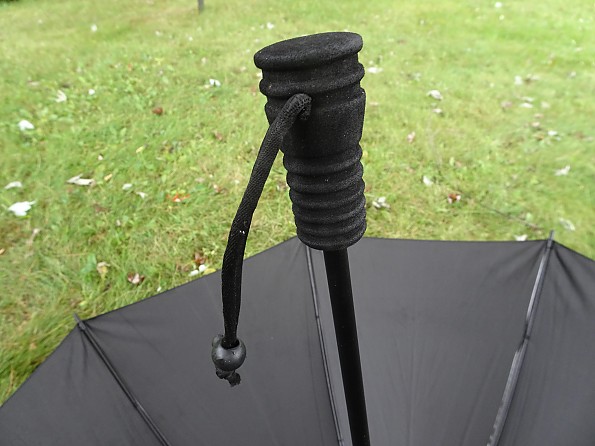 At the other end of the center shaft there is an EVA foam covered handle that runs roughly 3 inches in length. An adjustable cord has been attached in what appears to be a permanent way. This cord includes a tension lock.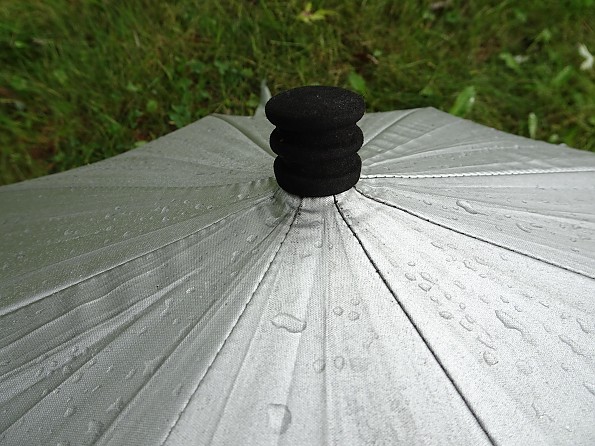 The tip of the umbrella extends about 1 inch and is covered in foam. This protects not only the tip, but packs and other items when the Silver Shadow is stowed.
Ease of Use:
Somewhat to my surprise, I found it easy to carry and use a trail umbrella. It wasn't in the way when not in use and was very easy to use when desired. I made this quick video to demonstrate what I mean by easy
Function: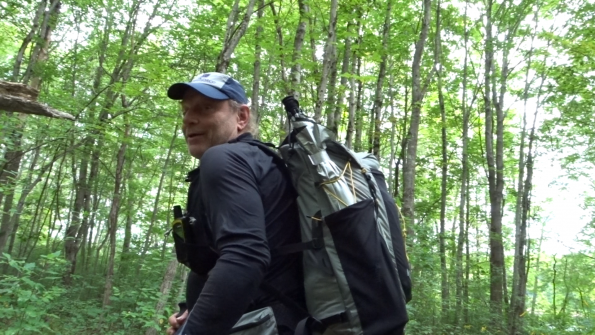 Most of the time the SMD Silver Shadow functioned as a half pound of dead weight, but it was polite enough to stay out of the way. The narrow profile allowed it to share pocket space with wet socks if needed and still slide right out when I grabbed the handle.
When put to use it had a chance to earn its keep and that it did. On hot sunny days it created a portable pocket of shade that covered me pretty well. It also covered the top of my pack where my food bag resides. In rainy weather its functionality was dependent on the speed and direction of any wind. Vertical rain was no problem, but when winds blew it was time to put it away. It became less effective and gusting winds could be unstabilizing.
Testing Conditions:
I carried the Six Moon Designs Silver Shadow on every trip since it arrived this Spring. Forty-plus trail nights including time on New Hampshire's Cohos Trail and a couple of back-to-back, six-day Baxter trips here in Maine. Thankfully I dodged the rain pretty well, though I did get some opportunities to test the umbrella as rain gear. A freaky early June heat wave combined with some road walking on the CT provided an all too perfect opportunity to test the Silver Shadow as a sun shade.
Conclusions: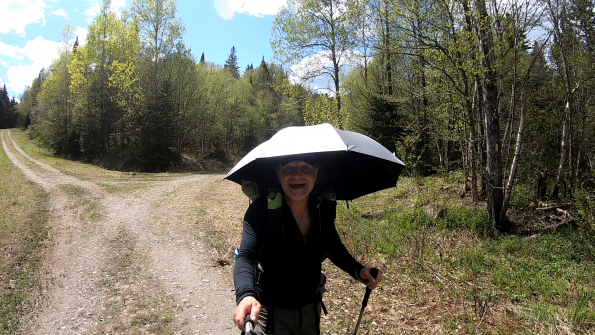 Before trying out this umbrella I was sort of assuming that I would find it too much trouble for what it did. At over a half a pound I expected to drop it after the first few trips. Instead I found that it was no trouble and it came along on every trip. I didn't use it on every trip, but I was always glad I had it when I reached for it.
Before I got a chance to test the Silver Shadow on rain I was hit by back-to-back days in the upper 80s while on the Cohos Trail in northern New Hampshire. The second of those was a 20-mile road walk that was pretty much exposed the entire day. I can't prove that the umbrella saved my life, but given my history of losing battles to the heat I give it a lot of credit for my survival. Portable shade is priceless on a day like that.
As I mentioned, I did a great job of avoiding hiking in the rain this year. Most of the weather seemed to hit at night so I didn't get a lot of chances to enjoy the umbrella in the rain. The times that I did made me appreciate how nice it was to be able to be under cover almost instantly. With intermittent showers it is always annoying to keep taking off the pack to put a jacket on or take it off. With the umbrella I could pull it out or put it away and hardly have to break stride.
Being a steam engine I also really enjoyed hiking with my rain jacket open necked and the hood down on days that I needed to wear it. It felt cooler and I got less wet than when I used the hood.
Like any other tool, this umbrella has limitations on when it makes sense to use. Strong winds are just a bad idea when talking about umbrellas. Add in dangerous terrain and it can lead to the dead sort of dumb. Well below danger levels the wind will be blowing rain sideways under the dome. Some folks say the umbrella replaces their rain jacket, but I disagree. Carrying rain gear to protect you when you put the umbrella away is vital.
The other big enemy of the trail umbrella is branches. If dealing with an overgrown trail or bushwhacking it simply makes no sense. I used the Silver Shadow on some pretty narrow trails and bounced off a few trees with no problem. You don't need a fully cleared, 8-foot path so long as you're watching where you are headed. If you are bouncing off trees with every step it is time to put it away though.
A trail umbrella blocks other things besides the sun and rain. I found that it limited my vision when climbing. It also blocked some of those faint wisps of air movement that feel so nice on a hot day. On the positive side I also found that I could use it to create a wind break for my stove.
Overall I feel comfortable recommending the Six Moon Designs Silver Shadow for appropriate use on trail. It is surprisingly sturdy which is a testament to the material selection and design. A full season of riding around in my pack and even bouncing it off a few trees while overhead haven't left a mark on it. It won't keep you dry in a hurricane nor does it fully replace the need to carry rain gear, but I found it to be very functional, which is my highest compliment. I do wish it was lighter, but SMD's carbon fiber version only shaves a couple of ounces.
Experience
I tested the SMD Silver Shadow over the last four months. This was my first experience with a trail umbrella.
Source: bought it new
Price Paid: $25 plus shipping

Your Review
Where to Buy
Help support this site by making your next gear purchase through one of the links above. Click a link, buy what you need, and the seller will contribute a portion of the purchase price to support Trailspace's independent gear reviews.
You May Like
Specs
Price
MSRP: $35.00
Current Retail: $35.00
Reviewers Paid: $25.00

Weight
8.9 oz / 252 g

Closed Length
25 in / 63.5cm

Open Width
37 in / 94 cm

Coverage
7.5 sq ft / .7 sq m

Shaft Length
23.5 in / 60 cm

UPF
50+ Rating

Recently on Trailspace