Skhoop Gretchen Windstopper Mini Skirt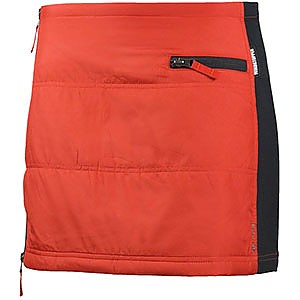 SKHOOP's Gretchen may draw you in with its good looks, but it's not a skirt to take lightly. A flattering insulated skirt, the Gretchen provides an extra layer of warmth in the backcountry and incorporates side stretch panels for easy layering and unrestricted movement.

This skirt is worn comfortably hiking, snowshoeing, backcountry nordic skiing, and around town. While I could certainly survive in the backcountry without it, I've found myself bringing it along, unwilling to part with it, on many an outdoor excursion this season.
Pros
Windproof
Unzips easily to shed layers
Stretch panels for ease of movement
Flattering fit
Insulated
Cons
Not water resistant
Not an outdoor necessity
Testing Conditions:
I tested the Gretchen Windstopper Mini Skirt from November through February in and around the White Mountains of northern New Hampshire. During this time, I've worn it hiking, snowshoeing, and backcountry nordic skiing, as well as around town and out with friends. Temperatures during this period of time have been variable, ranging from 0-50 degrees Fahrenheit.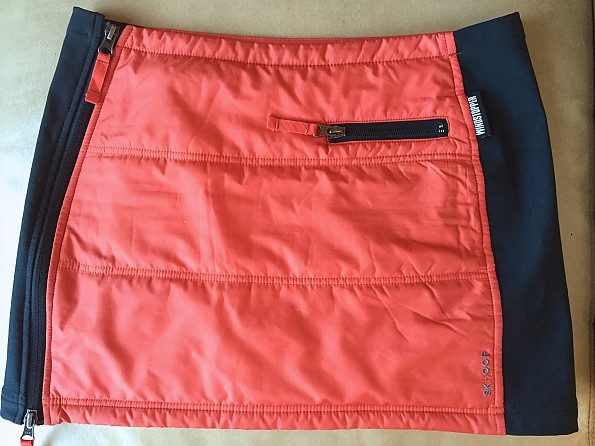 Fit and Comfort:
The Gretchen is available in sizes ranging from extra small through extra large and fits true to size. I have a 25" waist and a 35" hip, and the size small fits me well. If you prefer a baggier fit or plan to layer the Gretchen over something more substantial than a pair of leggings or thin soft-shell or hardshell pant, you may want to consider going up a size.
The skirt is available in black, mandarin (shown), and ocean (teal). I love the mandarin color; it's feminine without conjuring images of princesses and unicorns. 
A combination of insulated shell and flexible fabric makes the Gretchen super comfortable out on the trail. The body of the skirt is a polyester shell filled with synthetic insulation sandwiched between a stretch panel on each side. Both panels are fleece-lined, providing a soft, friction-free interior. While the side panels stretch when they need to, they've retained their shape and flexibility over the four months I've spent testing the skirt. 
Side panel exterior (left) and interior (right)
The stretch panels are true to their name. They provide flexibility for unrestricted movement and allow the skirt to be layered comfortably over pants of varying thicknesses. In the pictures below I'm wearing the Gretchen over a pair of leggings (left) and a pair of soft-shell pants (Bergans of Norway Okla Lady Pant) worn over a thin merino base layer (right).
Along the edge of one of the side panels is a two-way zipper. When hiking steep terrain and in need of an exceptionally wide range of motion, I unzip the zipper a few inches from the bottom of the skirt. I've used this feature often and enjoy having the extra space this allows. 
Zipper unzipped a few inches from the bottom of the skirt
The zipper unzips completely, which allows me to easily layer the skirt on and take it off regardless of what I'm wearing on my feet. While I wouldn't have necessarily thought to incorporate this feature before wearing a skirt into the backcountry, I'm glad it occurred to the folks at SKHOOP as I can picture myself precariously balancing on one snowshoe while threading the other through the opening of a skirt...and I imagine this wouldn't end well for me or for the skirt. 
Side panel zipped (top left), unzipped (top right), and on the trail (below)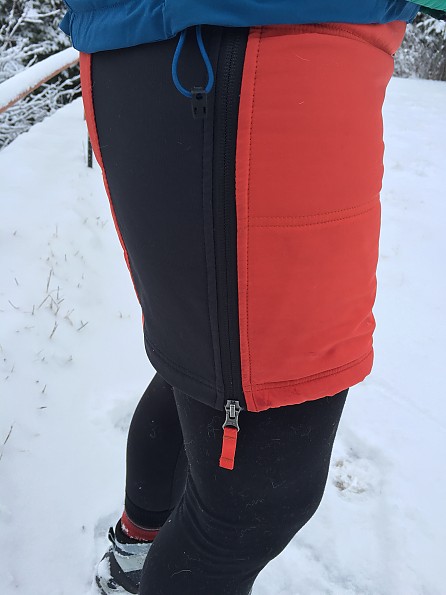 Insulation & Layering:
I began wearing the Gretchen in late autumn before the arrival of snow (temperatures ranging from 30-50 degrees fahrenheit). During that time, the skirt provided a welcome layer of insulation over a pair of leggings. As winter arrived and the temperatures dipped (0-30 degrees), I began wearing the Gretchen over nordic ski pants or soft-shell pants.
When temperatures hovered around 0 degrees, I opted for a merino base layer under my soft-shell pants. For those who have never before donned an insulated skirt (I was one of you just a few months ago), it feels to me as though I'm wearing a vest over my lower half, insulating the core of my lower body so that resources can be dedicated to keeping my extremities warm. 
The insulated shell is windproof, providing extra protection and warmth on windy days. However, as the wind can blow in through the hem of the skirt, I'd suggest also wearing windproof pants during especially cold and windy conditions.
While the Gretchen is advertised as water resistant, wet snow and rain seem to easily permeate the outer shell (see picture below). The skirt's insulation (and likely the layer of pants I wear under it) seem to prevent moisture from seeping in to my skin. However, I wouldn't expect the Gretchen to repel moisture on rainy days or in wet snow conditions.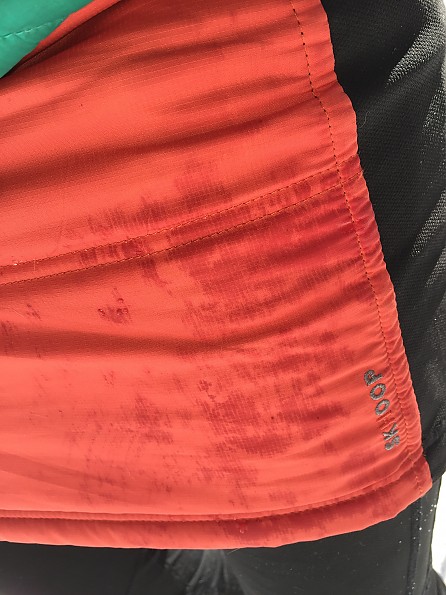 Moisture seeping into the outer layer
Breathability is really not an issue when wearing a skirt, as the bottom hem is open to the elements. When I begin to feel warm, but am not yet ready to shed a layer, unzipping the bottom zipper a few inches provides extra ventilation. I rarely felt too warm while wearing the skirt (I tend to run cold), but it's nice to know it can be easily removed and stored in my pack if I overheat. 
Versatility:
During the time I've spent testing the Gretchen, I've worn it hiking, snowshoeing, backcountry nordic skiing, to and from the ski resort (layered over a base layer), and around town. I wish I'd been able to wear it alpine ski touring, but the Northeast simply hasn't had the snow this winter to allow for this.
Across each of these activities I've felt comfortable wearing the Gretchen. I never experienced restriction in movement. The skirt has stayed in place without riding up or "spinning" off center.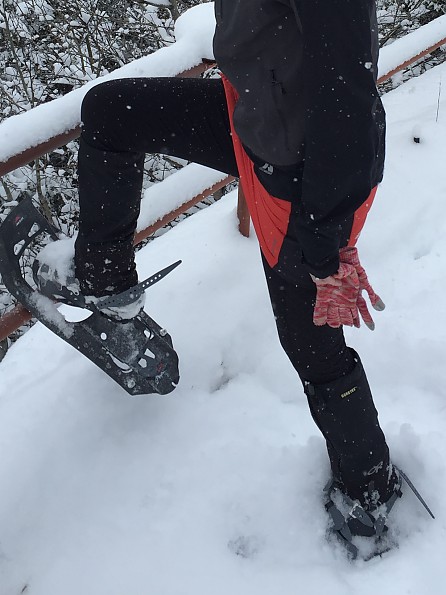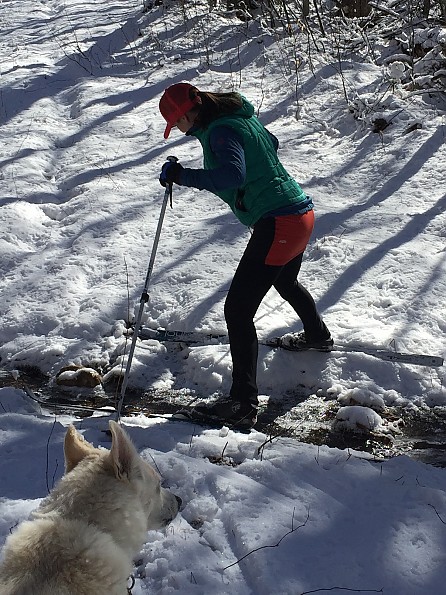 The Gretchen does not restrict range of motion
The skirt has a low loft (about 1/4 inch), which contributes to a flattering fit. I'm not one to worry too much about appearances when out on the trail, but as a general rule my lower half prefers to avoid being compared to that of the Michelin Man. The skirt provides an element of femininity in the often testosterone-dominated backcountry. And I have to say there is something about wearing a skirt in the woods that makes me feel tough! I enjoy the freedom of being able to wear it on the trail, around town, or out with friends. 
Wearing the Gretchen skiing (left) and snowshoeing (right).
Functionality:
To an extent the Gretchen is a novelty item. I enjoy wearing it along the trail, but it's not a necessity. For this reason, it could be argued that it's not worth the $169 price tag. As with any purchase, the depth of one's proverbial pockets is certainly a factor to consider. There are less expensive comparables on the market. However, having never before worn a skirt in the backcountry, I'm not able to speak from personal experience as to how the Gretchen stands up to other insulated skirts.
I will admit that if I only purchased gear that was absolutely necessary to surviving in the backcountry there would be many an unoccupied hanger in my closet. And while I like to believe that even the most superfluous items I own have a purpose, ultimately there is some gear I carry with me out of novelty, not necessity. Anyone who's ever worn a GoPro, for example, can likely attest to the fact that there is value in the "for the fun of it" factor. How much value? That's up to the individual, their preferences, and their budget.
In addition to its appeal as a novelty item, the Gretchen incorporates some highly functional features. Many of these have already been discussed—its insulating capacity, wind-resistance, side stretch panels and zipper for unrestricted movement and ease of layering, to name a few. There is also a front pocket which is fairly narrow but deep. It easily holds a set of keys and is just large enough to accommodate my phone (iPhone 6).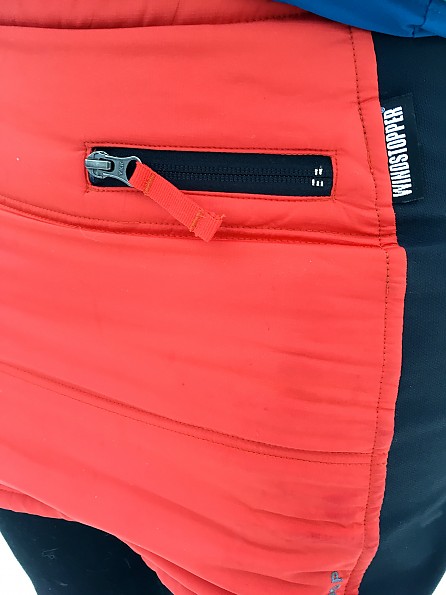 Front Pocket
The Gretchen is also lightweight and packable. SKHOOP's product page does not list the actual weight of the skirt and my scale is not sensitive enough to provide an accurate reading. To give some reference, it weighs less than my iPhone (4.55 ounces). As seen in the pictures below, the skirt is quite packable, taking up minimal pack space. 
The Gretchen "packed" beside a 32oz insulated water bottle (for comparison)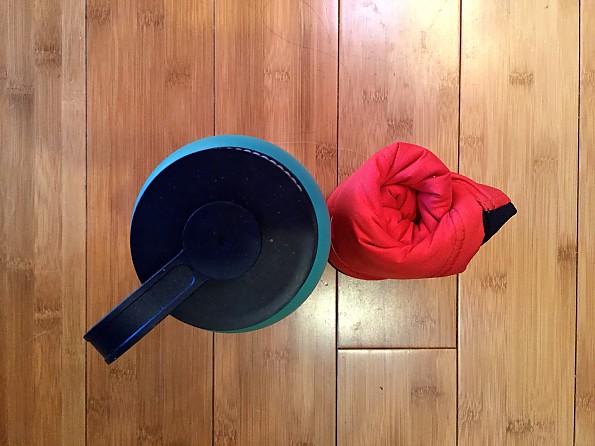 Durability:
Thus far, the Gretchen has held up to the elements without any signs of wear. It's maintained its shape and the insulation has stayed in place without bunching or gapping. I've machine laundered the skirt a few times in cold water, and it's held up well to washing. It dries on the line. I haven't noticed any odors associated with wear or washing.
While the novelty of an insulated skirt may not be of value for everyone, SKHOOP's Gretchen is not just designed for apres ski parties or trips to the grocery store (although it looks good and keeps you warm and comfortable around town). It's designed to fit over a variety of layers and allows for freedom of movement across many outdoor activities. The Gretchen is a balance of lighthearted fun and practicality, both of which are elements I like to carry with me when I'm out on the trail.
Thanks to Trailspace and the folks at SKHOOP for the opportunity to test the Gretchen!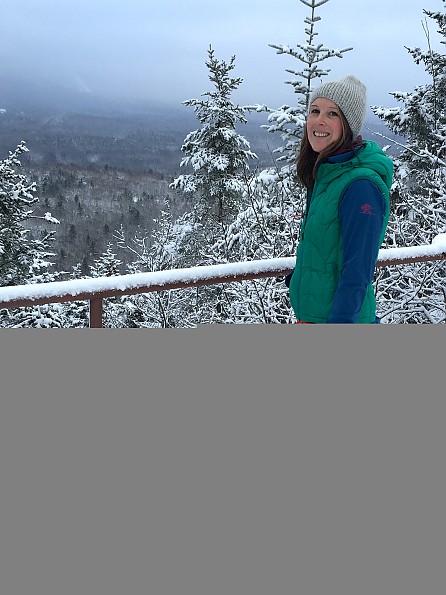 Source: received for testing via the Trailspace Review Corps (Sample provided by Skhoop for testing and review)

Your Review
Where to Buy
Help support this site by making your next gear purchase through one of the links above. Click a link, buy what you need, and the seller will contribute a portion of the purchase price to support Trailspace's independent gear reviews.
You May Like