Smartwool Microweight Crew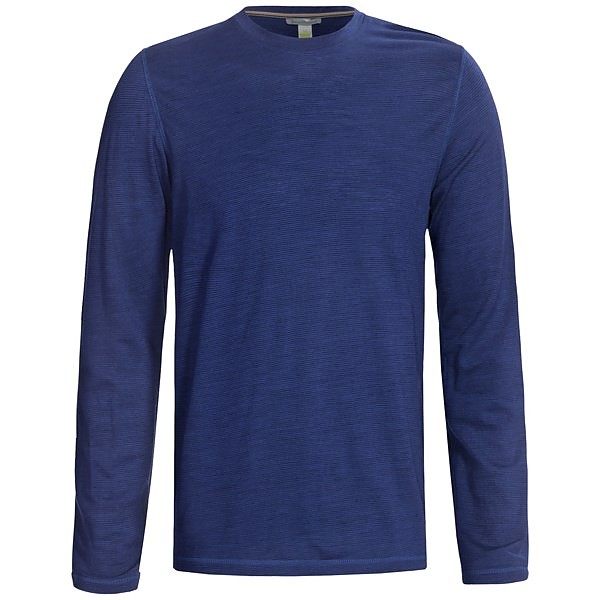 This microweight long-sleeve crew, made from SmartWool's NTS (next to skin) 150 g/sq m merino wool, can be used for days without building a noticeable smell, making it ideal for longer backpacking trips.
It excels in warmer temperatures and during more active pursuits. It also has stellar features like rolled and reinforced collars; a tight-fitting, efficient cut; and ample-length in the sleeves (appreciated by us tall folks).
SmartWool also makes lightweight (195 g/sq m) NTS baselayers, with a slightly heavier weight, and midweight (250 g/sq m) NTS baselayers for cool to cold-weather conditions, or less active pursuits. (See also my reviews of the Microweight Tee, Microweight Bottom, and Midweight Funnel Zip.)
Pros:
Long arms, ample coverage.
Bio-mapping construction puts lighter-weight fabric in high-sweat and high-movement areas, and heavier fabric where more insulation or support is desired.
Athletic cut keeps fabric close to skin, where it can remove the most moisture.
Lower arms have lighter-weight fabric to prevent constriction around wrists when wearing multiple layers of clothing.
Wool's natural odor prevention means less funk when compared to synthetics.
Cons:
Garments started to pill by end of testing period.
Best For:
SmartWool's microweight baselayers are thin and light and excel in warmer temperatures and during more active pursuits, such as long-distance backpacking, hiking, or running.
The microweight garments, applicable to a wide range of conditions, are best for users who appreciate a close-fitting, thin baselayer, and who want their baselayers to wick sweat, but prefer to leave the insulation to insulating layers.
Fabric & Fit
The Microweight Crew fits well in the arms, but with a bit looser torso to provide mobility.
The sleeves are a perfect length and circumference. The long arms provided full coverage of my wrists, solving a problem of many of the baselayers I've used in the past.
It has great stitching all around, without any loose threads. Raglan sleeves—where the seams connecting the sleeve to the torso are not placed on top of the shoulder—mean less chafing when worn with a pack.
The collar and cuffs are more than adequately reinforced. The shirt appears "cut in the round," where the panels are sewn to contour the body's curves more truly than traditional construction might, as well as to minimize seams under arms and in between legs.

This tailored construction also creates a stable microclimate against the skin. Close-fitting garments trap a micro-layer of air against the skin, allowing the body to regulate its temperature more efficiently. When it is cold out, these tiny air pockets work to hold in warm air; when it's warm, these pockets help circulate air, keeping the skin cool. This garment excelled in that regard.
The microweight (150 g/sq m) merino wool SmartWool uses is well suited to undergarments, more stretchy and supple than synthetic materials, with an excellent drape I don't find with synthetics. The fabric colors are bold and bright. The Microweight Crew was a brilliant royal blue.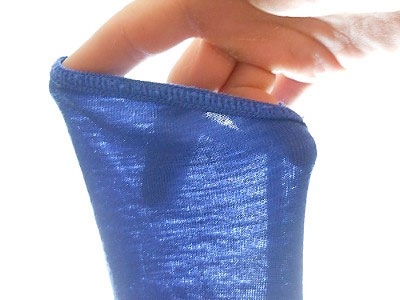 A close-up of the Smartwool baselayer fibers.
Wicking Ability
I'm always carrying a pack weighing at least 20 pounds, and my patrols as a Wilderness Ranger for the Bureau of Land Management in Colorado often involve intermittent periods of intense off-trail scrambling followed by leisurely on-trail walking.
The usual weather is 70-100°F, sunny, with little humidity. We get the occasional mid-afternoon Rocky Mountain rainstorm, and it can snow at any time in the highlands, so any baselayer I wear has to be able to capture, then disperse moisture very effectively. In this respect, this top performs admirably.
The SmartWool microweight garments use a very lightweight, nearly see-through, 150 g/sq m merino.
Because of its light fabrics and open weave, this shirt is very permeable to air. Worn under other layers, this same open weave helps to move moisture to outer layers, where it can further disperse.
Wearing this baselayer shirt on a 3.5-mile hike for consecutive days produced noticeable moisture-moving differences. Though it seemed like I was sweating equally at the end of the hike on both days, the shirt was nearly dry. Why? Once sweat is captured it must be dispersed over as much surface area as possible in order to dry.
Though this fabric is probably as heavy as a traditional silkweight fabric, here it is sewn in very small, parallel channels that raise the fabric off the skin. It increases airflow and moisture dispersion as a function of the increased surface area created by their wavy pattern. The weave is visibly looser than the other parts of the garments, if only because the weave of the fabric is responsible for the channels.
Warmth
As a ranger, wearing a set of baselayers under my button-down uniform comes in handy on days when I patrol on foot. Since I'm in the field literally every day, discerning the differences between the two was as easy as comparing Monday's observations with Tuesday's. 
This layer usually kept me warm, with a few exceptions. Prior to the testing period, I wore a set of Patagonia Capilene baselayers for about two years. The SmartWool top compared favorably to the Capilene in many respects.
On comparable days, this top was as warm as the comparable Capilene, due in part to the closer cut of the Smartwool, and the better coverage.
I often wear just a baselayer top for my morning 3-5 mile run. Wearing a Capilene top on runs usually means bringing a light pair of liner gloves, as the sleeves on my medium Capilene don't come down to meet my wrist. With the extra coverage and the longer sleeves on this top I could leave my gloves home on a recent run where I might have otherwise brought them. Not having to hold something in my hand is good enough reason to pick a garment with fuller coverage.
I also never missed the cold sweaty back that comes with every pause in physical activity when wearing the Capilene; the SmartWool layers seem to conserve that heat better, or, at least, don't get cold when I stop to catch my breath.
Odor Resistance
The merino wool SmartWool uses does not build "the funk" as quickly as my Capilene 3. I actually make it a point to not wear any type of deodorant or antiperspirant on those days when I know I'll be patrolling on foot, and on long days in the canyons, conditions can really stink up a shirt.
However, I can wear the SmartWool layers for days without washing, which is something I could never try with the Capilene.
In fact, a particularly strenuous 8-mile out-and-back in a place called Rough Canyon usually leaves the Capilene top in the laundry hamper. But on a recent visit while wearing the only the short-sleeved Microweight Tee under a pack, I came out smelling so fine that I wore it later on that day to the rock gym.
This is valuable to me as my days are often long and laundry is often low on my priority list. Plus, I just generally like the idea of having to spend less money on washing my clothes.
Durability
After approximately 30 days of wear and a dozen or so washings, this top hasn't stretched, shrunk, or otherwise deformed. All seams are intact, with no signs of fraying.
However, it has begun to show piling beyond what I would have expected, though its thickness has not noticeably decreased.
This garment should give the average user a few seasons of regular use, which I think is a reasonable expectation for baselayers of this weight.
Conclusion
This microweight baselayer is everything I am looking for: very lightweight, very quick to dry, reinforced in key areas, resistant to smell. The bio-mapping construction appears to effectively allow the garments to hug the body while keeping seams away from high-friction areas.
This is not a fragile garment, and does not need to be babied. That this garment can be washed and dried in normal home laundry machines is brilliant.
Testing Conditions
I tested the SmartWool men's Microweight Crew, Microweight Tee, Microweight Bottom, and Midweight Funnel Zip all in size Medium.
Location: Canyons and highlands in and around the town of Grand Junction, Colorado, 3-5 mile in-town road runs in temperatures ranging from 45 to 85 degrees Fahrenheit, once a week. 3-30 mile hikes on and off-trail, in temperatures ranging from 40-75 degrees Fahrenheit, two or three times a week. 6-8 hour work patrols by foot, bike, and truck.
My Stats:
Weight: 165 lb
Height: 6'-1"
Chest: 37"
Sleeve: 33-1/2"
Inseam: 33"
Waist: 31"
Source: received for testing via the Trailspace Review Corps

A well-made, Merino wool baselayer that has gotten me through the insane cold of January 2014. It's a bit short in the torso for this 6'2" guy. The regular price is a bit higher than I think the product is worth.
Pros
Well-made/good stitching
Itch free
Resists odors
Wicks moisture well
Cons
Short in the torso
Regular price is high, reflecting the "status symbol" of SmartWool (i.e. you pay for the name)
Wife threatens to make me sleep on the couch
While I agree SmartWool makes good products, I also believe the price is driven by the name. For that reason, I seldom buy SW products unless I find them deeply discounted. Such was the case with the SmartWool Microweight Crew shirt, which I picked up for $36. While I am satisfied with this purchase, I can't imagine paying the normal $75-$80 retail price for this item.
Fit & Comfort: I am 190 lbs and 6'2" tall with a 36" inseam. When possible, I purchase my shirts in Large-Tall. This is rarely an option in baselayer shirts. However, I have found many manufacturers make their baselayer shirts slightly longer. Polyster shirts from REI, Champion, and WildCountry have all provided the length I need. Unfortunately, this higher priced shirt is too short in the torso. Tucking the shirt into my pants solves this problem.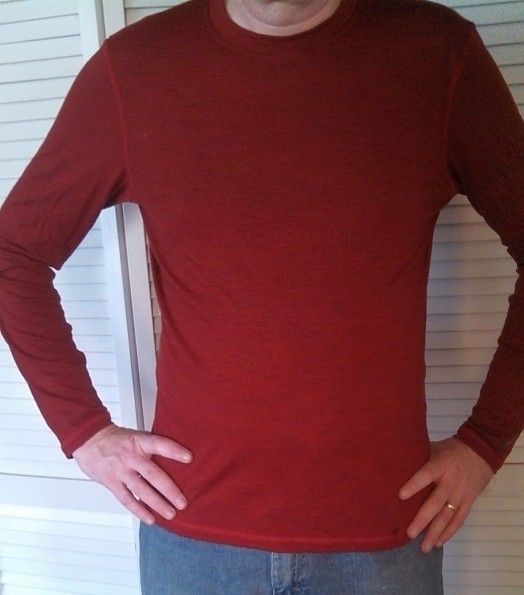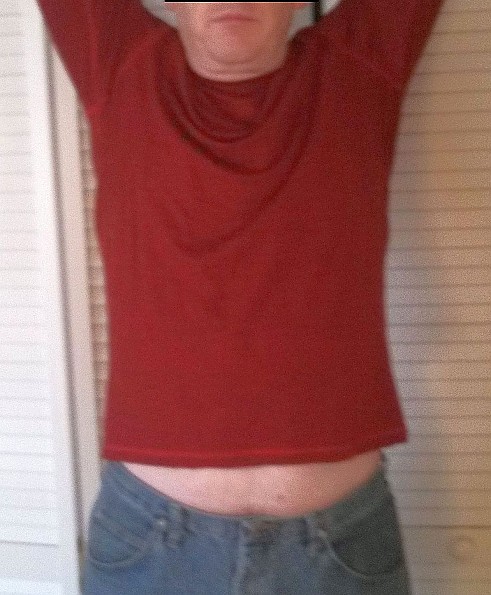 Despite the short torso length, I found this shirt to be comfortable while hiking with a 24-lb backpack. The shirt stayed tucked in, and I was not conscious of the short torso. I had a comfortable range of motions with my arms when wearing this by itself or in a layering system.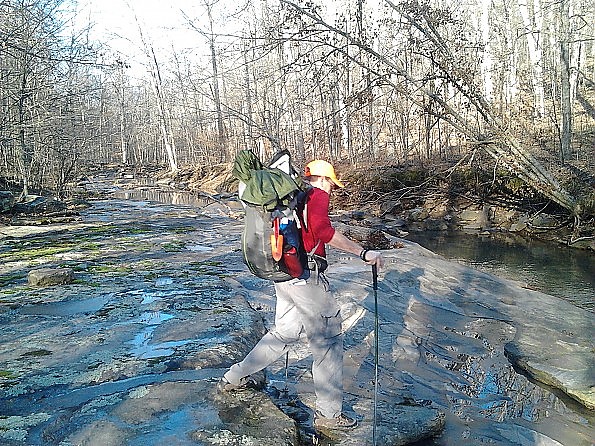 Beyond that, I ended up wearing this baselayer every day from December 27-January 31, and I simple grew to love the shirt. At first, my wife was NOT happy with my testing of another baselayer to see how long I could go between washings (She forbade me to sleep in the shirt in our bed.). But even she had to admit that after 36 straight days, the shirt didn't smell bad at all.
Warmth: In active conditions (e.g., backpacking) I found this shirt to be sufficient in temperatures above 45°F, as long as conditions were calm and sunny. At rest, a warmth layer was immediately required at this temperature. With any kind of wind (below 50°F), additional coverage was necessary, even while active.
January 2014 was obscenely cold in Illinois, with several days that did not even reach 0°F and windchills as low as -50°. Other than sleep and showers, I never took it off. I wore it in the office and around the house. I wore it by itself on the two days where temps reached 50°F. I wore it hiking and shoveling snow, in single digit temperatures.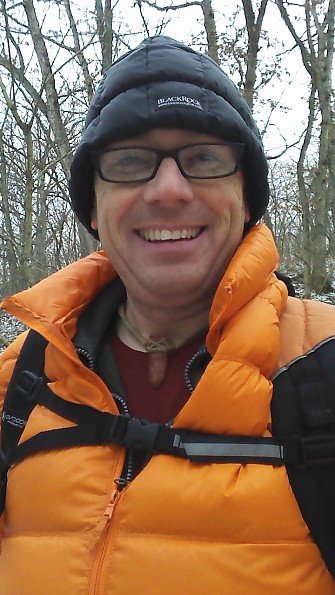 10°F Day Hike. My jacket was unzipped only to display the baselayer.
Breathability: The shirt breathes and wicks moisture as one would expect from lightweight wool. During one day of backpacking (50°F, sunny) I greatly wished for a 3/4 zipper at the neck to increase ventilation.
Construction & Durability: The shirt is well made, with quality, flat stitching at the seams. Material is thin—thinner than the polyester shirts I normally use. I fear this may shorten its life, but time will tell on that.
Summation: I love this shirt, despite being a bit short in the trunk. For those considering buying it, I would look for sales, as I do not feel the shirt's full retail price is justified.
Source: bought it new
Price Paid: $36--Black Friday Sale

Moving from traditional long-underwear to SmartWool was a game changer on the hill. It's super lightweight for the amount of warmth it brings, and is super soft and comfortable.
Pros
Warm
Lightweight
Comfortable
Source: bought it new
Price Paid: MSRP

Your Review
Where to Buy
Help support this site by making your next gear purchase through one of the links above. Click a link, buy what you need, and the seller will contribute a portion of the purchase price to support Trailspace's independent gear reviews.
You May Like
Specs
Men's
Price
Historic Range: $29.98-$75.00
Reviewers Paid: $36.00

Women's
Price
Historic Range: $26.21-$75.00

Kids'
Price
Historic Range: $29.95

Recently on Trailspace