Snow Peak GigaPower BF

Top 25 in Compressed Fuel Canister Stoves
The GigaPower BF has been discontinued. It was replaced by the Snow Peak GigaPower Auto.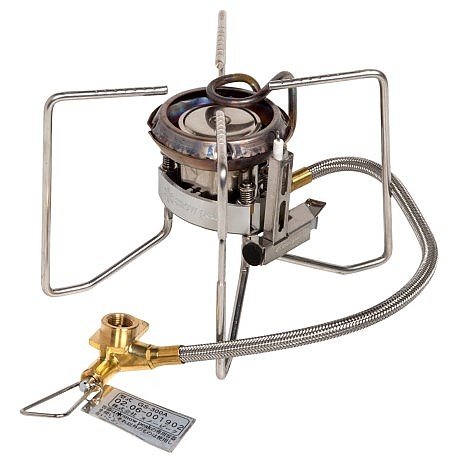 The directions recommend boiling pots no larger than 6 liters. It looks like an MSR XGK that's been to fat camp. Shapes and finishes are superior to pretty much anyone else.
Snow Peak advises against any field repairs of any kind ever. They also warn about radiant heat from the unit starting fires around the stove. So in the dry Eastern Sierra I doused the area around the stove prior to ignition.
The directions volunteered that the push-button piezo ignition might not work in cold weather, requiring a match.
In 35 F degree weather it roared to life with one push.
At times there were minor fuel atomization issues exhibited by coughing noises. It however never flamed-out or stalled.
"Quiet" is not how I would characterize this stove.
If you aren't careful the fireball at ignition will burn away the hair on the back of your hand. Opening the valve (mounted at the tank connection) just a millimeter or two prevents this.
REI's fuel consumption stat of 110 grams per 30 minutes at full throttle is a bit awkward. I never needed anywhere near full throttle to boil my 2 liter pot. We got a bit over three days' breakfast/dinner with a dishwater boil at each.
It simmers like a dream.
My titanium pots, made by Snow Peak's corporate compatriot Mont Bell, scorched and warped in the face of such ferocious power—11,200 btu's max. Malto-meal burned onto the bottom virtually on contact.
The packed size and weight are more than reasonable for what you get in performance. The unit's four leg/stands are stout and stable. At no time were we worried about it tipping over or flexing.
The fuel hose does require centimeter-by-centimeter straightening when the machine is unpacked to get maximum separation of stove from canister. There's a trick to wrapping it around the stove body for re-packing too.
A nice touch here is the concentric swivel fitting at the valve.
The unit's wind guard, hyped on the package, does a fine job keeping the flame alight in wind. I am not persuaded that it concentrates heat for fuel efficiency.
Fuel canisters are bulky. The canister internal pressure drops toward the end of its lifespan, confining the machine to "simmer". Not sure about poking a hole in a dead one and smashing it flat with a rock...
I really like this brand and will probably buy a piezo canister mounted Giga-Power down the road to supplement this little tiger.
To me it is a vast improvement over white gas. Gone are leaks, pumping, priming, flooding, fuel on your fingers, soot of any kind, and the hopeless simmer abilities that fuel gives.
Update 3/10/2019: The piezo lighter is no longer reliable so I use a lighter at very low fuel flow. Beyond that it remains a superb unit by every measure. We like it for car camping since its weight rules out small group backpacking. Prompt icy morning coffee. Plenty of power when you dump the pasta in. Quick hot water for dishes.  
Experience
Owned it for 12 years. Six 4+ person 50-mile backpack trips in the Sierra Nevada. Dozens of car camps at California beaches, deserts, hot springs, and mountains. Some in Arizona, Utah, New Mexico, and Colorado. Learned on two burner white gas Coleman stoves over five seasons packing burros with Three Corner-Round.
Source: bought it new
Price Paid: $70

Solid build quality, excellent burner, very stable in use. Igniter can be easily removed if you wish to save a little bit of weight.
I run mine on cheapo butane/propane cylinders from Lidl, the pre-heater allows the cylinder to be inverted in cold conditions, in effect feeding liquid to the stove and maintaining power output at sub zero temperatures.
Excellent adjustability for simmering or full blast for rapid boiling.
I bought this to replace my old Coleman petrol stove and I am not disappointed.
Price Paid: £24 (second hand e-bay)

Great stove! I used this recently on a 3-day trip and was able to use a frying pan to make eggs with bacon and potatoes and peppers, and it simmered very well. It sounds like a jet but it functions so well, and is usually cool by the time you finish your meal and finish cleaning your dishes. Very very stable, and is about 5 times as large as the normal Snow Peak Giga Power canister stove, which my father had (also very solid stove, boiled in about 3 min).
Built in windscreen is great. I recommend this stove for people who don't mind sacrificing a little more space in their pack for being able to cook larger meals, or having a solid cooking platform. The auto igniter worked great! Fired up first click, every time!
If you're sitting on the fence about this stove, jump off and buy it. I'm very happy with this stove.
Price Paid: $72.99 with discount

Snow Peak is my new favorite company for stoves, and the Gigapower BF was the stove that did it for me. It is a little more clunky than some of the smaller canister top stoves, but I like that it has a broader base. I hate having to balance a pot on top of a canister while trying to stir—my soup always ends up on the ground.
The BF lets me screw into a canister and then autostart the flame. I don't have to prime anything, which is especially nice in the rain and there's no fiddling with lighters. The stove is also able to simmer and very simple to replace in its case, which fits neatly into my MSR Blacklite set. I also really like that the burner is big enough not to scorch the middle of the pot and leave the rest lukewarm.
I'd recommend this stove to anyone that doesn't mind a little more weight for a lot more features.
Price Paid: $79.95

Your Review
You May Like
Specs
Price
MSRP: $79.95
Historic Range: $49.95-$99.99
Reviewers Paid: $70.00-$79.95

Weight
10.8 oz

Material
stainless steel / aluminum / brass

Dimensions
4.25 in x 4 in x 4 in

Recently on Trailspace