Snow Peak Mola Headlamp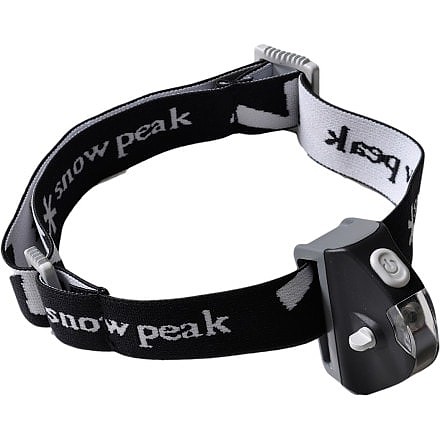 The Snow Peak Mola is a new headlamp that features a 110 lumen LED light that has several different lighting options, including one that automatically adjusts the light beam to follow the vertical angle of your eyes when you move your head up and down to ensure the light is aimed at what you are looking at. This is the first headlamp to implement this technology.

Pros
Very bright -110 Lumens
Adjustable brightness
Lightweight
No hinges (saves weight)
Cons
Complicated to use
No red light mode
Switch is difficult to lock and unlock
Batteries are difficult to change
The Mola is unlike any other headlamp on the market today because it has several different lighting options. It has a single LED light that floats vertically and can be positioned wherever you'd like it to be or it can float freely to shine the beam on what you are actually looking at. This is made possible by a counter weight that is attached to the LED light.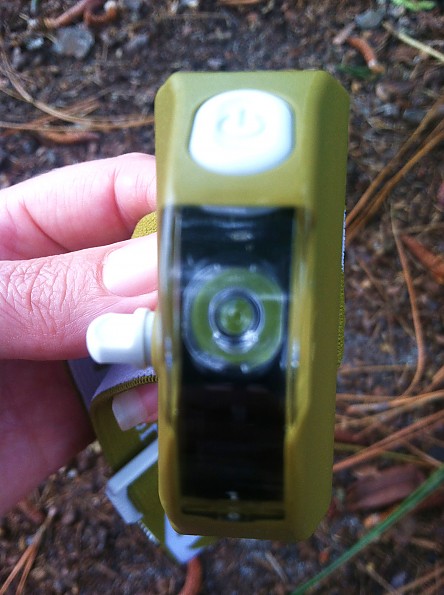 A small knob on the side of the headlamp allows you to manually adjust the vertical position of the LED light by twisting it clockwise or counter clockwise when it is in locked position or to unlock it and let it automatically adjust by your head's movements. 
Manual Adjusting Mode
Automatically Adjustable Mode -Light bounces up and down
In addition to adjustable position, you can also adjust the light output of the beam by pressing and holding the power button until the desired dimness level is reached. It goes from a very bright 110 lumens all the way down to 10 lumens.
1. Dimming Mode 2. Bright Mode, Dim Mode, Strobe mode
 The power button also allows access to two other modes, dim, and strobe. If you press it once, it turns on at 110, if you press it twice in a row, it turns on dim, and if you press it three times in a row, it turns in strobe mode.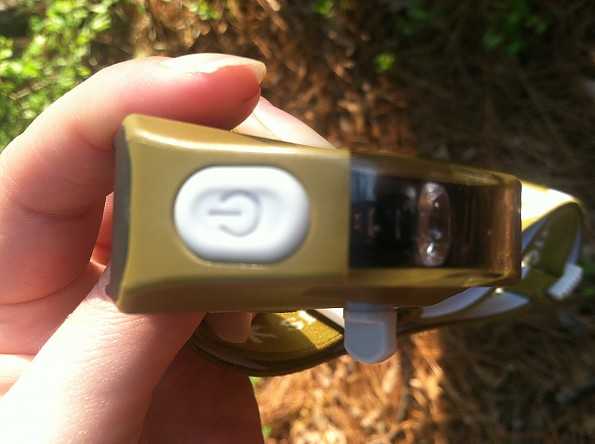 Here, you can see the knob in the unlocked, automatic position because the extra white piece is showing at the bottom of it.
Specs:
Weight - (2 AAAwith batteries) 2.5 oz
Brightness: 110 max, 10 min
Burn time: 45 hours on high, 80 hours of use on low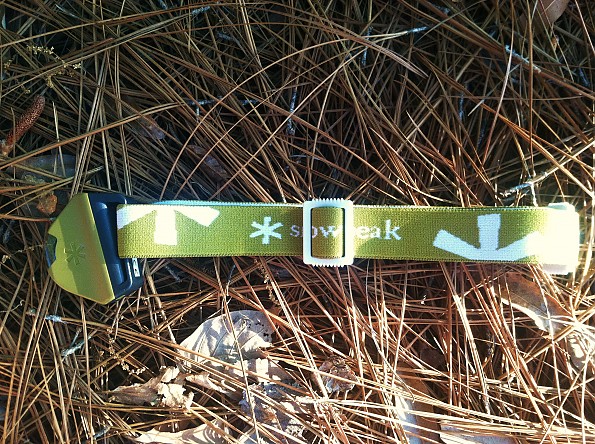 Testing Conditions:
I have tested the Mola for two months both in the field and at home. In the field, I used it around my campsite and while night hiking. While night hiking, I tried both manual and automatic modes.
I realized that before I start walking, I must adjust the knob to where I wanted it to point because it is very hard to adjust while walking. I did not like walking or hiking with it in the automatic unlocked mode. It bounced around so much that it nearly gave me nausea.
I did find its bright 110 lumen beam very helpful while night hiking and in the campsite. It is the brightest headlamp I have ever used. I also used my 90 lumen headlamp for comparison. I could noticed a huge difference between the two. 
Here, is the light turned on and in automatic mode.
Comfort: 
The Mola sits on an adjustable strap that is very comfortable to wear. It does not pinch or dig in.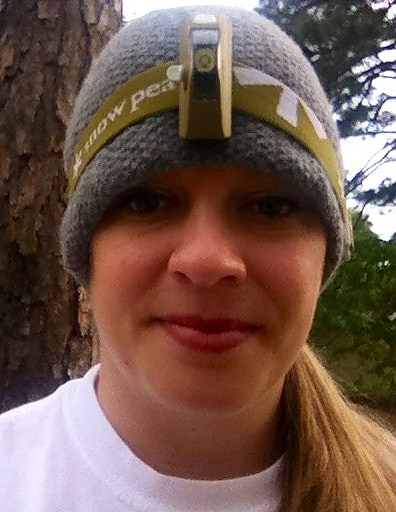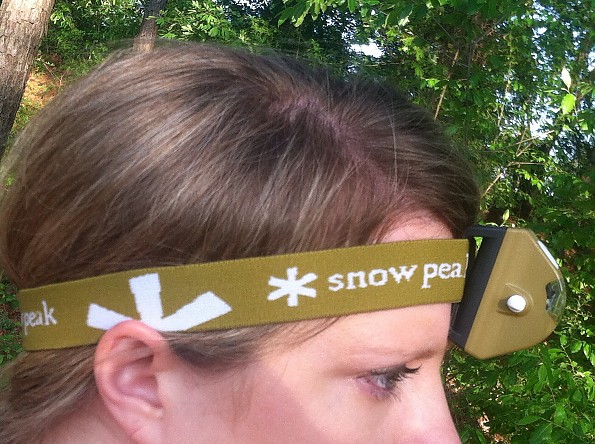 Range: 
The Mola's beam reaches about 130 feet in bright mode and 30 feet in dim mode. 
Beam & Brightness:
The Mola puts out a very bright square floodlight beam. It is so bright that I saw some shiny reflections in the grass while I was walking. I had no idea, but they were spider eyes! I sure was glad to have on the Mola that night!
Here is a picture of the spider with no flash on, just the light from the Mola: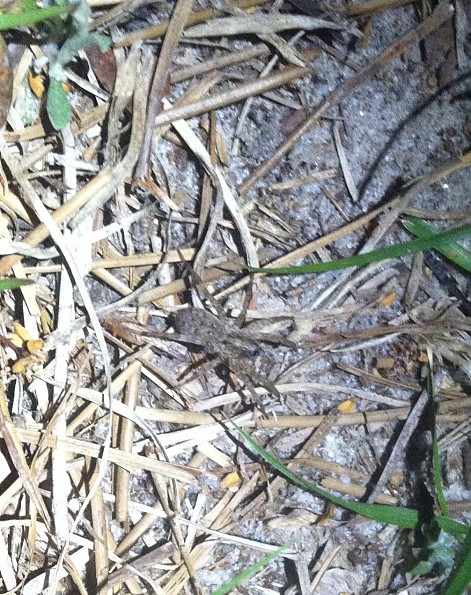 Burn Time: 
Snow Peak claims that the Mola can last 45 hours on high and 80 hours  on low using 2 AAA batteries. I am not sure exactly how long it does last because I haven't killed my batteries yet. I will update this when I can answer for sure.
Ease of Use: 
The Mola is rather complicated to use, especially in a situation where you need to switch modes quickly. You have to really think about what you are doing when you are adjusting it. You don't have to think with most other headlamps that I've used, just turn it on and if it needs adjusting you can move the hinges up or down on the fly, while you are walking. It is nearly impossible to adjust the Mola while you are walking. The knob is really small. It is very hard to pull it out of its fixed position. It is especially hard to pull out the knob if your fingers are sweaty or if you have gloves on. 
The automatically adjustable beam that follows your gaze is not always on point. It frequently lags behind and has a delay of getting the light shined upon what you are trying to look at. 
 The power button is also inconsistent. I often had to push the button multiple times to make it come on.
Weather:
I did wear the Mola in a light drizzle. It stayed on and had no problems at all. I will update its performance in a storm.
Construction & Durability: 
I think the Mola is overall built very well, with the exception of the knob. I can see a good chance of that knob being broken off in a pack if it isn't strategically placed in your pack.
Who it is Best For: 
I would recommend the Mola to anyone who is looking for a highly adjustable headlamp with multiple lighting functions. When in the automatically adjustable mode, I think it works really well when you are looking up into trees or down at your feet. It is also really helpful when reading maps.
What I liked: I really like that this has so many different lighting options. I also really like its brightness and overall adjustability.
What I didn't like:
I do like the concept of the floating light, but it honestly is a real hassle dealing with the knob. It is really small, it is hard to pull out when you want to unlock it, and when you are adjusting it in manual mode, it doesn't always go exactly where you want it to go. Not only does the light frequently get hung up and not always shine where you want it to, walking with it in that mode is horrible because it bounces all over the place.
Conclusion:
I think this headlamp could be great if Snow Peak would use another locking mechanism or make the knob larger and easier to operate.
Thank you for taking the time to read my review of the Snow Peak Mola. Thank you to Snow Peak and Trailspace for giving me the opportunity to test and review this innovative light.
Source: received for testing via the Trailspace Review Corps (Sample provided by Snow Peak for testing and review)

Your Review
Where to Buy
Help support this site by making your next gear purchase through one of the links above. Click a link, buy what you need, and the seller will contribute a portion of the purchase price to support Trailspace's independent gear reviews.
You May Like
For the first time a headlamp automatically adjusts its beam to where your eyes are looking. As your head moves up and down, your eyes move at a greater angle than your head, creating a mismatch between where you are looking and where your light is pointing. Until now headlamps have tried to compensate with cumbersome tilt adjusters. Snow Peak's new Motil Headlamp (TM) uses Optic Motility (TM) technology, enabling the beam to follow the vertical angle of your eyes. This 90 lumen headlamp is unique, intuitive and light. - See more at: http://www.snowpeak.com/mola-headlamp.html#sthash.aacOAX4C.dpuf
Specs
Price
MSRP: $59.95
Historic Range: $19.95-$44.95

Weight
2.4 oz (without batteries)

Lighting Hours
HIGH: 45h, LOW: 80h, STROBE: 160h

Brightness
High: 110lm, Low: 10lm

Recently on Trailspace