SOG BladeLight Camp

Specs
| | |
| --- | --- |
| Price | MSRP: $92.00 |
| Weight | 4.30 oz |
| Overall Length | 9.2 in |
| Blade Length | 4.5 in |
| Blade Thickness | 0.15 in |
| Blade Steel | 8CR13MOV |
| Hardness | RC. 56-58 |
| Lumens | 30 |
| Burn Time | 84 minutes at 100% |
Reviews
1

review

5-star:

0

4-star:

0

3-star:

1

2-star:

0

1-star:

0
An interesting blend of fixed blade knife and flashlight that proves quite capable of executing most camp cutting tasks. While not intended for protracted abuse of a hardcore survivalist, this knife would nevertheless thrill a seasoned scout, delight a weekend camper, or serve multiple functions in a toolbox or bug-out bag.
Pros
Generally thoughtful design of knife and sheath
Good value steel holds respectable edge, sharpens easily
Cuts well
Looks good!
Cons
Sheath clip can come off belt during knife removal
LEDs can be accidentally turned on when sheathing knife
Electronics might potentially compromise long-term durability
I confess that I am something of a knife junkie, always keeping my eye open for new knives. I am particularly interested in knives intended for bushcraft and woodcraft applications, and—as an owner of several SOG knives—I was curious to see what the BladeLight Camp would be like. 
The Knife
The Bladelight Camp from Washington state-based SOG is an interesting and thoughtfully designed entry into the camp knife genre. At 7.38oz/209g with the sheath, the 9.2 in./23.4 cm fixed blade knife features a 4.5 in./11.4 cm blade made from 8Cr13MoV hardened to a RC 56-58.
That translates into a nicely-sized knife for camp chores made from a Chinese stainless steel that is known as a high-end budget steel (note budget in that description) used by respected knife makers (note respected, too).
The steel itself has a reputation for holding a decent edge and for being readily sharpened, and in my testing I found it to be very capable in these regards, even after hard use.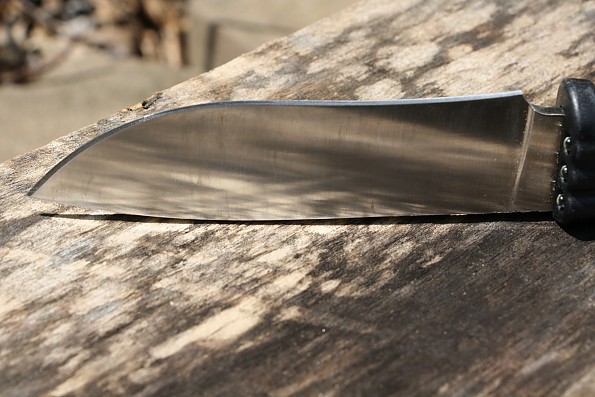 The blade profile has a subtle drop point and subtle, slightly recurved belly on the cutting edge, a shape that adds more edge for slicing but also more difficulty for sharpening. The blade is flat ground with a secondary bevel on the edge. It came paper-slicing sharp from the box, though not as scary sharp as my SOG Seal Pup Elite.
The grind lines of the blade are not perfectly symmetrical, but this is a minor qualm about aesthetics, not function, in a mass-produced blade at this price point. Very gentle jimping on the 1/8-in./3.2 mm. spine of the blade offers more aesthetic flare than functionality; I personally would have welcomed a little more aggressive jimping to aid in using my thumb to control the blade. The knife comes with a limited "Lifetime Warranty."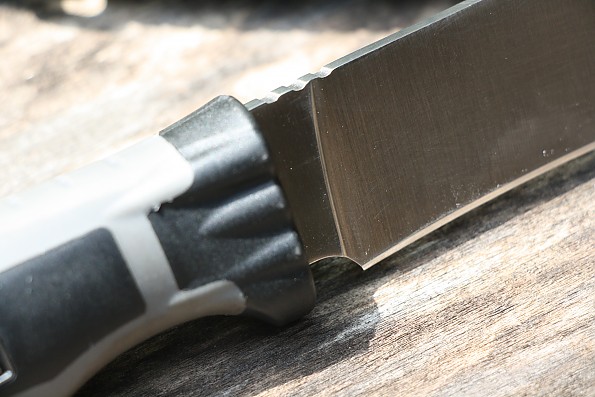 The Handle
The handle provides a water-resistant housing for the flashlight mechanics inside. Glass-reinforced and featuring an attractive SOG logo, the handle has a reasonably grippy feel that fills the hand nicely. The handle feels good in the forehand grip, usable in the chest lever position, and fine in the backhand grip. A knurled end cap holds the push-button switch for the LEDs, and a collar under this cap provides a small lanyard hole should one wish to add a lanyard.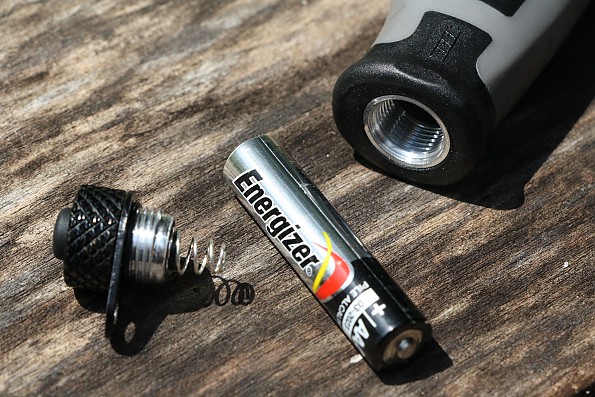 The BladeLight Camp is so named for the presence of six LEDs mounted into the knife's handle, three to a side. These run on an AAA battery (provided) housed in the handle. The rubber-covered, push-button switch in the end of the knife easily activates the LEDs with a satisfying click, but in use I found this location and type of switch somewhat problematic: I am used to seating a blade in its sheath after use by pressing it in with the heel of my palm, but this action activates the LEDs on the Bladelight Camp, requiring additional conscious thought when stowing the blade.
SOG boasts of "shadowless light" from these LEDs, and I have no qualms with that claim—they focus into narrow, vertical beam of light. Collectively, SOG rates the LEDs at 30 lumens.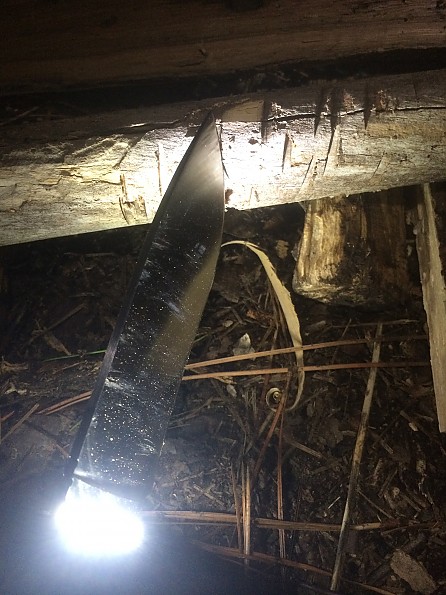 The Sheath
The provided hard molded nylon sheath has a tactical-cool vibe to it: cut-outs reduce sheath weight and expose an attractive gleam of the satin-finished blade, while a pair of holes near the tip of the sheath allows one to slip paracord through the sheath for retention (no, the holes are not exposed to the blade's cutting edge).
A notch in the sheath offers a built-in line cutter, a feature that allows one to slice cordage without unsheathing the blade. This notch is of sufficient depth to prevent inadvertent cutting, though in use I found the feature a bit unwieldy. I preferred to unsheathe the blade for greater control when cutting cordage.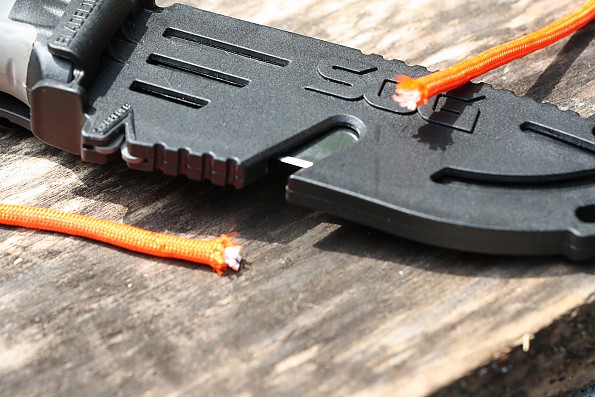 A black webbed strap with hook-and-loop closure secures the handle of the knife to the sheath, a redundant security feature given that the knife snaps into two retention clips where it enters the sheath. A black, apparently spring-steel belt loop allows the BladeLight Camp to be slipped easily on and off a 2-in./5.1 cm. belt (or even a wider belt—2-in. is just the largest I have), but this ease of use can be problematic: I found myself pulling the sheath off my belt when I was trying to pull the knife free of the sheath's retention clips.
With two-handed operation this isn't an issue, of course, but a slight tweak of the spring clip would be nice to facilitate one-hand removal and replacement of the knife: I would prefer to have to use two hands to remove the sheath from my belt than to have to use two hands to remove the knife from the sheath.
Another feature of the sheath is a knife sharpener of a sort that is useful for touching up a blade in the field. I touched up the blade a few times during testing and found this to be a useful field option, though no substitute for a home sharpening process. And finally—ingeniously—the sheath is designed to permit the LEDs to be used while the knife is still sheathed. Thoughtful design, indeed.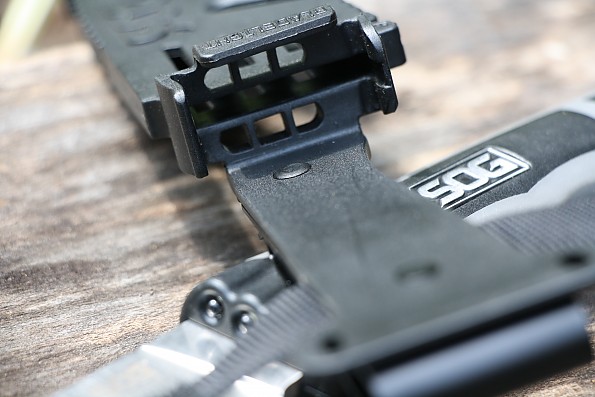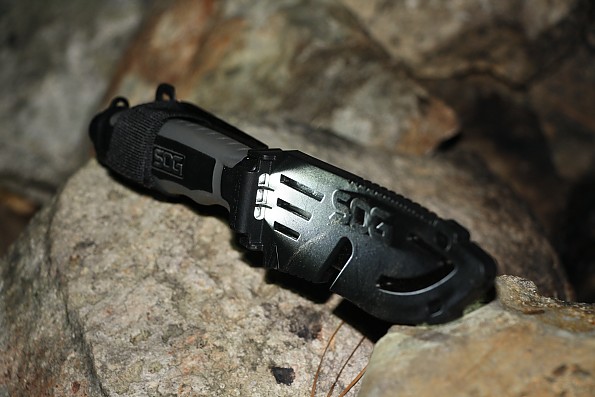 The Tests
Over a period of weeks, I used the Bladelight Camp to process raw and cooked meat, to cut different sorts of cordage, to carve and cut wood and other organic matter, to make feathersticks, and—in a separate and final test—I even split wood by batonning with this knife. My tests were conducted both in my home and in the Birkhead Mountains Wilderness of the Uhwharrie National Forest of North Carolina. Aside from my food processing tests (conducted in my kitchen), the majority of tests were conducted at night to test the LEDs.
Used to trim a pork tenderloin, the Bladelight Camp excelled. It slices nicely, and thus I was able to easily trim the fat from the tenderloin before cooking it. After roasting, the Bladelight Camp made quick work of slicing the cooked meat.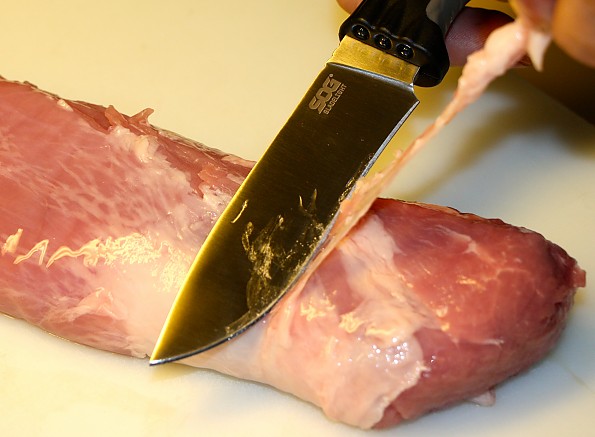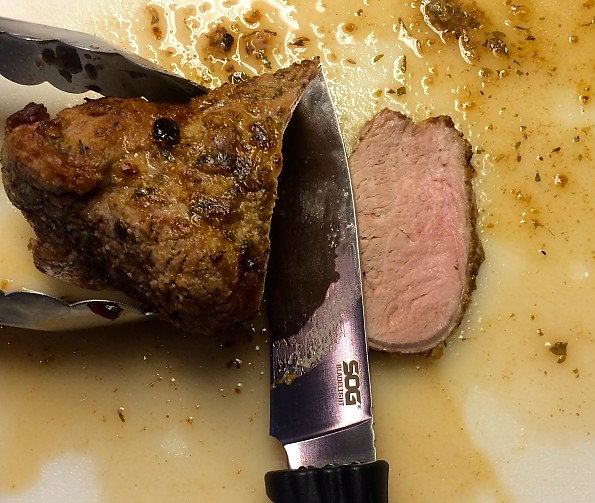 The stainless blade, then, is a nice feature for food prep, and I suppose one could use this knife to field dress game, too, although I might think twice before covering the knife in gore and having to ponder how best to clean it afterwards given its electronics. Note: an online write-up about the knife (a description found on an online retailer's site)) boasts of IPX-7 water protection, but nowhere on SOG's site or on the knife's packaging did I find an analogous claim, so I didn't conduct submersion testing.
I relished the size of the knife and its hand feel when cutting cordage, wood, and other organic materials. I enjoyed whittling bark off of sticks, something I had no problems doing with this knife. I carved feathersticks and curls, too, although these were not the huge, looping curls produced by a scandi-ground knife (like a Mora); they were rather more compact in contrast, but still plenty usable as tinder. I did, in fact, use the Bladelight Camp to process wood to successfully start and maintain a fire.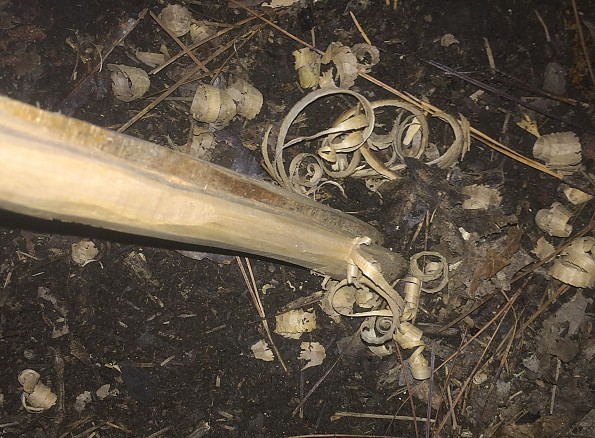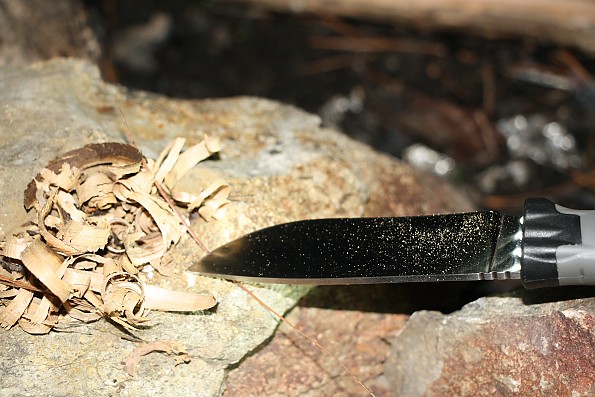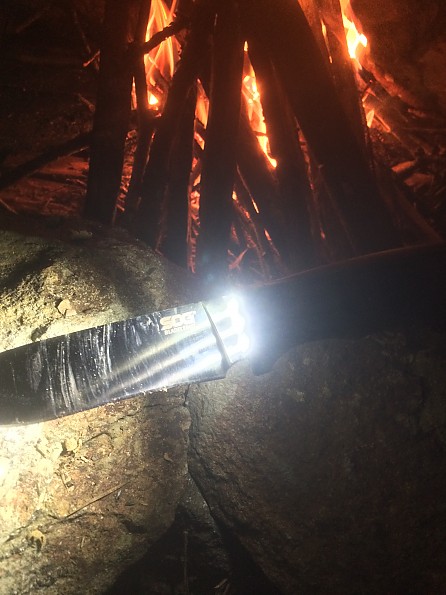 Under a variety of conditions, the LEDs were quite useful, and even when using my headlamp, the LEDs offered an additional level of illumination that gave me a greater sense of safety during night use.  At one point I found a needlessly abused pine in the woods (someone had been hacking on it for no reason), but it was pretty cool to salvage nuggets of pine sap from the desecrated tree trunk with the Bladelight Camp illuminating the chore. What the illumination of Bladelight Camp excels at doing, then, is providing a task-specific light source, one that enhances the safety and aids in the completion of cutting tasks after dark.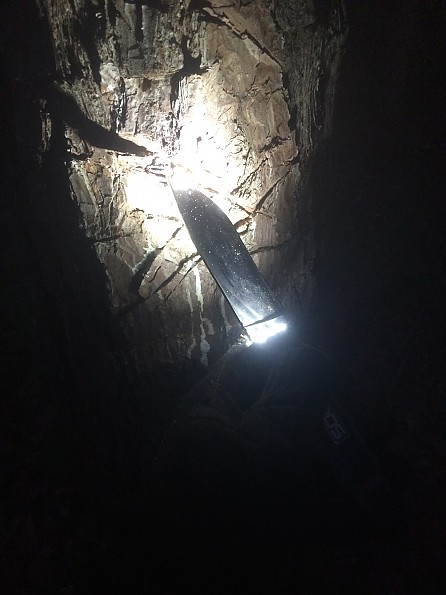 And, too, it was handy to have a light source within reach when my headlamp was stowed in my bag, as when darkness first fell one night in camp. The BladeLight Camp took over for a while, allowing me to unpack and locate a suitable "bathroom" in the woods (after all, SOG's literature speaks of using this knife to "help illuminate the way to the outhouse"!).
By no means should one leave behind a headlamp or flashlight and rely solely on the BladeLight Camp's LEDs—clearly that was not the intention of this design. At an estimated battery life of 1.4 hours, you won't get much traveling done after dark if this is your sole light source.
Nor will you find the LEDs as capable of probing the depths of the wilderness about you as an alternate light source: my Black Diamond headlamp easily outdistanced the comparatively feeble glow of the BladeLight Camp, the headlamp providing wholly superior brightness for distinguishing different textures and objects on the forest floor. But you can certainly get around in camp with then BladeLight's LEDs.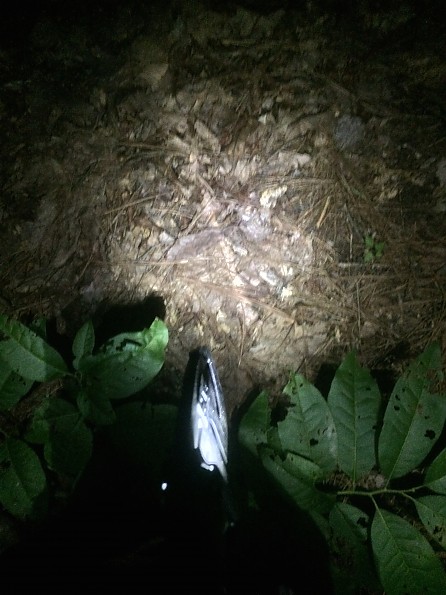 If you, as I do, keep your fixed blade camp knife on you while in camp, it is an auxiliary light source that is close at hand when you need it. When I was carrying this as my everyday carry during testing, I used it to illuminate evening trips to my shop out back or to negotiate piles of my kids' toys on the floor of the playroom when I didn't want to switch on a light and rouse my dogs. I found its convenience useful and its illumination adequate for these sorts of tasks.
One final and frankly somewhat controversial test remained for me to complete. In inclement weather, splitting open wood to access its dry core for fire building can be a literal lifesaver. Such a task is best accomplished with an axe or a sturdy machete or the like, but many feel that a knife of this size should also be capable of splitting small stock by having its blade batonned through the wood. The Bladelight Camp is made of a decent steel and features a decent heft that inspires a measure of confidence. I've often used my SOG Seal Pup Elite in this fashion, and I have never had any issues, but then again, the Bladelight Camp also houses delicate electronics in its handle.
I reached two conclusions: first, that this knife was not intended for this sort of hard use. Batonning crosses the line, perhaps, between chores to be accomplished by a camp knife and those to be accomplished by a survival knife. But, secondly, I also knew that I would feel my testing was incomplete if I didn't baton with the Bladelight Camp because some folks would argue that processing firewood is definitely a camp knife chore. So I batonned with it.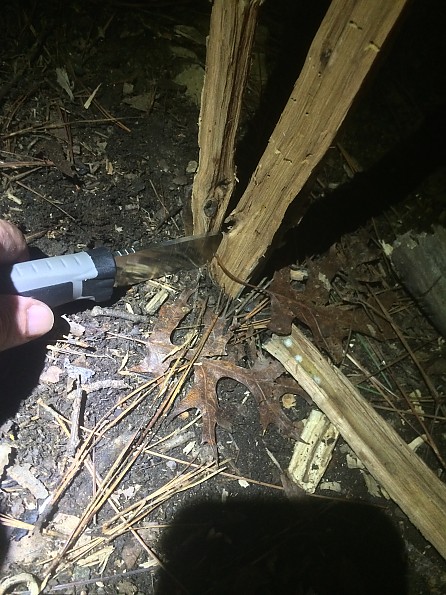 The blade sliced through small stock easily, and I was frankly impressed by how it held up to this abuse. Despite my hammering the blade tip with a green stick, the LEDs remained steadfastly on as the knife split apart the wood. The steel edge held up well with no rolling or chipping (and indeed, aside from well-earned scuff marks, the blade showed no discoloration from my tests). I reduced small stock into kindling for a fire without any problems. My final test was splitting a 3-in./7.6 cm. oak log. This wood was torturous, but the Bladelight Camp eventually made it through at a price—a slight rattle emerged between the blade and handle.
While pleasantly surprised by the toughness exhibited by the BladeLight Camp during this test, I still do not recommend batonning with this knife unless you are faced with an emergency. Will the BladeLight Camp hold up in the long term given its unique, electronics-embedded construction? Time will tell. 
Conclusions
Overall, the BladeLight Camp is a knife of considerable utility which possesses some unique and functional features. If one accepts that the Bladelight is not a substitute for a flashlight or a rugged survival knife, but rather a compromise somewhere in between, one will find a useful knife that will perform most camp cutting tasks well.
Its task-specific lighting is a definite bonus for nighttime use. The knife looks good, feels good, and performs well. You'll pay a bit more for the flash of the LEDs than you might for a comparable light-free fixed blade (which may handle rough usage better), but then the LEDs are the point of this blade. For those who are curious, the SOG Bladelight Camp can be found online for $57, considerably less than its MSRP of $92.
Source: received for testing via the Trailspace Review Corps (Sample provided by SOG for testing and review)

You May Like
Recently on Trailspace