SOG Seal Pup Elite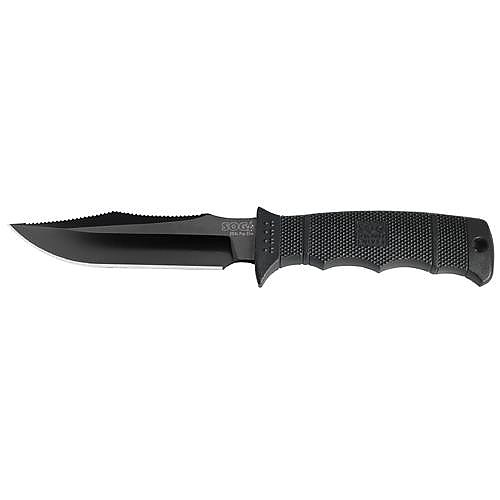 Specs
Price
MSRP: $124.25
Historic Range: $68.95-$84.95
Reviewers Paid: $70.00

Blade Length
4.85 in x .185 in

Overall Length
9.5 in

Weight
5.4 oz

Edge
Partially Serrated

Reviews
1

review

5-star:

0

4-star:

1

3-star:

0

2-star:

0

1-star:

0
This is the blade for you if you want a knife with a bit of attitude that can handle its share of camp chores: the 4.85-inch AUS-8 steel sharpens easily to a razor's edge; its .185-inch width handles batonning chores. The nicely made Kydex sheath carries the blade safely, offering an in-sheath cord-cutting option and easy-on, easy-off hook-and-loop belt loop. Not a true bushcraft blade, but lots of fun!
Pros
Good, readily sharpened AUS-8 steel
Good build quality
Excellent sheath
Lifetime warranty
Cons
Handle is grippy, but on the thin side
Weight too much for lightweight backpackers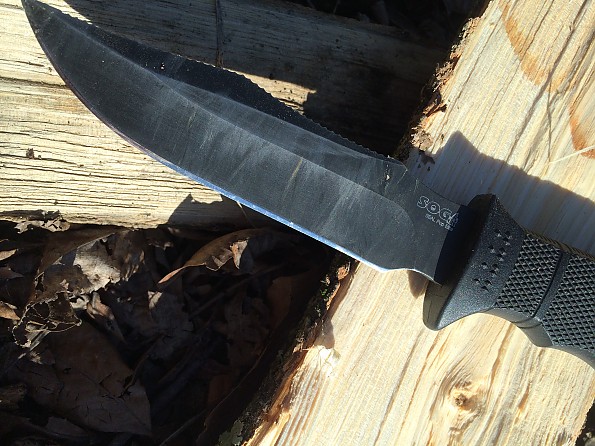 Background: SOG (originally Studies and Observation Group) Specialty Knives and Tools produces the Seal Pup Elite, a knife SOG claims was designed for use by Navy SEALs. I'm no SEAL, but I do enjoy this knife: it hits an attractive price point for the value received, a midpoint between less expensive Moras and Condors and a higher range of blades.
MSRP is currently $124.25, but it can be readily found for less. A partially serrated option or a fine edge option are available. This blade is made off-shore (Taiwan), but the craftsmanship is solid with steel that sharpens easily and holds an edge for a decent amount of time. 
So what does one get? A full-tang blade, 4.85-inches in length, .185-inch wide that comes out of the box sharper than any blade I have ever received. How sharp? Sad to say on my knife's maiden backpacking voyage in southwestern Virginia, a fellow backpacker I loaned it to cut himself carelessly and effortlessly, sufficiently deep to expose tendon and require stitches (but I got compliments from the emergency room nurse on my emergency field dressing of his wound--Scouting pays, kids). The moral? Respect the edge!
The knife alone weighs 160g/5.64 oz; knife and sheath weigh 252g/8.86 oz. For comparison, my Mora Bushcraft Triflex weighs 136g/4.8 oz (knife and sheath), while my TOPS Brothers of Bushcraft Fieldcraft weighs 436 g/15.4 oz.
Total knife length is 9.5 inches. The blade is coated with a black titanium nitride coating (TiNi), a tough coating that shows signs of wear on my blade after four years of use and abuse, but which still holds its own. Of the heat treatment SOG says that the SEAL Pup Elite "offers a full, 4.85-inch, AUS8 stainless steel blade that has undergone SOG's patented Cryogenic Heat Treatment process, which ensures that this blade will stay sharp over the long haul. This intensive process takes more than 48 hours and involves slowly reducing the blade's temperature to less than -300 degrees Fahrenheit, then slowly heating the blade to room temperature. The stress created by this process strengthens the steel on an atomic level and increases the blade's overall durability and edge retention."
Hardness is listed at RC. 57-58. I have found SOG's boast to be true--this is a blade that sharpens readily and holds and edge a good amount of time. I confess I've spent too much time just eyeing the bright, clean edge, which stands out so dramatically from the black TiNi coating. 
The blade features a clip point that lends itself to batonning but not as much to bushcraft--there are other blades that would drill a hole more easily, for instance. The hollow grind works brilliantly, though, for batonning, where its contour forces the wood apart. This knife is one of my best batonning blades in this size and weight range. Below I tackle some hardwood with ease. Wood processing for fire? Bring it on!
Feathersticks? Sure! This one was a hasty job, but you get the idea: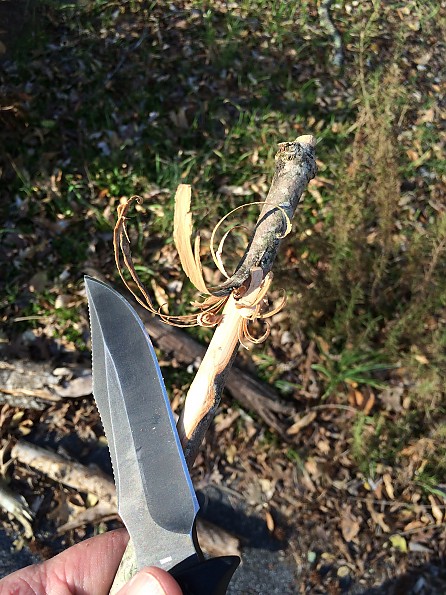 The spine of the blade features a smooth area scalloped for the thumb for greater control and two swooping sections that are finished with a spine rasp for making notches. This works reasonably well. More aggressive rasping would have made for a less user-friendly blade, but as you can see from the images below, it does produce a nice notch if needed.
The weakness? I find it to be the handle. It is Zytel, injection-molden, glass-reinforced handle with deep finger grooves and a grippy diamond pattern. It has a nice little textured thumb rise and a flare to protect fingers from the blade. The choil permits a small finger to curl around it for greater knife control. So far, so good.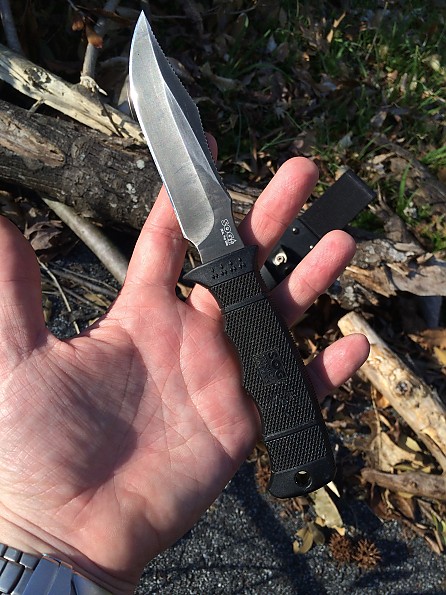 But turn it sideways and suddenly the grip seems thin (to someone with sizable hands like myself).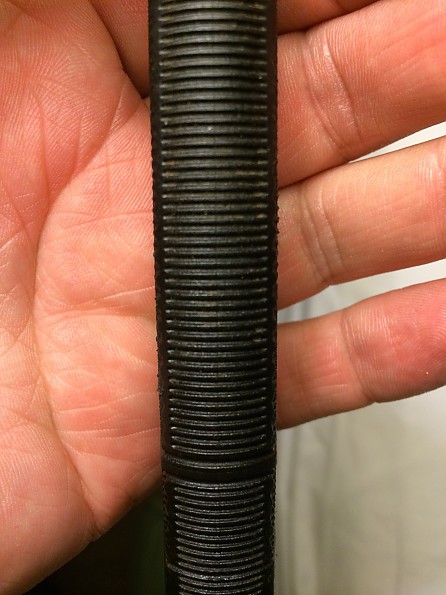 There simply isn't enough material to fill my hand, and thus it doesn't truly feel 100% comfortable. Not bad, mind you, just not great in a forehand grip. Chest-lever gripping is okay.
The sheath deserves individual mention. My knife came with a Kydex sheath option, which I love. Military belt and jump-rated, you can mount the Pup any which way you like: on that first trip, mine hung upside down, strapped to a backpack strap in a fashion that inspired giddy confidence. Yep, this little knife has some attitude.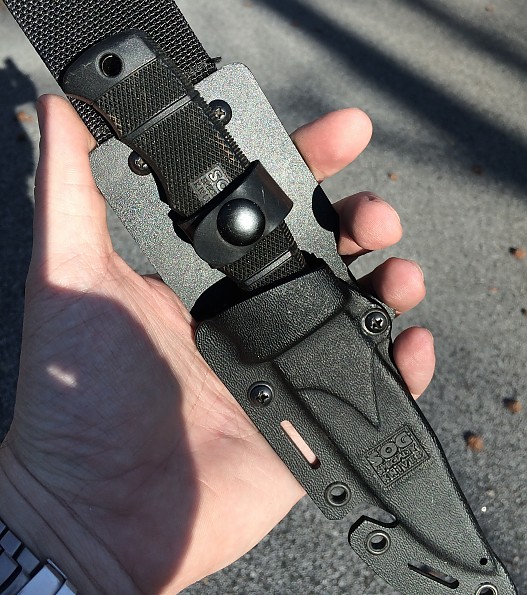 The sheath itself features hook-and-loop, easy-on, east-off belt attachment, leaving the knife itself hanging low. This is a feature I like; I do not like higher-riding sheaths with traditional belt attachments (though this sheath could be rigged for that if one were so inclined). The Kydex is well molded, although I would have liked the sheath itself to retain my knife more securely--a hard few shakes can make the knife come out, but then again, the sheath includes a tough, rubberized retention strap with a brass snap that closes in sufficiently satisfying manner as to inspire confidence in the knife's security.
Two screws secure the sheath on either side of the blade; these double to hold the back plate to which the belt loop is mounted, too. Below the screws are three rivets, each wide enough to accommodate paracord, and two slots for strap attachments. A unique sheath feature is a groove shaped like a lazy "L." This allows one to pull cordage through the grove to a spot where the blade edge is exposed and yet--by virtue of the angling of the groove--in no danger of cutting the owner while he or she uses the exposed edge to cut cordage. A single drain hole on the bottom prevents water build-up in the sheath in inclement weather.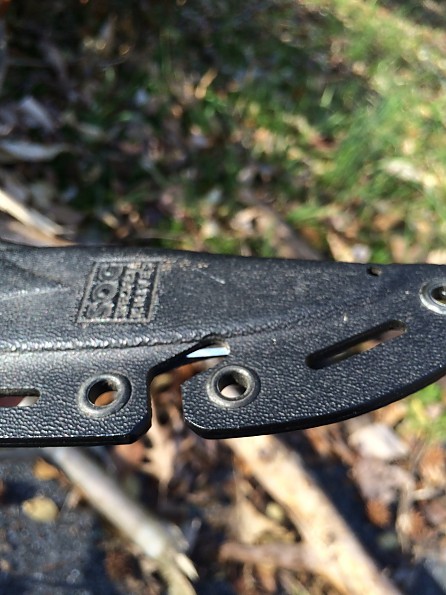 So how does it hold up? It's been four years now that I have had this blade. It has seen use and abuse in the yard and garden, and on protracted backpacking treks. It has seen sun and rain and dirt and blood (the last inadvertently!), but it has never stained or rusted. I have battonned hard with no thought of hurting the blade or breaking off the tip--this, despite often pounding my baton down on the last exposed half-inch of blade sticking from the log I was splitting. The blade feels rock solid, and through it all it has held up admirably, with only  enough of the black TiNi finish gone to make the knife feel well-used and well-loved.
Over time I added a small pouch to the front of the sheath for a fire steel (yes, the spine will throw sparks--plenty of them!), although I removed this feature for this review. The point is the sheath offers plenty of options for add-ons. Are there more expensive steels with better edge retention? Sure. Are there better designs for a full range of bushcraft and camp craft chores? Without question: I'm itching to get my hands on a Mora Bushcraft Black to test for that reason.
But overall, the SOG SEAL Pup Elite cuts, slices, carves, and batons beautifully, and looks good doing it. It can be stropped to a shaving sharp edge, and it will stay sharp a reasonable amount of time. Field sharpening is not a problem. It is not as versatile as a true bushcraft knife for bushcraft skills, but I like the reliable solidity of the blade and its keen edge and that fact that it comes in a versatile and functional sheath.
Knife connoisseurs seeking exotic super steels or handcrafted beauty should look away, but budget-conscious folks might well want to look at this one. I've enjoyed the heck out of mine.
Source: bought it new
Price Paid: $70

You May Like
Recently on Trailspace