SOG Flashback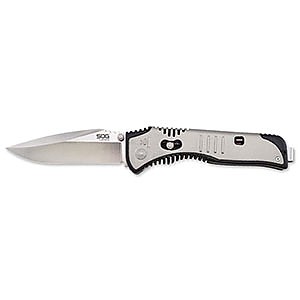 The fastest assisted opening folder on the market.
Pros
Fast deployment
Weight
Price
Cons
Not the prettiest girl at the dance
Initial Impressions
This is a SOG knife. I am biased having owned several SOG knives over the years. I have been very satisfied with my purchases. For two years I've been carrying the SOG Flash Rescue in my pocket while at work as a Firefighter/Paramedic. It has LITERALLY helped to save people's lives. It keeps a sharp edge, and deploys flawlessly in my hand, in all kinds of conditions as I use it to cut clothing, boots/shoes, seat belts, rope, webbing, seat cushions, and whatever else I need it to cut through like butter.  I carry a knife on my person every day. On most days, it's a knife made by SOG.
I am biased. I like SOG knives. However, when I received my brand new, in box, SOG Flashback my eyes did not light up. I have seen this knife before. When it was first launched I did my research on it like all of the other knife nuts did. I had the same reaction most of them had at first. I thought it was ugly.
Knives are tools, but to me, they are also pieces of art. I love functional art. I like beautiful cars, fine hand tools, a hand crafted chair, and a knife with beautiful curves and materials that makes my heart say "yes". At first glance, this knife did not have that appeal to me. It did not make my heart sing. 
The first time I glanced at an M.C. Esher drawing I shrugged my shoulders. When I really took the time to look at those same drawings, and saw what was there, I couldn't get enough of them.  It took some time, but the SOG Flashback has something to it as well.
Build Quality
Let's start out with the handle. That seems to be the feature that stands out the most. It's made with glass-reinforced nylon and stainless steel. The steel is wrapped around the nylon, and is given some texture on the side scales and near the lock.
When I first saw the knife, I did not like the look of the handle. After carrying it in my pocket, I've discovered that the steel acts as a slide to make it easier to deploy the knife without destroying the material of my pocket.  Many knifes have grippy, or aggressive texture on the scales which grip too much on your pocket, and end up wearing that spot out over time.  This leaves a nasty hole in your pants.  The Flashback's clip contacts over the smooth stainless steel which saves my pants.  Well done Flashback.
The blade steel is Aus-8. This is a nice medium grade steel which makes this knife more affordable than others its class. I like Aus-8 steel because I find it easy to sharpen, and it holds an edge nicely. It's also not so exclusive that I'm afraid to use my knife for its intended purpose because I'm afraid of hurting the expensive blade.
The SOG Flashback features SOG's piston locking mechanisms. I've had this lock on other SOG knives I've owned, and it has yet to fail me. The lock was smooth out of the box with no break-in period necessary. It's a nice system that is easy to use if you don't have stronger hands that are sometimes required with a lock-back, and liner locks.
SOG features the piston lock on many of their models, so I bet that it's lock they've gotten lots of positive feedback on. The knife also features a safety that keeps the blade closed when in your pocket.  Many feel that's it's unnecessary, but it works, and I have not had any trouble with it jamming up with dirt or lint.  
The pocket clip is stout, and holds the knife in my pocket well. After many weeks of use it still has good retention, and has not chipped or bent. It's a reversible clip, and the screw is solid and did not strip out when I reversed the clip. I wish I could say that with all my knife pocket clip screws.
Features
The main feature of the SOG Flashback is that at the time of this review, it is the fastest deploying assisted opening folding knife on the market. Why didn't I start with that? We're halfway through the review, and I'm just now mentioning the major selling point of the knife.
I've owned many assisted opening knives over the years. They are all fast. The SOG Flashback is very fast. I have no way of measuring just HOW fast, but it's the fastest opening knife I own. Does it blow the others away on fast deployment?No, but it's fast. It's fast...
What's more impressive to me besides its lightening speed is that it has an overall length of 8", and a blade length of 3.5", and it only weighs 3.8 oz. That is a big carry knife for that weight. For those who can't quite wrap themselves around those numbers I understand. I'm a knife guy, and those numbers mean something to me.   can't feel this knife in my pocket. It weighs less than some of the pens I own. When you're getting ready for your day, and your "EDC", or everyday carry knife weighs down your pocket, you just might leave it behind. That won't happen with this knife, and that's a big deal. At least it's a big deal to me.
It has a piston lock. If you like piston locks over a lock-back, liner lock, or a frame lock, then you'll be happy. If you like a knife with no locks, or a slip-joint knife, then you'll be unhappy. I like the piston lock. It's intuitive, and easy to maintain.
I also own a Benchmade brand knife that has a similar locking system. If you're a Benchmade fan, then you'll probably like this lock as well.  It has a proven track record, and I can't find any failures of it on the inter-web.  The downside of the lock is if your left-handed it will be harder to use the lock because it's set up for a right-handed person even though the clip is reversible.  
I've heard of many people super gluing the safety that keeps the blade closed in your pocket to the unlocked position so they don't have to deal with it. I always leave the safety unlocked, and it's never "accidentally" locked while in my pocket. I don't see a problem with it at all.  In fact, I've had a Kershaw scallion assisted opening knife open in my pocket, and I cut myself pretty good.  It too has a safety that I left unlocked. You think I would have learned my lesson.
It has a deep pocket clip that is short, and is unobtrusive. I love it. I'm a big fan of deep pocket clips because they help ensure security, and it hides the knife better. I don't like to advertise I'm carrying a knife.
The top of the blade has texture for your thumb to lock into position. The ergonomics of the SOG Flashback are nice. It fits my hand well, but the thumb texture, or jimping, is notched. I like my texture to be in a sawtooth pattern. It's more comfortable for my delicate hands.  It's practical though, and it serves the knife well.
The blade has a nice belly, and it slices smoothly. It has a nice swedge, and the tip is strong. My favorite type of blade grind is a full, flat grind, and the Flashback is hollow ground with a swedge, but it's a nice cutter with a blade shape that kind of reminds me of their Triton knife series.  SOG has stayed true to their heritage, and I can respect them for that.
Bottom Line
The SOG Flashback is not my favorite SOG folding knife, but it's a nice knife. I can't fault it for not appealing to me aesthetically, and that's really my only grudge against it.
I love the weight. It has a nice lock. The blade steel is one of my favorites. I'm a big fan of the pocket clip and the way the stainless steel doesn't tear up my pocket. The fit and finish were excellent. It had good blade centering, and looked like it was put together with care. The pivot screw was dead-on with no blade play at all. Yes, it's fast.  It's really fast. One more time: it's FAST.  
If you like larger EDC knives, but hate the weight of them, then you should check out the SOG Flashback. If you want the fastest opening assisted folding knife on the market as of 2014, then you only have to order the SOG Flashback.  I think it's a great choice for the money.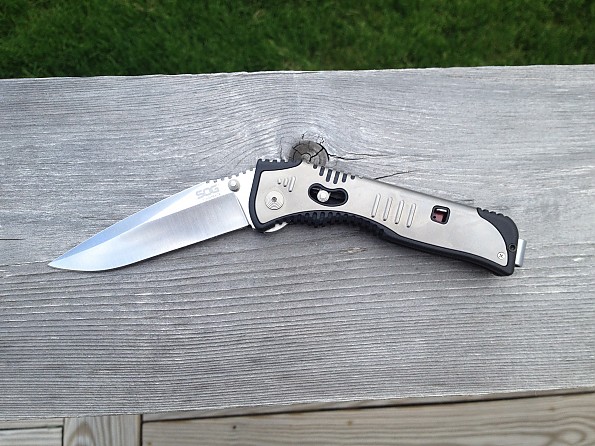 Source: received for testing via the Trailspace Review Corps (Sample provided by SOG for testing and review)

Your Review
Where to Buy
Help support this site by making your next gear purchase through one of the links above. Click a link, buy what you need, and the seller will contribute a portion of the purchase price to support Trailspace's independent gear reviews.
You May Like
Specs
| | |
| --- | --- |
| Price | MSRP: $100.00 |
| Weight | 3.70 oz |
| Overall Length | 8 in |
| Blade Length | 3.5 in |
| Blade Thickness | 0.125 in |
| Finish | Satin |
| Edge Type | Straight |
| Blade Steel Type | AUS-8 |
| Hardness | RC. 56-58 |