STABIL STABILicers Original

#8 in Traction Devices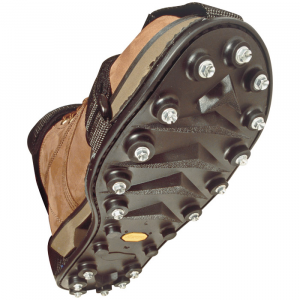 I have utilized various traction systems over the past years, to gain traction while hiking, walking on icy driveways, shoveling snow, and kicksledding. Each system has pros and cons. The Stabilicers seem best suited to non-technical/all-around use (walking around in icy conditions), though I also found them good for kicksledding. They will not be my first choice for uphill winter hiking, but are a durable, easy to use, traction device.
Pros
Durable
Easy to put on and remove
Good traction
Cons
Bulky
Harder to carry than other spikes
Sort of rigid/thick sole
Heavy
When I first received these Stabilicer Maxx Strap-on Ice traction cleats (which I received as a prize), I noticed their bulk and weight. I have used various traction devices (ice fishing cleats, ice spikes that you screw into your soles, and Kahtoola Microspikes) to help me keep upright,and safe during my various winter activities. I decided to give the Stabilicers a try on most of the same activities on which I have used other traction devices.
The Stabilicers are composed of a solid sole (it is reported to be "flexible", though I found it quite rigid once it is on my boot), with 17 hardened cleats on each unit. There are two straps, a t-shaped toe strap, and a heel strap which wraps up across your ankles. Both straps are secured and adjusted with Velcro. Once I figured out the tightness necessary to secure the straps,I had no problems with the Stabilicers becoming dislodged.
The cleats are positioned on top of a solid rubber base, so that you actually have approx. 3/4 inch between the base of your boot sole, and the tip of the cleat. The cleats are replaceable.
I used the Stabilicers with regular hiking boots and with winter hiking boots.  I found the strap system easy to use, and it usually stayed in place well. A few times I needed to tighten up the straps, which was easy to do with the Velcro.
I think these are best suited for use with boots, as they were a bit wide, and not real comfortable across the ankle or toe box, when I tried them on with a softer shoe. With heavy boots, I did not notice the weight of the Stabilicers as much as I thought I would.
The Stabilicers are 1lb. 7 oz. per pair, which is at least 6 oz. more than MicroSpikes. The added weight was not noticed too much while hiking, and I did note that snow did not clump in the cleats, as sometimes happens with MicroSpikes. The cleats seemed to provide good traction in conditions ranging from bare ice up to 4 inches of loose snow on top of packed snow.
I found the sole a bit rigid, which along with the bulkiness, make the Stabilicers definitely less portable than other traction devices. I often carry my spikes clipped to a carabiner on my pack, should I need them, or tucked into a side pocket of my pack. Those would really not be feasible options for the Stabilicers.
I also found that while hiking, the sole did not seem to bend as I used my foot to climb up steeper pitches. I did not seem to be able to really dig the toe cleats into the ground/snow. I just did not feel I had as much mobility as I did while wearing my spikes, maybe because they never really felt as they were a single unit with my boots. If they were not really snug, I felt some lateral sliding during traverse-type walking.
When I use the kicksled with the dogs, I like to have traction devices to help me as I push the sled along (kicking). Microspikes are really not suitable, so I have used cheap ice fishing cleats, since it is primarily the toe area of my boot that needs the added traction. The Stabilicers actually worked quite well during this activity. They stayed on during vigorous kicking, and provided good traction and push-off.  The perceived rigidity of the sole was not a hindrance in this activity.
I think the Stabilicers are a good general purpose traction device, not particularly suited for tricky winter hiking, but very good for ice fishing, flat trail walking, sledding, outdoor work, or added security on icy roads or driveways. They are definitely durable, though a bit heavy. There is a wide range of unisex sizes available (from xxs to xxl), and I would suggest to be sure to size for the boots you plan to use. The Stabilicers are really not suitable for wearing while driving vehicles.
Source: received it as a sample, freebie, or prize (Trailspace.com Reviewer of the Month prize)

For the last 10 years there were always the half dozen or so winter hikes in which the upper third of the trail was hard packed snow and ice. Most of my winter hikes involve 2-3000 ft elevation gain. Depending on the trail and the conditions, these sections were what I affectionately referred to as the "toboggan run". These were (are) always dicey going up and sometimes treacherous coming down; even with hiking poles.
Last spring I vowed no more. I purchased a pair of Stabilicers on sale at REI. They have been used on 4 hikes so far this winter. They are easy to put on and easy to take off. No more do the balls of my feet slip on push off on the way up the trail. On the way down I can place my feet with confidence knowing the Stabilicers will grip the snow and ice firmly.
This product is exactly what I envisioned and I have recommended them to several of my hiking buddies. Stabilicers get an unconditional 5 star rating from me.
Price Paid: $20

After slipping numerous times on the snow while photographing the 22nd Annual Legendary Banked Slalom at Mt. Baker, Wa., last year I wanted something to keep me up this year.
This year, the StabilIcers prevented any falls, even on a nearly 45 degree snow covered slope I managed to climb down without one stumble.
While they don't prevent sinking into deep snow, the straps keep them securely fastened during pull out. I will never go anywhere on snow without these. Awesome!
Price Paid: $41 plus $11 shipping

Your Review
Where to Buy
Help support this site by making your next gear purchase through one of the links above. Click a link, buy what you need, and the seller will contribute a portion of the purchase price to support Trailspace's independent gear reviews.
You May Like
Specs
Price
Historic Range: $11.93-$53.15
Reviewers Paid: $20.00-$41.00

Recently on Trailspace