StickPic

#10 in Trekking Poles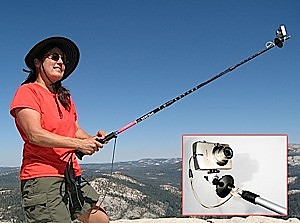 The StickPic allows a solo hiker to attach a camera to the end of a trekking pole to take self-portraits. It comes in sizes designed to fit most major brands of trekking poles.
Accessories: StickPic Cell Phone Adapter,
Specs
Price
MSRP: $13.99
Reviewers Paid: $13.00-$13.99

Average Weight
0.38 oz / 10.8 g

Reviews
2

reviews

5-star:

1

4-star:

1

3-star:

0

2-star:

0

1-star:

0
The Stick Pic is a handy little gadget that turns your camera into the ultimate "selfie" device. Designed for traditional cameras, with a threaded-base for tripods, the Stick Pic is worth those 11 grams (0.4 oz).
Pros
Get great shots
Shoot video blogs
Lightweight
Easy to use
Cons
Horse manure on pole tips
Limited interchangeability with various poles
Let me start by saying I LOVE cottage industry products. I am a huge fan of the idea that a guy named Rod wanted to find a better way to take trail pics and ended up inventing the Stick Pic. Then he improved the idea by making various sizes for various poles. I love that he is still improving on the Stick Pic by making an adapter for smart phone photos (I have not tested this feature yet.). On to the review...
Since I can't take a picture of my camera in use. Here is a photo from Stick Pic's website: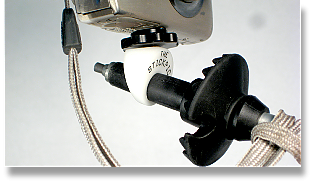 As the photo shows, the Stick Pic threads into the tripod adapter found on most cameras. Using a 2 or 5 second timer, the user is able to snap a picture of him/herself from a much better angle than might otherwise be available. It also allows for video blogging on the trail, as seen below:
For comparison, here are two selfies taken on the River to River Trail. The first picture is from holding the camera out at arms length....
And here is my daughter and I using the Stick Pic....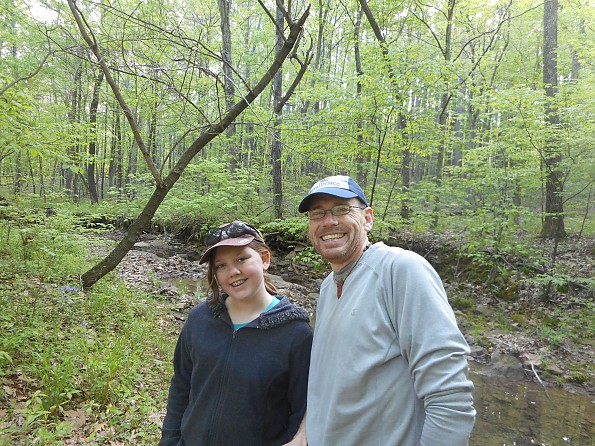 As you can see, the extra distance makes a world of difference.
Dislikes:
It's unavoidable on trails shared with horses that the tips of your trekking poles are going to be covered in...er...stuff you really don't want to touch. Unfortunately, there is not much you can do about it when using the Stick Pic. Wipe the tips off the best that you can and shove it on.
Also, you must buy specific Stick Pic sizes for different brands of poles. The website (www.thestickpic.com) does an excellent job telling you what size to buy. Unfortunately, when you buy new poles, there is a good chance you will need a new Stick Pic.
One of my original cons has been addressed. At first, this could not be used with smartphone cameras. Stick Pic is now selling an adapter, and I hope to test that in the future.
A final con is that it does require some setup. You can't just stop, snap a picture, and move on. It takes a couple of minutes to get it set up, but for that gorgeous vista behind you, it is worth it.
Summary:
I have been very pleased with the Stick Pic. Cons aside, I recommend this product to anyone hiking with poles and a camera.
Special thanks to JrinGeorgia, whose earlier review turned me on to this product.
Source: bought it new
Price Paid: $13.99

The StickPic turns your trekking pole into the original "selfie stick." It is a little doohickey that screws onto the bottom of your camera and then slides onto the tip of your trekking pole so that you can hold your camera out away from you to put yourself in the picture. Nobody needs the StickPic, but if you like to take photos when you hike with a "real" camera (not a smartphone), and you use trekking poles already, then you WANT the StickPic.
Pros
Adds a function you might enjoy or find important
Simple
Lightweight
Cons
None really, but limitations on who this is best for:
Best for solor or small groups, if you use a "real" camera (not smartphone) and already use/carry trekking poles
The nut that tightens the camera to the StickPic can unscrew itself if it is constantly jostled, so store it away while hiking or tighten down the nut after each use
This is a review of the StickPic camera accessory. I purchased one in 2013 and have had the opportunity to use it on several backpacking trips. I am not associated with StickPic in any way.
Nobody needs the StickPic. But if you like to take photos when you hike with a device intended mainly to be a camera (in other words not a smartphone), and you use trekking poles already, then you want the StickPic.
The StickPic turns your trekking pole into the original "selfie stick." It is a little doohickey that screws onto the bottom of your camera and then slides onto the tip of your trekking pole so that you can hold your camera out away from you to put yourself in the picture.
I do a lot of solo trips, and I love taking photos of the scenery, wildlife, flora, sunsets, whatever catches my eye. And when I get home and load up my photos I love looking back through them, but there's one thing missing — me! With the StickPic you can take photos and videos that include yourself.
It's considerably different than just putting the camera in your hand and holding your arm out. Your arm isn't long enough to keep you from dominating the picture, and your arm is usually in the shot. Plus, it's especially hard to hold a camera out with your arm straight in front of you, instead you have to hold it out to the side. Not the best pics.
With your camera at the end of your trekking pole, however, you can get it out away from you, and straight out in front of you if you want, so that you are in the shot but so is the background. The StickPic puts you in the scene. You can do lots of other things with it that you just can't do by holding out your arm — get a high-angle shot (good when on high ridges, cliff edges, tops of waterfalls, etc), low angle, over-the-shoulder, walking alongside angle, and so forth.
In addition, the way the StickPic slides onto the tip of your trekking pole, you don't hold the pole straight out, instead the camera is angled so that you have to hold the trekking pole low at an counter-angle, which means that with a little practice you won't see the pole in the shot.
It weighs only 0.4 oz and costs only $14 (as of Feb 2015) so can provide a lot of value for someone with a photographic eye for very little weight or cost. It is made of a hard plastic/resin (reminds me of the material some cutting boards are made from) and should not break.
I don't see any "downsides" to the StickPic, but there are limits on who this product is well suited for:
You need to be using a device that is primarily intended to be a camera, the reason being that cameras have a universal screw mount on the bottom to attach to a tripod, and this is how the StickPic attaches to your camera as well. I haven't seen a smartphone with such a screw mount, but if yours has one then it should work too.

The camera needs to have a shutter timer or other way (bluetooth) to push the button.

It makes the most sense for someone who already uses at least one trekking pole, the weight penalty for this functionality is pretty steep if you are going to carry a pole just for photos.

This is great for solo hikers or small groups of 2 or 3. As the group gets larger you will take up more of the shot and detract from the experience of showing you all in the scene. But even for a larger group the StickPic might still be the best option for taking everyone's picture together.

Great for when you are going somewhere you don't expect to find a lot of other people you can ask to take your picture.

Best to have a mud or snow basket screwed on to your trekking pole, that way you can loop your camera strap around the pole above the basket before sliding it onto the tip, so just in case the StickPic slides off the pole tip it will be saved by the strap (without the basket there's nothing to hold the strap on). On a related note, I've never had the StickPic slide off the pole tip.
Since not all pole tips are shaped the same the StickPic comes in several different models. They are identical except for the size and angle of the hole that slides over the pole tip, you will see where to specify that in the ordering process.
I'll share more photos taken with the StickPic, rather than of the StickPic, because that is where the real value lies: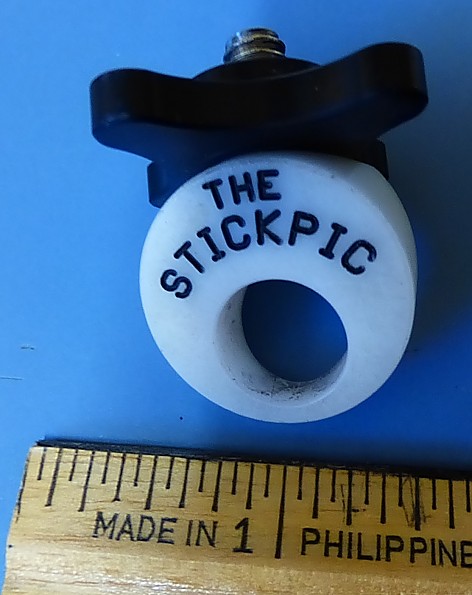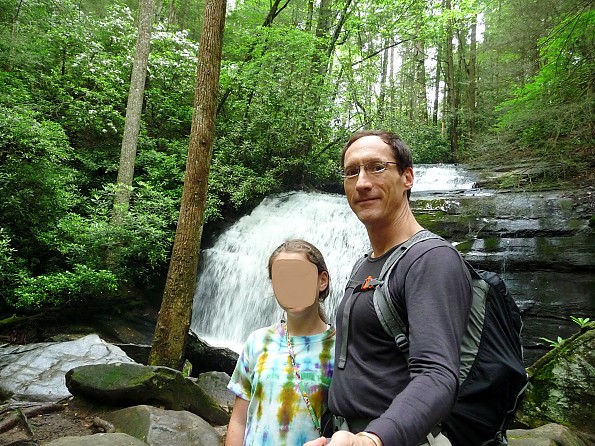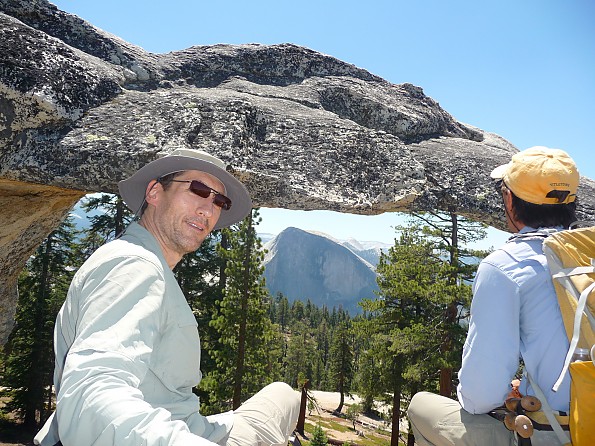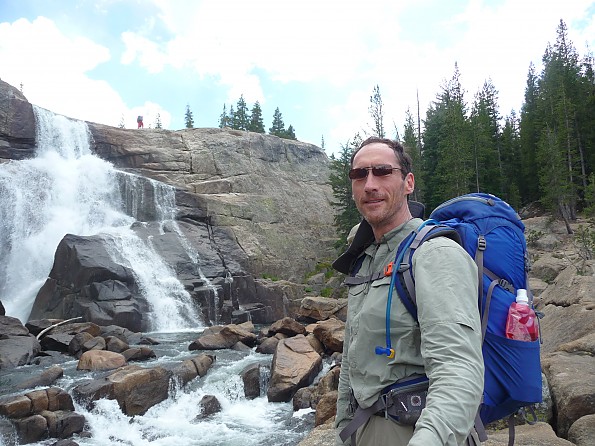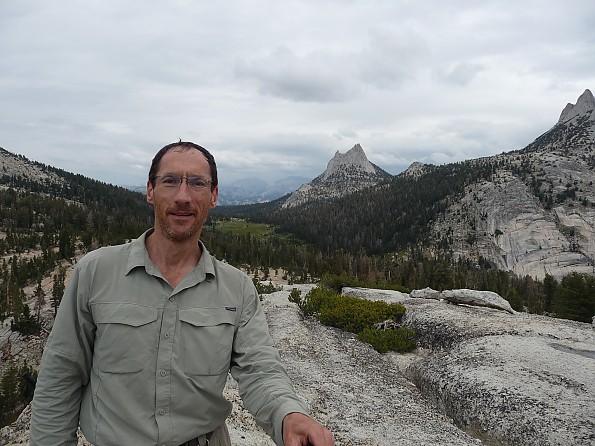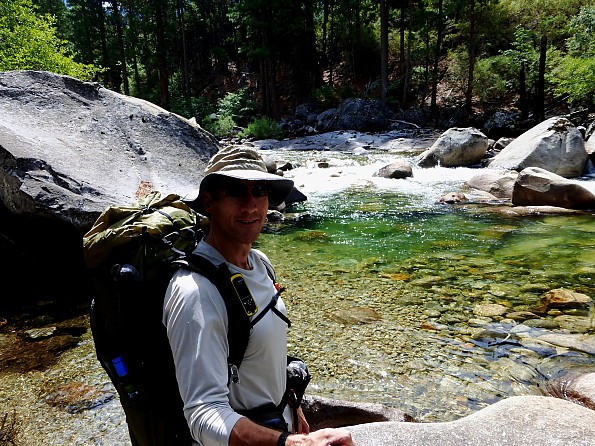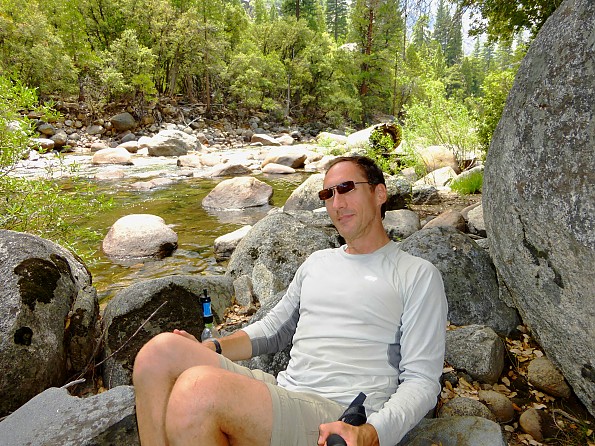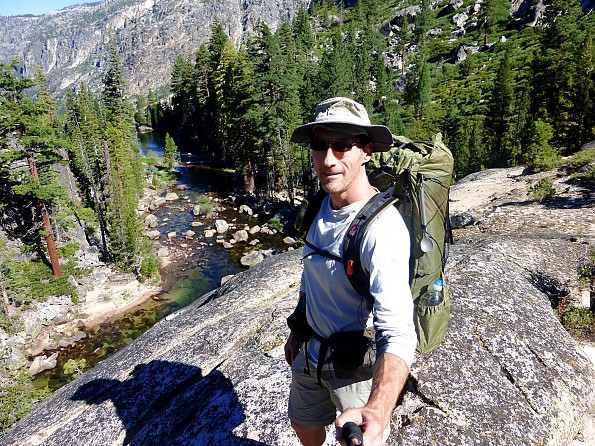 Source: bought it new
Price Paid: around $13 (don't remember exactly

You May Like
Recently on Trailspace