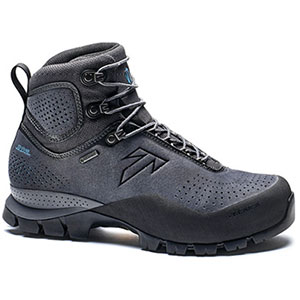 Specs
Price
Current Retail: $270.00
Historic Range: $250.00-$270.00

Weight
595 g

Reviews
2

reviews

5-star:

0

4-star:

1

3-star:

0

2-star:

1

1-star:

0
The Tecnica Forge hiking boot is a first of its kind boot borrowing fitting techniques from the ski industry to heat mold the inside of the boot to the users foot. Great for someone who has had trouble breaking in boots of similar construction or for those that have anxieties around new boot comfort.
Pros
Comfortable out of the box
Great reason to shop local
Well built and will stand up to use
Cons
Tongue design is poor and causes laces to loosen
Not available everywhere
I tested the Forge hiking boots during the fall and winter of 2017/2018 in the northern parts of the White Mountains in New Hampshire. The weather this season provided some great opportunities to test the boots in knee deep snow, frigid as well as above normal temperatures, rain, mud, and ice. Everything you would expect in a New England winter. 
These boots fell right in place in my lineup and I used them every day during hikes with the dogs as well as snowshoe and fat bike trips. 
Features: 
The key feature that separates these boots from others in the market is the heat molded liner. Tecnica is known for their ski boots and they are taking a play from the ski industry book. Each pair of boots will be molded to the buyer's foot before they leave the store, providing a custom fit and reduced break-in time. 
I will explain the process completely but I first want to talk about the initial step in the heat molding process, driving to a retailer that sells the shoes. Tecnica is only going to release these boots to retailers that buy the molding system and one may not be near every person looking to pick these up. This step in the process may be a hurdle that is too high to overcome for some buyers and it is my understanding that Tecnica does not have plans to sell these in an online environment. However, with all that being said, I really like the idea of moving more retail to brick-and-mortar shops. This is a great way for a large brand to encourage shopping at the local level.
Assuming you have the ability to get a retailer, the processes of buying a pair and having the molded to your feet is really interesting. 
It starts with the footbed being heated and then placed in a pair of "slippers" that you then put on before placing your feet in large moon-boot like bags that will be filled with air. You then sit for a few minutes with your feet being warmed by the residual heat of the footbed and your lower legs being hugged by pressurized air. The outcome of the spa like experience (stealing the phrase from OutdoorKelly, we had the opportunity to review these at the same time. Check our her take on things here.) is a footbed that is customized to your unique foot.
As you are sitting in the footbed treatment, the ankle cuff of the boot itself is being warmed.
Once the footbeds are finished, it is time to switch and put the boots on and then everything goes back in the bags. The process is then repeated so that the ankles of the boot are molded. 
The entire process is wrapped up in under an hour and you are ready to hit the trail with perfectly broken in boots. 
This is a pretty neat feature and is unique to this company at this point. However, after I was done, I asked myself if it was necessary and I'm not entirely sure it was. I came to this conclusion because I have never had much of an issue breaking in boots of this category in the past.
It could be possible that my foot just happens to be average enough in shape that it matches up well to the lasts most companies use to make their boots. Or it could be that most mid-weight nylon hiking boots are designed so that they are comfortable out of the box because manufacturers know that the average consumer wants to walk immediately from the store to the top of the nearest peak without getting any blisters. I personally lean towards the second reason.
Fit and Comfort:
Regardless of whether or not the heat molding made a difference for my feet these boots fit perfect and were comfortable from the start. The quality of the fit lends itself to the fact that Tecnica is using a last that has much more detail than is typically used. It has a more pronounced foot shape that makes the starting point for the shoe much closer to a normal foot. 
The comfort comes from the cushioning and support that is built in to the boot. The footbeds that are included are similar to aftermarket inserts which help cushion and cradle the foot against the abuses of the trail. They are much thicker than those traditionally supplied by boot manufacturers. 
Support:
The Forge boots are a hightop hiking boot with adequate ankle support. On level trails I found them to provide enough support but when things got off camber I started to feel it in my ankles. I also ran into some trouble with the design of the tongue, which I would like to see Tecnica modify down the road. The current design does not include a traditional tongue but instead has material wrap from the inside of the foot around to the outside.
In theory, this should work and I'm sure Tecnica took this design from their ski boot liners as I have seen many liners with this structure. However, ski boots have something these boots do not and that is ratchets and buckles that lock the boot in place on the ankle. These boots have laces that struggled to stay tight enough to prevent the ankle opening from becoming loose under the stress of hiking.
As the boot shifted around the ankle opening would become more and more open. This had two negative effects, the first was that I lost ankle support. The second was that the laces would become looser and looser. This was not a problem if I had quick access to my boot but it became inconvenient if I was wearing gaiters. I also think Tecnica could have spent some more time on this part of the design because users do not want to retie their boots every 45 minutes as was the case on some of my trips. This could be resolved with a different lace, but it is my opinion that the root of the problem is in the design. 
Water Resistance:
These boots are Gore-tex lined and because of that they shed water and did not allow any to penetrate to my foot. The tongue is stitched so that it keeps water out to just below the ankle.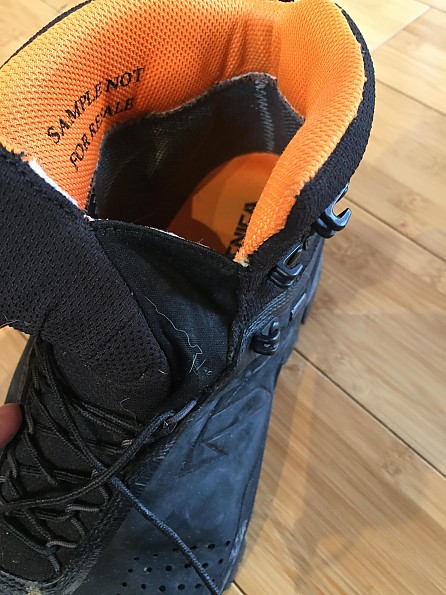 I know that there are some strong opinions about Gore-tex versus leather boots, I have both types of boots and feel there is a place for each technology. For late fall, winter, and early spring hiking and snowshoeing I prefer Gore-tex and felt that these boots were a great match to those activities. My feet were dry on the inside because they were able to breathe well, but I have not tested them out in temperatures about 45 degree Fahrenheit. As temperatures rise, I could see the concerns of swampy feet becoming more of an issue.
Traction:
The lugged sole has deep grooves and provided excellent traction in snow and mud and was adequate on ice. I was able to bite into crust layers and take steps with confidence. The lugs also shed snow and mud easily so that I did not build up gunk in my treads. 
Construction and Durablity:
The Forge boots are well made and have held up against five months of daily use. In many ways they still seem brand new. The soles have shown no wear and the outer material looks pristine. I have worn snowshoes and Microspikes on most of the hikes and the boots do not show any weak spots. The laces are still strong though I have noticed some hard spots in the material from were there is a lot of friction.
Over time I would be concerned about the laces holding up and the connection that holds the lace to the boot could also be a potential weak spot. Time will tell and I will update this review if it becomes an issue.
Most important though is that the liner has maintained its form. I asked the boot fitter if the liner would break down over time and he said that it would hold its shape unless it was exposed to extreme heat and re-molded. I have been impressed by this technology and its ability to hold up over time.
Conclusions:
I have enjoyed testing the Forge boots and they have earned a place in my lineup of hiking shoes. The construction, traction, fit, and water shedding abilities all give it top marks. However, I am not sold on the heat molded technology and it is not enough to separate these boots from the rest of the field. 
I would recommend these for hikers that have trouble breaking in boots of similar weight or for those that want to take all of the guess work out of a new pair of boots.
Source: received for testing via the Trailspace Review Corps (Sample provided by Tecnica for testing and review)

On my pair of boots the rand came unstuck along a half-inch section of the toe box after just one week (20 miles of use)!!!! Tecnica replaced them, but this does not bode well for build quality or longevity.

Other big problem is the heel box. There is a heavily stitched seam running up the heel, meaning that any space/slack results in rubbing, especially on steep uphill going. Result: blisters. And this is only going to get worse over time as the boots loosen up. Frankly, putting a seam here is a major design error.

So I now have a nearly new pair of very expensive boots that I only use for light local walking because I have no faith in the long distance durability or comfort.
Pros
Great grip on all surfaces
Nubuck leather resists abrasions and dirt
Cons
Build quality
Heel seam = blisters (unless very heavy socks are worn)
Thin laces keep coming loose
Price
So after a few more months of use, and getting over my initial issues, I have updgraded my review to two stars (from one).
The boots have been used for a mix of steep and rocky mountain and 'average hill' hikes.  On both loose gravel and slick rock surfaces. Mostly in good (and often extremely hot) weather in France and Italy.
Most amazing (good) aspect of these boots is the grip, on all surfaces. It really is astonishing. The soles look like they are going to be durable long term too.
The boots are also totally waterproof.  And relatively cool, even in hot weather.
The heel blister issue has been 'resolved' by inserting a strip of duct-tape on the heel section. The duct-tape is difficult to get into the boot due to the restricted opening (the particular design of the forge) and generallt takes 3-4 strips (wasted) before I get one properly positioned and stuck down without ripples or folds.  The duct-tape will hold for 20-mile hike, no problem. Sometimes get two hikes out a strip beforeit has to be replaced.  It's just really, really sad that I have to resort to this overcome a design flaw in such an expensive boot.
As others have noted, the laces are a problem. I double-knot after the first half-mile (once I'm sure that I have the lacing correct) but there is often still the need to retighten during a walk.  Maybe some different laces would help (the standard laces here in Europe are very thin waxy string type, not like the ones in photos in the other reviews here). But the narrow lace lugs will limit how thick the laces can be.
Overall, these would be my dream boot except for heel stitching and the laces (and the price).
Source: bought it new
Price Paid: 250 Euros


All Forge GTX versions
In addition to the 2 men's reviews above, there is 1 review for another version of the Forge GTX. Read all reviews »
You May Like
Recently on Trailspace