The North Face Dome 8

Top 50 in Four-Season Tents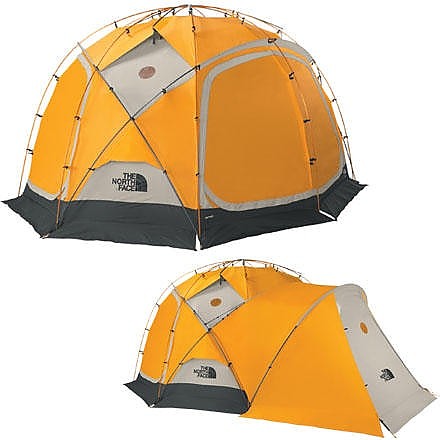 This eight-man, four-season quick-pitching abode is made for Alaskan backcountry adventure, a summit assault in the Himalayas, or wherever you need proven shelter from nature's most brutal conditions. The DAC pole system incorporates a ring-shaped aluminum hub to cut down on the number of poles deployed and reduced weight, yet it doesn't skimp on stability. The durable 70-denier nylon ripstop canopy and floor, which has a 10,000 mm polyurethane coating, provides a solid barrier to the elements. A 75-denier polyester ripstop fly with 1,500 mm polyurethane coating blocks unwelcome moisture and snow. Three double doors for entry and egress with expedition-sized backpacks. Lift vent technology strategically channels the wind to prevent knocking and movement. A snow skirt around the base helps prevent flurries from blowing in. A removable vestibule can be set up on the sun-facing side using the easy-clip system. The polyurethane port window is cold-tested to -60°F for outside monitoring without going out into the frigid extremes. There are also several easy-to-reach internal pockets on the tent's wall for stowing essentials.
Features:
Fly pitch with removable internal hanging canopy
Color-coded canopy attachment
3 large double doors
Fusion pitch combines pole sleeves and clips
High-low venting system with mesh screens and zip closure
External snow flaps at base
Internal pockets for storing essential gear
Hanger hooks for canopy when not used
Storage sack with drawstring
Specs
Price
MSRP: $2,500.00
Historic Range: $1,512.26-$2,500.00
Reviewers Paid: $1,500.00

Minimum Weight
57 lb 11 oz / 26.183 kg

Packed Weight
35 lb 0 oz / 16 kg

Seasons
4-Season

Sleeping Capacity
8

Doors
3 (Double Doors)

Floor Length
64 in / 163 cm

Floor Width
64 in / 163 cm

Floor Area
128 sq ft / 11.9 sq m

Vestibules
1

Vestibule Area
34 sq ft / 3.1 sq m

Peak Height
83 in / 211 cm

Reviews
1

review

5-star:

1

4-star:

0

3-star:

0

2-star:

0

1-star:

0
This tent is incredible! I think I got the last one in the U.S.

Used it once in the mountains in N.M. Initial setup was a bear, as once shell is set up then you have to attach hundreds of little connectors for what I call the inner tent! Whew!! was so tired after that I did not connect the vestibule. It took about an hour and a half and you better have at least two people! Truthfully it is waaaay more than you need in U.S. to camp, except for maybe North Idaho or Western Montana where I intend to test it next!

This is NOT a beginner's tent!! It is bullet proof and the best base camp tent I have ever used! If you want to stay out for extended periods in exceptionally bad weather this is your tent!! It will NOT fail you and you won't get wet!!

This truly is an expedition quality tent! Other tents say they are four-season expedition tents. This one truly is and it didn't have the absurd price of the 2-Meter Dome!

It is a pity it isn't made anymore! I have friends that have offered me more than I paid for this tent, but I am keeping it for the time being! Heck, it is worth a bunch just having the inner tent all connected to those hundreds of little connectors! This tent isn't just excellent, it is superlative!! But you better not be a novice camper to use a tent like this!!
Pros
Bullet proof
Best four-season tent I have ever used
Cons
Exceptionally crappy manual, and like I said difficult to set up, but once it is set up I could live in this tent!!
I purchased this tent from a dealer in Washington State that was kind enough to ship the thing to Oklahoma. He said it was the last one in the U.S. and I got it at a reduced price, which was a good thing! I actually like this tent better than the 2-Meter Dome because of price and unless you're going up Everest or K2 who needs such a tent? Oh, and not to mention the absurd 5 thousand dollar price, which is absurd for something made in China!!
This tent is just right for camping trips of long duration because you wouldn't want to move this thing more than the initial setup!! Great base camping at its finest!! Also, you could NOT find weather conditions anywhere in the U.S. that this tent wouldn't just laugh at!!
I live in tornado alley Oklahoma. I set the tent up in my backyard to clean and a severe thunderstorm came up and caught me by surprise!! We had winds in excess of 80mph, dime sized hail, and almost 4 inches of rain in an hour! I could not get back to the house because of the intense storm and lightning! So I finished cleaning the inside knowing that after such a storm I was going to have to hose off the outside. So I just curled up on the floor of the tent and took a nap! I was able to feel water running under the tent but I was high and dry!!
So I can honestly say it is amazing!! The only other storm was a mountain shower in N.M.! A baby T-storm!! This storm that I was in would have collapsed a lesser tent and you would have gone swimming!! I did not even get wet! Just watched from inside and listened to the rain and hail bounce off the tent!! No damage whatsoever on the outside of the tent!
With all that being said, the initial setup was a bear due to incredibly poor instructions and having to redo some of the poles because they had to be a certain way! "My Fault" they are color-coded. And installing the inner tent felt like caving! I started at one door, went around in a circular fashion, and was able to complete it in about an hour. Like I said, there seemed like hundreds of those hook ups. Never got around to the vestibule because I was exhausted.
So in closing, it is a shame that North Face quit producing this tent because it is a nice in between model which the other gear companies have seen and jumped on! I personally would not use any of the lesser models of North Face tents because I am older and like to fully stand up and have room to navigate. The lie on your belly tents may be fine tents, like the VE25, but that is for a much younger crowd! I am not in Special Forces anymore! I like my comfort and this tent is the ticket!!
Source: bought it new
Price Paid: little over $1500

You May Like
Recently on Trailspace