The North Face Elkhorn

The Elkhorn has been discontinued. It last appeared in The North Face's 2011 product line. If you're looking for something new, check out the best 3-season synthetic sleeping bags for 2023.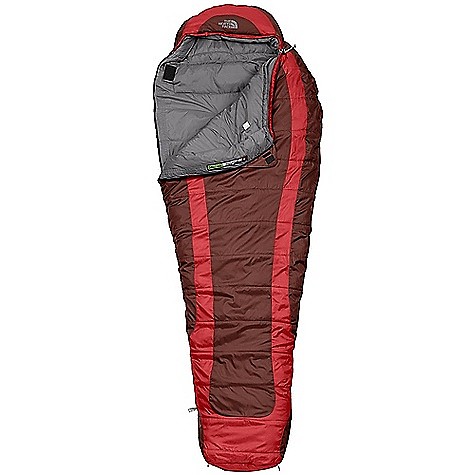 This sleeping bag is one of the best designs that I've ever slept in. It comes close to the comfort rating if you wear some insulated clothing to sleep. It's a bit bulky and its weight works against it.
Pros
Excellent draft collar
Width is very comfortable
Comfortable materials
Durable
Cons
No stow pocket
Packed size (10" x 18")
Poor quality zipper
Weight (4lb 12oz)
Warmth: The bag has a 0°F (-18°C) rating.
Normally, that rating is the lower end rating that identifies the temperature at which the bag will keep you alive. As a general rule, I add 15°F (9.5°C) to that rating to provide a temperature "comfort" rating. According to those parameters, you should be comfortable with a base layer at 15°F (9.5*C). I've found through testing in various conditions that the comfort rating meets those expectations with some insulated clothing and appropriate ground protection. 
The first time I tested the bag, I slept in a hammock with a Klymit insulated Static V Luxe pad. It was 38°F in the morning. I was slightly cold all night long. Just cold enough to fracture my sleep throughout the entire night. Hammock sleeping is different from tent sleeping.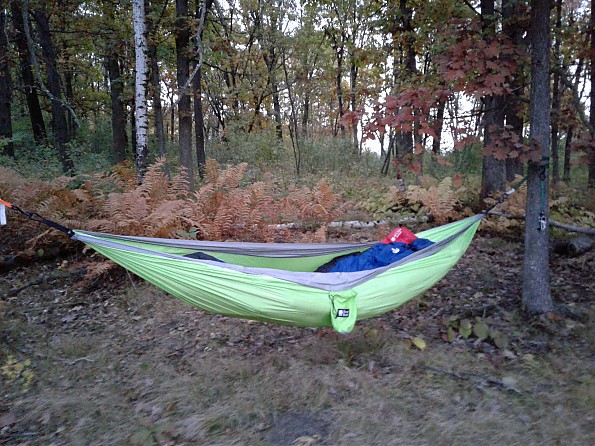 The second time I slept in the bag, I was outside in cold sleet/snow for four hours prior to going to  bed. I wore pants, a base layer top, and a wool fleece vest. I was so cold that I had to call it quits at 1 am and go inside (I was testing in my backyard). I was in a three-season tent (Marmot Pulsar) with two sleeping pads underneath me. The temperature was 29°F with very high humidity. This surprised me a bit.  I thought for sure I would have been warm enough. In retrospect, I think sitting out for four hours in the cold lowered my core temperature enough to curtail my expectations.
The third test was in a three-season tent (Marmot Pulsar) in 28°F weather with light snow on the ground. I wore a fleece body suit and wool socks to bed. There was low humidity. I was warm the entire night. I had two sleeping pads under the bag.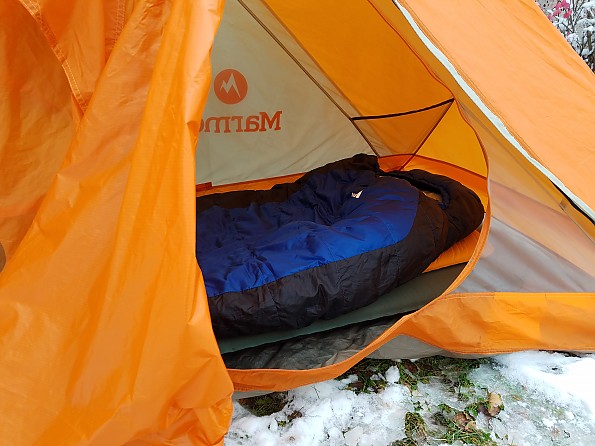 The last test that I conducted with this bag (so far) was an 18° night with clear skies. This time I was in a four-season tent (Marmot Sanctum) with two sleeping pads underneath. I wore the thermal fleece body suit (it's a dry suit liner for diving) with insulated slippers. I was comfortable when temps dropped throughout the night to 18°F. Now, this is in a four-season tent—which can add 10° to your comfort rating. In addition, I had double pads underneath, and a full body thermal suit.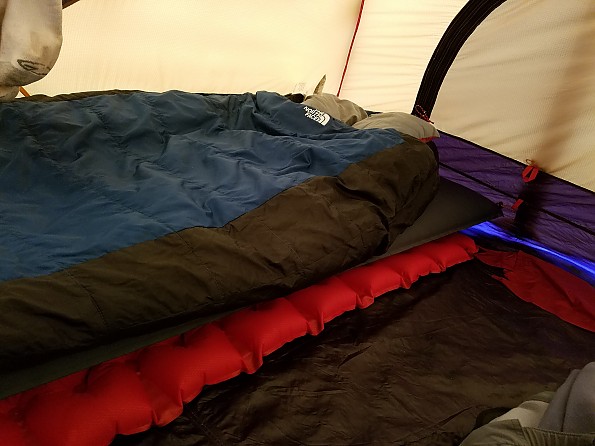 Fit and Comfort: The Elk Horn's cut is near perfect in my opinion. There's just enough room for turning and movement without space being gratuitous. This keeps the air pocket small enough to stay heated all night long. Since the leg area tapers, there aren't the usual surprise cold areas that you get in a rectangle bag.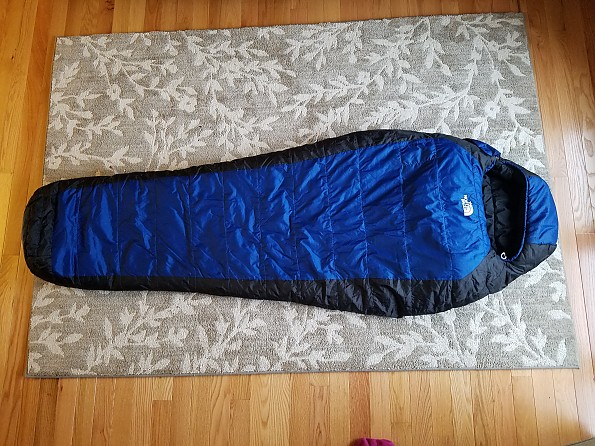 The footbox has volume to give your feet room so your insulation doesn't get pressed and create a cold spot.
The hood cinches quite nicely around the face. I personally prefer a larger hood in cold weather bags so when you cinch it, it covers your face down to your nose. The Elk Horn covers my eyes but still leaves my nose exposed. 
The interior of the bag is black nylon. It's cold when you first enter the bag but then gradually heats up. The Elk Horn's black interior is a wise choice; for all winter bags in my opinion. Dark colors retain heat better. 
Entry & Exit: The Elk Horn's zipper is sub par in my opinion. It's a light gauge, lower quality, pot metal zipper. Usually NF uses trusted brands like YKK but for some reason, they chose to pair the Elk Horn with a non-labeled, lighter gauge zipper? It snags on the zipper baffle sometimes, but not more than most bags I've used. Getting into an out of the bag is easy enough. 
Moisture: Since the Elk Horn is a synthetic bag, moisture issues are a minimum. I've never had a problem with moisture. 
Packability: Yikes. It's a pretty big bag. Even though it comes with a compression sack with three cinch straps, it still has a lot of bulk. When compressed, the bag takes up the majority of my 85L pack's main compartment. It's tough to squeeze it into the bottom compartment of most backpacks. Even so, I was still able to get the bag, my four season tent, my full body fleece suit, and two sleeping pads into my Bora 95L pack.
Just so those who don't winter camp understand, your pack is going to be a monster compared to your summer pack if you want to be comfortable while winter camping. (I live in MN). Four-season tents are heavy. Winter sleeping bags take up more space and are heavy. I prefer two regular sleeping pads for comfort; that's extra weight. I'm just used to it at this point. 
Loft: The bag has about four inches of loft. The synthetic fibers don't puff up as much as my down bags with the same temperature rating. 
Features: This bag has the best draft collar I've ever used in a winter bag. There's an elastic shock cord that runs through a 360° collar.
The collar connects in the most ingenious manner. Two squares of hook velcro sandwich a single receptacle panel of fuzz velcro between them.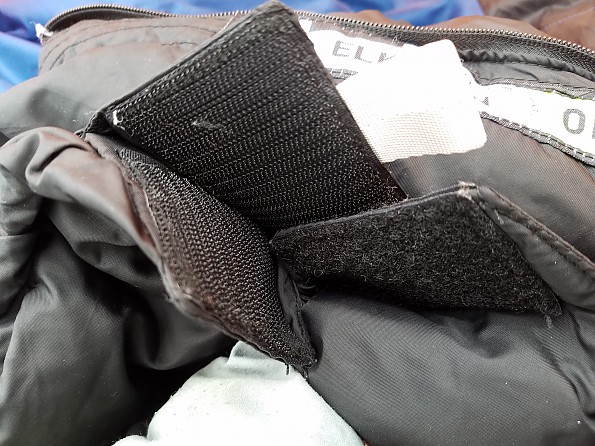 It creates a strong connection which allows you to pull the elastic cinch cord and create a comfortable seal all around your neck.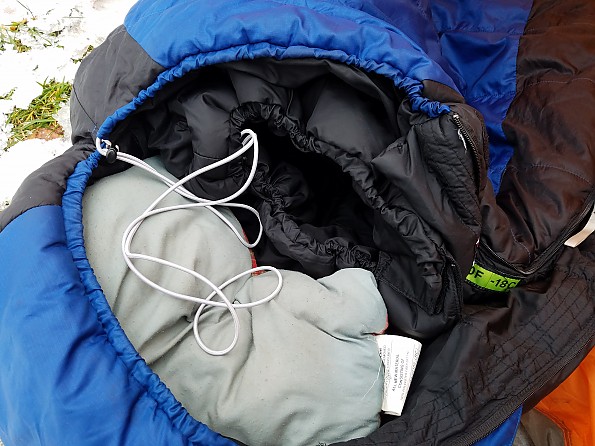 This locks in precious heat on cold nights. I've lamented so many would-be great winter bags because of this one feature. I have found that a good draft collar is essential in any serious four-season sleeping bag. 
One feature that the bag lacks is a small pocket. I read a review of the Elkhorn bag that says it has a. stow pocket. This must be a more recent model. I really appreciate winter bags with an interior pocket to keep things from freezing overnight (e.g. phone, camera, contact lens case, batteries, wet wipes, etc.) With this bag, I just have to throw my effects in the bag with me and hope they don't wake me up as I roll over on them in the night. 
Construction and Durability: Minus the lackluster zipper, the construction of the Elk Horn is top notch. There is reinforced stitching galore in this bag. The nylon is durable. I feel like I could issue a beating to this bag and it would still come out looking great.
My verdict on the Elk Horn is as follows: I like the idea of a synthetic bag for winter camping because it reduces moisture issues and insulates your underside better than down. The Elk Horn provides those benefits. The volume and packability of the bag work against it. The cut and comfort of the bag work in its favor. There are pros and there are cons. I will leave it up to you to decide whether this is the bag for you. 
Source: bought it used
Price Paid: $90

Great bag. Warm, durable, and priced reasonably.
Cons
Doesn't pack well for backpacking.
I bought this bag new from a BPS store in 2010. I still have it, and it's still in good condition which is a testament to its durability. It has gotten dirty, but never ripped or had another significant problem. 
All in all I love this bag. It's my go-to winter camping bag. (My other bag is a Kelty Cosmic 21.) My wife has a Marmot Trestles 0 bag and I wouldn't trade her. The Trestles bag is nice, don't get me wrong, but even in the compression sack it came with it's larger than the 0F Elkhorn. 
Here in Colorado this bag (the Elkhorn) has done serious winter camping in altitudes ranging from 9000ft to 11,000ft and nighttime temperatures varying between 20F and -15F. It has been extremely comfortable in all conditions I have used it in, including some serious blizzards. The bulk of its duty has been done with a cheap roll out foam pad inside of an REI Mountain 3 four-season tent.
I used to take this thing out EVERY weekend in the winter, conditions be darned. Not once was I cold. Generally I was wearing boxers and a t-shirt in the bag as well as a watch cap or beanie style winter hat. Use it properly and it will serve you extremely well.
The bag has a serious zipper on it that doesn't snag on the bag itself, so getting in and out is a breeze. For someone my size (5'10") there's enough foot room in the regular size to put tomorrow's clothes in the foot of the bag as well. The material outer material of the bag seems to be extremely resistant to abrasions and cuts. I abuse my gear pretty badly and it's still like new once it gets washed.
The mummy "hood" is also well done, though even with it in seriously cold weather you may want to wear a watch cap or something similar. It resists moisture pretty darn well, when the entire inside of your tent and the contents are covered in frost just take the bag out of the tent, shake it really well and hang it on a tree for awhile. 
As for storage, for a long time we didn't have a large house. This thing went back into the stuff sack it came in 200+ days a year. Loss of loft is not noticeable, nor is a loss of warmth.  
Long story short: Not a great backpacking bag, more of a car camper due to the packing size. You might be able to make it smaller with a compression sack though, or you can do what I did and put it on the bottom of your pack with some elastic bands. Either way, it's large and in charge.
On the other hand, if you're doing serious hiking when you need anything more than a 20°F bag, you're a nutjob or a serious mountaineer. For either group this bag isn't recommended unless you can't afford something that packs down better.
This bag is, in my experience, very warm, very durable and you can't beat the price. I paid $105 for this thing at regular price and my wife's Trestles was something like $249 when it was on sale at REI. 
Source: bought it new
Price Paid: $105

I just gave this bag its first real test in subfreezing temperatures in the Great Basin. The Elkhorn kept me plenty warm, though without a sleeping pad (oops) I found it difficult to keep the ground side of things from getting a little numb. Woke up with the bag covered in ice but didn't once feel any concern over my comfort, let alone safety. The temperature was moderate at about 18-degrees Fahrenheit/-8 Celsius.
Interestingly, my friend was carrying a 'Cat's Meow' (20 F rating) from the same company and nearly froze to death while wearing full thermal gear(seriously)! A last note: the head cover felt difficult to adjust and it is a real pain to fiddle around in windy, sub-freezing air for more than a few moments.
I too picked up this bag on sale at a Big Outdoor Store. Due to its poor compression and weight, this is not a great bag for long hikes, but it is warm and cheap. For the price, this is an outstanding bag that I will continue to keep in the truck for spontaneity's sake-that is, so that I know I have the gear to keep me warm and safe whenever I decide to spend the night out.
However, as a rule, I assume that temp-ratings for bags err on the optimistic side, and based on my experience I would not rely on this bag alone in 0 F/-18 C temperatures. Finally, for long treks I would continue to use something less bulky.
Design: mummy
Fill: "Heatshield Optimal Technology"
Temperature Rating: O Fahrenheit
Weight: 5 lbs, roughly
Price Paid: $50

Great bag for the money. My wife and I picked two up at Joe's for $50 during a sale they had they last summer. The few times we went hiking/camping they worked perfect.
The temperatures were in the 30-40 range at night and we were nice and cozy without being extremely hot. Although, I do not recommend this bag if you go hiking with a Boston terrier.
My Boston went on a pretty tough seven mile (14 round trip)hike with us and decided that she wanted to sleep in the sleeping bag near my feet. This bag obviously doesn't have much room down there, so it was a wee bit uncomfortable.
All in all, awesome product for the price and you get a solid brand name instead of the crappy Wal-mart Coleman bags.
Design: mummy
Weight: 4.4
Price Paid: $50

Bought my Elkhorn in Jan 2008 and used it in a camping trip at Lac La Biche Alberta Canada. Temps dipped into the -25 Celsius -13 Fahrenheit and I was toasty warm. I did use a fleece bag liner made by Mountain Equipment Co-op which I purchased for $40 cdn. I would recommend using a liner as the inside of the bag is a poly type material and would be pretty cold to first crawl into.
Other than that this is a great winter bag for casual use especially for the price. It compacts well and is lightweight.
Design: mummy
Temperature Rating: 0 farenheight -18 celsius
Price Paid: $100

I live in the Adirondacks and have always loved backpacking and camping. This past fall I wasn't ready to hang my gear up for the winter so I decided it was as good a time as any to get into winter camping.
Needless to say I started looking into a winter bag and the prices amazed me. Since I wasn't sure how I'd enjoy winter camping I opted to go with an entry level, inexpensive bag, and this was the one I chose.
The first trip out temps were in the low 20's high teens. I slept in nothing but a pair of boxers and was still nice and toasty inside. Next trip out my partner and I failed to find the lean to, seeing we'd never been there before, it was 7pm when we hit the trail and it was snowing rather hard. I threw an emergency blanket down and by bag right on top of it, I woke up to freezing rain on my face, the outside of the bag was rather wet, yet inside I was warm and dry.
Needless to say this bag has already seen over a dozen nights ranging from mild winter nights in the high 30's, to snow,to temps well below 0. It has always performed amazingly. I can't understand why anyone would pay three times as much for another bag. This bag is truly perfect for the weekend warrior on a budget.
Design: Mummy
Fill: Hollow core synthetic
Temperature Rating: 0 degrees Farenheight
Weight: 4lbs 10oz
Price Paid: $100

North Face Elkhorn 0 degree:
I bought two of them from Campmor "on sale". My son and I have used them extensively in varied weather conditions over the last three years.
Pro's:
It is an inexpensive bag that appears to be well made. I have had the bag to the very low teen's with thermal underwear/pad and was fine. (May recommend a liner if you go below low teens.) Additionally easy to care for.
Con's:
I do a lot of long distance hiking and would like it to lose +/-2 lb.s.
In short for the money you can't beat it!
Price Paid: $90

Bought the Elkhorn several years ago for early spring, late fall multi-day canoe trips in Ontario.  Salesperson talked me out of the Marmot Sawtooth for this bag.
The plus: a very reliable, warm bag in sub 0 degree Celsius weather. I use a hammock and pad. 
The minus: As noted,  a compression sack is a must buy. As well, as noted, the zipper can be troublesomely sticky and I've had a few nights fumbling in the dark trying to get back in the bag after taking a pee.
Price Paid: $120

Bought this bag from Cabela's. Used this bag in warm weather (50 degs) to cold snowshoeing camping 3 days 2 nights (15 degs). Great bag.
I have a close foam sleeping pad under it. I have fleece PJ's and stayed warm with no problems. As far as being a bit heavy, it's fine. For the money is a great bag.
3.5 stars because the zipper does stick a bit.
Price Paid: $109

I was given this sleeping bag as a gift for Christmas of 2008. I liked it from the start. It is very warm and comfortable, although if you use it it warmer weather you will feel like you are in an oven. I do recommend taking a sleeping pad with you because you back will get really cold. Nice bag, great price :)
Price Paid: $120

Your Review
You May Like
Specs
Regular
Long
Price
MSRP: $109.00
Historic Range: $74.95-$158.95
Reviewers Paid: $50.00-$120.00

Temp Rating
0° F / - 18° C
0° F / - 18° C
Total Weight
4 lb 10 oz / 2085 g
4 lb 12 oz / 2150 g
Fill Weight
3 lb 2 oz / 1410 g
3 lb 3 oz / 1450 g
Max User Height
6 ft 0 in / 183 cm
6 ft 6 in / 198 cm
Shoulder Circumference
62 in / 157 cm
64 in / 163 cm
Hip Circumference
58 in / 147 cm
60 in / 152 cm
Foot Circumference
40 in / 102 cm
40 in / 102 cm
Stuffsack Size
9.5 in x 18 in / 24 cm x 46 cm
9.5 in x 18 in / 24 cm x 46 cm
Fabric
100% Polyester Enduralite
100% Polyester Enduralite
Price
$109.00 USD
$119.00 USD