The North Face Minibus 3

The Minibus 3 has been discontinued. If you're looking for something new, check out the best three-season tents for 2020.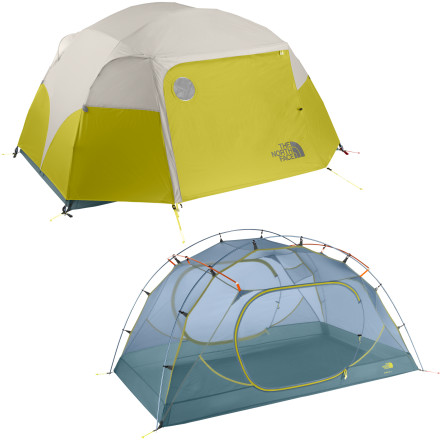 Specs
rear vestibule
Price
MSRP: $399.00
Historic Range: $198.98-$399.00
Reviewers Paid: $225.00-$400.00

Trail Weight
6 lb 3 oz / 2.82 kg

Capacity
3

Area
43 sq ft / 4 sq m
11.5 sq ft / 1.1 sq m (front vestibule) 11.5 sq ft / 1.1 sq m
Reviews
5

reviews

5-star:

1

4-star:

3

3-star:

1

2-star:

0

1-star:

0
Roomy tent for three-person. Poor quality rain fly
Pros
Well built and roomy mesh tent
Cons
Glued hardware failed after two years of moderate use. Expected more for a 400$ tent.
8 years review. ...
This tent has been great for spring to fall hiking. It is light and accommodated me, my wife, and two small children under 5 years old. The mesh tent itself is well built and very roomy.
My problem was with the rain fly. It is clipped on the tent with plastic hardware that is glued on to the fly. After two years this glue started to fail and in one year all the hardware fall off. The rain fly is of no use now and this tent is only good for summertime.
Source: bought it new
Price Paid: 400$

For light weather, spring, summer and light fall — YES!!

For this tent, it all depends on what your main purpose is! For my purposes, this tent was and is absolutely excellent! I've read a couple of the reviews and they are all good. And now, for a good description here, I'll tell you the cons and the pros and tell you what I like best about it.
Pros
Unique design! Love that!
Lightweight! And that's a good purpose. Looking for lightweight. This one is it.
Airy, comfortable. Great summer tent, good light weather, summer, spring and early fall.
After first "put together," easy to set up.
I liked the material of this tent. Love that airy feeling. And that's great in summer, spring, and light fall.
Cons
First time, I needed to read the instructions. And I've never done that with other tents. I'm an experienced tent setter-upper. Smiles.
This is not a heavy winter or storm tent.
This is not a tent that you would want in a total downpour in icy weather.
Price! For me, the tent was kind of pricey. However, the tent was a gift for "my 50th birthday" so it was well, priceless to me.
Smiles, I would have liked a different color, blue, of course!
Price, price, price, though this makes a great gift.
During my camping days, and during my tenting experience, I've seen a few different varieties of tents, all styles and all brands. From the smaller Wenzel tents to the larger Eureka Tetragon styles to the no-name or names that I can 't remember that I've purchased off season at Target and at other department stores, this, probably, was one of my first "more professional " tents. 
The tent is very different from the average tent style setup. It has these little pop-hinges that attach to the tent poles. And you probably would want to read the instructions first before attempting to put this one up. Smiles, I didn't read the instructions, thought I knew what I was doing, and then found out, "Ooops, where does this go and how does this fit on"?  So back to the simple instructions I went.
Once I opened the instructions and read them, the tent was pretty easy to set up. Of course, as I do with every one of my tents, I have always set up the tent firs—indoors, either in the store (yes some stores will allow this) or in my living room or in my bedroom, depending on the size of the tent.
I loved the light materials that the tent is made of. It is not heavy. So I figure this has to be the tent if you are using a bike, motorbike, motorcycle, or hiking. The less you have to carry the better! And of course, it goes without saying, it's a good tent when you bring the car also. It takes up less space than the larger Tetragon 9 tent.  (But these two are way different styles and different setups, so no comparisons here). (The Tetragon 9 can be a nice, small' family size tent; The Minibus is smaller for less people, probably good for one or two, or perhaps two adults and one kid—if you want to do some squeezing.  (That's really pushing it).  
However, it's the most very cool solo tent that you could ever ask for. Love the roominess for that purpose.  Yes,  I got this one for solo camping!
So, I mention solo camping even though this tent is not "billed" as a solo tent. I've seen all the solo tents and usually they are tiny, cramped and usually you can feel like you are in a peapod instead of inside a tent. Trust me, when I camp out, I want to feel good, comfy, and I want to feel like I'm really out in nature. And for me, those ordinary solo-type tents just don't cut the mustard. This is the tent to get if you want to really treat yourself, or someone else, to that ultimate solo camping experience.
Want to get someone the camping gift of a lifetime? Yes, get the Minibus tents, this one in particular. You will get smiles big time. (Of course put a little gift card in there with specific instructions, "Read the instructions", smiles).
Yes, for warm weather, for summer, spring, and for fall, for "light" winters in civilized camping areas, in private camping areas or in state parks or family areas, I highly recommend this tent! (If you are doing that mountain-type camping, that ultra-professional camping, mountain climbing etc, I'd opt for a different tent).
And, yes, just due to the cost of this tent, I wouldn't be letting the kids put this one together. Set it up together, or do it yourself, to safeguard the little connector points and the tent material.  
As far as price, this is no "beginner's" tent. You could find this tent for around three hundred dollars more or less. Price all depends on whether you want to buy it used or buy it new.  
HIGH WINDS: Personally, I  wouldn't recommend this in high wind area or in unknown camping areas. Even though I have never used it in high winds, I can see (by examining the way that the tent is put together, and by the materials and connectors, that you would want something a little more sturdier than this set up. I am not saying that it won' t hold up in high winds, as I have never used it in high winds or in storms. I'm just saying that I have used the tent and know the equipment and just by that I would not recommend it in high winds or in storms. 
ADAPT! And REMEDY? Yes, I'm a do-it yourselfer.  And if I wanted to use this tent in winter, or heavy weather, sure I would. But I would take two weatherproof tarps (which bring your weight up when it comes to carrying the tent. However, you can do that if you are using a car for transport).
By using the tarp on top of the tent you can weatherproof it for heavy storms. And the tarp just might stop the sway problem that you might have in a heavy storm/ heavy winds). The second tarp (cut it to size) would be a nice footprint under the tent. (Make sure that none of the tarp shows outside of under the tent, so that water doesn't seep on to the tarp and then make the bottom of your tent all soggy).
RECOMMENDED: The best place to get this tent is "NEW" or as a gift. I would not recommend this tent if you are looking for a tent that is "used" , like on a website or somewhere online. There's too much that can go wrong with the purchase. There are a lot of connectors , and the material is kind of lightweight—made that way especially so that you are not carrying a lot of weight when you go camping. 
So, for me, you'd have to really know how many people used the tent, how they took care of it, and really where the tent came from and how much heavy duty use the tent took. So, buy the tent new or get it as a gift—best options. Personally, I would not ever purchase this particular tent as a used tent unless I was able to go to the place and set it up—first before purchasing it.
So, yes, this is one of your BEST, new lightweight tents going for summer, spring, and light fall use, a good-weather tent or light weather tent for your local camping in civilized camping and private camping areas.
Sure, I know that this review is lengthy but hey, if I was looking for a tent, and  checking out this particular tent, this (everything in this review) is exactly what I would want to know.
PRICE: If you need more specific information on pricing, check some of the online sites and see what others have paid for the tent.  (Oh, and is this tent worth getting, YES!) . 
It did not come with the footprint or with a tarp, so you provide that yourself if you need that. 
Source: received it as a personal gift

I use this tent for motorcycle camping. Just like hiking, size and weight are critical factors. The Minibus 3 provides a big tent for the weight and size when packed. Fits great on the back of my Harley!
Pros
Light
Packs down small
Quality
Source: bought it new
Price Paid: ~$300

Underrated and hated. I disagree.
Pros
Clever
Interior volume
Two vestibules
Easy setup
Cons
Doesn't block drafts (YOU'RE OUTSIDE!)
Doesn't come with gear loft.
Doesn't come with footprint.
Keep in mind that this is the updated version. You will see the Minibus 23 and 33 out there and those are the older versions. They have made basic improvements to the Minibus 2 and 3.
There are people out there that will hate anything TNF puts out because it has heavily commercialized and thrown its products into pop culture. These people see this and think, "Anything you can buy at Nordstrom doesn't belong in the woods."
Maybe TNF is brilliant in doing so because the profits can be put toward the research and development of better products. I understand where they are coming from but you need to look at gear objectively. Is this a good product or not? Well, here is my opinion...
Setup at first took a little bit of head scratching but after setting it up twice you'll become a pro. Once you set it up and stake it down properly it is very stable. I haven't once in windy conditions had to stake the guy lines. 
The Minibus 3 performed well in the rain. In my case I didn't experience the water collection in the middle of the fly. Maybe I'm lucky. Stayed dry. No Problems.
Waking up in the morning there was no condensation in the tent. Being that it's all mesh combined with vents in the fly there was more than enough air circulation.
This tent is very roomy for backpacking. The reason I bought it was the space/weight ratio. I use it for two people and a dog and it provides more than enough space. Having two vestibules and two doors is awesome. Gear on one side and enter/exit on the other.
So far this tent has held up very well. We have used it quite a few times and I have learned that the more care you put into maintaining your equipment the longer it lasts. 
Source: bought it new
Price Paid: $225

This tent is very roomy, and great for summer car camping or backpacking.
Pros
I'm 6'4" and feel very comfortable inside this tent
The rainfly creates two huge vestibules for stowing gear in rain or dewy conditions
Cons
A bit of an erector-set to pitch
Not stable without being well-staked
We got this tent as a roomy 3 or a tight 4, for summer backpacking. It's great. On summer trips, this becomes the card-playing mosquito refuge in the evening — it's got great headroom and is very simple and boxy inside. We also use the tent for carcamping.
The tent has "symmetrical" access — to fully equal doors on the sides. Makes getting in/out for multiple folks convenient.  The fly stakes out over the doors to create two really big vestibules. Our dog sleeps in one, and we have plenty of room for boots and packs, too.
We've used it in light rain and light/medium wind, and in heavy dew conditions. No leakage, and no undue problems with flapping.
Like with any tent, first time setup is tricky, and it becomes automatic after that. The tent is prone to looseness on the walls and fly — needs to be well and firmly staked to avoid flapping and pooling of water on top of fly. 
Tent packs well. The fly is big.  We had an old REI Half Dome before this...Minibus is roomier, more compact, and lighter.
I've read other reviews...many serious backpackers are Minibus haters, and claim that in high winds the plastic pole couplings (there are four main ones, and many smaller ones) pop loose.  I've been in light/medium winds with no issues. 
This is NOT an expedition or winter tent--its very zipper-y and the plastic couplings which hold the pole structure together are probably too weak to rely on for a long, remote trip.  The upper sides and roof of the tent body are all net — great for summer but totally impractical for winter.
Source: bought it new
Price Paid: +/- $400

You May Like
Recently on Trailspace