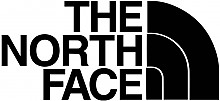 The North Face Stormbreak 1
Reviews
Lightweight, enough vestibule, stable in wind. Easy…
Rating:


Source: bought it new
Price Paid: less than $130

Summary
Lightweight, enough vestibule, stable in wind.
Pros
Small ground footprint
Free standing
Packs small
Good headroom
Cons
Too much bug net for severe storms
Stuff sack material a little flimsy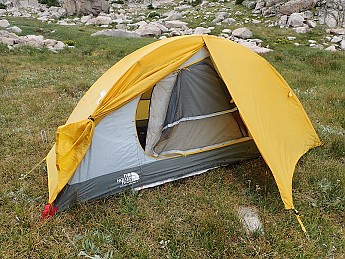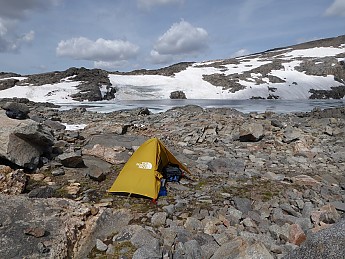 Easy to set up, has color-coded lanyards. Free standing. Cross pole design very stable in wind. Added longer tent stakes. Waterproof spray sealed the rain fly. Use a piece of Tyvek house wrap as a ground tarp...very lightweight and keeps water out (tyvek label faces the ground).
This tent has been in all-night rains with water pooling and flowing across the ground, and no problems with moisture leaking inside the tent. A real good test in my opinion. At times have had snowdrifts pile up outside, and the double tent poles and stake system is sufficient to keep the tent usable. From the inside, you may have to push the snowdrifts off the rain fly every once in a while.
The tent had too much bug net for my use above 10,000 feet. Wind driven rain and snow would come under the rain fly and up thru the bug net into the tent, no matter how well you sealed the rain fly to the ground. 
So my wife and I modified the tent. Took an old pawn shop dome tent made of rip-stop, cut it up as needed.
The mods we did: Kept the original bug net at your feet, and completely covered the bug net over your head and also covered the long side bug net opposite the door. Then added more bug net to the lower half of the original door, so that the door was completely bug net top to bottom. Then took the smaller door from the old dome tent and added it inside the NF bug net door. So now have bug net door, and second storm door.
The two-stage bug-net and storm door lets me tune the amount of air flow thru the tent, it works well now. Added just over 1 lb to tent weight, worth it IMO. My old four-season Sierra Design tent had double door like this, as matter of fact the cheap pawn shop dome tent had double doors too. A lot of this new age equipment is cheap and NOT as functional as the old days.
Tent sags into your face, need to add short piece of pole to keep the two original poles apart above your face.  
Experience
Tried the first generation MSR Hubba NX one-person tent. The single tent pole was too unstable in wind, and to add more to the wind problem the rain fly was NOT a symmetric shape meaning vestibule on the door side and very steep to the ground on the other side...made for NOT stable in wind. Also all the bug net allowed the storms thru the tent. The North Face Stormbreak 1 tent is more wind stable, and with mods is a good three-season tent.

As to condensation inside the fly, I have noticed it at times, but this has never been a problem for me. I have sealed the outside of the fly with Nikwax spray, which should make the problem worse, but as I say there has not been a problem. Last month stayed 11 nights in the tent and never noticed a problem with condensation. I do like the double door and reduced bug net changes we made to the tent.
Good all around value for a three-season solo tent.
Rating:


Source: bought it new
Price Paid: 129 CDN

Summary
Good all around value for a three-season solo tent.
Pros
Good value
3 Lb weight
Good headroom 34"w x 34"h
Freestanding (!)
Easy setup with really obvious colour coding
Cons
Inside loops for a gear hammock would be good
Footprint not included
Small vestibule (my 40L pack fits ok)
Extremely narrow at foot of tent (26")
I shopped around for a 3lb solo tent for quite awhile, and then happened to see this one. The price and weight looked great, and I trusted the brand to be a quality tent. After using it this summer and fall I found that I really like it.
I joked with my camping buddy that I would be sleeping in a coffin, as the tent has very tiny dimensions set up. I thought it might be claustrophobic, but with the good headroom and side entry I have found it very comfortable. Not much room for anything but me in there. (I'm 6'1" and 205) The footprint is VERY tapered and you would likely want to use a 3/4 sleeping pad or tapered pad and a mummy or semi-mummy bag instead of rectangular gear.
The ventilation is great, but would work against it in snowy or blowy conditions. Adjusting the fly just right would be important there.  I swapped out the pegs for aluminum stakes similar to the MSR Groundhogs as well.
All in all I'm very happy with it for three-season use, and for pack weight. For rainy or unknown weather, it's much nicer than a bivy bag.
The Stormbreak 1 tent is a good value if you are looking…
Rating:


Source: bought it new

Summary
The Stormbreak 1 tent is a good value if you are looking to reduce your pack weight at a reasonable price. It is constructed using quality materials and will keep you dry.
Pros
Lightweight
Weather resistant
Good price for the weight
Easy to set up
Cons
Not enough tent stakes are included and they are too heavy
Vestibule is too small for a backpack
The footprint is the same size as a sleeping pad.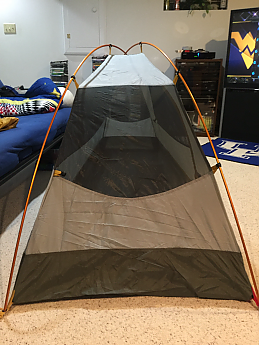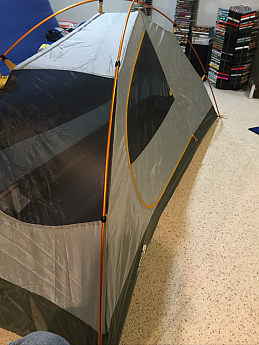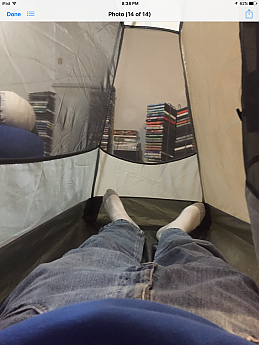 The North Face Stormbreak 1 tent is a good quality tent and is an excellent value for the price.
The tent is very easy to set up using the two lightweight aluminum poles. It is free standing and really only needs to be staked out to pull the rain fly away from the tent body and to keep it from blowing away. The tent poles put tension on the tent and keep it tautly pitched.
I have only used the tent in a rainy night one time and it was water tight with no water splashing into the tent. The rain fly is a little small and care needs to be taken that it is positioned as close to the ground as possible during stormy conditions to prevent back splash.
The tent is small and I did notice a lot of condensation. However, it did not drip inside the tent. I did have to let the fly dry a little to avoid putting it into my pack sopping wet.
The tent is very small and this is both a positive and a negative. The small size allows for durable materials at a relatively light weight. It is roomy enough to sit up in, but that is about all. The dimensions from side to side are the same as my sleeping pad. My biggest complaint is the small size of the vestibule. It is too small to fit a pack in to keep it out of the weather.
The tent packs up into a very small size and fits into the storage bag easily. Tent stakes are included, but they are heavy and not enough are included to fully stake out the fly. I replaced mine with lighter weight stakes and replaced the guy lines with some that are lighter and reflective.
I have owned this tent for a year and have used it on numerous trips. Yes, lighter weight tents are available, but at many times the cost.
This North Face Stormbreak 1-person tent been my go-to…
Rating:


Source: bought it new
Price Paid: $130

Summary
This North Face Stormbreak 1-person tent been my go-to tent for the past two years and has reliably stood up to some serious abuse on multi-day backpacking trips: the West Coast Trail, fierce Patagonia winds, multiple trips into the Grand Canyon, and weeks of continual use in the provincial parks of Ontario.

It is by no means an ultralight tent, but if you are looking for a dependable tent that will give you a good bang for your buck, you can't beat this (especially if you are on the taller side like myself).
Pros
Ideal for tall people given its length (I'm 6'2")
Very lightweight given its economical price point
Dead simple to set up and take down in a hurry
Reliable in bad weather (and can take good amount of abuse)
Cons
Mesh part of the inner tent isn't completely taut and can graze your head (for taller people over 6'2")
Footprint isn't taut enough to stay on when picking up the entire tent and relocating it
Comes with heavy cheap steel pegs which I replaced immediately with higher quality ones
Tent fly has velcro attachments to fix the poles which when guying out in severe weather won't stay fixed
I bought the Storm Break 1 after considerable research. I wasn't ready to spend $400 on an ultralight tent, but wanted something that didn't weight a ton. Being over 6 feet tall, it was also important to me that the tent was long enough (with a little bit of extra room at my feet and head).
After owning the Storm Break for a little over two years, I have been very happy with the purchase it and would highly recommend it. It has held up admirably in some very challenging weather, and it is still my go-to tent. Over the two years I have probably spent close to 60 nights (and few rainy days) inside of it.
Setup: Getting the Storm Break 1 setup takes no time at all. It comes with two shock corded aluminum poles which are identical in length so there is no confusion. Simply place the ends of the poles into the 4 corners crossed, clip the inner mesh tent to the poles, and you are good to go.
Clipping the inner tent onto the poles vs. having to feed the poles through sewn loops makes a big difference in the ease of setting up and tearing down. I now have a technique down where I can setup this tent in under 2 minutes. Lining up the ground sheet and the fly is made easy by the red colour coding.
You can see in the picture the red pole holder on the bottom left — both the groundsheet and the fly also have red attachment points so it is easy to know that they need to be all on the same corner. Again, a simple, but well thought out design.
Stability: The simple alpine cross design gives this tent a lot of stability. I have had my tent pitched in some pretty extreme winds and it has always held up fine (keep in mind I usually guy it down ridiculously tight which pulls the poles a bit off their intended position).
You can see in the pic below I have it guy'd down tight, and it's pulled the fly off the poles since the fly is only fastened to the poles by velcro. Not a huge issue, but something to be aware of.  
Weather Resistance: I've never had rain come in through the tent. Even with howling winds where the rain is coming horizontal. The fly (as you can see in the pic) covers very close to the ground and the fully taped floor comes up a good ways, so there is coverage. I've pitched this in the winter on top of snow, but haven't had any experience with snow loading on it. I've taken it on the West Coast Trail, which is notorious for its wet conditions, and didn't have any issues. 
Ventilation: I've have no problems with ventilation in this tent. On clear nights, don't pitch the fly, and the mesh inner will feel like you are camping under the stars. Even with the fly on, I've never felt it getting stuffy inside. The vestibule section of the fly can be rolled up while the fly is on to provide air flow through the mesh door if you want.
Room & Storage: Being a taller guy, this tent isn't exactly spacious, but it is enough to fit my airpad (Therm-a-Rest All Season NeoAir long). I find it just enough room for the airpad, SLR camera, and a dry bag with some clothes. Don't even think about trying to bring your pack inside...there won't be enough room. There is a convenient mesh pocket which I usually put my watch, and miscellaneous items.The vestibule isn't very large, however if I am very careful, I can position my 65L backpack underneath it with my boots on top.
My only gripe is that the mesh section of the inner tent where my head is, isn't completely taut, and with the slope of the inner, the mesh sometimes sags slightly and it grazes my head. I have experimented with attaching clips to the outer mesh with string to pull it back a bit, but have given up...it's not a major issue. I am 6'2" and if I was a couple inches shorter, the slope of the mesh inner is such that the slight sagging wouldn't be a problem.
Packability: The tent packs down well. I usually just stuff it back into the bag, and carry the poles separately in a pouch in my pack. There are no issues here and it is what you would expect.
Ease of Use: As I mentioned before this tent is dead simple to set up and tear down. It is very well designed in that regard.
Features: This tent is pretty basic. Aside from having the mesh storage pouch, it is bare bones. 
Construction and Durability: I've had no complaints with the actual tent. The only issue I have had is with the cheap pegs that it comes with. They are heavy — the first thing I did was by a set of MSR pegs from my local outdoor store.
Other than that, this little guy has been a solid tent. I don't exactly treat my gear lightly, so it puts up with a lot of abuse. It's not made out of ultralight materials, which I have been fine with — I don't need to worry about it getting ripped or torn easily.
Great tent for the price. Weighs 3.19 lbs. I shave…
Rating:


Source: bought it new
Price Paid: $129

Summary
Great tent for the price.
Weighs 3.19 lbs.
I shave some weight by replacing the stakes with Groundhog stakes.
Decent headroom and alcove for your pack.
Where to Buy
Help support this site by making your next gear purchase through one of the links above. Click a link, buy what you need, and the seller will contribute a portion of the purchase price to support Trailspace's independent gear reviews.