The North Face Tephra 22

The Tephra 22 has been discontinued. If you're looking for something new, check out the best three-season tents for 2022.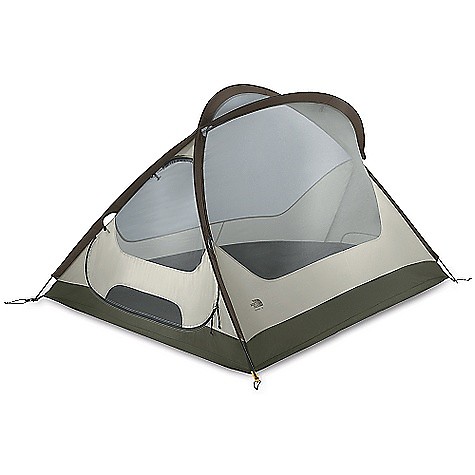 Specs
Price
Historic Range: $68.40-$159.00
Reviewers Paid: $60.00-$170.00

Capacity
2

Trail Weight
4 lbs 13 oz / 2.17 kg

Tota Weightl
5 lbs 10 oz / 2.54 kg

Poles
2

Pole Diameter
9.05 mm

Stuffed Size
21 x 8 in / 52 x 21 cm

Fabric
canopy: 70 denier, 190T nylon taffeta
fly: 75 denier, 185T polyester ripstop coated with 1500 mm PU
floor: 70 denier, 210T nylon taffeta coated with 5000 mm PU
Area
29 sq ft / 2.7 sq m

Vestibule Area
10 sq ft / 0.9 sq m

Reviews
8

reviews

5-star:

2

4-star:

0

3-star:

2

2-star:

3

1-star:

1
The Tephra 22 is a reliable tent that is well built. It just has such extensive competition in the modern tent era that it becomes lost in the shuffle.
Pros
Durable
Conservative color
Easy setup
Cons
Slight weight disadvantage
Front entry is a bit more challenging
Grommet pole inserts for tent, fly, and footprint get too cumbersome
Pole sleeves instead of clips
This review is for the older Tephra 22 model. The newer model has made a number of changes.
The Tephra looks pretty sharp in my opinion. The side view is somewhat reminiscent of the Big Agnes Seedhouse or the Fly Creek. In essence, it is similar with some slight variations that cause some extra weight (4lb 13oz trail weight).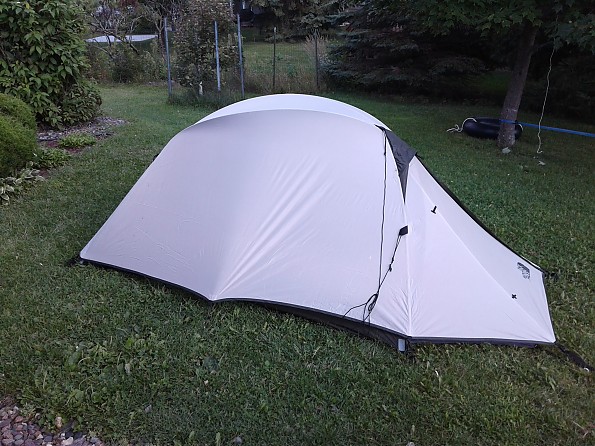 Setup: The tent has pole sleeves that you have insert the poles through. Though this adds some strength, it also adds slightly more work. Of course it's not a lot of work but in our modern era, if a website takes 3 seconds longer to load than we're used to, internal agitation begins to register.

Also, the poles fit into grommet holes in the footprint and tent corners. No clips for the fly; just more grommet holes. I prefer clips. After three layers of grommet inserts, it's sometimes tricky to get the pole through the third layer without one of the other two layers slipping off of the pole. 
Stability: The tent is pretty stable under non-extreme conditions. 
Weather Resistance: The fly is durable and taped well. In this particular design, when the fly door is opened all of the way, rain can enter the tent because the base of the tent extends past that point on the fly. Just be sure to only open it 2/3rds and then crawl out to avoid water getting into the tent. The floor is sealed well and I've never had any water issues. Since the fly extends low, I've not had any splash back either. 
Ventilation: There's a fly vent as well as low screening on the front and back walls of the tent (see second pic above). In my experience, the venting is above average for a low extension fly design. Since the fly lies so low, the low venting screens are do not catch a cross breeze as well as one would hope. However, since the majority of the tent is screen, things remain drier within the tent than normal. 
Room and Storage: The stow pockets are a bit funky in this model. They run parallel with the floor and are low volume but really long (see pic).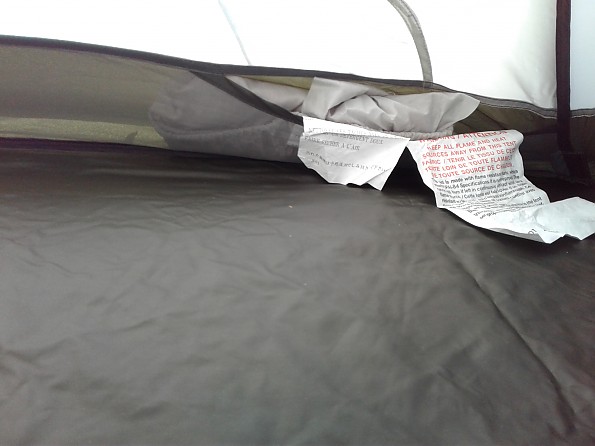 In the pic above, I rolled up the tent bag and stuffed it in the pocket to give you an idea of it's design. The stow pockets are by the feet too.


The tent has ample room for 2P. It doesn't have room to spare but it's not claustrophobically tight like some newer lightweight models.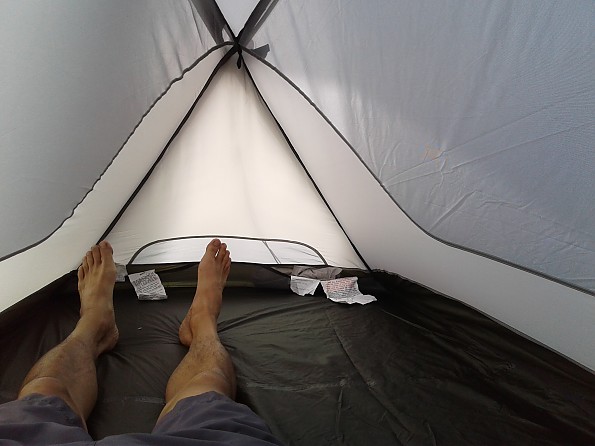 There's room enough to sit up comfortably in this model. 


Packability: The tent packs down quite well considering its weight. Two straight poles without any bends or hubs keep things nice and tight when rolling the tent up.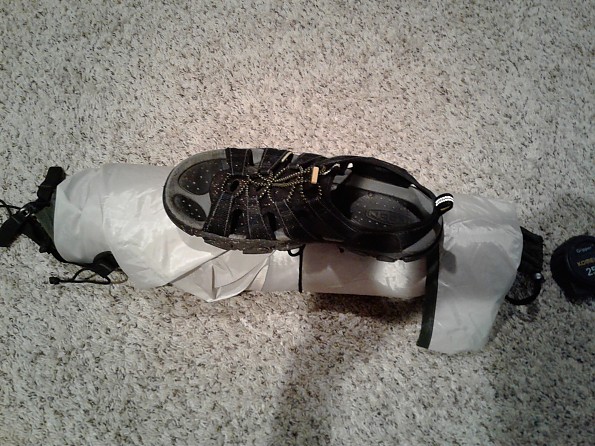 Ease of Use: Front entries are not my preferred method. Even so, since the tent is a 2P, the front door gives you plenty of room to get into and out of the tent. The zipper works as expected and the tent door is easily rolled up and secured. 
Features: The fly extends into the vestibule on this model. I think it was a selling point, but for me, this doesn't make a big difference. I think it just means a few more ounces.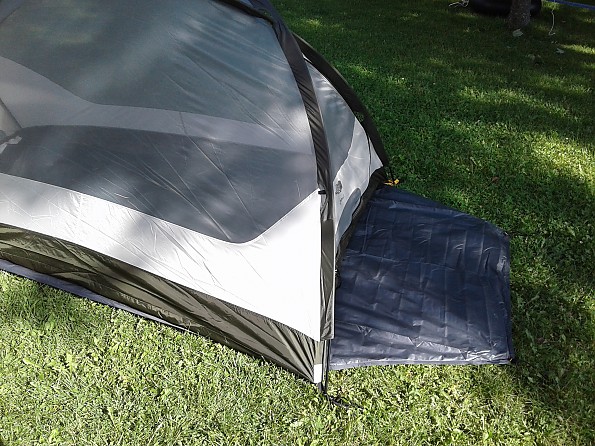 The pole design uses a crisscross two-pole design instead of the single spine with split ends. This adds some more weight that may be an issue for someone who is looking for every means to lighten the load. 
I used the tent on several outings this past summer and thought it was a fine tent (sold it since). For the quality and space, I think that the Tephra is a decent investment of money if you can find it for a good price.
If you're just hiking in for a day or two on a trail or car camping, you can't go wrong. If you're planning a multi-day trip, you might want to search for a slightly lighter model or just be a brute and go for it with the Tephra. 
Source: bought it used
Price Paid: $60

This tent failed spectacularly.
Cons
Heavy for the size
Condensation collection in good weather
Slight dampness in light rain
Rain fly failed entirely in heavy rain; Low vent at head often an issue with back splash during heavy rain.
The cross frame design (compared to a traditional A-frame shape) means that when the rainfly inevitably stretches out and loses tension when it gets wet, it will start to catch water between the upper intersection of the poles, create a pool, and then stream (not just drip) water into your tent. 
Source: bought it new
Price Paid: $160

Me and the wife love this tent. We have the Big Agnes double sleeping bag, which fits perfect inside. It's fast and super easy to set up and our dog even has room inside with us at night. I'm 6'2" and I fit perfect in it with the wife and dog. So for all who cry about space you must need a huge tent lol.
Pros
Easy and fast setup
Tough as nails for what it is
Looks good
Love this tent.
Source: E-bay

Simple design of a tent. This no-frills tent will get the job done.
Pros
Easy set up
Keeps dry
Storm guy outs
Bathtub floor
Cons
Heavy for size
Only one door and vestibule
Small space in vestibule
This tent is what I would consider a roomy 1 person tent. That being said, you could fit two smaller people snugly.
What I like: Very weather proof, Easy 2 pole design, Corner pockets, Storm guy outs, Spacious for solo hikes, Plenty of headroom.
What I don't like: Only one side door for two people, Small vestibule, cautious about cooking under it, Heavy (almost 6 lbs.), Not ideal for most hikers.
This is a decent tent, and has the option of fly only pitch with footprint. But still, I have a hard time getting around the weight to convenience factor. If it was a couple pounds lighter, I would live with the single door. But it gets the job done, no matter what Mother Nature throws your way.
Source: bought it new
Price Paid: $90

Nice tent, excellent construction with a hip/modern look, but too small. It is a 2 person tent, but I barely fit in with gear and dog (vestibule isn't big enough to fit all gear). I upgraded to a Kelty Gunnison 4 person and kept this Tephra 22 for storage and for my dog's own personal tent. I am not a big person, but still too small.

Design: 4 season (here in Florida) free standing tent
Ease of Setup: My dog can do it with his eyes closed
Weight: 14oz.

I bought this tent not very long ago, but I love it. I am on a search and rescue team in the Rockies and this works superb for my job. When we go to calls or training it is all about speed and that is where this tent shines. It is very easy to set up and take down (I can do it in less than five mins.)
The other pro is that it is very reliable. It isn't big enough to for two people but it works great for me and all my gear.
One con is that it has very little storage on the inside such as pockets which doesn't bother me on calls but would be nice for camping.
Overall an excellent tent.
Design: three-season freestanding
Sleeps: 1
Ease of Setup: very simple
Weight: 3 pounds
Price Paid: $153

I used this tent on 3 backcountry and 5 car-camping trips. At some point one of the poles got a pretty good bend, which gave the tent an odd shape and made the fly even floppier.
Pros: Nice footprint that includes the vestibule. I could keep my bag just outside the door and reach it from inside, which was very convenient.
Cons:
stakes- like most tents in this $ range, the tent stakes were the "break one the first rock" type. replaced them with TNF V stakes, problem solved.
size- I used this tent for solo backpacking. It is not big enough for two backpacking and the gear.

fly- I could never, not ever, get the fly to be taut at all points. Due to this the fly contacted the tent mesh, um... frequently. It was only a matter of time before bad weather made it through the material.
condensation- I don't think it's worse than other tents this size, but because of the fly issues it was always wet inside.
mesh- I like to camp when its cooler outside, in the 20 to 40F range. I used a thermometer to verify this, the mesh construction retains no warmth inside the tent, and so it didn't provide much shelter from the cold.
One time I was in some pretty serious snow and it pressed the sides down and then, in. I woke up in a little narrow and dark tunnel, which was leaking slowly melting snow (from my body heat) through the tent. After that I upgraded to a 4 season MSR (twice the weight, but not so drippy).
Sleeps: 1
Ease of Setup: not so easy
Price Paid: $120

Heavy, constricted inner space; to tight for 2 persons, vulnerable to condensation and very limited vestibule space.
Design: free standing, modified dome
Sleeps: 2
Ease of Setup: requires more set-up time compared to fast clip designs
Weight: almost 5 lbs
Price Paid: $170

You May Like
Recently on Trailspace