Big Agnes Fly Creek HV UL1

A one-person, ultralight, three-season backpacking tent, the Big Agnes Fly Creek HV UL1 provides reasonable comfort and very good weather resistance for a packed weight of 2lb 1oz.
Pros
Lightweight
Very good weather resistance
Good stakes!
Cons
Design of single pole
Attachment of fly to pole
I bought my Big Agnes Fly Creek HV UL1 a little over a year ago, after doing a LOT of research. I'd set a goal of four pounds for my tent, sleeping pad, and sleeping bag, and the Fly Creek let me come in at about 1 ounce over. Close enough for me! I can easily shave that ounce by leaving stuff sacks at home.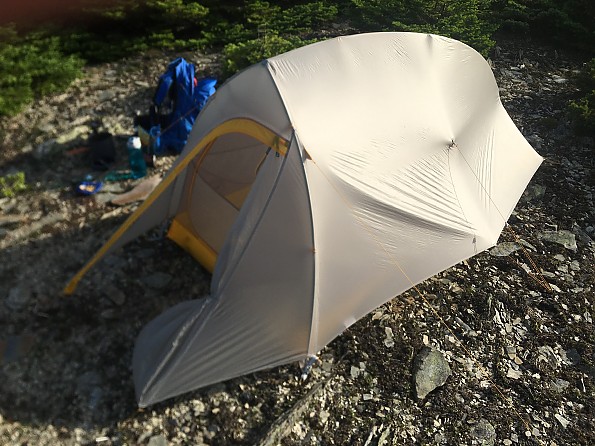 A "semi-freestanding" tent, the Fly Creek body needs five stakes. It can physically be set up without any but it'll be a very loose, sloppy tent, however, because staking out the fly provides most of the structure. The fly needs another 6 stakes to guy out all points. So, to me "semi-freestanding" is like being "kinda pregnant" or "a little bit dead." A tent either needs no stakes for a good setup, or it does. This is a non-freestanding tent. 
Opening up the package the tent came in, you'll find a tent body, fly with attached guylines, bag with the single DAC pole, a bag with 11 DAC stakes that actually work great, and a stuff sack. Setup instructions are printed on what looks like a piece of Tyvek attached to the stuff sack, which makes a good sealing flap under the drawstring.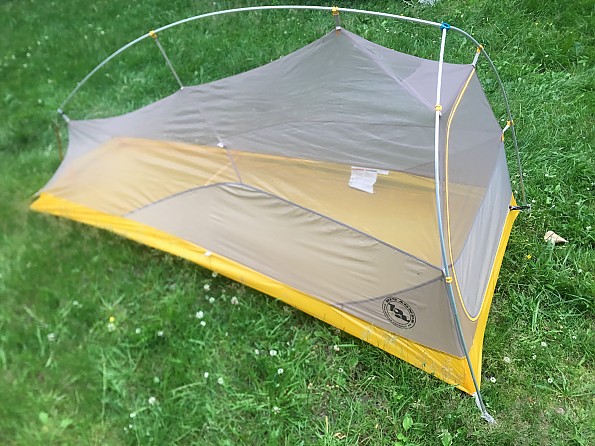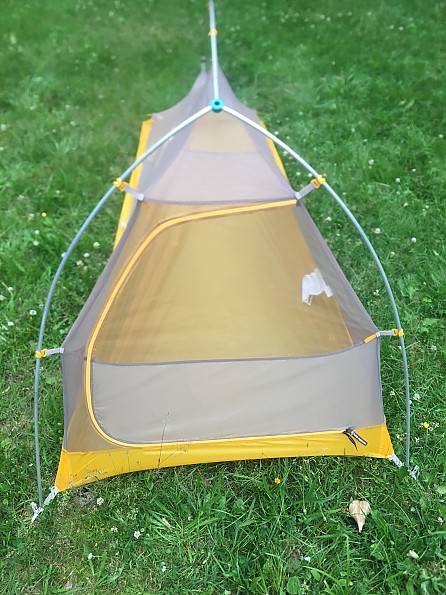 Except for the bottom 8-10 inches, the tent body is made of mesh. It breathes extremely well even in humid air with the fly door closed, which is a good thing because any sleeping bag bigger than a summer bag is going to be touching those walls. Anyone much over 6' 2" or so in a mummy bag will probably be touching at the head and foot as well. 
There are two small storage pockets at the bottom of the side walls right by the door, and a small pocket in the mesh at the peak. I use that one to hang my socks to air or dry them out overnight. Loops for a gear loft are also present at the apex of the tent, but it has very little headroom as it is. I'm 5'11" and can't sit up straight in the tent.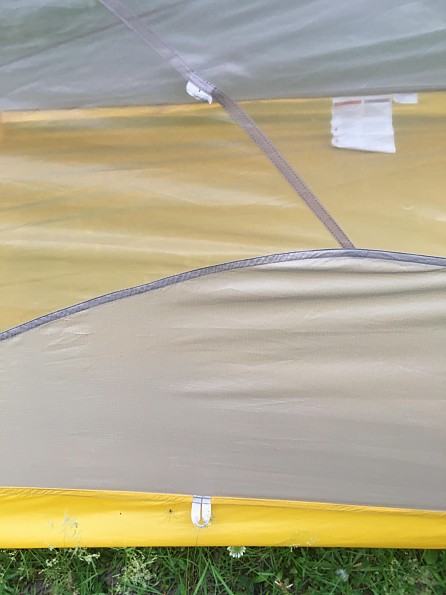 On the outside of the tent body, about midway along the body, there are two small loops on each side. These are what give the tent the HV—High Volume—part of its name. Straps with clips on the inside of the fly attach to these loops and pull the upper portion of the tent outward, bringing the walls closer to vertical and giving more shoulder room. They also help keep the fly and tent body from touching, to help prevent condensation, and allow airflow. 
The rainfly is translucent grey silnylon, very thin but also very strong. It took a beating on the night of July 13-14 (read about it in my upcoming trip report) and the tent didn't let me down at all. It attaches to the tent body or footprint by three plastic clips, one at the center of the foot and two at the corners of the head.
Two stakes are required for the vestibule, one stake is required for the two guy lines on each side, and there are two more guy lines at the seam between fly body and vestibule. There's one small Velcro loop on the top seam of the fly to secure it to the pole. More about this later. 
The fly comes to about 5-6 inches from the ground, which makes for excellent ventilation but is also low enough to keep most wind-driven moisture out. Not all, as I found out on the morning of July 14. More about that later, too.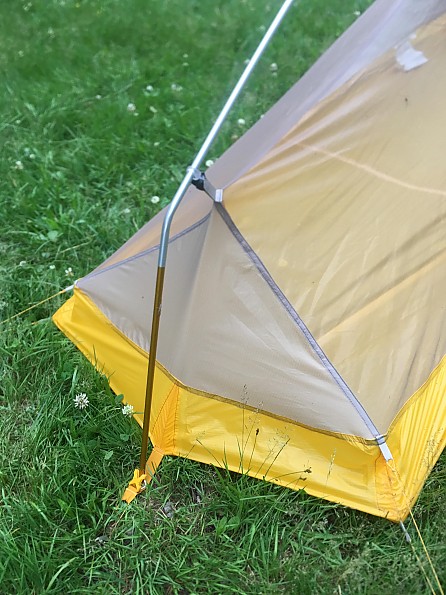 The DAC pole is Y-shaped, with the hub directly over the tent door and a bend at the foot to follow the contour of the tent. As we all know, a tripod is inherently unstable, and that's what we have with the pole. I personally would have preferred a smaller Y at the foot end, but half an ounce here and half an ounce there adds up pretty quickly. It's certainly adequate as is. 
Stakes are a strange thing to be impressed with, but good stakes aren't something you normally expect to find with a new tent. These are DAC V-stakes, approximately 5-6 inches long and with shallow notches at the head end for guy lines. They hammered (well, rocked) securely into loose rocky ground with a more solid layer of rock below the surface, no bending or breakage was noticed when I pulled them out this morning. There's a small hole in each one for a loop of cord. 
A footprint is available and weighs 3 ounces according to Big Agnes. At that weight it's obviously pretty thin so you'll still want to clear your tent site of anything sharp. I think it's most useful to give the tent floor something besides the ground to rub against when you move at night. Kind of like wearing a liner sock under your hiking sock to help prevent blisters. At $60 MSRP it's definitely a little too expensive to consider a throwaway item, I think when it's no longer serviceable I'm going to make one out of Tyvek. The fly, footprint, poles, and stakes can be set up as a fast pitch to save weight, but you definitely don't want to do this if there are lots of biting insects or rain and wind in the forecast. 
When I carry this tent in my 36l day pack, I generally stuff it in the pack first, in the opposite order I'll need the components (fly, body, footprint.) Poles and stakes go under side compression straps in their bag. Sleeping bag, stove/pot, and sleeping pad go in next, with food and any extra layers I won't need in the trail filling in spaces. Raingear goes on the very top. Balling things up so the guy lines are on the inside helps prevent rips and tears, but I'm also careful taking it out. The fabric is THIN to give this light weight and you have to be somewhat gentle with it. 
My thoughts on the tent? I like it, a lot. I was aware of the drawbacks or weaknesses when I bought it—small interior (duh, it's a 1P tent), head entrance not the easiest, etc—and the only thing that my experience with it so far has told me it needs is more Velcro loops to secure the fly to the poles. As it comes from BA it only attaches in one spot, and under high winds the pole can actually move under the fly. This pushes the tent and fly down on you, and makes a more horizontal opening between the tent and fly that lets wind blow rain through the mesh. This happened to me right around sunrise on July 14. 
I'd hiked to the summit of 3639' Boundary Bald Mountain just outside Jackman, Maine, and set up camp in a clear spot with no vegetation at about 3600', maybe 0.2 miles from the summit. The forecast was for increasing clouds and rain later in the night, with wind from the W at 15-20mph. At the time I set up the wind was coming more from the south, so I set up the tent with the foot facing SW to split the difference. I fell asleep sometime after 2130, and woke up around 2330 to the tent being PUMMELED by wind and rain. I could definitely feel wind inside the tent, but not a drop of rain leaked or blew through.
The fly was really taking a beating, I'd estimate gusts were at least 30mph and maybe closer to 40. This went on for a couple more hours, I'd nod off and wake up at an especially fierce gust then fall back to sleep. When I woke up and heard no rain, I got out of the tent and checked the guy lines & stakes. I moved one stake and tightened its line to take up a few inches of slack and pounded a couple other stakes more securely into the ground and tightened their lines as well, but that was all that was needed. I was pretty impressed at how my ultralight three-season tent that wasn't ideally sited or oriented handled the wind! 
I got a few more hours of uninterrupted sleep, waking up again a little before sunrise to the feeling of the tent pressing down on me and fine droplets blowing through the mesh. The wind had changed and was now hitting the tent almost broadside, and with only a single Velcro strap securing the fly to the pole the pole was bowing on either side of that strap and pulling the fly and tent down with it.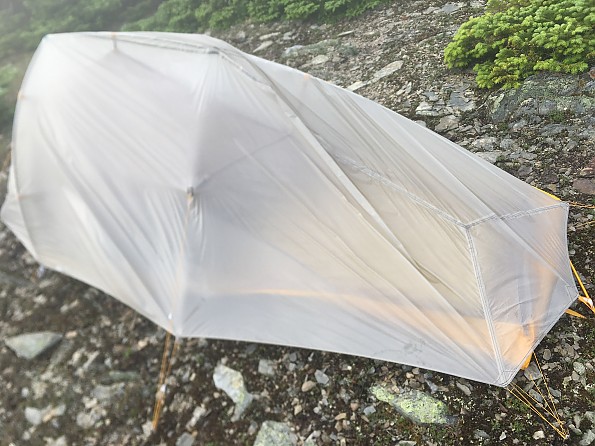 The leeward side of the vestibule had been given enough slack that its guy loop came off its stake. Other than that the tent still felt secure, so I catnapped off and on until around 0630. So come late fall I'm planning on sending the fly out to have more Velcro sewn along the fly seams, every 12" or so on all three pole legs should do. But the terrain up there is very exposed, with an alpine or subarctic climate, which is maybe a little more than the designers at Big Agnes intended for this tent. 
So, if you're looking for a lightweight 3S1P tent and can live with its drawbacks, I can recommend the Big Agnes Fly Creek HV UL1. Pick it up on sale like I did for an even better value.
EDIT: 7 September 2022
I just wanted to add a quick update based on an experience from about 3 months ago. I'd hiked up Boundary Bald Mountain outside town for an overnight, and just before reaching the summit it started to pour. 7pm came and it was still pouring, so to keep from having to set the tent up in the dark I used the "fast pitch" fly and footprint setup and got everything underneath. 
The rain stopped not long afterward, I got everything set up inside, ate, and sat around watching the clouds blow out. I don't know why there's no sound but I was really hoping to show how vocal the white-throated swallows were!
Eventually I went to bed, and during the night the wind changed. The first indication I had of this was the SNAP of a pole breaking and waking me up. I searched through my pack for the pole splint, installed it, and went back to sleep. 
When I woke up in the morning I saw there was a tear about an inch long in the fly, and that the pole had broken right near a joint. I *think* the reason the pole broke is because I didn't have the tent body set up and putting the pole under a sort of isometric tension with the tent fly. It's no longer my primary tent, but if/when I use it again the tent body will be used as well. If that means waiting until after dark for the rain to stop, that's one of the reasons I bring headlamps. 
McNett silnylon patches took care of the tear perfectly, and $4 plus shipping got me a new pole section. 
Background
20-24 nights in different weather and terrain in this particular tent, more nights than I can count in other tents.
Source: bought it new
Price Paid: $207 US

Warning: Doorway should have been designed with a ceiling overhang to prevent rain entering.
Cons
Insufficient ceiling height
Inverse doorway allows rain to gather inside the tent during entering and exiting in a storm
Tent is ultra lightweight. Fly Creek is easy to assemble, holds up in the tundra in high winds, rain fly is highly storm resistant, materials are strong.
Confined space does not allow a person over six feet to sit up. Ventilation is impossible due to small space.
Entering or exiting during a rainstorm will allow rain to fill the interior floor due to lack of a high extension of the rain fly over the doorway.
I have used the Fly Creek for nearly ten years in remote backpacking, although I also have the Big Agnes Tensleep 6, Big Agnes Rattlesnake 2+, and MSR Hubba Hubba 2. All of these tents are extremely durable and dependable in rough weather. On backpacking trips of less than five miles, the Big Agnes Rattlesnake 2+ is comfortable to carry and appropriate for two people and gear.
Background
I camp about fifty nights per year, normally sleeping in remote wilderness areas between 9,000 and 11,000 feet. I like using various sizes and weights of tent depending on various conditions. All of my tents perform well in storms, windy, and cold conditions.
Source: bought it new
Price Paid: ~$300

Your Review
Where to Buy
Help support this site by making your next gear purchase through one of the links above. Click a link, buy what you need, and the seller will contribute a portion of the purchase price to support Trailspace's independent gear reviews.
You May Like
Specs
Price
Current Retail: $369.95
Historic Range: $209.97-$429.95
Reviewers Paid: $207.00

Recently on Trailspace