Therm-a-Rest BlockerLite Pump Sack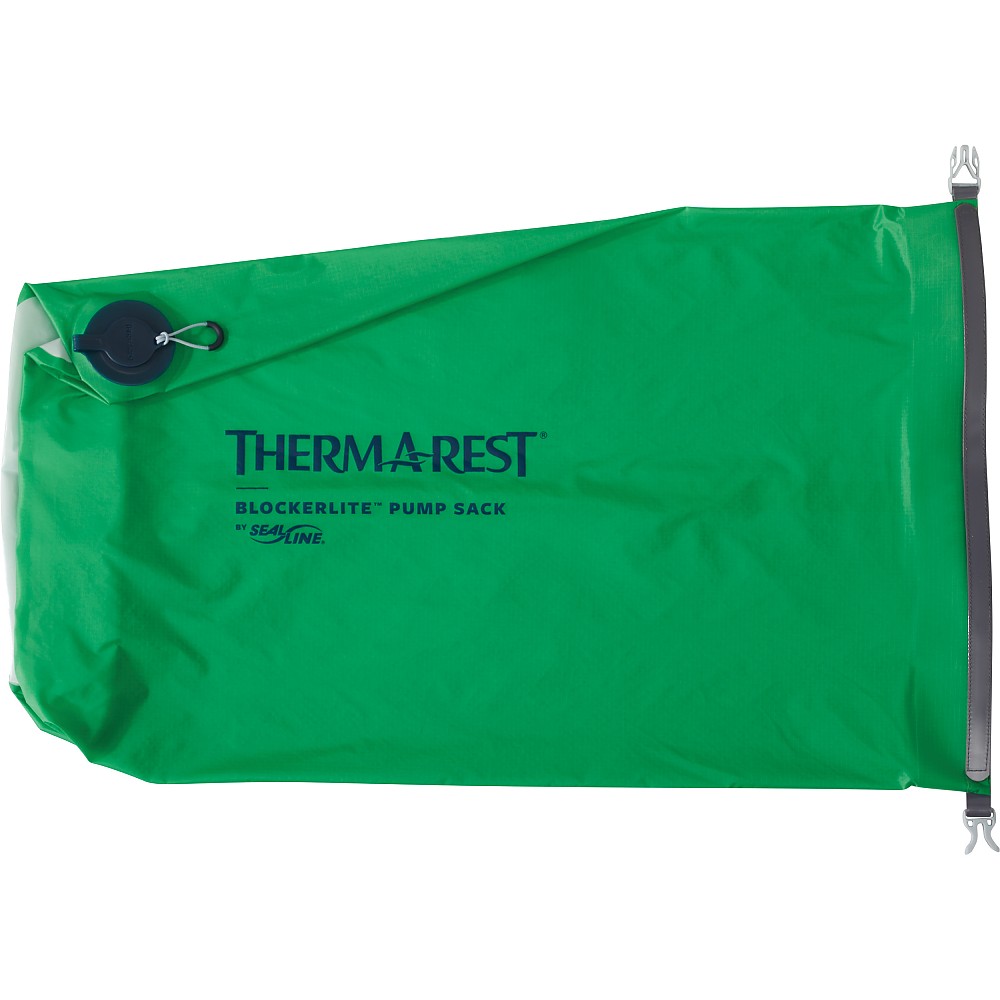 A simple and light dual-purpose dry bag and pump sack for the new Therm-a-Rest Winglock and Twinlock valve sleeping pads. Inflation of the pads is easy and the waterproof construction seems like it will hold up. The BlockerLite Pump Sack is only 20 liters, so it takes quite a few sacks of air to fill larger pads, and may not work on older valves or other brands, but overall it's a great match for new Therm-a-Rest mattresses.
Pros
Very light
Easy to use
Solid construction
Waterproof
Saves your breath
Doesn't introduce moisture
Cons
Small volume—takes time to inflate large pads
May not fit older TAR valves
Occasionally pops off while inflating
Difficult to maximize air in sack
Limited adaptability to other brands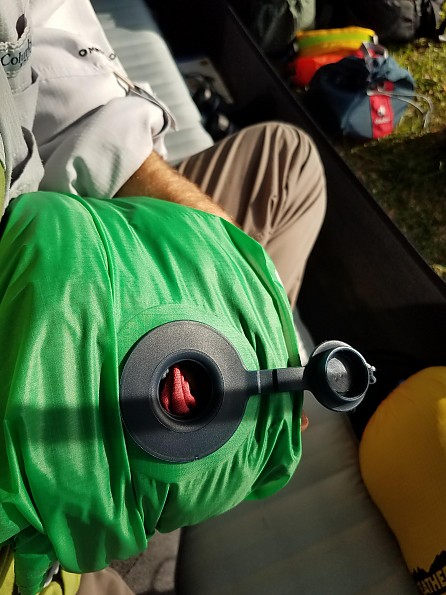 This is the initial review of the Therm-a-Rest BlockerLite Pump Sack after a couple of months of testing. I will update this in the late fall after cold weather comes in and it has a lot more nights out under its belt.
The Therm-a-Rest (TAR) BlockerLite Pump Sack was provided to me as part of my testing of the TAR Topo and Topo Luxe sleeping pads. These new NeoAir models come standard with the Blockerlite Pump Sack now for the Winglock and Twinlock valves, but it can also be purchased as an add-on accessory ($45 current price).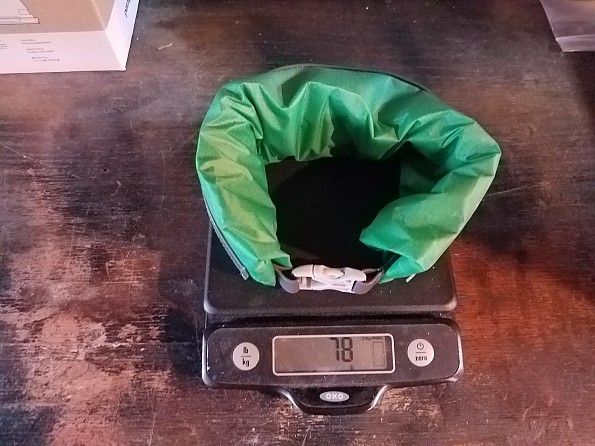 The BlockerLite Pump Sack is basically a lightweight (2.7 oz/78 g) dry bag with a valve that converts it to use as a pump sack for easy air mattress inflation.  The pump sack is made by SealLine for TAR and is similar to its line of dedicated Blockerlite dry bags. 
The TAR BlockerLite Pump Sack is approximately 6 by 10 by 24 inches, with a listed capacity of 20 liters.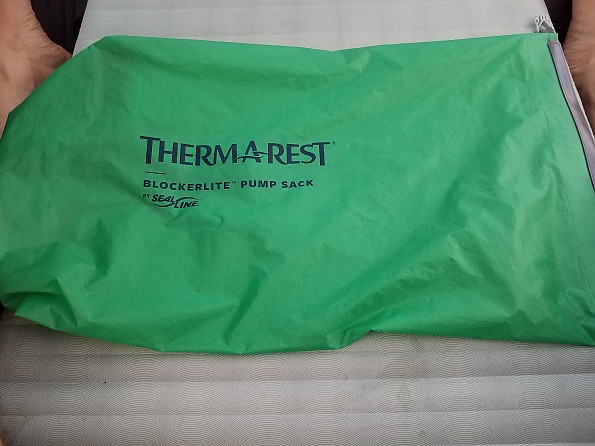 However, keep in mind it is a roll top closure to seal, so the actual usable volume will be less depending on how tight you like to close your roll tops.
It is simply constructed of solid  20D nylon with welded seams—"ultralight waterproof" Blockerlite material according to their website.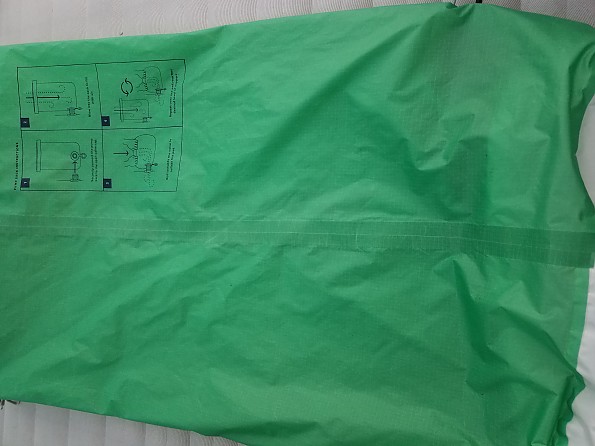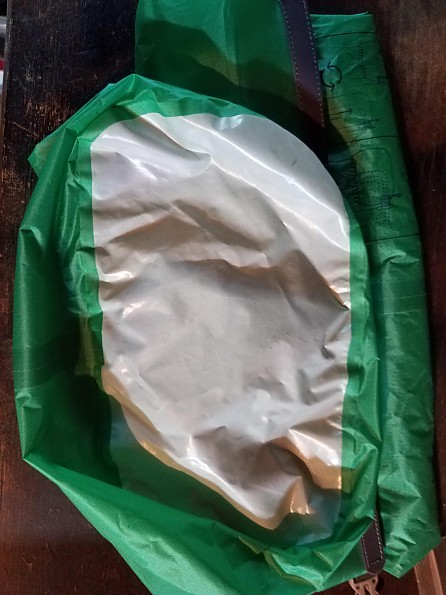 The valve is fitted for current TAR WingLock or TwinLock valves—see adaptability below.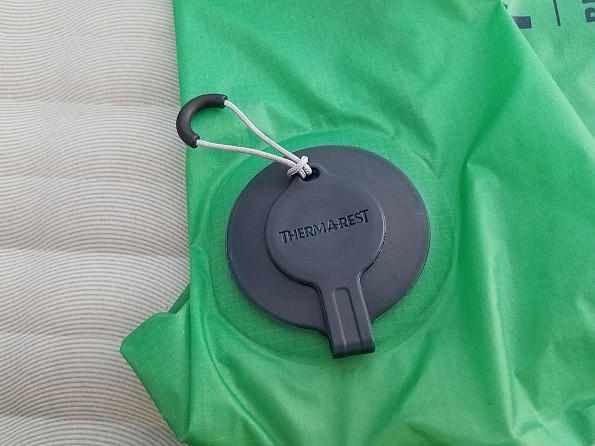 Ease of Use
as a pump sack...
It is very easy to use the Blockerlite pump sack,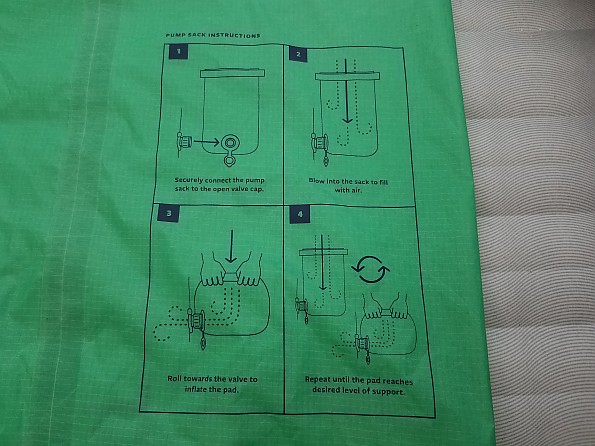 in fact I am not sure I even read the instructions printed clearly on the outside of the sack until I was taking photos for this review on about my third trip with it.
Just pop the port on the pump sack onto the inflation valve (after it is opened), unroll the sack, and blow a puff of air into it from a distance of about a foot.  This allows the air flow to inflate the sack, then roll it up and push it into the air mattress.
Here is a quick video of me inflating the TAR Topo mattress with the BlockerLite...please excuse my lack of video skills. I am not a regular YouTuber and just prop my phone in a convenient spot to make videos.
As with any inflation device for an air mattress, the Blockerlite is much easier to use than your breath, and doesn't introduce moisture into your pad, which could lead to mold.
Depending on how you quickly roll it, you will lose a bit of air before it is closed, and occasionally it will pop of the valve if you twist it too much, but with the Twin Lock and Wing Lock valves, no air is lost from the mattress.
as a dry bag...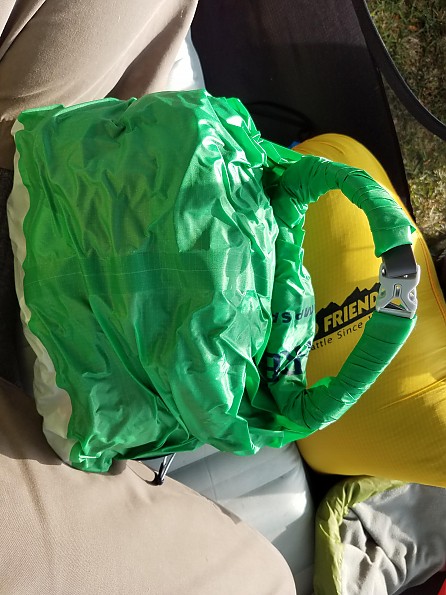 What can I say? It holds all the camp clothes and layers I would need on trips so far (spring and summer) with much room to spare. Based on its volume, it will hold my winter camp wear as well. Compression is easy as you can just leave the valve open, roll the top closed, then seal the valve. I have not had it pop open on me yet.  
The lightweight construction (although relatively sturdy) would make me a bit reserved about putting sharper/harder objects in the sack, but as a dry bag I would not usually be storing things like that in it.
Functionality/Efficiency
as a pump sack...
The BlockerLite works well as a pump sack for the new TAR valves (TwinLock and WingLock), which are both the same size. The WingLock on the NeoAir Topo is pictured below.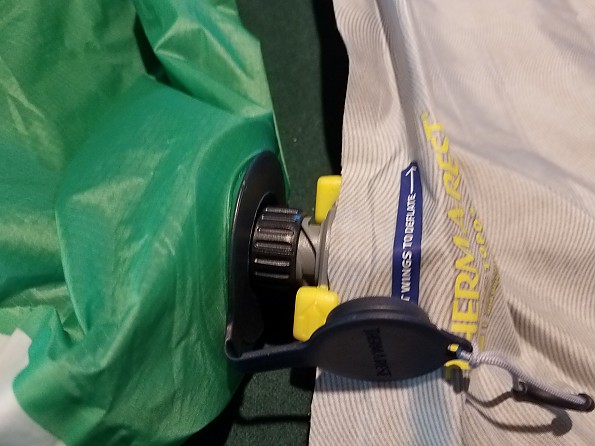 For the large Topo Luxe (4-inch) and Topo (3-inch), it took approximately 12 sacks to fill the Topo Luxe and around 8 to fill the Topo. When I timed inflating the Topo, it took a couple of minutes to inflate. While this is a lot more than my prior much larger pump sacks (an Instaflator and a trash compactor bag with home-made valve), I don't find that to be an issue, and like the dual functionality of the Blockerlite. 
Note (thanks to fellow Review Corps member KiwiKlimber) that this efficiency is going to vary with your "style" of inflation. I tend to be pretty lazy and just do a quick puff then close it regardless of how full it is. Others will breathe more slowly and let the pump sack fully inflate...ends up with about the same effort/time but keep it in mind when you evaluate my effort above—it could be meaningless numbers except as a comparison between pads. Either way it is an easy way to inflate an air mattress versus the old fashioned way! 
Some of the efficiency difference could also be related to the dual purpose of the dry bag, which necessitates the opening being the full width of the sack.  If you open the dry bag all the way it is more difficult to get a full sack of air. 
Here is a quick video of the inflation of the pump sack using it fully open and using it with just the middle open—hope you can see the difference. I still don't bother with that but it does cut down on the number of repetitions if you are really into efficiency.
In response to another Review Corp member's question (Big Red), I made this (once again low-quality) video of me inflating the NeoAir Topo while inside my bug netting on a warm and buggy night.
The ease of doing this will vary greatly based on the size of your tent/tarp/shelter, but the 20-liter size of the BlockerLite makes it relatively easy even in my one-person bug net. Larger pump sacks may not let you inflate a mattress and stay within your shelter at the same time. 
as a dry bag...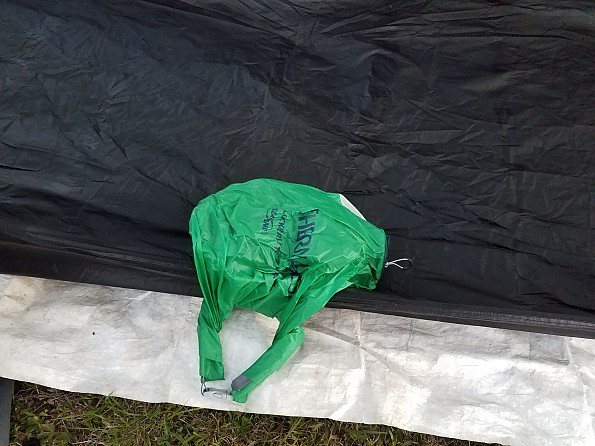 Well, my trips so far haven't been excessively rainy except for one, so saying my clothes stay dry in the BlockerLite really doesn't mean much yet until I get some all-day rains. All the wet weather near me occurred during the COVID-19 shelter at home period until finally I had a nice stormy July weekend where the pack got soaked in two successive afternoon showers. Packing wet clothes and tent out on top of the BlockerLite resulted in having dry camp clothes to drive home in—success!
To further test the waterproofing, I went to the basement "lab" and submerged it in a sink full of water.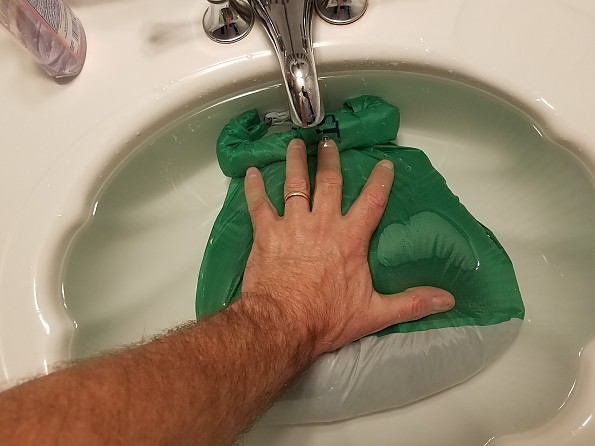 No dampness on the clothes after a minute of being underwater.
Further testing, I reversed the bag (so the valve opened to the inside) and filled it with water.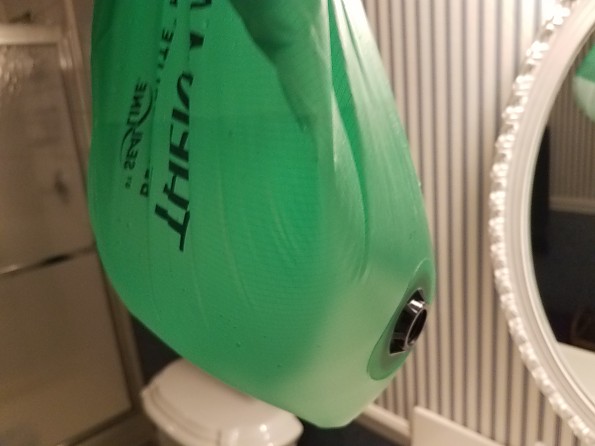 Not a drop came out. I am quite confident that my clothes will stay dry in the Blockerlite.
Construction/Durability
The BlockerLite is made of durable 20D nylon, and while it seems very light it does have some toughness to it. I don't expect to have a problem with the materials since I store it inside my pack. I wouldn't have it on the outside (can't think of a reason you would want to!). Longer-term testing will see if it holds up.
The roll-top closure buckle seems secure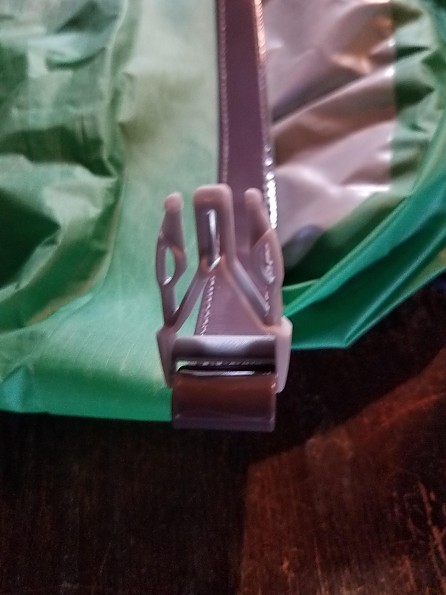 and the "bands" are the right flexibility to seal together without gaps as you roll.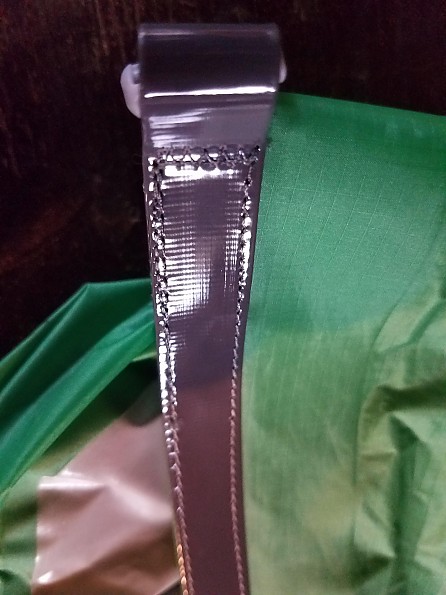 Seams are sturdy and welded. They look like they will hold, and I have seen no flaws or weak spots.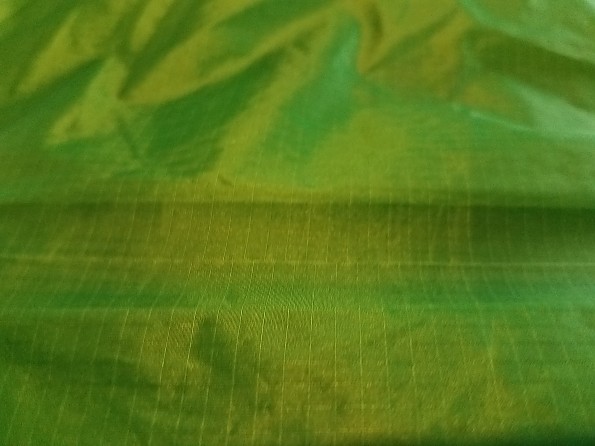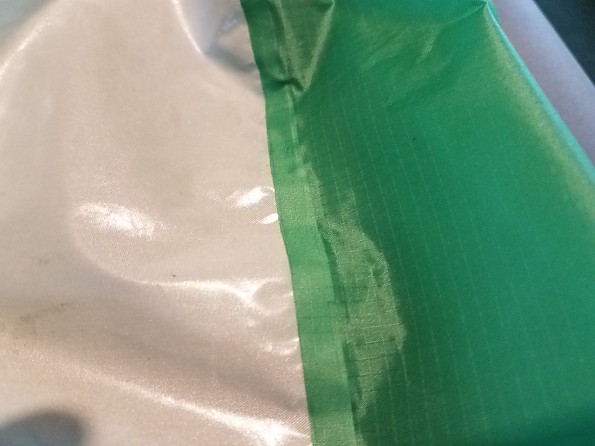 The valve opening is simple—just pop open and it fits onto the TwinLock and WingLock valve snugly, but not too tight. It has popped off a couple of times during inflation if I move or twist the pump sack a bit too much, but practice eliminates this for the most part.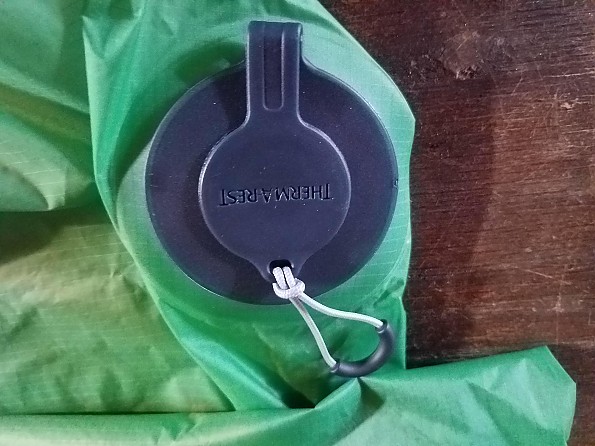 The valve is also sturdy and unlikely to wear down much, although if it did the snug fit may suffer.
The roll-top closure and buckle has held up to compression, stuffing into the pack, and being tossed around the tent on numerous days so far.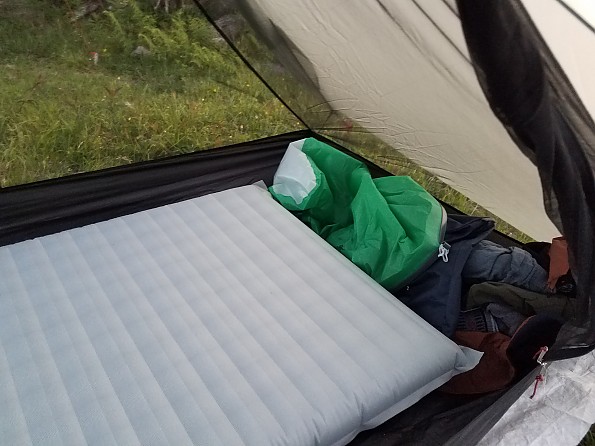 Conditions
So far for this initial test period, I have used the BlockerLite Pump Sack on three multiple night backpacking trips (7 nights) since receiving it in late April.  Temperatures ranged from the mid 50s (degrees F) to mid 70s, with some rain and lots of wind.  Field tests have been on the TAR Topo pad, since I paused the Topo Luxe review when the weather got warm, just before I received the Blockerlite.
At-home testing has been on both the Topo and Topo Luxe, as well as playing around with it on an older REI Lite Core pad (valve fit) and a NEMO air mattress (didn't fit the valve). I tried to test it on my TAR NeoAir Xlite, but apparently have loaned that out to someone and don't remember who! 
Experience
Since switching to air mattresses in the late 1990s, including ever cushier and thicker mattresses the last 10 years as I age, I have been using an inflation device for about 5 years. At first I used the Instaflator, then a trash compactor pack liner with homemade valve. This is the first brand name dedicated pump sack I have used.
Source: received for testing via the Trailspace Review Corps (Sample for testing and review provided by Therm-a-Rest)

Your Review
Where to Buy
Help support this site by making your next gear purchase through one of the links above. Click a link, buy what you need, and the seller will contribute a portion of the purchase price to support Trailspace's independent gear reviews.
You May Like
Specs
Price
MSRP: $44.95
Current Retail: $33.96-$42.95
Historic Range: $22.76-$42.95

Capacity
20L

Weight
2.7 oz / 0.08 kg

Width
5.5 in / 14 cm

Length
10 in / 26 cm

Height
24 in / 61 cm

Packed Dimensions
6 x 6 x 1 in /15 x 15 x 2.5 xm

Top Fabric
20D Rip Nylon