Therm-a-Rest NeoAir Topo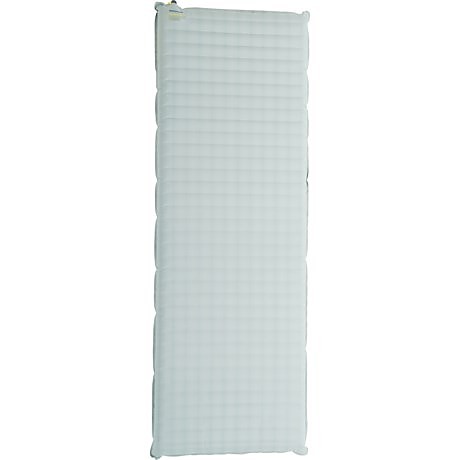 The NeoAir Topo is a 3-inch thick and comfortable two+ season air mattress with ample room and solid construction. For the ultimate in camp comfort, it can be converted into a really nice seat and backrest with the Trekker chair kit. The NeoAir Topo sacrifices weight for comfort (so do I!), and is a nice option for the more budget conscious hiker who doesn't want to shell out for the higher R-value and thickness of its more expensive cousin, the NeoAir Topo Luxe.
Pros
Comfy
Warm enough for 2.5 seasons
Sturdy construction
New Winglock valve works well
Works well with Trekker Chair Kit
Not too thick (for lower walled tents)
Lower cost than its Topo Luxe cousin
Cons
Heavy for R value
Packs down to average size
No significant weight saving over Topo Luxe
Quieter than XLite but a bit noisier than Topo Luxe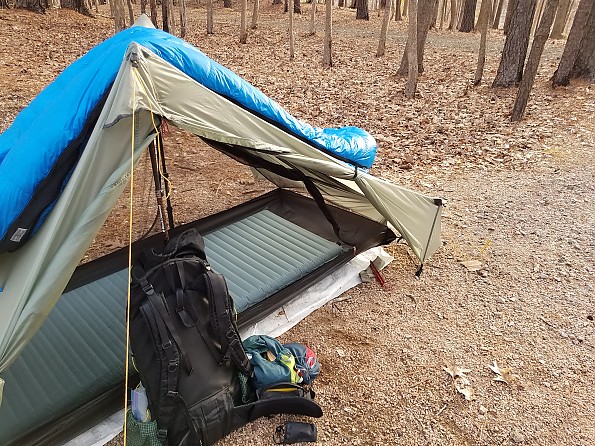 The Therm-a-Rest (TAR) NeoAir Topo is the smaller, 3-inch thick, cousin of the 4-inch thick Topo Luxe.  They come in similar sizes and are both aimed squarely at backpackers who value comfort over weight. A quick summary: the Topo Luxe is a full 3-season (3.7 R-value) mattress, and the Topo is a lower priced 2.5 season (2.3 R-value) version.
I tested the TAR Topo after the review of the Topo Luxe, which is on pause until colder temps come back. The two pads have a lot of similarities and quite a few differences. Since this is the second of the two reviews, I have incorporated comparisons between them where appropriate.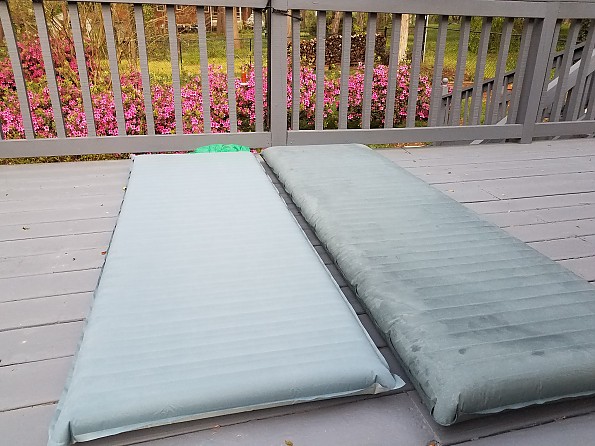 These two reviews were done in conjunction with my review of the TAR Blockerlite Pump Sack, which comes standard with either pad, along with a stuff sack and repair kit.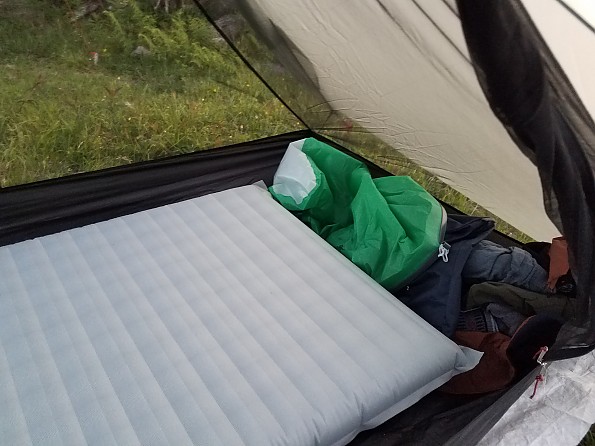 Product Description & Specs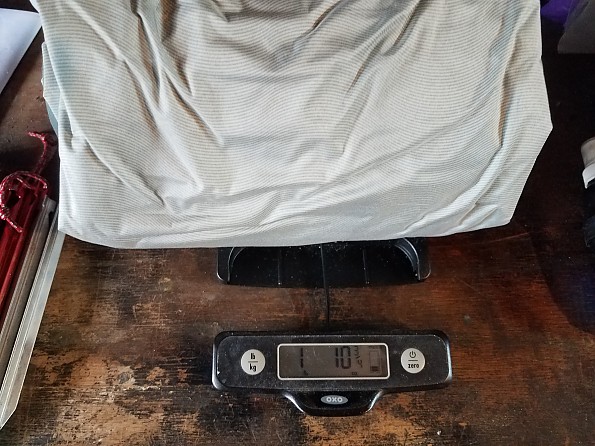 The TAR Topo comes in a variety of sizes (see chart below), ranging from 72 to 77 inches long and 20 to 25 inches wide. I tested the Regular Wide at 72 inches long by 25 inches wide. Just the right fit for my six-foot frame.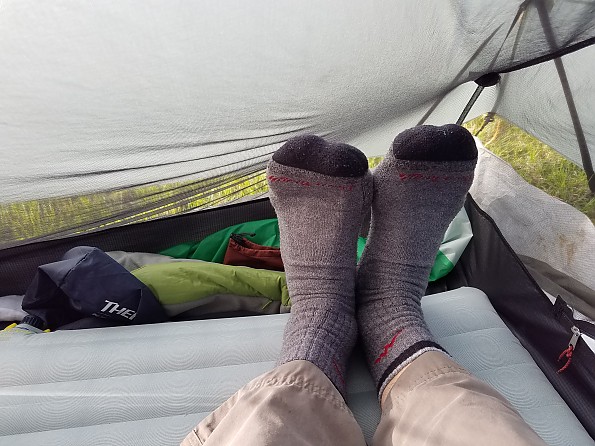 All of the Topo models are a comfortable 3-inch thickness.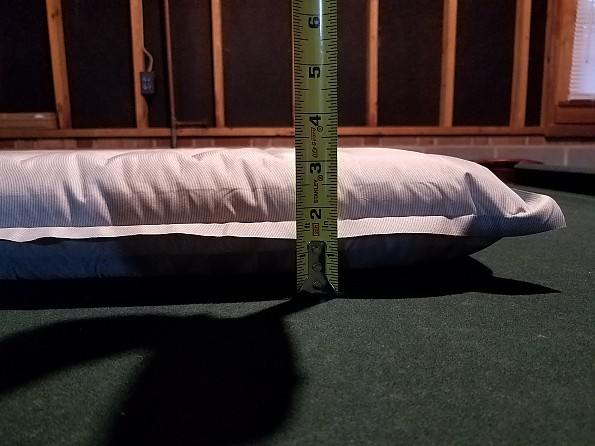 Note that the Topo doesn't come in the gigantic XLarge size like the Topo Luxe. My only complaint about the sizing and specs is a bit of confusion. There seem to be no real significant weight savings from the Topo to the Topo Luxe. See discussions below for differences between the two. Based on the specs above (from the TAR website), the larger Topo Luxe weighs less than the smaller Topo in both the Regular Wide and Large sizes, which goes against my way of thinking but makes sense I guess that the cheaper WaveCore (Topo) insulation is significantly heavier than the more expensive and warmer Triangular Core Matrix (Topo Luxe).
My weigh scale shows the Topo is a full 2-ounces lighter than the spec for the Regular Wide size, but I'm still trying to figure out if that is because they include the stuff sack. Even if you bring the Regular Wide weight down to my 1lb 10 3/4 oz measurement, there is less than an ounce of difference between it and the Topo Luxe in the same size.
The Topo has an R-value of 2.3, which corresponds to three-season camping max (although I never understand that kind of description as seasons vary wildly depending on where you live and hike). The Topo Luxe, for comparison, has an R-value of 3.7, which is a full "three-season" warmth rating to take you into the shoulder seasons.
Both pads have relatively similar size when packed, as can be seen in the specs and my rough comparison photos below.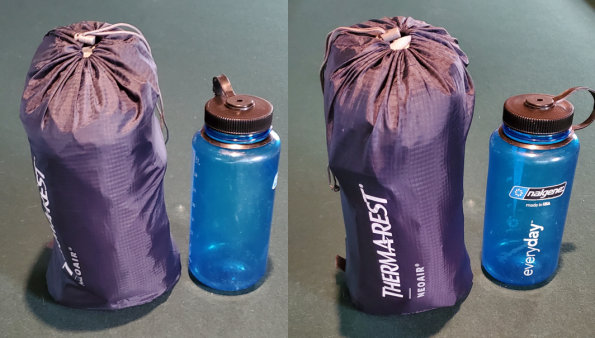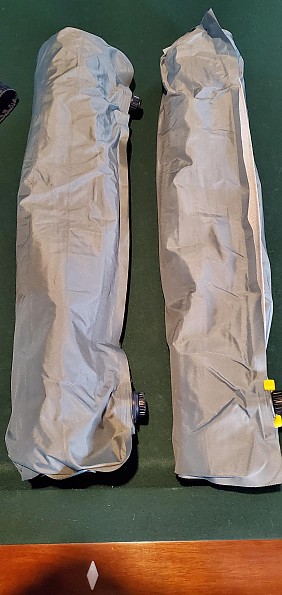 The pad has a nice, clean and simple construction of 50D polyester, with the Wave Core insulation, and a new Winglock valve. More on each below.
Setup/Ease of Use
The new Winglock valve can basically be thought of as the classic Therm-a-Rest valve in the middle with an outer "wing" that can be rotated to allow inflow only or outflow.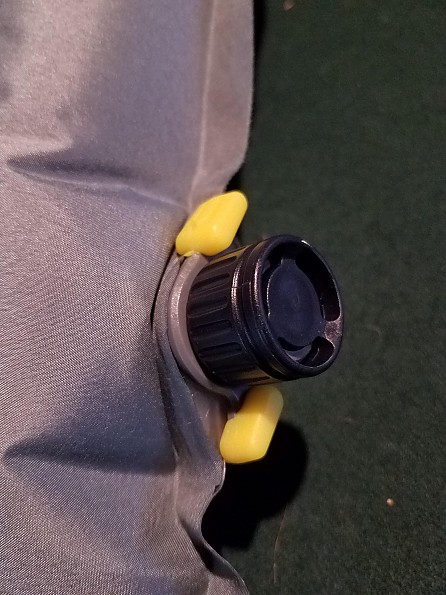 I think it works well and actually prefer it over the dual Twinlock on the Topo Luxe, even though the latter deflates faster (a few seconds extra in the morning doesn't bother me). I like having just the one valve rather than two.
Both the Topo, and big cousin Topo Luxe, apparently now come with the TAR Blockerlite Pump Sack. See below for a demonstration of a lazy filling of the Topo (it works even better if you slow down a bit but I like to get the chore done quickly). Overall, I think it works well, but suffers a bit compared to the best pump sacks as it has a wider opening to fit its dual purpose as a dry bag.  You can squeeze it a bit so it only opens in the middle and that helps out.
The Topo fits easily into the provided stuff sack. I roll it up then double it over and it slides in easily so no ghastly struggle with the stuff sack in the morning.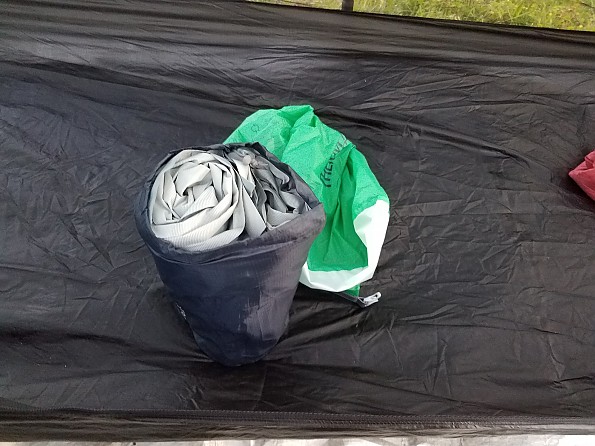 The Topo fits well inside the single person bug netting of my Stratospire 1. Obviously, fit will depend greatly on the model you choose and square footage of your shelter.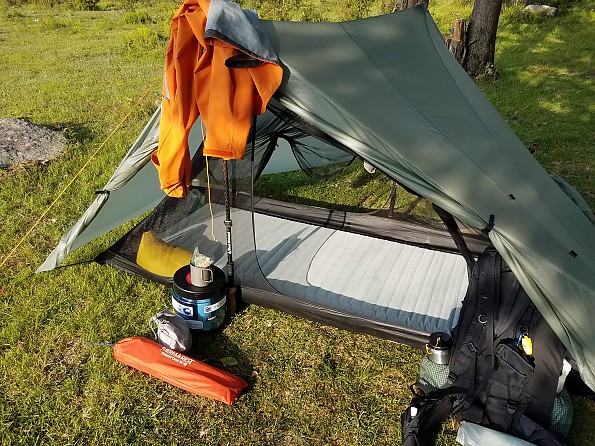 Warmth
The 2.3 R-value matches to what TAR shows as a three season pad. I would suggest, based on past experience with similar R-values, that it is a 2.5-season pad in areas where your winters are harsher. Note these are the new 2020 ASTM standard R-values, so be careful comparing to older values as they may have changed.
For my Topo Luxe review, I decided to test the R-values of both pads with a couple of others I had hanging around by lying on each for 10 minutes and taking the temperature under me at that point. Here's a chart showing the completely predictable results:

The temperature and R-value differences are compared to the Big Agnes AXL Air since it is not insulated. As you can see, the Topo fits right in the scale of increasing R-Value mattresses and the results show all four seem to reflect their designed specifications. Note again that these are the new 2020 ASTM standard R-values to compare apples to apples, while older R-value ratings may vary by the manufacturer. Based on my experience with the Nemo Astro Lite Insulated (slightly higher 2.6 R-Value), I could comfortably take the Topo down to at least freezing, and will update in the fall after I prove, or disprove, that.
The Wave Core insulation (see TAR's diagram below) seems to work quite well.  I think it sacrifices a bit in the noise department, but more on that later.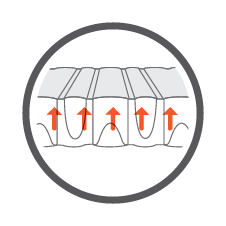 "A single layer of horizontal wave baffles that slows convective heat loss without adding extra bulk."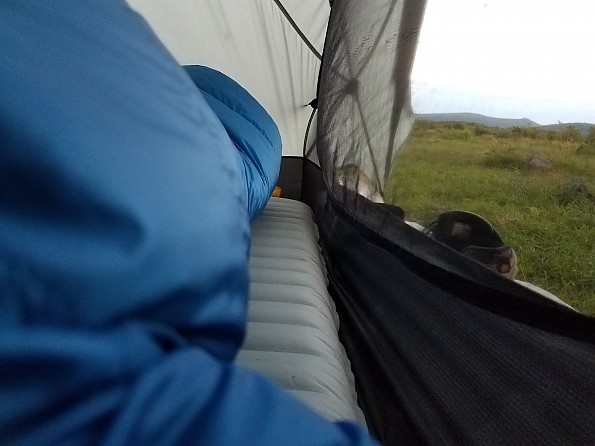 As I said, further testing is planned in fall to find my lower limit on the Topo and then switch back to the long term testing of the Topo Luxe. So far I have slept on this pad comfortably down to the mid 40 degrees F.
Comfort
As with its larger cousin, the Topo is very comfortable. What you should expect with a 3-inch thick pad!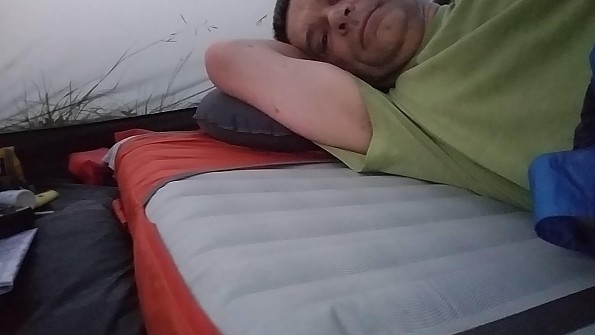 The Regular Wide model I tested had ample room to roll around, and the all-important (to me) room for my elbows not to rest on the ground. The thinner Regular version may not have the elbow room.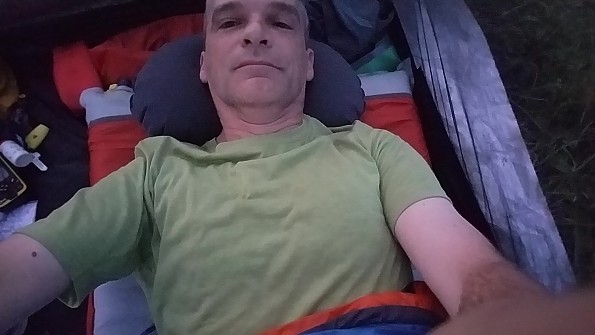 As important as the elbow room, the usable room of a pad depends on its "collapsability" at the edges. I can confidently say that both the Topo and the Topo Luxe hold me up near the edge extremely well.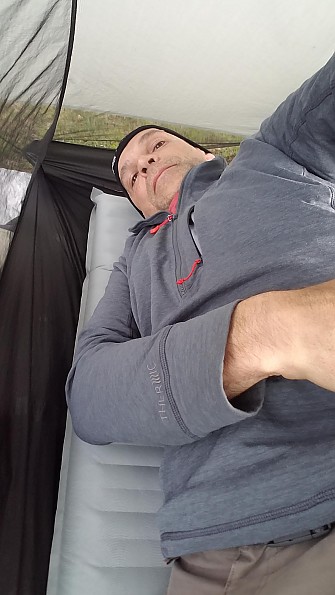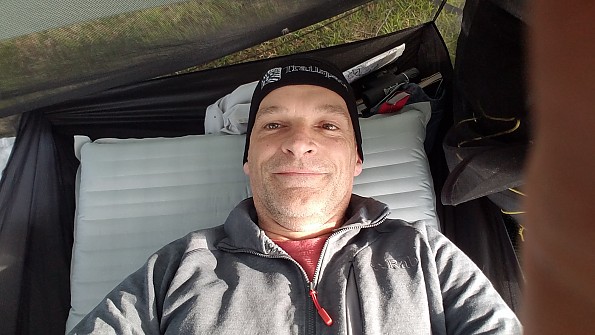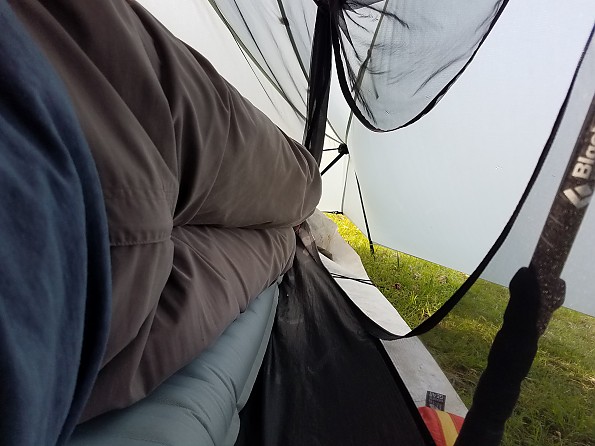 The 3-inch height both buffers roots and rocks,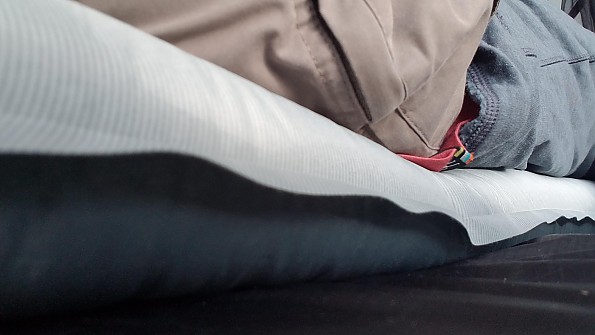 and also doesn't allow me to "bottom out" when sitting up.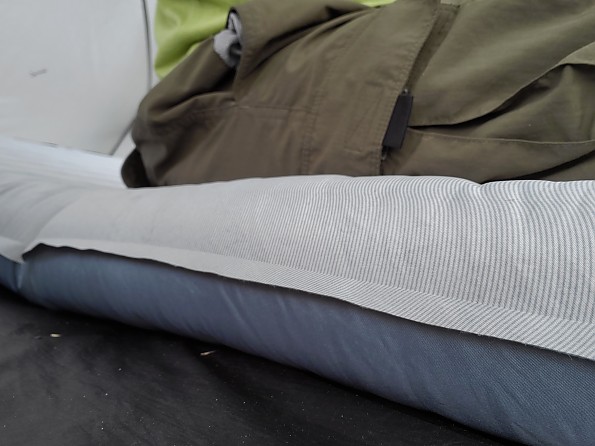 Horizontal baffles are not deep but work well enough to keep from sliding on a campsite with a little slope to it, which while I try to avoid via extreme pickiness inevitably happens now and again.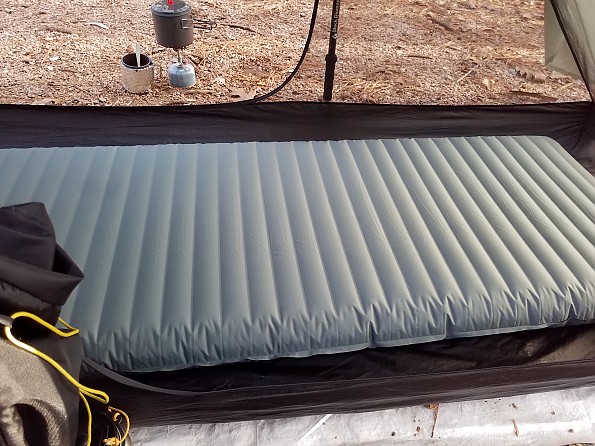 A real bonus of the Topo and Topo Luxe, is their ability to combine with the 25-inch Trekker Chair Kit to provide the ultimate luxury experience. What better way to spend a beautiful evening than with an outdoor recliner (with protective Tyvek under the mattress).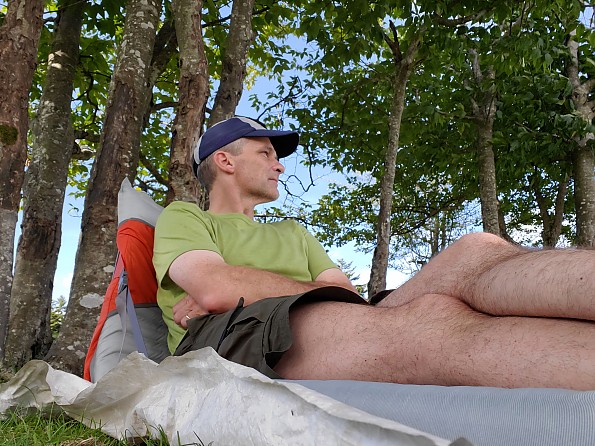 And I don't know of a better way to enjoy morning coffee than lounging around while breakfast cooks.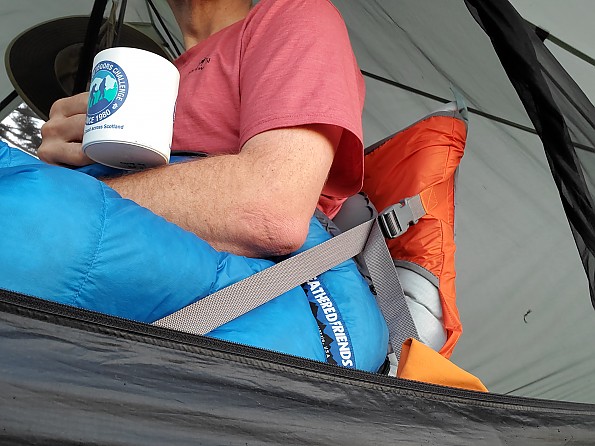 Noise
While the Topo doesn't have the NeoAir Xlite "potato chip bag" crinkle (which drove me nuts so much that I have loaned out the Xlite for the last couple of years), it is not as quiet as the Topo Luxe (which is the second one on the left in this video).
That could be due to the different insulation matrix or the thickness of the pad.  Either way, sleeping on the Topo did not keep me up like the Xlite, so I guess it doesn't matter that much to me.
Features
I think the main feature of interest on the Topo is the new Winglock valve (see above for details).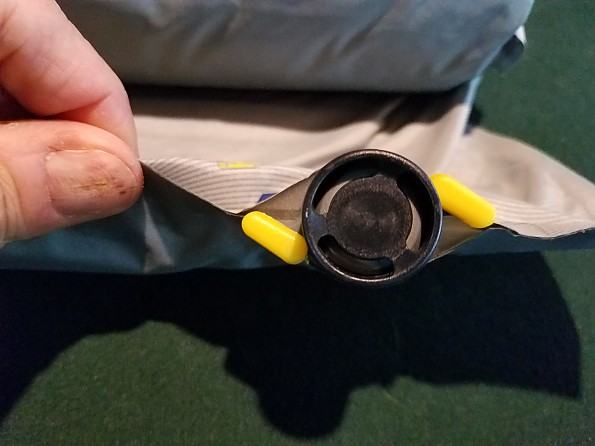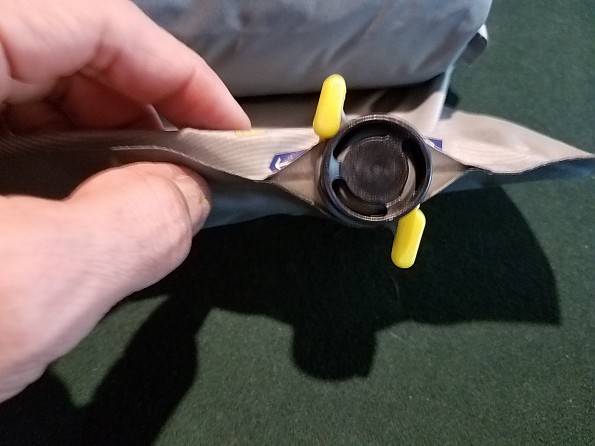 I think it works really well—one-handed operation is easy without stressing out the seal around the valve (the inherent weak point in many pads). Here I am deflating the Topo using the Winglock:
The Topo Luxe and Topo both have a "contour-like" design on them. I am not sure what this really does, but am not bothered as long as it didn't add weight or sacrifice quality.
The Wave Core construction seems to do what TAR intends—meeting its R-value for me while not being incredibly noisy like their Xlite insulation (see warmth and noise).
Construction & Durability
The 50D polyester construction of the TAR Topo seems to uphold this company's stellar reputation for construction of air mattresses. I have treated the Topo as I would any air mattress—with care—but it's been through typical use. I have camped on many rocky and rooted sites but always with an inner bug net and/or Tyvek ground cloth. A couple of nicer days I have set it out on the ground with just the Tyvek to relax and enjoy the views. I have not laid it directly on holly leaves or other spiky surface, and don't plan to. The construction and quality of the material gave me no hesitation cinching it up each night in my Trekker chair.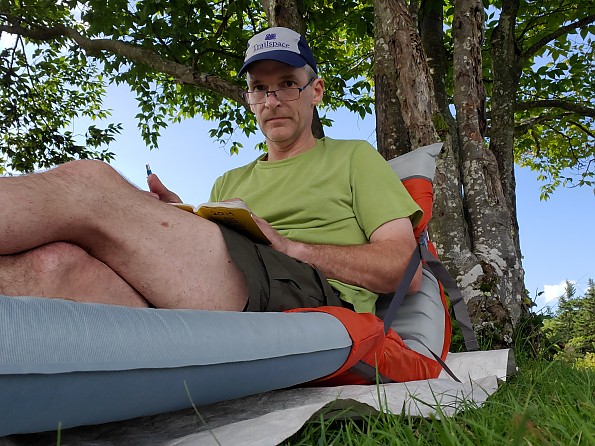 I would say the highest likelihood of a leak on any air mattress is lack of care and therefore puncture, followed by the valve where twisting occurs. The new Winglock valve seems to function well without putting undue stress on the surrounding seal.
The mattress does gather a few dirt stains, but I haven't washed it yet, and really who cares about a bit of dirt if you are in the woods and hills?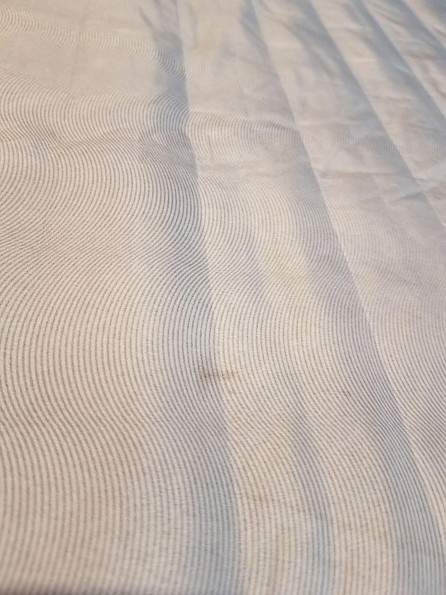 Further testing is forthcoming the rest of the summer and into fall before the temps drop below the sweet spot for the Topo. I'll update the durability then.
Conditions
Unfortunately I started testing the Topo after the Topo Luxe and right when COVID-19 policies kicked in and my local National Forests prohibited dispersed camping. Making up for lost time once they opened up, I have tested the Topo on four backpacking trips (9 total nights) in June, July, and August 2020. At-home testing occurred on multiple nights since the weather warmed up, and I took several business trips where I prefer (even when there is no pandemic) to sleep in a campground instead of a hotel. You also might have caught me napping here and there on the Topo on spring lazy weekends at home.
Temperatures have ranged from lows in the mid 40's (degrees F) to mid 70's (degrees F), with winds from a breeze to over 20 mph.
Recommendations
The NeoAir Topo is an excellent choice for a backpacker that enjoys comfort over an ultralight pack weight, prefers warm season camping, and has room in their shelter both vertically and horizontally for this pad. However, I would look at the NeoAir Topo Luxe as well for cooler nights as long as you have the extra cash, suitable wall height, and don't mind a bit of bounciness (depending on how much you inflate it). 
Experience
I have been sleeping for years...ever since I was born, and enjoyed "testing" this mattress as much as possible. Seriously, I converted to air mattresses in the mid-'90s, and thicker (minimum 3-inch thick) ones in the last 6 or 7 years since I have gone "comfortably light" as my body aches increase in proportion to my appreciation of a restful night.
Source: received for testing via the Trailspace Review Corps (Sample for testing and review provided by Therm-a-Rest)

Your Review
Where to Buy
Help support this site by making your next gear purchase through one of the links above. Click a link, buy what you need, and the seller will contribute a portion of the purchase price to support Trailspace's independent gear reviews.
You May Like
Specs
regular
regular wide
large
Price
MSRP: $104.95
Current Retail: $109.95-$159.95
Historic Range: $79.99-$159.95

R-Value
2.3

Weight
1 lb 6 oz / 0.62 kg
1 lb 13 oz / 0.82 kg
1 lb 15 oz / 0.88 kg
Width
20 in / 51 cm
25 in / 64 cm
25 in / 64 cm
Length
72 in / 183 cm
72 in / 183 cm
77 in / 196 cm
Height/Thickness
3 in / 7.6 cm

Packed Dimensions
9.2 x 5.5 in / 23 x 14 cm
11.2 x 5.5 in / 28 x 15 cm
11.2 x 5.8 in / 28 x 14 cm
Top Fabric
50D polyester print

Bottom Fabric
50D polyester

Materials
polyester, polyurethane

Recently on Trailspace