Therm-a-Rest Trekker Chair Kit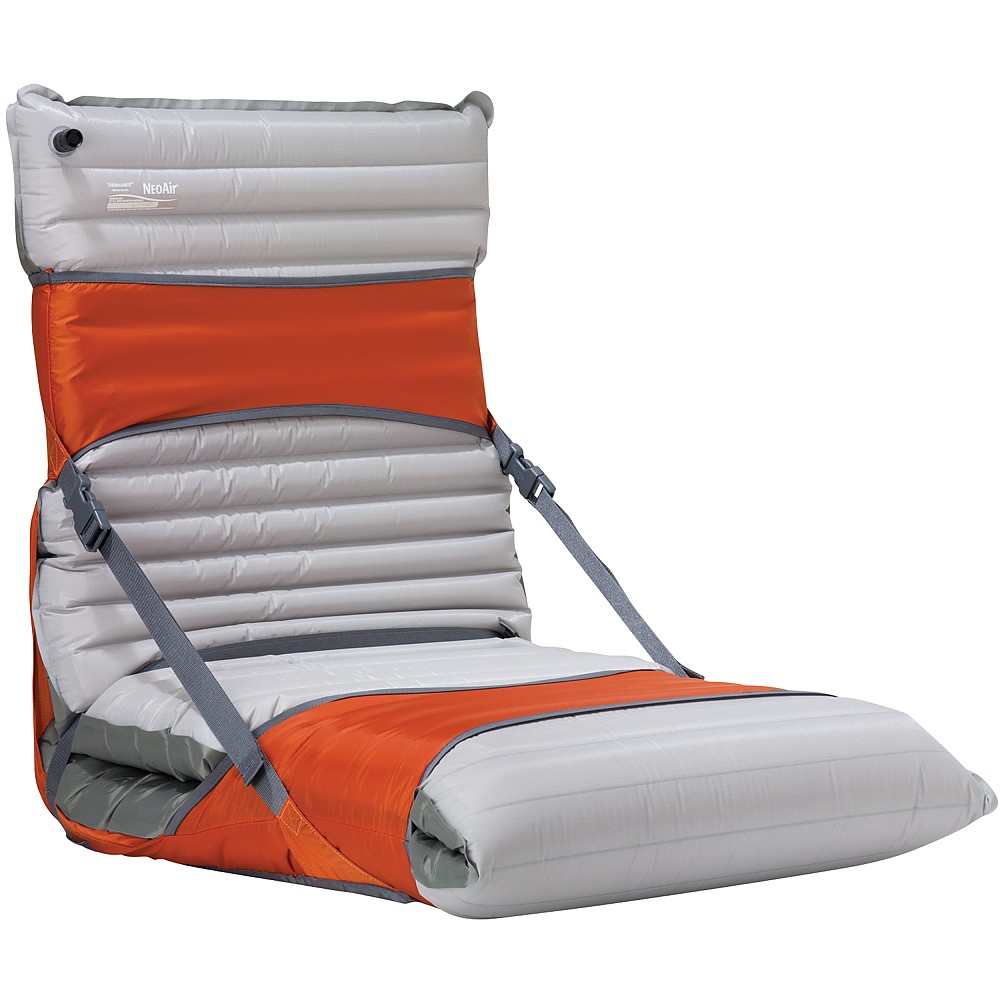 The Trekker Chair Kit is a relatively light and supportive supplement to your air mattress so you can lounge around camp at the end of a long day. It packs away in a small roll, adapts to different sized pads, and provides decent lower back support. It could be a bit taller in the back, and is usable but not overly comfortable on its own without a pad.

As it's a seat on the ground, it fits well for lounging around in your shelter but would get dirty sitting around camp and takes a little while to dry out. For someone with a susceptible back like me who also likes to lounge in the tent, it's the best non-essential 10 ounces you can put in your pack without taking up much room.
Pros
Light (10 oz)
Versatile
Easy to set up
Comfortable
Good support
No legs, fits in tent/tarp
Packs small
Cons
Could be taller
Needs a pad to be really comfortable
No legs, tough to stand up if bad knees
Can't double up thick mattress
Not waterproof
Gets dirty around camp
Due to lower back issues that have haunted me since an injury thirty years ago, any backpacking trip over a one-nighter usually comes with back pain if I don't have a chair with some quality lumbar support to rest at the end of the day. I don't get any pain from hauling the pack around, but have to have solid support when sitting (which I do a lot in camp especially after long days and in foul weather that I often hike in), and only on rare occasions can I find rocks and tree trunks designed to fit my particular needs that well.
I have tried several chairs over the years, and attempted to make my own, but my personal favorite is now the Therm-a-Rest Trekker Chair Kit supplemented with a rolled jacket or small pillow for additional lumbar support for contemplating life on a cold morning with coffee...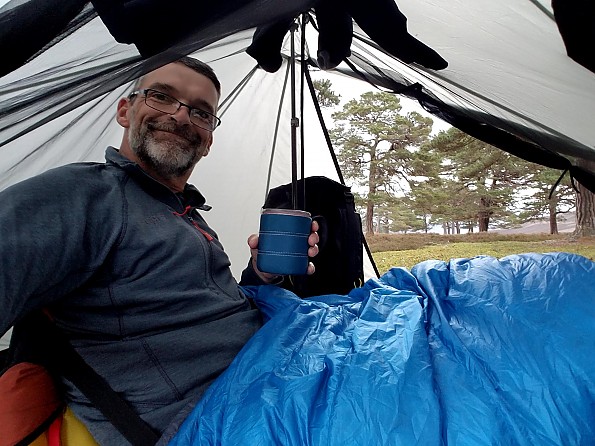 or for loafing around outside the tent on good weather days like a rare sunny morning in Scotland...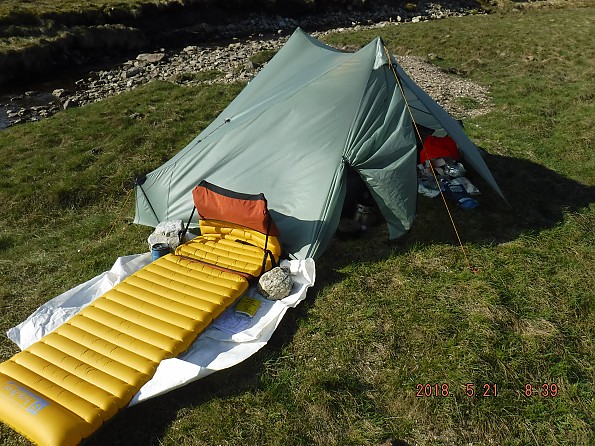 or in a campground rest stop in Scotland as well on the TGO Challenge making journal notes and chatting with other challengers...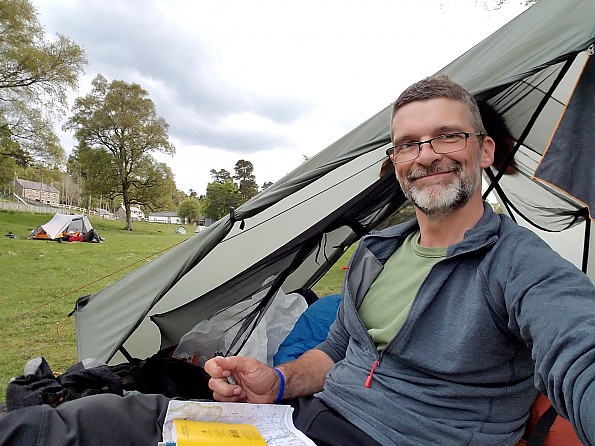 A couple of notes up front...
There are at least two versions of this chair out there—mine is the older one with one closed sleeve end and the other newer version has both as open ended sleeves and elasticated, based on my brief look. This older one may still be available at some outlets.
Also, I should state up front that I haven't used this product as it is intended (with a 2-inch mattress doubled over) so my review is more focused on its adaptability to other mattresses. The existing reviews seem to be using it as intended with a 2-inch Therm-a-Rest pad. See those for evaluation of its true design intent.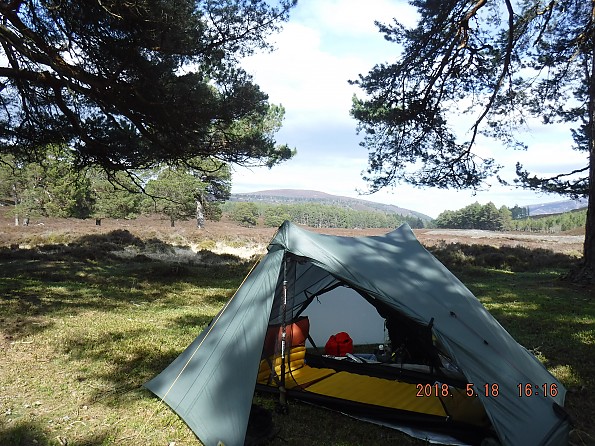 Design/Construction
The Therm-a-Rest Trekker Chair Kit is a relatively simple piece of gear—some polyester and nylon fabric with composite support bars and nylon web straps with buckles that convert your air mattress into a comfortable chair for lounging around camp.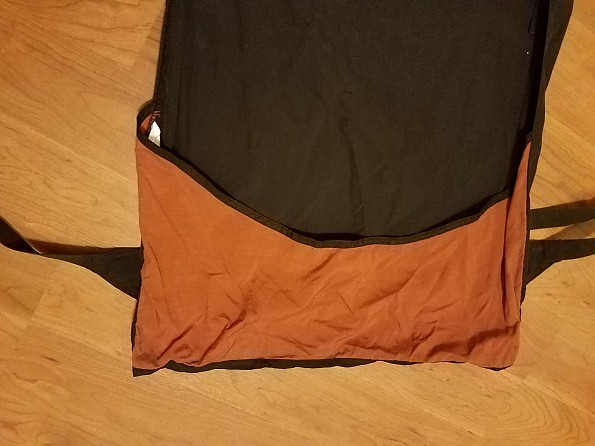 The chair is a fabric sleeve with a closed pocket on one end (above) and open sleeve on the other (below)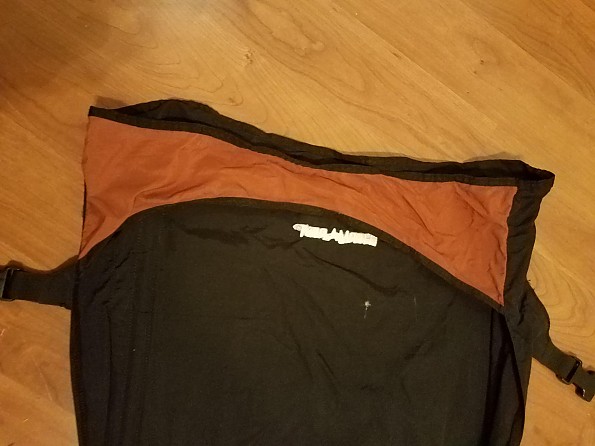 along with a "hinge" strap to bend your pad and hold it in place.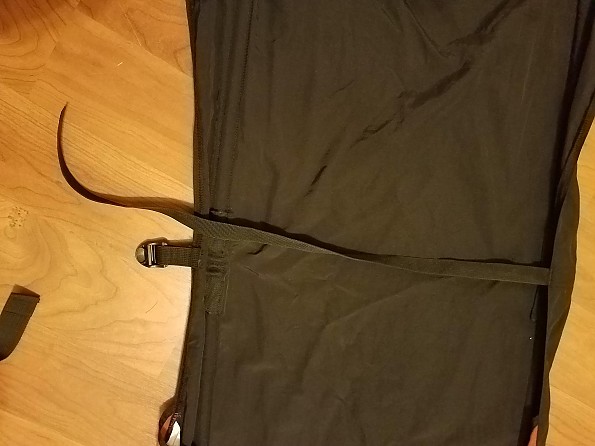 Two webbing diagonal side straps with buckles secure the chair and allow adjustments.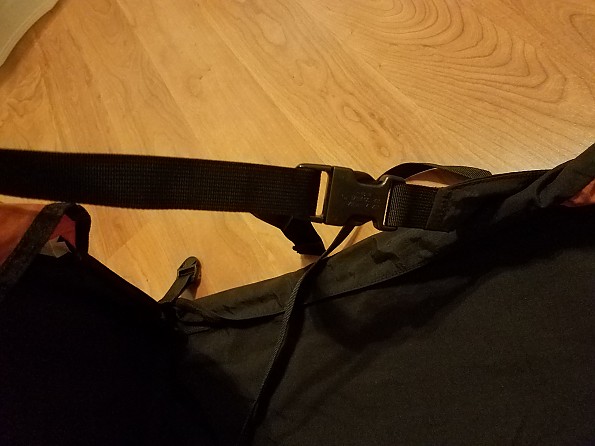 It is designed to use with the open sleeve at the top and the closed sleeve at the bottom with the air mattress folded over to provide a cushioned support and double seat. However that is for up to a 2-inch thick mattress. I have luxurious 3+ inch pads that don't double over easily and won't fit this configuration. Therefore, I tend to use it differently by sliding an air mattress into it which I then can buckle up as a chair, or lower and sleep on it until I need to sit up in the morning.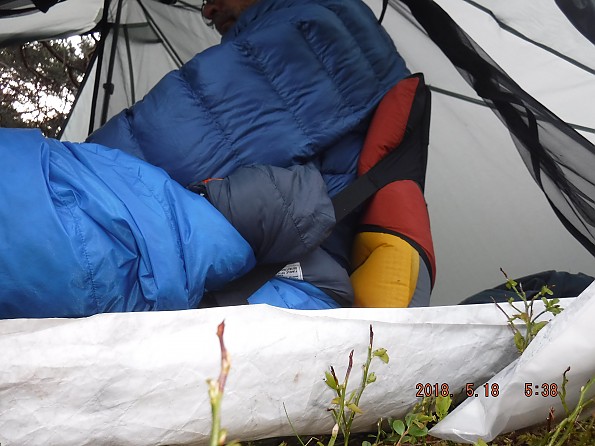 The seams and fabric show little wear after about nine months of use. The webbing straps and buckles also seem sturdy. Since the fabric is ripstop polyester, I think it should hold up well and resist tears, especially considering it is usually inside my pack or tent.
Ease of Use & Adaptability
The Trekker Chair Kit couldn't be much easier to use—no matter how you do it. As mentioned above, I find it easier to convert back and forth by flipping it over (closed sleeve at the top) and keeping it on my air mattress throughout camp. The benefit of using it like I do (with a single layer thicker mattress rather than doubled up) is you can simply unclip it at night and sleep, then clip it back up for a ready made chair for breakfast and coffee.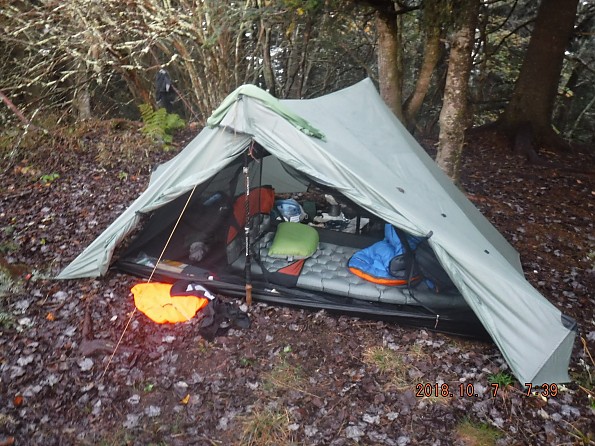 It buckles up quickly in the morning and releases easy at night, and I don't notice it wrapped around my air mattress when I am sleeping.
The Trekker Chair Kit is obviously made for a Therm-a-Rest air pad, but I use it regularly with my NEMO Astro Insulated Lite (3-inch thick rectangular),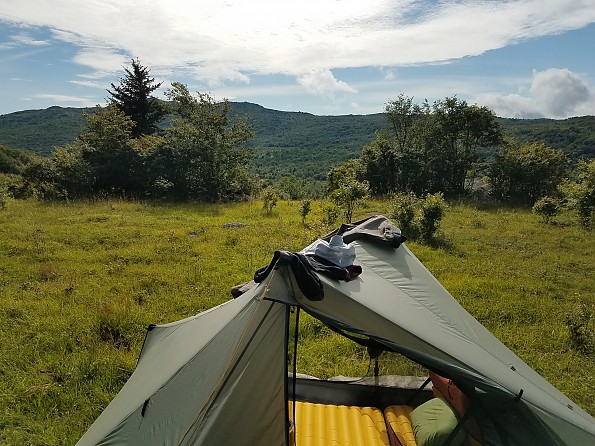 and also with the Big Agnes AXL Air (2+ inch thick rounded) that I tested for Trailspace last year.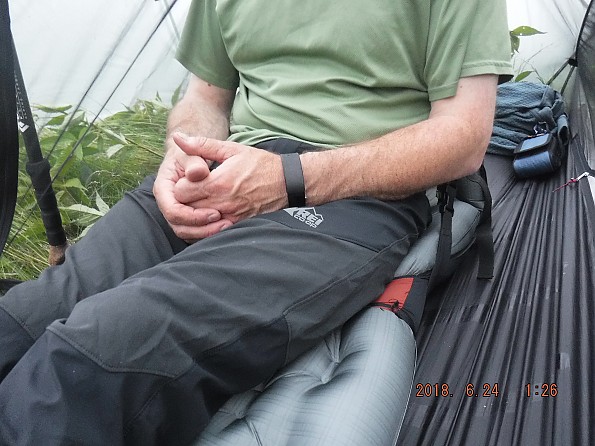 It works well with these two pads, although obviously not perfect, so I assume it will fit even better with its own brand product and used in the correct fashion. The pad can slip down if it's not cinched in tight when you use it like I do with the open end at the bottom,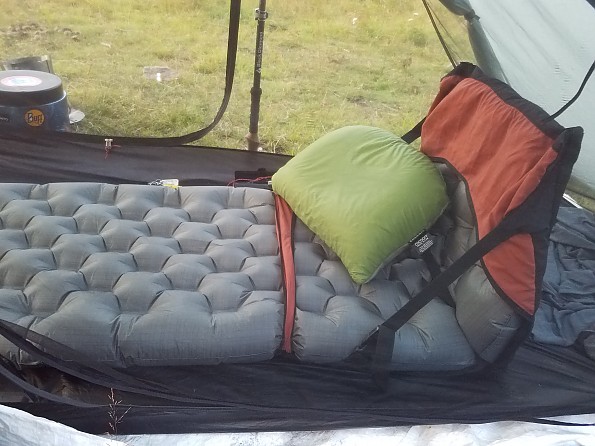 but this is easily fixed if it happens (see below where the Big Agnes AXL Air slipped down over a night in camp—just push it back up and tighten the strap at the hinge point and it's fixed). You may also be able to make out that the closed-sleeve version I have leaves unfilled corners if you use a more rounded pad. I haven't found this to be particularly annoying or uncomfortable.
It does not have any feet or rough spots on the bottom, so no worries about damaging a lightweight tent floor. I can set it up in under a minute once my sleeping pad is inflated, and don't find it that difficult to insert the pad into although I am not using a doubled-over 2-inch pad as it is designed. It breaks down really quickly—just deflate the mattress, slip the chair off, and roll it up. 
Weight and Packability
Therm-a-Rest specs state that the Trekker is 9.5 ounces. My scale says just a hair over 10 ounces, so there may be a difference between the old version (mine) and the current one.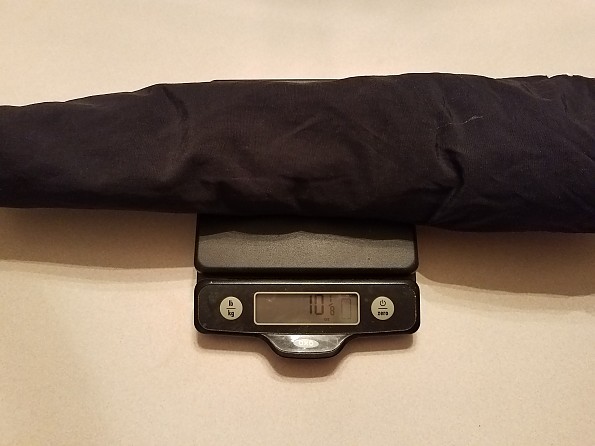 That's pretty significant weight in a pack, but compared to many alternatives it's about the lightest option that doesn't require additional support (like trekking poles) or convenient trees (like a hammock which my back prevents me from sleeping in). Compared to how my back feels when I don't carry this weight, it's almost like subtracting 10 ounces from my pack!
It stretches out about 3 feet long by 16 inches wide but packs down into a tight 2-inch roll. The Trekker Chair Kit fits easily down the side of your pack or in a side pocket. It's tough to see below but it's in the side pocket nearest you as I break down camp on a rainy morning.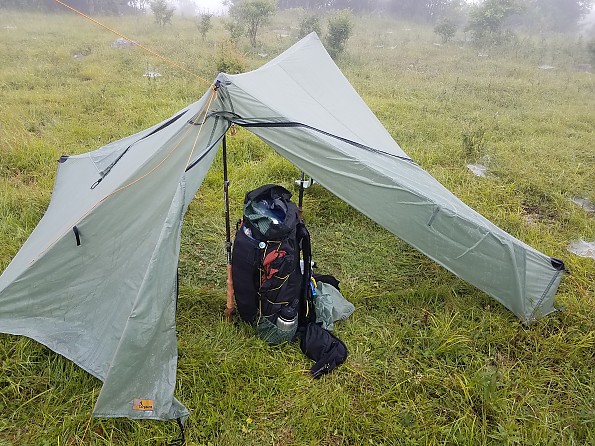 It comes with a mesh bag to contain it, but I have rarely used that as it just seems like extra weight. On bad weather trips I usually slip it inside the pack, but even if I forget and it goes in the outside pocket, it dries pretty quickly although isn't totally water repellent—I prefer not to get it wet so moisture stays outside my sleeping quarters and I can use it right away.
Comfort
As mentioned in the introduction, I either need a chair or will have to put up with constant back pain. Yes, I could find a rock or tree to support my back around camp, and sometimes do. However, as I spend a good few hours reading, looking at maps, or cooking (in non-bear country) right out of my tent while in my sleeping bag I need in-tent support for my lower back. It's nice on long winter nights to be able to sit up and do things like on this sub 10-degree F night.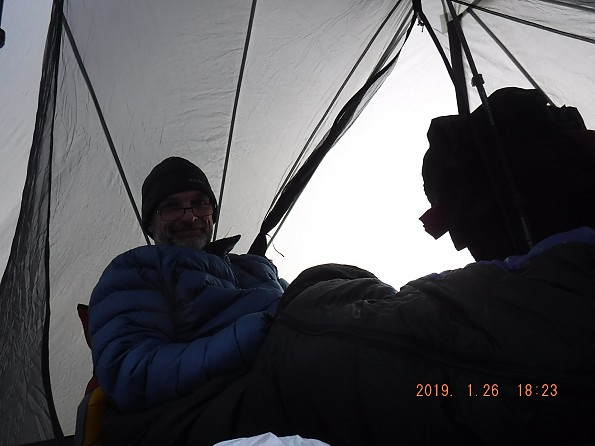 The Trekker Chair Kit is lighter and just as comfortable as my older REI Trail Chair and allowed me to drop over 10 ounces of pack weight.
It is great for camps in foul weather, that I seem attracted to. In good weather where you don't want to take your pad out of the shelter, it is serviceable as a stand-alone chair although not quite as comfortable as other full chairs.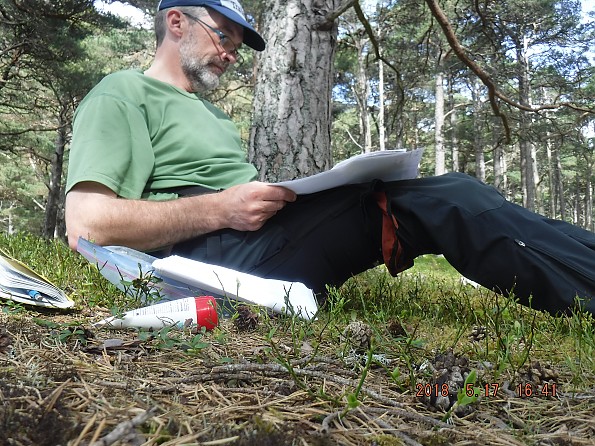 With my back issues, I tend to slip a pillow or rolled up jacket in the lumbar area and do it differently depending on how my back is feeling, but I am on the extreme end of that—I would think it not necessary for a lot of folks.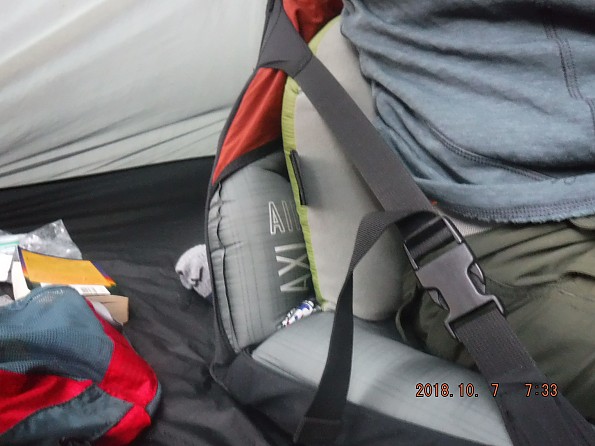 Recommendation
For the price ($25) it would be difficult to find a more comfortable chair that fits in a tent. The newer model is more expensive but still worth its weight in my mind. If you are looking for a chair to sit around the campfire with, I would suggest something else. For lounging around your tent in the evening and morning I find the Trekker Trail Chair hits the (sore) spot.
Experience
I have been using trail chairs with and without sleeping pads in my shelters for at least 10 years. I don't use them outside the shelter much. This chair was purchased in January 2018 and has been on at least 10 weekend (2 to 4 night) trips in the US and a coast-to-coast 13-day walk across Scotland. Weather has been pretty much everything from below 10 degrees F and snow through rain at all temperatures, to highs recently near 90 degrees.
Source: bought it new
Price Paid: $25

Reasonably lightweight and compact when rolled up. Comfy to sit on, but fussy to setup, and because you need your sleeping pad to sleep ON, it's kind of inconvenient.
Pros
Lightweight
Comfortable
Easy to adjust
Cons
Annoying to setup
Need to partly disassemble to use sleeping pad for sleep
Okay, it is a good product, but not a great product.
Here's the good: it's reasonably lightweight enough for backpacking (but not for ultralight fanatics). And, once it is set up, it IS comfortable and easily adjustable for your body weight and how upright or leaned-back you want to sit. Note that this does NOT have legs. You are basically sitting on a leg-less chair.
Here's how it works and why it's also not so great. The product is completely unpadded. That's why it's so lightweight. The padding comes from using YOUR not-included self-inflating sleeping pad. You could also use a foam pad like a RidgeRest Classic.
To set it up, you fold over 1/3 the length of the sleeping pad and insert this double-thick part in the bottom of the chair, and then insert the remaining single-thick 1/3 of the pad into the chair back. You CAN'T do this if the pad is fully inflated. You're best off letting it partially inflate, leaving the air valve open, inserting the pad into the chair, then closing the air valve. Then, you sit down and adjust the strap lengths until comfortable.  So, some "assembly" required to setup.
But here's the real issue: you need that pad to sleep on! 
So, now it's time to sleep, and you have to let the straps out, wrestle out the bottom 2/3 of the pad from the chair, get the pad fully inflated, and then you're good to sleep. But THEN, the next day, if you want to use the chair, you need to reassemble it, etc. Repeat each day. 
One caveat: if you don't care about having any padding under your butt, you can use the chair without any padding at all, in which case this is quite a fantastic product, right?  :-) The construction seems quite solid and the chair is available for 20" and 25" inch self-inflating sleeping pads. My sleeping pad is standard length but it will work with any length pad.
Source: bought it used
Price Paid: $25 ($39.95 new)

Great comfort item for a compact pack.
Pros
Compact
Works with your Therm-a-Rest pad
Comfortable
Lightweight
Cons
Not readily available for use (see below)
Requires your Therm-a-Rest sleep pad
Slightly time consuming to set up
Difficult to get in and out of due to sitting on the ground
I often get tired after a long day (or hike) with sitting on the ground or hard rock so I set out searching for a comfort that was light and did not take up much space in my pack. The Therm-a-Rest Trekker Chair was a solution.
The chair (if you want to call it that) requires a Therm-a-Rest sleep pad (which can be a downside) but considering I already had one. Great! The frame is very simple just fabric, two wrapped poles (which provide the support), and adjustable clasp. Total weight is around 12.6 ounces minus bag. The frame requires you to partially inflate the sleep pad then fold it into the slots, adjust, then continue inflating to your desired firmness. The two clasp on the side are adjustable and can be tightened or loosened depending on how straight you want to sit. 
The one I did like about it was that you could pretty much sit anywhere you want compared to other chairs that have legs. The negative is that unless you have a rock or log you are relegated to sitting on the ground. It does offer comfort against the hard ground (especially after a long hike/day) but it is a little difficult to get out of if on the ground.
The other negative I would have to add is that it is not a fast setup chair. If you stop for lunch it is really a pain to set up just for 15 minutes of comfort. This is a minor negative as sitting is only a short break when you still have more hiking to do. 
Overall I like this little addition. I do like that it is compact and lightweight especially for the cost. I like that it utilizes something I already carry (my sleep pad) so I do not have to weigh my pack down more with a heavier chair if I am trying to save weight. What I do not like about it is that I usually have to wait until the end of the day to use it while my buddies break their chairs out when we stop for lunch. I look at it as one of my evening rewards.
Source: bought it new
Price Paid: $28

This is a comfort item that I have grown to like. In the Deep South we don't have rocks to use as seats, and most of the time logs are pine (which means sap). One of the things my wife complained most about when backpacking was not having a place to sit with back support.
This problem is solved with the Trekker Chair. It allows your sleeping mat to be transformed into a chair complete with a back. It is surprisingly comfortable even though it does not elevate you off the ground.
I had thought that being elevated above the ground was important, so we had purchased stools to take backpacking (1 lb 8 oz each). But with no back support, they stayed home on almost every trip. With the Trekker Chair (10.5 oz) we have a comfortable place to relax at camp, lean back and read, eat, etc.
The design of the chair is smart and the materials are sturdy. You can adjust the chair to many different configurations to suit your personal sitting style. Very versatile piece of equipment.
My wife calls this our best gear purchase ever.
Price Paid: $30

I saw this on sale, and thought I should get it just cuz. When I got home I set it up, just for fun. I was skeptical, it didn't look super sturdy. WOW was the first thing though that came into my mind! I can't believe how strong it is!!!! And comfy! This is a must if you own a Therm-a-Rest! and there are no excuses for not having one!
I forgot to mention, that this is a great product because now you're getting twice as much use out of your expensive Therm-a-Rest pad!
-pirate
Price Paid: $25

Your Review
Where to Buy
Help support this site by making your next gear purchase through one of the links above. Click a link, buy what you need, and the seller will contribute a portion of the purchase price to support Trailspace's independent gear reviews.
You May Like
Specs
20 in
25 in
Price
MSRP: $49.95
Current Retail: $33.96-$69.95
Historic Range: $14.73-$69.95
Reviewers Paid: $25.00-$30.00

Weight
13 oz / 0.29 kg
10 oz / 0.37 kg