Big Agnes AXL Air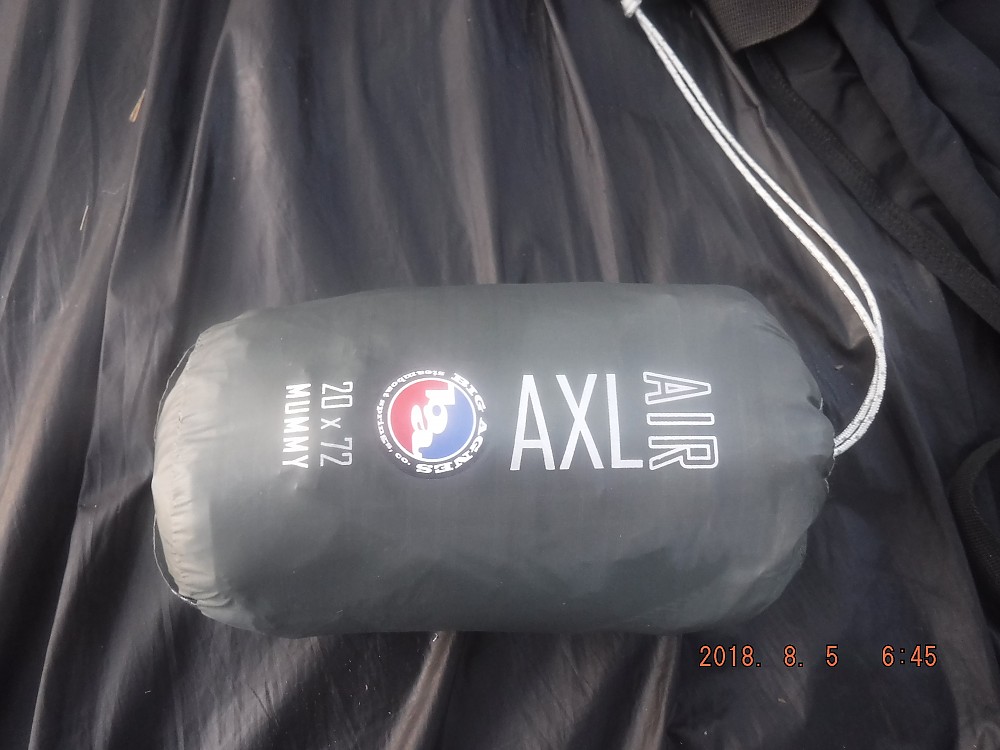 An extremely light and comfortable sleeping pad suitable for its intended use—warm summer nights. Besides comfort and being extremely lightweight, it packs small and easily, has a good design to prevent roll-off, is relatively easy to inflate, and seems cooler on warm summer nights.

Minor detractions include valve not adapting to DIY inflation, slipperiness on a tent floor, mild noise when tossing and turning, and an occasional shift needed to avoid a root coinciding with the depressions in the pad. Not your one-stop solution for multiple seasons, but a really good specialty pad for summer trips and gram counting.
Pros
Lightweight
Very comfortable even for side sleepers
Easy to inflate
Packs small
Outer roll-off ridge works
Mummy shape allows for tossing/turning
Cool on warm summer nights
Cons
Valve not easy to adapt to DIY inflation
Slides without silicone
Mild noise (quieter than many others)
Dimples allow occasional root to be felt on side
Slight deflation overnight
No R value
Not wide enough for elbows (back sleepers)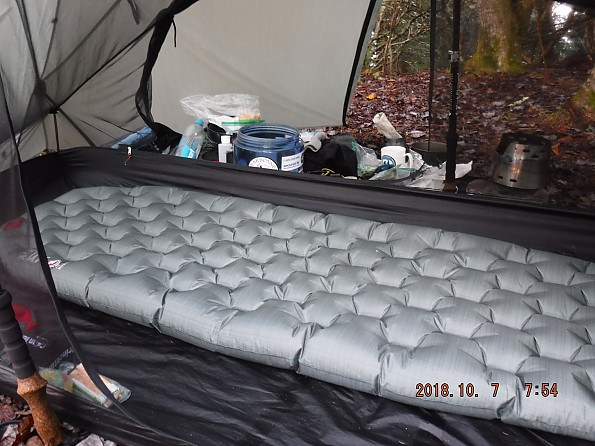 First things first, please keep in mind this review is not comparing this pad to any insulated air mattresses. In fact, the BA AXL Air has few competitors. A quick search of a large retail chain yields three similar pads—the Sea to Summit Ultralight, Klymit V Ultralite SL, and NEMO Tensor 20. I'll compare these in the relevant sections.
Now for the nitty gritty details.
Design/Construction

The Big Agnes (BA) AXL Air is made from "ultralight, patent-pending, patterned random rip-stop nylon".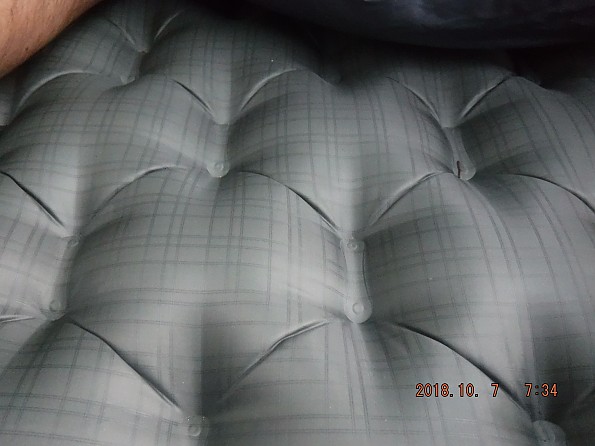 According to the BA literature, it has a unique weaved high tenacity yarn with high filament count that increases tear strength by 25% and decreases material weight. BA also states that the pad is made from "aviation grade TPU lamination technology" for durability. The light ripstop material seemed really flimsy to me at first, but I have not encountered any issues. 
BA also states that the AXL Air has built-in advanced heat reflective technology and anti-microbial treatment inside the pad. I can't claim to have really tested these claims, but the pad did keep me warm to mild fall night temperatures (see Insulation below) and so far with blowing up by mouth I haven't noticed any microbial issues. Not sure those would show up for a long time though.
Here are BA's specifications for the pad along with my measurements:
Spec                      BA                          Mine
Weight                  9.6 oz                      9.75 oz
Length                  72 in.                       72 in.
Width                    20 in.                      20.5 in.
Thickness              3.75/3.25 in.            3.5 in.
Overall pretty close to spec; my scale doesn't do decimals. Coming in under 10 ounces puts it below its similar sized ultralight competition: Sea to Summit Ultralight (13.9 oz), Klymit V Ultralite SL (11.9 oz), and NEMO Tensor 20 (13 oz).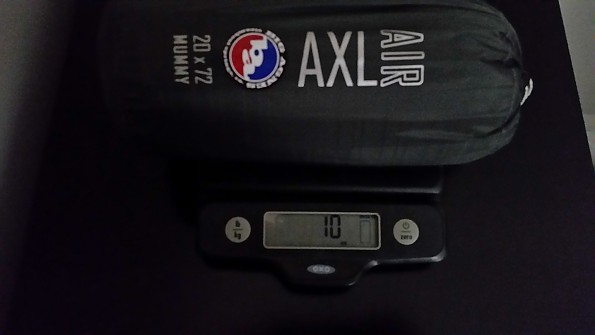 Adding the stuff sack and repair kit rounds it out to an even 10 ounces.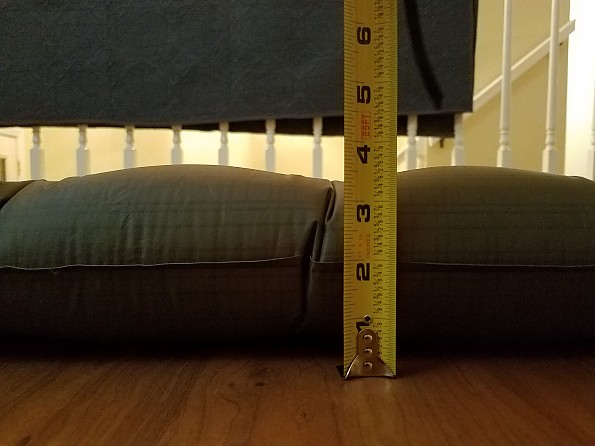 The pad is about 3.5 inches thick. I didn't measure the inner and outer ridge separately. The thickness provides ample cushion from the ground (see Comfort below). Thickness in the "dimples" is harder to measure but estimated about 2.5 inches.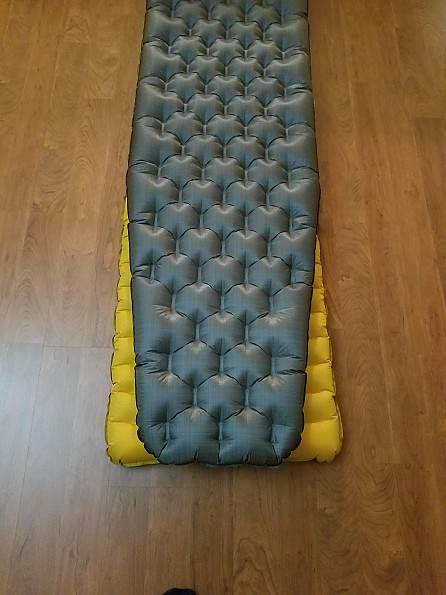 It is about the same length as my other pads but a bit thinner due to the mummy shape. Nothing unusual for me as I used a similar shaped pad for years. Above is a comparison with the ubiquitous Z-Lite pad. You can see the trimmed "mummy" shape mostly affecting width at the bottom.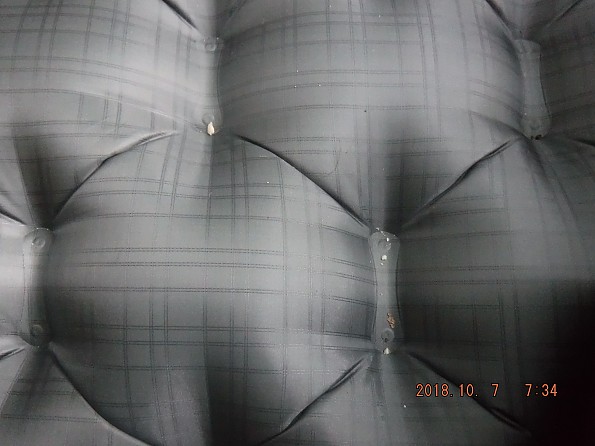 The dimples, despite the size, don't seem to detract from comfort unless directly over a root or rock (see below) but do collect dirt/food etc. However, their size makes them easy to clean out.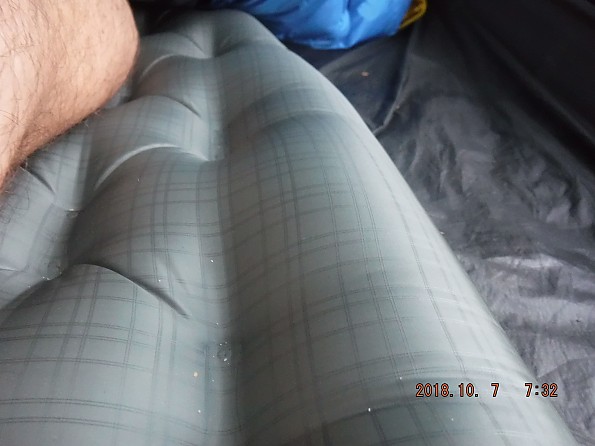 The dimples drop off the last two inches or so around the outside and that helps to create a little outer ridge to prevent rolling off.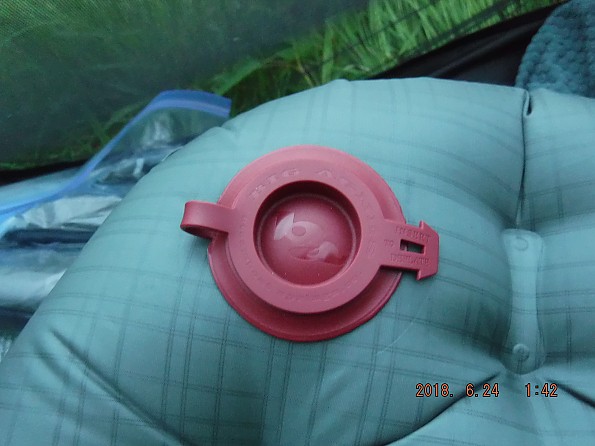 The valve seems well constructed. It has an inner diaphragm that self-seals after each breath so there is no loss of air while inflating.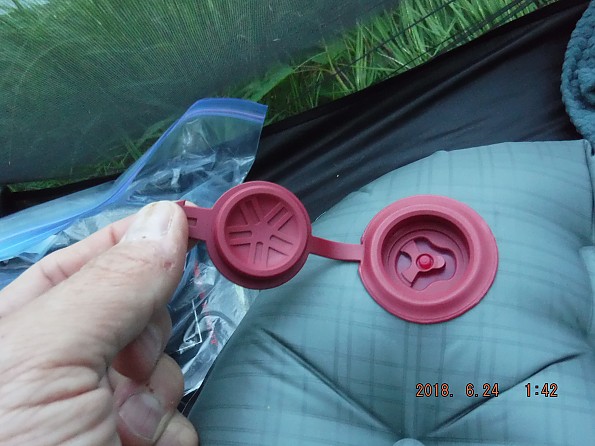 To deflate you use the end of the cap to prop it open for full deflation, or use the push button release for minor adjustments after inflating to hit that "sweet spot".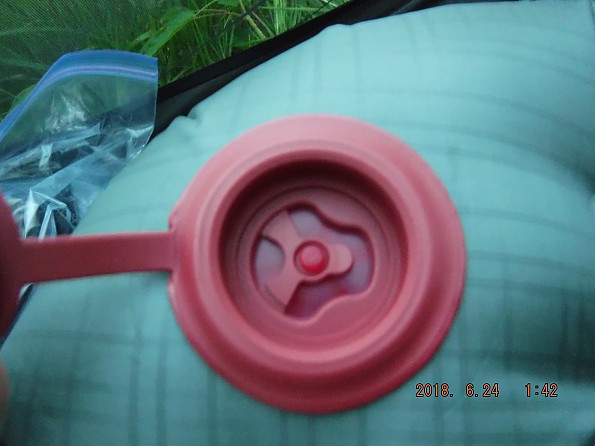 The BA AXL Air packs down to a really small size—compare to the standard backpacking measurement of a 1-liter Nalgene bottle.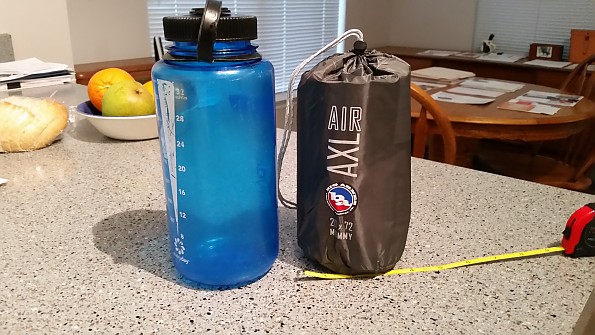 It folds up well and fits in the stuff sack for easy packing.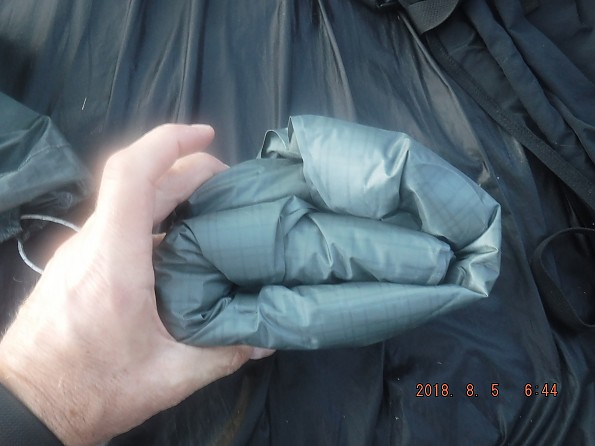 As with most pads, it comes with a full repair kit containing patch, seal, instructions, plus a replacement diaphragm. I have not had to use the replacement yet.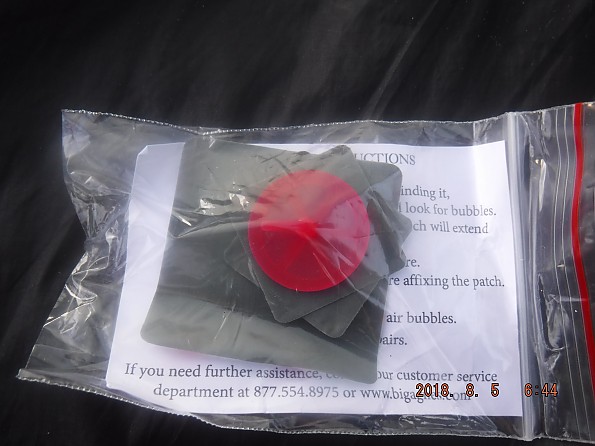 Durability
As I mentioned above, the ripstop material seems so light that I was initially worried about durability. However, there have been no rips/tears/scuffs from approximately six months of use. So far, BA's claim that the material is 25% tougher is holding up, although I really have no idea how to test that number without destroying the thing!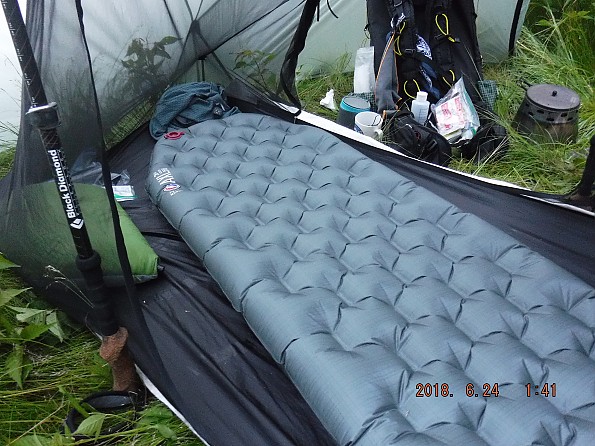 Time will tell, but I also treat my sleeping pads well and protect them from punctures if at all possible—only had one puncture that wasn't seam or valve related since switching to inflatable pads in the early '90s.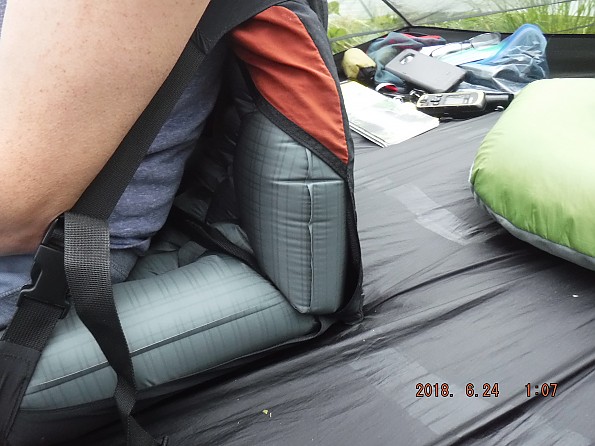 I keep it cinched up in my Trail Chair a lot, but this has not had an effect on the pad that I can tell.


Insulation
This is an interesting category for this mattress, which is not insulated! There is no R value but BA clearly states that it is a warm weather pad intended for above freezing temperatures.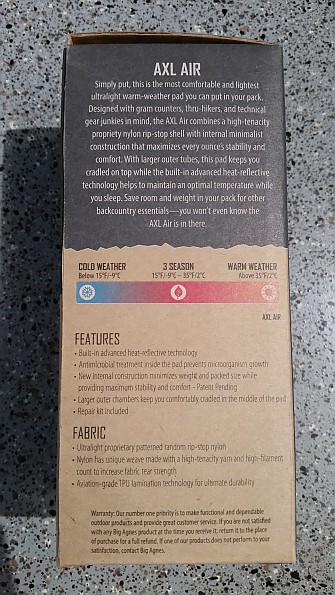 Side note—BA, like a couple of other brands, doesn't publish R values but provides temperature recommendations. There are two sides to this. On the one hand temperature ranges aren't too useful due to different people sleeping warmer/colder than others, while on the other R-value test methods vary between manufacturers so until a rumored standard is released for the industry it is difficult to use that as a comparison. Personal opinion—I still prefer an R value to use as a comparative tool, but ironically my current go-to insulated pad (NEMO Astro Insulated Lite) also doesn't have one!


I find the BA AXL Air comfortable down to about 40 degrees F, but I am a warm sleeper (see Testing below). I would not recommend this pad for non-summer nights or cold sleepers. For warm sleepers, one benefit is it keeps noticeably cooler on summer nights and that helped me sleep better.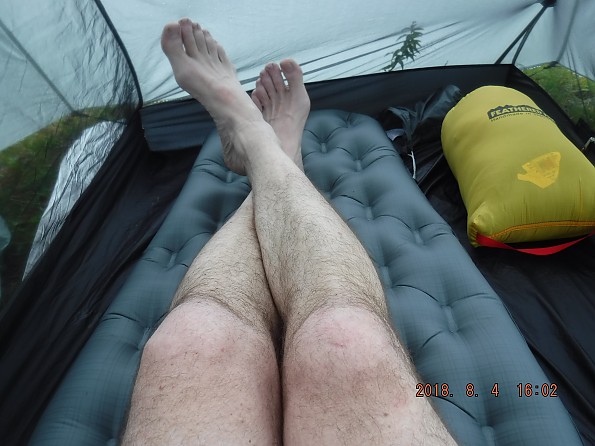 On a recent business trip, I camped in a local state park on a night that reached the high 30's and decided that was my limit for this pad.
I decided to try some "science" to see the difference between this non-insulated pad and our other two go-to insulated pads (Therm-a-Rest NeoAir Xlite far left and NEMO Astro Insulated Lite second from right).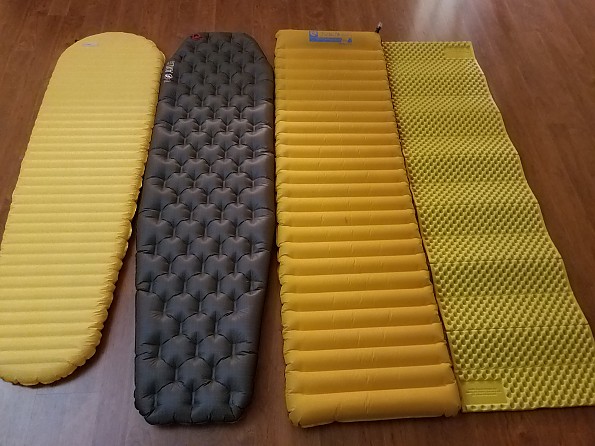 Here are my results of lying on each for five minutes on the floor of our living room with a thermometer placed at the small of my back for the last minute.  I did this twice for each pad with "airing" time between and averaged the results.
BA Air AXL – Average 87.15
NeoAir Xlite– Average 90.35
Astro Insulated Lite – Average 90.15
As you can see there is a marked difference between the two insulated pads and the BA AXL Air. Not a detraction since BA clearly states that it is for warm weather and is significantly lighter than either of the other options!
I found on a couple of occasions that the mattress was noticeably softer than I intended when waking up in the morning. Nothing that really affected comfort, but definitely noticeable. I suspect, but cannot prove, that this may be due to the lack of insulation. Without the insulation holding warmer air in the mattress, the cooling of the mattress would reduce the volume of my hot air breaths more than other mattresses. A pump or other inflation device could offset this though.
Comfort
Overall, my notes from every trip include "very comfortable" somewhere in there.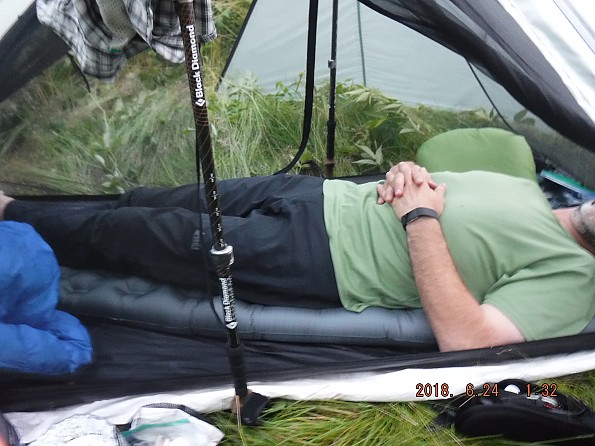 The 3+ inch depth cushioned me well from rocks, roots, and other bumps in the night. As with any pad, you can feel the ground if you push down on one area—i.e. kneel in the middle—but when lying down I didn't feel anything except a few occasions when I somehow managed to line up one of the dimples with a protruding root or rock and my hip while side sleeping. It was not bothersome and was fixed with an ever so slight shift in position. I am not sure I would have noticed except I was being hyper-vigilant in my duties as a Review Corps member!
Compared to the other ultralight pads I mentioned in the opening paragraph, the BA AXL Air has a distinct advantage in thickness (S2S 2", Klymit 2.5", NEMO 3") considering it weighs less than all these mattresses.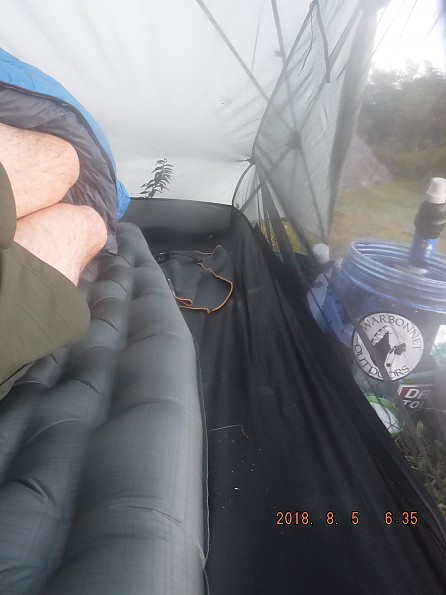 The BA AXL Air is wide enough to toss and turn a good bit, which I tend to do. It is very similar to most pads and typical for mummy shaped ones.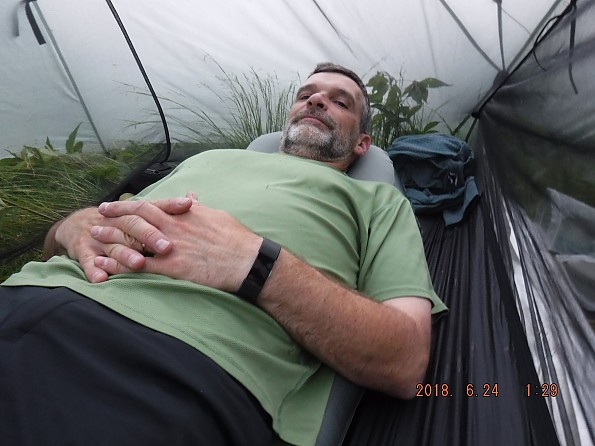 For back sleepers the regular 20-inch width is not quite wide enough to rest your elbows on, like most other pads except the heavier extra wide ones, so I didn't count that against it. Also, since it's a warm weather pad I never got cold elbows!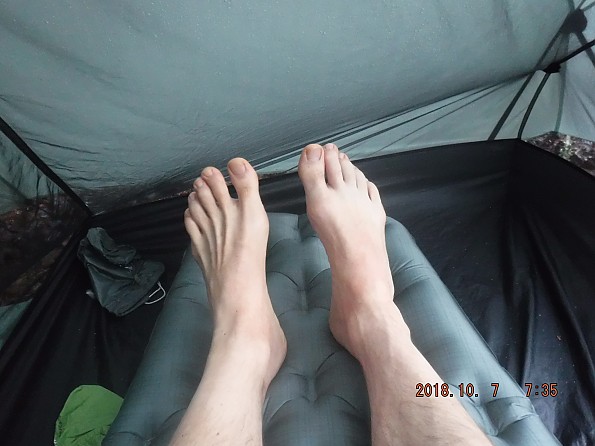 The length was a good size for me (I am exactly 6 ft tall), but if you are over 6 ft your feet will be off the end if you slide down a bit.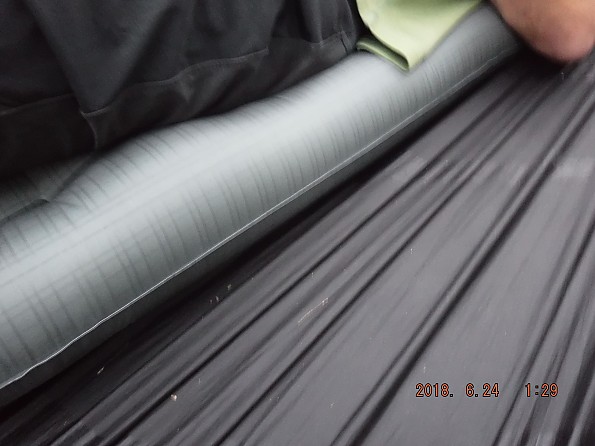 The edge ridge did work well. I never felt like I would roll off although am very used to sleeping on air mattresses.

I slept as well as I usually do on any pad and probably a little better in the warm summer months, as the pad kept me cooler on hot nights.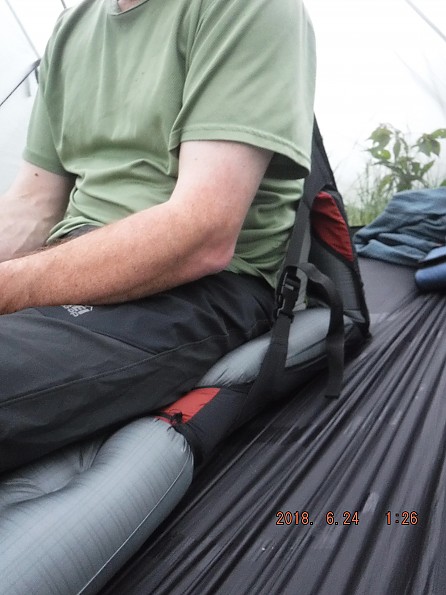 Even though it isn't designed for it, the BA AXL Air was a comfortable seat when combined with my Trail Chair. The valve position while sitting did touch my shoulder blade lightly but caused no discomfort.


Inflation/Deflation
The BA AXL Air was relatively easy to inflate by mouth. My notes show it took from 12 deep breaths to 22 shallow breaths, which may also have been influenced by my exertion level on each trip. The valve worked well and doesn't seem to need additional pressure to blow it up. BA offers a pump option, which would help prevent condensation and leftover snacks from building up in the pad, but I didn't test that. Honestly, if I was going to buy this pad to get comfort below 10 oz. I am not sure I would add a 3 oz. pump to the pack. BA does use microbial inhibiting materials so mildew shouldn't be an issue.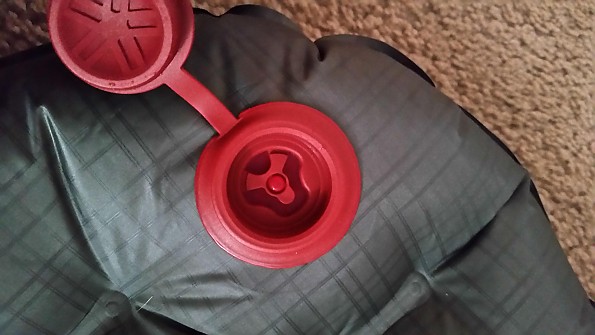 The valve design doesn't work well with DIY inflation devices. I use my pack liner (trash compactor bag) with a home-made tube attachment that works with other brands that have more typical valve systems. This one is flush for the most part so will take some time and thought to rig up a new system and not have to bring a pump or expel the last of my air at the conclusion of a long climb to camp.


See Insulation above for a couple of notes about a slight loss of pressure overnight.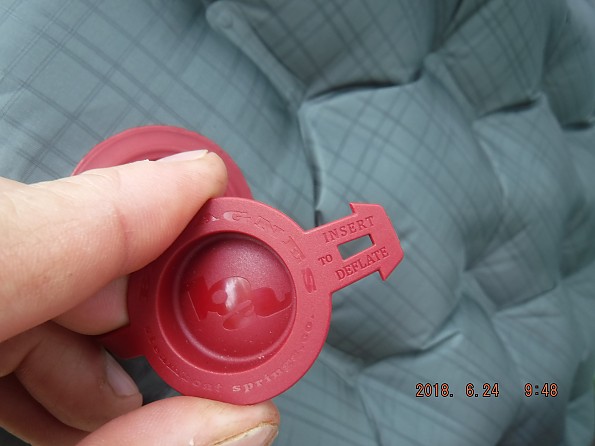 Deflation is relatively easy—just insert the pull tab on the valve cover into the diaphragm to keep it open then roll up as usual.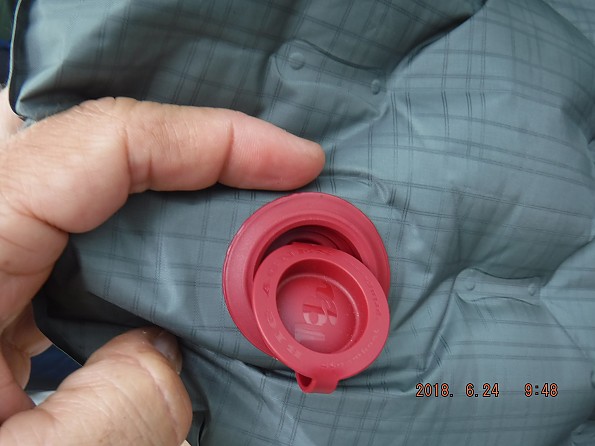 A little air can get trapped at the end but is easy to squeeze out. 
I have seen some complaints online about the speed of deflation, but that seems to be coming from folks who are used to having a second deflation valve, which I have never had. I haven't ever needed to get out of camp that fast! It takes about the same time as my other air mattresses to deflate and roll up.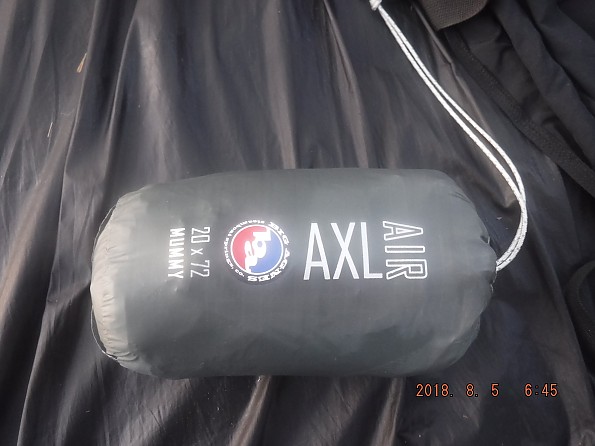 The stuff sack is nicely sized to keep the pad compact but not make it difficult to get back in there—a frustration I have had with many other pads except for this one and my NEMO Astro.

Noise
Next to comfort and insulation, noise is my primary criteria in a sleeping pad as I toss and turn a good bit. The light ripstop material is slightly more noisy than my NEMO Astro, but without the "potato chip bag" insulation it is much quieter than our NeoAir. I have tried to give you an idea of the noise level by rubbing all three…the NeoAir Xlite, the BA AXL Air, and the NEMO Astro Insulated Lite
And rolling around on each one...first the BA AXL Air
The NEMO Astro Insulated Lite...
and the NeoAir Xlite...

Slipperiness
The last key category for me is slipperiness. While I am picky about campsite selection, every once in a while inevitably you end up on a slight slope. Years of occasionally waking up curled up at the bottom of the tent have resulted in wanting a pad that is not slippery on a silnylon tent floor. I partially solved that years ago with a few strips of silicone sealant on the tent floor.
That said, if you don't have a prevention tool, the BA AXL Air is very slick. The light ripstop material lets the pad slide around the tent. So back to the "lab" to compare…
the BA AXL Air...
the NEMO Astro Insulated Lite...
and the NeoAir Xlite...
As you can see from the very unscientific test in the video above, the BA AXL Air is similar in "slidability" to my NEMO Astro. The Therm-a-Rest NeoAir Xlite is a lot less slick. Again, this was not an issue in my tent due to the silicon strips on my inner floor.

Tester/Testing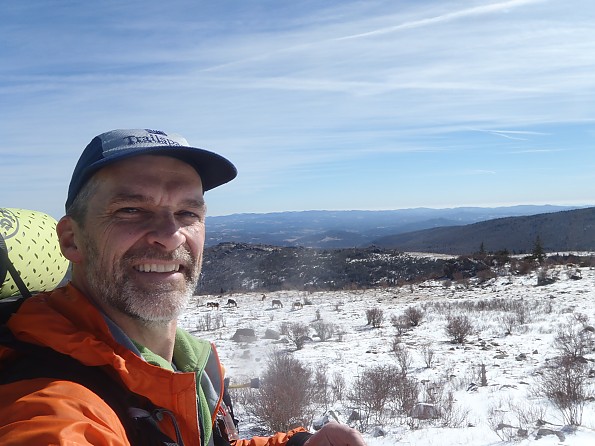 A key factor in evaluating a sleeping pad review is the tester's metabolism as warmth can be a relative factor. I have a pretty good metabolism and tend to sleep warm and prefer nights below 40 for a good sleep, ideally below freezing. I carry a 30-degree bag until night temperatures drop into the teens, and then my 15-degree bag is comfortable down close to zero.
My inflatable mattress experience includes the classic self-inflating Therm-a-Rests, an old REI foam/air combo (ProLite I think), the NeoAir Xlite, and the NEMO Astro Insulated Lite (my go-to for the last few years supplemented in winter with a foam pad once it drops below 20 degrees F). I have never used an un-insulated inflatable pad like this one before, except a brief dabble with a pool float-like mattress in the late '90s.
Testing occurred primarily from March to October 2018 in the Southeastern and mid-Atlantic U.S. mountains.  Temperature ranges from lows in the high 30s (once) to 70s, but mostly in the 40s and 50s. Camps included sheltered and exposed windy sites. The BA AXL Air was always used in my Tarpent Stratospire 1 with netting inner and solid bathtub floor.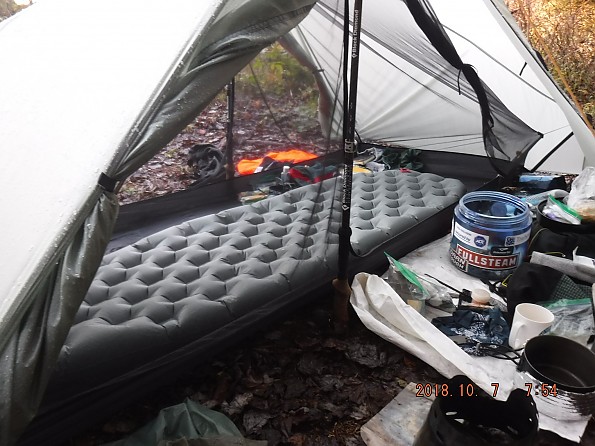 Over half the nights there was also my trusty Tyvek ground sheet below it.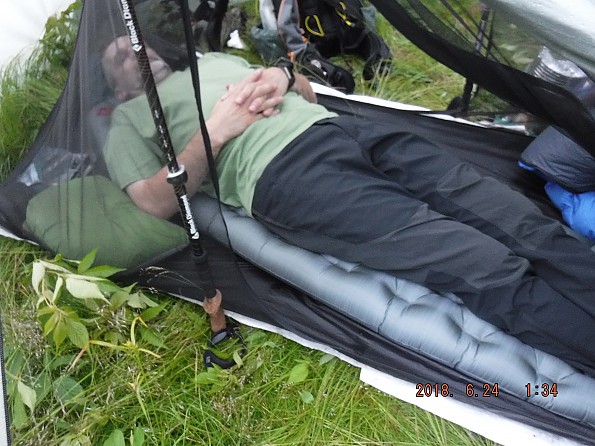 I used the pad on five weekend backpacking trips (11 total nights) and unfortunately did not take it on my two-week crossing of Scotland as weather there is too unpredictable (but it would have done fine in the excellent weather I had!). Substrate under my tent was anywhere from grass to rock to forest floor with roots etc. My cold weather limit test occurred in a state park on a business trip—a hike-in tent site on an exposed ridge on a large lake where temps were around 38 degrees F. I also took the BA AXL Air on many day hikes and lounged around for lunch on the Tyvek sheet. My at-home "lab" tests are summarized above and in the videos, but also included several nights sleeping on hardwood floors at various inflations to tune and test the pad, and about six more nights sleeping on it at my father-in-law's place on top of a rock-hard mattress or on the floor.
Recommendation
The BA AXL Air is a comfortable warm weather pad that is extremely light and packs down well. It is certainly a niche purchase—great for mild weather trips, those who don't sleep well in warm weather, and gram weenies looking to shave some more base weight. For shoulder seasons and variable weather, I would consider going with BA's insulated version that only weighs a few ounces more. You could extend the season for this pad by carrying a supplemental foam pad (like the BA Third Degree), however that combination would be heavier than simply going with the insulated version. This is not a one-pad fits all solution but a niche pad that could work down to the mid-40s F for a warm sleeper like me. It might be just the ticket for an ultralighter/thru-hiker that counts every gram but not every penny, and spends a lot of time on the trail in the summer months. 
While I often donate previously tested items to outdoor organizations, if allowed to keep this mattress I'll definitely use it to lighten my base weight in late spring, summer, and early fall. 
Thanks to Big Agnes and Trailspace for allowing me to test the BA AXL Air.
Source: received for testing via the Trailspace Review Corps (Sample for testing and review provided by Big Agnes)

Your Review
Where to Buy
Help support this site by making your next gear purchase through one of the links above. Click a link, buy what you need, and the seller will contribute a portion of the purchase price to support Trailspace's independent gear reviews.
You May Like
Specs
| | |
| --- | --- |
| Price | Historic Range: $62.98-$189.95 |