Therm-a-Rest NeoAir Topo Luxe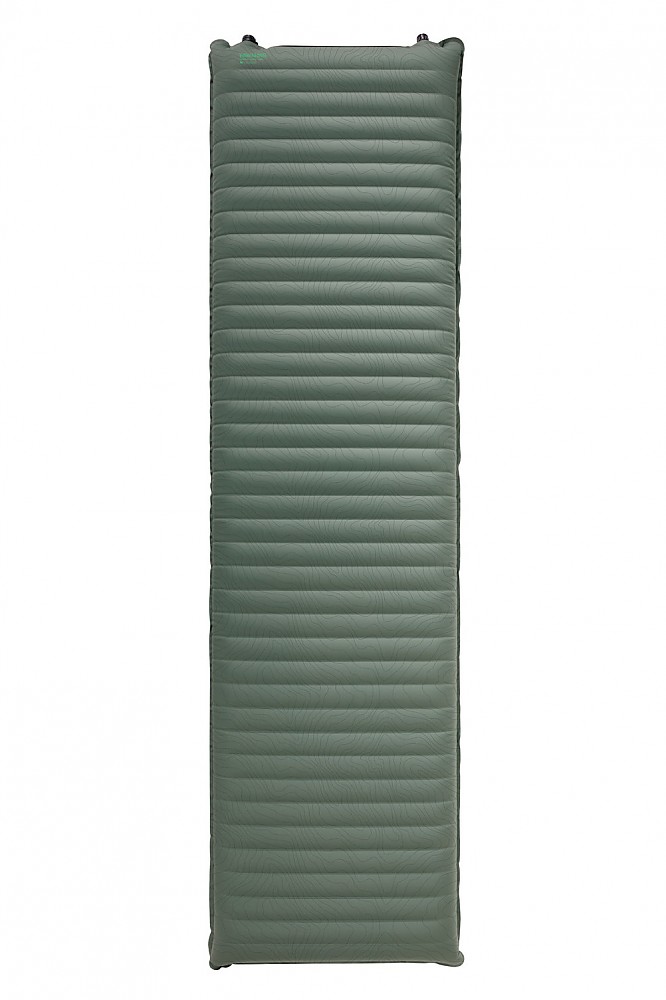 The NeoAir Topo Luxe offers excellent comfort and insulation for a price in weight and pocketbook. For "comfortably light" hikers (not ultralight!), this is the "recliner" for your back country living room. Warm enough to take you into at least the shoulder seasons, unbelievably comfy, sturdily constructed, and much quieter than other NeoAir models. Weight is the big issue (1lb 7-14 oz depending on size), but the 4-inch height also might have to be factored in for those who are tall enough to be near your tent walls. At this height, it's also a bit bouncy if you are sensitive to that.
Pros
Lux(e)urious comfort
Room to roll around
No sag at edge
Easy inflate/deflate TwinLock valves
Warm to shoulder seasons
Works great with the Trekker Chair Kit
Cons
Heavy for backpacking
Pump sack needed
4" height may push feet into some tent walls
Can bounce a bit especially fully inflated
Adaptability to other inflators may vary
This is a preliminary review after two months of testing. More to come this winter!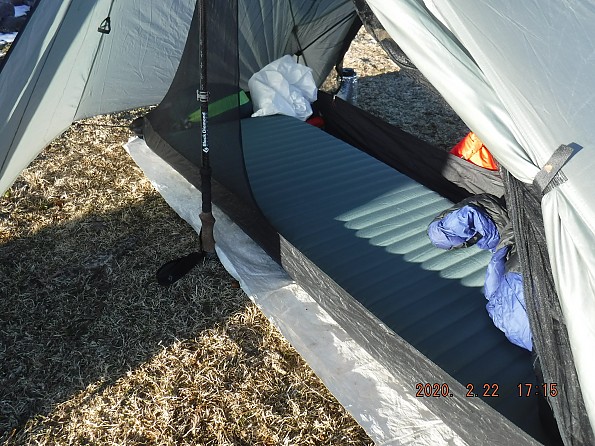 I have trimmed my pack weight down over the years to what I call "comfortably light," with emphasis on the comfort. Therefore I was excited to test the new NeoAir Topo Luxe as it seemed to fit my style of adding on a bit of weight in order to lounge comfortably in camp. Or I could have just been looking forward to all the hard work "testing" the Topo Luxe...

The NeoAir Topo Luxe is a comfort-first sleeping pad for those who balance luxury and weight. Specifications for the various sizes of pads are:


My pre-production model seems to have the measurements of a large, but the weight of a regular wide (my specs in gray above).  I consider it a large for the testing purposes below as only the weight differs a bit.  P.S.  On making a couple of edits I had a "Doh!" moment - the weight difference may be the inclusion of the stuff sack, which I didn't include in my weights!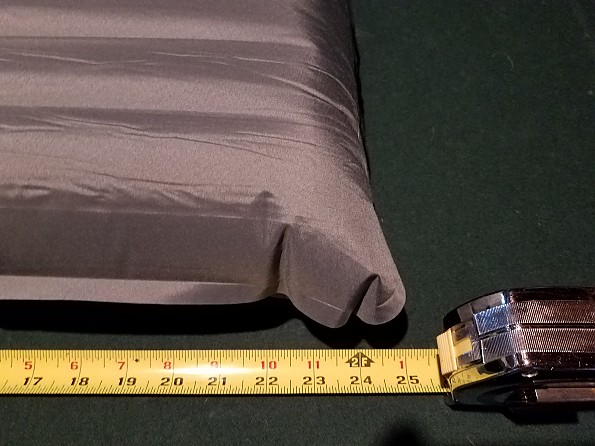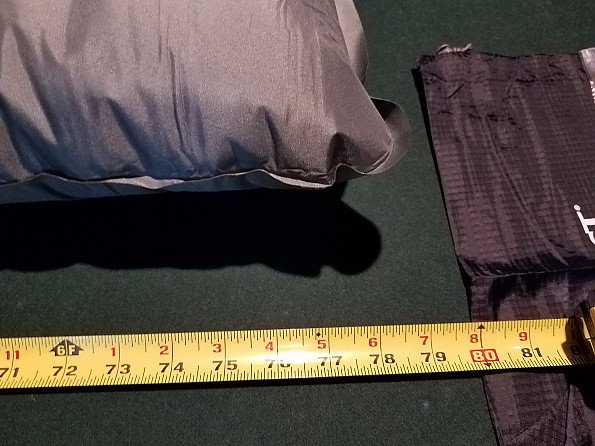 The R-value (new 2020 ASTM Standard) is 3.7 for all sizes, which corresponds generally to a three-season pad recommendation (see Warmth below). They come in "Balsam" color, with the retail version having a cool topographic print on it (hence the name).

The Topo Luxe comes with a stuff sack,

repair kit,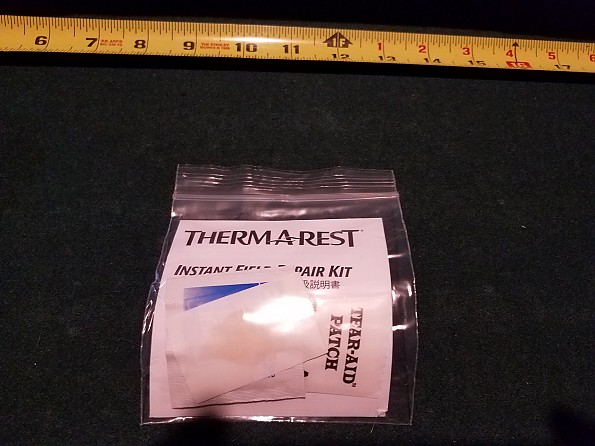 and pump sack.
I was provided two different sample pads (NeoAir Topo and NeoAir Topo Luxe) without a pump sack for initial testing, but have since been provided one.  I haven't used the Blockerlite Pump Sack much on the Topo Luxe since receiving it, since I switched to testing the Topo, but will update in the fall once I start using the Topo Luxe again.
The main differences (Topo versus Topo Luxe) are thickness (3" versus 4"), R-Value (2.3 versus 3.7), and valve (single Wing Lock versus dual TwinLock).  Basically, the Topo is the more budget friendly version of the Topo Luxe with the sacrifices above, but may also work better if you don't want the full 4-inch pad.
Setup
Setup of the Topo Luxe was relatively simple like most air mattresses. Unroll the pad and inflate...without the pump sack I had the choice to either inflate by breath or use an inflation device. I chose to test by breath one time, and then use my standard compactor bag pack liner/inflation device.
This is not a pad to inflate by lung power...it took about 45 breaths for me...not unexpected for a large pad like this, but not something I would like to do after a day of climbing hills! Plus, it is never recommended to consistently inflate by breath due to the potential for moisture build-up. That's less of a problem with the reflective NeoAir insulation, but still could contribute to mold etc.
Due to my adapter being different I used the deflation "Out" TwinLock valve to inflate, which worked quite well.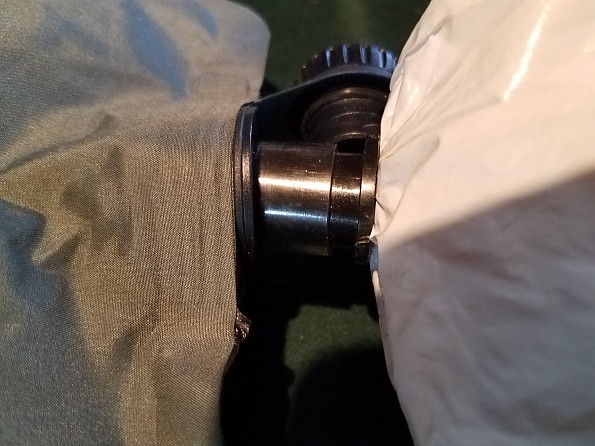 Three bags with a puff of air each and the Topo Luxe was inflated.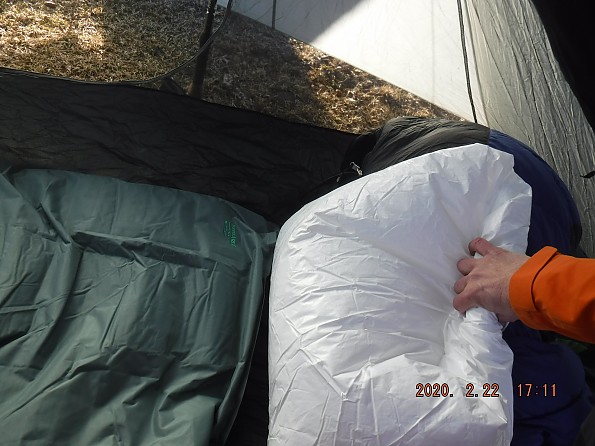 A little air is lost uncoupling the inflator from the open deflation valve, but a couple of breaths of air filled it back up. So a net savings of about 43 breaths over the old fashioned way!
Since receiving the Blockerlite Pump Sack, I home-tested it a couple of times on the Topo Luxe.  With my laid back approach (not worrying if the sack is completely full of air) it seems to take 10-12 sacks to inflate, but still very easy.  More to come on that in fall/winter testing.
Deflation is easy—the "Out" valve is wide open and the pad empties efficiently.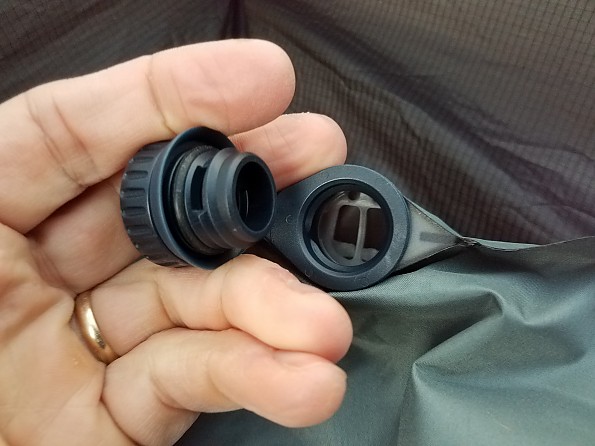 Rolling up the pad is pretty easy—I roll first before folding...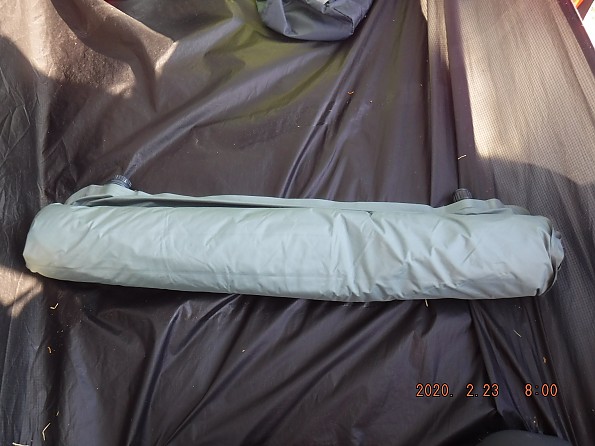 and fold in half,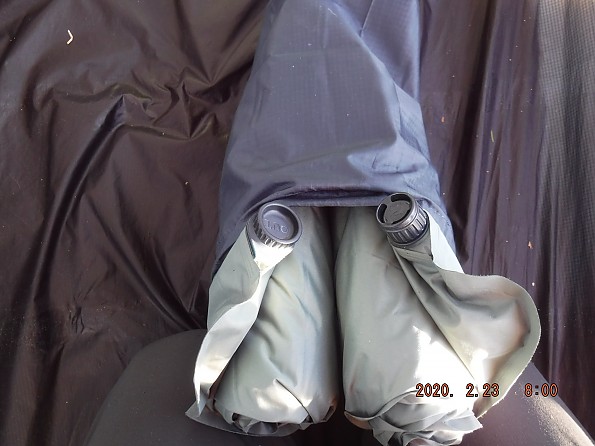 which fits well in the supplied stuff sack.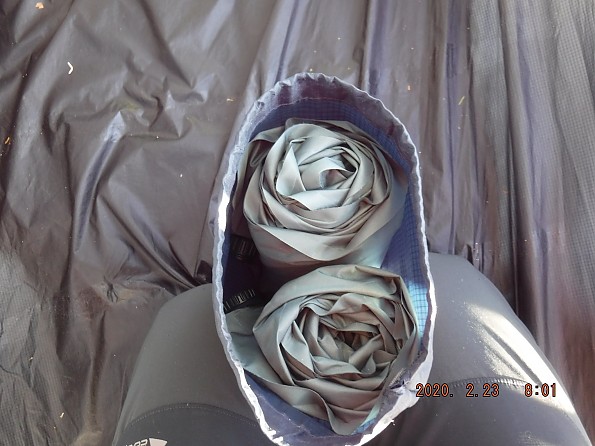 Warmth
The 3.7 R-value seems suitable for a three-season pad. I am not fully calibrated to the new ASTM standard, but this seems about right for me based on prior sleeping pads. The Triangular Core Matrix (two layers of triangular baffles) seems to do its job of providing a warm insulating layer between me and the frozen ground.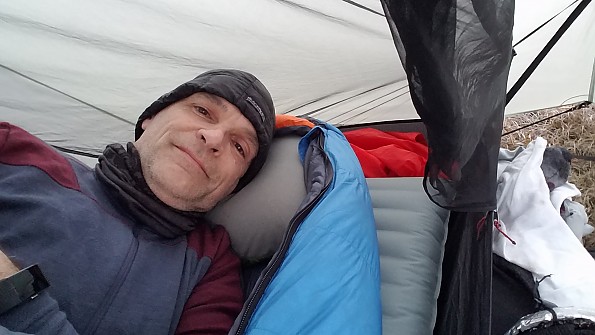 Night time temperatures down to the low 20s (F) were comfortable. I wasn't able to get out in temperatures below that, but did feel that the mattress was "cooler" around 20 degrees so wouldn't recommend lower than that at this time.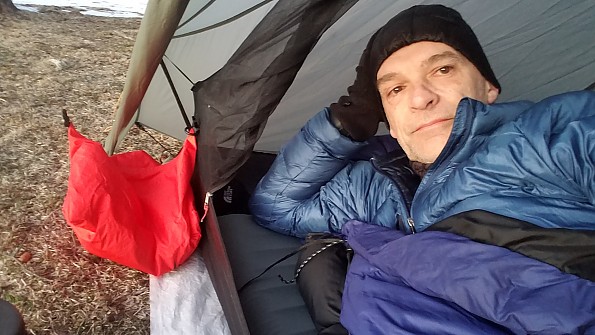 The highest temperature I've had it in so far is the 50s and I didn't feel too warm.
Due to my lack of familiarity with the new R-value ASTM standard, I had to "science" it up a bit and compare insulation to a couple of other pads I have used lately, as well as the regular Topo I will be testing next. So I set up a "lab" in our house for some hard work...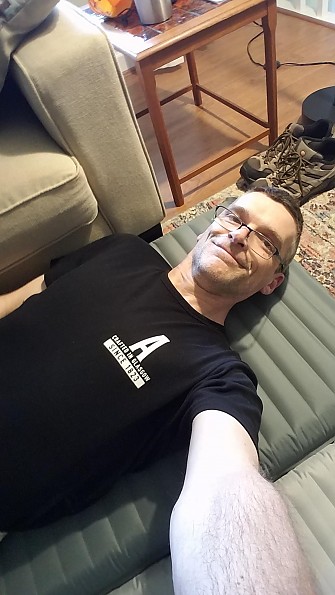 and used two thermometers under the small of my back.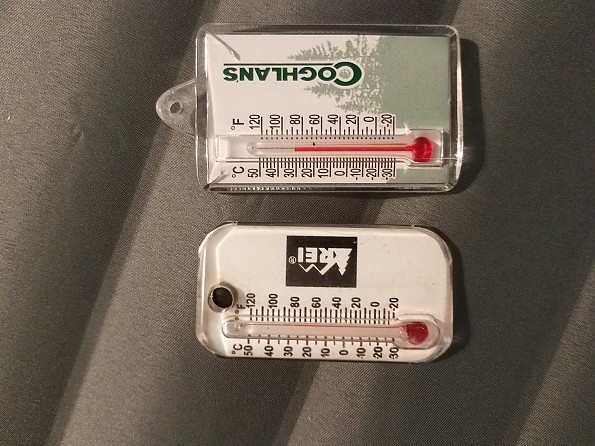 Starting each time at 70 degrees F, I lay on each pad for 10 minutes then took an average of both thermometer readings (rounded to 2.5 degrees F). Here are the results:


I am not sure these numbers mean much at all, but I'm not trying to publish this in a scientific journal! Note the temperature and R-value differences are based on the un-insulated AXL Air for a control. However you interpret these results, clearly the Topo Luxe is warmer than the others...not a surprise when you look at the R values. So I guess this was a waste of time, but I got 40 minutes of rest!
Comfort
The Topo Luxe is targeted toward comfort and it hits the bullseye for me. I don't recall ever having a better night's sleep than on this 4-inch thick pad. For comparison, the Topo version is 3 inches, which is extremely comfortable as well, but the Luxe version tested here takes it up one more notch.
I camped several nights on rocky/rooted ground to shelter from wind and snow storms and never felt a bump, but also forgot to take photos due to the rotten weather.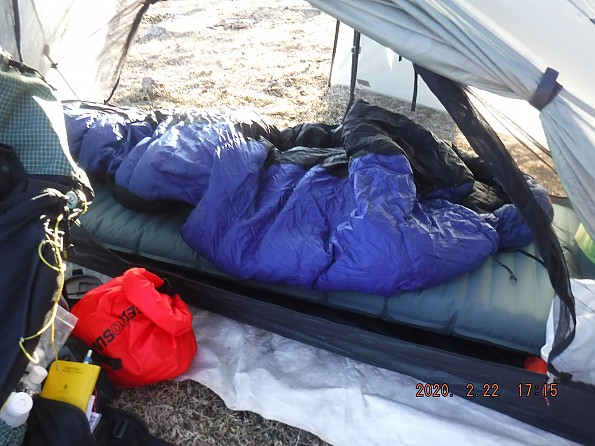 I am a back and side sleeper (mostly side) and was very comfortable. My hip never touched the ground and sitting up I didn't "bottom out" either, even when slightly deflated for comfort.


The large size provided by Therm-a-Rest was perfect for my 6-foot frame. I had room to roll around without falling off.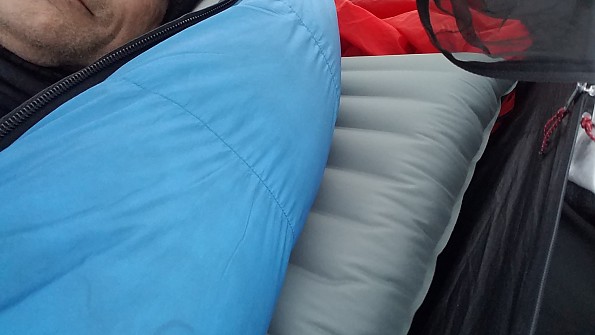 I even slept close to the edge and didn't feel like I was about to land on the ground. Therm-a-Rest states that its Triangular Core Matrix double-layered baffle design helps with this stability and I can't disagree. (Please ignore the Trekker Chair in the photo below—I slept near the edge without that on the mattress and still didn't have issues but forgot to take a photo.)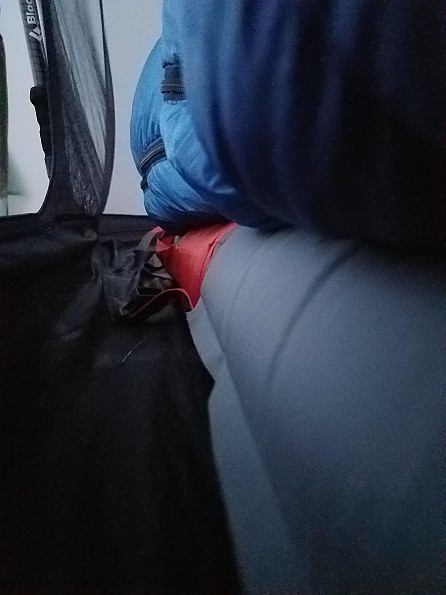 As at least a part-time back sleeper, I have grown to appreciate 24-inch pad widths as opposed to 20 inches or less. I like my elbows resting on the pad at my side without fear of them slipping off.
To illustrate how well I slept on the Topo Luxe...a short tale:
I usually leave at least two of my four door sides open on my Stratospire 1 to allow for views of stars and fresh air unless conditions are terrible. Typically I shift them to keep an upwind wall on either side.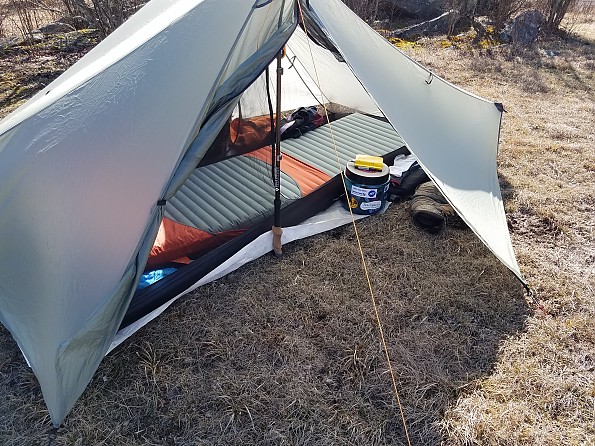 I sleep light enough that I always wake up if weather changes before too much moisture gets in from a shift in wind direction or change in conditions. One night I had fantastic views lounging on the Topo Luxe and weather looked good for the night. I had planned to stargaze for a while then zip up a couple of doors, but promptly fell asleep around 7:30. Next thing I knew, it was 4 a.m. and a really dense fog had rolled in soaking everything as the tent was wide open on all sides! I have encountered fog like this before and always woken up quickly. So everything ended up wet or dripping. A solid night's sleep, and the Topo Luxe also stayed warm even when a bit damp.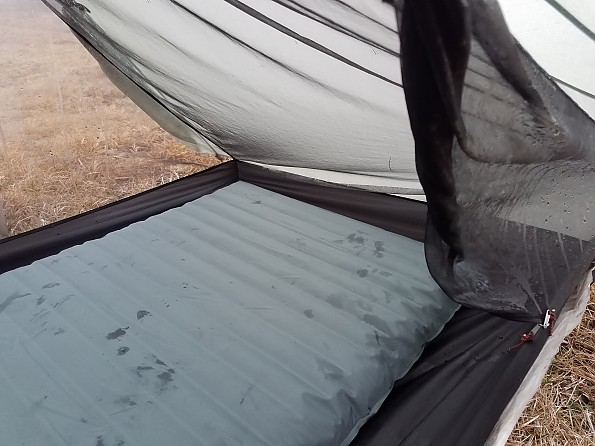 Some folks may have an issue with the "bounciness" of this pad. I tend to fill my air mattresses all the way up then deflate a bit to hit my sweet spot. This turned out no different for me on the Topo Luxe and I slept well. However, I would classify it in the bouncy category–it definitely had a "spring in its step when inflating."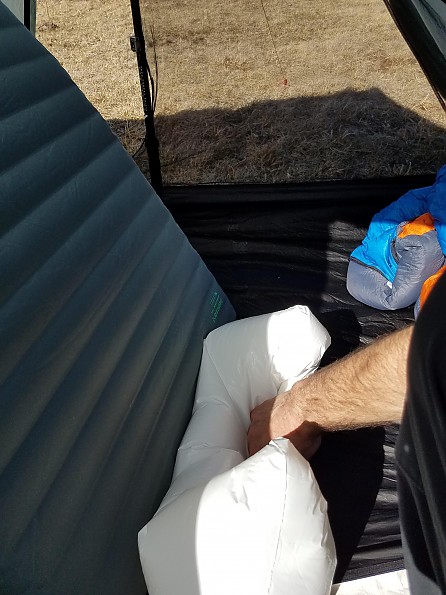 Fully inflated it is a bit bouncy due to the 4-inch height. The easiest way to describe this is in pictures...here I am back at home sitting all my weight in the middle of the pad with my legs off it...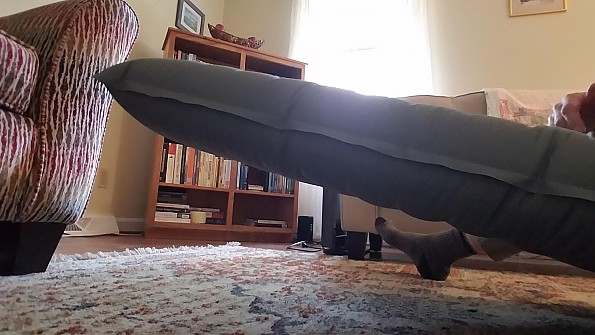 However when resting fully on it sitting or lying down I didn't notice it that much. For those who need a fully inflated mattress this may be a bigger issue. 

Ease of Use
One main issue that may arise with the Topo Luxe is the size. It takes up a lot of room in a tent, especially if you have a small footprint like many one-person tents.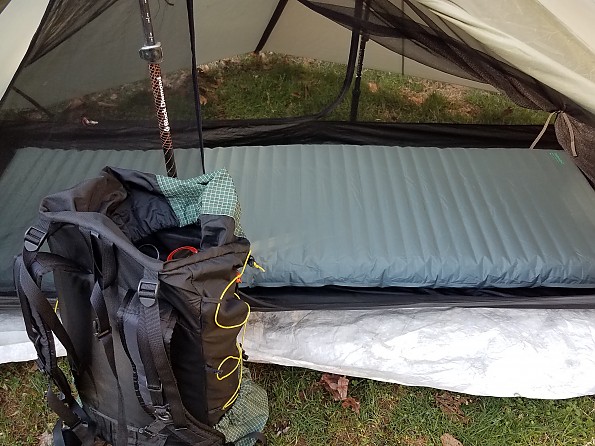 In the Stratospire 1, with around 20 square feet inner space, there was enough room around the sides for all my gear.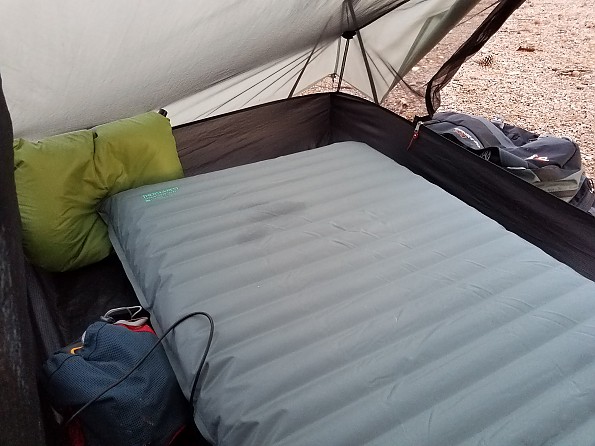 A bigger issue for taller folks, the 4-inch height of the pad is so tall it could push your feet into a sloping tent wall, which may introduce moisture into your tent. I just touched if I slid my mattress down the tent, but usually I sleep at a slight angle to the right where the walls are higher.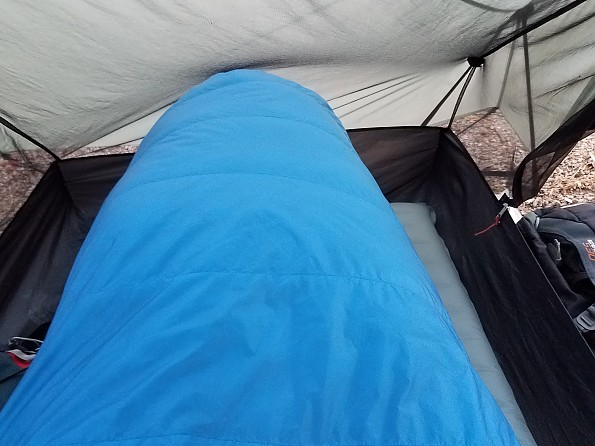 I would measure the clearance between your sleeping bag and tent wall then add the additional height if you currently have a smaller pad to make sure before purchasing. If this is an issue with your shelter, and height, maybe compare the Topo Luxe with the Topo (3") to see if the 1-inch height difference would help prevent that. But note other differences like the lower R-value of the Topo.
If you want to turn the comfort dial up to 11...I always haul along a Therm-a-Rest Trekker chair kit for lounging in the tent, and the 25-inch version fit the Topo Luxe perfectly. It's the best seat I have found - almost like being in a recliner!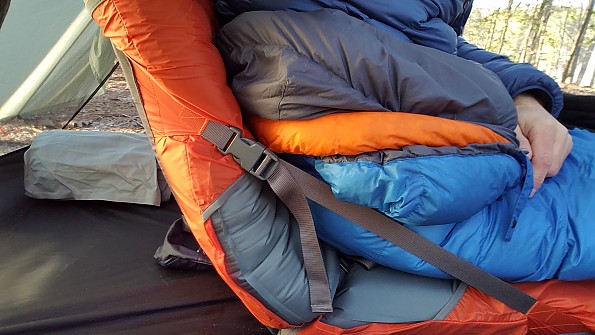 Sitting up in the Stratospire 1 with the Trekker chair, I just fit but could have adjusted the "recliner" a bit to prevent touching the sides.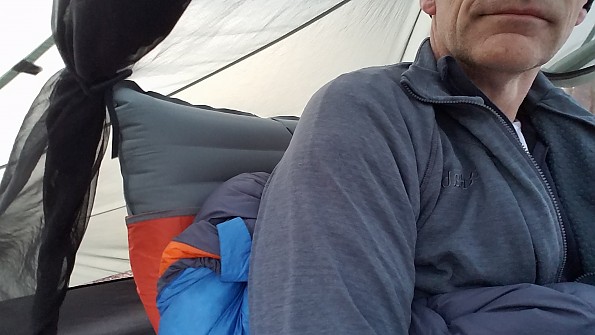 It is also easy to get on and off, but can be left on all night without issue so you can just clip up your "recliner" as your coffee brews in the morning.

Weight & Packability
If you are looking for an ultralight sleeping mattress, Therm-a-Rest has many options for you, but the Topo Luxe is not it. This pad, coming in at a whopping 1 pound 10 3/8 ounces (761 grams) for the test model on my scale, is designed for comfort, and pushes the limits of a backpacking pad weight. (See my note in the Spec section about the size and weight of my sample versus the current models.)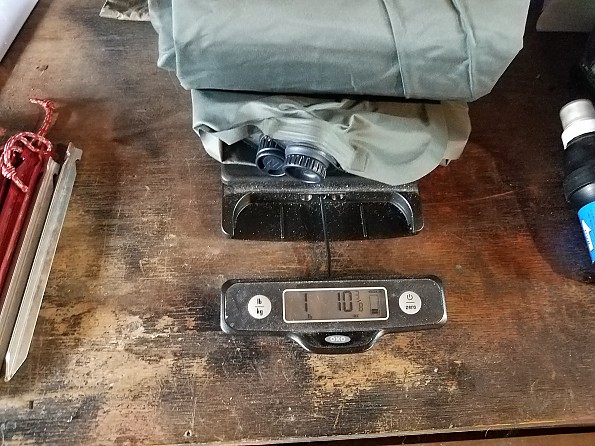 I did not have a problem with this weight, having long ago converted to a comfort approach by lightening up on other gear.
It is interesting to note that the weight range of the Topo Luxe sizes (1lb 7oz to 1lb 14oz) is not that much different, and actually smaller, than the lower (3") Topo (1lb 7oz to 1lb 15oz). With the Topo having a lower R-value, it might be a choice for cooler sleeps in summer camping luxury, better fit in some shelters, and for folks whose budgets are a bit tighter.
Packing up is easy...I found folding in half works best (see Setup above). That fits in the provided stuff sack with ease, but is a little taller than the original packing which was folded in thirds.
The Topo Luxe is larger than a typical water bottle when folded this way, but easier to repack.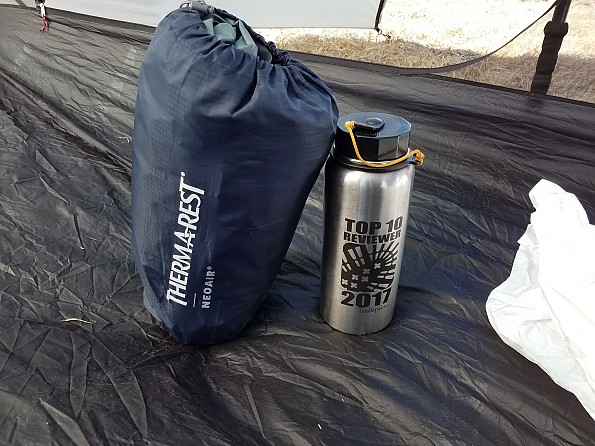 Noise
Noisy sleeping pads are a real pet peeve for me, and one that's kept me from using other excellent NeoAir mattresses. I can't abide the "potato chip bag" sound a lot of mattresses have. Even though I have been told it fades, I am not willing to give up that much sleep for that to happen!
It may be due to the thickness or the design, but the Topo Luxe is much quieter than the other NeoAir products I have tried. Here's a quick squeeze video to give you an idea on what it would sound like rolling around:
That's the Topo Luxe compared to the more standard thickness Topo I'll be testing next. I am not sure if it's the internal structure or the height that makes the Topo Luxe much quieter, but I really appreciate it!
Construction/Durability
The Topo Luxe seems to be constructed sturdily—typical Therm-a-Rest construction. I had no reservation cinching the 50D polyester material in the Trekker Chair.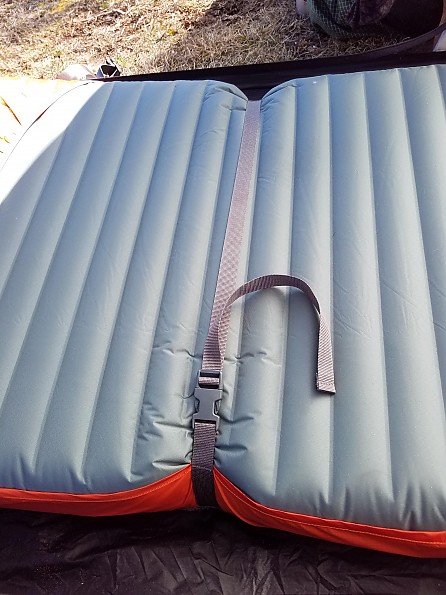 Obviously after only a couple of months I can't attest to durability, but will come back to that this winter.
The TwinLock valves lock and unlock without undue stress on the material around them—something that I think matters in the long run.  The inflation valve looks similar to prior NeoAir models, but my Xlite is currently out on long-term loan (over a year now) so I can't make a direct size comparison.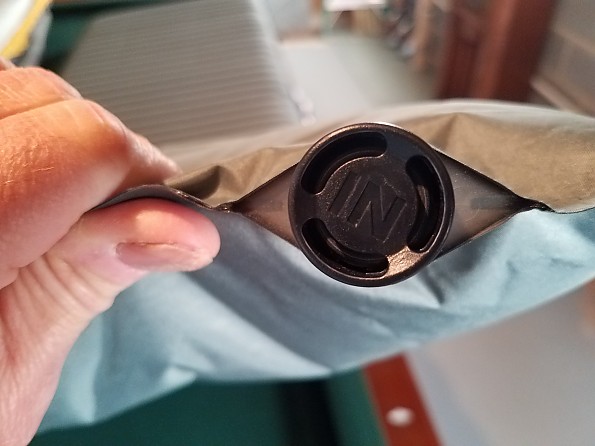 So here is a measurement for you: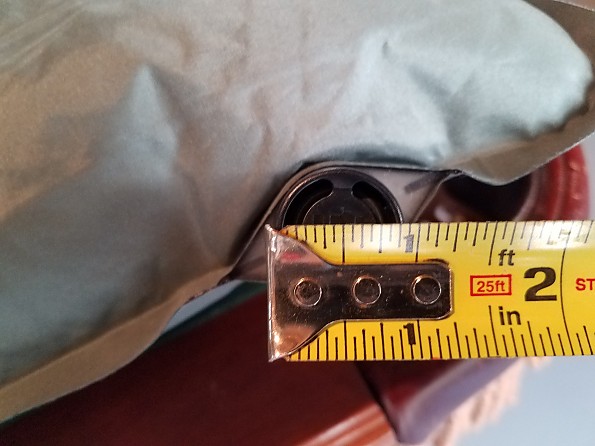 The deflation valve is a more simple port. See Setup above for more photos.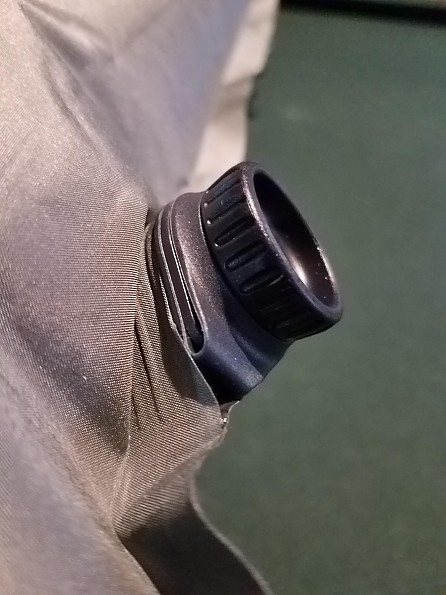 and measures slightly bigger, which makes for easy deflation.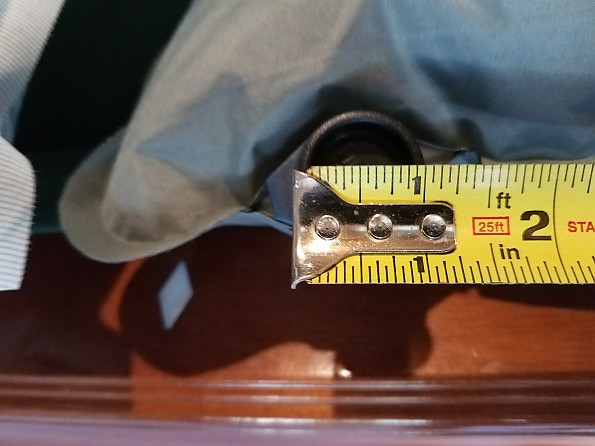 Conditions
I have tested the NeoAir Topo Luxe from late January through March 2020 on three backpacking trips (7 nights total) in temperatures from around 20 degrees F to high 40s. Weather included a snowstorm (about 4 inches), winds up to 30 mph, and rain.
In addition,  I have slept on the NeoAir Topo Luxe during multiple regular business trips where I prefer staying at a local state park or campground to paying for a hotel (I sleep better outside).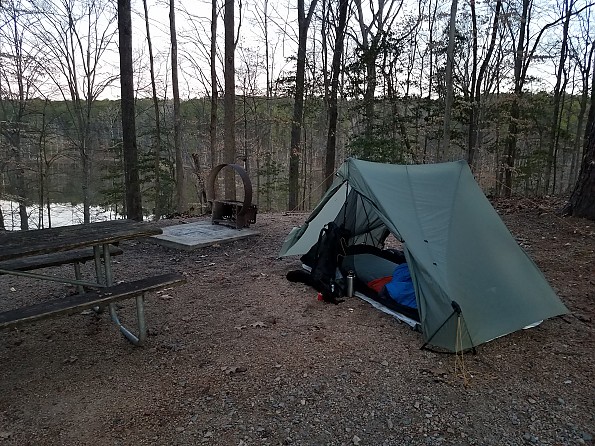 Finally, I have slept several nights outside in the backyard "lab" to catch the lowest temperatures when they didn't line up with planned trips.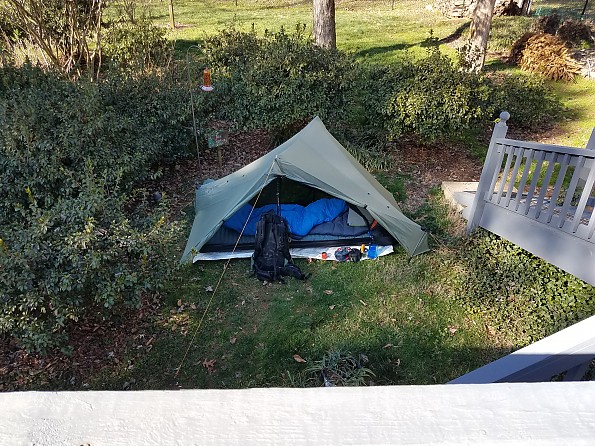 Recommendation
I highly recommend giving the NeoAir Topo Luxe a try if you love to lounge around a tent in the evening and like maximizing comfort by carrying additional weight. And don't forget to check out the Trekker Chair Kit if you really want to up your lounging game.  For the more budget-conscious hiker, the Topo version gets close to the same comfort but sacrifices R-value.
For ultra-lighters, stick with another NeoAir model—there are lots to choose from, but this middle aged hiker appreciates the extra ounces and extra sleep. Just keep in mind the size, and be wary if you don't like a bit of bounce in the mattress.
I'll test this pad further in the fall when cold temperatures return so I can comment more on the durability and low temperature limit for me. 
Background
I converted from foam pads to air mattresses in the mid '90s, and have been a dedicated user ever since. Since around 2005 I have upped my game by sleeping on cushier mattresses (2-3 inches) opting for comfort over weight savings, which I make up for in other areas. I do bring a foam pad in the winter as a supplement, but no longer use that as a primary part of my sleep system in three-season weather.
Source: received for testing via the Trailspace Review Corps (Sample for testing and review provided by Therm-a-Rest)

When Therm-a-Rest uses the word "Luxe", boy is it ever. The materials are first quality. It is always comfortable, and you can tell it is a deluxe item. Large is 25x77" and weighs 1lb 13oz. The loft is 10cm (4").
Pros
Highest quality materials
Super comfortable and warm
Packs easily back into stuff sack
Assembled in US
Cons
Valves are good quality but stiff for my hands.
Large air volume takes a while to pump-sac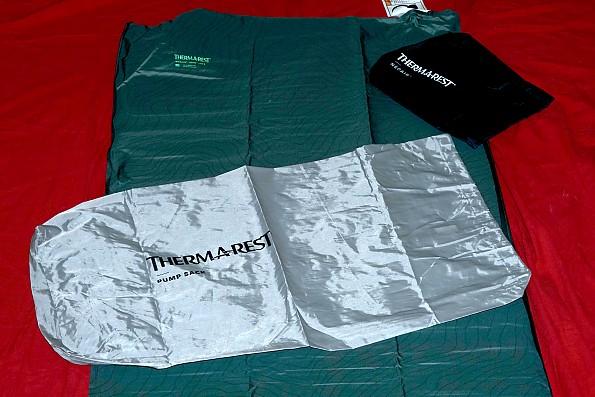 What a great piece of equipment! I have used it for a whole year of, well, non-backpacking camping. Yeah, I'm kind of a wimp. Even though it stows compactly in the original bag with no fuss, the extra 12 or so ounces more than my Big Agnes is enough to not drop it in my pack for backcountry. My buddy says, "get tougher," but tell that to my knees.
My large is 25x77" and weighs 1lb 13oz. The loft is 10cm (4") and is always very comfortable. The mattress has an R 3.7, just the thing for Snow Cave comfort.
When Therm-a-Rest uses the word "Luxe", boy is it ever. The materials are first quality. It is always comfortable and you can tell it is a deluxe item. That really helps one to sleep soundly in the tent, or cramped snow cave.
Some examples: Was just at a week long camp near Yellowstone and this beaut held air the whole time.Never had to adjust it once. And due to a "cold/Covid?" I spent a couple days snoozing in my tent in Colorado while my buddies did a couple 14ers—so comfy. And more than once overnight when the temp unexpectedly dipped to 20 degrees the insulation did its job, another all night rain, well, you get the picture, the NeoAir Luxe turned those nights from borderline miserable to pleasant.
Several times I have had some water in the tent and even though the pad was damp in spots, I was still insulated. Throughout the last year, it has not leaked air at all. And it easily packs back into the stuff sac including the pump sac.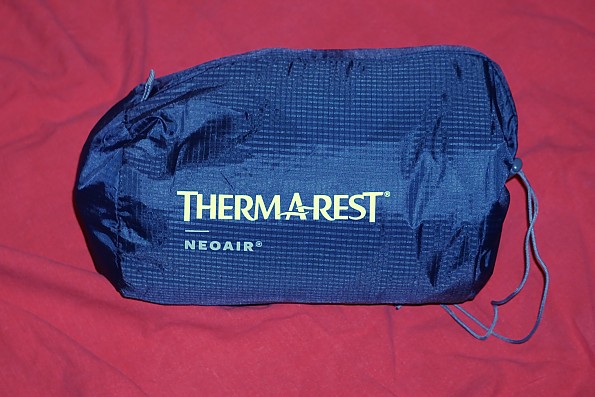 The pump sack is huge! As is the volume of air needed to inflate this NeoAir. Needs some patience to inflate. The included instructions say "blow into the pumpsac." Hmmm, one would need super lungs, especially at altitude. Best use the arm shoved into the sack, flop it around for volume, and roll that sucker up quickly. See video.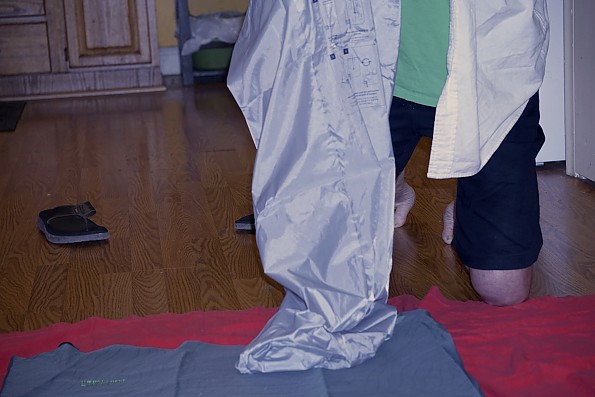 The only knock I have is even though the In and Out valves are very high quality, it is difficult for me to connect the pump sack. And it is so secure, it is difficult to disconnect. But that does speak to the durability of the valves.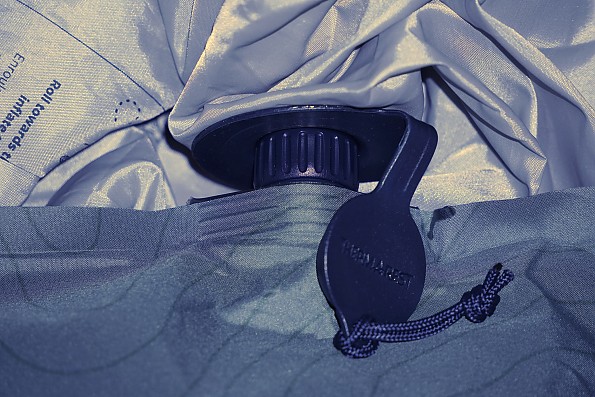 If you weary of cold, lumpy nights on the trail, this will fix you right up. For most backpacking folks the weight is just fine. All in all this is a wonderful sleeping pad from an outstanding company and worth the investment! Thanks, Trailspace and Cascade Designs!
Background
Lots of years and miles in the back country. Started years ago with the original Therm-a-Rest self-inflating pad. Still holds air, mind you. My ultra-light pad is a Big Agnes. Comfy anywhere with this sleeping pad quiver. Bad metaphor...
Source: received it as a sample, freebie, or prize (Trailspace and Cascade Designs gear giveaway (June 2022))

Your Review
Where to Buy
Help support this site by making your next gear purchase through one of the links above. Click a link, buy what you need, and the seller will contribute a portion of the purchase price to support Trailspace's independent gear reviews.
You May Like
Specs
regular
regular wide
large
XL
Price
MSRP: $169.95
Current Retail: $149.95-$229.95
Historic Range: $99.99-$229.95

R-Value
3.7

Weight
1 lb 7 oz / 0.65 kg
1 lb 11 oz / 0.77 kg
1 lb 13 oz / 0.82 kg
2 lbs 5 oz / 1.05 kg
Width
20 in / 51 cm
25 in / 64 cm
25 in / 64 cm
30 in / 76 cm
Length
72 in / 183 cm
72 in / 183 cm
77 in / 196 cm
77 in / 196 cm
Height/Thickness
4 in / 10 cm

Packed Dimension
9.5 x 5.7 in / 24 x 14 cm
11.5 x 6 in / 29 x 15 cm
11.5 x 6 in / 29 x 15 cm
13.5 x 6.2 in / 34 x 16 cm
Top Fabric
50D polyester knit

Bottom Fabric
50D polyester

Materials
polyester, polyurethane, nylon

Recently on Trailspace