Therm-a-Rest Women's NeoAir XLite

#1 in women's Air-Filled Sleeping Pads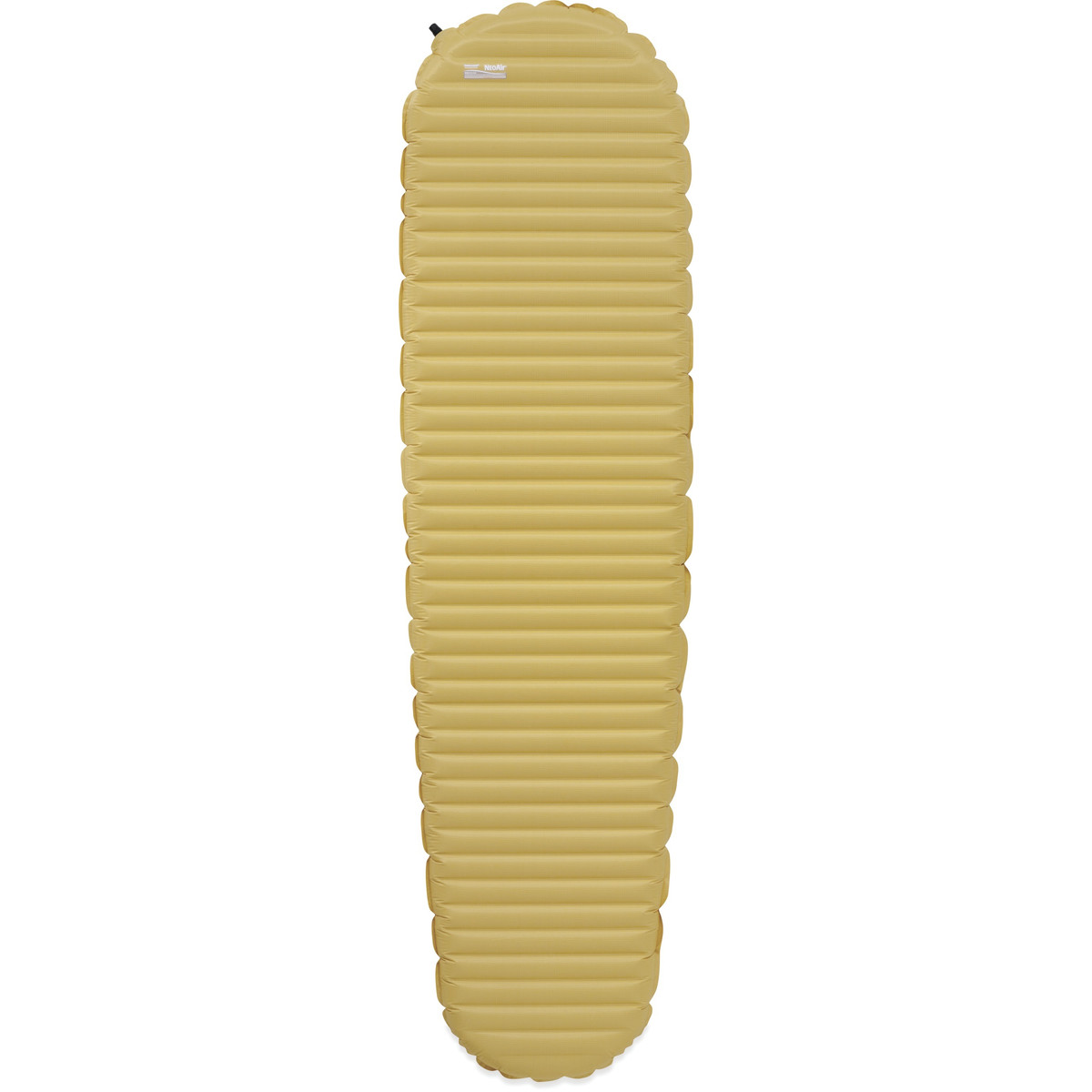 Specs
Price
MSRP: $174.95
Current Retail: $159.95-$179.95
Historic Range: $95.97-$224.95
Reviewers Paid: $80.00-$159.00

R-Value
5.4

Weight
12 oz / 0.34 kg

Width
20 in / 51 cm

Length
66 in /168 cm

Height
2.5 in /6.4 cm

Thickness
2.5 in / 6.4 cm

Packed dimensions
9 x 4.1 in / 23 x 10 cm

Fabric
30D rip HT Nylon

Country of Origin
USA*Built of U.S. and Global Materials

Reviews
8

reviews

5-star:

3

4-star:

5

3-star:

0

2-star:

0

1-star:

0
The Thermarest NeoAir XLite is one of the most popular backpacking sleeping pads on the market due to comfort and packability.
Pros
Lightweight
Great customer support
Comfortable
It floats
Compact
Cons
Pricey
Noisy
Inflation time
If you've done your research, you've probably heard of the Thermarest Neo Air XLite sleeping pad. It's one of the most popular sleeping pads on the market due to its lightweight design and comfortable support. It isn't difficult to fall in love with a sleeping pad like this one because it holds you in all of the right places, and keeps you warm all night.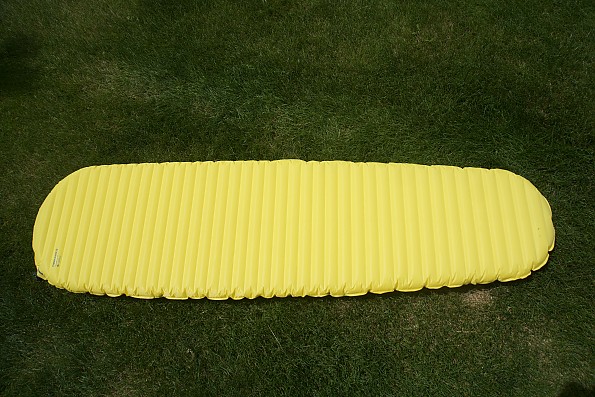 As a side sleeper, I've always struggled to get comfortable on closed foam sleeping pads. It doesn't take very long for my hips to dig into the Earth, which makes me feel worse when I wake in the morning. But investing in a quality sleeping pad like the Thermarest NEO Air XLite was a game changer for me. 
Weight:

12 ounces (regular)

Cost:

$184.95

R Value:

 5.4

Thickness:

2.5 inches
The Thermarest NeoAir XLite comes with a pump sack, a stuff sack and a repair kit, giving you everything you'll need to sleep comfortably in the backcountry. With a baffled design, this sleeping pad traps heat where it counts. Weighing 12 ounces, this product falls on the lightweight side of inflatable sleeping pads. And it's warm too! 
Warmth

With an R Value of 5.4, this sleeping pad is incredibly warm for its weight. Some backpackers even use this product for winter backpacking by pairing a warm sleep system with this pad. But, if you'd prefer, you can opt for the men's NeoAir XLite, which is less insulated (4.2 R Value). 
Sleeping Pad Size
I opted for a regular size sleeping pad. But most people can get away with a small version. In fact, a regular sized sleeping pad felt quite bulky to me. And I'd probably opt for a shorter size if I were to do it all over again. As a 5'7" female, I found that I had more than enough space while using a regular sized NeoAir XLite.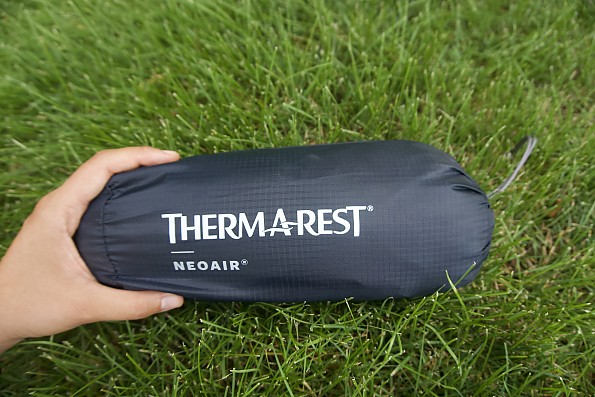 Backcountry Testing
I conducted a few months of testing in the Colorado Rockies. Temperatures were moderate, ranging from 35-60 degrees. Other than the inflation time, this sleeping pad has very few drawbacks. It's warm, terrific for boney people like me, and it has proven itself to be reliable. It's possible to find lighter sleeping pads or warmer sleeping pads, but this is a really solid middle ground product. It doesn't compromise comfort or functionality. 
About Thermarest
 A team of collaborators came together in 1971 to build a brand that's dedicated to sleep comfort. Jim Lea, Neil Anderson and John Burroughs were unemployed engineers with a climbing background when they decided to start Thermarest together. Today, their products are some of the most reliable products on the outdoor gear market. But one of the greatest qualities about Thermarest is their desire to make continuous improvements. As technology progresses, so do their products. 
Experience
With over 3500 long-trail miles behind me, I've had the chance to test quite a few different sleeping pads. The Thermarest NeoAir XLite is among my favorites.
Source: tested or reviewed it for the manufacturer (Kept it)

Disclosure: The author of this review received a sample of the product from the brand or its representative in exchange for a review.
The Therm-a-rest NeoAir XLite mattress is the perfect balance of warmth, size, and weight for a light backpacking kit. The pad weighs just 12 ounces with an R-Value of 3.2 in a profile the size of a one-liter water bottle.
Pros
Warmth
Small size
Lightweight
Cons
Crinkly noise is minor but noticeable
The Therm-a-rest NeoAir XLite inflatable mattress is a marvel of warmth in a small package. I was still using the very first NeoAir model, which was revolutionary when it came out but only had an R-Value of 2. The NeoAir XLite has an R-Value of 3.2. It doesn't sound like much but it was noticeably warmer and best of all, it's significantly smaller and lighter than my classic NeoAir.
Field Test
The first thing I noticed about the XLite was the small size. When deflated and rolled up, this pad is tiny. It really is the same size as a liter-sized Nalgene water bottle. At 12 ounces, it is quite a bit lighter than my old NeoAir that weighs in at 1 pound, 3 ounces. That's nearly half a pound of weight savings.
I tested the pad on four different trips including two at Point Reyes National Seashore, one in Yosemite National Park, and one at Lassen National Park. I paired the pad with a Sierra Designs Nitro 800/0 degree sleeping bag. We had everything from blustery, cold temps at the coast to typical Sierra chill in the high alpine and warmer than expected temperatures at Lassen. It didn't get below freezing on any of the trips and probably ranged from the high 30s to low 40s at night. My husband still has the old NeoAir model so I could test the XLite side by side on the bare pad. The XLite felt markedly warmer.
The nylon fabric felt comfortable on bare skin. I've heard a lot about how some newer pads can be quite noisy due to the reflective materials inside the pad. The XLite sounds a bit crinkly to me, but my husband, who is a light sleeper, was not bothered by it when sleeping. I didn't notice it either but when I compare them, it does sound different from my old pad. I think it is more noticeable because the crinkling is higher pitched than the fabric on the old pad.
R-Value
R-Values provide a standard measure of the ability of a sleeping pad to insulate you from the cold earth. Pads generally have R-Values of 1-10. For summer temperatures an R-Value of 3 or 4 should be adequate. With an R-Value of 3.2, the XLite is suited to summer temperatures in the Sierra.
I debated long and hard last year about how much to upgrade my pad. I occasionally go backpacking in snow but only in the spring, not the dead of winter. A higher R-value is appealing, but when I compared the weight of pads with higher ratings, I was disappointed in how heavy they were. Some were a pound or more.
After a thorough investigation I decided to stick with a reasonable R-value of 3-4 that would be ideal for 80% of my trips or more. I purchased an inexpensive foam pad to pair with my inflatable pad for the small number of snow camping trips I take. The XLite fit my expectations perfectly. It is warmer than my old pad but is still lightweight and small.
XLite Features
The XLite has a Triangular Core Matrix that uses a design of two stacked layers of triangular baffles that creates hundreds of individual cells. In addition to minimizing heat loss, this also makes the pad more stable. ThermaCapture refers to a proprietary reflective coating that is applied to the surface of the pad. This allows heat to be reflected back at the body. 
I tested the regular sized pad, which is 20 inches wide and 72 inches long with rounded edges. It was similar to the width of my old pad, which was an inch wider and a rectangular shape. I didn't notice anything different with the width and it felt fine to me. I'm 5 feet, 8 inches tall and weigh 135 pounds for reference. The small version is 20 inches wide, 47 inches long (for the torso) and weighs 8 ounces. The large version is wider at 25 inches, 77 inches long and weighs 16 ounces. The large version is good for those desiring a wider pad. When inflated the pad is a full 2.5 inches thick.
The pad comes with a stuff sack and repair kit. However, I find that a rubber band works fine to secure the pad so I don't use the stuff sack. I blew up my mattress the old fashioned way, but Therm-A-Rest offers several devices to assist. 
The Therm-a-rest NeoAir XLite mattress is the perfect balance of warmth, size, and weight for a light backpacking kit. The pad weighs just 12 ounces with an R-Value of 3.2 in a profile the size of a one-liter water bottle. This is an ideal 3-season pad for all but the coldest sleepers looking for good insulating power in a lightweight package. 
Source: tested or reviewed it for the manufacturer (I kept the product after testing.)

Disclosure: The author of this review received a sample of the product from the brand or its representative in exchange for a review.
Love this pad! It's durable, comfortable, lights, and the kicker...it rolls up easily (my favorite part, because we all know how bad it sucks to spend ten minutes trying to get a pad back into its sleeve.

Overall I'd say it is the best pad on the market, and I have tried many. Plus, it doubles as a raft for the lake, however I doubt this is recommended. See below for a great story.
Pros
Lightweight!!
Quick inflate
Easy to pack up
Small package
Perfect size
Yellow!
Durable
Love this pad and I will tell you why! One night while backing in Colorado, I went to bed and like to bring my water bladder in my tent for easy access in the night, something I will never do again. I woke up to a tent full of water.(Now I know my tent is waterproof). Not only was I bone dry! I was floating on the inch of water that was in my tent. My down bag was dry and all of my sleeping gear, thank goodness because it was very chilly that night. This pad made that all possible. Sleeping pad and life raft! Get yours today! Cheers. 
Source: bought it new
Price Paid: $100

Great when you are going ultra-light!!! SO much more comfortable than the egg-crate foam we took last year! A little noisy and sticky on warm nights. Takes up barely any room in my pack!!
Pros
Ultra-light
Packs very small...water bottle size
Comfortable...plenty of cushion between you and the ground.
Cons
Noisy....crackles when you move
Sticky on warm nights
A little too narrow to sleep on your side
My friend and I went on our first backpacking trip last year...we're both 50. We went 35 miles out into the canyons in Utah by ourselves to see ancient ruins. We drove her car up 18 miles of the most hair-raising road you will ever drive on to get to the trail head.
Even after removing stuff from the packs we hadn't even tried on they weighed 62 pounds each...and we're not big girls...LOL. We thought we needed all that stuff!!
Because we'd already laid out so much cash on backpacks, etc we skimped on pads. We didn't even know if we'd want to go again, so instead of laying out big money on expensive pads we simply took cheapo egg crate foam.  Ten minutes after laying down for the night we both sat up and looked at each other...this was NOT working! Who knew the clay in Utah was going to be harder than a paved road???  Not us! 
We wound up overlapping our foam, then we overlapped our sleeping quilts and then we put on ever stitch of clothing we'd brought with us to stay warm...we still ended up pulling the tarp we'd brought into the tent and using it for a blanket...needless to say a sleeping pad was one of the very first things we put on our new gear list!! 
I researched for a week all the types and styles of pad...all the while determined to also cut the weight!! What I found was the Therm-a-Rest X-Lite pad....2.5 inches between us and the ground....packs VERY small and most importantly LIGHT...and priced right! We actually put them on our Christmas lists and made our husbands buy them...LOL!!
I would definitely recommend them!!
Source: bought it new
Price Paid: $80

Light, easy, comfortable, but SLIPPERY!
Pros
Lightweight
Small
Easy to deflate
Comfortable
Cons
Noisy — crackling, crinkling sounds with movement
Sleeping bag slides off.
Expensive
I was impressed with the tiny size and light weight. But it took many more than the "20 breaths" to inflate! Quick and easy deflate. Comfortable, even though it looks too thin when inflated.
BUT very slippery, despite using same brand sleeping bag with the "system" of two straps meant to keep sleeping bag on the pad. I woke every morning with some part of me on the ground — shoulder, hip or entire trunk of body — while head was on pad! Very expensive system to end up sleeping on the ground.
I used the pad on a 6-day canoe trip.
Source: bought it new
Price Paid: $159 USD

Extremely packable, lightweight sleeping pad. Great for those who love getting the most efficient gear. Would recommend it for those who sleep still and want the best lightweight, comfortable option out there.
Cons
Crinkles a lot
Not self-inflating
Narrow bottom
This pad is extremely packable and lightweight. It's great for those who don't want to compromise comfort for weight and packability. I thought I could find a way to pump up the pad without having to blow into it and without buying the additional accessories, but I couldn't. Tried different methods that were recommended in different forums and reviews, but nothing beat blowing it up. Didn't purchase the inflating accessory because it was too expensive.
Though the pad is super light, I didn't like the fact that it narrowed at the bottom. Sleeping on the pad itself was very comfortable, but I tend to move around a lot when I sleep and kept falling off of it. The crinkling noise that a lot of people referred to didn't bother me or my husband much, but it did bother my friend who was in the same tent as us.
If pad is not fully blown up, I found it not to be comfortable. It needed to be fully blown up for it to be firm and comfortable enough to sleep on. Partially blown up left sagging spots and an odd distribution of air in the chambers.
Would recommend it for those who sleep still and want the best lightweight, comfortable option out there. Just not for me.
Source: bought it new
Price Paid: $100 (irregular)

A better night's sleep than my expensive latex mattress at home!
Pros
Comfort, comfort, comfort
Very lightweight
Very warm
I love this pad!!! I would love to sleep on this at home (if only I had one wide enough for both me and my husband). The crinkle noise doesn't matter because you won't move an inch all night. (OK, no intimate encounters on this pad...guess that's a con.)  
Get one. If you don't love it, I'll eat my shoe.
Source: REI Clearance

Incredibly light, very packable, and very warm!!! So far it is pretty durable, but I wouldn't sleep on anything unless there is a groundsheet or tarp of some sort. Crinkles when you move around, but you get used to it. I would still buy it again for its ultralightness. Consider the Regular size...I tried to save an ounce and got the Short, but now I wish I had more length!
Cons
Crinkly sounding (like a potato chip bag)
Expensive
This is incredibly packable and light, just as it was reported to be. I got the "short" women's but I wish I'd gotten the regular one. A few extra inches of insulation at my feet would have been worth the extra ounce. (I am 5'4").
So far it has held up pretty well and I've used it in a bivvy, on a wood floor and a tent. It is not as durable looking as the old (and heavy) self-inflating pads but definitely worth it if you want ultralightweight and warmth!!! And who knows, it may prove just as durable a few months or years from now!
As a woman-specific pad, the R rating is a little higher, which I do appreciate. Fully inflated I find it too hard and almost too high and tend to roll off. Deflate it a little and it is more comfortable. It is a little loud (crinkles like a potato chip bag, but that's just a minor annoyance). Unless you are very petite, get the regular size.
Don't be fooled by the flowery design...it barely shows!
Source: bought it new
Price Paid: between $100 to $200 I can't remember


All NeoAir XLite versions
In addition to the 8 women's reviews above, there are 15 reviews for other versions of the NeoAir XLite. Read all reviews »
You May Like
Recently on Trailspace