Therm-a-Rest Slacker Single Hammock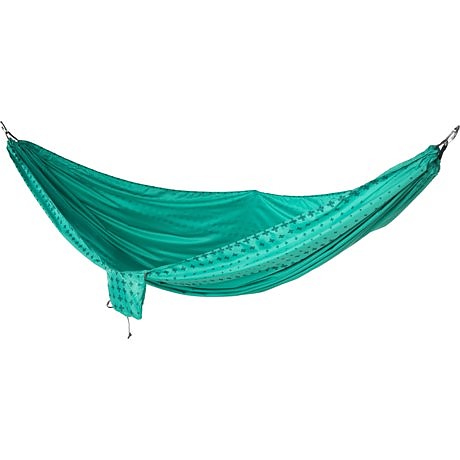 Therm-a-Rest's Slacker Hammock is a an entry level addition to the mainstream appeal of hammock hanging. Available in single and double versions, the Slacker is best for the novice hanger looking to slack off in the backyard.

Those who have used other hammocks will quickly realize the Slacker is not as comfortable as other brands and definitely not suited for backcountry camping. Better options are readily available.
Pros
Softer feel than competitor brands
400lb weight limit
Printed hanging instructions attached
Integrated stuff sack is large enough to hold a tablet
Made in the USA
Cons
Uncomfortable lay
Heavy for a single layer hammock
Limited suspension system without modifying
About the Reviewer:
I started hammock hanging approximately 5 years ago and now almost exclusively camp in a hammock. I have used/tested/slept in many hammocks from multiple vendors. I am 6'2" and at the time of this testing weigh in at 168 lbs.
Testing Parameters:
The Slacker was tested in the Shawnee National Forest in early May 2015. Night time temperatures were in the mid-50°F range. I slept under my DIY 40F TopQuilt, with my JRB Greylock 3 UnderQuilt for bottom insulation.
First Impressions:
The Slacker arrived neatly folded in its own stuff sack, with colorful literature promoting its selling points (~Soft ~Dries faster than nylon ~Strong [400lbs] ~Stuffs into integrated, tablet-sized pocket ~Ultralight aluminum carabiners for "easy hanging").
The literature also promotes two add on pieces—tree straps and bug netting, sold separately.
Flipping the stuff sack over, one can see the strap and buckle to secure the hammock (keep this picture in mind, I will return to it later.).
Removing the hammock from the stuff sack, I found instructions explaining how to ideally hang the hammock. One side is in English, the other in Spanish (pictured).
The stitching along the edges of the hammock stood out to me as different from other hammocks I have used. I do not know if Therm-a-Rest has a specific reason for this pattern, or if it is simply for aesthetics. In either case, it was a feature that stood out to me.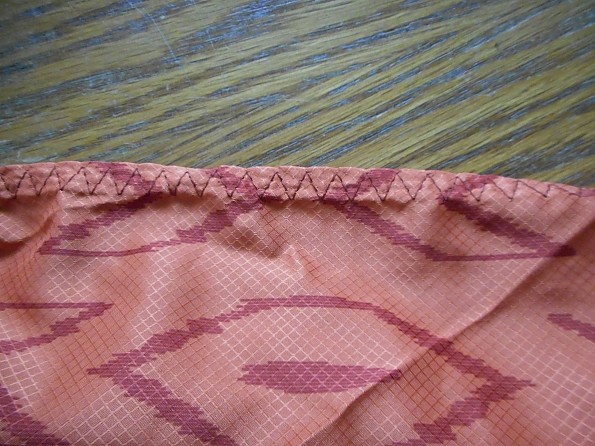 The suspension immediately struck me as problematic in two areas.
First, the colorful literature states, "The Slacker...comes with everything you need to do absolutely nothing." I challenge that statement, in that, tree straps are sold separately. A novice hanger is going to have to scramble to find some type of rope to hang the hammock.
Second, every other gathered-end hammock I have slept in used webbing or cordage that was girth hitched through the end. A girth hitched cord is easily replaced with Whoopee Slings or other suspension options. The Slacker's sewn loops prevent their removal without cutting them off.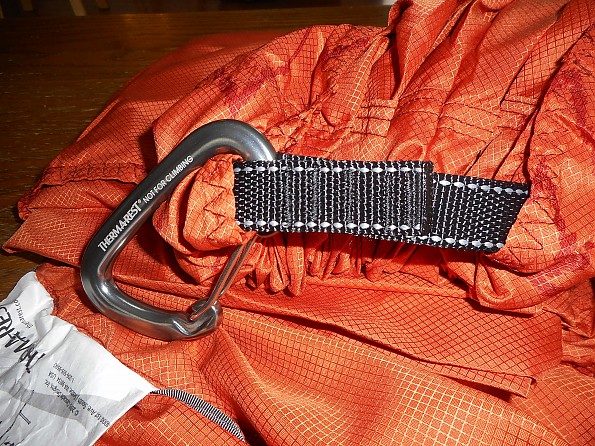 The Slacker promotes its non-climbing carabiners as "ultralight." However, at 1.1oz (32g) each, they are actually a few grams heavier than many climbing-rated carabiners. (Grand Trunk does this as well, and I don't understand why they don't simply supply carabiners that are lighter and ready to pull double duty.).
Finally, in my initial impression, I stuffed the Slacker back into its stuff sack. Remember, the earlier picture with the hammock neatly folded in the sack? That image will never occur again. I am able to stuff the Slacker back into its bag, but just barely. In fact, every time, I find myself wishing the strap was an inch or two longer in order to better clip it in. When stuffed, the entire hammock is slightly larger than a Nalgene bottle.
Weight & Size

With the included carabiners, the Slacker weighs in at 20 oz. That is a bit heavy for a single layer hammock. (ENO's SingleNest is 16 oz. Grand Trunk's SkeeterBeater is 28 oz, including bug net.). The 9'6"x5'3" size is nice and roomy.
Material
Therm-a-Rest markets the Slacker as being more comfortable than other hammocks. The initial writeup I received stated the "unique, soft polyester fabric feels great next to skin and provides a far superior comfort than traditional nylon."
The colorful literature states, "Soft, 100% ripstop polyester adds comfort." I agree the material feels softer than nylon. However, had this feature not been brought up in campaign marketing, I am not sure I would have noticed the difference, especially as I usually sleep fully clothed.
The Lay
Note: For anyone unfamiliar with how a hammock lays, please review to my Hammock Hanging 101 tutorial at the bottom of this review.

Here is where the Slacker loses 2 stars. I am not sure if polyester just does not lay as well as nylon, or if the cut of the hammock is wrong. In either case, the lay is awkward.
I experimented with multiple ways to hang the hammock—from the right way to the wrong way. I slackened it past the traditional 30-degree angle. I tightened it up. I flipped the hammock inside out. I tried both a left and right lay. I used the Slacker's carabiners; I switched over to Whoopie Slings. None of these techniques gave me the comfortable lay of a nylon hammock.
In the photo below, notice how the body of the hammock is bunching up between my left elbow and my hip. That should not be occurring, and it is a result of uneven tension on the hammock. In fact, my left elbow and right foot are resting in wells of slack in the top third of the hammock's body.
Over night, the stuff sack I use under my feet to keep them warm fell out of the hammock as I slept. (I was using a 3/4 underquilt, meaning I needed something in the hammock for my calves and feet to stay warm.)
Worth the money?
At $70, the Slacker is $10-$15 more expensive than comparable products from ENO and Grand Trunk. This may be because the Slacker is sewn in the USA (made with domestic and imported materials). Still, the later hammocks are definitely more comfortable.
Someone who has never slept in a hammock is going to love the Slacker. But compare it with another mainstream company, and you'll see the deficiency (For that matter compare a mainstream hammock to DreamHammock, Clark, etc, and the mainstream is left behind.).
For the money, I would recommend starting your entry level hammock with another brand.
=====================================================================

Hammock Hanging 101
As I regularly encounter folks who don't know the optimal way to lie in a hammock, I thought I would start with a bit of tutorial. Most new hangers climb into a hammock and hang folded like a banana. They put their head at one end and their feet at the other, lying in a straight line. This is how I started sleeping in a hammock, and I complained about my sore back.
The right way to sleep in a hammock is at a diagonal slant to the hammock. This lay flattens the hammock out, making for a comfortable night's rest. Hammock hangers call this the "Sweet Spot." During winter hiking, I have spent as much as 12 hours lying in a hammock (sleeping, reading, etc.) without any of the discomfort I find in lying in my bed too long.
Here's an illustration I made up for you visual folks: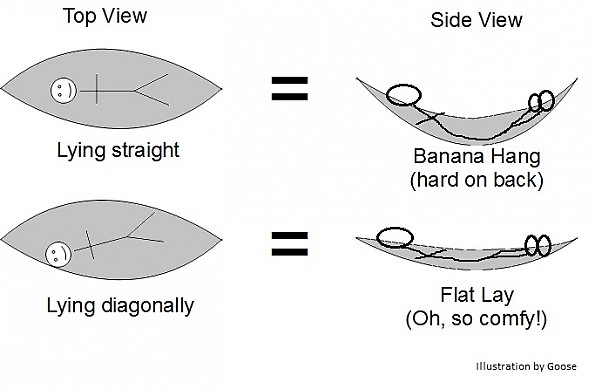 No, I'm not very artistic.
Some folk attempt to get a flatter lay by tightening the hammock so it is already hanging flat. However, this puts too much sheer force on the hammock, lines, and trees. I have read several accounts of folks ripping out an overly-tight hammock. Derek Hansen has a terrific tool to help you figure out the right angle for hanging your hammock over at his website: http://theultimatehang.com/hammock-hang-calculator.
Source: received for testing via the Trailspace Review Corps (Sample provided by Therm-a-Rest for testing and review)

Your Review
Where to Buy
Help support this site by making your next gear purchase through one of the links above. Click a link, buy what you need, and the seller will contribute a portion of the purchase price to support Trailspace's independent gear reviews.
You May Like
Specs
Price
MSRP: $69.95
Historic Range: $27.73-$79.99

Weight
20 oz (with carabiners)

Width
63 in

Length
116 in / 295 cm

Packed dimension
7 x 10 in / 18 x 25 cm

Capacity
400 llbs