Therm-a-Rest Slacker Hammock Warmer

The Slacker Hammock Warmer has been discontinued. It was replaced by the Therm-a-Rest Slacker Snuggler.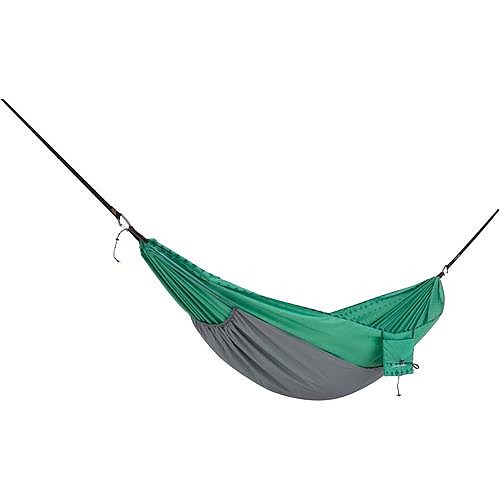 Updating the original review from November 2015. This overpriced item has a very short life span.
Pros
Cuts the wind
Repels rain
Lightweight (7oz)
Adds of few degrees of comfort
Cons
Will be useless after a few seasons
Limited temperature range
Drab color
Pricey
UPDATE: Below the dashed line you will find my original review from November 2015. I was kind to this product, giving it 4 stars, even though I felt it provided little return for the cost.
The outdoor gear market is always changing--new technologies, new updates to keep us spending money with them. Like many items reviewed for the Review Corps, a product is tested a few times and written up to ensure the review is timely. Afterwards, the best products stay in your pack (or is your pack!) and the rest go into an ever-expanding gear closet. 
Going out on a rainy weekend this spring, I decided to grab this product to use as a waterproofing liner over my HG UnderQuilt to keep it clean and dry. So I pulled it out of 5 years of storage, where it has been uncompressed in an oversized stuff sack.
Taking it out of the sack, I noted my hands were covered in silvery dust, the reflective coating of the product that provides the warmth: 
Holding the Warmer up against a light, the coating was coming off as I unfolded it. In the photo below, all the light-colored lines are where the coating is completely gone and all that remains is silnylon. 
Now one can argue that 5 years is a long time. But keep in mind, this product has sat on a shelf for 5 years, with no wear and tear. It's sat right next to a bunch of hammocks, tents, and other gear in the same storage conditions. My Thermarest foam pads have a similar coating, and they have seen more use. 

In the end, this product has been discontinued. Good. But I recently saw it in the "deals" section of an online retailer and thought, "Time to update my review." 
In the end, I ran the product through the washing machine a couple of times to remove the rest of the coating. I now have a piece of silnylon with a cord running through it. Perhaps I'll eventually think of some use for it. Suggestions welcomed!
=======================================================
A Warmer, NOT an Underquilt
Therm-a-Rest is coming in rather late to the hammock game. Rather than target avid backcountry hammock users— who tend to rely on cottage industry manufacturers—marketing for the "Slacker" line of products is focused on day trips and the occasional overnight hang. An example of this is TaR's promotional write up of the Hammock Warmer:
"Therm-a-Rest's lightweight Slacker Hammock Warmer helps warm up a nap or night out with a reflective ThermaCapture surface that redirects radiant heat back to you."
Responding directly to TaR's explanation of the Hammock Warmer, this reviewer feels it is only fair to evaluate it for its intended use. The Hammock Warmer is NOT an underquilt, nor is it designed for cold weather usage. It would simply not be fair to review it based on what I would want it to be. My 4-star rating is based on the item meeting the manufacturer's claims and the value I find it.
What It Does, It Does Well…
Anyone who spends time in a hammock knows that your underside begins to get cold when temperatures get below 70°F, and even a slight breeze can affect that. A steady 3-5mph wind passing through a nylon hammock can make a 75°F hang a bit uncomfortable after a while. The Hammock Warmer effectively cuts the wind and adds comfort to about 65°F.
I first hung the warmer on a sunny, 70°F October afternoon. There was a 3 mph breeze—enough to make uninsulated hanging a bit uncomfortable. I immediately felt the effects of the Hammock Warmer. The wind was completely cut off from reaching me, and the reflective backing of the ThermaCapture surface warmed me up nicely. How I wish I could have napped the afternoon away with that setup!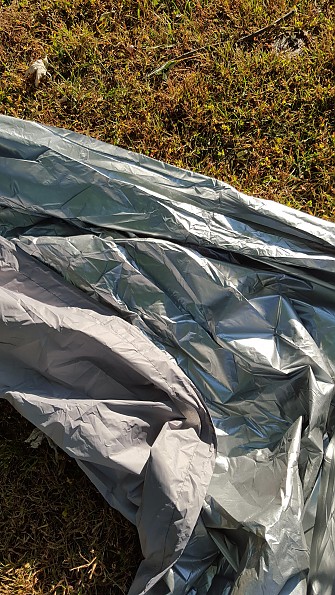 ThermaCapture reflective surface
I returned to the hammock that evening, to spend the night in it. None of the materials I read mentioned a temperature rating for the Hammock Warmer. I went to bed guessing I could take it down to 65°F. I was pretty close! At 68°F, I could feel my backside getting cold. I should mention I am a cold sleeper, and I think warm sleepers could take this unit down a few more degrees.
Being prepared, I pulled a foam pad into the hammock and slept comfortably all night, without needing a pad extender around my shoulders (For an explanation of pad extenders, please read the linked review.).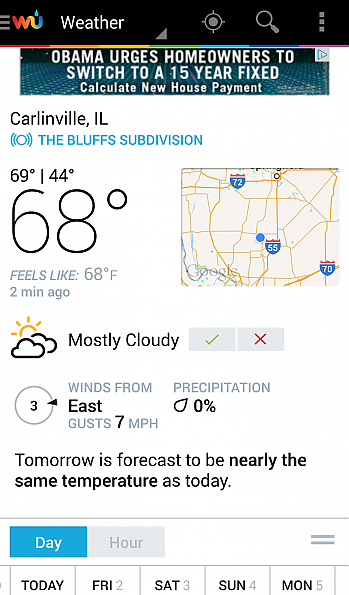 Screenshot of the weather
station 3 miles from my location
I spent a total of 10 October nights using the Hammock Warmer. Anything above 50°F worked well with just the foam pad. As temperatures dropped further, I added my 3/4 JRB underquilt between the Hammock Warmer and my hammock. I very much liked the fact that the Hammock Warmer always cut the wind, and on a particular rainy, windy night my hammock and underquilt remained dry, with a bit of external moisture on the Hammock Warmer.
Attachment/Fit to Hammock
TaR's promotional literature states the Hammock Warmer is designed to fit its Slacker Hammock. In fact, the Hammock Warmer fits any gathered end hammock. It clips into any hammock that uses carabineers at the ends. With the hammock I was using, I simply threw a couple of half hitches into the line, and it worked perfectly fine.
Weight & Size
I already mentioned the Hammock Warmer is only 7oz. Factory folded, I could slip the warmer into my back pocket. After repackaging it, I could still stuff it in the cargo pocket of my pants.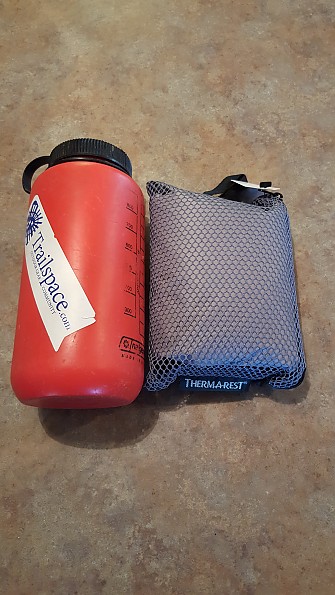 Unfolded, the Hammock Warmer measures 6'x4'. This is wide enough for TaR's (or any) double wide hammock, and long enough for most any user. (For those unfamiliar with hammock under quilts, you only need the unit to run between your shoulders and feet.) Pictured below, you can see the warmer comfortably hugging my 11'L x 6'W DangerBird.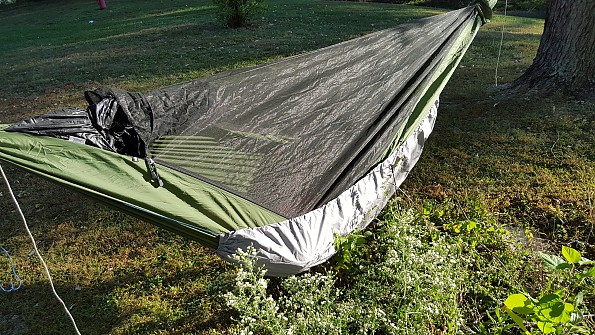 What It Does is Limited and Expensive…
For what the Hammock Warmer sets out to do, it does so flawlessly. But I have a big problem with a suggested retail price of $70 for something that is only going to give a user 5 degrees of added comfort.
By comparison, TaR's own foam pads are only $15 and provide more insulating value. ENO sells full underquilts for as little as $100. And few years ago, I snatched up an arm load of windshield sun reflectors for $1/each (Used as a pad, these are essentially the same thing as ThermaCapture.).
This Hammock Warmer works well, but what it provides is definitely not worth a $70 price tag. At most, this is a $20-$25 investment. So 5-stars on living up to its intended purpose, and 3-stars for the price point.
Note: At the time of this review, the Hammock Warmer has not hit the market. There is a chance this retail price may change before it is released.
Source: received for testing via the Trailspace Review Corps (Sample provided by Therm-a-Rest for testing and review)

Your Review
You May Like
Specs
Price
MSRP: $69.95
Historic Range: $52.46-$69.95

Weight
210 g / 7 oz

Recently on Trailspace