Therm-a-Rest Slacker Suspenders Hanging Kit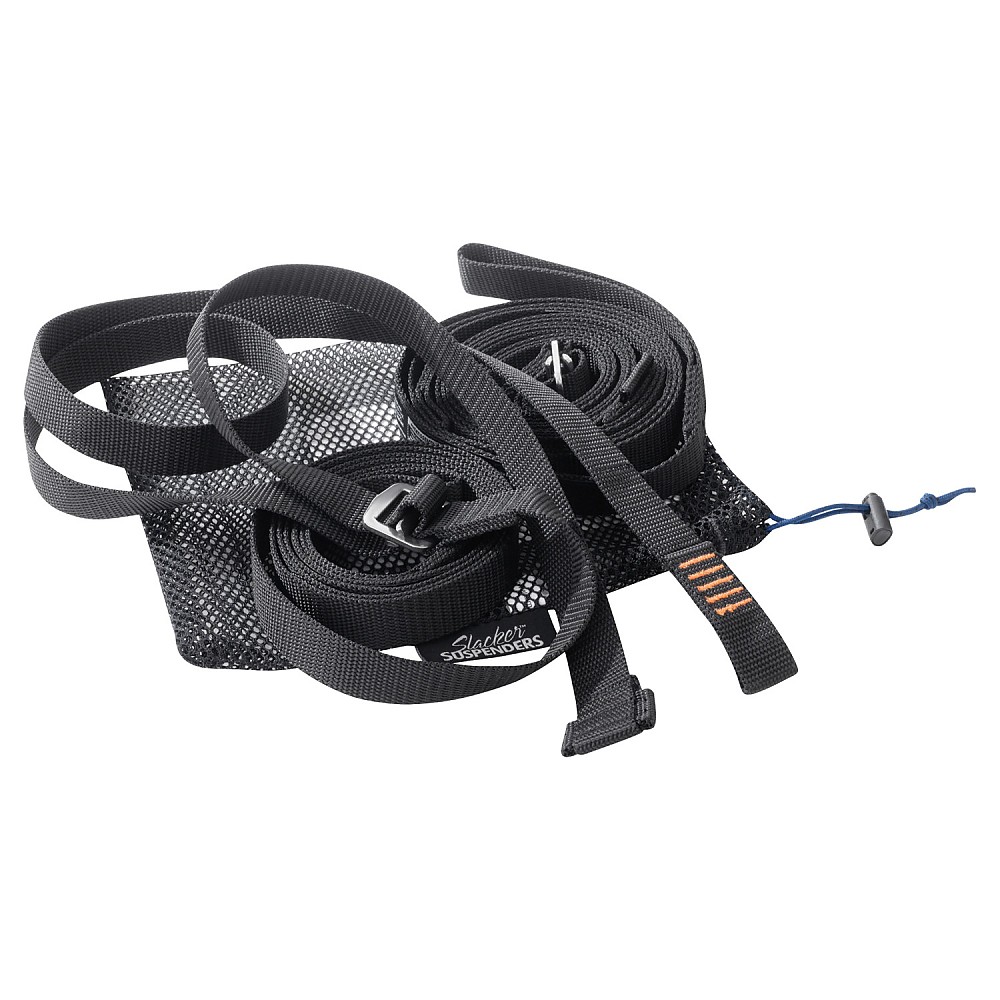 A quick and easy cinch-buckle hammock suspension system that provides a robust suspension with excellent adjustment capability. While not the lightest suspension out there nor the most complete (you'll still need carabiners or clips), the Slacker Suspenders are a quality option for someone seeking speedy, safe, and convenient suspension system when hanging a hammock, especially for those new to hammocking.
Pros
Very easy to use (great for beginners)
Quick setup
Compatible with many hammocks
Sturdy construction, quality materials
Strap width helps prevent tree damage
Design features discourage user error
Cons
Weight: not as light as whoopie slings
Price: not as cheap as other options
What They Are
The catchily named Therm-a-Rest Slacker Suspenders are hammock tree straps that connect to a hammock via a carabiner or clip (not included) to suspend the hammock. The Slacker Suspenders permit easy length adjustment of the straps via stainless steel buckles to get the perfect hang.
Therm-a-Rest's cinch buckle approach to adjustment contrasts with many competitors' more commonly used daisy chain loop suspension straps: with those, one attaches the hammock via carabiners to one of any number of loops to adjust the length of the strap (see image, below). Therm-a-Rest's approach requires less material and thus less weight than daisy chain loop straps.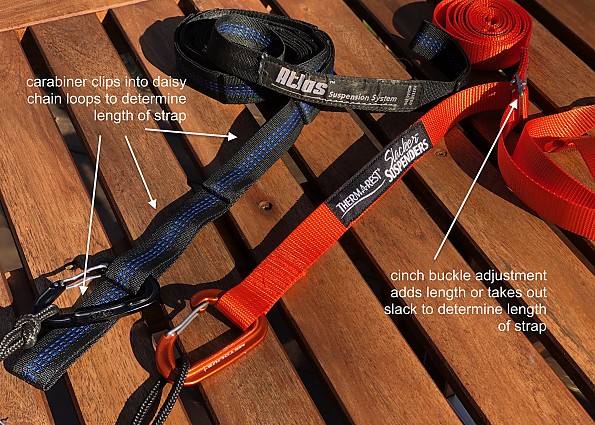 According to Therm-a-Rest, the principle value of the Slacker Suspenders is ease of use: "The only easier way to hang your hammock," the company claims, "is a magic wand."

The pair I received came in Orange; Therm-a-Rest also offers Blue and Gray as additional color options.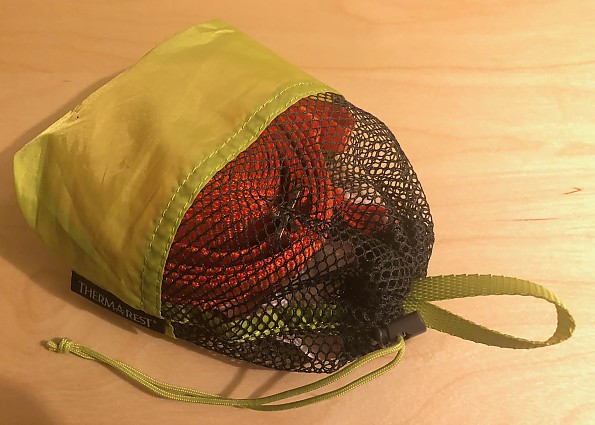 The straps come in a part-fabric, part-mesh bag with a hanging loop and a draw cord with cord lock. Simple directions are included on an interior label printed on Tyvek-like material—in other words, exposure to the elements or friction isn't likely to erase your directions, a nice touch. The bag provides breathable, compressible storage for negligible weight (.6 oz/17 g).

The straps themselves are 1 in/ 2.54 cm wide and made of low-stretch polyester webbing. Each strap is comprised of three elements: a long strap intended to wrap about a tree trunk (70 in/ 178 cm); a short strap that connects to the hammock (60 in/ 152.4 cm), and a stainless steel cinch buckle system ("auto-locking slider") that joins the two and allows one to take in unneeded slack from the longer tree portion of the strap.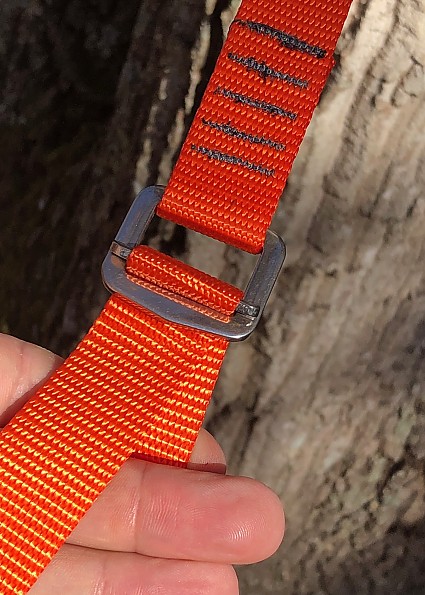 The set consists of two straps and the storage sack and weighs 9 oz/ 255 g.
Features
The straps can accommodate a tree circumference up to 68 in/ 173 cm. If my dubious math skills are adequate, that means they will work around a tree that has a diameter of about 21.7 in/ 55 cm.
There are two loops sewn into the straps. The first and larger loop provides a loop through which the remainder of the strap can be passed to secure the strap about the tree.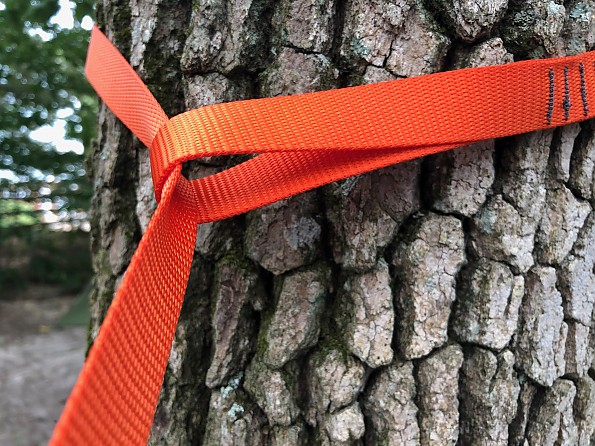 The second and smaller loop (thoughtfully color-coded via orange stitching—note contrasting grey stitching, above) allows a clip or carabiner attached to the hammock to be clipped onto the tree strap.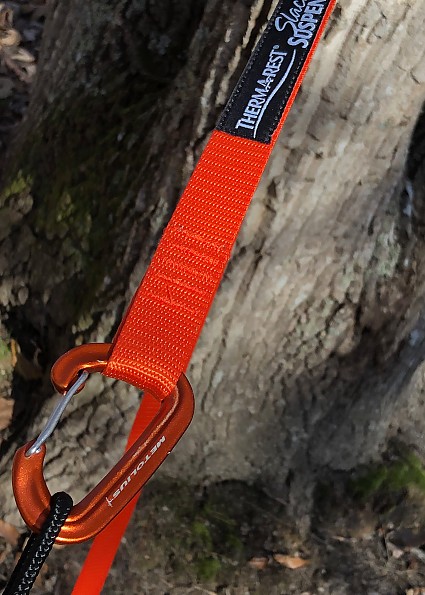 The two different sizes of loops and the unique orange thread on the smaller loop are intended to prevent user confusion or error during setup. In addition, an extra thickness of fabric is sewn into the end of the longer strap to prevent it from being able to slip free of the cinch buckle: the extra thick end will prevent this.
Strength is obviously imperative in a hammock suspension system. The 1 in/ 2.54 cm wide straps are rated to 400 lbs/ 181.4 kg. The width is more tree-friendly than rope options (which might cut into tree bark, damaging the tree), although this width is also fairly standard within the industry.
Each of the loops in the straps is secured with a series of five bar tack stitches over which a zig-zag stitch has been added. Additionally, the strap has in each case been folded back on itself prior to stitching; the result is secure stitching that penetrates three layers of strap. The overall impression—borne out through my use—is one of security.
The principle purpose of a system such as the Slacker Suspenders is to provide a suspension system that offers secure, easy convenience when hanging a hammock. They are compatible with many hammocks.
I used these straps with the ENO Singlenest and the Trek Light Gear Single and Double hammocks, but they would work with any gathered-end hammock or any sort of hammock that allows a carabiner (or clip) to attach the hammock to the strap (assuming, of course, that the user weight doesn't exceed hammock, strap, or carabiner capacity).
Indeed, even camping hammocks like my Warbonnet Blackbird XLC could readily make use of the Slacker Suspenders if I were to remove the existing whoopie sling suspension and add continuous loops to the ends of the Blackbird.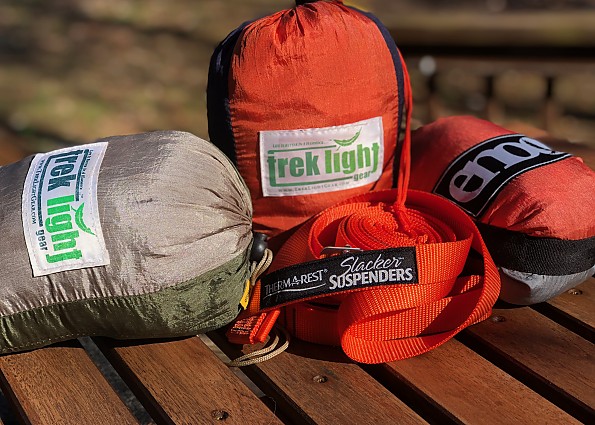 Below, note the Trek Light Gear Single (top) and ENO Singlenest (bottom) attached to the Slacker Suspenders—if a hammock can clip into the straps, the straps will work fine.

To use the straps, Therm-a-Rest recommends finding two trees about 10-14 ft/ 3-4.3 m apart from which to hang your hammock. Then simply toss the long strap around a tree trunk, feed the loose end through the longer loop on that strap, and then connect the hammock via a carabiner or suspension clip of your choice to the short part of the Slacker through the shorter loop. Therm-a-Rest recommends hanging it so that the hammock bottom sits about 18 in/ 45.7 cm off the ground.
An advantage of a cinch buckle system like that used in Slacker Suspenders is the ability to adjust the length of the straps in precise fashion, down to fractions of an inch. This may not seem necessary, but I have used daisy-chain style straps before (where one clips into pre-sewn loops along the length of the strap) and found myself stuck with choosing lengths one-third of a foot at a time. This is a minor point, but one that hammock devotees will appreciate.

With the Slacker Suspenders, adjustment to the often recommended optimal 30˚ hang angle is easily achieved by pulling on the tailing end of the longer piece of strap, or, as Therm-a-Rest directs the user in their directions, "Attach hammock, adjust tension and commence relaxing." It really is as simply as that. Even a child can do it!
As hammocks have grown in popularity, suspension systems have flooded the market. This variety can at time be bewildering, and this is likely why Therm-a-Rest boasts of the Slacker Suspenders' simplicity of use. 
As with other sorts of outdoor gear, inexpensive items are often heavier while more expensive items are lighter and sometimes require a bit more knowledge to use safely. I've listed a few in the chart below for purposes of comparison.
Each of the suspension systems in the chart below (click to enlarge) could readily suspend a gathered-end hammock, and these systems are commonly rated somewhere in the range from 400-1000 lbs/181-454 kg (always check strap, carabiner, and hammock limits before use).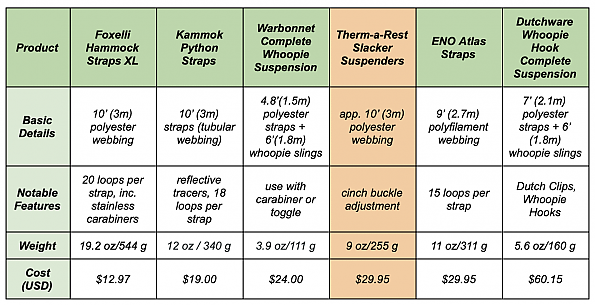 As one can see, some of the options that are less expensive than the Slacker Suspenders (but heavier) offer some additional inducements for purchase such as included carabiners or reflective tracers, for instance.
In a head-to-head price point comparison, Therm-a-Rest edges out the popular Atlas Straps from ENO in terms of greater length and lower weight while offering cinch buckle adjustment compared to ENO's daisy chain adjustment.
Warbonnet's Complete Whoopie Suspension offers enviable lightness and good value; on the pricier end of whoopee suspensions are systems like Dutchware's specialized Whoopie Hook Complete Suspension that includes titanium clips and hooks and the ultralight Dyneema lines. This suspension provides convenience and lightness, albeit at a significant price jump.
A hybrid of these two whoopie sling systems appears below to demonstrate the contrast between a whoopee sling system and the simplicity of the Slacker Suspenders. Safety note: the whoopie sling properly rests on the knot, not the toggle, when in use.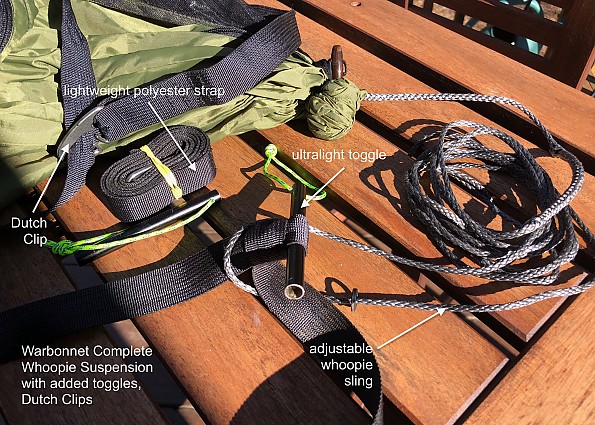 Note: for those wishing to learn more about hammocks, hammock suspensions, hammock camping or much, much more, I highly recommend Derek Hansen's exhaustive and superbly illustrated Ultimate Hang 2 book.
Conclusions

The Therm-a-Rest Slacker Suspenders are intended to provide a secure, convenient method of hanging a hammock. They excel at this. Setup time is minimal: one can locate the trees and be in the hammock within a few minutes while moving at a leisurely pace, savoring one's surroundings. Adjusting the length of the straps is as simple as pulling up on the buckle to gain extra length or pulling on the tail end to shorten the strap. I enjoy using them on day trips when I want to throw up a hammock to sit or rest mid-hike.
Would only a magic wand be a simpler way to hang a hammock? Hyperbole aside, that's debatable: I find my whoopie sling-toggle-tree strap setup easy and quick for my practiced fingers, and doubtless—given myriad variants of hammock suspensions—others likely have their own preferred systems for ease of use. ENO's Atlas Straps are very simple, too, but they lack the ability to fine-tune strap lengths that the cinch buckle permits. Nevertheless, the Slacker Suspenders are certainly easy to use.
Are the Slacker Suspenders a good value? While they appear to be of excellent quality, they are on the mid to upper end of the price scale for basic straps at about the same price point with an MSRP of USD $29.95, the same as ENO's Atlas Suspension System.
There are less expensive systems that can suspend hammocks (e.g., Kammok Python straps), and some of these do come with added incentives such as special features or included carabiners. In general, though, these systems weigh more than the Slacker Suspenders and they do not feature the flexibility of cinch buckle adjustment.
While on the lighter end of basic strap systems, the Slacker Suspenders cannot equal the lightness of whoopie sling suspensions, although they may initially appear simpler to use for novices. Ultimately, I'd say they are a decent value that saves a few ounces over less expensive options while offering more refined adjustment capability than their inexpensive peers and a seemingly less daunting option than the lighter whoopee sling suspensions. For reasons of relative quality and value in a field crowded with many options, I've rated the Slacker Suspenders 4 out of 5 stars.
Therm-a-Rest delivers on providing an easy, quick, and safe hammock suspension setup while providing a strong, well-conceived product with features to discourage user error. There isn't much that can go wrong with this product if it is well maintained, and users can focus on relaxing in their hammocks rather than fidgeting with hammock suspensions. If this is what you've been looking for in your hammock suspension, consider the Slacker Suspenders and perhaps you will soon be following Therm-a-Rest's directive to "commence relaxing!"
Experience
A hammocking enthusiast for the last decade or so, I have enjoyed growing my knowledge of hammocking over the years through backyard hangs and many camping trips in all four seasons. I've also absorbed the collected hammock wisdom of Sean "Shug" Emery's YouTube channel and Derek Hansen's "Ultimate Hang" and "Ultimate Hang 2" books. I enjoyed using the Therm-a-Rest Slacker Suspenders this past summer and fall with ENO Singlenest and Trek Light Gear Single and Double hammocks. The simplicity of this suspension allowed me (and my boys) to throw up hammocks on walks, on camping trips, and in our backyard during a hot summer and a wet fall.
Source: received for testing via the Trailspace Review Corps (Sample for testing and review provided by Therm-a-Rest)

Your Review
Where to Buy
Help support this site by making your next gear purchase through one of the links above. Click a link, buy what you need, and the seller will contribute a portion of the purchase price to support Trailspace's independent gear reviews.
You May Like
Specs
| | |
| --- | --- |
| Price | Historic Range: $14.97-$29.95 |