Toaks TiTongs Set

Top 50 in Utensils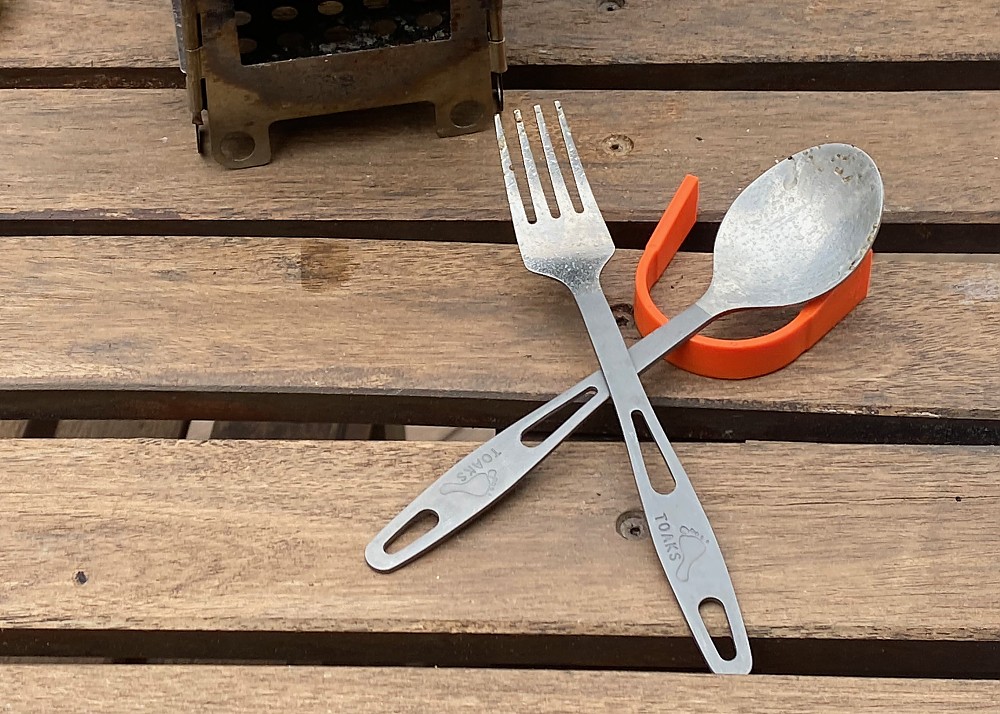 Specs
Price
Current Retail: $19.95
Reviewers Paid: $20.00

Weight
1.2 oz

Material
Spoon and Fork: Titanium (no coating) / Connector: Nylon

Length
Spoon and Fork: 6 5/8" (168mm) / Connector: 2" (50mm)

Reviews
1

review

5-star:

0

4-star:

0

3-star:

1

2-star:

0

1-star:

0
A flashy nylon connector transforms TOAKS' fork and spoon into a set of tongs, allowing one to handle light cooking chores with the tongs before pulling them apart to later eat with the utensils. A convenient and lightweight tool, best for light tasks such as cooking bacon or a chicken breast.
Pros
ingenious design
very simple
very light
adds significant capabilities to just a fork and spoon
Cons
no storage bag
heavier foods can cause the tongs to "roll," releasing the food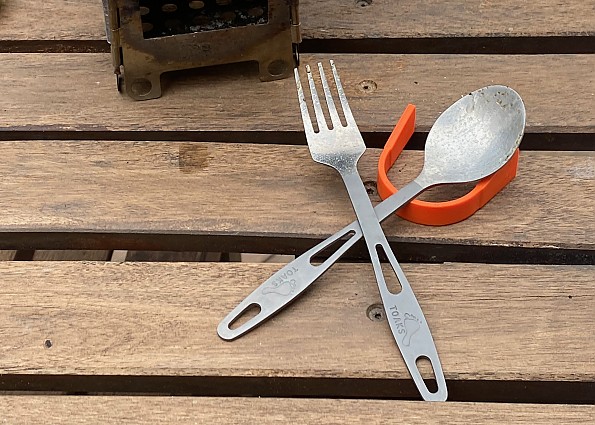 I suspect most cooks have had to improvise tongs at some point: I recall using a tablespoon and a fork once in a pseudo-chopsticks fashion to flip a chicken breast that I was cooking in a notoriously under-equipped, just-out-of-college apartment kitchen. In the backcountry, sticks become a standby.
If you are one who sometimes goes beyond the single, long-handled spoon or spork and who might carry, on occasion, a spoon and a fork, TOAKS has a product that may interest you.
The TOAKS TiTongs Set is an ingenious idea wrought out of nylon and titanium: a curved, U-shape nylon connector allows one to insert a TOAKS spoon and fork in opposite ends of the U, thereby creating tongs that are about 7.75 in / 19.7 cm in length. The lip of the spoon and the tips of the fork tines come together to create the business end of the tongs. Fully open, one has a gap of about 2.75 in / 7 cm to work with.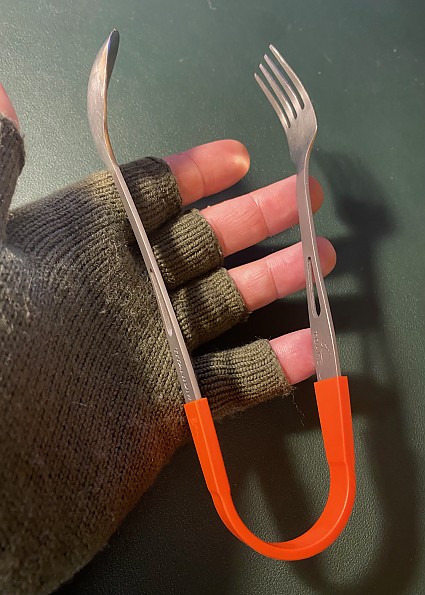 The set includes a titanium spoon, a titanium fork, and a nylon connector, although this connector (available separately for USD $2.95) also works with the TOAKS Titanium Spork (or, presumably, two sporks) and the fork and spoon from TOAKS Titanium 3-Pieces Cutlery Set. The entire set will burden your pack with a mere 1.3 oz/ 36 g for an MSRP of USD $19.95.
Materials
The spoon and fork are light but sturdy titanium, measuring about 6.5 in/ 16.5 cm. Two cut-outs in the handle reduce weight and allow one to connect these with a carabiner, as the TOAKS Titanium 3-piece Cutlery Set does (although the connector lacks a means of being attached to anything).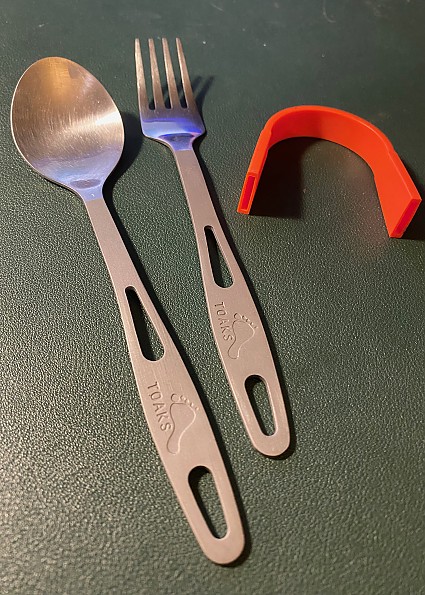 Those portions of the utensils that go into one's mouth are polished to enhance the ease of cleaning. The remainder of the utensils has a little bit grippier stone-washed sort of texture, which not only aids in being held in the hand but also in the connector when used as tongs.
The nylon connector is bright orange (TOAKS' signature color, but also a practical hue in nature to prevent misplacement), and it feels resilient and sturdy. I pressed the tips of the U together to gauge the strength and flexibility of the material, and it suffered no ill consequences. Instinct tells me I wouldn't want to leave the connector in the sun for hours on end to see if it would grow brittle, but brittle it certainly is not–I imagine it could provide long service if it receives moderate care.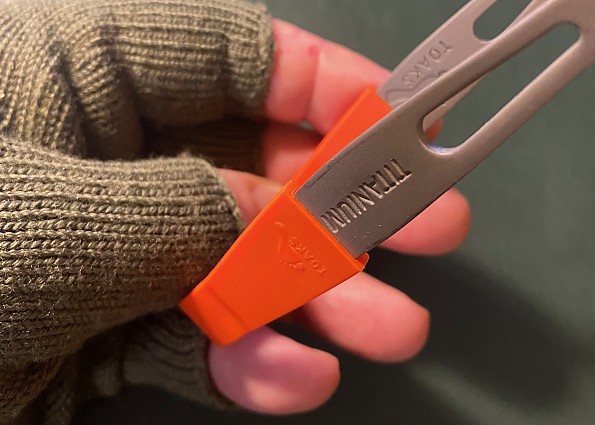 No bag came with my set, and if there is an awkwardness to this set, it is storage: one wishes for a storage sack in which to throw the three parts, but one can toss the connector in a pot and clip the utensils via a carabiner to one's pack.
Use
Nothing could be simpler to put together. The tough and springy nylon connector has slots for the handle end of the utensils. Because the utensils match each other in length, orienting them with the curves to the outside of the U creates a set of tongs. The openings in the connector work for either utensil, their geometry being the same.
In use, a few things become apparent. First, the weight of any food to be picked up or turned will fall on the bottom utensil. I suppose one could turn the tongs sideways, so both ends gathered on the sides of the food being cooked, but my habit is to have one tong on the bottom, the other on the top). The fork on the bottom grips more readily than the spoon, of course, but when the fork is on top when the food is flipped, the tines sometimes catch the food as it is being turned, causing it to hang for a moment from the tongs upon release. One learns to compensate for this tendency quickly (see video, above, for video of me discovering these facts).
Second, there is a considerable amount of flex that develops over the length of the tongs. If one holds them primarily by the nylon connector, heavier food items like a brat or a steak might cause the tongs to "roll," letting the food slip from their grasp. This slippage is caused by the food pulling the two utensils apart laterally, meaning that they can't press against one another, creating a possibility for the food to slip from the tongs. Indeed, these tongs are not the best option for heavier foods. 
One can choke up on the utensil handles, applying pressure with one's fingers closer to the ends of the tongs to deter this potential for rolling, but then one's fingers are that much closer to the heat source–perilous if there is spattering bacon grease or open flames.
In any case, the compact length of the tongs, admirable for packability, also means that they won't give you much of an edge over just a fork if you're trying to pull a steak or potato off the coals of a fire.
My own workaround to the heaviness issue has been to cut my food into smaller, lighter pieces, as I often do anyway because I cook in scaled-down kitchenware (like the pan/lid that comes with the Mini Trangia kit) instead of heavier, full-sized kitchenware.
For many foods and with a little practice, this ingenious little set offers a great way to tend one's food as it cooks, and it offers the added advantage of readily coming apart into fork and spoon when it is time to eat the food. For example, I used the tongs to sauté peppers and onions as a steak topping, then used it to pan-fry my (small) steak. They work great with foods like bacon, too, or chicken breasts. Admittedly, proficiency comes with some practice, and as noted before, I don't recommend trying to pick up a 20 oz. steak; my feeling is that these tongs are intended for more modest tasks.
Conclusions
If your cooking strays beyond rehydrating food to some modest wilderness cooking, this USD $20 set is worth considering. If you already have the TOAKS Titanium 3-piece Cutlery Set, picking up the connector for under USD $3 is a no-brainer. 
If you're seeking tongs to grill steaks or pull baked potatoes out of the fire, these are not for you. They do not offer the reach of your average kitchen tongs, nor do they offer the sure handling of kitchen tongs. They are lightweight, intended (in my estimation and experience) for light tasks. 
That said, this set offers added capabilities to a fork and spoon with just the slightest bit of added weight and bulk in the form of the connector. If light cooking tasks are something in which you engage when in the backcountry, the TOAKS TiTongs Set might be just what you need.
Experience
My interest in cooking goes back to my college days and my stint as a maître d' at a country club, where I cooked tableside. Early in my cooking career, I learned how invaluable tongs are, and since then I have sought tongs for backcountry cooking, too. I have other sets, some stainless, some titanium, but when I saw the TOAKS TiTongs Set, I knew I wanted to try it. Accordingly, I purchased the tongs and added them to my backcountry kitchen gear during the summer, fall, and winter of this past year, using them on multiple backpacking trips in addition to tests in my own backyard.
Source: bought it new
Price Paid: $20

You May Like
Recently on Trailspace