TOPS Knives Mil-Spie 3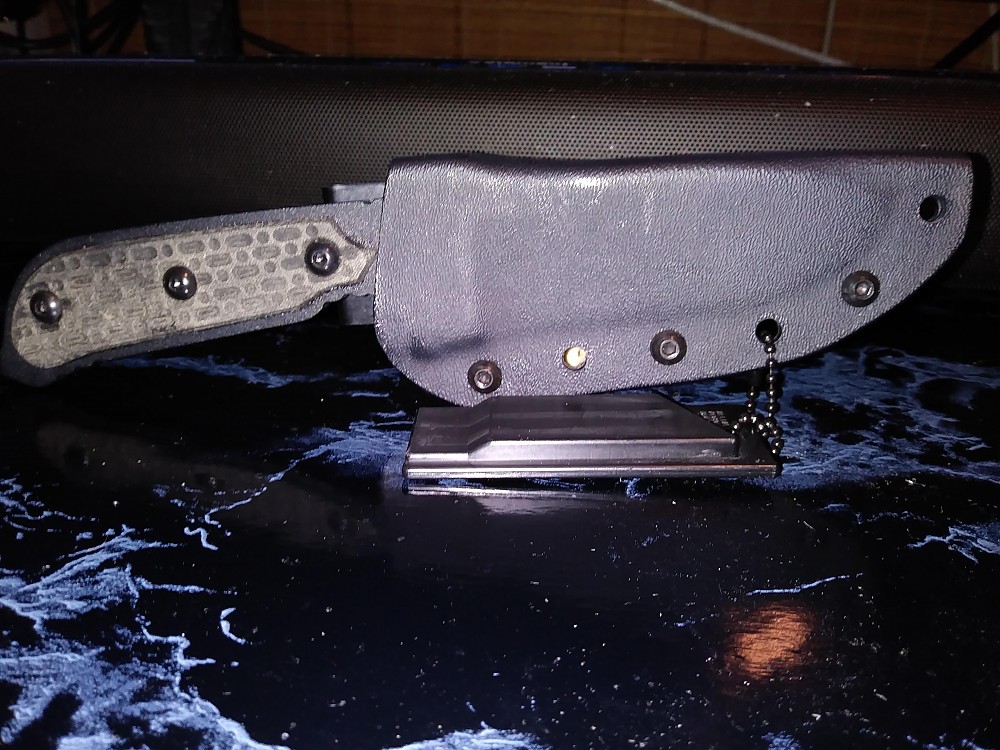 Whatever possessed God in heaven to make a man like Rambo? Well, the answer to that question is the TOPS Mil Spie 3.

Ok, so no, Rambo would not have ever owned this knife. That's movies for ya, not to mention John Rambo never lived in NYC that has strict knife laws.

I live in Queens, N.Y., which is governed under NYC knife laws. Here in NY one is only able to carry a folding knife that is less than 3 1/2 inches or a fixed blade that is under 4 inches long (blade length). But I am also an outdoorsman and Bushman that needed a shorter version of a KABAR BK2 Companion. If you live in a state with such knife restrictions or if you are looking for a backup knife then look no further.

The TOPS Mil Spie 3 was the solution. I spent months researching the "top" knives (the irony) that met my needs. It needed a thick blade that could handle chopping and splitting logs and it needed a handle that wouldn't slip out of your hands in wet conditions. Last I needed a knife that was sharp enough to do Bushcraft tasks.

Yes, in the movie "Rambo" he had this HUGE size knife, but for Bushcraft that knife size was not only overkill but the blade grind and point just wouldn't work for the types of Bushcraft that I do. Oh, did I mention the part that I live in Queens, N.Y.

The TOPS Mil Spie 3 is an 8-inch overall fixed blade knife with a wide 0.190 inch thickness 4-inch blade with a cutting edge of 3.5 inches.
Pros
Legal size for NYC weapon laws
Thick and sharp blade
Anti slip and good grip handle
Nice black coating and prevents rust
Great sheath:
Multiple placement for attaching
Good sheath retention
Comes with emergency whistle
Lanyard hole in sheath and knife
Cons
Small size gives it limitations
Cost $$$
Micarta grips faded over time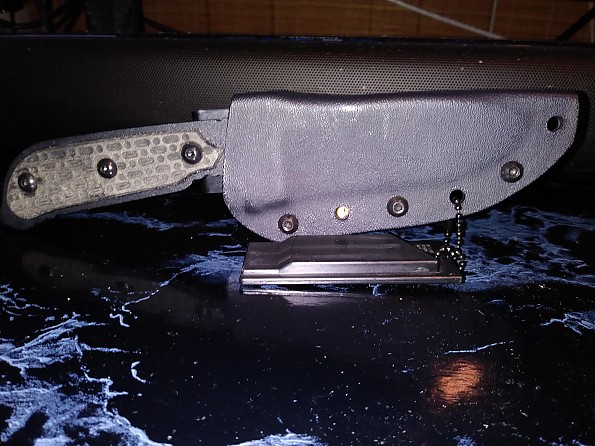 Well, as many of my readers may know, I live in Queens, N.Y., which is governed by NYC laws. Unlike former places I have lived in, like California and Texas where I had few limitations on what size knife that I could carry with me, here in Queens, N.Y.,  "SIZE" does matter: 3.5 inches for a folding knife (which if you read some of my posts then you know I am personally against using folding knives with the scars to prove it) or a 4-inch blade length for fixed blade knives.
It took some hard research to find a knife that I felt could replace my KABAR BK2 Companion ( which I have made a review of on Trailspace.com) that not only could do the same tasks  as my KABAR but also met NYC knife restrictions. What can I say, I am a law abiding individual: 0 points on my drivers license and never been arrested and I want to keep it that way so, lol, let me introduce my readers to the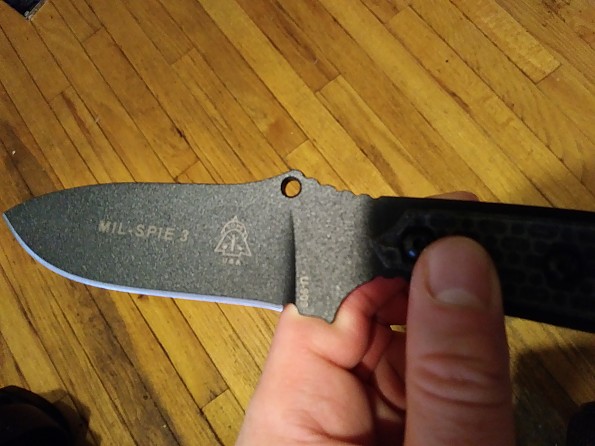 TOPS Mil Spie 3
The TOPS Mil Spie 3 is a 4-inch blade with 3.5 inches of cutting edge that has an amazing 0.190 inch thick blade and has an 8-inch overall knife  length. The anti slip and firm gripping black Micarta Canvas handle scales/grips allow for a tight grip even in wet conditions.
First and foremost, this is, considering its size, a Kick A$$ knife. It came razor sharp straight out of the box, and I mean sharp. I was able to shave the back of my hand with single strokes using this knife. See ladies, men groom too.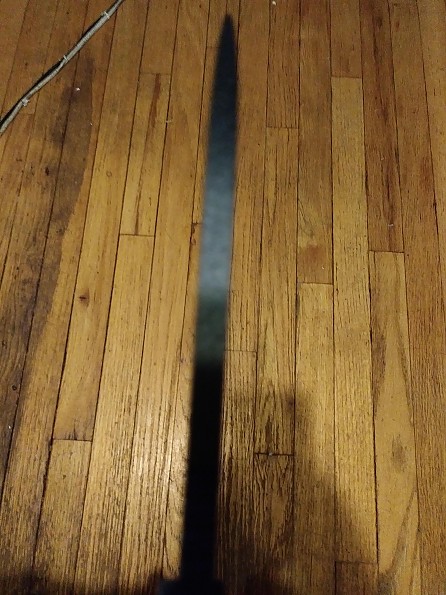 Other than the TOPS Mil Spie 3 blade sharpness, I love that it boasts a 0.190-inch blade thickness. I was able to split a log with ease, same with chopping using the baton method. After I was done the knife was as sharp as when I first bought it.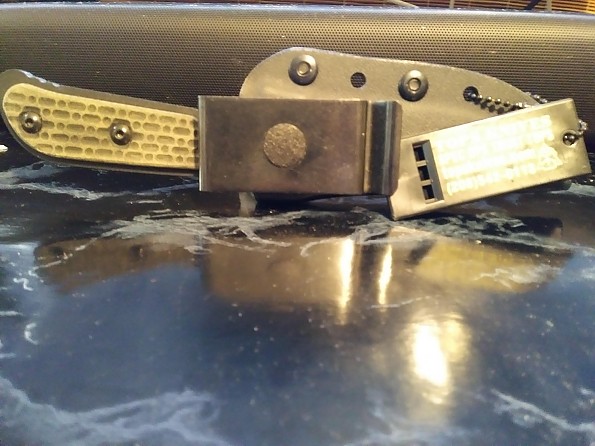 The belt clip is rotatable, allowing for multi position mounting to your belt or backpack or boot. The belt clip is not bulking so you do not feel the knife bulging against your hip when carrying it.
Unlike a lot of knife sheathes, this one has great knife retention. The knife is not going to fall out of its sheath.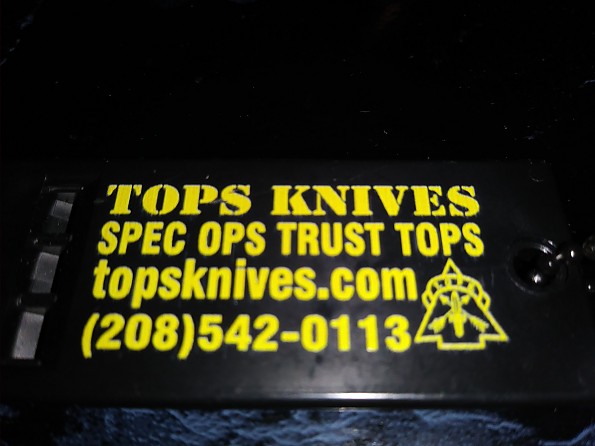 TOPS also included a very loud emergency whistle, which conveniently has the company's name, phone number, and website info on it. It is attached with the same type of chain used on Army Dog Tags.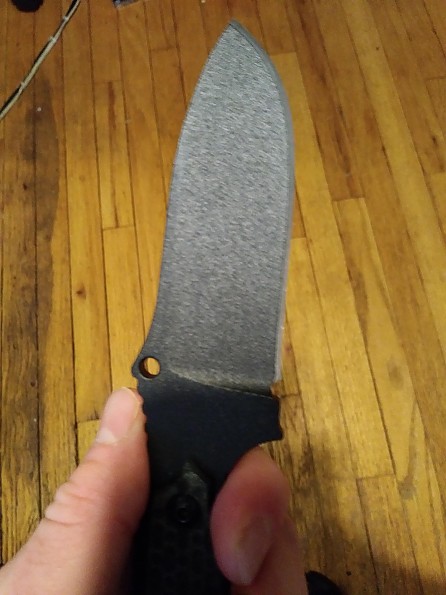 Conclusion
The TOPS Mil Spie 3 is an expensive, extremely sharp, durable, 4-inch blade  0.190 inch thick that can handle any of your outdoor camping or Bushcraft needs. It is lightweight, yet heavy enough to do daily outdoor tasks with great ease.
I give this knife two thumbs up and gladly say that this is one of my most favorite knives in my collection. It is not a combat knife, but is a Bushcraft knife. I would recommend using this for your daily camping tasks: chopping  and splitting wood, making tinder, wood carving, kitchen food prep, cutting rope or wire, digging a trench, or use as a prying tool.
                                              Specifications
Knife Type:  Fixed Blade
Overall Length:  8.00"
Blade Length:  4.00"
Cutting Edge:  3.50"
Blade Thickness:  0.190"Blade
Blade Steel:  154cm RC 58-60 Cryo Treated
Blade Finish:   Black Traction Coating
Handle Material:   Black Canvas Micarta
Knife Weight:  5.3 oz.
Sheath Material:  Black Kydex
Experience
I have owned this knife for almost six years now and I have only used a leather strap for honing it and it is still razor sharp. This was the first time I have ever had a knife of this size that cost $150. Sadly, knives that are made like this one are usually over 5 inches long and therefore there are not a lot of competitors out there making a knife this thick at length under 4 inches in comparison.

I have several other knives of this size that are slightly thinner in thickness or with bulkier sheaths or with sheaths with less knife retention. None came with as long as a warranty nor did any come as sharp straight out of the box and none of them came with an attached emergency whistle (keep in mind that I never owned an ESEE Knife that has a lifetime warranty but ESEE do break more easily).

I pretty much have used this knife under every condition possible and it has yet to fail my expectations. My only problem with it is if not for it being a gift I personally would have never spent the money on it as I am frugal. Not to say I don't deserve the Rolls Royce of knives...
Source: received it as a personal gift

Your Review
Where to Buy
Help support this site by making your next gear purchase through one of the links above. Click a link, buy what you need, and the seller will contribute a portion of the purchase price to support Trailspace's independent gear reviews.
You May Like
Specs
| | |
| --- | --- |
| Price | MSRP: $150.00 |
| Overall Length | 8.00 in |
| Blade Length | 4.00 in |
| Cutting Edge | 3.50 in |
| Blade Thickness | 0.190 in |
| Blade Shape | Hunters Point |
| Blade Steel | 154cm RC 58-60 Cryo Treated |
| Blade Finish | Black Traction Coating |
| Handle Material | Black Canvas Micarta |
| Knife Weight | 5.3 oz |