Trail Designs Ultralight Knife

Top 50 in Knives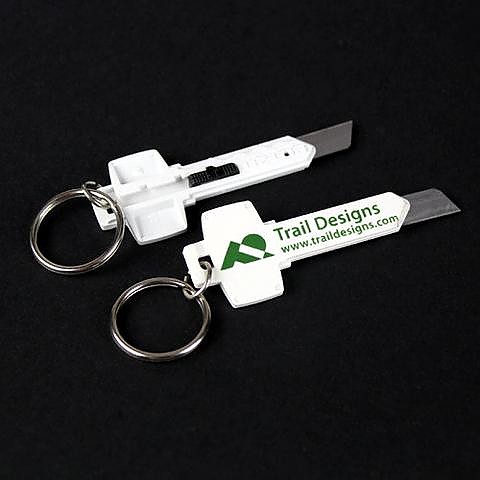 Specs
Price
MSRP: $2.49
Reviewers Paid: $2.50

Weight
3 g for knife, 2 g for key ring

Length
2.25 in

Reviews
1

review

5-star:

1

4-star:

0

3-star:

0

2-star:

0

1-star:

0
Bought as an emergency backup in case I lost my pocket knife, the Ultralight Knife has turned into my everyday blade for simple chores. Lighter than a feather (2 grams!), easy to keep at hand, and one-hand operation make it worth the low cost ($2.50). It won't do more sophisticated camp chores, probably won't last forever, and certainly no camp chefs or bush-crafters will want to use this on a regular basis. The replacement policy gives me pause as to its intention, but I am using it legally and often.
Pros
Ultra-Lightweight
Ultra-Lowcost
Easy to use
One-hand operation
Cons
Limited uses
Can't cut most food or fuel
"Replacement" policy
Durability?
While ordering my Kojin alcohol stove the other year, I picked up the Trail Designs Ultralight Knife on a whim...for only $2.50 it didn't seem like a big gamble. This is actually a "Cutzit" brand knife, but they put logos on them for others, so Trail Designs gets the credit for bringing it to my attention.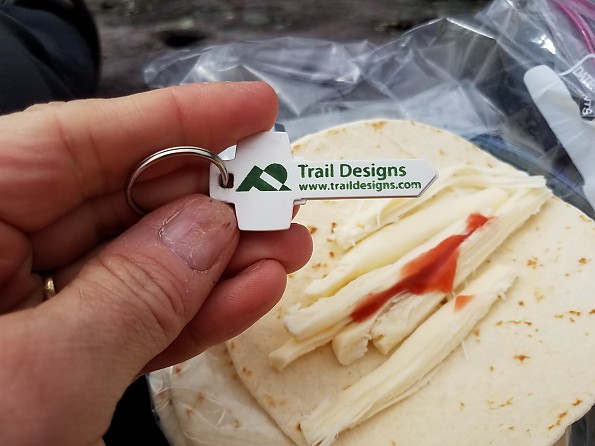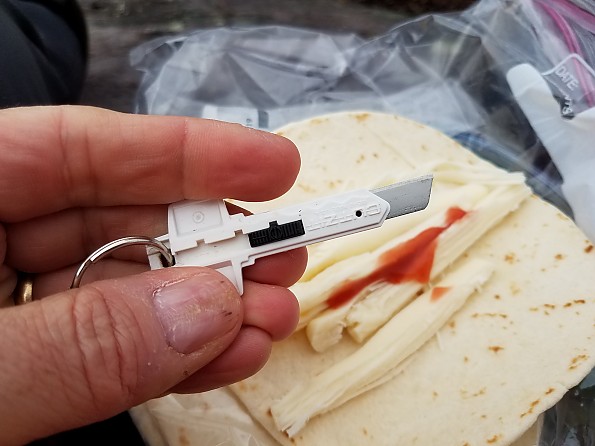 I intended to slip this little 2 gram cutting tool into my emergency kit in the event I lost my trusty old pocket knife. However it was so light I slipped it onto my keychain that I keep my whistle and other handy items hanging on my pack.

It wasn't long before my regular pocket knife was riding in my "kitchen" and the Ultralight Knife was being used for those many little chores throughout the day...
opening packs of instant drink or dinner ingredients...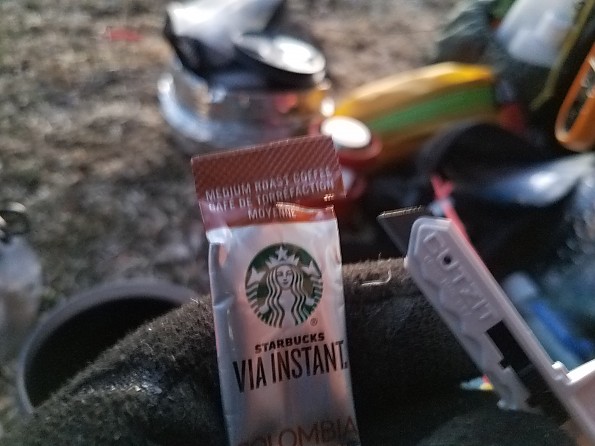 slicing cheese and grape tomatoes for a nice cracker lunch on a weekend trip...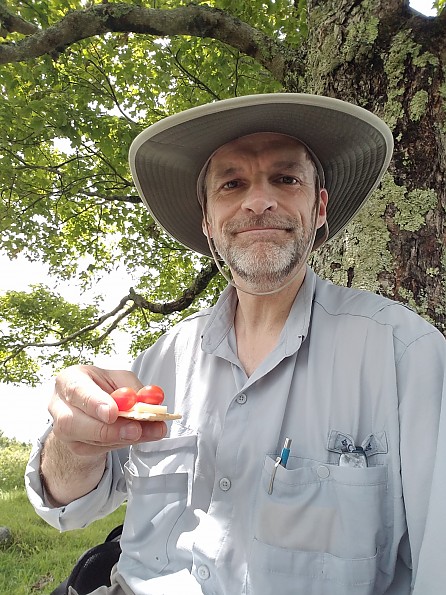 and other little jobs like slicing off a bit of leukotape for a hot spot on a long day, or lots of it to repair a broken trekking pole when I couldn't find my trusty little roll of duct tape.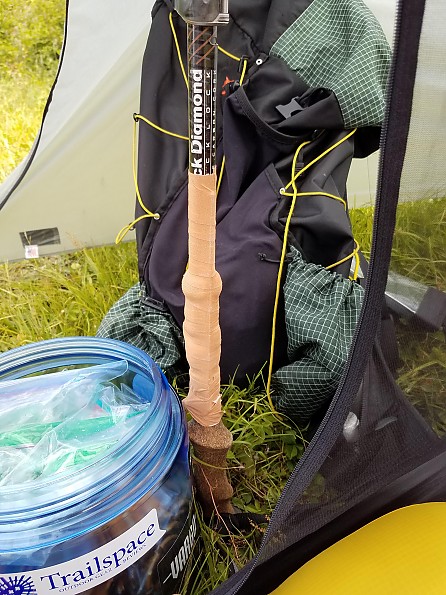 Ease of Use
The UL Knife operates quite simply...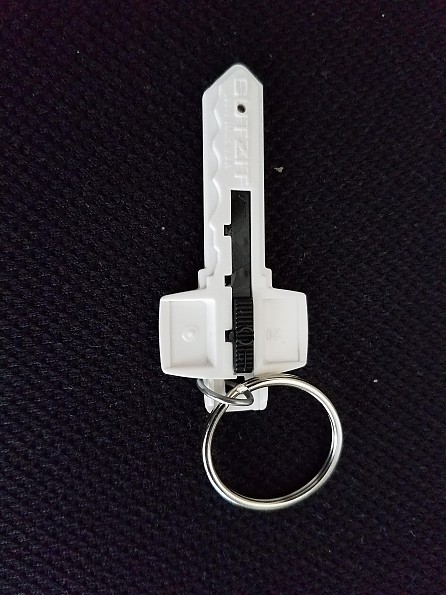 just press down on the plastic lock and slide the blade forward to the desired setting...
about 1/4 inch blade: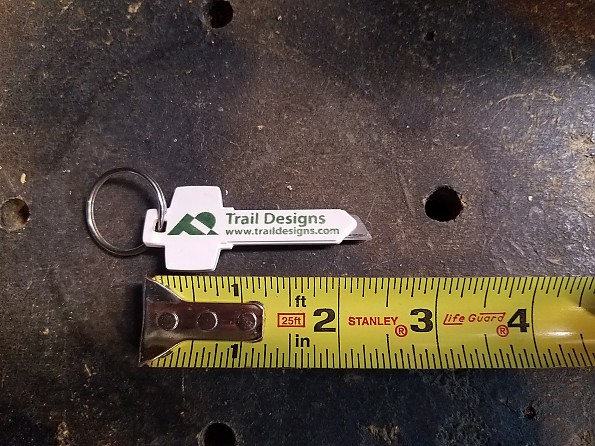 or about 1/2 inch blade: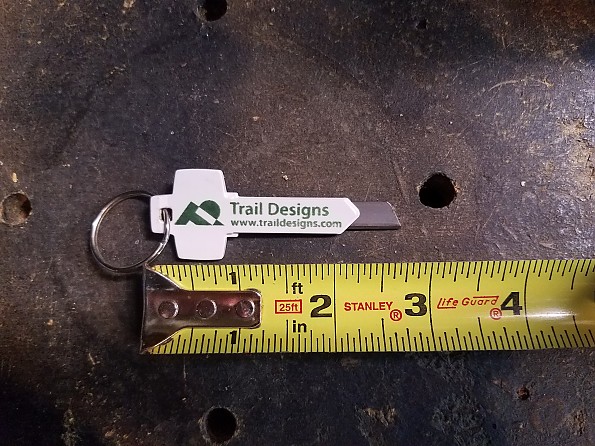 It locks in place quite securely, although I haven't thoroughly tested out on heavy duty uses (no whittling with this little "knife"). Sliding back in its "sheath" is just as quick and easy and it locks in place.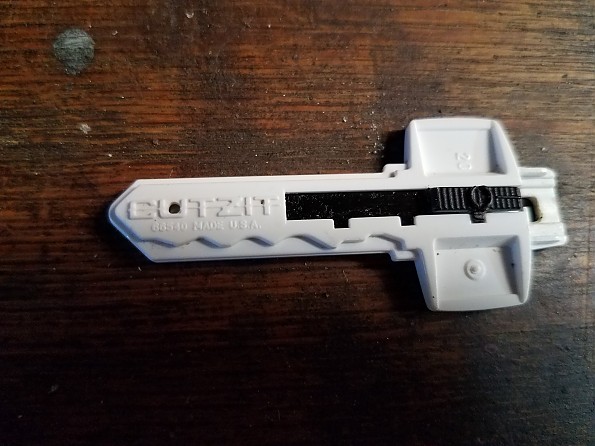 In cold weather it's a bit tougher to use with gloves on (depends on the glove) so I sometimes switch back to my Gerber LST, but often still reach for this little tool instead.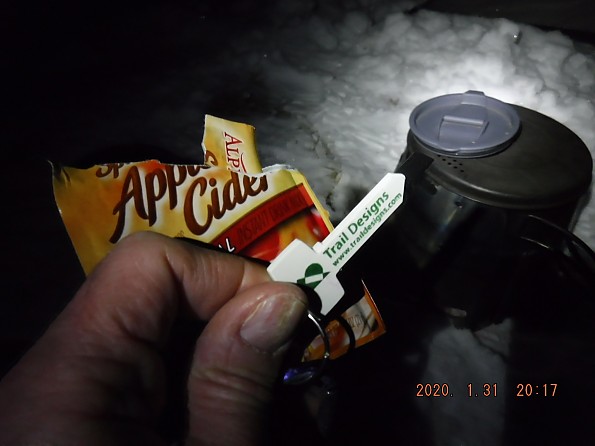 Features

There aren't too many features to talk about on the UL Knife...what do you expect for $2.50? A simple tool for simple uses. 
The key-like look of the UL Knife maybe the main feature of note. Which leads into the "replacement" policy...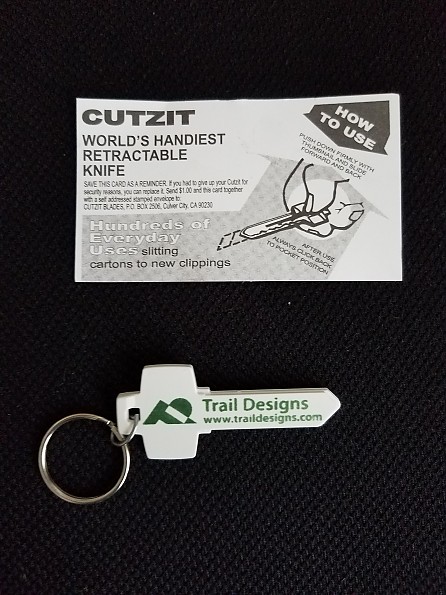 If the UL Knife gets taken "for security reasons" you can get a replacement for $1. I have mixed feelings about this...it is neat that they will replace it, but that also means you tried to sneak a cutting tool into a place that doesn't allow them...not something I feel comfortable attempting or recommending. I go in and out of government buildings with security for work on a somewhat regular basis and would never attempt to carry a blade through security disguised as a key. I hope others don't try this either.
Construction & Durability

As mentioned above, this simple device is built decently and has withstood a couple of years of regular (although light) use, but I would not want to rely on it for survival or anything else serious. It is a plastic sheath with a small razor blade. Nothing more and nothing less. I don't expect it to last forever, but so far it has been fine.
Conditions
I have used the UL Knife for over two years backpacking in the mid-Atlantic and southeastern mountains of the US, as well as a walk across Scotland. Weather has ranged from near 0 degrees F to over 80 F, and in all sorts of weather from snowstorms to multiple days of rain, and warm sunny trips.
Experience
I have been using pocket knives for daily use while backpacking since the early 1980s. Ranging from various Swiss army knives to a simple locking blade like the Gerber LST Ultralight. I have not used cutting tools like razors or anything before this one, beyond occasionally carrying scissors.
Source: bought it new
Price Paid: $2.50

You May Like
Recently on Trailspace