Trail Designs Kojin Stove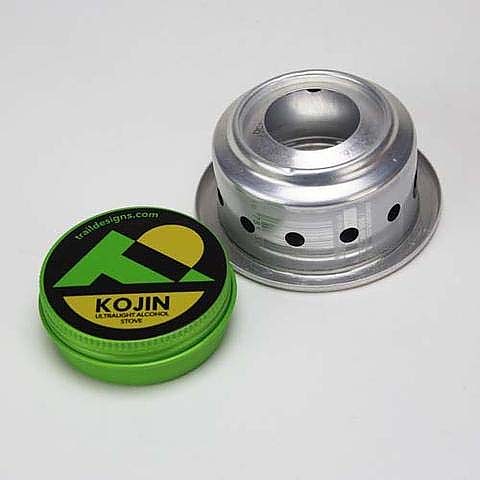 An excellent alcohol stove and my current favorite paired with my Trail Designs Sidewinder Ti-Tri system. The Kojin is sturdy, heats quickly, fuel efficient, and not easy to spill. It heats much faster than any other alcohol stove I have used, and is more fuel efficient than my other options, except one.

The Kojin may not perform the same on non-Trail Design systems, is slightly less fuel efficient than the Modified Zelph Starlyte, and can spill if filled too quickly.

I highly recommend the Kojin for those carrying Trail Designs Sidewinder Ti-Tri or other cone stove systems, and others should consider giving it a whirl for the low price.
Pros
Lightweight
Sturdy
Non-spill batting
Heats very quickly
Fuel efficient
No Sidewinder support stakes needed
Simmer option with stakes
Cons
May not work as well in non-cone systems
Slighlty less fuel efficient than Modified Starlyte
Can spill fuel if not using a dispenser bottle
Needs a base on grass
Note the Pros and Cons above don't include common alcohol stove characteristics compared to other types of stoves (less noise, must use a windscreen, tougher to do more than boil water, etc.). The intent of this review is to compare the Kojin alcohol stove vs other alcohol stoves, for someone who has decided on the type of stove they want to carry already.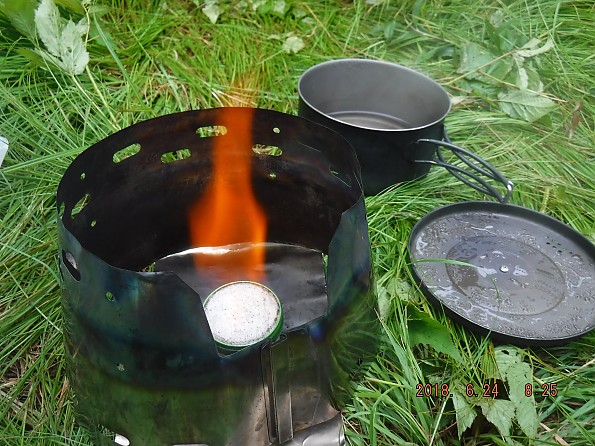 After several years of playing with various alcohol stoves (my favorite stove type), I have settled on the relatively new Kojin stove from Trail Designs (makers of the Caldera Cone and Sidewinder Ti-Tri stove systems).  My other alcohol stoves over the last couple of years include:
All of these have been used in my Trail Designs Sidewinder Ti-Tri stove system with Vargo 1.3 liter pot.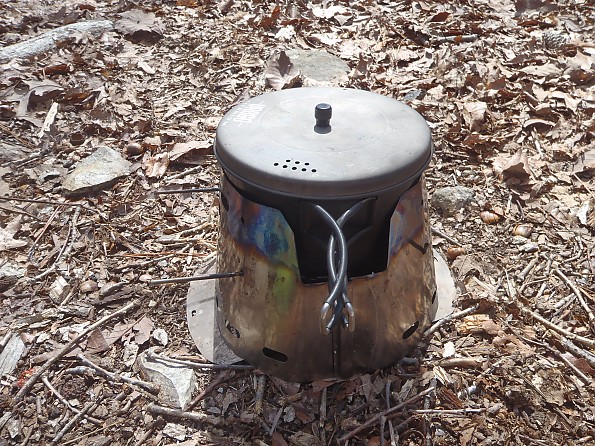 Alcohol is my primary fuel for this system except when I bring the Inferno insert and use the wood-burning option to simmer and cook "real meals".  I really like the Zelph Modified Starlyte and the Kojin for alcohol mode cooking, and will continue to use both those at times, with Kojin as my overall favorite. See the bottom of the review for comparison testing of these stoves.
The Kojin is made of strong aluminum that is difficult to bend or warp.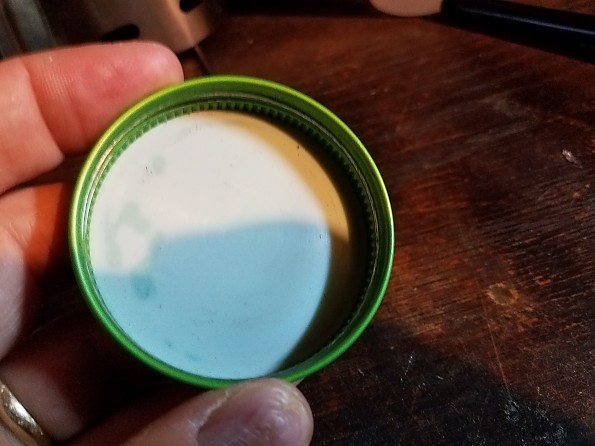 The lid has a silicone seal that prevents leaking, is resistant to heat, and threads tightly to the body of the stove.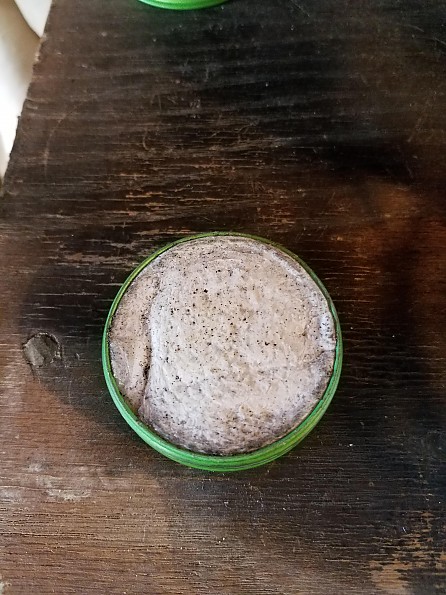 The Kojin contains batting filler that retains the alcohol fuel and doesn't allow spills (see filling below). There are no other moving parts, or parts at all. After solid use for several months it still fits together like new.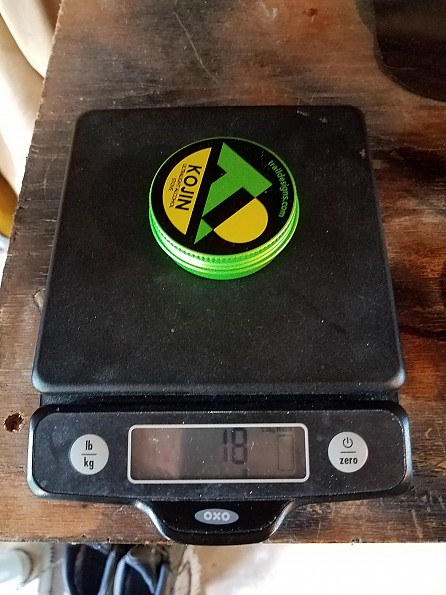 At 16 grams listed (18 in photo after a lot of use and probably some residual fuel), it is barely noticeable in my cook kit.
Ease of Use
The Kojin stove could not be any easier to operate...unscrew the cap, add fuel if needed, and light. I tend to use a spark lighter and have had no issues in colder (20 degree and wind) trips although I always tend to top it off and have fresh fuel at the surface. I keep fuel warm on colder trips by popping a 2-ounce dispensing bottle in my pocket, so you may have more issue lighting if you use cold alcohol on winter trips.
It's easier to fill than others due to the wide open top without a screen, however you have to be careful not to overfill and get a little spillage down the side. I avoid this by using a dispenser bottle rather than pouring out of a regular bottle where it might fill too quickly.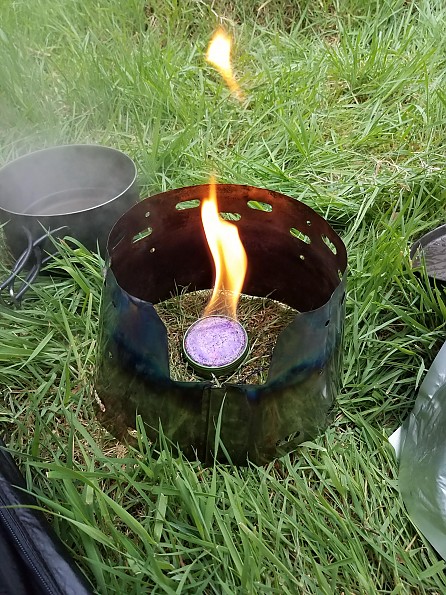 The Kojin burns well and is easy to put out—either using the lid as a damper or blowing it out. I tend not to use the lid but it is designed to resist heat so shouldn't be an issue. Due to the sturdy aluminum construction, it takes a little time to cool down (around 5 minutes), but I usually have that kind of time while eating or packing up.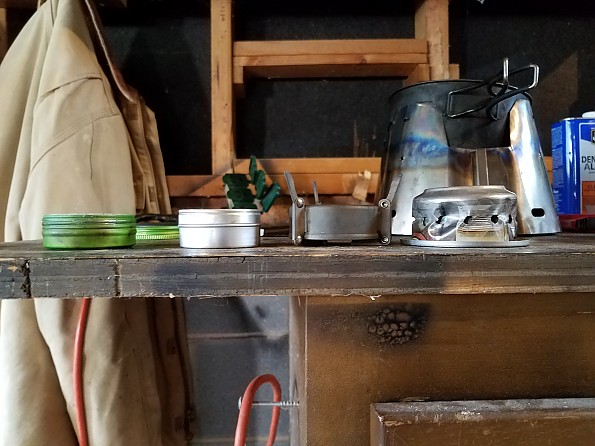 One big advantage over its 12-10 stove predecessor is the ability to work in the Sidewinder Ti-Tri models without the stakes to adjust the pot height. You can see the Kojin above (on the left) in profile as compared (from left to right) to the Modified Starlyte, Vargo Triad with lower legs folded, and the 12-10 pop can stove.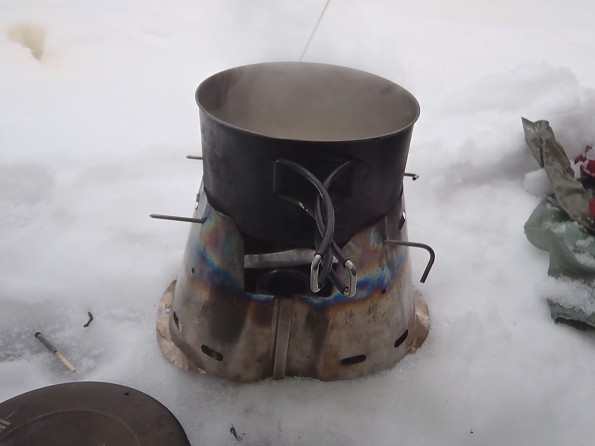 I still bring the stakes for my Inferno wood-burning insert, and use them occasionally to raise the pot after boiling and simmer with the Kojin or (in the photo above) the Modified Starlyte. Of course, you lose a lot of efficiency that way, so I wouldn't recommend this for longer trips.
Heating/Cooking

The Kojin may be the fastest-boiling alcohol stove on the market, or at least that I have found.In testing (see below) I could get 2 cups of water to boil in under 5 minutes.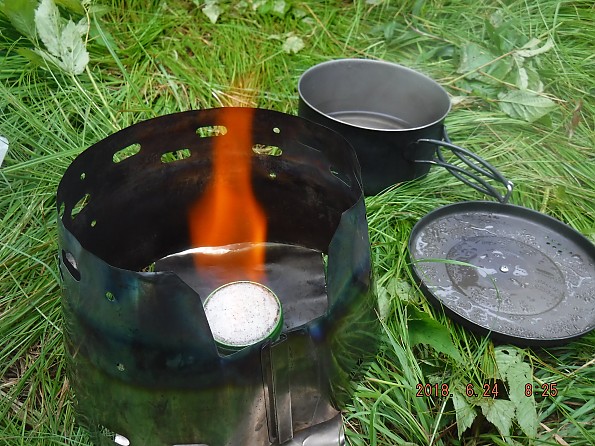 The flame is a little wider than a couple of my other options so there is not as concentrated hot spot on the bottom of the pot. This makes it a little easier to boil and keep cooking without burning food. Using the Sidewinder cone system the heat is distributed well around the bottom and sides of the pot.

As mentioned above, after bringing to boil I often add the stakes to the Sidewinder and raise the pot to a better "simmer" level. If I am doing real cooking I use the Sidewinder Inferno wood-burner, but this alcohol simmer level works in a pinch when you are in adverse weather or without good fuel.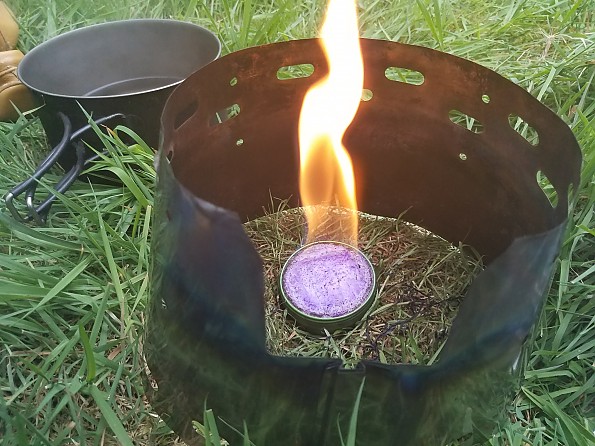 The Kojin heats really well in the Sidewinder Ti-Tri—so much so that you should always use a base on vegetated surfaces...I was lazy after a 20-mile day in Scotland and forgot to put the base down. The result was some slightly scorched grass that certainly doesn't meet LNT principles, which really bothered me.

Efficiency

The Kojin burns faster than other alcohol stoves I have used, and is still very fuel efficient. The only stove I have that beats it slightly in fuel efficiency is the Modified Starlyte.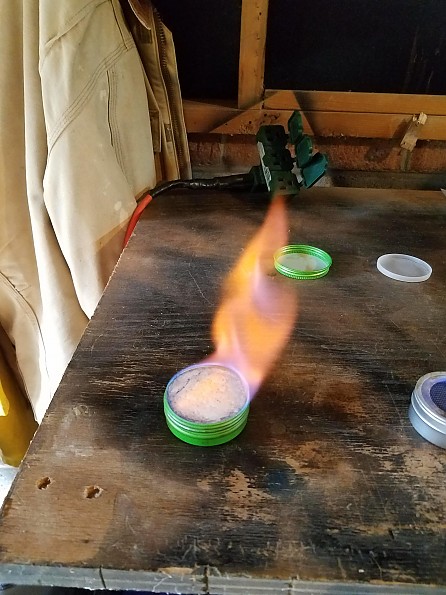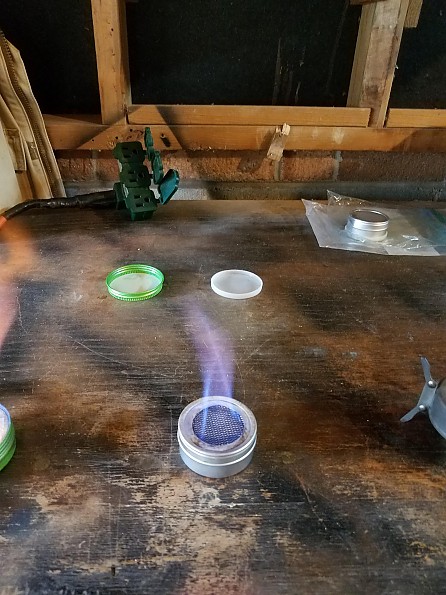 The Kojin burn time is shorter than the Modified Starlyte, but the Kojin heats water so fast it makes up for that slight inefficiency by being able to boil at least as much or maybe more water overall.
Here is a summary of my stove burn time and efficiency testing. Not fully scientific, but good enough to help me evaluate them.
Test Conditions: Garage (70 degrees and vented but no wind); Sidewinder Ti-Tri setup; 2 cups of cool tap water; 1 ounce of fuel (except Vargo Triad which needs 1.5 ounces to prime so burn time is calculated adjustment).


In weighing (pun intended) my alcohol stove choices prior to my Scotland trip, I did the best I could to be unbiased and rank the stoves vs each other in several categories that I considered important. Here are my results (ranked from 1 to 4 so lowest total is best):

This is an arbitrary evaluation as the totals and ranks assume that each category is equal so take it with a grain of salt. I gave the Kojin the slight edge over the Modified Starlyte in fuel retention as I found the plastic cap on the Starlyte can leak a little while the threaded silicone sealed lid on the Kojin has not done so yet. Also, I called it a tie in efficiency as the Starlyte burns much longer but the speed of the Kojin boil would make up for that.In the end, there isn't much difference between these two—comes down to preference and usage.
Real World Testing
I used the Kojin on several cold and wet training trips, a 13-day crossing of Scotland, and a few trips since then. A grand total of about 20 nights of use in the back country and weather conditions from sunny and 70s down to 20s and snow.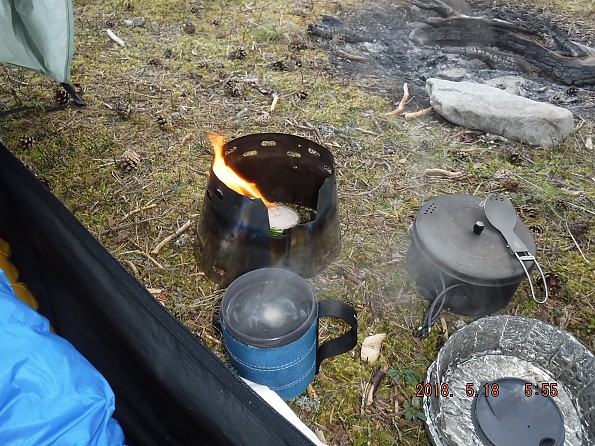 I typically boil water for breakfast (usually twice—coffee first then breakfast), lunch or afternoon tea in cold weather, supper (early camp soup or coffee/tea), and dinner. This ends up with an average of around 4-5 boils per day and some simmering when I am not in wood-burning mode (or mood). Of course on longer trips where fuel efficiency is critical, I cut this down and conserve such as just one boil at breakfast.
I used less than one 500 ml bottle of methylated spirits on my two week Scotland trip and wasn't worried about running out. 
Conclusions
Why I'm sticking with the Kojin after evaluating my options...I debated a good bit between the Modified Zelph Starlyte and Kojin before finalizing my kit for Scotland. The former is a little more efficient but the latter doesn't leak at all, is sturdier, and boils a lot faster. While the Starlyte seems more efficient due to the extended burn time, the Kojin boils faster within my Sidewinder Ti-Tri setup, therefore should use similar or a little less fuel overall if I am only boiling. If I want to simmer a lot of meals with alcohol (I usually do that with the Inferno insert wood-burning setup) I might switch to the Modified Starlyte, but I am still playing around with that idea.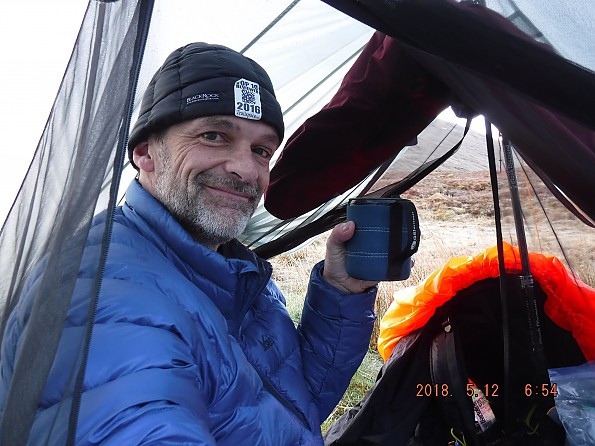 Overall, if you have a Trail Designs Sidewinder Ti-Tri or other cone-style stove system, I highly recommend giving the Kojin consideration. It should work well with other systems too but is the perfect match for my favorite stove system.
Source: bought it new
Price Paid: $11.95

Your Review
Where to Buy
Help support this site by making your next gear purchase through one of the links above. Click a link, buy what you need, and the seller will contribute a portion of the purchase price to support Trailspace's independent gear reviews.
You May Like
Specs
Price
MSRP: $11.95
Reviewers Paid: $11.95

Recently on Trailspace