U.S. Military ALICE Pack

Top 25 in unisex External Frame Backpacks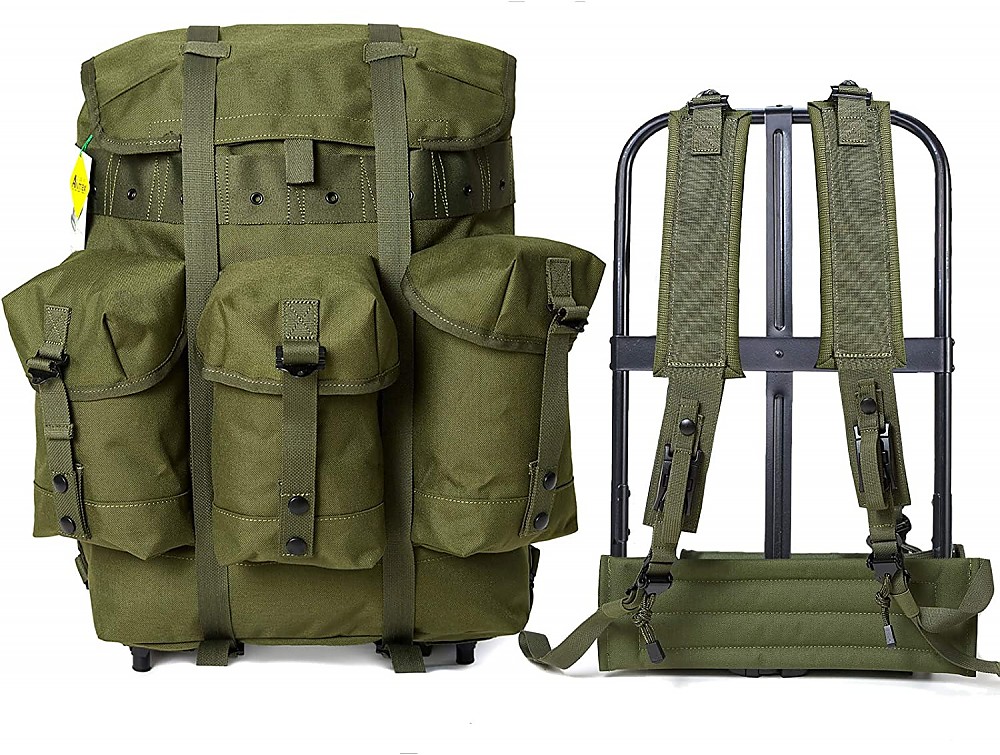 Great pack overall.
Pros
Tough
Fits mid-height guys well
Separate compartments for your gear
Nice ventilation from the frame.
Cons
Standard kidney pad and belt not great for civilian use.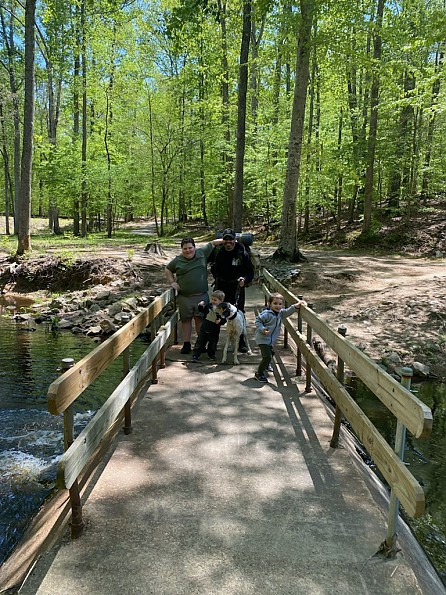 After 20 plus years I've gone full circle back to the Alice. Everybody on the internet complains about this pack being uncomfortable, but it's probably the greatest military ruck ever made.
At 5'9" I've found it almost ideal for me with very minimal changes. I had been through three iterations of Marine Corps packs, Alice, MOLLE, and the ILBE when I was in, and this was hands down the best one. I had to chuckle when the SF dude on here complained about it in the comments section. Guess what guys, nothing feels great with 80lbs plus on your back and stuff rubs.  Anyone who spends time with this pack knows they need to fabricate some things here or there.
I must've hiked or ran hundreds of miles in both the large and medium configurations of this pack in my youth. I used to hike in the VA mountains with 60lbs worth of sand on a routine basis with probably the oldest, most worn out version you could ever find.  I think that one finally gave up the ghost after a decade of my use.
I have tried everything out there as a civilian and they seldom make it though a weekend without something breaking or tearing. Nothing is worse than a pack failing on a family trip. I no longer hump endless miles on end, but it's piece of mind that I know this pack can/will do it and it will feel just as good to me as any 300-dollar fancy pack.
Experience
20 plus years of use.
Source: bought it new
Price Paid: 80 bucks at px

Not a bad pack as long as you are aware of the strengths and weaknesses of the design.
Pros
Rugged
Many made—many mods and parts available and a huge following with new uses and refinements still coming out decades after its introduction.
Simple and effective design adaptable to numerous situations and requirements
Largely compatible (upgradable) with other military load bearing systems.
Relatively inexpensive—a large aftermarket exists for resale
One size fits all
Cons
Heavier than more modern designs (but it will still float if you wrap a poncho around it).
Straps and buckles and snaps and closures not always as easy to use as they could be.
Limited number of colors available
One size fits all
Lots of poor quality "reproductions"
Original old style straps can bring down the comfort level considerably
The as-issued ALICE does the job and holds up well to rough use, but it lacks the comfort of more modern designs and the refinements and fashionable trends of civilian products. However, upgrade the straps and the waist belt with MOLLE II replacements and you've got one solid feeling pack that is comfortable and does just about anything you want a pack to do while remaining simple in nature.
Consider adding the sleeping bag carrier as well which holds the bag (and more) quite securely beneath the pack. This really frees up room inside or atop and prevents the annoyance of a loose bag slung beneath the pack, flopping against your butt as you move.
Maybe add a sustainment pouch or two in order to carry a hydration bladder (which will also fit inside the internal radio pocket) or other gear you'd like easier access to. When required, these packs can really carry a lot of gear comfortably (if set up properly) and are available in medium or large size. Definitely get the frame to obtain the most benefit of the system.
These were designed by the military for a lot of different body shapes and sizes, so they work okay for most people though, like any "one size fits all" item they aren't going to fit everyone perfectly. The upgrades really help a lot in that regard. People just like working on these packs to make them better and more capable, trying improvements and refinements. And why not? They aren't that expensive.  
There are other modifications available for the straps and buckles if the old clunky ones are too much of a pain for you. When using my civvie pack, I find myself missing the format of the ALICE and the familiar routine of cinching straps and closing pockets. I'm just used to that, so I don't feel the need to improve on those aspects. 
The original pack with straps and frame is commonly available for under $50 and even when adding the upgrades can still be had for about $100, so you really can't go wrong. It sure beats $200 or $300 or more spent on a civvie pack that will be out of production in a few years leaving you with an orphan, a dearth of replacement parts, and probably no upgrades available, not to mention the lack of a following that the classic ALICE has. 
As with anything, your individual requirements and experience may be different. But these packs have been around going on a half century and have a large following, so if you decide an ALICE pack just doesn't work for you, it should be easy to sell it to someone else.
Source: bought it used
Price Paid: Under $100

Are you people nuts? I carried a "tick" for years.  At the end of special forces selection I had cuts into my back from the kidney pad and waist belt. I still have the scars to this day. 
This pack is designed for the jungle and not the AT.  It doesn't go above the base of the neck, so soldiers with helmets could look up when they were laying down with it on, and so they wouldn't be caught up with vines and other plant life when going off the trail. 
Consequently the load goes out from your back in a horizontal line rather than up and you will HAVE to bend over to counterbalance the load. A nonadjustable one size fits all frame? REALLY? Unless you're exactly 5' 10" you're screwed. 
It sucks. Don't buy it unless you're broke. Actually, don't buy it at all. 
Version reviewed: Large
Well, on the negative side, it's ugly as all hell if you don't like OD. So, since I'm a fan of OD, there's not really a negative in my opinon. Well, I guess it could stand to have thicker padding on the straps and belt, but you can buy that, so it's not really a concern.
On the positive, it's big enough to contain a small child, and if you were wearing the thing, by the time you managed to damage the pack, well... you'd be dead.
All in all, it's a real good pack for using in the real world.
P.S. Don't EVER wear your ALICE pack over a USGI pistol belt with suspenders, because the kidney pad (the part that takes all the weight) will sit on top of the metal clips on the suspenders, and drive them into your back. I discovered this yesterday, and have a pair of nasty welts.
Design: Army issue rucksack
Size: somewhere in the 3-4000 cubic-inch range
Number of Pockets: 3 accessory pouches, 1 map pouch, 3 mag pouches, main compartment
Max. Load Carried: 60 lbs
Height of Owner: 5' 6"
Price Paid: $80

I have owned and used several different types of packs, having worked as a alpine mountain guide, professional ski patrolman, and having been involved with mountain rescue. When comparing the Alice Pack to frame packs, internal frame packs or soft packs I will say it is a good solid pack.
It has no zippers to fail when you need it most. The sewing is bomb proof. It can be used as a soft pack or add its frame and you can improve the load carrying comfort for bulky loads that wouldn't carry well in internal frame pack or you wouldn't want to carry in you several hundred dollar pack ( Elk Quarters or boxes for example).
The basic Alice Pack can be improved upon by adding aftermarket thicker padded shoulder straps and hip belt, the difference is money well spent. The pack will fall short in some peoples eyes because the military-issue shoulder straps and hip belt are not very well padded and the nylon material is not waterproof (put load into waterproof bags).
The pack dose not extend up to add more load carrying capacity, hunters who hunt in the mountains may like this feature as the head will not come into contact with the top of the pack.
Design: Alice pack
Size: large and medium
Number of Pockets: 3 external, 1 internal for a radio
Max. Load Carried: 70 lbs
Height of Owner: 5'8"
Price Paid: $25

The medium ALICE is the most versatile durable pack and less expensive than other brand name packs.
Pros
Tough, not easily damaged
DIY frame to after-market frames available
Volume easily increased
Price even with after-market frame less $
Fastex buckles can be easily added to main straps
Earth tones and camo available
Pass through outer pouches for camp tools
Cons
Heavier than 500 D cloth
Issue frame not meant to transfer wt to hips
No small pockets or internal hydration sleeve
Frame required for camping gear, not for hiking
Does not come with Fastex buckles for quick access
No bright colors
Pouches will not fit canteen with GI cup attached
A medium ALICE pack can be bought separately from an issue frame. If it is surplus it will have three internal strings to reduce its size for hiking (YouTube has a vid on how to turn it into an assault pack). Ten to 15 lbs will carry fine without the frame.
For camping a DIY frame (see YouTube vids) or after-market frames (see YouTube vids) allow you to buy and attach a MOLLE 2 hip pad belt to transfer much of the weight comfortably to your hips. Do that before buying thicker shoulder pads.
Any size sleeping bag can easily be attached to the frame. The medium ALICE pack was designed to carry 50 lbs. To upsize the volume purchase two MOLLE sustainment pouches. These attach to the side webbing on the medium pack, not the large size.
Traditionally organization for a pack was a collection of bags. The three ALICE outer pockets were meant to carry two extra canteens of water and the center for medical supplies. They can carry a rain jacket, poncho tarp, or smaller hammock.
Hydration packs or bladder are placed horizontally under the main compartment flap or you can place a foam pad there. Snowshoes can be attached by the main compartment Webb straps and skis can be attached to the side webbing. Pass through outer pouches allow for carry of tools ( axe, pick, Cold Steel shovel, etc).
Source: bought it used
Price Paid: $30 pack; other type frame $20; Molle hip pad $15

If you're going to be shlepping an ALICE pack fully loaded, I strongly urge you to make sure you have the frame attached regardless if you have a medium or large pack. Even still, the ALICE is not a very comfortable pack. At the price point they are hard to beat. They average around $30-$40 on ebay.
If you order one, make sure it comes with straps too. Often they are sold separately. They are durable and hold a lot of gear. There are no organizational compartments for smaller items such as pocket knives, multi-tools, pens, flashlights etc., but you can purchase an organizational pouch like a Maxpedition EDC or Spec-ops version for $20-$30 and it will hold all your smaller items nicely. Toss it in a front pocket of the ALICE or inside the bag.
If you like external frame packs I would recommend a Kelty over the ALICE. They can be had for a bargain used on Craigslist and the like.
Price Paid: $30

A simple pack that can take pretty much ANYTHING you throw at it, and I have never had it fail me. Rain, dust, freezing temperatures, overturned canoes, it's proved itself every time.
I'm partial to earth tones, so the O.D. suits me just fine. A bit heavy, but it is worth the added weight knowing there is no zipper to jam or break. You can load it with a great amount of gear, and by adding the Vietnam issue sleeping bag carrier as well as additional pouches, you can really get a boatload of gear together for camping, or for an extended BOB.
The only problem I had was the mid bar on the frame rubbed my back after an accident, and the bone was fused making my back bulge out. I cut the middle bar out, and it works fine for me. A chest strap was added to the shoulder straps, using this in tandem with the waist buckle.
Overall a great rig, much better than the MOLLE in my opinion.
Max. Load Carried: 65
Height of Owner: 5'8"
Price Paid: $15

This pack is one of my favorites. Mine originally came with very well padded and cushy civilian shoulder straps, which I swapped out for original issue straps. Though they aren't as soft or squeaky, They fit my body frame a lot better and breath more.
I think one of the things I love about my ALICE pack is that unlike its civilian counterparts, either internal or external, the parts are easily acquired, for cheap nonetheless, and easily swapped out. I also like this pack cuz I can load it up with upwards of 60 pounds of gear and not have to worry about some thin webbing shearing or plastic external frame breaking.
I have used the generation one MOLLE rucks, and can honestly say I like the ALICE better. Though the ALICE only has one way to get into the main compartment, it can still hold its lashings better and easily takes ALICE gear attachments. When used with the frame, it can become uncomfortable with people over 72 or so inches tall. Luckily I'm still about 67 inches, so it fits just fine.
I do love my large ALICE ruck and hope it serves me well in the military when I enlist. Which I think it will readily.
Design: rucksack
Size: 5,000+
Number of Pockets: 7
Max. Load Carried: 55 pounds
Height of Owner: 67 inches
Price Paid: $50

The ALICE pack is a no nonsense, strong and cheap design from 1960s. There were several versions made for the US Army, medium ALICE and large ALICE. The medium pack can be worn without an external frame, the large pack has to have the external frame because of its size. I am not a big fan of external frames, so my pack does not have one.
While a vast improvement over a school bookbag, the ALICE pack is not the most comfortable design out there. It is still one of my favorites because of our camping history, and because it is tough. I have strapped tents, gallons of water, firewood, all kinds of things onto it, and nothing ever broke The fabric is very durable, and the straps are extremely strong.
I dislike the frameless design because the bag bows out, and sits on your back in an awkward way. The shoulder straps are not heavily padded, and there is no hip belt. With the external frame, you have to use a hip belt, so that may be an improvement in comfort and usability. The stock shoulder straps are about 2.5″ wide, and have less than 1/2″ of padding. When used without the hip belt, all of the weight rides on the shoulders, which makes even a short hikes extremely uncomfortable, and back-breaking. Both shoulder straps have old-school quick release buckles.
The main compartment is 18″ x 12″ x 9″. The front and side panels are not rectangles, so actual dimensions may be a little different. Inside there is a radio pouch. I usually stuff a towel there, to provide some sort of back padding, and to give the pack some shape. The main compartment is closed via a draw cord, and covered with a waterproof flap. The flap can be used a small pocket for snacks, keys, TP, whatever you need quick access to, without getting into the main compartment.
All of the fabric is not waterproof, the Army used special nylon waterproof sacks to keep soldier's clothes and equipment dry. There are two grommeted drain holes on the bottom. The ALICE pack lacks a carry handle, and the padded pocket in the back, that's used for external frame fastening, rips off easily if used as a handle.
Read my full review at: http://www.campingsurvivalgearreviews.com/?p=109
Design: rucksack
Size: 2484 cu inches
Number of Pockets: 3
Max. Load Carried: 45 pounds
Height of Owner: 5'9"
Price Paid: $20

This tough and flexible backpack is my short trip backpack. The original bag is dirt cheap. The frames can be swapped, bags swapped, and all kinds of after-market suspension parts are available. See pictures below to see combinations that can be made for very little.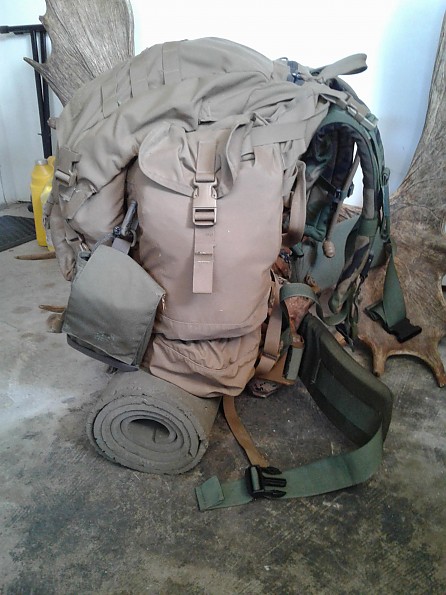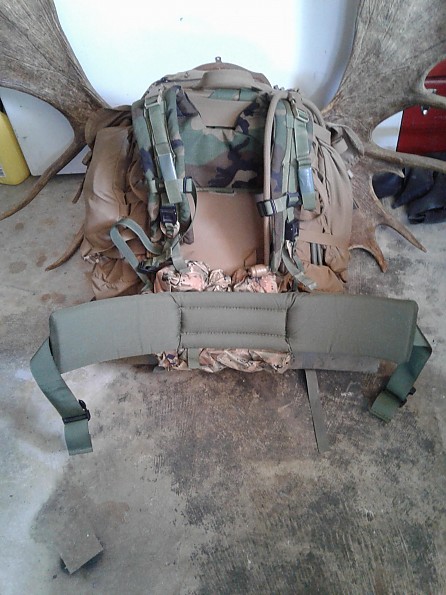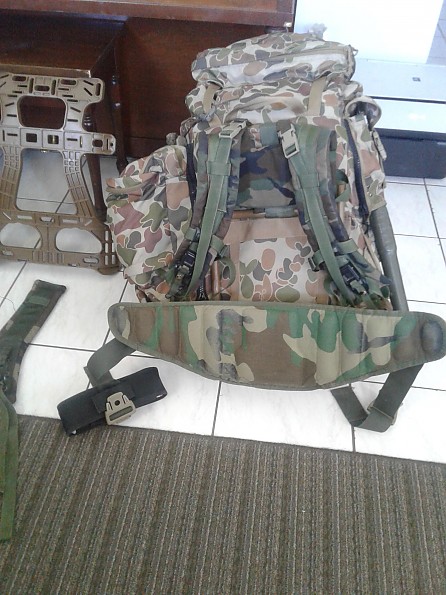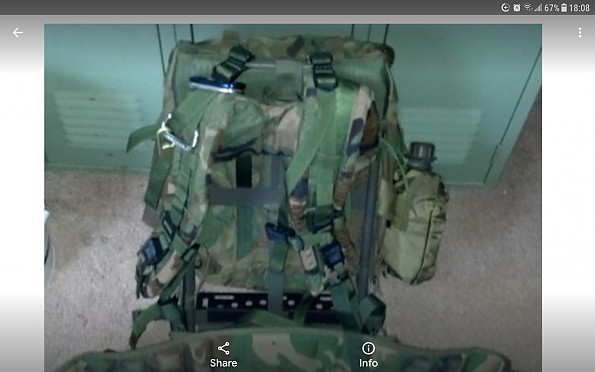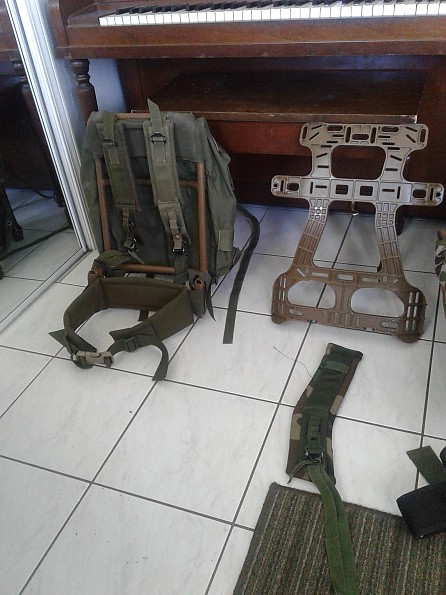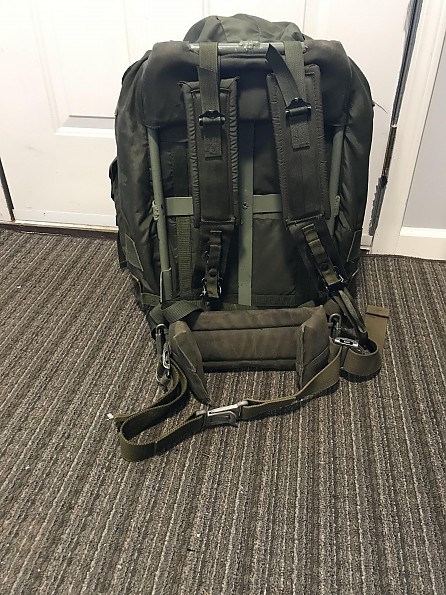 I replaced the snaps on the outside pockets with quick clips and the shoulder straps and hip belt with the new MOLLE versions, but the original were fine for 15 years. Though the aluminum frame is riveted it holds up extremely well. I've welded my joints for better strength. If you are going to do that get it done professionally.
My only points against it was the frame squeaks sometimes (this can be taped), and it's top loading (thinking how you pack it will help). Altogether though, this is an excellent 'pack for any skill. If you are not hung up on 'trail fashion' then this pack can do whatever you need it to do.
An Addition
I was reading online of the Hellcat modification for the ALICE pack. I did that for my son and it's a good modification. Google it or try the following website for direction: http://libertytreeblogs.blogspot.com/2011/04/building-hellcat-hybrid-ruck-from-us.html
You can also buy it from a few different websites. This really ressurects the old "tick" into an inexpensive option.
In 2013 I purchased the 1606 Airborne frame from Downeast Inc (it's a light-weight polymer) and is rated to 200 lb. I used this combo, the large ALICE on the plastic frame and the MOLLE II straps, as a overnight or day pack for hunting. This is a lightweight and surprisingly good combination. Comfortable and about 5 lb. you can use this short trips with enough room for three or four days worth of gear and "grub".
The frame is $35 from Downeast or as little as half on eBay. If you are on a budget and need a large pack try the ALICE-MOLLE II mix. It is comfortable and you can get the whole system for less than $75 and will last for decades. All the packs in the pictures put together were under $300 CDN. I found the combination that worked for me and sold the others for $250. My youngest kept the Aussie ALICE for himself. 
Additional August 2021: There's a couple of things about ALICE I wish to add. I do not have any military experience so I'm just telling you what was passed on to me by friends of mine who were in the military. One the most important is that hip belt is not a hip belt it's actually a kidney belt and should be used accordingly. I replaced mine with a Tactical Tailor super strap kidney belt, huge change in comfort.
My shoulder straps are modified MOLLE  II Woodland camouflage type. My frame is the Tactical Tailor welded frame MALICE, which is much stronger and 30% lighter. For hunting and for hiking the ALICE can be quite comfortable with different straps from different companies. Try them out, experimenting is cheap.
The frames adapt to many different strap systems and the ALICE  is more comfortable with these. I've carried quarters of moose out of the woods with my ALICE, over 120 pounds, and the pack worked wonderfully. It's an economical alternative to $600 to $1000 packs. And to the people who have carried these in the military, I may be wrong in this but I don't think so, hunting loads and hiking loads are much less weight so the comparison seems an apples to oranges type comparison.
And also if you're not carrying SAPI plates and body armor systems, chest rigs etc. these packs should be quite comfortable. This is just one person's opinion nothing more. I'm having problems with my iCloud but is soon as I can I'll put some pictures up of the rig is I've got it set up for 3 to 5 day hunting trips. For big trips we're out 10 days to 14 days, or need winter gear, or other gear, I use the Lowe Alpine Saracen (also modified for my needs).
Anyways that's my two bits worth. Based on my experience, my use of this equipment, and nothing more. I am no expert.
Experience
I've been using an Alice pack since the middle eighties. Mine are not general issue style but have been modified a lot.
Design: Top loading
Size: About 40 litres with strap on connections (ALICE clips)
Number of Pockets: Large ALICE has 3 larger pockets and 3 ammo pockets, medium ALICE has 3 larger pockets
Max. Load Carried: Ive had 75+ lbs in and on it.
Height of Owner: 5' 8"
Source: bought it used
Price Paid: $69

Version reviewed: medium b coy
I have used an Australian version of the US Army medium Alice pack. the version is made by an Australian company called Platatac. The straps are made my ausweb gear.
I love my Alice Pack. I have used it on field activities with the Australian air force cadets. I use the frame with enhanced straps and kidney straps. I have carried it when it had 25kgs of gear in it for 12km straight while also using webbing and I was not in any discomfort after that.
I would recommend this pack to anyone. The pouches on this pack are similar to the US Alice pack one's, except they are longer and where the webbing straps are on the sides of the pack there are pouches that have been sewn on there is also a claymore pouch on the lid.
Design: rucksack medium alice pack varient
Number of Pockets: 7
Max. Load Carried: 25kgs
Height of Owner: 5'11"
Price Paid: $100 + frame and straps rrp $275 + frame and straps

This is the best pack ever. Any street kid or train hobo will say the same. It has plenty of room for anything you need. You can carry heavy, medium, or light with it.
Anyone who says it's "uncomfortable" or "heavy" needs to stop being a wuss. I *lived* out of mine for four months *straight*. When I went somewhere I had it on my back. If I got up from a nap to go to the store 1 mile away I had to carry it so no one stole all my shit. I
f I could carry this thing every waking hour for four months straight with no problems, being only 5'5" guy, then you can too. Stop crying.
Design: 1980's ALICE ruck+frame
Size: medium
Number of Pockets: 5 (1 internal)
Max. Load Carried: 40 pounds
Height of Owner: 5'5"
Price Paid: Fair trade

Version reviewed: LC-2, Large and Medium
I got my medium ALICE pack and frame from a deactivating Air Force Rescue unit back in 1990-91. I still use it to this day. It is very sturdy, can hold a lot more than its rated weight (sandbags plus gear, flak vest and chemical protective gear). It has three outer pockets, plus a "bonus" pocket in the top flap that's waterproof, and it has webbing for ALICE clip or similar equipment, so you can hang things on it also (canteens, entrenching tools, etc.)
Without the frame, the medium makes a good 3/4 day pack. On deployments, I put the frame in a checked bag, and use the pack as my carry on. Great for carrying blankets, etc.
I bought my large brand new, plenty of use from it, use it to carry my uniforms, toiletries, etc., on deployments, tons of room (a kid can fit inside of it). It has three large pockets and three small ammo pockets on the outside, plus the flap pocket. Several military equipment tailors offer modifcations for the large pack that add 7 or more pockets and multiple improvements for this pack.
One thing that I like about the frame design is that it rides high, and is relatively narrow, so it works well if you are wearing an equipment/web belt.
Design: Top-loading external frame
Number of Pockets: M-3 L-6
Max. Load Carried: M-70+lbs L-Unkn
Height of Owner: 5'11"
Price Paid: Varies

Version reviewed: LC-2, Large
I have been a user of the ALICE pack or as some call it a Rucksack, from the day that the Army gave me one 14 years ago. Well if it's built to go to war, then it can make it through a weekend in the woods or sandy hill.
I have both the med and large packs, I do use a frame with both. But the Med pack is made to be used without a frame, but if you're going out in the heat or cold use a frame. It helps to keep the pack off your back and lets any heat build up out. The med pack was designed to carry up to 50 lbs and large up to 70 lbs but both will go past that.
Both packs have a large center pocket with a small pocket inside of that at the top, the flap that covers the main compartment also works as a pocket. For wet stuff or a map. On the outside you will find 3 nice large pockets and 3 more above that, also on the side's are area to hook on more stuff. Like a canteen or First Aid kit. The pack is not waterproof but you can buy liners to do the job. This is one pack that you can live out of on a trip. Give it a try you will never go back...
Design: Top internal and side pockets
Size: 3,800
Number of Pockets: 2 internal 7 outside
Max. Load Carried: 140 lbs
Height of Owner: 6'
Price Paid: $40

Version reviewed: Medium
This pack has been in service with the Army for several decades and is still a wonderfully designed piece of kit. It is built to last. The pack is made with # 420 packcloth, but is not totally waterproof. It can hold a fairly good amount of gear, with 3 large external pockets for quick access to small things.
The pack rides on a small aluminum frame, and the kidney pad is nice but is not very comfortable compared to today's waist belts. You can detatch the pack and attach the shoulder straps to the pack to use without the frame, although it is very uncompartable because there is no frame sheet in the back.
I have used this pack to carry almost 40 lbs over a week. The straps pop out ocassionaly over bumpy terrain but if you tighten them and loop them back around they are not a problem. The straps also have a (pointless) quick realease but they sometimes release when you don't want them to.
Overall, this is a wonderful but aged design. It is solid and funtional with not flashy features or unnesesary add ons. It can hold over 50 pounds, and has webbing chains on the side to hold canteens, ammo pouches, butt packs, or anything you want to stick on.
Rugged and simple, although not for everyone. If you are not too big on comfort you should be able to handle this ruck.
Design: ALICE Medium, useable without frame
Size: ~3000 cu. in.
Number of Pockets: 3 Large, 1 Internal, 1 Map
Max. Load Carried: 35-40 lbs.
Height of Owner: 5'5"
Price Paid: $110

This is a great, huge pack with plenty of large pockets to organize and fit more supplies in. It is pretty water resistant but I wouldn't guarantee anything there. The MOLLE straps on the outside are good for hanging stuff from with bungie cord or clips. Extra pouches can also be added to the outside :)
Pros
Very strong material
Water resistant
Large
Can mount more on to it
Cons
Personally, when I get a big pack I tend to fill it... Since this is so big, if I carry it then it's for at least a day's worth of a trip
You cannot use this pack without a frame! It is very difficult but you would have to try it to believe me...
I would recommend this to anyone who would like to go for a longer trip, not just a day hike. These packs are for sale, made brand new in the curragh army shop.
Source: bought it new
Price Paid: €150

I was issued the ALICE medium pack with frame by the Army and carried it around many miles. Still have the same one and use for camping and hiking. I always liked it.
It has plenty of room and is well-balanced. It distributes the weight pretty well between shoulders and hips. It is never fun to carry around all your belongings on your back, but this pack does the job as well as can be expected.
I have read an army review of troops in Afghanistan using the MOLLE system, and troops and commanders wished that they had brought along their old ALICE packs. One company commander said he should have brought a container full of them.
Price Paid: $00

I bought a medium ALICE pack several months ago and I love it. After around 45 miles worth of day hikes it still looks and functions like brand new. (I bought it surplus, "near mint" condition) I carry light with no frame for the pack.
The issue straps aren't great, but if you distribute the load well, they're pretty comfortable. These make great day packs and the amount of stuff you can fit in it is fairly amazing.
I can't attest to the large framed pack, but if a rugged pratical day pack is what your looking for, you can't beat it.
Price Paid: $24

I got the large pack with frame of course and I gave it a brief shakedown for a weekend. My son and I went for a hike. He basically carried a day pack with about 10 pounds of stuff in it. I carried the rest. I ended up with 50 pounds strapped to my back at the end of the day and this thing was pretty good.
I've had other external frame packs that were slightly more comfortable but I do have to say that low slung pack aids in balancing. It could definitely benefit form a sternum strap but once you get the thing slung properly for you--everyone is a little different--it's certainly good enough for the average hiker with tons of space and seemingly a pocket for just about everything.
It's not for the gram-weanies though. This is a stout pack not intended for ultra light anything. However if you want to have a lot of creature comforts back at the campsite then this is the pack system for you. If you are the one that cuts the the handle of your toothbrush then you are not going to appreciate this unit.
Price Paid: $40

I've humped one for 12 years and wouldn't trade it for anything in the world. With a few slight mods, you can easily put 75lbs in it and go for days. Just like a good pair of boots, once you get used to it, it won't fail you.
Max. Load Carried: 85lbs
Height of Owner: 65"

Listen, this pack kicks ass. For those who can appreciate the sheer simplicity and ruggedness of a pack-pack, the ALICE pack is the one for you.
I love my ALICE! This backpack is by far the best backpack I ever owned. Unless you grab a knife or something sharp and go at it, you are not going to damage this ruck period. Is as close to bulletproof as it can get.
It has a very simple design. One main compartment (very roomy, you can literally carry loads and loads in it). Three huge pockets on the outside (combine these and you have almost as much room as the pain pouch)
Durability? Well, I am still to see anything in the market that comes even close to the ALICE. Go buy yourself one. You'll see what I mean.
Price Paid: $40

The issue straps suck and the frame needs a lot of help. BUT, with a 25 dollar pack, and 25 dollar aftermarket shoulder straps, this is a fairly comfortable pack when carried frameless. Considering that the basic design is almost 40 years old, and was designed to be worn with more padding under it, that's an acceptable trade off.
I know people whine because it is heavy. Guess what—I've had my ALICE go sliding down a 50' rock face, and there was only minor scuffs on it.
The ultralight wonderpacks, on the other hand, I've torn seams out of trying to scratch myself under them. I've also watched them get slashed up by taking them through any kind of serious brush—fine for the tail, but not for the woods.
I'll take heavy and working over light and busted any day.
Design: rucksack
Max. Load Carried: 40
Height of Owner: 6'
Price Paid: $50

I tried this pack because I find the hip belts on commercial packs too constraining. This pack's kidney protector pad rests on my back, just above my butt and is very comfortable. For me, this pack position takes a lot of the weight off my shoulders. I upgraded the shoulder straps to ones that have better padding. I also like the large main compartment and the three outside pockets. Lastly, this is the old European rucksack design instead of the new pack designs which are getting taller every year.
Design: rucksack
Size: Approx. 3,500 cubic inches ??
Number of Pockets: 1 large, two medium, 3 small and one top flap pocket.
Max. Load Carried: approx. 40 lbs.
Height of Owner: 5' 10"
Price Paid: $95

I get this Large ALICE pack complete... I work in construction so I carry helmet, gloves, safety glases, full body rain suit, a M65 Jacket and some tools. It's imposible to fit all in any regular backpack and ride my scooter, but with this ALICE pack it's really easy and confortable for my back. I love my backpack.
Design: Rucksack
Size: Large, not sure...
Number of Pockets: 6
Max. Load Carried: 50 pounds
Height of Owner: 5 feets 8 inches
Price Paid: $80

I carried a medium and a large ruck for four years in the Marine Corps. They are rough and tough and can carry more than you'll ever want. In the eight years that I have been out of the Corps I have tried several different external and enternal frame packs, and my latest experiment is the small Alice ruck. I discovered that no matter what kind of pack you use there is going to be some level of discomfort.
There are several things I like about the Alice packs. 1) It is top loaded, so there are no side zippers to bust out. 2) It is short and stout, no frame bars sticking below your rear or above your head to get caught on branches and brush. 3) Durable, I've carried them across deserts, through triple canopy jungle, over mountains and even went swimming with them and they hold true all the way. 4) Extra pockets to help you separate certain gear in order of importance. 5) Simple color, so you don't look like someone ate a bag of skittles and then puked it on your bag.
If you do decide to buy one you might try a sternum strap... you'll thank me later. Also for those who are masters at "JERRY RIGGING," extra padding for those kidneys might help too.
Version reviewed: Large
I have owned my u.s. army large alice pack for six years. It has been used in panama by my father who was in the 82nd airborne division for 2 1/2 years. My pack is still in very great condition. It is very durable and strong. It has six outer pockets and one field radio pocket inside and one compartment in the flap. I recommend it for a five day campout. It is also good for hiking and hunting. One last thing it is very comfortable.
Design: RUCKSACK
Size: 3,800
Number of Pockets: SIX
Max. Load Carried: 50 lbs
Height of Owner: 5'1
Price Paid: $69.99 (retail)

Version reviewed: Medium
A heavy-duty, well-made pack that you can pick up for $30 to $50 (used in good shape) complete with frame, hip belt and shoulder straps. Lots of attachment points. Good size for a weekend trip. The large ALICE pack is better for a week-long trip, has six (6) pockets and a much bigger main bag.
Design: Top-loading rucksack
Number of Pockets: 3
Max. Load Carried: 50 lbs
Height of Owner: 5'10"
Price Paid: $49

IMHO Alice packs were designed to keep the RAP in business. An old design, functional, yes, but not user-friendly by any means when compared to modern load carrying kit.
Just my opinion
Dave
Rugged, simple and no thrills pack. I have used all sorts of packs from all sorts of makers and still migrate back to simple.
The large pack was designed to be lived out of for extended periods in a hostile environment. With this in mind I feel that it will serve the weekend to extended hiker/backpacker just fine. Load it correctly and it will hump a load with the best of them.
Design: rucksack
Size: large
Number of Pockets: 7
Max. Load Carried: 60 lbs
Height of Owner: 6'1"
Price Paid: Isssued to me in 1989 ( free )

I did not like this pack. I used to be a grunt carry this pack around such places like Fort Benning, Fort Lewis, Yakima Firing Center, and Germany.
It is a very heavy design, though it is durable.
It is not very comfortable with heavy loads. It put a lot of stress on my back over the years I had to carry it. After I left the service I got by a car. My doctor noticed that I had calcification in my back from all that weight all those times I carried the pack. This was over a four year period. I was 22 to 26 years old. I do not recommend this pack for anyone for a prolonged period of time.
Design: Ruck sack
Size: 3500?
Max. Load Carried: 80 lbs, usually 50 pounds
Height of Owner: 6'3"
Price Paid: issued as TA-50

I won this pack on Ebay not very long ago. It is an unissued original US GI medium pack in absolutely MINT condition! The LC-2 frame is flat grey in color...almost looks parkerized. Not a scratch on it! I swapped out the shoulder straps for a set of "enhanced" straps from BLACKHAWK (OD in color). The rubber coating under top cover is MINT. This pack looks as if it was in a time-capsule for the last 20 yrs!
This is my only complaint with this pack...I find that when the frame is mounted I have much less load carrying ability. The frame is meant for heavier load carrying, but I can pack much more without the frame. Without the frame it's almost like a large "assault pack". All-in-all this is a beautiful ruck.
Design: Top loading rucksack
Size: Medium--2400 cubic in.
Number of Pockets: 2 internal...4 external.
Max. Load Carried: 65 #'s without frame
Height of Owner: 5'-11"
Price Paid: $43

The people that wrote these reviews have not 'humped" this pack OR they've never carried a good pack and don't know the difference.
Tough (yes), lots of pockets (yes), Worst pack I can think of to carry.
SF people finally got Gregory to build the SPEAR system. THANK GOD.
Design: Frame Type Pack
Size: Large
Number of Pockets: 3 large outside 3 small outside
Max. Load Carried: 100 +
Height of Owner: Was 6'1" when i went in now 6'

Pros: Rugged, durable, not eye-jarring in the boondocks. Indestructible. Inexpensive. Good pack for young people until they grow into a bigger one.
Cons: The load tends to ride low, and sticks out from the body a ways, affecting comfort and balance. Only one size frame which may be hard on the taller user—best suited for 19-23" torsos. I'm 6'3" and Lady ALICE is hard on me on long hikes. If the shoulder straps are right, the waist belt rides too high and cuts off wind.
Design: Top-loading rucksack-type
Number of Pockets: 5 (medium) to 7 (large)
Max. Load Carried: 60+ lbs
Height of Owner: 6'3"
Price Paid: $30-$80

I have taken an old US ARMY ALICE pack and modified it to the hilt. It has a sleeping bag compartment sewn into the bottom with a zipper entry. This sleeping bag compartment can collapse to the bottom so the inside of the pack can carry larger items such as water jerrys or satellite phones.
It has two long pouches on either side to carry Camelbaks with their carriers, designed to carry 2L bladders. The inside of the top of the pack has the normal radio pouch which I use to carry 2x 2L South African water bottles and this keeps the weight closer to your body. I have attached a larger lid with a claymore pouch with a zipper opening which opens away from the pack to allow another person to reach in and deploy a claymore if req.
At the front of the pack are another 6 pouches—three top ones for first aid equipment, rope and marking equipment such as cylume cord rope etc. The bottom three pouches are for food—left for breakfast, centre for lunch, and the right for tea.
The frame on either side where the bottom of the pack straps connect have two small pouches attached using cable ties. These pouches are designed to carry first aid dressings. The top inside of the pack I have a light daypack designed to carry mission essential equipment.
The pack is made of a mixture of canvas and nylon. The camouflage pattern has been hand painted in an Australian disruptive pattern. It is a well set out pack for reconnaissance work. It can carry up to 5 days food, 12 liters of water, communications equipment, varying sleeping equipment, mainly targeting a tropical/subtropical climate.
Design: front loading internal
Size: 150lt
Number of Pockets: 11
Max. Load Carried: 55kg
Height of Owner: 187cm
Price Paid: $125

Version reviewed: med.
The army really knows how to make some tough gear, but forget about comfort and style. I use a medium and the lumbar pad hits me way too high in the back. The lack of a sternum strap is another negative but I have put one on myself.
But the pack can handle a heavy load with ease. I have only had 50lbs in it for long trips, but close to 80lbs for shorter trips and the pack performed well. The best thing about it, though, is that it is pretty much bombproof. The simple design makes it a good selection and it comes in very nice colors.
If you get the chance, you should buy one.
Design: A.L.I.C.E.
Number of Pockets: 1 main, 3 outside
Max. Load Carried: 50lbs
Height of Owner: 6'1''
Price Paid: $30

This is just simply the best pack I've ever used. It's beautiful in its sheer simplicity and ruggedness. I've owned mine for over six years and have traveled all around the world with it and it still looks and performs great. If you don't want a modern, colorfully nauseating, techno-pack than I HIGHLY recommend this rucksack. If you want to know a trick for getting it on with heavy loads (w/out a back injury or knocking over bystanders) than you can e-mail me.
Design: A.L.I.C.E. pack (large)
Number of Pockets: 1main,6outside
Max. Load Carried: 80 lbs
Height of Owner: 5' 11"
Price Paid: $80

Primitive, heavy, and outdated, an Alice Pack would never make it into my gear collection.
Cons
Heavy
Small load capacity
Uncomfortable
Did I say uncomfortable
We used these in the NZ Army back in the '80s. Like a lot of the gear back then it was 1960s Vietnam era.
Back in those days the gear was so bad that soldiers would go out and buy their own gear, mostly civilian issue. 
SAS soldiers used to go out and buy MacPac and Fairydown backpacks. The Alice Packs were just not capable of carrying sufficient load comfortably and I can only suggest they are basically rubbish.
Avoid.
Source:

I tested one of these packs that a friend was given recently and have got to say they are rugged, rough, uncomfortable and really only any good for what they were designed for, lumping heavy stuff with no thought for the wearer.
Anyone who really thinks that these things are comfortable should try some of the Wilderness Equipment packs from Australia. They are the best packs in the world bar none and they make these things look like an old bed frame thrown on your back. Get into the new century and do yourselves a favour, you will wonder why you ever bothered with this crap.
Design: top loader
Size: too big and heavy
Number of Pockets: who cares

Okay, WHY are you guys buying these things???? My complaints are these.
1) The pack is really really heavy.
2) The metal frame is uncomfortable and the cross brace is weak.
3) It was originally designed for carrying 60+ pounds worth of supplies and ammo.
Guys just stay away from the military surplus stuff.
Design: rucksack external frame
Size: medium
Number of Pockets: 3
Max. Load Carried: don't know
Height of Owner: 6 feet
Price Paid: $50

A tough but antiquated design. This is not the pack to buy if you want comfort but if you are looking for a cheap pack that you can run over with a truck and still use this is it. This pack is grossly outclassed by almost every civilian pack on the market.
Design: rucksaCK
Number of Pockets: 6
Max. Load Carried: 80lbs
Height of Owner: 5'10"
Price Paid: military issue

Your Review
Where to Buy
Help support this site by making your next gear purchase through one of the links above. Click a link, buy what you need, and the seller will contribute a portion of the purchase price to support Trailspace's independent gear reviews.
You May Like
Specs
Price
Current Retail: $129.99
Reviewers Paid: $125.00

Recently on Trailspace