U.S. Military ILBE Pack

The ILBE Pack has been discontinued. If you're looking for something new, check out the best expedition packs for 2023.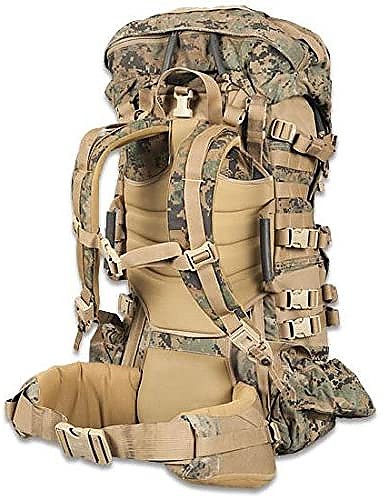 Comparison of the USMC ILBE vs Eberlestock v90 Battleship backpacks with the focus on winter camping usage.
Pros
Heavy almost indestructible military backpack
Very large
Carries 120 pounds
Lots of webbing to attach gear
Comfortable well designed internal frame
Many YKK zippered pockets
Cons
Expensive—can find used though
ILBE is now found only used
The ILBE Assault pack is not recommended for winter
For Winter Camping and Expeditions you need a really HUGE backpack.
I own both the Eberlestock v90 Battleship and a USMC ILBE pack. I shall compare and contrast these with emphasis on winter camping.
Both packs have online reviews on military use, hunting, and expeditions.
Both packs have good reviews on TRAILSPACE.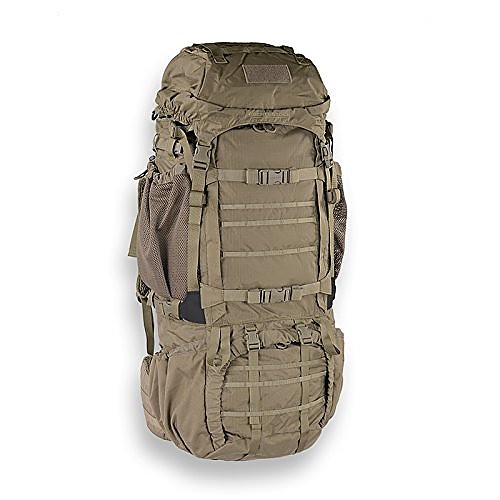 Battleship front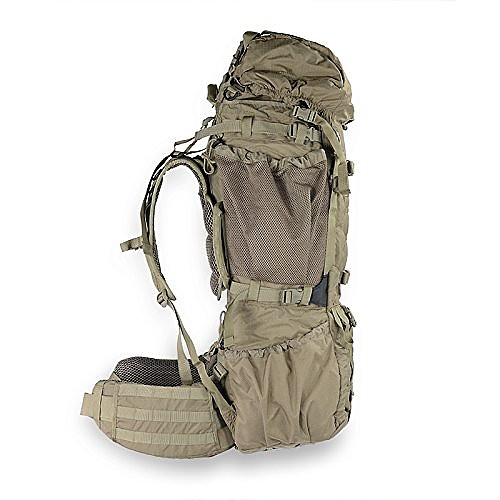 Battleship side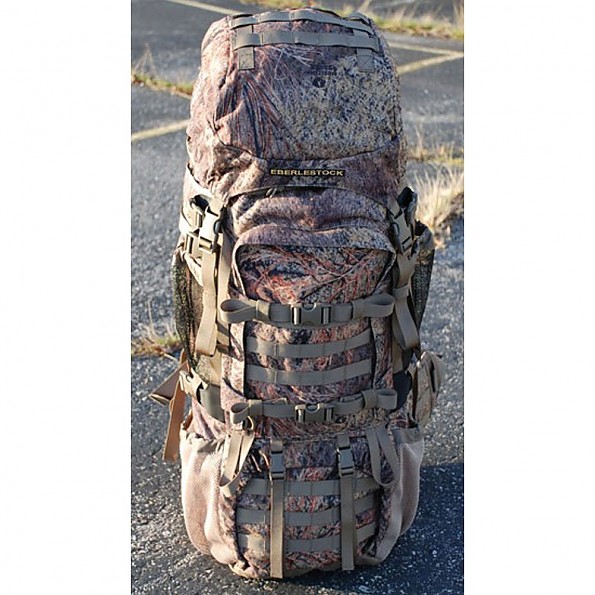 Battleship Camo
The Eberlestock v90 Battleship pack is well known for expeditions, military, hunters, and "preppers" as a bug out bag. There are many YouTube videos. It is not so well known as a winter camping bag. This is a huge backpack. Rugged and well suited for winter camping for two or more days.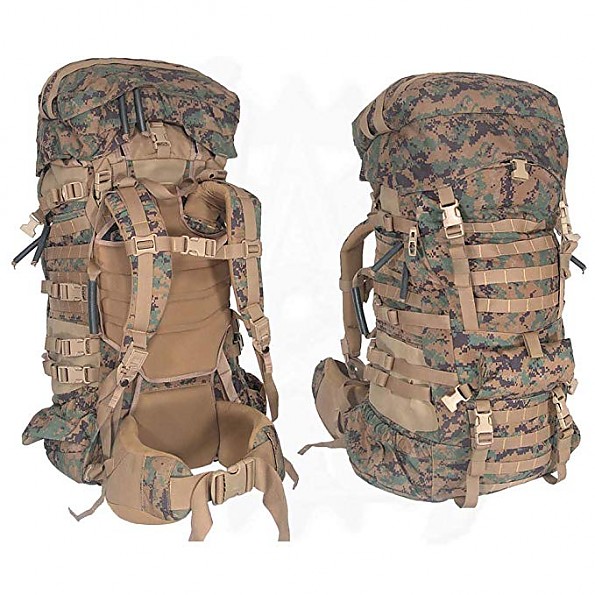 ILBE front and back Main Pack only


ILBE
The more well known ILBE bag was built for the US Marines. Troops found the Integrated Load Bearing Equipment (ILBE) backpack's belts interfered with protective plates. That is why it was discontinued. The new replacement FILBE pack is very loose when you aren't using protective vests and it is very uncomfortable without these since everything is loose.
There are not many Youtube videos with the ILBE being used for winter camping. The Battleship has several—one is in German!—just turn on the English subtitles.
Size & Adjustment
Battleship & ILBE - Adjust for your size. Both bags have YouTube videos showing how to do this.
Comfort 
Both carry heavy loads comfortably. The ILBE has some issues when using the assault bag. Both of these packs can easily handle over 120 pounds. More than you can lift! Including all of your winter gear: winter sleeping bag, 2 or 3 sleeping mats, four-season tent, shovel, extra clothing, axe, ropes, tarps, straps for attaching snowshoes, side buckles for pulling a sled, day pack, water insulated pouches, stoves, fuel, first aid kit, extra gloves, puffy jacket, headlamps, extra batteries, on and on.
Raincover
The ILBE needs a raincover. You can use two inexpensive bag covers obtained from eBay.
The Battleship comes with the raincover included in a small zipper pouch on the bottom.
Hydration System
Both the Battleship and ILBE have holes, straps and pouches for a hydration system. The ILBE water pouch and hoses do not work for winter camping because the water freezes. Just use hot water carried in wide mouth Nalgene bottles carried upside down in insulated bottle carriers.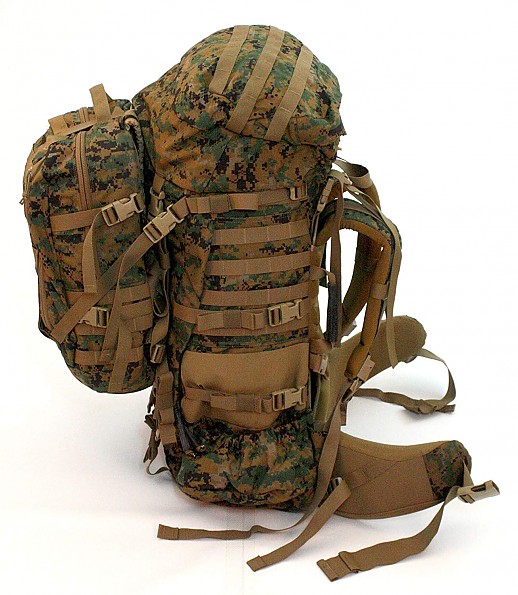 ILBE Main Pack with the Assault Pack
The detachable ILBE Assault pack is uncomfortable when used alone. It does not have a good padded waist belt. When used with snowshoes, crampons, or XC skis, it unexpectedly shifted on slopes. Rearanging the load and tightening the compression straps did not solve the issue.
The detachable ILBE Assault pack clips on to the ILBE main bag and just sort of hangs onto the upper back part of the main pack so your balance is not stable. This combination locates the weight outside of your center of balance. With a full ILBE main pack plus a full ILBE assault pack. I could not backwoods XC ski in this combination. I could not even get my skis on wearing this combination. It is hard to get up after a spill with this combination. You need to put the skis on first then put on the the pack. I could not back up at all in this setup with either skis or snowshoes.
I found it very hard moving around in the steep narrow trails through dense woods such as the trails found in the White Mountains in New Hampshire with or without snowshoes using this combination. Using the ILBE main pack only worked OK without issues. I carried the Assault bag empty, rolled up and used the Assault bag alone for a day trip and found that it had issues.
ILBE for Winter Weekend, Overnight, or Daypack Use
Using only the ILBE main pack and strapping on winter camping gear using PAL/MOLLE accessories works OK. You need to limit the stuff that you bring so two days is the limit. Just strap on all the stuff so you look like a walking pile of gear. Or pull a sled with some stuff in the pack and the rest of your gear in the sled. I have not sewed on added rings to the waist belt on the ILBE for pulling a sled yet. I shall try it this winter.
Battleship for Winter Weekend, Overnight or Daypack Use
The Battleship has no balance or room issues. In fact, the tendency is to pack way too much and get overloaded. Always wear a hood using the Battleship since it is very high. It hits overhanging branches and the snow gets knocked loose. Cold snow going down your back is no fun. Properly packed, you can XC ski and snowshoe with this bag.
I have added rings to the waist belt to pull either an expedition or a Beast sled. The bag can carry XC skis, poles and snowshoes using the various MOLLE/PAL straps and webbing. You can carry a daypack inside this bag or on your sled.
PAL/MOLLE Accessories
1-inch kit (Amazon $15 Tatuo 30 Pieces Tactical Gear Clip Strap for Molle Backpack Webbing Attachments Ring Hook Tactical Vest Belt) with 1-inch strapping (Amazon $11, 21-Piece Set of 10 Black Plastic 1 Inch Flat Side Release Buckles, 10 Tri-glide Adjustment Clips, 1 Compatible 10 Yard Roll of 1-inch Wide Black Nylon Web Strapping)
or
Make your own web straps with a roll of 1-inch wide black nylon web strapping (Amazon $6 Strapworks Heavyweight Polypropylene Climbing Webbing) and various buckles. Remember to use a lighter to melt the ends of the straps so they don't unravel like a cat and your grandma's knitted sweater.
Weight
These are not ultralight packs. The foam back padding and waist belt alone weigh more than some packs.
The Battleship and ILBE main pack only weigh almost 9 pounds empty. (Add on the pounds for MOLLE straps and buckles.) Both packs have lots of zippered and mesh pockets, MOLLE/PAL straps. and compression straps—all these options add to the weight.
Durability
Both packs are military. The ILBE is almost indestructible and the Battleship is also very rugged. Both packs far exceed most lightweight backpacks found in stores in both quality and ruggedness. There is a YouTube video showing the Battleship loaded with 600 pounds of cement bags for example. Both packs have survived cold and wet snow conditions and have traveled through deep woods. The Battleship is used in Afghanistan.
Summary
These bags complement each other nicely. Use the ILBE main pack only with accessory straps for winter weekends or winter daypack trips and the Battleship for longer trips. Compressing the Battleship with no loads affects its balance a bit.
Experience
I have one weekend winter camping so far with my new used ILBE and accessory Assault backpack. The packs were purchased from Amazon third party seller Military Outdoor Clothing. They were listed as unused but there was a year's worth of scuff marks on the bottom of the waist belt.

Two nights of food, fuel, water, and winter gear seems to be the limit of the ILBE. The hydration and assault bags are not useful in snow. Two nights in the woods in winter is really the minimum load for the Battleship. It can handle a lot more. I have three winters use with the Battleship and it is still NEW showing no wear.

Source: bought it used
Price Paid: $149.99 and $14.75 S&H

By far the best pack at even double its price. It's an Arc'teryx Bora in disguise and Cadillac in comfort. This mama will carry a HEAVY load in comfort and last for lifetimes; that's plural.
Pros
Comfortable no matter the load
The most durable materials and the best manufacturing
NO WONDER; IT'S MIL-SPEC
74 liters with a place and access for everything
Comfortable under 50 lbs
Just bearable at 65 lbs. +
I'm 66 years old w/ muscular build 5'/8" 135lbs.
Cons
It weighs 8.5 lbs. empty; NOT for ultralight packing
I bought the first one three years ago in "very good condition" from ammocanman on eBay for $135 shipped and liked it so much that when I recently saw a new one from a smaller vendor on eBay for $100 I jumped on it and gave the first to my 36-year-old son.
FYI; they cost the military $700+ per unit. What a bargain for a civilian. Designed by Arc'teryx of Canada and based on the Bora 95 they were manufactured by Propper in the USA of 725 Cordura nylon; though the main pack and lid capacity is 74 liters with expansion to around 88L+/- and that's enough for me. The PALS webbing on the lid, front, and sides allows one to attach anything and the compression straps secure any load; light to heavy.
The main things I'm stoked on is its comfort, quality, and durability. The two aluminum staves are so near perfect as issued that I left them as is and the perimeter wire frame keeps the pack body from barreling even with 60 lb. loads. The shoulder straps and hip belt padding are the best I've worn and this is imperative to comfort. The hip belt is easily canted to the user's iliac crest/hip shape with velcro tabs at the front tip of the hip belt, so that there's full contact of the widest, thickest, and firmest hip belt I've ever worn.
These all make it the perfect pack for extended hiking, no matter the load, BUT at 8.5 lbs. empty it's not for the ultralight through hiker, quite obviously. It is the only pack I'd use for ANY and ALL hiking. The interior waterproof coating of both the new and used ILBE packs I have appears brand new with no degradation of the used one, which only shows its age in minimal fading of the MARPAT colors. The military requires the most durable products.
To waterproof the outside of the pack and protect it I bought two 80L waterproof pack covers from an eBay China vendor for $3.58 each shipped. Still and all, it's the best bang for the buck.
I did not buy the three-day Assault pack for several reasons: 1. I want the heaviest weight as close to my spine as possible and the 1500 c.i. Assault pack rides piggy-back the main pack. (Oooopsy!) LOL! 2. Though made of the 725 Cordura like the main pack the shoulder straps on it are poop and there's only a web strap for a hip belt, so NAAAAH! I easily rig the lid of the main pack as a day pack, though it wasn't designed with that in mind all it took was two extra buckles and 1" webbing. I may even Frankenstein two shoulder straps in the future for more comfort. Of course for day hiking there are some very worthy packable day packs that one could throw in the main pack. 
P.S. The medium hip belt they come with was to big for my 30" waist/33" iliac crest, so one call to Arc'teryx of Canada and they found a brand new small that I ordered for $36 shipped and easily replaced in minutes. BIG HURRAH, for a great company.
Source: bought it new
Price Paid: $100+$36 for a small hip belt

Unwieldy, complicated, and awkward.
Pros
It looks cool?The patrol pack was good.
Cons
Weird pockets
Lousy zippers
Hot on your back
Difficult to pack properly
Tipsy
Ridiculously oversized hip belt
I got one of these when they first came out in the fleet and used it for about two years in the field. Everybody was excited to replace the MOLLE pack, which constantly broke. I remember looking at this thing in both awe, wonder and disbelief when they handed it to me. It just looked awkward. All I ever heard was how it was designed by some fancy mountain pack company to be ergonomic etc.
Maybe it's just me, but after using it in the field I thought this was one of the worst packs I'd ever used in my life. This pack had more straps and contraptions on it than I'd ever seen before on a pack period. The load never balanced correctly no matter how you packed it. It almost felt like this pack was designed for people 6'2" and beyond. It was sort of long and skinny at the same time making it extremely difficult to pack any bulky objects. I always felt like I'd fall over with it on when hiking on any tough terrain.  
The zippers to access your gear were probably the most annoying feature of this wonder pack.Try cramming your stuff in at 0200 only to find the zippers not working or they are frozen stuck in place. This essentially made it the most awkward top loader of all-time.
Finally, let's discuss the infamous hip belt. It was so wide and fat It was almost straight from a cartoon. You couldn't wear it with armor on and I don't know how anyone used the belt at all.I guess the belt intended to move the load to the hips but it really didn't do that at all. It was too fat and had this weird annoying curve to it. Most of us removed it altogether.
I honestly don't remember this pack really falling apart or really failing, but I do remember hating it every single time I needed to get something out of it, walk any distance with it, or pack it. I really used this thing more as a lousy suitcase than a pack after a while haha.
With that said, I think if you like civilian engineered gear you may love this pack. It's a really tough version of something frameless you would find at REI. However, a good combat ruck it is not. There is a reason the Marines ditched this thing for a FILBE which went back to the Alice roots.  
Experience
Not very good for me. Difficult to pack and unwieldy in the field. This pack steered me away from large internal frame packs.
Source: Issued

A little heavy, but very versatile and affordable.
Pros
Price
PALS webbing
Durability
The Assault pack attaches to the main ILBE pack
Amazing comfort
AMAZING COMFORT (worth saying twice. the shoulder straps are amazing.)
Cons
Weight
Lack of storage pockets
Lots of extra material
No bladder sleeve on the inside, but has ports
A little bulky for my taste, but managable
I just bought the Arc'teryx ILBE pack with the Assault pack included for $99 + shipping. I was originally just looking for a rigid day pack for fishing, and the ILBE Assault pack caught my eye because it has the internal frame and pals webbing for attachments if ever needed.
Everywhere I looked the Assault pack and similar packs were $40 +/-; then I found the combo deal that gave me a top notch hiking pack for an additional $60. I couldn't pass it up, even though i didn't really need another hiking pack, and this one is advertised at over 8.5 lbs. I figured after I use it for a while I'll figure out what military add-ons I don't need and I'll start stripping it down to necessities and see what I can get the weight down to (they say this is a militarized version of the Arc'teryx Bora 80).
The material is thicker than average hiking packs, and the seams are reinforced a little more, so no matter what I do the pack is going to be heavier than average, but it's advertised to hold up to 120 lbs (I normally don't go over 35 lbs), so I expect it to last a lifetime.
If you get one used, make sure you know what condition it's in. These were U.S.M.C. issued, and some have been severely abused/altered from what I read online. The reason the military has stopped using these is because it doesn't fit well over body armor. As a hiker this is not an issue to me, so this bag that the U.S. government paid $400 for seems well worth the $100 I paid.
Shop around and you can get a good deal on a bomb proof hiking pack, if you're willing to sacrifice a little weight for durability.
Source: bought it used
Price Paid: $118 with shipping and the ILBE Assault pack (both in excellent condition)

If anyone wants one of these, they are available on eBay and Amazon as ILBE packs. The Marine Corps is discontinuing this pack and it is their version of the Bora 80 having been designed by Arc'teryx.
I bought one these off Amazon for $55 and the supplier was Allegheny Surplus. It was in fantastic condition.
I bought two Molle canteen pouches and attached them one to each side. They are small but will hold various small items. I also bought a Molle containment pouch that I attached to the back in which I can store the bigger items I might need quickly such as my tarp and rain gear. The containment pouch was $8 and the canteen pouches were $3 a piece. All used, but GI stuff is rugged.
There are some YouTube videos about this pack and they walk you around and through it. One interesting facet is a way of using your hydration pack with this pack.
Source: bought it used

Your Review
Where to Buy
Help support this site by making your next gear purchase through one of the links above. Click a link, buy what you need, and the seller will contribute a portion of the purchase price to support Trailspace's independent gear reviews.
You May Like
Specs
Price
Current Retail: $405.00
Reviewers Paid: $100.00-$118.00

Recently on Trailspace