U.S. Military ECWCS Gen I Parka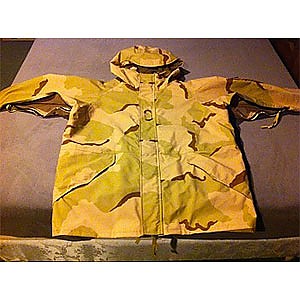 A rugged, no-frills hardshell parka that will take whatever you can dish out. They're absolutely and completely waterproof, from several years of firsthand experience. The below-the-waist length gives complete coverage when bending, reaching, or sitting, and the hood is compatible with helmets the same size as or smaller than a GI Kevlar helmet.
Pros
Waterproof
Breathable
Durability
Price
Wind/powder skirt
Large pit zips
Fully snapped storm flap
Large handwarmer/cargo and "Napoleon" pockets
Cons
Noisy outer fabric
Arms a little on the tight side
Available colors (Official issue versions only)
Non-stowing hood (changed in later Gens) gets rain or snow in it
Not the best pocket configuration if wearing a pack or harness
The Extended Cold Weather Clothing System (ECWCS) is a system of various articles of clothing designed to replace existing cold weather clothing articles, some of which had been basically unchanged since the 1950s. There are different generations of this system, consisting of various layers or levels of protection.
This review pertains to Gen I, specifically the 3-color desert camouflage uniform (DCU) ECWCS parka. The only difference between the DCU parka and woodland camouflage parka is the woodland parka has snaps around the periphery of the hood for a synthetic fur ruff to be attached.
From www.olive-drab.com:
The first generation of the Extended Cold Weather Clothing System (ECWCS) was fielded in the mid-1980s, replacing the parkas, over-trousers, and other garments that had been the mainstay of cold weather uniforms since the 1950s. Even though updated in the 1960s and 1970s, the legacy garments did not take advantage of advances in materials and science. ECWCS will protect the wearer in a broad temperature range, from +40° F to -60° F using layers that can be worn in the right combination for the expected conditions. The layers use materials designed to draw perspiration away from skin and to move the water to the outer layer for evaporation.

Extended Cold Weather Clothing System (ECWCS) Generation I may be further defined in terms of the following five primary layers (including the overwhites, when necessary) and accessories:

Layer 1: Undershirt and drawers
Layer 2: Bib overall, cold weather shirt and trouser liner
Layer 3: Coat liner and field trousers
Layer 4: Extended cold weather camouflage parka and trousers
Layer 5: Snow camouflage parka and trousers (overwhites)

In addition, ECWCS accessories include necessary handwear, headwear, footwear, and suspenders to complete the system. Layers I through 4 should always be worn. The bib overalls In layer 2 are normally worn for temperatures below -25° F. Layer 5 is worn when snow camouflage is required. The white boots should only be worn for temperatures below -20° F.

The ECWCS inner layers are made from fabrics that draw perspiration away from the skin (wicking). The Layer 4 Parka and Trousers are made of Gore-tex, a material that repels outside water while allowing perspiration to be evaporated.
Way back in the day, when I was first issued ECWCS while stationed in Germany, the first thing I thought was "wow, this stuff feels flimsy." It didn't have the heft and bulk of the venerable "field jacket" which hadn't changed much since WW2, and I was very skeptical as to its durability. Plus, we'd only received a partial issue — just the undershirt, drawers, parka, and trousers (layer 1 and layer 4.) Layer 2 - the "bear suit" - was only issued to infantry and select other troops at the time. So for quite some time I would simply wear the underwear under my regular uniform and field jacket, or under the Nomex Combat Vehicle Crewman (CVC) coveralls we wore during field training.
The next winter I decided to try both layers with the quilted nylon field jacket liner, and was an immediate convert. No more getting wet when the "water repellency" of the field jacket stopped working (which was about the time it started to get wet), and no more needing to wear the vinyl rain jacket & pants to keep dry, overheating in the process, and which tended to abrade and leak when worn under web gear or body armor. The ECWCS parka turned out to be a lot more durable than I'd expected, as well; the outer shell material has something of a textile feel to it and doesn't snag very easily at all. It will absorb water, but the water doesn't make it through to the inside. 
The parka is hip-length, and has 2 large handwarmer/cargo pockets just below the ribs. The flaps are secured with velcro and a snap. There's a full-length 2-way zipper with a flap to protect your neck at the top (no full zipper garage.) The zipper pulls are 4" loops of nylon tape and are easy to grab with gloves or mittens. There's a wide full-length snapped storm flap. Between the storm flap and zipper are 2 large velcro-secured "Napoleon" pockets that extend from the bottom ribs up to the shoulders (basically extending from the waist seams to the shoulder seams in the above pic.)
The hood, back, and sleeves are lined with a satiny-feeling lining, which is split horizontally at about mid-back so repairs can be made to the shell from the inside. The lining material on the inside front is the same as the outer shell fabric. There's an elastic powder skirt at the waist that snaps at the front (2 snaps), and has a drawcord at the top. This must be tied as it has no barrel locks, which is something I never got around to taking care of as I rarely tightened the waist.
The only other adjustment is a nylon tape drawcord with barrel locks that runs around the hood opening, and lets you close it around your face. The hood has a brim, and the lining has elastic to keep it in contact with your head and allow room for a helmet. The helmet can also be worn over the hood.
There's a small pocket with velcro flap on the upper left sleeve, and velcro flap closures at the wrists. A pair of pit zips run from the underarm to the elbow, but not along the torso. Pit zipper pulls are 4" long nylon tape loops. 
One thing I learned almost right away is that Gore-Tex isn't magic. "Breathable" really means that it breathes better than an impermeable vinyl rain jacket will. The pit zips help a lot, as does leaving the zipper down and just securing the front with the snapped storm flap, but I've never been sweat-free during any kind of physical activity, even when just wearing the parka and polypro undershirt. That may be due to my warm-blooded nature; While active I'm comfortable well down into the negative teens Fahrenheit with just a wicking silkweight base layer, midweight Merino or Merino blend top, and the ECWCS parka with pit zips wide open.
The only time I was ever able to wear the field jacket liner was when standing in the track commander's hatch of my Multiple Launch Rocket System (MLRS) vehicle, exposed to the wind, rain, and snow at speeds up to 35mph. Where I was in Germany (Idar-Oberstein in Rhineland-Pfalz) didn't get very cold, it was over 20 years ago but I don't recall many times when it even dropped to 0F. 
If you hunt in the woods, this parka won't be a good choice because the shell fabric is noisy. Even swinging your arms while walking or using trekking poles will cause some rustling.
I find the arms to be a little on the tight side, my preference is for them to be a little loose to allow for ventilation with the wrist flaps open. They're not restrictive in any way, however.
The hood doesn't stow (rectified in later Gens) and will get rain or snow in it if you don't fold it over. I rarely wear it due to ventilation needs, unless the rain or snow is falling so hard that my fleece balaclava could get soaked.
If you don't like camouflage, you won't find a color you like in the official issue parkas. Aftemarket brands like Tru-Spec and H2O Proof come in solid colors, but from everything I've heard and read they're not built as ruggedly. I stick with the known quantity (official issue), and pay less to boot.
I find that backpack waist belts always cover at least part of the handwarmer pocket openings, and that I have to hitch the sternum strap up a little bit to clear the opening for the Napoleon pockets. Not being a climber I don't know whether or how a harness would interfere with the pockets. It's not that big a deal to me to just undo the waist belt, stow or retrieve the item in the pocket, and buckle the belt again.
Rip, tear, or burn a hole in your parka? No problem, patch it with a Rip Kit. Use an iron (or pot of hot water from your camp stove) to get a better bond. Need to launder it? Throw it in a home or commercial machine, and perhaps run it through a second time without soap to ensure all soap residue is gone. Soap residue decreases the effectiveness of the waterproof/breathable laminate. Hang dry, or tumble dry low.
Farther down the care tag there are instructions to use "Natick formula blah blah blah" or have the post laundry use "formula ABC from Field Manual XYZ," but this stuff is combat clothing, meant to be able to be cleaned in a bucket with generic soap and a scrub brush. If you feel the need to do anything special, wash it separately with Nikwax products. The only special care I've ever taken with top-loading washers is to add soap and let the washer fill & begin agitating before putting the gear in, to avoid stains from straight laundry soap getting on it.
One really strong point in favor of these parkas is the price. While researching for this review I saw them for as low as $30 on eBay, with some auctions with bids starting at a buck. You may or may not find one in new or LN condition online or in a surplus store, but most of the wear I've seen has been limited to faded colors, broken zippers, etc. 
When I'm snowshoeing through the woods wearing my EMS Thunderhead Jacket, I cringe inwardly every time I hear or feel a branch catch on the fabric. When wearing this parka I push back and break the offending branch. That pretty much sums up the ruggedness of these parkas.
Source: received it as a personal gift

Your Review
Where to Buy
Help support this site by making your next gear purchase through one of the links above. Click a link, buy what you need, and the seller will contribute a portion of the purchase price to support Trailspace's independent gear reviews.
You May Like