ULA Circuit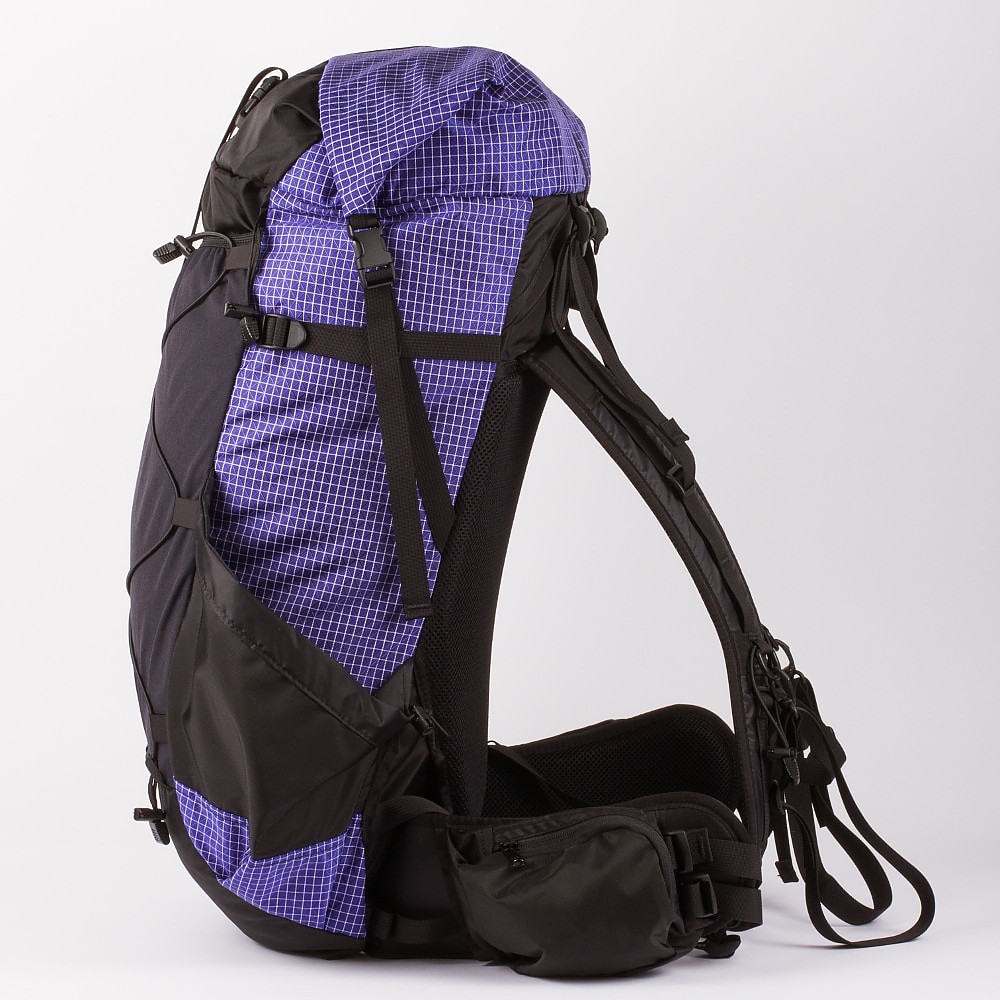 Simple design and outstanding construction have produced this bomber pack. This pack is light and compact enough to take out for a day hike, yet spacious and rugged enough to head out for a multi-day winter trip. Near perfection.
Pros
Structure
Durability
Load capacity
Comfortable distribution of weight
Cons
Lacks a back vent
Difficult to pack a bear can (though I think this is true for most packs and can be figured out)
The only reason this product didn't get five stars is because I believe that gear can always be improved and individualized. Quite simply this pack is fantastic. 

Fit: I am 5'9" with a 30" waist. I bought the Circuit with the medium torso size and medium hip belt. The pack fit well with the hip belt resting on the top of my hips. The pack is sold in varying sizes and I've seen people from 5'0" to 6'4" comfortably carry this pack. With that being said, you will want to consult ULA's sizing chart. 

Comfort: The pack is very comfortable with a reasonable amount of padding on the back panel and the hip belts. The padding didn't compress over the length of my PCT hike and feels as comfortable as the day I bought it. However, because the padding isn't exceptionally thick, the bag must be thoughtfully packed for optimal comfort. 

Capacity and Accessibility: The 68 liter capacity is accurate, however in order for the bag to roll close you'll want to try and pack 60 liters or less. The pack consists of one large compartment, a back mesh pocket, and two hip belt pockets. The pack also comes with elastic bands that are great for attaching items you'll want easy access too, as well as closable loops that are ideal for drying socks or attaching trekking poles. Because the pack only has one main compartment, it is important to pack this bag strategically in order to avoid removing everything from your bag to get to your lunch. 

Ride: The pack's load is distributed evenly and comfortably as long as the bag is packed thoughtfully. I prefer to have all of my sleep gear at the bottom of the bag, as well as food that I won't need until camp. I felt that the ride of this pack was improved by keeping the heavier items toward the bottom of the bag. The pack and load straps are sturdy and remain stable while in use.

Compression: One of the strongest features of this bag is its ability to adjust to different loads. I've used this bag in the desert where gear weight was at a minimum and water weight could be as much as 16 pounds, to early spring in the high Sierra with all of the essentials for snow travel. 

Ease of Use and Features: The pack's simple design allows for incredibly easy use as long as you make calculated decisions when packing it. In my opinion, the best feature of this bag in addition to its simplicity is the ability to attach things to the outside. I always end up wanting something on the outside of my pack that I can easily get to, like my sit pad and some snacks, or a drawing of the mysterious King Dorian.  

Durability: In my life I have owned five different backpacks and this one is by far the most durable due to the integrity of the construction. I've logged well over 3,000 miles with this pack and the only signs of wear are the smell and some fraying in the top compression strap due to an incident with a car door. I fully intend on using this pack on my all of my trips, both long and short, over the coming years.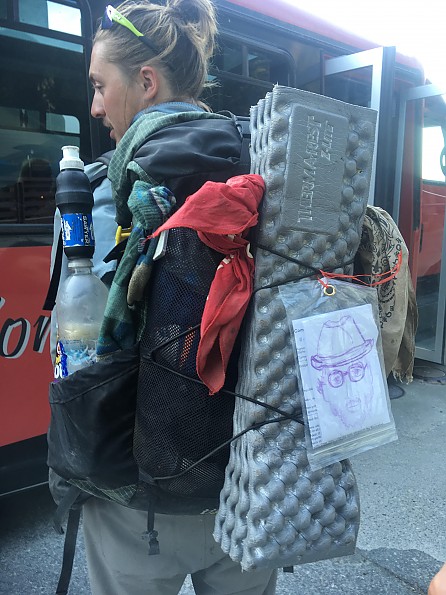 Pictured above: pack at the end of a thru-hike of the PCT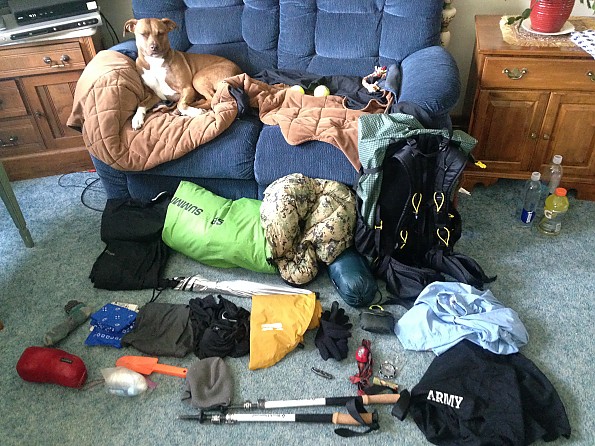 Pictured above: everything that went into my pack (minus the dog).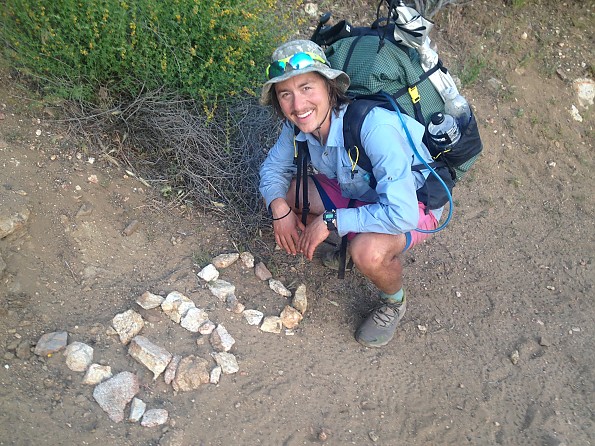 Pictured above: wide pockets allow for multiple water bottles and a Sunbrella.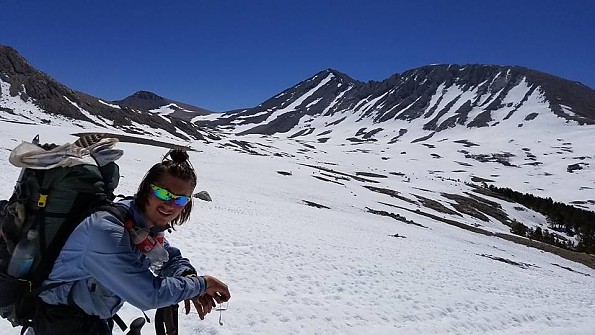 Pictured above: Strong enough to comfortably distribute winter weight including an ice axe, Microspikes, and additional layers. 
Source: bought it new
Price Paid: $235

The pack is durable, gives you flexibility in packing your stuff, carries the load well, and is pretty light.
Pros
Durable
Light
Packing options
Cons
Well, it isn't an external frame pack
I used this pack on a through hike of the Colorado Trail. No issues with wear and tear at the end of the month of use. I wasn't being careful with it, and sometimes had it overloaded with groceries, but there are no signs of stitching or fabric coming apart. 
The only time with this pack when I really noticed how light it is was when it arrived in the box. It felt like the box might be empty. But there were no times when I was hiking that I felt like light weight had compromised the pack's ability to carry stuff or to be relied on not to break. 
The pack has a lot of options for packing stuff. There is the main bag, and the side and back pockets are big and versatile enough to accommodate a lot of different sorts of things. It's not like any of those pockets are only useful for water bottles or something. The big back pocket is where we put our tent, because it was the last thing we packed up and because it was often wet, and was often the first thing we unpacked at the end of the day.
But there was room around it for other stuff like that: my rain jacket, the pack cover, the trash collection. And so on for the side pockets: water bottles, sunscreen, filter.... The hip belt pockets were fine for little stuff, but not quite big enough for the Colorado Trail book or my glasses case. If they could be a little bigger, to hold that stuff, it would be great, but I am not sure that there is actually room for that big of a pocket there.
I was hiking with my teenage son and daughter, who were using the packs that my wife used when, before kids, we hiked the AT (a Coleman external nylon frame, circa 1990) and a month each of the PCT and CDT (a Gregory pack, circa 1991).
I think the Circuit was easier to organize and pack than the Gregory, but the external frame pack is the easiest to do that with, with its assortment of pockets and main compartment divided into a top and bottom, with separate access for each. My glasses and the trail guide went in the pocket on the flap covering the main compartment on the Coleman!
Source: bought it new
Price Paid: $225

This is a well-made pack that rides very comfortably for the whole day. At 2 lbs empty, it is in the "ultralight" class, and it is well suited to 2-4 night outings. The pack and suspension system can handle up to 30 lbs.
Pros
Capacity to carry up to 30 lbs
Very comfortable suspension system
Nice size hip belt pockets
Great craftsmanship
Cons
Lack of small outside pockets
I bought my ULA Circuit new, direct from the company, and have used it for two seasons now. I have certainly logged enough miles to know this pack. It is advertised to carry up to 30 pounds comfortably, and I would say that is fairly accurate. Anything over 30, I go to another pack (my external frame Trailwise—a dinosaur from the '70s). 
I can easily get everything I need for a three-night trip in it. I can do four, but it takes more "futzing" to get everything in it and usually strapping something on the outside. For me, that's the limit, but I know other ultralight wizards probably travel lighter than I do. 
The pack rides very well and comfortably. The construction quality is top notch. I am confident this product will last me many years. When you call the company, you talk to the owner (Chris) who really seems to care about you—isn't that refreshing!
This is basically a "no frills" piece of well-designed equipment. The stock pack is advertised at about 2 lbs +/-,  depending on some options. The pack is one large "sack" and has two ample pockets on the hip belt (fits my camera and other "need-to-have-right-now" essentials), two enormous elastic pockets on either side at the bottom, and a mesh pouch on the back, and compression straps. The top rolls up with side clips like a dry bag and secured over the top with one strap.
If I had one complaint it comes from me trying to make the transition from older external frame packs to ultralight. I sure like to have some smaller outside pockets for organizing my smaller personal items. With a single bag it means putting those little things in a stuff sack inside, then finding it's always the bag on the bottom of the pack when you want it! This is the outcome of this genre of pack, not the pack itself. I'm learning to cope. I also know this adds weight and people will buy based on weight.
Source: bought it new
Price Paid: $220

Unreal how great this pack is. Filled it up completely, hiked 14 miles up and down a mountain, no pain, not even the day after!
Pros
Super comfortable, well arranged pack.
Unreal how much better it is that my previous pack.
Lightweight (2 pounds!)
Great color selection (I love the orange I got)
Quality stitching and materials
Cons
Zippered outside pockets would be nice, but hard to knock this amazing pack.
First, the video on how to adjust the pack was awesome. With the help of my daughter I got it all set before the trip. But the proof was in actually carrying all that gear up the brutal hike to our destination. I filled it to capacity, 35 pounds, and headed out. One caveat: if you needed to carry more weight, this pack might not be for you. It was FULL. But the pack itself was 8 pounds lighter than my old Kelty.
For the first time ever, I got to our destination (I've been going there literally for 45 years) and I had no pain. No pain in the hips, no pain in the shoulders, even practically no pain in my calves. My 7-mile hike is rough, gaining 4,000 feet in altitude on a dubious trail. But the way this pack distributes the load on your body must include some sort of magic because I've never felt so good during and even after a trip. It usually takes my 3-5 days to recover from one of these trips. The day after I got back, I felt good enough to go right back up. I can't believe it!
The hip pockets are perfect, easy to reach for my canteen (I didn't use the camelbak option), and I added the little pocket up high on the strap (a $20 upcharge). The nice thing about that is it's a great spot to store your phone, glasses and charger. I like walking in with music and to have the phone so close to my head meant I could skip the headphones and play music off my phone. That was a real plus too.
The material was sturdy and seems well made and long lasting. And it's made in the USA.  
If I had to give a criticism, it would be that the outside back pocket was good, but zippered exterior options would have been better. A small criticism considering how life-changing this pack was. Now I want to buy one for my daughter and wife!
Experience
My old pack was a 20-year-old Kelty and this ULA Circuit bag is just lightyears better. This is the backpack I have needed my whole life. I've been backpacking for 45 years and never felt this good after a trip, astounding given that I'm now 57.
Source: bought it new
Price Paid: $255 plus $20 for the little extra pocket

I was very excited to get my Circuit pack after all the glowing reviews. It fell short in almost every aspect.
Pros
Attractive
Good compartments on hip belt
Cons
Poorly fitting, rub on lower back
Few features, ones it has are useless
Outer mesh pocket not easy to fill
I ordered a ULA Circuit pack based primarily on a blogger's endorsement. I liked the look of the original green and was ready to love it. I never did.
Although ULA is helpful with trying to get the right size to the customer, the pack never felt right due to the shoulder harness. The hip belt was comfortable and fine. I did not like how the lower part of the pack was rubbing against my lower back.
My wife looked at the setup of the pack and said "You are not going to like it." She was correct. My son purchased an Osprey Exos for the same trip. When I compared the comfort, features and overall utility of the two packs side by side, there was no doubt he had the better option. When I had all the gear and food ready to go and began packing, the Exos had a lot more utility.
I didn't like the top closure on the Circuit. The Exos had so much capacity in the top flap. The mesh suspension on the back of the Exos seemed preferable. The side pockets of the Circuit seemed shallow and hard to use. I particularly disliked the hard mesh back pocket on the Circuit. The only thing I liked about the Circuit were the belt storage pockets.
Two days before departure, I woke up and realized I had to find a different pack. I went to REI, got fitted, compared all the packs they had and selected an Osprey Atmos.
I returned the ULA pack and had to pay the return postage. They claimed I had not included the "hand loops", delayed my refund and charged me $5 for what must be the most useless item imaginable. Trust me, I did not want their hand loops. When I disputed this, they gave me snark about returning the pack a few days outside their 30-day policy.
I found this statement on the ULA website. "We may provide Personal Information to third parties or marketers for their marketing purposes." Gee, thanks?
Very well-designed pack for lightweight backpacking.
Pros
Large hip and side pockets
Light weight (~2 lbs)
Customer service
Sizing options
Cons
Not much organization
Hydration bladder access and size limitation
I've used my Circuit on several 1-3 night trips as well as a 17-day thru hike on the John Muir Trail. Overall, I was very happy with the pack and it has held up well.  
My favorite features were large, well-placed hip and side pockets, as well as the large mesh front pocket. I rarely had to dig into the inside of the pack during the day, except to remove the bear canister. A note on bear canisters: I rented a Bearikade "Weekender" bear canister for the JMT, and was able to carry it inside the pack horizontally as long as I put it at the top.
I also like the versatility of this pack. It makes quite a nice day pack—it weighs about the same as my Osprey Manta 25 and the stay is removable for lighter loads. The hydration bladder holder and hand loops are also removable. One limitation is that the hydration bladder holder will only hold up to a 2 liter bladder. The holder is on the inside of the pack and not easily accessible when the pack is full.
This pack is a "rucksack" style with a roll top closure, so it loads best by stuffing things in loosely (vs. compressing everything in stuff sacks). The ULA website has a nice instructional packing video. Although this method works well and keeps the pack's weight low, it can be inconvenient and will not suit folks who like more organization.
I found the pack to be quite comfortable and stable when carrying 15-25 pound loads. The only problem I had was sore collar bones, but that might be more due to my bony shoulders than the pack itself. I'm 5'2"/102 lbs. with a short torso and the size Small pack with size Small hip belt fit me perfectly.  The folks at ULA were very helpful with any questions I had on pack selection and sizing.
I did meet one guy on the JMT who didn't like his Circuit, but he had it loaded down with 40+ pounds.  You really have to lighten your load BEFORE using this type of pack.
Source: bought it new
Price Paid: $225

Too light to support much weight.
Pros
Lightweight
Attractive looks
People on the hammock forums and ultralight backpacking forums rave about this pack.
I hate it!
When I bought it, I wanted to like it. It didn't take long to realize that it wasn't working. I thought maybe I needed to fine tune the adjustment, but no amount of tinkering ever made it right.
The manufacturer recommends loads around 30 lbs. with a max of 35.  In my experience it won't even support 25.  The hip belt is just too flimsy.
It has a claimed total capacity of 4200 cubic inches (68 liters). 
I love the green color with the white Dyneema grid. Unfortunately, there is more solid black material than I would like.  All in all, I think it is a good looking pack.
I'm not crazy about the roll top closure. I understand that ULA will make a drawstring closure as a custom option if requested. That would be preferred in my opinion.
The bare bones ULA pack does not have a top lid. In my mind there is something not right about having the roll top closure exposed. But there is an independent cottage gear maker (Luke's Ultralite) that makes a matching top lid for this pack. It covers the top, provides easy access pocket, and improves the usefulness of the pack.
When I look at details of the pack I see many nicely executed details and features.  I like the shoulder straps.  I like the side pockets.  I like the pockets on the hip belt. 
But the bottom line is the pack is just too flimsy for me....even when carrying loads well under the recommended range.
I think if the Circuit had a beefier, stiffer, and more substantial hip belt it would change the way I view the pack. The real problem is that 'gram weenies' like to brag about how light their kit is. ULA is just trying to give them what they want. And in the process they go too far in trying to lighten things up resulting in lighter weight but limited function.

(Will update with a pic soon.)
This pack works for everything. It is the most comfortable pack I have ever used. It has good pockets on the waist belt, good pockets for water bottle that can be reached with the pack on, and an outside pocket for food items and a jacket. I rarely have to open the pack to get what I want from it.
Pros
Versatile for everything
Lightweight
Comfortable
Many different size available
Good color choices
Compact in the brush
Cons
Not good for heavy loads over 40 pounds
I used to carry packs to haul equipment, external frames for long overnight trips, ski packs, day packs, and a hunting pack. Now I just use the Circuit for everything.
They come in different torso lengths and waist sizes. They have many adjustments, making them very comfortable. The pockets on the waist belt are very handy. So are the water bottle pockets while wearing the pack. At 60 liters it is large enough for trips of around four days or so, maybe longer. Comfortable with 35 pounds or a little more. 
I love the purple color. It simplifies many trips. Just reach for the Circuit, grab some items, and go. The material is very durable, the best I have used.
Experience
I have used this pack on many three-day backpacking trips. It goes along on day trips, bird counts, fishing trips, and anytime I am in the outdoors. It weighs less than many day packs. It is more comfortable than any of them. It is the only pack I need.
Source: bought it new
Price Paid: $235

I have had this pack for about a year now and I love it more every time I go out. I am a big guy, 5'11", 250lbs (sadly) and this pack fits great. It is very comfortable and when I have my ideal weight (25lbs or so) I rarely take it off once on the trail.
My favorite features are the large side pockets for easy access to water and the pockets built into the comfy belt. I tend to strap smaller items on the side as the interior is one large pocket and small things tend to get lost.
I have hiked in the rain and scraped against rocks and never had a problem. The multitude of adjustments help get the pack settled nicely.
Cons: Not much really. I have carried a lot of gear at 35lbs which likely is stressing the bag and me out, but it performed well. I like to stay under 30lbs with this pack.
I thought of going lighter but for a few ounces I like the padding and hip belt offered. I would get a larger ULA if I went out for more than 5 days.
Perhaps the best feature is that I am confident that if I should have a problem I can call then up and arrange a repair if needed, unlike other companies. Great customer service and craftsmanship.
Design: top loading
Number of Pockets: 2 side, one large cavity
Max. Load Carried: 35lbs
Height of Owner: 5'11''
Price Paid: about $150

Very comfortable pack with up to 35 pounds. Easy to modify to make the pack lighter

Pros
Durable
Good value
Holds a bear canister
Comfortable fit
Large hip belt pockets
Cons
Not waterproof
Hard to put water bottle in the side pocket while hiking
Bought last year before an AT section hike. I took the shock cord off and the water hydration pocket  and wallet pocket to reduce weight.
It holds all my winter gear comfortably. Love the stretch pocket. It holds all my essentials plus any wet gear I might have. You can really dial in the comfort with all the adjustments.
This year I bought the shoulder water bottle pocket because I had trouble putting my water bottle in the side pocket.
Source: bought it new
Price Paid: $259

I heard all sorts of great stories and all the podcasts about ULA packs and Brian Frankle. I even made the call and spoke to Brian about his packs and his engineering and design. Now I own one (actually two...the Conduit too) and want to reverberate the praise...it is warranted! This Circuit pack is outstanding! Blows away the Gregory Z55, which has now found its place on eBay.
The Circuit tips the scales squarely at 2 pounds it has an amazing hipbelt, shoulder straps, and load stabilizers. I just returned from a 3-night rough trail maiden voyage hike and scramble in WV with a total pack weight of 28 pounds (including food and water) and the pack performed flawlessly. I considered a Mariposa but this far and away is the best pack for the money. Super durable Dyneema ripstop, ultralight and ubercomfortable. This pack could easily do 40+ pounds without a hiccup.
If you are looking for a modern feature, durable, ultralight pack...look no further than ULA and the Circuit.
Design: top loading
Size: medium pack-bag and medium hip-belt
Number of Pockets: main, plus large mesh front, and two mesh side
Max. Load Carried: 28 pounds
Height of Owner: 73 inches
Price Paid: $175, www.ula-equipment.com

I would wholly recommend this pack for the light backpacker or ultralight thru hiker who values comfort/fit, quality and versatility. Everything you need and nothing you don't.
Pros
Exceptional versatility
Outstanding fit/comfort
Perhaps the biggest selling points of this pack are its fit and comfort, which are superb. It comes in different torso sizes and then you add the appropriate hip belt size. For example, I am 6'3", 230 lbs, 35" waist, so I fit best in a large Circuit with medium hip belt.
Meanwhile, the minimalist suspension does its job exceedingly well. A 25 lb load feels like nothing while a 35+ load is more than manageable.
The detachable security pocket and hydration sleeve are nice features. The belt pockets, side pockets and large mesh pockets more than make up for the otherwise minimalist design—everything you need but nothing you don't, so to speak.
I would wholly recommend this pack for the light backpacker or ultralight thru hiker who values comfort/fit, quality and versatility.
Source: bought it new
Price Paid: $220

The harness design is extremely comfortable. The hip pockets are extremely roomy and very useful. Overall the pack is as good or better than anything on the market in functionality and weight for the money.
Pros
Lightweight
Comfortable
Intuitive design
Cons
Hope the front mesh holds up over the miles.
I am 5'6" and the pack fits perfectly. I experimented with several other options before selecting the ULA.
Capacity is very good for light packers up to a week hike or so.
Not a lot of individual pockets for organizing little items, but that is not a problem for me.
Construction seems excellent, time will tell. I have heard very positive feedback on ULA's repair policy so hopefully a non issue.
So far, only used the pack on two occasions in Upper Peninsula of Michigan and everything was perfect.
What can I say other than buy one.
Source: bought it new
Price Paid: $200

This pack has been a lifesaver. I'm a BIG gal and needing to lose weight for my health. ULA took my XXXXL measurements and without hesitation created for me the perfect pack that allows me to get out on the trail and still have total comfort.
LOVE LOVE LOVE this perfect lightweight pack. Its flexibility has enabled me to carry all my gear in comfort for long distances.
Source: bought it new
Price Paid: $250 - $275

Great pack. All equipment for a thru hike of the PCT fits. Carries like it's not on, does not rub. Mounts fast. Looks great.
Pros
Lightweight
Fits lots of gear
Fits me perfectly
The best pack I've owned. Lightweight and comfortable.
Source: bought it new
Price Paid: $225

Went with the added stay, great pack for carrying extra water. So cool to call ULA and talk to the owner. And I had a fit question when I received the Circuit, and Casey called my cell to help me with load lifter adjustment. Think you get that from a Chinese pack? Amazingly well built too. Replacement for an Exos 46.
Design: Top loader
Number of Pockets: 3
Max. Load Carried: 35#
Height of Owner: 5'10"
Price Paid: $180

Your Review
Where to Buy
Help support this site by making your next gear purchase through one of the links above. Click a link, buy what you need, and the seller will contribute a portion of the purchase price to support Trailspace's independent gear reviews.
You May Like
Specs
Price
MSRP: $279.99
Historic Range: $225.00
Reviewers Paid: $150.00-$259.00

Weight
36.6 oz /1,038 g

Volume
4,200 cu in / 68 L

Max Load
35 lbs / 16 kg