ULA Ohm 2.0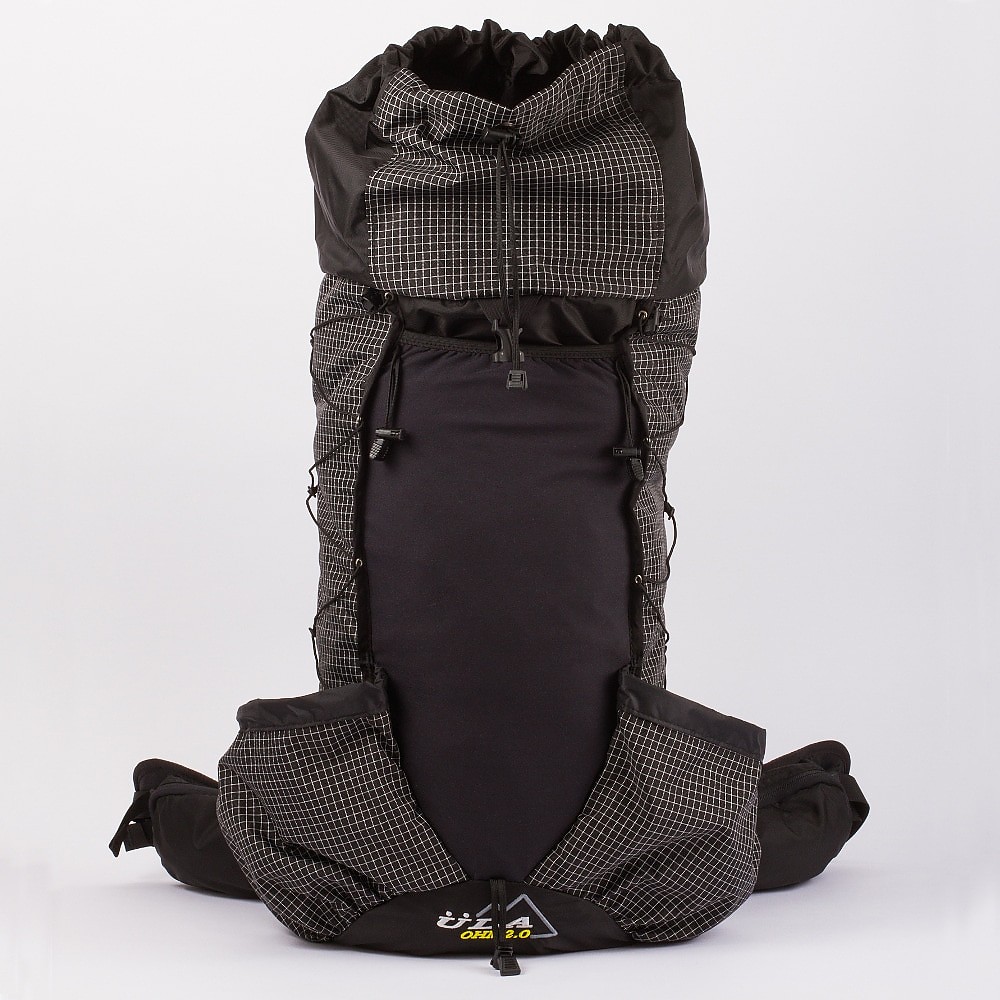 This is now my favorite pack after a year of solid testing in all range of temperatures and trail conditions. A lightweight pack with a suspension frame that helps it carry loads up to 30 pounds comfortably. Except for full winter or over a week long trips, this pack can handle everything I need it to do.
Pros
Lightweight
Frame pack (removable)
Durable construction
Giant pockets
Comfortable and adjustable hip belt
Adaptable removable options
Cons
Venting at back
Thin (bear canister tight)
No top pocket (if you like that)
Back mesh pocket not as durable
Compression straps not one-pull
Daypack compression shifts weight to bottom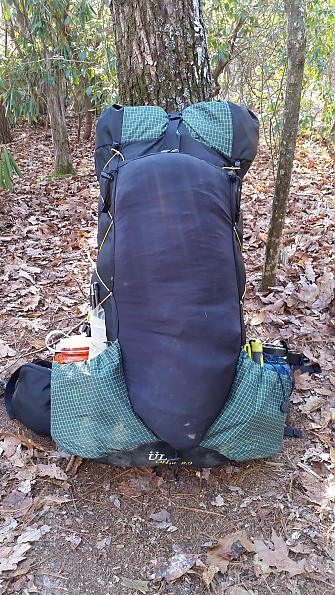 The other reviews prior to mine do an excellent job of summarizing the qualities of this pack, and helped me choose the Ohm. I felt after a year that I would add to and support those reviews with my own. Hope it helps reinforce how good the ULA Ohm 2.0 really is.
Testing:
I have now used the Ohm 2.0 for a full year on multiple trips of 2-4 nights. Conditions on the trips ranged from 10 to 85 degrees and included full sunny days, one trip with 3 days of rain, and everything in between. Overall, I have used the Ohm for about 20 nights (unfortunate circumstances this year prevented more trips).
My base weight (not including water, fuel, or food) ranged from 15 to 19 pounds. The lighter weights in spring/fall, and the heavier ones in winter. Total load in the pack ranged from 22 to 28 pounds.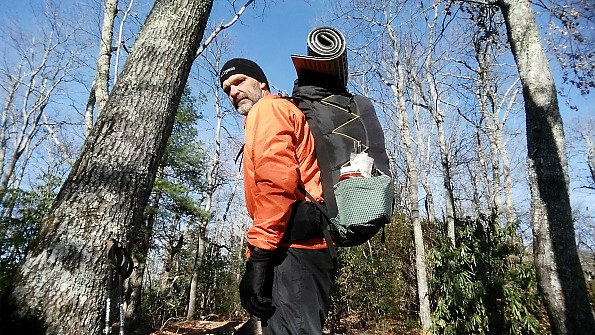 Over half my walking was done on trails from the Appalachian Trail and other "groomed" trails, to wilderness trails that have seen little or no maintenance with heavy brush overlapping the trail and scraping along the pack (and me). The remainder of my miles were off trail bushwhacks through mostly open country, with some scrambles through rhododendron thickets and other obstacles.
I keep my pack in the tent for the most part, as I have a large solo tent (Lightheart Gear Solong 6).  Overall treatment is with care, but abuse does occur on my off-trail ventures.  I store it clean and dry inside the house between trips.
My prior packs have been a gradual descent down the weight chart and most recently I have been using a Gregory Z55 (since around 2006) due to its relatively low weight (3 lbs) balanced with extreme comfort and venting along my back.
Product Description:
The Ohm 2.0 is a 3,960 cubic inch (63 liter) pack that weighs right at 2 pounds. It is made of heavy duty 210 Robic and has a 1.2 ounce carbon fiber active suspension hoop that transfers weight to the hip belt. The capacity is divided out into several large pockets as well as the main compartment as follows (based on ULA's description — note that the breakdown below doesn't add up to the claimed 3,960 cubic inch volume — may be the mesh pocket stretch accounts for the rest):
Main Body: 2,100 cu in
Front Mesh Pocket: 500 cu in
Side Pocket: 400 cu in each
Ext. Collar: 500 cu in
Hipbelt Pockets: 100 cu in
There are some bells and whistles on the Ohm, despite its low weight, that are easily removable as others have mentioned.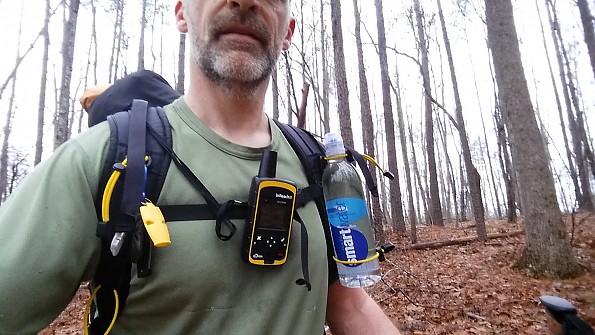 I kept the shock cord water bottle holders on the chest straps to try out and at first didn't appreciate them, having used a clip to carry my "sipping" bottle for years.  Once I had a few trips with practice removing and installing the bottle, I found I can do it easily without breaking stride and like how it stays put much better.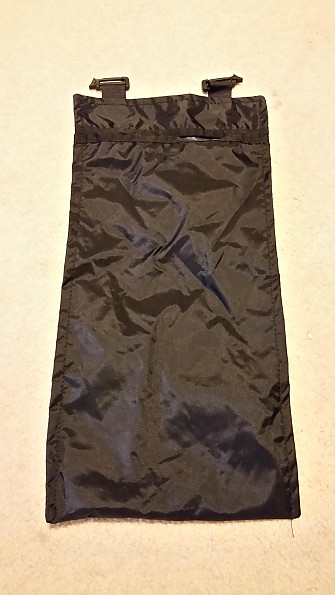 I immediately removed the hydration bladder pocket as I am not a fan of those. However, the small security pocket that comes attached to the pack uses the same clip system, so I rotated that to a more convenient spot (directly against my back) and now love the ease of access for my keys at the beginning and end of a trip (it doesn't get opened EVER while on the trail).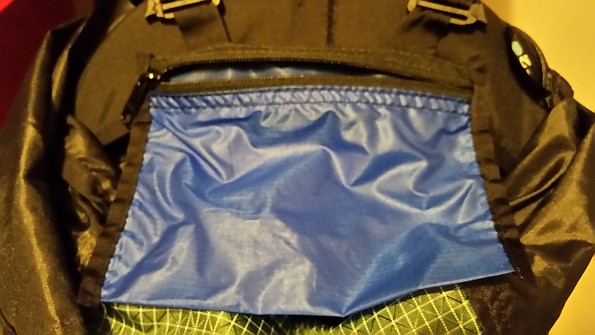 I haven't dabbled with removal of the carbon fiber frame pole, but did remove the back pad when using a trail chair, which can fit between your back and a bear canister making the back padding extraneous.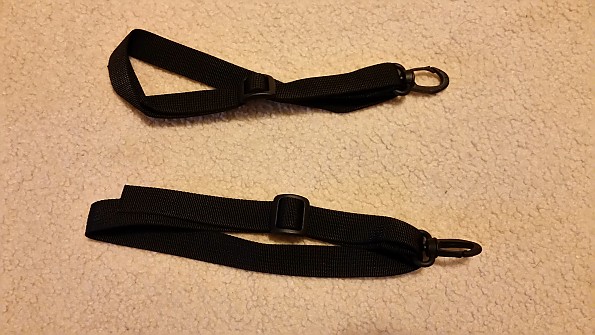 I also removed the hand loops as I use trekking poles. After these adjustments, my Ohm weighs in at 30 ounces.  I could remove the other features, but am not really a gram counter and like the bottle holders and security stash pocket a lot.
Results:
Prior to choosing and using the Ohm 2.0, I had some initial reservations—primarily its sturdiness for off-trail travel and the lack of venting on my back. I have a high metabolism and tend to sweat when walking even in shorts and a t-shirt around freezing. The reason I have stuck with my Gregory Z55 for so long is the amazing venting on my back. The other excellent reviews of this pack, plus extensive research, resulted in my purchase in January 2016.
Ordering from ULA was easy and allowed customization of the torso length, hip belt, material color, and shoulder strap type.  Shipping within the US was (and still is) free.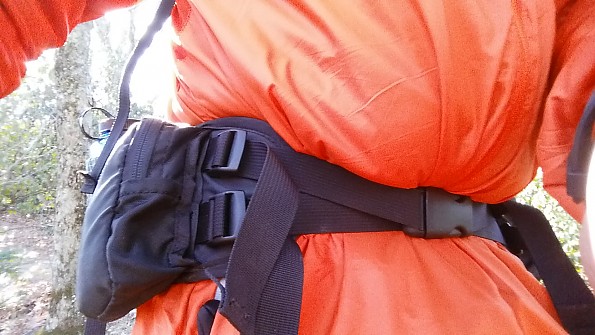 Comfort
Despite its low weight, the Ohm 2.0 is a very comfortable pack. The hip belt has dual buckles that allow fine-tune adjustment of the angle the belt sits on your hips. For a relatively thin bony guy like me, this is a great feature. I have not experienced any hip pain, abrasion, or other issues while wearing the Ohm, and don't have to adjust the belt at all during full days of hiking.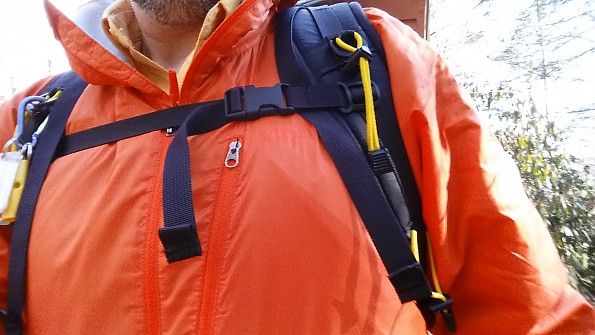 The shoulder straps are available in two styles—standard for most men, and S-curve for women and weight lifters or other men with larger chests. I found the Ohm to ride very well throughout the day, and needed minimal "shifting" of buckles and straps beyond my typical loosening and tightening of load lifters on steeper climbs and descents.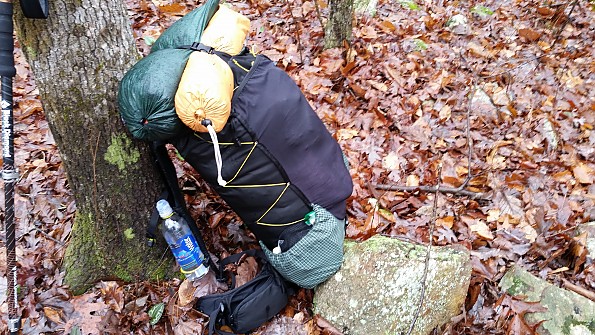 Loading the Ohm to its recommended maximum load of 30 pounds didn't change the comfort level significantly for me, as discussed further below.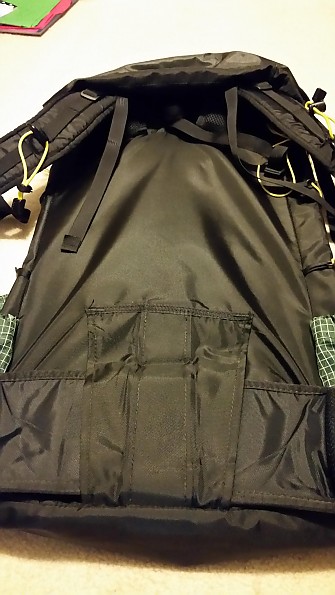 The torso length is adjustable by shifting the hip belt up or down. This is a simple attachment to the pack with some heavy duty velcro on both sides, a little tough to remove but firmly reattaches.
Back ventilation is an issue, as with many internal frame packs, and I did experience moisture along my back on days when it was hot enough for me to sweat.  The pack dried out very quickly. I consider this the only real negative to the Ohm, for me, but similar to almost all other packs that I have tried. It is a small problem that is vastly overcome by the other benefits of the Ohm.
Durability & Weather Proofing
The Ohm is extremely durable given its light weight. It is constructed out of heavy duty 210 Robic fabric that has not torn or abraded despite my off-trail wanderings. On detailed inspection, I can't find any threads loosening, or nicks.
The only weakness I think it has is the back netting pocket. This was mentioned in another review, but as it faces backward I have been lucky enough not to have any wear yet. I am fully confident that the Ohm 2.0 will last a long time and lots of trail and bushwhacking miles.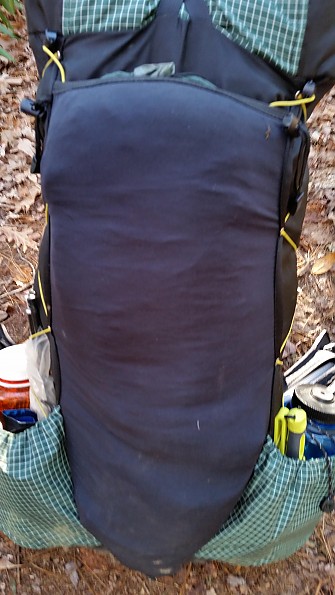 The Ohm is as weather proof as other packs I have owned. It will wet through during constant rain but kept my gear dry during shorter rains. I tend to use a trash compactor bag on the inside and rarely take a pack cover. The pack dries out really quickly when wet.
Packing
For me, it's not all about liters/cubic inches of space in a pack, but how that space is arranged for use.  I find the Ohm to be a perfect fit for my approach to backpacking and it balances the amount of inside/protected space and outer accessible space really well.
My sleeping bag (uncompressed in a trash compactor bag) sits nicely at the bottom, and fills out and pads the lumbar area. I have used both a light 30-degree Feathered Friends bag and a heavier/bulkier Marmot 15 degree bag and both carry well. The remainder of the inner bag is spacious enough (2100 cu in) to hold my clothes, camping gear, and food for up to 5 days.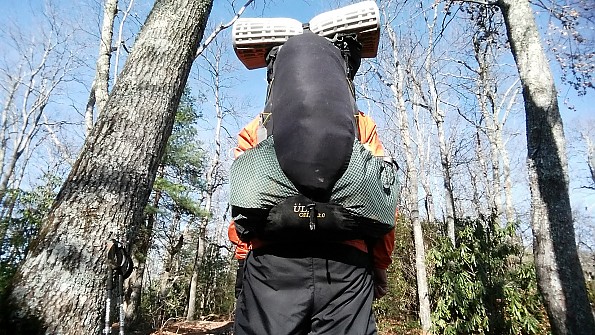 The only minor drawback on space in the inner compartment is that a bear canister is a relatively tight fit. I am not saying it is difficult to get in, but that it leaves limited room around the edges to stuff additional gear. I can fit my first aid kit and various miscellaneous clothes (hat, wind shirt, gloves) that I want to keep in easy reach. I can fit my REI Trail Chair inside wrapped around a BV canister, and still slide it in and out easily. The relatively thin body of the Ohm creates this minor issue, but having that thin profile helps greatly when negotiating thicker trails and bush whacks.

The standout features of the Ohm, to me, are the side and belt pockets. Honestly, I can fit everything I need for an entire day into those pockets: phone/camera, navigation (map and compass), minor first aid, etc in one belt pocket; snacks for a day in the other; my cook kit and lunch in the massive side pocket, and water and filtration device in the other. This is really convenient especially in bad weather when you don't really want to open up the main compartment until you get to camp.
It also has the now ever common back mesh pocket that is just stretchy enough to pile in my rain gear with a wet tent if needed. There are other packs with at least as much room in the mesh pocket, but they don't come close in the other pockets. The mesh pocket has less stretch than some other packs, but holds everything I need especially on wet days.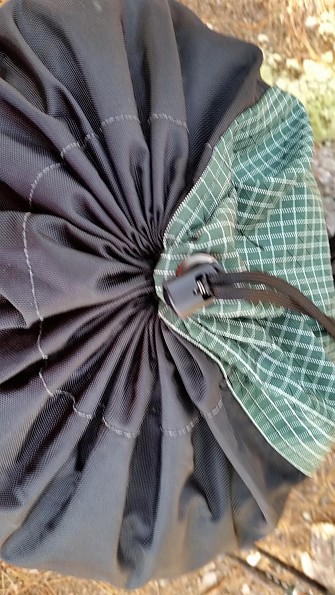 The Ohm does not have a top pocket, which I don't mind but may be a negative to others. The drawstring closure is easy to use, and except when absolutely packed to capacity can be rolled a bit to weather proof the top.  Honestly, if you pack the Ohm to the point where it can't be rolled closed, you are probably at or above the 30 pound comfort threshold. When my capacity was close, I simply clipped my ground sheet under the compression strap over the top of the pack. 
Load carrying
As I mentioned, I have loaded the Ohm 2.0 with around 20 to 30 pounds total weight in a variety of conditions. If I concentrate, I can tell that it is getting near its maximum comfort ride near 30 pounds, but it still felt comfortable to me. 
Just the other weekend, with a mid-20 lb load and wet gear adding significant weight, I almost felt that the Ohm was pushing me up a hill rather than dragging me back in the second half of a 17-mile day. The only way I am going back to the Z-55 is if I go over a week trip or maybe 4-5 days in winter with all that extra weight. Otherwise I am sticking with the Ohm.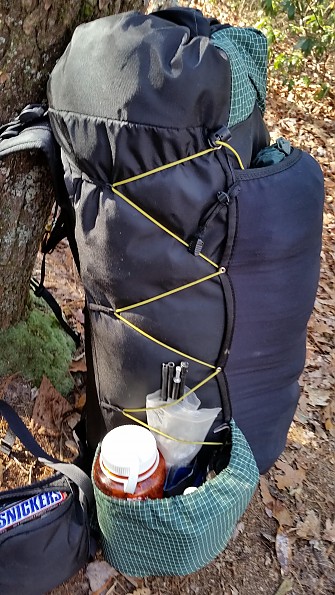 The compression straps on the sides work relatively well, but don't fully compress the entire pack unless you pull them in stages (not just from the top, but also half way up). As mentioned in another review, the compression system stops at the top of the large side pockets.  I find that no issue for a full pack, especially with a sleeping bag in the bottom.
However, for use as a day pack from base camp, the lack of lower compression causes gear to shift to the bottom of the pack. It doesn't affect the way it feels to me on the few trips I used it in this way, but may be an issue for folks who do that a lot.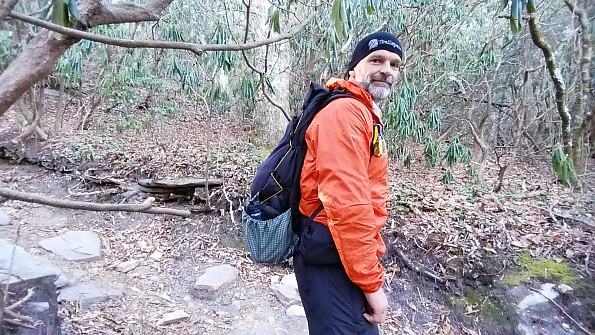 Conclusions:
After much consideration, I rated the Ohm 4.5 stars due to a few minor cons but none that you wouldn't find in other packs of similar style. The only real deduction was for the lack of back ventilation for steam engines like me, but many similar packs suffer from this. The Ohm 2.0 is my go-to pack for most conditions now. It is the best built and lightest pack that keeps me in my "comfortably light" approach to backpacking.
I have dabbled with frame-less packs, but they are not an option for me after trying a couple. I am saving my 5 star rating for the perfect pack…but that may never happen!
Source: bought it new
Price Paid: $210

Probably my favorite pack of all-time!
Description
If I could only own one pack the Ohm 2.0 is the pack I would choose…and more often than not it is the pack I choose for unsupported trips ranging between 2-5 days. Utilizing a carbon-fiber pole to transfer weight to the hips the Ohm 2.0 is a fully functional internally framed backpack for less than 2 lbs....and the smart design keeps my pack on my back and my feet moving forward.
Out of the packaging the original weight of my size large pack with medium hip-belt was 902 grams or almost 32 ounces. As with anything I buy there was a bunch of silliness that I immediately went about removing 1) hydration sleeve 2) hand-loops 3) water bottle holders 4) security pocket…in all a removed 138 grams or almost 5 ounces of nonsense for a new pack weight of 764 grams or almost 27 oz. There may be further subtractions in the future…but all of these items are easily removed and can be re-installed later.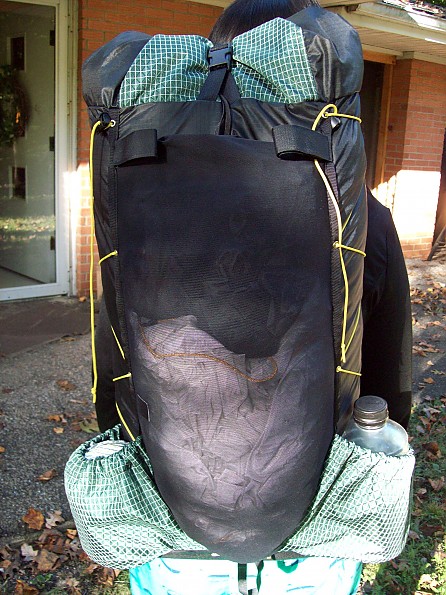 Construction
ULA has a reputation for quality...customer service...and excellent design...and the Ohm 2.0 is a perfect example of that reputation in material form. The Ohm 2.0 is constructed of ULA's 210 Robic (a near indestructible Dyneema materia)l…on the back…sides…and top of the pack. 210 Robic is not the lightest material to construct a backpack from…but the durability of the fabric is such that I would increase its use on the pack if given the option. The front and top of the main compartment are constructed with uncoated 1.9 oz ripstop (which hinders my ability to punch holes through my bag quite a bit)…a Cordura bottom (which I will work diligently to wear away at by dragging it mercilessly)…and a lightweight stretchy mesh on the front pocket which might work well for folks out west...but not so well in the overgrown Eastern woodland trails I mostly use.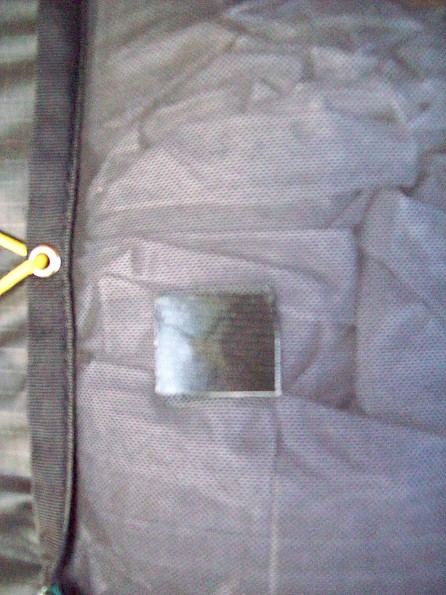 Storage
The Ohm is a simple but versatile top-loading pack with drawstring closure and a top compression strap. The overall capacity of the pack is 64L…but the main compartment is only 34L…with the remaining storage distributed between two very spacious and easily accessible side-pockets…a large front mesh pocket…and two hip-belt pockets. Not one for a lot of complication…I find that the Ohm's distribution of storage is well conceived.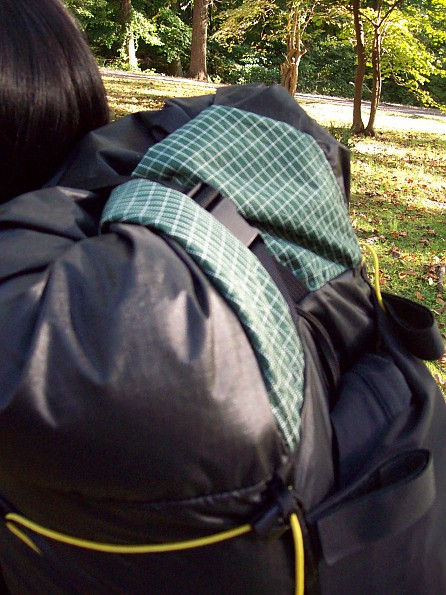 The two large side pockets are probably my favorite feature on the pack…made of ULA 210 Robic with elasticized closures they are basically indestructible…and capable of holding large Nalgeen bottles…a UL cook-set…fuel…snacks…and just about anything else you can imagine stuffing into them.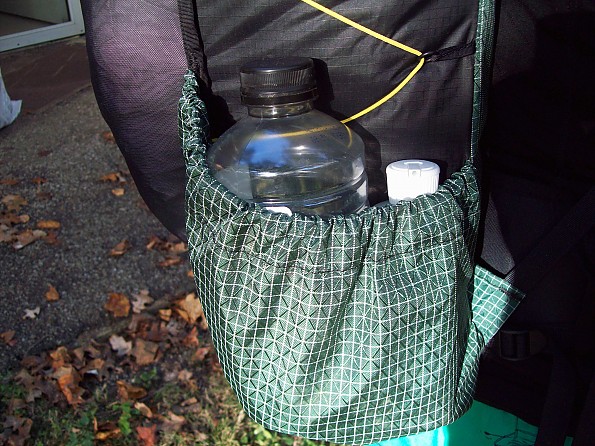 The two hip-belt pockets are not something I was particularly excited about before purchasing the pack…as I tend to find additional pockets and things unnecessary. Overtime however...I have found myself growing very fond of these little guys...and I don't think I would buy a pack without them again. In practice the two pockets act not unlike the glove-box of my car...catching everything I don't want rolling around while on the go. More than any other part of the Ohm these two pockets keep me on the go.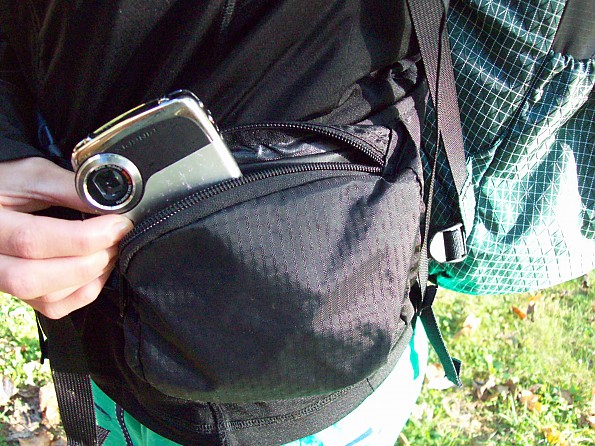 The large front mesh pocket is made of a stretchy material that has the feel of pantyhose. For me personally a large front pocket is required of any pack I use…as it serves to keep my wet items like tarps away from drier items…but also makes opening my pack in search of rain-gear unnecessary. I live and play where the woods fight back...and this fabric just isn't up to the challenge. If given a choice I would prefer the front pocket be constructed of the same 210 Robic used elsewhere on the pack. In the drier West it is likely that gear stored in the mesh pocket would dry out...but where I roam there is almost no chance of it drying out due to humidity and little wind...so the delicate fabric turns out to be a poor compromise.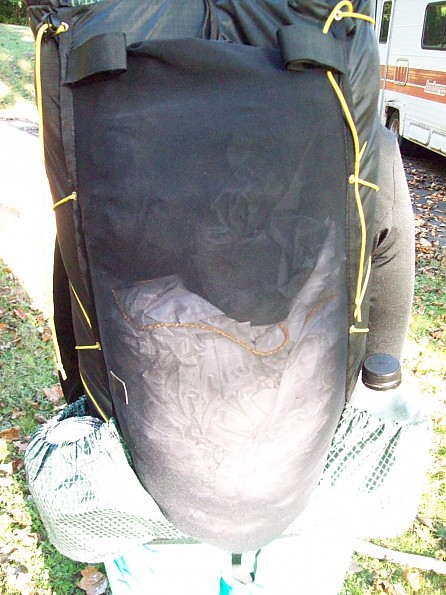 Carry
The ULA Ohm 2.0 is the latest version of ULAs mid-size original Ohm…but the primary difference between the two models is the addition of a beefier and more comfortable hip-belt. From the original version the Ohm 2.0 still makes use of ULA's contoured shoulder and sternum straps…full-body compression system…and load-lifters…which in combination with the new larger hip-belt makes the Ohm 2.0 the most comfortable pack I have ever used.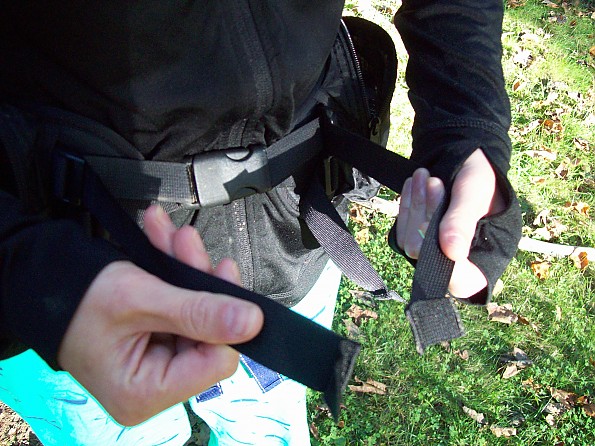 I do not find anything particularly unique about ULA's upper harness system…but the sternum strap…load-lifters…and contoured shape of the shoulder straps do not create hot-spots on the underside of my arms and sides of my neck…and keep the pack centered against my back. The shoulder straps are a good width which distributes the weight of the pack nicely across the shoulders. The sternum strap is fully adjustable…and the load-lifters are easily adjusted while wearing the pack.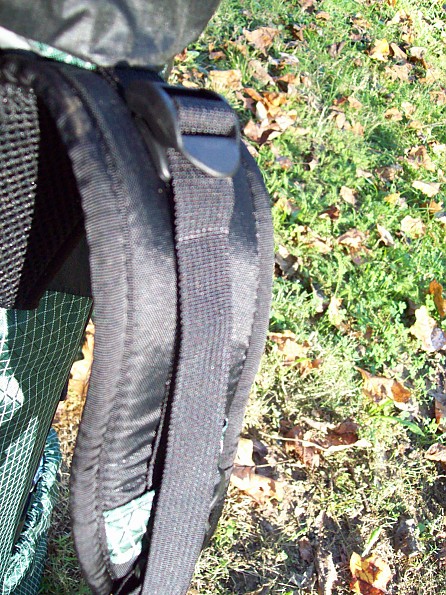 The body of the pack is (almost) fully compressible via a length of low-stretch cord weaved along the sides of the pack…but ULA failed to continue this system to the bottom of the pack. Probably to prevent the cord from interrupting the use of the large side pockets…but this could have been overcome by creating a channel for the cord to run through. Overall I have not found this a significant drawback as I use the pack more often than not near the maximum capacity…but the day-pack practicality of the bag would no doubt be significantly improved had the compression system been fully extended.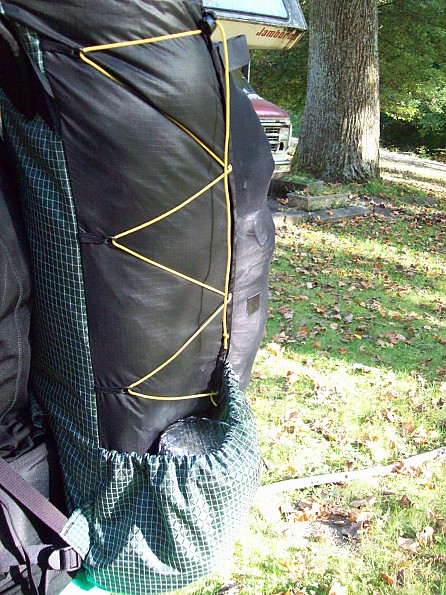 In Use
I have used the Ohm 2.0 for almost a year…comprising of 10 trips in total…with most trips being of the 2-4 day variety. During that period the Ohm has been nibbled on...submerged...scratched by trees and fences...baked in the sun...sat on...backed over with a car...and countless other forms of torture. The bag is roughed up...but still gets the job done.
To be honest I loved the pack since the very first time I packed it full of gear and placed it on my shoulders…as I was immediately impressed with how well it carried…but over time this sentiment has only grown. The additional hip-belt pockets have added significant convenience…and yet I never feel as though the pack has too many pockets.
I would conclude by simply stating that the Ohm 2.0 is a great pack…that is probably well-suited for most people who keep their loads on the lighter side of things…and that it is impressive just how much work a person can squeeze out of this one pack!
Source: bought it new
Price Paid: $200

Considered to be the second best pack on the AT, this lightweight pack for carrying 15-30 pounds is for experienced hikers and not for your novice hikers. Belt system, load lifters, loops for bottles and other items. I found the pack of my dreams after using the Gregory Z55 and Gossamer G4 over the last couple of years. This will be my Triple Crown pack.
Pros
Weight is 2 lbs 2 oz
Carries 15-30 lbs loads in comfort
Durable fabric
Huge side pockets for two bottles each
Load lifters and hand loops
Hip pockets are a good size
Stretchy pocket and Roll Top option
Have your name written on pack
Cons
Rests against back
Fabric is durable but you still have to careful
Not waterproof
OK, again after trying two other packs out (Z55 and G4 45), I have found the pack for my Triple Crown. This is only a 2-pound pack but it carries loads of 15-30 pounds with ease because of the outstanding belt system and load lifters. I opted for the roll top lid and it works really well compared to the pull tops.  
It fitted really well, but you may have to adjust the hip belt to match it perfectly with your torso length.  Anyone can use this pack and you can select different shoulder straps too.
NO venting at all, but that is normal with frameless packs, but this pack does use a rod for support.
Best overall pack for loads of 15-30 lbs period.
Again because of the design of this pack, it rides very stable and is very comfortable.
Very good compression system on both sides of the pack to secure your wobble.
There are too many great features so I will name my favorite:
Very comfortable belt and the ways it secures to your hips, loops for for bottles and other tidbits and hand loops. However the best luxury option is you can have your name written on it. Now is super cool indeed.
I have used this pack on just hikes but in a couple of months, it and the rest of my gear, will get a great workout on the Quebec Section of the IAT, a 650km, 30-day hike Eh
Source: bought via a "pro deal"
Price Paid: $190

Lightweight, yet plenty of room for gear. Designed for comfort and durability. Unusual and useful ability to carry water bottles on shoulder straps. Exceptional hipbelt support and comfort.
Pros
Very lightweight
Durable materials
Comfort
Holds tons of gear
Cons
Front pocket and hipbelt pockets susceptible to wear and snags
Shoulder strap water bottle holders require some tuning to reliably hold bottles
The ULA Ohm 2.0 is a smaller pack in the ULA line, yet has the hipbelt of some of the larger models allowing it to carry substantial weights.  The ULA hipbelts are top-of-the-line for comfort given their light weight.
The Ohm 2.0 has provided plenty of space for 4-day backpacks for me with room to spare.  Its load-carry capacity allows me to lug enough water for Arizona trails.
See lots more details from the following video I filmed on a 4-day hike along the Tanner and Beamer trails in the Grand Canyon.
Source: bought it new
Price Paid: $200

Best pack I've ever carried. Works for overnight to multi-night trips all year. Extremely comfortable. Outstanding quality. Fantastic customer service.
Pros
Comfort
Build quality
Customer service
Design
I now only own one pack and this is it. I use it year round for 2- to 5-day trips. At 63 liters total volume it has plenty of room for everything I need down to below freezing hammock camping.
The large side pockets and stretch mesh front pocket are great for carrying all sorts of gear. The spacious hip belt pockets can accommodate a large smartphone, point-and-shoot camera, several Clif bars. This is by far the most comfortable pack I have ever carried.
I didn't think I would like the bottle holsters on the shoulder straps, but I wouldn't want to go without them now.
ULA customer service is excellent. Product quality is outstanding. 
Source: bought it new
Price Paid: $210

Very Light, functional, no-frills, up to 4-day pack (three days with bear canister). I highly recommend it, very comfortable with adjustable length and load lifters on top and belt. Clever bottle holder elastic loops on shoulder straps free up side pockets for more gear. My go-to pack.
Pros
Lightweight
Comfortable
Can get in camo
Cons
I'd add mesh pockets on the upper sides also
I hope it holds up. I suspect ULA will back it up well.
It fits me just fine (5'10") with the adjustable back length, load lifters, and adequate padding on belt/shoulder makes a very comfortable (and light) pack ~1# 12 oz empty.
I've been on two short warm weather trips, Yosemite and Trinity Alps, and this thing is a breeze in every respect. I do seem to fill it up quickly, especially using a bear bottle (BV 450). I have used this with 25 and 27 (BV)#'s full wet weight on my 20$ scale. I can trim this but more cold weather gear or alot of water might be a stretch beyond a 4-5 day trip and that's fine with me.
Carries and adjusts on the go very well, organization is a bunch of zip lock bags in a bigger bag and it all works fine. The compression cords work well and and everything is easy to use, simple and well thought out.
I have had no durability problems and I highly recommend the pack. I replaced an Osprey Exos 46 to get the weight closer to my back and knock off a few more ounces which this does.
Hope this helps.
Source: bought it new
Price Paid: $200

Your Review
Where to Buy
Help support this site by making your next gear purchase through one of the links above. Click a link, buy what you need, and the seller will contribute a portion of the purchase price to support Trailspace's independent gear reviews.
You May Like
Specs
Price
MSRP: $225.00
Historic Range: $200.00
Reviewers Paid: $190.00-$210.00

Weight
33.1 oz / 938 g

Volume
3,960 cu in / 63 L

Recommended Max Load
30 lbs / 13.6 kg

Recommended Base Weigh
12 lbs or less

Materials
ULA 400 Robic

Recently on Trailspace