Valandré Shocking Blue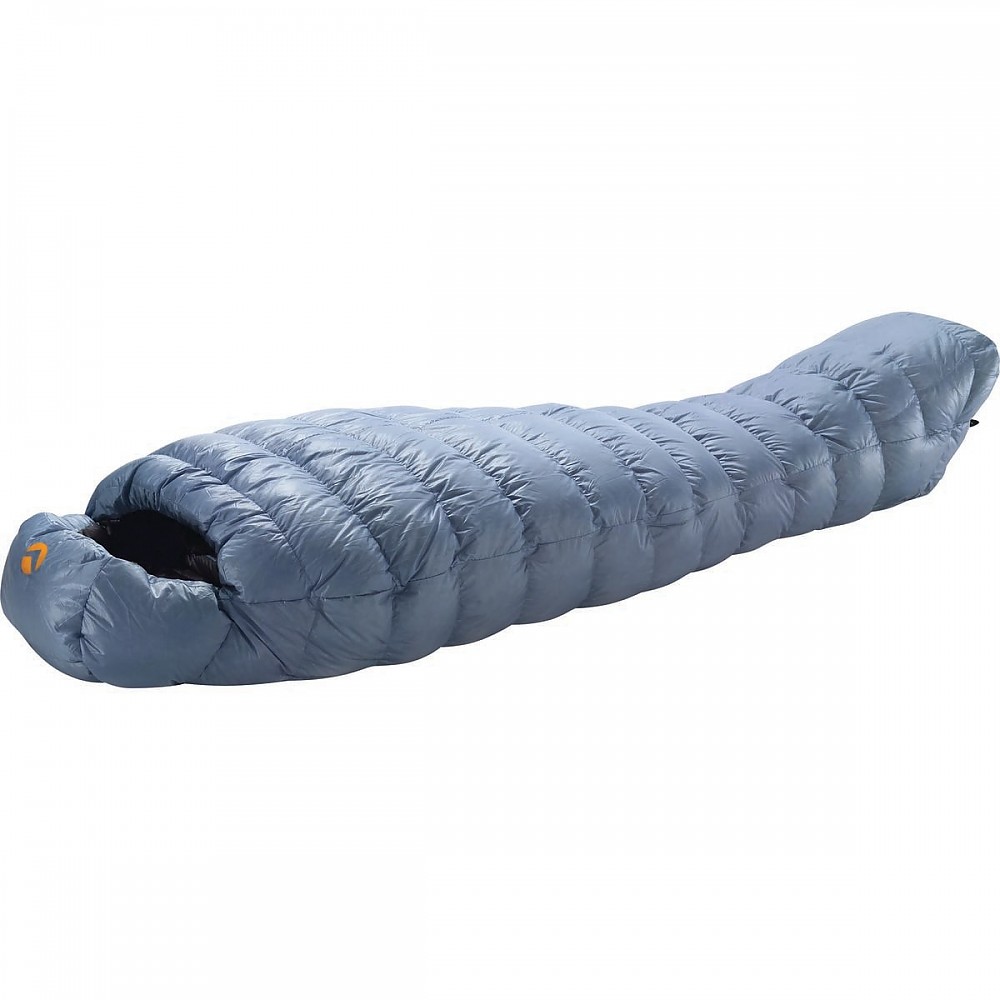 Well, here's a review telling you how I took my size long Valandre Shocking Blue, a 3lb bag EN comfort rated at 16F, to a verified -15F, and slept as soundly as I ever have. At first, you'll pass it off as experimenter bias, telling yourself that anyone who even considers—let alone owns—an $800 sleeping bag is going to think highly of it to begin with. You'll say my thermometer had to be off. You'll tell yourself that, with the clothing I wore, and the fact that I slept on two pads, on snow, inside a double wall tent, you could have done the same in your Antelope or Snowbunting. I mean, they have around the same 30 ounces of high-quality down, right? Right? Well, I'm not so sure you could.
Let me start by saying that I've owned a few very fine quality down sleeping bags and have no qualms against criticizing a product for something I see as a design flaw or shortcoming. With that being said I think the Shocking Blue does things a sleeping bag of its weight and fill shouldn't. I opine that it has to do with the quality of the down used, the fully differential cut, the well-shaped and amply-stuffed hood, the "cut-in-the-round" construction. Also of note is the marvelously sculpted footbox, as well as a versatile collar system which allows a remarkably efficient seal above the shoulders.
The down used in the Shocking Blue is about equivalent to the American 850 fill power standard. Valandre says they make the extra effort, however, to source their down from Geese "primed" a bit longer than standard Geese used in down production. They say this effectively makes their final down cluster more lively, resilient, and larger than any other down in use. Of course their birds are raised in an ethically-amenable manner, a 3-hour drive from their production house. This is what ensures that their down is consistent not only batch to batch, but year to year…does anyone else remember when Marmot's highest-end bags went from 900 FP one year to 850 FP the year later?...
The crafters over at Valandre like to say that the Shocking Blue, laid flat, would look exactly the same without down as it does with down. The bag is constructed using 91 separate chambers which, when fabricated from the Asahi Kasei Impact 66 fabric, are essentially self-supportive. The down can loft unimpaired. These chambers are cut in the third dimension, thereby taking the "differential cut" concept to an entirely new realm.
Valandre uses two terms to describe the construction, both of which I use almost interchangeably: "cut-in-the-round" construction, and "tubular bell" construction. I use them synonymously because their difference as so subtle as to be lost on me. At any rate, just by looking at the bag one call tell its construction is truly otherworldly. I have heard makers and distributors of other cottage brands remark disparagingly about how unnecessarily complicated and heavy such construction is. Perhaps they are angry they can't afford to employ better sewers; I suppose knowingly making an inferior product could be irritating to some.
The hood is especially brilliant in that it allows the down to loft a full 5" around the head even when cinched down to just a blow-hole. There is no sense of constriction inside the hood area when fully battened-down. All face seals are very effective, keeping cold air at bay without fail. I use a Western Mountaineering Cloudrest Pillow, about 10"x14"x6" fluffed, and it fits very well inside the hood of the Shocking Blue.
On the other end of things, the footbox on the shocking blue has more contours than…I don't know…Annie Lennox? I mean, I can't keep on walking on broken glass…Anyways, with my feet positioned correctly in the footbox--laying on my back—I cannot feel the bag contacting anywhere but my heels. All one feels is insta-warmth, as if from a heat lamp. It's was quite weird when I got in the bag for the first time, because it feels like you've "pulled the covers up too far," and my instinct was to want to scoot up inside the bag until my feet made contact! Within a few minutes though, I was a convert, and would now choose to have every subsequent sleeping bag I own be constructed with this footbox, if I only could.
Please, let me tell you about the collar. Valandre calls it their "Marie Antoinette" collar; leave it to a Frenchman to reference beheading when describing a collar of his own design. I'll admit, it's not for everyone. You see, it's not your standard tube of down. It is, literally, an adept translation of the neck-fastening device used in the Guillotine. Two parallel, three-dimensionally-cut chambers are each respectively sewn to the top and bottom of the bag, just above the shoulders. There is an ergonomically-designed depression carved out of the middle of both chambers for your neck. One undoes a couple of 3-inch long, 3/4-inch wide Velcro straps closest to the zipper side of the bag, lays down, and fastens the Velcro. On the other side of the depression is a zipper running to the other side of the sleeping bag, so that those with larger necks, those wearing lots of layers, or those wanting a bit of ventilation can have more room. This inner zipper unfastens fully so that one can sit up and put their arms out while still inside the bag with the main zipper closed.
The night I referenced above was spent on top of the Grand Mesa, at some 8500', near Grand Junction, Colorado. Inside the bag, I wore Patagonia Capilene 3 baselayers top and bottom, under a Patagonia Nanopuff pullover and M-65 Pant liners. I wore a Mountain Hardwear Micro fleece beanie under a Patagonia R1 Balaclava on my head, and two pair of successively-sized, medium-weight, mid-calf Smartwool socks. Mountain Hardwear Powerstretch glove liners on my hands. Under the Shocking Blue was a size large Thermarest Prolite Plus, and under that was a full-length layer of 3/8" closed-cell foam. Now, the thermometer was from my 8-year old Suunto Vector. It was suspended in mid-air inside my Hilleberg Allak. I checked it twice, a few minutes apart, at approximately 2:20am, and both times it registered -15F. Ostensibly, this wasn't the coldest part of the night, but I wouldn't know because I was next awoken by the warmth of the sun…
And this experience has not been anomalous for me; indeed, prior experience told me that I would be comfortable sleeping in the clothes I planned to bring, for the expected conditions. By the time that trip came up, I had used the bag a handful of times, and had a good idea of its capabilities. Using the Shocking Blue allows me to take along less clothing on those trips where I'll not be hanging around camp outside my sleeping bag for very long. The only clothing article I brought up to the mesa that weekend that I didn't wear to bed was my Lowe Alpine Sierra-Lite Softshell pants. No need to bring what you won't need, right? Likewise, I know I can push the Shocking Blue to -20F and lower, and I know exactly what supplemental clothing will get me there.
So, the big question in everyone's mind should be: "With all those features you gushed over, and with some 30 ounces of down, why is it only rated to 16F?" Well, are you ready? It's because some bags are built to keep a person warm, and some are designed to do really well on the EN test. I've done a bit of research, and I don't believe the standards set by EN 13537 translate accurately to real-world performance. Nor do I think the standards for determining "fill-power" accurately reflect real-world performance. It is not the linear function marketers make it out to be: i.e., 900 fill-power down is not twice as "good" as 450 fill-power; the final down used in these test is so clean and dry that such loft could seldom, if ever, be realized in outdoor conditions. Under these test conditions the feather content present within a given batch of down affects its loft much differently than would be outdoors. Said another way, I'm not too sure if the highest "fill-power" equals the best insulation for a sleeping bag. Again, some companies manufacture bags to shine on paper, and some build bags that shine in the field.
I'll take the one that keeps me warm. And until I have a reason not to, I'll be worshiping Saint Hot As Hell…
Price Paid: $450

Fantastic lightweight expedition bag. Without too much layering: Comfort rating from 0 to -15F depending on whether you're a warm or cold sleeper. High quality inner and outer shell. It's roomy enough to allow serious layering (expedition down jacket and pants).

I don't think there's a better light expedition sleeping bags in the world. Perfect for winter backpacking. I'm 5'11" and the medium size is perfect. If I was taller I would go for the large.
Pros
REALLY WARM
Very effective collar
Packs really small
High quality fabrics
Roomy and comfy
Cons
A little bit heavier than competitor
Takes a little bit more time to get in and out of the bag
I'm an average sleeper and found the bag fantastic.
My coldest night with the bag:
temp: -11°F (-24°F), no wind
That night i used an Exped DM 7 and a South Col bivy. I didn't use the bivy's hood though. I was wearing midweight thermals (bought at Walmart), a cagoule, and a Polartec 200 fleece.
I slept OK, but feel that  it was the limit of the bag in that configuration. Below that I would use a vbl and thick thermals. My friend who's really experienced told me that I wouldn't have any problem down to -20°F if I was sleeping under a tent instead of my bivy bag specially. There's no doubt I'll tried that and report this asap.
PS: For the record, the last time I looked at my thermometer it was -7°F. It's only because my thermometer records the coldest temp that I was able to know it was -11°F.
Source: bought it used
Price Paid: 420 USD

Used this bag on a climb of Aconcagua in December 2007. When I received it in the post (no decent bags available from outlets here in Australia) I was a little worried because of the small size of it. Absolutely no problems at all handling the temps which dropped at their lowest point to around -10 on summit night.
It is a SMALL bag both in volume and weight compared to others. It has to be the perfect bag for Alpine style fast and light climbs. I feel confident in this bag's quality and ability to handle the tough stuff thrown at it.
Didn't give it 5 stars only cause the zipper got caught a couple of times. Quality stuff here.
Design: Mummy
Fill: 800 fill down

The quality of this bag is exceptional. I own WM, Integral Designs and a few others. WM is very close in quality to the Shocking Blue, but the Valandre down and materials are flawless.
The bag is roomy - over 64" of shoulder girth, yet packs down to a very small size. The zippers are smoothest I've seen and the stitching is perfect. I honestly didn't think I'd be able to top it until I received my Valandre Bloody Mary.
Overall, an excellent choice (price aside).
The only negatives: Price and color. Not a big fan of this baby blue color.
Your Review
Where to Buy
Help support this site by making your next gear purchase through one of the links above. Click a link, buy what you need, and the seller will contribute a portion of the purchase price to support Trailspace's independent gear reviews.
You May Like
Specs
short
medium
long
Price
Historic Range: $429.93-$849.99
Reviewers Paid: $420.00

Weight
2 lb 14.2 oz / 1310 g
3 lb 0.6 oz / 1380 g
3 lb 4.8 oz / 1497 g
Fill weight
1 lb 9.7 oz / 730 g
1 lb 11.5 oz / 781 g
1 lb 13.5 oz / 837 g
EN comfort
23 F / -5 C

EN lower limit
10.4 F / -12 C

EN extreme
-23.8 F / -31 C

Fill
850-fill down

Shape
Mummy

Max user height
5 ft 7 in / 170 cm
6 ft 1 in / 185 cm
5 ft 9.7 in / 200 cm
Shoulder girth
61 in / 155 cm
65.4 in / 166 cm
69.7 in / 177 cm
Hip girth
52.8 in / 134 cm
56.7 in / 144 cm
60.6 in / 154 cm
Foot girth
39 in / 99 cm
41.7 in / 106 cm
44.5 in / 113 cm
Recently on Trailspace