Vargo Alcohol Fuel Bottle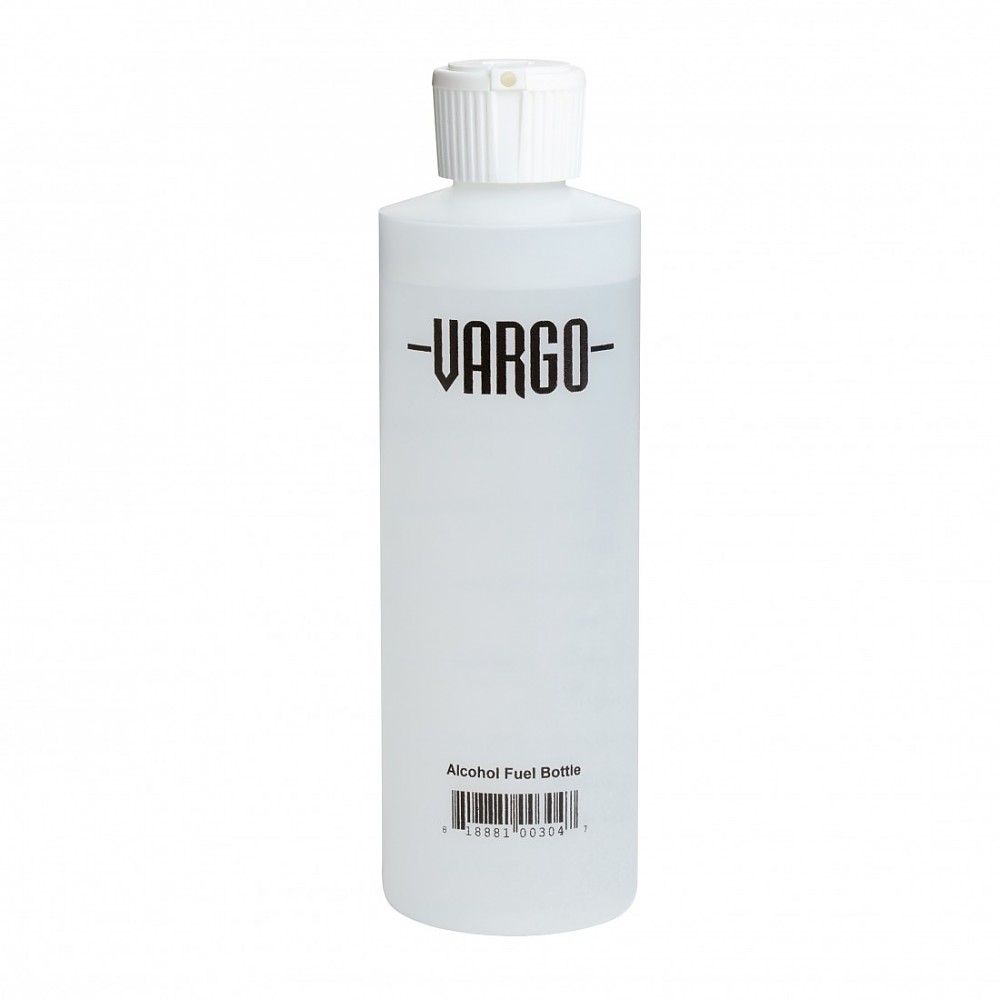 A simple but neat solution to the problem of how best to carry alcohol as stove fuel. Tough polyurethane construction, a flip top, and measuring lines allow the user to easily carry, dispense, and keep track of fuel usage.
Pros
Tough polyurethane can handle abuse
1/2 oz. measures on bottle (up to 8 oz.)
Flip cap easily directs alcohol into stove
Cons
Height precludes carry inside some pots
There is something to be said for simple solutions that perfectly fulfill one's needs.
The Vargo Alcohol Fuel Bottle is just what its name suggests—a bottle one uses to carry alcohol as fuel. It has become my go-to fuel bottle for my alcohol stoves in recent weeks.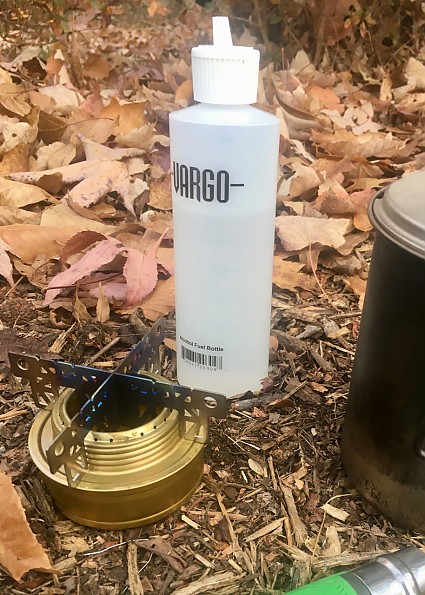 Use
For backpacking, much of my food is limited to dehydrated meals and instant coffee. For shorter backcountry excursions, I tend to favor the ease, low weight, and convenience of alcohol stoves over other options (generally lighter options than the durable Trangia, pictured above). A problem I have had, though, is storage of my fuel. My feathery light Trails Designs 12-10 stove came with a nice little alcohol bottle, but this bottle was not of sufficient capacity to handle more than a few meals, and its construction makes refilling it a bit of a circus trick.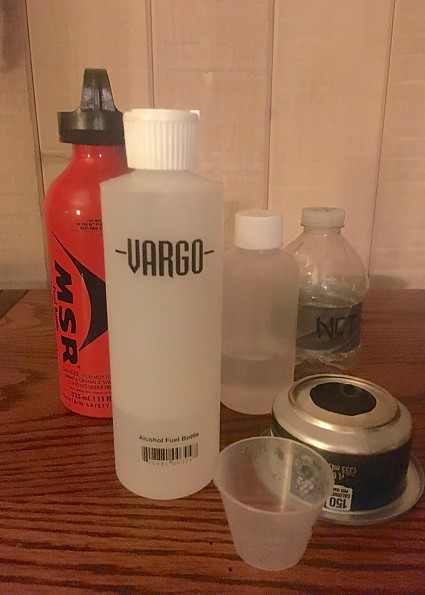 I've used small bottled water containers that are extremely lightweight, too, but they are also subject to being crushed easily, an issue because the flimsy caps can pop off when pressure is exerted on the bottle—not good for something that may be squeezed into a pack. The MSR bottle pictured below isn't intended for alcohol, which in my experience played havoc with the bottle's seal, but all of these concerns ceased to be factors when I began using the Vargo Alcohol Fuel Bottle.
This is the ideal size of bottle for alcohol stove users who need enough fuel to last a couple of days or who can resupply every few days. Naturally, the number of meals one can fuel with the contents of this bottle depends on the efficiency of one's stove as well as various environmental factors. For purposes of this review, I used a baseline of boiling two cups of water twice a day using about 3/4 oz of alcohol per boil.
Features
This polyurethane bottle, then, is large enough to hold fuel for a couple of days (or more depending on what you're doing), and it is tough enough to resist being crushed in a pack. The bottle stands 6.5 in/ 16.5 cm tall and has a diameter of 2 in/ 5.1 cm. The bottle weighs 1 oz/ 29 g. It slips easily into narrow spaces in a backpack.
One of the useful features of this bottle is the graduated measurements in 1/2 ounce intervals on the back of the bottle.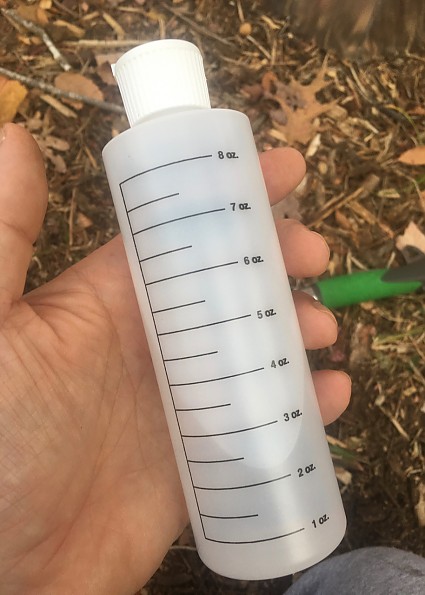 These allow one to measure out precise amounts of fuel, a practice devotees of alcohol stoves revere as it allows one to monitor fuel efficiency and consumption. For instance, I have learned that certain of my stoves require a certain amount of alcohol to boil a certain amount of water in a certain amount of time. I actually chart this data because the measurements help me plan for trips and monitor fuel consumption while on the trail. I've been known to carry a throwaway medicine cup as a measuring tool, but with this labeled bottle, I no longer have to do so. 
One bottle I've used in the past required me to invert the bottle, squeeze the air out of it, and then plunge it into fuel to allow suction to fill the bottle. This never really worked well, so I was happy to find that the Vargo Alcohol Fuel Bottle makes refilling the bottle a simple process, too.
The flip cap just twists off for refilling, allowing one to directly pour the fuel into the bottle, and when it is screwed on, it allows targeted squirts of fuel into the belly of the alcohol stove of choice.The flip cap seals completely when folded down. It pops up readily to dispense fuel, and there is a measure of old-world enjoyment in using something so basic and yet so ideal for the task of dispensing fuel. It reminds me of the squirt bottles I filled with water to squeeze at my brother on summer days.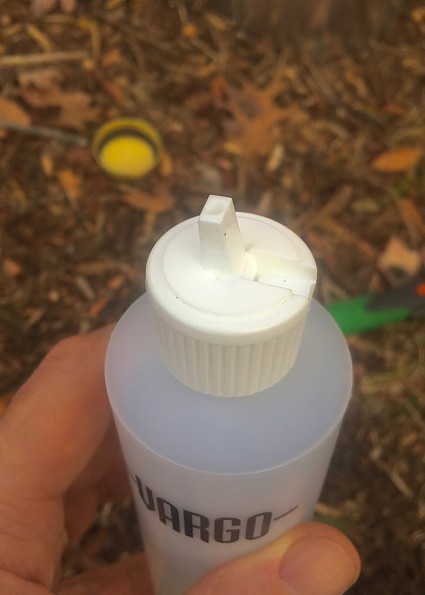 The polyurethane is fairly rigid in the hand, so the squeeze required to expel fuel is a firm one, but it is still readily accomplished with one hand. With attention and familiarity with the bottle, one can learn the amount of pressure to apply and the amount of time required to squeeze the bottle to yield an ounce.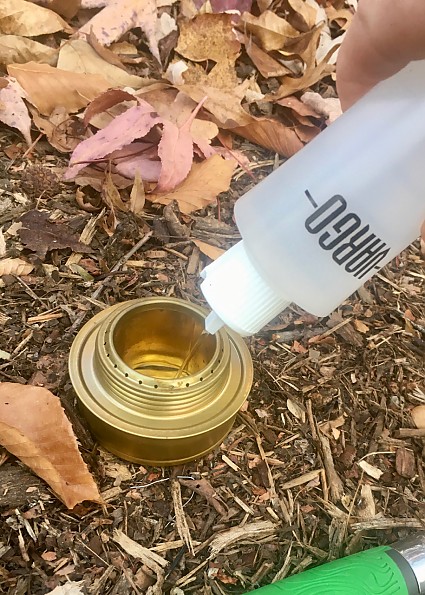 Conclusions
At about $2.50, the price of the Vargo Alcohol Fuel Bottle is very reasonable for the utility and peace of mind one gets with this bottle. Indeed, I have but one quibble, and this is a minor one: owing to its tall height, the bottle will not fit inside some of the smaller, one-person pots. While, being cautious, I usually wouldn't store a fuel in a cooking utensil unless I were using 95% ethanol as fuel, the Vargo Alcohol Fuel Bottle's size may be a drawback for those who would like to store a compact stove and their fuel in their cook pots.
Beyond this little complaint, this bottle is optimal for 2- to 3-day use. I can toss it in my back without fretting about it getting crushed or worrying about it leaking my precious fuel. It is easy to refill, and it is easy to use in precise fashion because of the markings on the bottle.
If you've been looking for such an option, the Vargo Alcohol Fuel Bottle is highly recommended. I can see a second one in my future to extend my range for slightly longer trips.
Addendum (9 Dec. 2016): In the notes below, Bill S. raises the question of long-term durability of the cap, a valid concern. I have had no issues yet, but certainly I will amend addendum should issues develop later. However, his comment made me wonder about what I'd do in the event that something did happen.  Some time back, I purchased the Nalgene Medium Travel Kit to help with pack and travel organization (a set of 8 small bottles intended to hold "shampoo, lotions, ointments," and more). Pondering Bill's comment, I remembered that it came with extra caps to prove options for one's use of these bottles. These extra "dispenser lids" are similar in design to that which comes on the Vargo Alcohol Fuel Bottle, but they are explicitly labeled as being "not leak proof." While they are not, then, viable replacement options for the Vargo cap, the screw-on lids they are meant to replace in the Nalgene kit are leakproof, and--because the threading on the Vargo Alcohol Fuel Bottle is a standard size, I found that they do fit the alcohol bottle, too, providing a leakproof replacement option. What my experimentation yielded, then, was the fact that one can find a viable, leakproof replacement lid for the Vargo bottle without much difficulty owing to the standard sizing of its cap.
Source: bought it new
Price Paid: $2.50

Your Review
Where to Buy
Help support this site by making your next gear purchase through one of the links above. Click a link, buy what you need, and the seller will contribute a portion of the purchase price to support Trailspace's independent gear reviews.
You May Like
Specs
Price
MSRP: $1.50
Current Retail: $2.95
Historic Range: $1.50-$2.95
Reviewers Paid: $2.50

Capacity
8 oz

Recently on Trailspace