Vibram FiveFingers TrekSport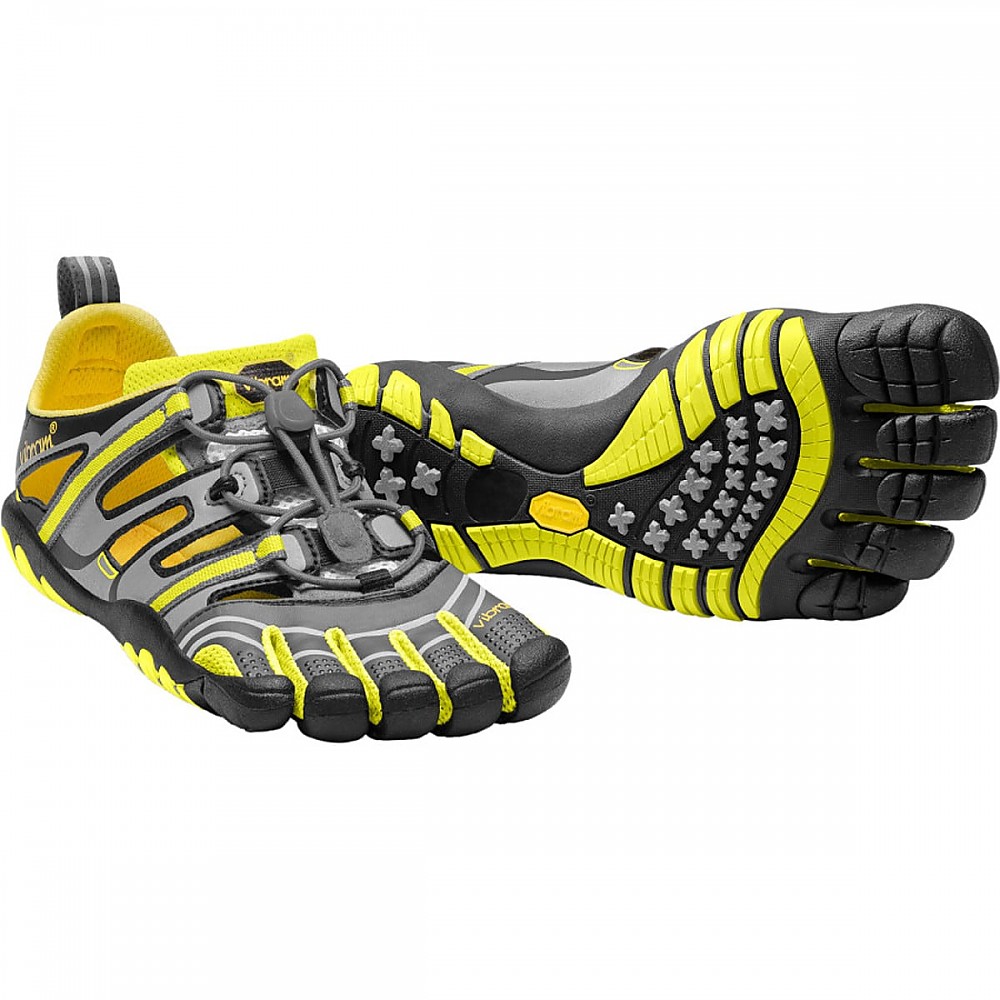 If you haven't tried Vibram's FiveFinger TrekSport barefoot/minimal shoe for trekking you may be quite surprised how well the shoe functions.
Pros
Minimal weight
Increased foot dexterity on rough terrain
Comfortable fit
No break-in period required
Cons
Not the easiest shoe to put on
Debris easily finds its way into the shoe
After a long hike the interspaces between my toes begin to hurt
Once in a while the 4mm of sole is no match for an intrepid stone
Not at all water resistant
I've worn Vibram FiveFingers (VFF) exclusively since May 2013 for everyday footwear, hiking, traveling, etc. The VFF TrekSport model has been my go-to shoe for hiking and backpacking during the same time period.
In all honesty, getting them on is not as easy as your everyday shoe. I've been trying these shoes on for years with some frustration always turning my back on them until a friend recommended them for greater stability, foot dexterity and balance. That's all I had to hear, I was sold! Always interested in finding a better performing shoe I decided I no longer could turn my back on these funky looking footwear.
Rather than try them on at retailer I initially did my research on VFF's website and ordered them from an online retailer (I believe they were some % off when I ordered them). I figured this would give me the opportunity to get these on my feet, which has not been the easiest task in the past, and walk around some, give them a chance while I'm comfortably at home. The result… how did I ever get along without them?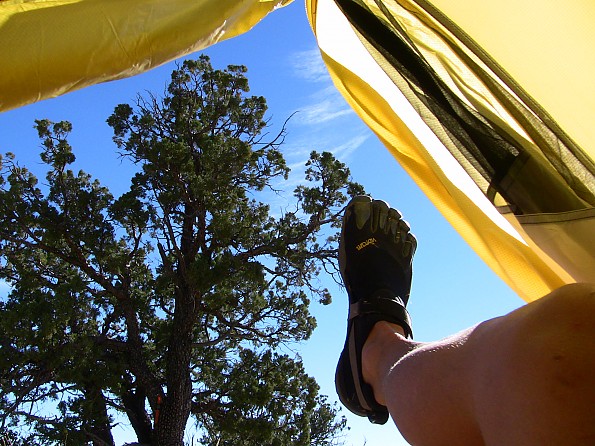 Most interested in a hiking shoe that is comfortable, stable and lightweight, I still had my doubts, that is until I wore them on the trail. I had two major concerns in regards to the TrekSport structure… is the cleated outsole going to prevent me from slipping in all types of weather, on all types of terrain and will they fully support my body weight as well as the additional weight of my backpack in the same manner as a traditional hiking boot?
The answer to both of these questions, after nine months and many trekking miles later is… yes! The TrekSports 4mm cleated outsole is forgiving enough to actually give me the feeling that I was grasping the ground below me rather than just stomping on it. My foot was absorbing the ground with a feeling I had never experienced before. Honestly, I felt as if I was part of the terrain, soaking it up with every step… I "felt" the ground below my feet!
The only single issue I have with the 4mm sole is that every once in a while you'll find yourself landing on a smaller objectionable stone tenacious enough to make you want to say, "that hurt". Otherwise, the 4mm sole is just perfect!!
With that said, it's important to include statistics… I've worn the VFF TrekSport exclusively in southeastern Arizona, specifically the Santa Catalina, Santa Rita and Rincon ranges and the Coronado National Forest. Temperatures during use have ranged from the lower 40's to the lower triple digits below 105 degrees. I have had no effective issues whatsoever with these temperatures, however, until I've worn the TrekSport's during extreme temperatures, temperatures below freezing and above 105 degrees, I am unable to give a most accurate, temperate report. These shoes have also seen very little rain but some water, snow and ice.
VFF's are notable for their patented rubber outsole that I have subscribed to, exclusively, for many years. In short, if I'm trekking, for a period close to twenty years, I have only had Vibram between myself and the terrain below me. This is indeed because the product simply seems to last longer and with less break-down than any other material I've had in the past. VFF's are no exception.
Most notable, FiveFingers are regarded for the finger-like pockets designed to contain your toes, each within its own pocket, similar to a hand glove. This has re-invented the shoe, in my opinion, and brought dexterity to my feet. I actually "feel" the ground below me. The upper portion of the shoe is made of a coconut active carbon fiber, thermoplastic polyurethane (TPU) that has not broken down. I've been told that these shoes will optimistically last approximately 300 miles before they begin to breakdown and I'm very close to reaching that point without any significant sign of wearing out.
One of the biggest issues I have with the uppers is that they are somewhat porous allowing fine debris to transcend through the material. And, my biggest disappointment with the TrekSport model is that, like any shoe, debris will enter through the cuff. My suggestion to Vibram, if they wanted to improve on this model, is to include  a tighter-fitting cuff preventing most debris from entering. I believe VFF's has a model with such a cuff but said model didn't have the cleated lugs I needed for trekking.
If you're looking for a shoe that offers some kind of water resistance, don't go with this shoe. You will get wet in these shoes if water is involved. The structure of the shoe is minimal, with the upper and outsole joined literally at or below the plane of the bottom of your foot. The lack of water resistance has not been a problem for me although I trek in a very dry climate.
Lastly, in regard to structure, the TrekSport also features a velcro strap to tighten or enhance the security of the fit and motion control. I have trekked with the strap tight and loose. There is a slight difference using the strap for stability and I feel it does exactly what it is designed to do. 
In regard to fit and support, the TrekSport fits me very well, but offers little to no support. I have an average size 10.5 foot, slim with a very high arch. My initial and biggest concern with the VFF's was that because they offer little to no support they would damage my high-arching foot structure. I have not found this to be the case, at least not yet and, to reiterate, I have worn VFF's exclusively for the past nine months, which includes other models.
Also, I chose to go with a size 42 TrekSport. When I initially measured my foot and compared it to their charts, I was a 42. Now, according to their chart, I see that my foot would be better suited in a size 43. This may explain why the interspaces between my toes begin to hurt after a while, however, the rest of the shoe fits comfortably well. I also continue to be a bit concerned about my high-arches hoping that this shoe is strengthening my foot and not damaging it… thus far, no damage, no pain and they feel great! There is also the possibility that my high arches are falling a bit, maybe strengthening and lengthening to the point where my feet are simply longer causing the inter-spatial pain?
I must also mention that I have never worn these shoes without socks. I wear an Injinji brand Performance Sport sock in their PED length, original weight and moderate interface. I feel the sock will prevent blisters and believe they do, although, I have not worn the shoes without them and this may add to the inter-spatial pain.
The lack of ankle support was also an issue for me. I have never worn anything but mid to heavy-weight hiking boots to trek with in the past so support was another serious concern. Now that I've broken free of my heavy supportive hiking boot idealism I feel great, I feel free and with so much less weight on my feet to lug around.
The lack of ankle support presented an additional problem. While hiking in heavier supportive boots I tend to notice that the ankle area gets a bit scuffed up from ankle "dings" caused by knocking my ankles on rocks. This may not exactly be a support issue but it is certainly a protective issue highlighted by support. Heavier hiking boots that offer ankle protection are generally bulky in nature and I find myself catching my ankles on the terrain.
The VFF's do not offer such protection, however, I'm pleased to report that I have yet to bang or scrape my ankles against rock. I'm assuming that I'm either consciously careful or the bulk material incorporated in the heavier hiking boot is just enough bulk to present a problem.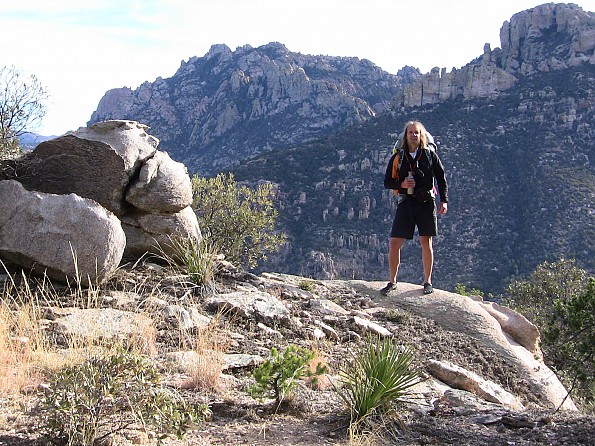 In summary, the VFF TrekSport model has functioned very well for me, both in the environment I'm trekking in and the rough terrain I'm trekking on. They're very comfortable and are going to remain on my feet for many treks to come.
It is especially noteworthy to note that I'm backpacking in these shoes, not just hiking. The TrekSport has supported me while hauling a backpack weighing well over 50 lbs. many times now. Although I do not recommend wearing VFF's and trekking with a heavy pack if you're not an experienced hiker, I actually find the lack of support on my feet refreshing and primal. This minimal shoe works for me!
I'm also told that I hike and walk with a more fluid gait rather than pounding along the trail. This external observation closely coincides with my natural feeling of increased gait control, movement and productivity. I have clearly become an improved, more-energetic hiker… a direct and considerable position that I enthusiastically attribute to the VFF's!
With all said… I highly recommend the Vibram FiveFinger TrekSport model and consider them a fine option for most outdoor activities. If you're at all concerned about getting into a pair, please talk with a fit expert in addition to my review. I've given these shoes a 4 of 5 stars simply because of the debris that enters through the cuff (having to take these shoes off to remove debris is cumbersome), otherwise these shoes would have received a very near 5 of 5 stars.
Reach Your Summit!
Source: bought it new
Price Paid: $73.99

As interest in barefoot or minimal footwear builds in the running and trail communities, Trailspace assigned three reviewers to test the utility of barefoot shoes for backcountry adventures. Pioneered by Vibram's FiveFingers line, barefoot shoes simulate the experience of walking, running, or hiking barefoot, while providing some protection from the ground.
So, how did the TrekSports fare for our outdoor trail enthusiasts?
The Testers:
Andrew Friedman (leadbelly2550): Walks three to four times a week on pavement or a dirt canal towpath, usually carrying a backpack that weighs 20 to 50 pounds. Day hikes or backpacks a few times a month. Former distance runner who still runs sprints on local fields in the mornings.
Mike Gartman (trouthunter): Day hikes on local trails two to three times a month. Takes weekend backpacking and camping trips at least once a month in the coastal plain of South Carolina, and in the mountainous regions of South Carolina, Tennessee, and North Carolina.
Vince Contreras (pillowthread): Hikes two to three times a week on the plateaus and canyons around Grand Junction, Colo. Often scrambles off-trail up to class 4, with light bouldering and scree glissading.
Summary
Specifically designed for outdoor enthusiasts hitting the trail, the TrekSports performed in a variety of hiking, running, and walking situations for all three testers.  All testers noted the shoe's traction, comfort, light weight, and feel for the ground, and said the shoes felt good on.
"Are they the perfect stream-crossing-cum-camp shoe? Absolutely," said Vince, noting their wispy weight, extremely flexible 4-mm soles, and "laughable pack size."
Our testers credited benefits such as stronger muscles and a better feel for the trail to the TrekSports. "These shoes provide a great deal of protection while still giving you the benefits of being barefoot," said Mike.
Due to their lack of support and reduced foot protection, the TrekSports have some limitations though and first-timers may experience soreness. "Under some conditions, these shoes expose your feet to abuse," said Andrew. "I don't recommend these shoes for longer hikes on hard or rocky trails, or for carrying a heavy backpack."
But for those willing to take the time to condition their feet to the shoes and match the shoes to the terrain, the TrekSports are suited for day hikes, trail runs, light backpacks, stream crossings, and camp use. Backpacking is a possibility, but Vince warns, "one must build up a level of conditioning to properly enjoy them and prevent injury."
Pros:
Grippy
Comfortable and extremely lightweight
Excellent feel for the ground, good treads
Quick-drying, machine-washable
Precise fit makes you feel like you dipped your feet in liquid rubber
Superb stable due to extremely low profile, for less ankle rolling
Cons:
More difficult to put on than regular shoes
Moderate foot soreness
Running requires changing the way your foot contacts the ground
Sharp rocks underfoot can be very painful, watch your step
Long, steep descents can be murder on the space between your toes
Best For: Walks, day hikes, trail runs, light backpacking, stream crossings, and camp use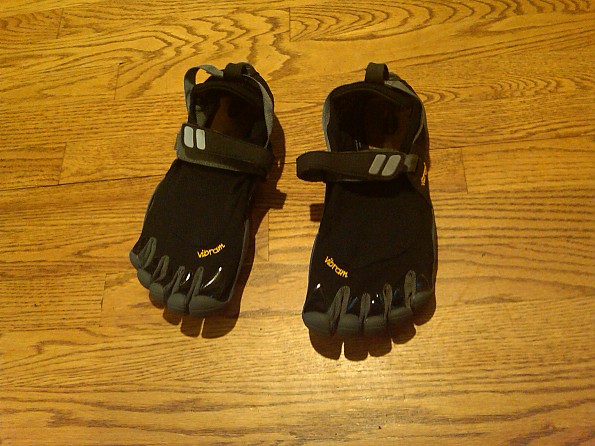 Vibram TrekSports fresh out of the box.
Fit
First things first, FiveFingers shoes take more time to put on than ordinary trail shoes and have a slight learning curve. "Getting each toe into the shoe the first few times took some attention," said Andrew. Mike said he got used to the routine of slowly sliding each toe into its respective toe sheath after a few tries.
Once on, testers found that the TrekSports ran remarkably true to size. Each tester sized himself by matching his U.S. shoe size to the European sizing on Vibram's size chart. Mike and Andrew both remarked that despite having their shoes arrive by mail, they had a good fit on the first try.
Because each toe pocket differs in length and width, Vince offered one word of caution: "The shoes are designed for feet that have their big toe as the longest (or at least as long as their second toe). I found that by sizing up a full size, those with their second toe being the longest—as mine are—can find just as good of a fit."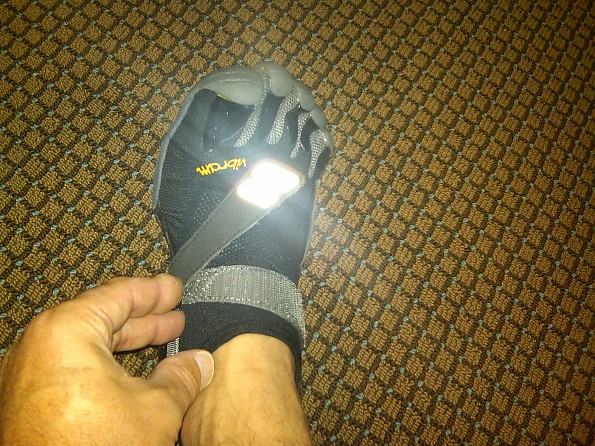 Andrew adjusts the fit on his TrekSports.
Break-In and Adjustment

Our testers agreed that you'll likely have to adjust your activities to this shoe, at least initially, and can't automatically go out and hike like you would in a heavy boot or run as hard or as far as usual.
The testers used different approaches to get used to their TrekSports. Andrew reduced the weight he carried and the frequency of use, but not the distance of his outings. Mike reduced the weight he carried and the mileage of his outings. Vince reduced the speed, weight, distance, and elevation gain of his hikes, and hasn't exceeded a five-mile run after four months of testing.
All testers commented on some initial soreness. Mike reported a small amount of discomfort below the ball of his foot, while Andrew's feet "felt tired and a little bruised." After an initial adjustment period, the soreness passed.
"These shoes change the way you walk due to the relative lack of cushioning and support in the sole," said Andrew. "And that design seems to work different muscles than with more cushioned or protective shoes."
Vince, who in addition to hiking runs about once a week, says heavy heel strikers may need to change their gaits if they plan on running for more than a mile or so in the TrekSports. "I lean forward more when running in these, naturally shifting the way my foot lands to a strike more centered on my forefoot," he said.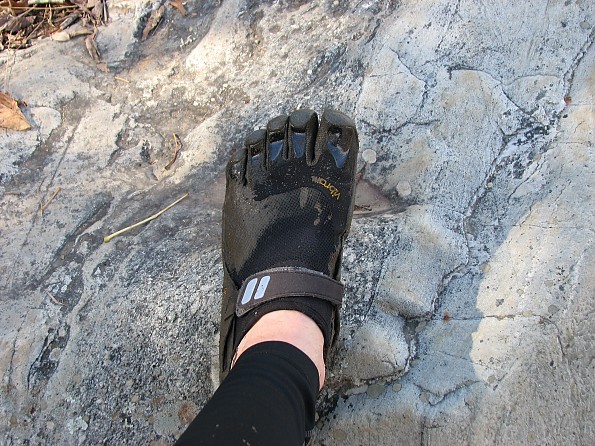 Andrew hikes across rocks in his TrekSports.
Friction
Two testers noticed friction with their TrekSports.
Andrew said "getting each toe into the shoe the first few times took some attention, and within the first few weeks, I had a few blisters underfoot. Neither of these continued to be an issue after I got used to the shoes."
Vince noted that having fabric between your toes, coupled with the TrekSports' precise fit, means that a portion of one's body weight is supported by the space between one's toes. "I would not want to continuously run more than a mile downhill in these shoes," he said.
Support and Feel

By definition, the minimal TrekSports offer little support and question how much support footwear should offer. As Vince describes them: "No laces, no tongue, no insole, no heel counter. Just a single Velcro strap across the top of the foot attached to a thin band of grosgrain ribbon wrapped around the back secures the foot in place."
Our testers all noticed benefits from the increased sensitivity they gained in exchange for less support, especially a good feel for the ground.
Mike noticed a dramatic effect. "Once on the trail, the biggest difference I noticed was that I could go hiking on trails without constantly looking at the ground in an effort to avoid rocks, roots, or other hazards. I was able to enjoy the scenery and look around thanks to the confidence and protection these shoes gave me."
Andrew, the former distance runner, noted "they felt amazingly good running full tilt on grass — not just because they are lightweight, but because the very thin sole really makes your foot more efficient, basically similar to a pair of track spikes in the way they feel."
Vince agreed that the shoes "feel more like an extension of your body than an attachment to be taken off later. Indeed, I've actually forgotten I was wearing them on a few occasions."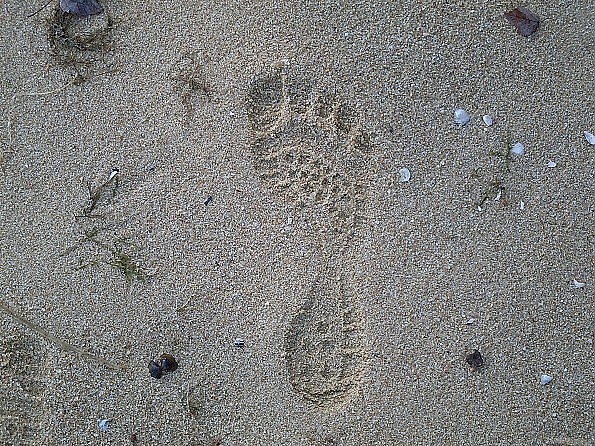 Mike leaves a FiveFingers footprint in the sand.


Strength
Vibram claims that its shoes strengthen muscles and prevent injury, and proponents of barefooting claim that the activity provides a range of benefits, including reduced injuries and better endurance.
We couldn't test these physiological claims directly, but all of our testers experienced some physical changes they attributed to the shoes, though none became bionic hiking machines.
Andrew, who has "incredibly flat feet" that require him to wear doctor-made hard orthotics full time, noticed a significant change in the strength of his arches. "Before I started wearing orthotics years ago, I struggled with tendinitis," he said. "I still don't have much of an arch, but my arches feel stronger — they don't get sore when I do really jagged hiking in boots," for which Andrew credits the TrekSports. 
Vince noticed an increase in flexibility between his toes as a result of having less callous skin there. "My toes are splayed and move more inside the TrekSports when compared to 'regular' shoes."
Mike, who wore his shoes the least, noticed the least effect. His foot and calf muscles were a little sore early on after hiking a few miles. "I don't think this was a strain or caused by any fit issues," he said. "I just think I was using muscles I probably don't use as much wearing boots. After a day or so I was fine."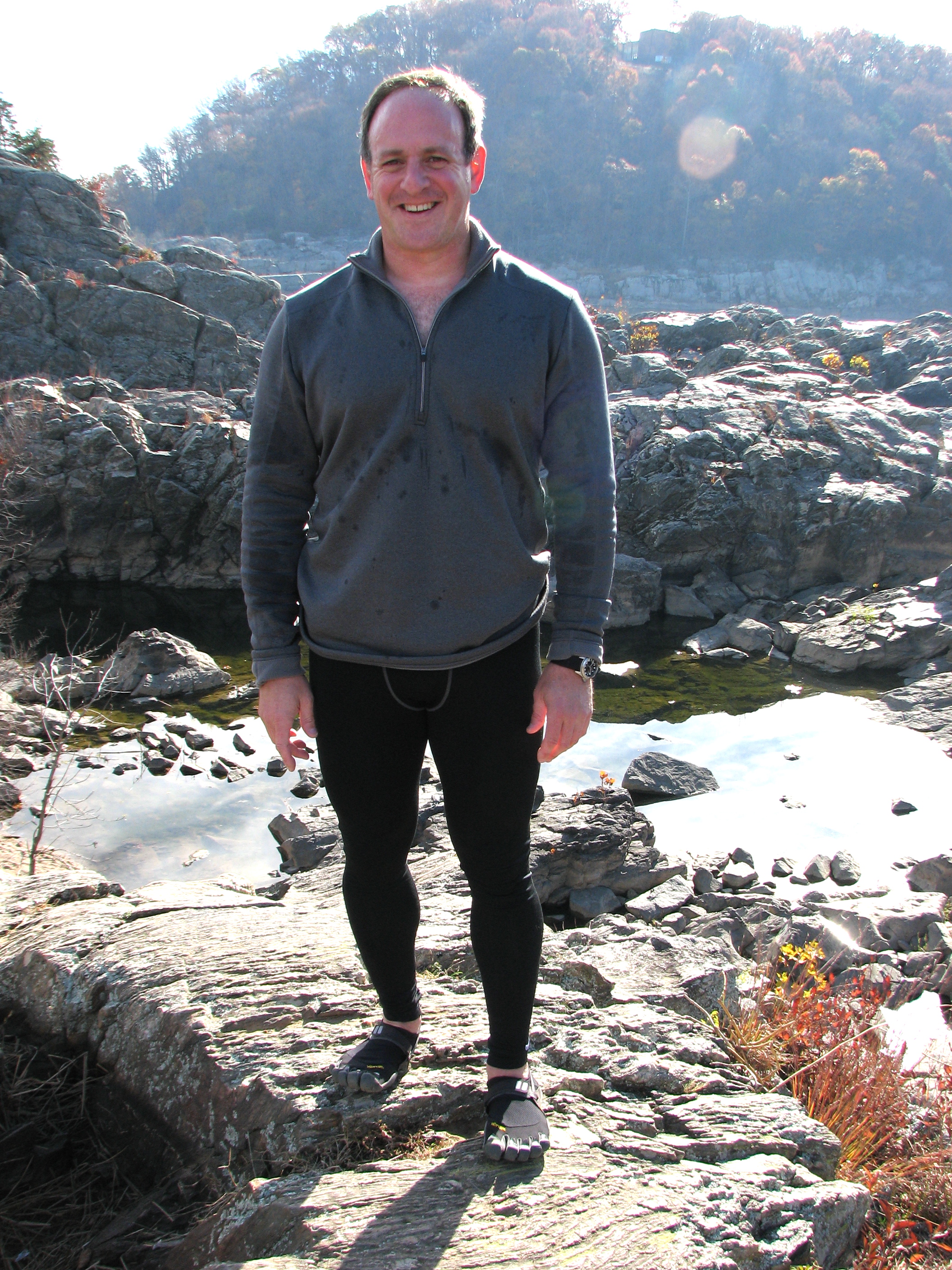 Andrew hikes across rocks on Maryland's Billy Goat Trail.

Traction
Our testers agreed that the TrekSports, which are lightly cleated for more traction on trails, have excellent grip on a variety of surfaces.
"Packed dirt trails, sandy trails, rocks, logs, and walking around in mud and water at the lake — I was, to say the least, impressed with how well these shoes gripped multiple surfaces," said Mike. Vince adds that traction also was stellar on sandstone and slickrock out West.
Andrew agreed that the soles gripped well on dry surfaces right out of the box. However, the shoes initially felt very slick in wet and rainy conditions to him. "The grip improved significantly after the first week," though, he said. "On one very rainy hike, I liked the way they didn't slip on wet rocks."
Beyond the 4 mm Vibram sole's traction, Vince noted that the design of the shoe allows for better grip since one's toes can individually "splay and grip more effectively, allowing minute balance adjustments that would be ineffective if not impossible in traditional trail runners."
Temped to rock climb? Vince, an occasional 5.10 climber, cautions, "for real climbing—above class five—the flexibility of the shoes begin to work against them. They have literally no pointing or edging ability simply due to the design of the shoe."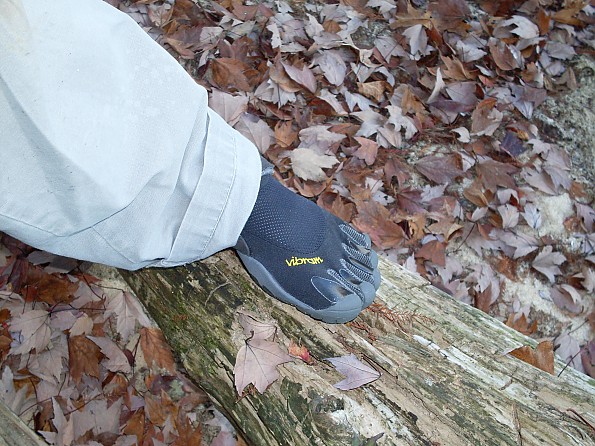 Mike on a day hike with his TrekSports.
Protection

While the shoes are minimal in design, testers said they still offer moderate protection, though they're not impervious.
Because the rubber sole curls over the front of each toe, Andrew noted that there was some protection in place in case of a stumble. "I stubbed my toe on a log during one hike and was surprised that my toes felt fine," he said. "This isn't as good as the toe bumper on my Keens, but it provides more protection than any open-toed shoe I have worn."
Mike hiked about three miles on clam shell paths along the shore of Lake Moultrie in South Carolina. "In areas like this you never know when you might encounter broken glass," he said. In the picture below "you can see some broken glass that could cut your foot wide open, I stepped right on top of it with the FiveFingers TrekSport and noticed no visible damage to the shoe. That alone would be worth the purchase price to me."
There are limits to that protection though. For Western walkers, Vince warns that "cactus spines will go right through like a hot knife through butter" as he personally discovered. "I remember seeing the prickly pear just before I stepped down, but I took a couple spines on the middle of the outside of my left foot," he said.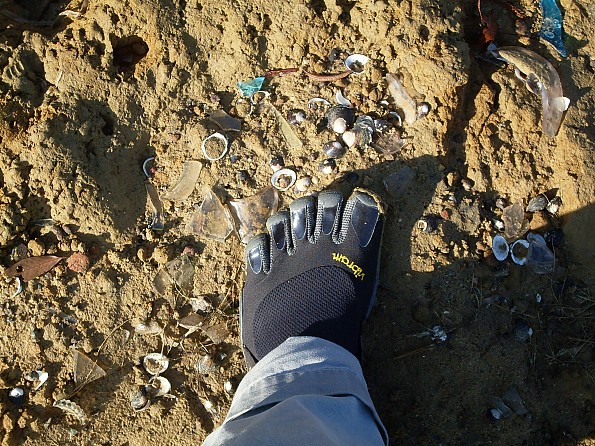 The TrekSports offer protection from clam shells and glass.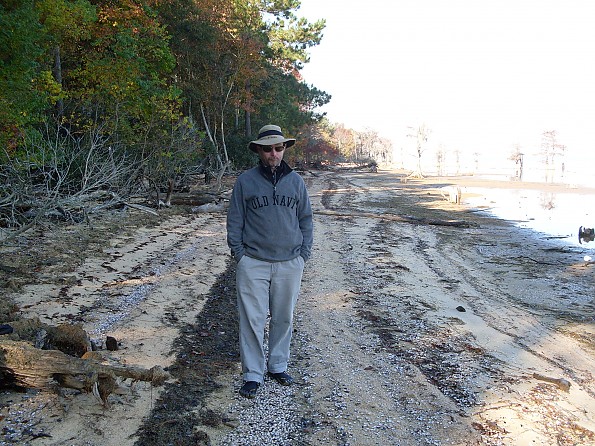 Mike walks on clam shells along Lake Moultrie.
Temperature Management
Andrew and Vince both noted that since the shoes keep feet cool they're best for use in warm weather.
Vince could feel the temperature of the trail through his shoes. "Instinctively, I thought my feet were getting drenched, as the cooling sensation came on much like it would when stepping in a puddle of cold water," he said. "But following the trail back out of the wash brought on a warming feeling far too quickly. It was then I understood how easily the sole conducts the temperature of whatever is underneath."
Andrew's toes started to tingle from the cold on a couple of early morning sprints in 40 to 50 degree weather. He then began wearing Injinji Tetrasoks with the Vibrams as the weather grew colder.
"After I began using the socks, I realized that I should have been wearing these shoes with socks all the time," he said. "I think the TrekSports are more comfortable, warmer, and much less likely to cause blisters when they are worn with socks." 
Vince, who wore Merino wool Injinji socks half the time, also appreciated the warmth of socks, but said the socks took up volume in the toes. This made the space between his toes feel pinched and sore if worn for more than a couple of hours.
Water Resistance
While the TrekSports aren't waterproof, testers agreed that they have a quality that many value more highly: They dry quickly.
Mike said the shoes dried out fast after walking in water for several minutes. Andrew agrees.
Vince takes it further and describes how the shoe recovers from an internal soaking. "Once one's feet work up a good sweat, the air permeability of the fabric upper allows the interior of the shoe to dry quite quickly compared to traditional trail runners."
Odor 
There was no consensus on the issue of stink and funkiness. Mike said he didn't notice any odor while testing his shoes, "although it is fair to mention they were in the water several times and may have received an unintentional 'washing.'"
Andrew notice some funk. "They do tend to smell after a while," he said. "But machine washing, which is OK according to Vibram, gets rid of that."
Durability
For a thin shoe, our testers were impressed with the durability.
Mike had about 15 miles of wear on his pair of TrekSports in the photo below, which shows virtually no sign of wear. "The ball of the foot seemed to be the only place I noticed any significant wear," he said.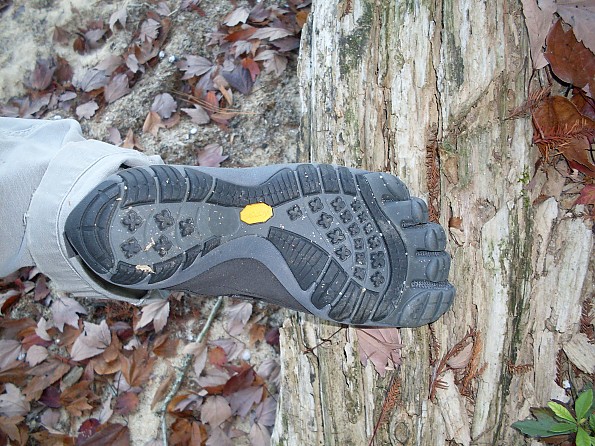 After their first 15 miles, Mike's shoes show little to no wear.
Andrew saw no damage after even more use. "The soles have a little wear after fifty miles, but as shown, not very much. Otherwise, I haven't seen any ripping, tearing, or damage to the shoe."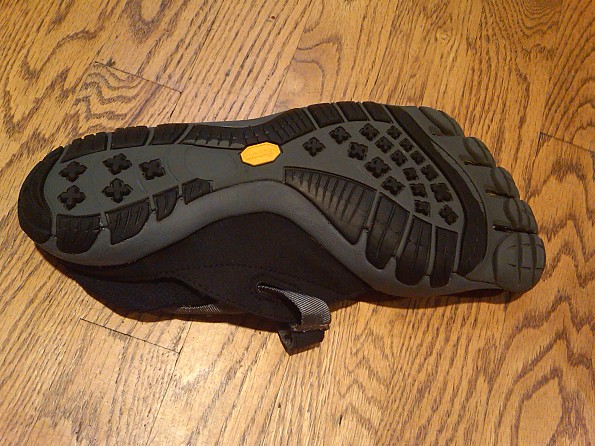 The treads on the bottom of Andrew's TrekSports.
Limits
While the TrekSports worked well in a number of scenarios, our testers all saw limits to their use.
Vince cautioned "that extended running on hard-packed trails can lead to sore feet quite quickly."
Andrew deliberately over-packed and found that carrying a heavy backpack (40 to 45 pounds) on a long day hike made the bottoms of his feet sore. However, he later repeated an earlier hike and noted that "the longest learning curve may be my feet getting used to uneven, hard surfaces like rocky trails. I didn't have a lot of weight (20 or 25 pounds) and I could definitely feel the rocks under my feet, but it didn't bother me nearly as much as before. My feet aren't bruised like the first time I used them on the same trail."
All of the testers warned that users should start slow and build up their conditioning to get the most benefit from the shoes and to prevent injuries.
Converts?
So, did our testers become converts to minimal trail footwear after using the Vibram FiveFingers TrekSports?
Though they won't be throwing out their other trail shoes, Andrew, Mike, and Vince each plan to keep using the TrekSports on the trail in some capacity.
Andrew, our flat-footed orthotics wearer, especially enjoys the strengthened arches the shoes give him and says he would gladly buy a replacement pair for that benefit alone. He plans to continue wearing his TrekSports for walks, runs, day hikes, and possibly light backpacks.
Mike says "I'm hooked," and plans to use the shoes for light hikes, stream crossings, and camp use.
Vince is unequivocal. "I plan on using these shoes until they fall apart, because they are just too much fun," he said. "The TrekSports have a way of altering an experience—like off-trail scrambling—such that possibilities are constantly redefined. And then they do that with every activity for which one wears shoes."
Testers and Testing Conditions
Our three testers put the TrekSports to the test in a variety of climates.
Andrew Friedman (leadbelly2550), in the Mid-Atlantic, covered more than 50 miles in his shoes and tested them in a variety of different situations. He usually walked four or five miles at a time, either on roads, cobblestones, stone stairs, or dirt trails, and went on a few eight-mile hikes on a relatively rocky trail. He used the shoes with backpacks of various sizes and weights, up to 45 pounds.
The former 60-80-miles-a-week distance runner (he had to stop due to injuries years ago) also wore the shoes for his morning sprints (100 yards or so) on a grass field. Temperatures ranged from the mid-40s to the high 80s, in wet and dry weather, including one all-out cloudburst.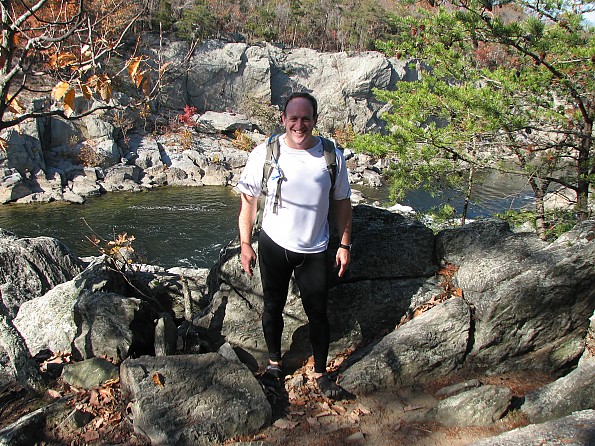 Andrew hikes Maryland's rocky Billy Goat Trail.

Mike Gartman (trouthunter), in the Southeast, tested the TrekSports in the lowlands of South Carolina on two separate day hikes (five miles and six miles each) on the Lake Moultrie Passage Trail, and on a weekend camping trip on the southeast shore of Lake Moultrie. He wore the shoes the entire time including the short hike in and out.
On the camping trip he also walked about three miles on the lake shore taking photos of animal tracks since the water level was low. He wore the shoes in the water three times to use his water filter, and walked a lot in loose sand, packed dirt, on logs, and through the woods.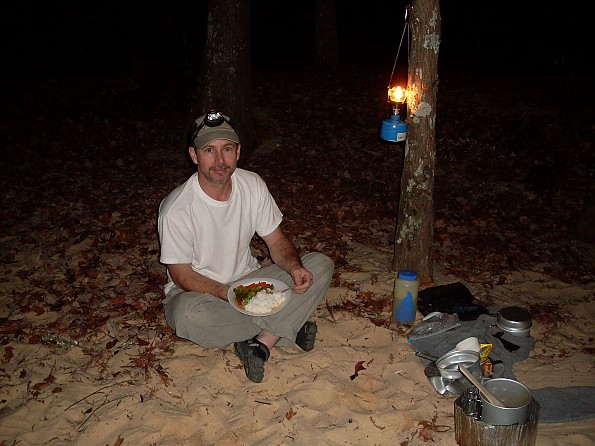 Mike enjoys a gourmet meal while wearing his TrekSports in camp.
Vince Contreras (pillowthread), in the West, used his TrekSports for trail runs and day hikes of one to four miles in the Grand Junction, Colo., area. His terrain included sandy soils, sagebrush and prickly pear cactus, during late fall conditions with temperatures in the 60s during the day and 40s at night.
Source: received for testing via the Trailspace Review Corps
Price Paid: Samples provided by Vibram for testing and review

Pros
Very light
Very comfortable
Excellent grip
Cons
Stubbed toes
Collects vegetation between toes
Difficult to remove sand and other debris
I purchased these as a bit of an impulse. I wanted something to protect my feet at a slippery boat launch, and as I live in a small town these ended up being the only option in the sport-sandal category. I probably wouldn't have considered these otherwise, as I always thought they were a bit of a gimmick. I was wrong. 
The first thing about these is they're a bit hard to get on initially. Trying to get each toe to go into the right part of the shoe was trying (nearly impossible for my wife). After about a week when the shoes were broken in this stopped being an issue, and I can slide my foot in correctly pretty much every time. 
Once they're broken in though, wow. The fit on these is amazing. They just sort of disappear on my feet, and I forget I'm wearing anything at all. I started to notice how bulky every shoe I've ever worn is in comparison. 
The grip impressed me as well. Walking across fallen trees was no problem, as well as climbing up and down steep sections of exposed bedrock. The slippery boat launch I purchased these for initially posed no troubles either.
There are a couple of drawbacks though. The minimalist approach to these shoes also leaves minimal protection for your feet. The separated toes don't distribute any impacts like a normal shoe, so I did stub my toes a few times on rocks and branches. The thin soles also open the door to stone bruises, so any trail running is probably a bad idea. 
Any sand that gets into the shoe requires me to remove the shoe, as it will not come out on its own under and circumstances. Clover and other soft vegetation also has a tendency to jam between the toes, though this is easy enough to remove. I also wish these would dry out a bit faster after they get wet, as they tend to still be damp the next morning.
The durability of these also impressed me, as after two summers hard use the bottom of the soles are the only noticeably worn part of these. They do pack up quite nicely in a bag; I love to take mine with me on the motorcycle so I can take my heavy boots off when I get wherever I'm heading. Would likely make a fair camp shoe by my estimation. 
Source: bought it new

It's not as weird as you think. These are comfortable multipurpose shoes.
Pros
Multiple purpose
Lightweight
Cons
I get stopped in places like Wal-mart bathrooms so people can ask me about them.
Sizing can be difficult
I picked these up on clearance from REI. One thing I'll say off the bat is GO IN TO A STORE AND TRY THEM ON.  Vibram's sizing for these is weird, and I understand it, but it's still weird. So I ordered a few shoes and returned them before I just went in and tried them on.
The shoe is designed to strengthen the foot, give it a more natural gate, I suppose.  That said, you really have to ease your way into using them. You don't want to buy them and immediately go run a marathon.  You'll hurt your feet.
I've experienced a little stress in my left foot, probably because I wore them too much at the beginning. But that's dissipated and they're fine. I plan to use them for hiking in Florida or shorter overnight hikes.  No elevation changes to put stress on my ankles, so why not wear something a little lighter weight?
One of the great things about the Trek Sport is that they can essentially be used as water shoes as well, which is fantastic if you're trail running and happen to need to cross a stream.  Your feet are going to get wet, but they're probably going to dry out faster than if you were in non-waterproof boots too.  Plus, you don't have to wear socks with these so it's not like they're going to hold in moisture and bother your feet.
So, there you have it.  My review of the TrekSport.  I like it.  Most people who look at them on my feet don't.  But they're pretty rad.  Pretty comfortable if you don't wear them 100% of the time right away.  You'd think the toe thing would be a bother, but it's really not noticeable.  It's a good product.  Go try on a pair. 
Source: bought it new
Price Paid: $45

I have been wearing these for years. I'm on my sixth pair. The TrekSport is great for hiking.
Pros
Comfortable, my feet are 2E width and these actually fit.
People stop and ask about them. This has led to fun interactions with curious open minded people.
My toes are now pointed forward. Several years ago my fourth toe was turning and crossing my third toe.
Cons
My friends think they look silly.
They don't make them for formal events like weddings.
I can't wear them to work.
These have been great for my feet. Every other shoe I have owned has been uncomfortable. I have weird feet- shaped strange and super wide. I love these because they fit to the shape of my feet.
Source: bought it new
Price Paid: $90

Your Review
Where to Buy
Help support this site by making your next gear purchase through one of the links above. Click a link, buy what you need, and the seller will contribute a portion of the purchase price to support Trailspace's independent gear reviews.
You May Like
Specs
Men's
Price
Historic Range: $34.95-$140.00
Reviewers Paid: $45.00-$73.99

Women's
Price
Historic Range: $29.95-$100.00
Reviewers Paid: $90.00

Recently on Trailspace