Vivobarefoot Ultra Pure

#5 in Water Shoes
The Ultra Pure has been discontinued. It was replaced by the Vivobarefoot Ultra III Bloom.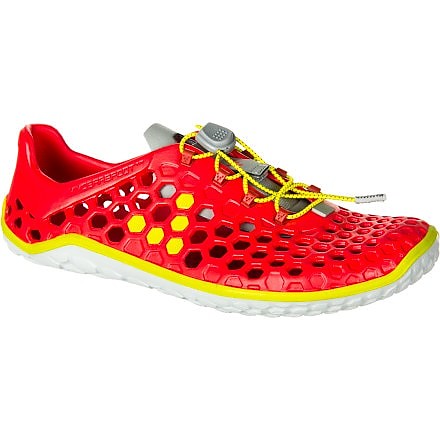 The Vivo Barefoot Ultra is a simple, ultralight, full-coverage shoe that's good for camp, forays with a boat or board, and walks around town. Composed of EVA foam and based on a minimalist design, they provide good foot protection and dry quickly. These are my favorite "luxury" backpacking item, filling an often debated niche as the perfect "camp shoe."

Despite mostly occupying space in my pack for thousands of miles, I've found them indispensable for paddle sports, relief/comfort in performing chores around camp and in towns, and occasionally a nice alternative for water crossings. While most ultralight backpackers will tell you that camp shoes are a waste of space and weight, my lightweight thru-hiking experience has proven these to be a highly valued asset.
Pros
Full-foot protection for the weight of most flip-flops / sandals
3 oz per shoe (Euro size 39)
Durable
Comfortable and stable enough to be worn for several miles of light walking and for most camp chores
Versatile...they are also my preferred kayaking shoes
Unlike flip-flops and many sandals, socks can be worn along with the shoe
Cons
Not very stylish or attractive...ugly color combinations
Original version no longer produced / available
Minimalist soles sometimes allow thorns and sharp objects to penetrate
Water and debris can get inside the shoe easily
They are quite expensive for simple rubber shoes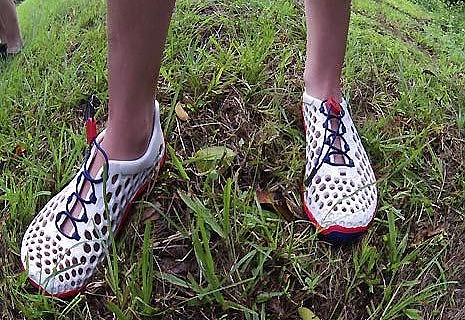 Background: Working on boats and being involved in paddlesports for many years, I've been a regular wearer of sandals and ugly rubber shoes, i.e. Crocs. But these types of shoes have some limitations. They can be rather bulky, uncomfortable to walk in for more than a mile, and not the lightest. I also find them uncomfortable inside my kayak cockpit for long periods of time, given the lack of heel coverage. Plus, they easily get sucked off my feet in the mud...a huge drawback in the Everglades.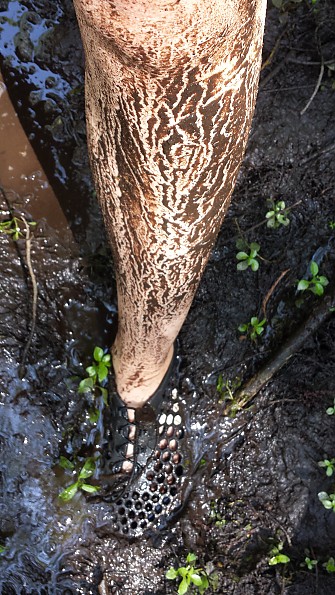 While searching for a rubber/foam shoe that would fit my foot more snugly and be comfortable enough to walk 1-2 miles if need be, I discovered the Vivobarefoot Ultra.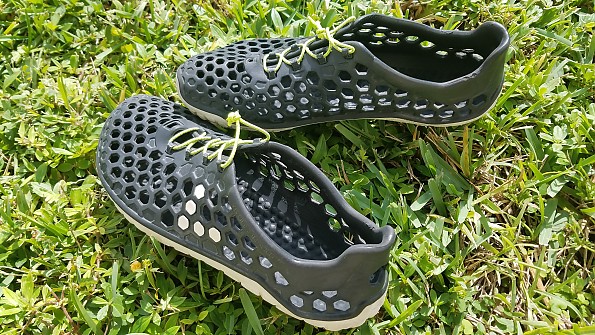 As the name implies, Vivobarefoot is brand with a focus on foot-shaped, minimalist shoes. The Ultra line (not to be confused with my other favorite shoe brand Altra) is Vivobarefoot's answer to an amphibious barefoot shoe. For me, these check all the boxes for a camp and water shoe: ultralight, comfortable, form-fitting, simple, made from non-absorbent EVA foam, and provide full foot coverage & protection.
Best Uses /  The Pros of a Backpacking "Camp" Shoe:
There's no debating the Vivobarefoot Ultra as an excellent paddlesports and boating shoe. I outline many of the reasons further in the review but briefly here are a few of the highlights: quick-drying, form-fitting comfort, easy draining, versatility, durability, decent traction and stability...and they float!
Versatility's also a key reason the Ultras make great spare shoes for backpacking and camping. They are very lightweight at just 3 ounces per shoe...that's the equivalent of a cheap flip-flop, but with way more functionality. Like with my primary hiking shoes, I can wear socks, walk comfortably, and cross water courses in them. If something were to happen to my hiking shoes, say a catastrophic blow-out or bear hack, I could probably hike out to a trailhead wearing these shoes.
(If you're curious about the latter scenario, I was staying at an AT shelter in the Smokies once when a bear seemingly ran off with a guy's hiking boots...that's what he claimed anyhow and other evidence suggested this. Luckily he had the same-sized feet as my my hiking buddy, who gave him his spare camp shoes. Should you be worried this might happen to you? Probably not...at least, I've never had a problematic encounter with a bear.)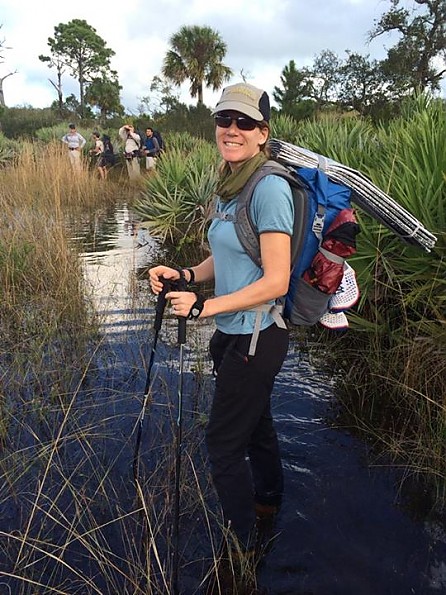 Bear theft aside, I can't emphasize enough how nice it is to have a spare set of shoes when backpacking and thru-hiking. So many of my adventures have involved wet and muddy conditions. On the Te Araroa, I counted about three days out of four months that my trail runners were dry. My feet needed a break from all that wet. Even in the desert, thru-hiking shoes become pretty disgusting pretty fast. After going through the trouble of cleaning my feet each night (in an effort to keep my quilt and tent serviceable), I hate putting wet, muddy, or dirty shoes on just to take a bathroom break.
In situations where there's time and space to lounge about, camp shoes are even more treasured. Sitting by the campfire, hanging out inside a hut or shelter, or just giving your tired feet a break after 30 miles in hiking shoes, camp shoes can feel worth their weight in gold. Six ounces is definitely a price I'm willing to pay...and that's saying a lot when my base pack weight usually comes in around 10-12 pounds.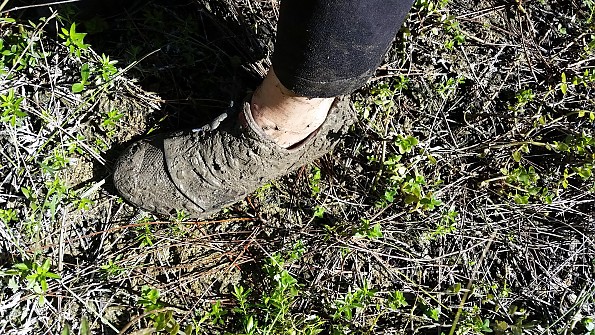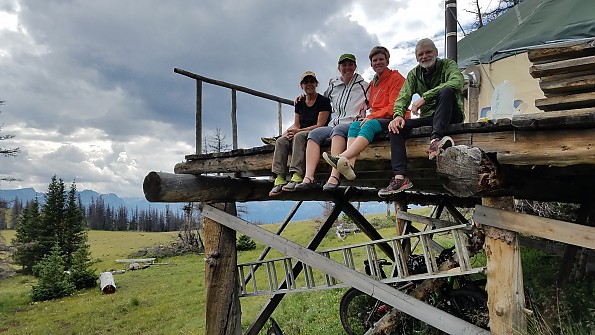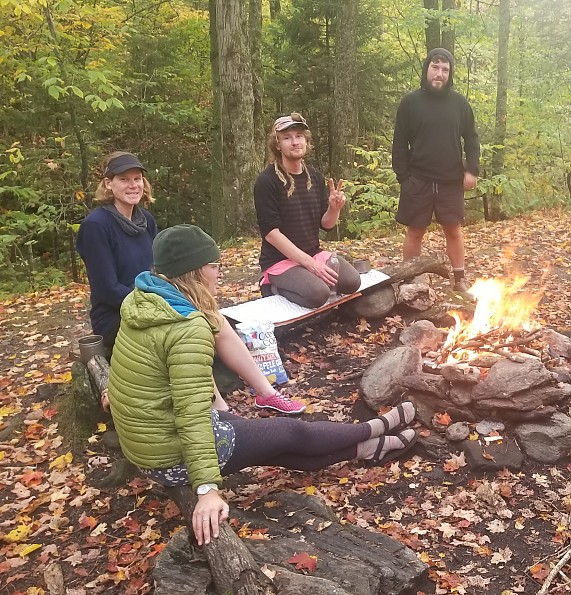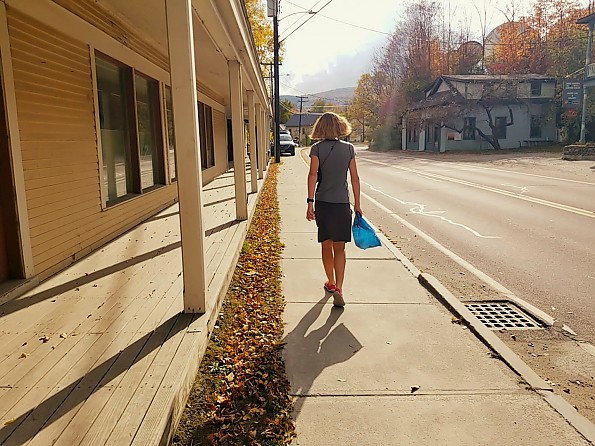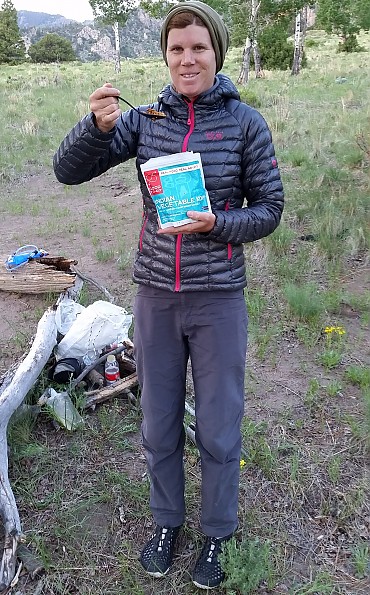 Fit & Comfort: The Vivobarefoot Ultras are a very basic shoe that have a slipper-like feel but a fit similar to minimalist athletic shoes, such as the New Balance MT10. They are fairly narrow and snug, yet still offer a decent sized toe box. I find they're pretty true to size, or even a little large because of the lack of padding and insulation. I wear a Euro size 39, which is roomy enough to allow medium thickness socks. I wear one size larger in my hiking shoes, mostly to accommodate for the long time I spend in them and inevitably some foot swelling.
The Ultras' main purpose is to provide protection from rough and sharp surfaces and limit toe stubs. The occasional pointy rock and long thorn can penetrate the soles, so I would definitely not advise hiking any distance over sharp gravel or bushwhacking through the desert in these. Goatheads have been the main source of trouble for me.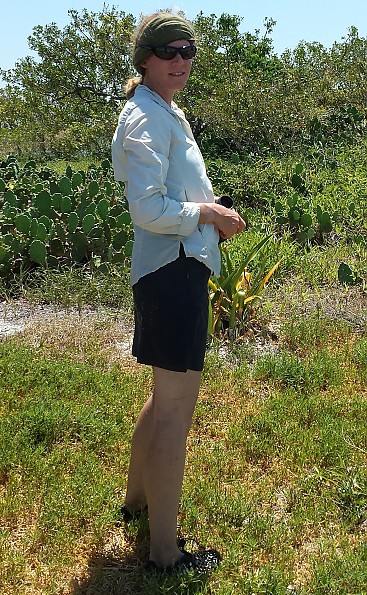 The only discomfort I've ever noticed in the Ultras is from the bumpy texture on the inside sole. Once while doing town chores during a thru-hike, I walked a few more miles than I bargained for...maybe 4 miles in total. I wasn't wearing socks and my feet felt a little raw on the bottoms at the end of the day. Feet fatigue can also set in quickly if your muscles and ligaments aren't used to "barefoot" walking.
Despite my poor town planning and a bit of foot tenderness, I was still impressed that I was able walk as far as I did. This gives me confidence that I could use the shoes to hike a fair distance, in the event of an emergency.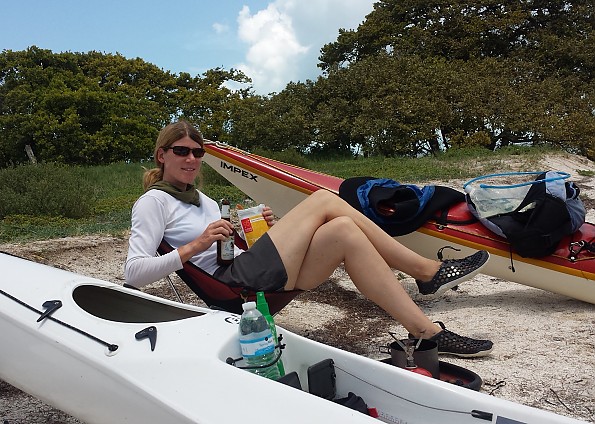 Support: The Vivobarefoot Ultras are considerably more stable compared to flip-flops and Crocs. My feet don't slide around inside them nor do they cause me to roll or twist my ankle on slippery boat ramps. I wouldn't call them flimsy or cheap shoes.
However, the Ultras DO NOT provide arch support, cushioning, or stability in the sense that normal trail running shoes or boots do. After all, they are meant to simulate a barefoot experience. Think of them more as a well-designed slipper.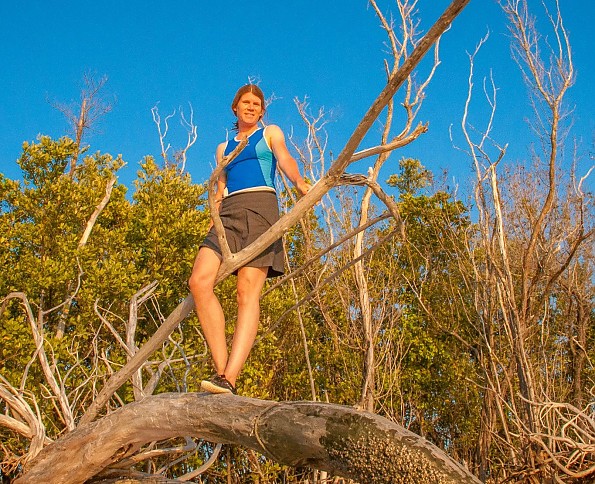 Water Resistance / Water Suitability: These shoes are waterproof in the sense that EVA foam doesn't absorb water. But just like you wouldn't expect flip-flops to keep your feet very dry, the "holey" design of the Ultras is going to allow water ingress pretty easily. In wet and sloppy conditions, I'm careful when walking around outside my tent or a hut/shelter. Mostly this involves not wearing my camp socks when I go to collect water or do other chores. Stepping in the smallest puddle or even sinking into a mossy bed lining a stream will cause water to breach the low walls of these shoes.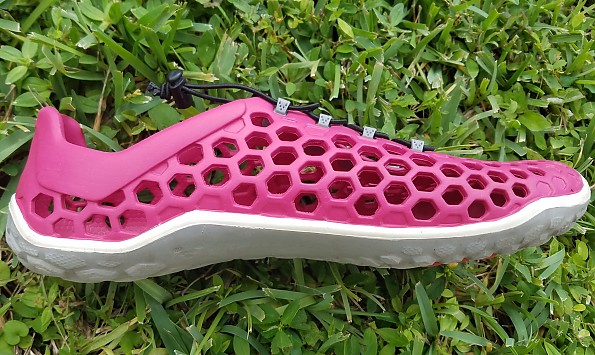 If you accept that these are "water" shoes, their advantages in water situations become more apparent. I'm a fanatic about washing my feet every day so these allow me to visit a stream for a quick dunk, then let my feet dry afterwards. They are designed to drain easily. They can also be wiped down by a napkin or small towel and then voilà, they're clean and dry. In contrast to neoprene water shoes, I also like that my feet don't stay waterlogged, cold and rotting, when inside my kayak cockpit all day.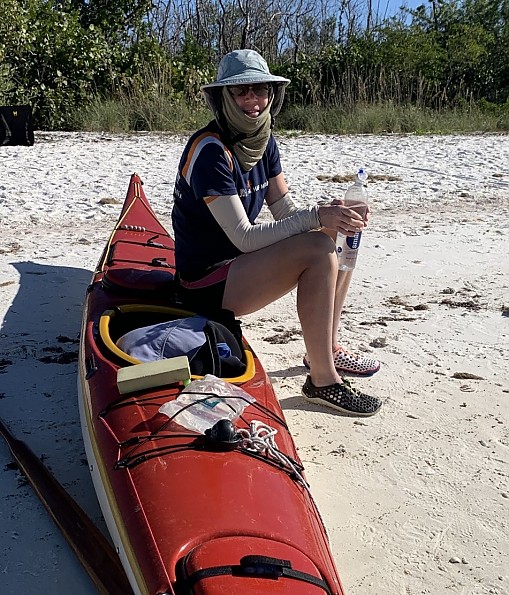 One of the obvious downfalls of the design is that debris such as sand, shells, leaves, and gravel can easily get inside the shoe.This can make them uncomfortable to wear at times. Fortunately, it's an easy solution just to dunk them in a water source, thereby flushing out the debris. In dry conditions, just give them a good shake. Anyone that's ever worn sandals knows this issue can easily be overcome.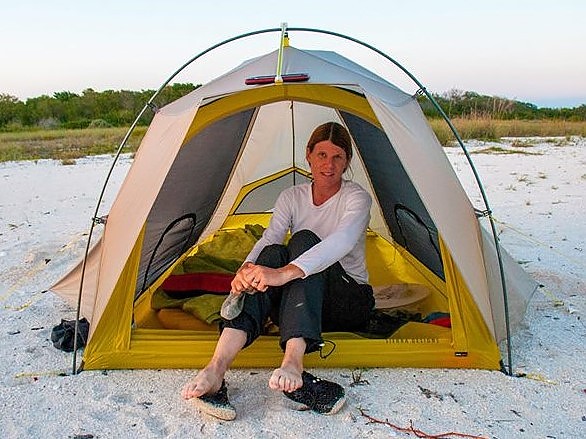 Traction: I didn't expect a whole lot out of these shoes in terms of traction, but they're actually not as bad as they appear. The EVA foam and honeycomb grid grips surfaces decently well. With the aid of trekking poles, they do a fine job in low-risk water crossings. I normally dive right in with my trail runners but occasionally I'm loathe to get my socks and shoes wet. In these cases, the Ultras have performed quite well and are certainly preferable to making a crossing in bare feet.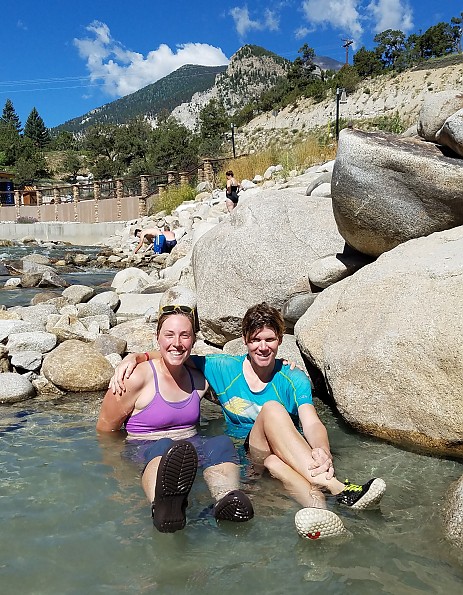 Here's a not-so-surprising fact about EVA foam...it's soft and does break down over time. I've been using my black pair of Ultras for so long (6 years) that the tread has worn off quite a bit and the V-shaped logos on the soles have peeled away (see the comparison between my new pink shoes and the black ones below).
These being my designated camp shoes...meaning they don't see a whole lot of miles...it's incredible to think just how much "extra time" my feet have seen when not actually on the trail. This is all due to wear and tear around camp, town and from numerous paddling trips. I finally switched to using my pink pair for the Long Trail, which was my first thru-hike without my black Ultras.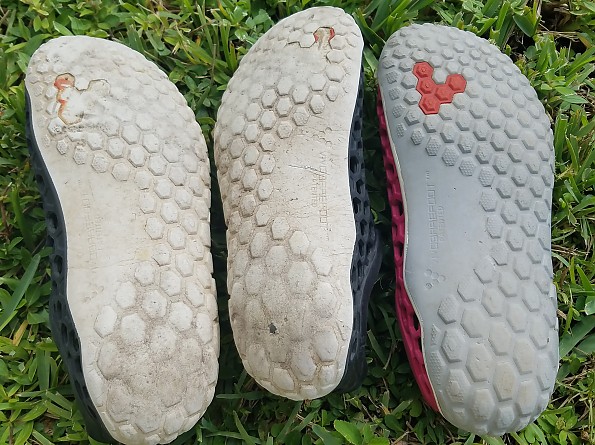 Temp Control: Since ventilation and lack of insulation are key features of these shoes, you better double up socks if you want your feet to stay warm. On the other hand, if preventing overheating is the goal, then these shoes are great. I have mostly used them during summer conditions and/or in warm, tropical climates. Though, the variety experienced in my thru-hiking has led me to wear them in some harsher conditions....like here in the shadow of Mt. Cook in New Zealand: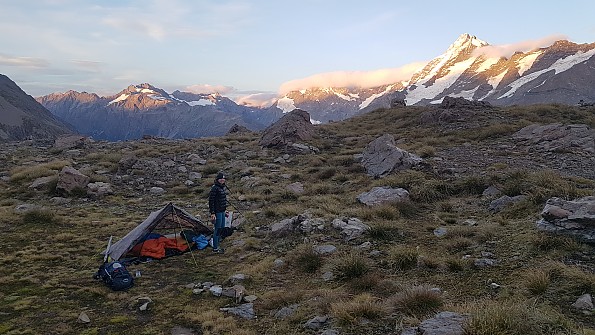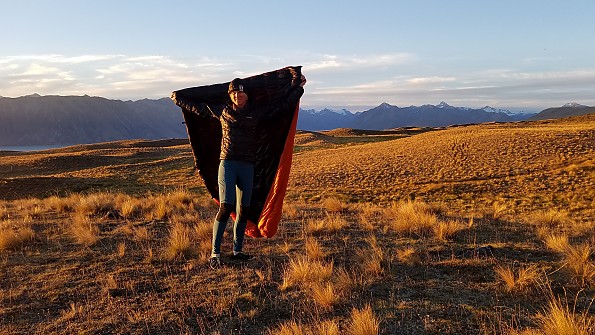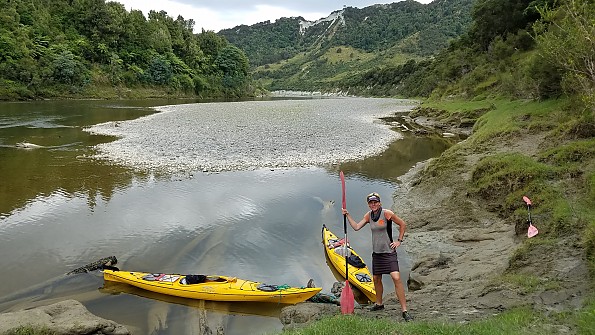 Ease of Use / Adjustability / Features: The Vivobarefoot Ultra line are  basically a slip-on shoe with shock cord lacing for additional adjustability and security. That's it, pretty easy! To date, there have been three versions.
The original version included a tongue insert as well as a neoprene shoe liner for increased comfort...unless you bought the "Pure" version, which didn't come with said stuff. I never used any of these accessories because I never thought they were needed. I also removed the shock cord and barrel tie in favor of smaller shock cord. I've encountered few circumstances where I needed to tighten the shock cord...perhaps only when wearing the shoes in mud.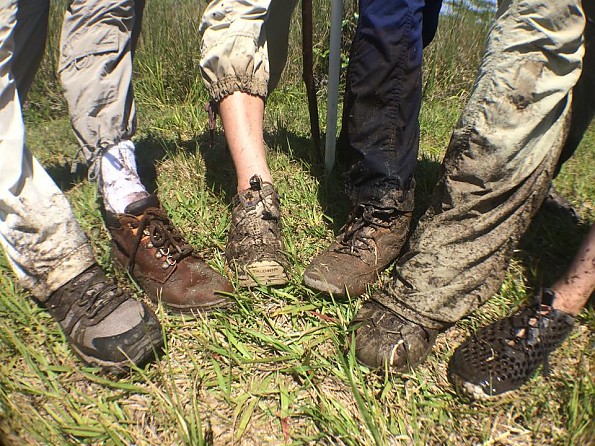 I haven't owned Versions II or III, so I'm not very familiar with their features and differences. From pictures, they appear to include a neoprene or plastic tongue and similar shock cord for adjustability. I briefly checked out a pair of the II's in a store. They felt heavier so I was quick to dismiss them. I'm most happy with the originals and have sought to replace them from eBay re-sales and old stock.
It's getting pretty hard to find any of the versions for sale these days, so I hope Viviobarefoot will hear my cries and release a new version that's similar to the original. As many thru-hikers and paddlers that I've turned onto these shoes, I think they'd do well in selling more!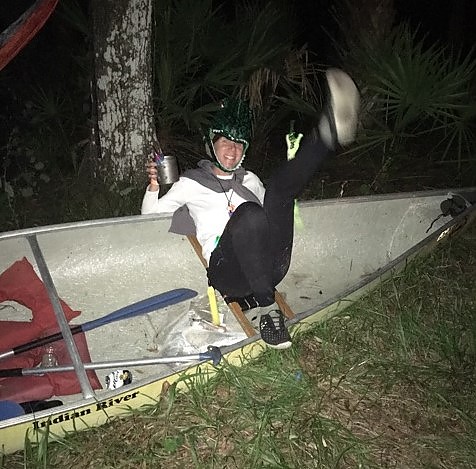 Construction & Durability: Accepting that these are rubber shoes and that there will be some break-down over time, I think these shoes are pretty durable. Besides wear to the soles (mentioned above), only one shoe has a small rip in the upper. I also feel rocks and gravel much more acutely through the soles of my most-used pair, which is the main reason I've finally switched to using a newer set for thru-hiking. Yet all are still functional.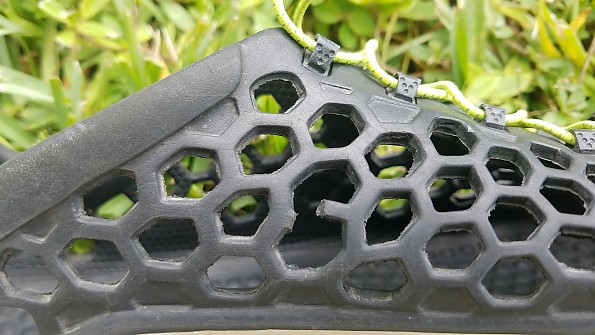 These are expensive shoes when compared to their counterparts. But given the amount of use I've gotten from mine, I'd say they've been worth it. In fact, I'd gladly spend more on a pair that aren't pink! Perhaps new releases might include some more subdued color schemes?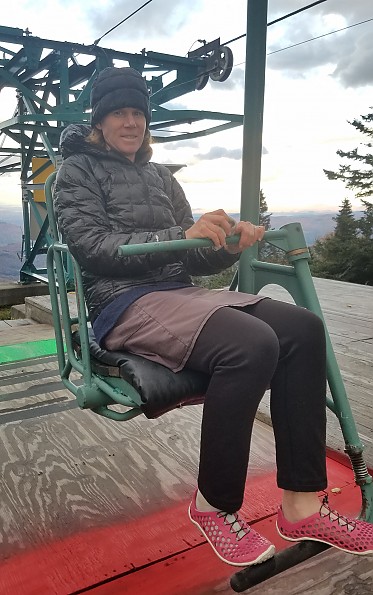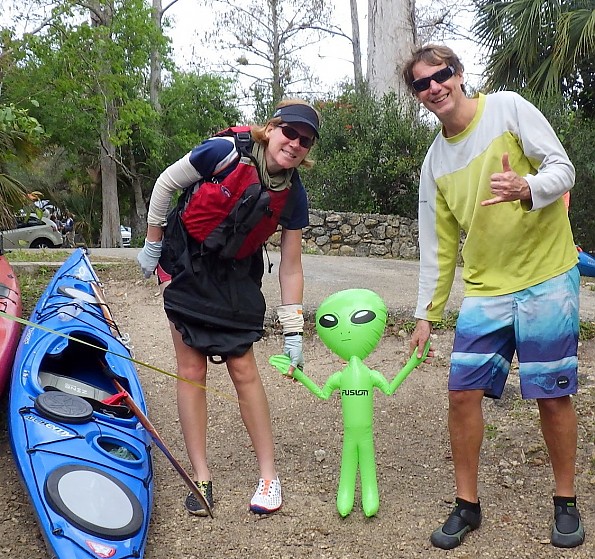 Conditions: I've been using Ultras for almost nine years and have owned three pairs. I lost the left shoe from my first pair early on and have nearly worn out my second pair. I began wearing my third (pink) pair this year but am a little self-conscious about the color. I've worn these shoes in just about every condition and on every trail I've thru-hiked. Short of walking through snow, they've been through a lot.
Experience
I've worn a wide variety of sandals, flip-flops, and ugly rubber shoes while at the beach and on boats. The Vivibarefoot Ultras have been the most versatile for such purposes. I've used them for almost 9 years now. They've also been along on all my thru-hikes.

I experimented with cutting down on superfluous weight on the CDT, eliminating them from my pack. For a couple hundred miles, I tried to make due with dollar store flip-flops as camp shoes but they just didn't cut it. I missed my Ultras so much that I had my parents mail them back to me on the trail. They've mostly been hitchhikers on my back for close to 10,000 miles, but they are so worth it.
Source: bought it new
Price Paid: $50

A great, lightweight camp and water sport shoe!
Pros
Lightweight
Seamless
Fun colors
Cons
Could have better traction
Sizing a little funny
So far, I am extremely thrilled with this shoe. I was looking for a lightweight camping shoe to take backpacking, I wanted something more than the flip flop but nothing quite and heavy/big/clunky as crocs.
These shoes don't squash down too terribly well, but they are light and easy to strap to the outside of my pack. They are great for around camp, tying the bear bag, late night trips into the brush, etc. They let your feet breathe and you can wear a good pair of wool socks inside as well. If need be you could hike out in these, just in case you are prone to losing your boots!
It's a great shoe for jumping in and out of a kayak, though watch out for funny tan lines! It's not bad scampering around on rocks and such. It doesn't have TERRIBLY great traction, about the same as a flip flop or Birkenstock. If they get wet they don't have to dry as they are just a foam plastic, the same material as crocs I think.  
Now this is all regarding the shoe WITHOUT the 'running' sock it comes with. Or at least some models come with. This makes the inside of the shoe noticeably smaller and supposedly much more rugged.  
I am a 7.5 shoe; I got an 8. With the sock it fits quite snuggly. It was a little tough to get my foot in and out with the sock insert inside, but I managed. I also have a very wide duck-shaped foot. I do not plan to ever run in these so I really don't use the sock insert. A pair of Smartwools inside around the campfire suffices quite nicely.
Without the sock they fit, are roomy in the toe box so my toes can breathe, definitely wouldn't want to run in them without the sock.  
I really like these. We will see how they hold up to running around on rocks and getting poked with sticks, but my hopes are high!
::EDIT 1/2/15::
Sorry for the delay, photos are below! I had to purchase a second pair as the first were lost. Still very happy with these! I do not use the sock 'insert' as I do not use these to run.  They are great camp shoes and kayak shoes!
Source: bought it new
Price Paid: $75

Best gym shoe ever, not for outdoors.
Pros
Design
Material
Lace system
Reliability
Price
Ventilation
I use this as weightlifting shoes cuz they're flat. I use them when I go to boxing gym, around house, tough exterior sole will wear out faster if used on concrete and asphalt. I think theses are the best gym shoes. I haven't worn them for water stuff, but it seems to me that these are really gym shoes more than anything else. Sole is descent but I wouldn't wear them outdoors.
p.s. Sole is same material is upper, runs true to size but forefoot will be bigger than regular shoes but that's how it's supposed to be. =)
Source: bought it new
Price Paid: $60

Your Review
You May Like
Specs
Men's
Price
Historic Range: $29.98-$79.95
Reviewers Paid: $60.00

Women's
Price
Historic Range: $24.99-$71.99
Reviewers Paid: $50.00-$75.00

Recently on Trailspace