Warbonnet Original Blackbird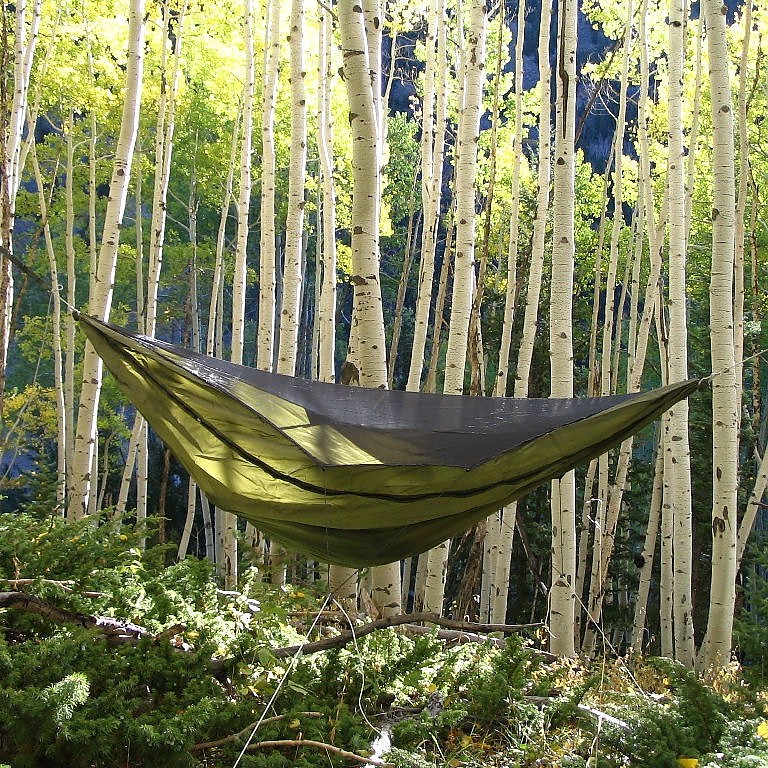 The Warbonnet Blackbird is an extremely comfortable hammock. I really enjoyed camping out in it. My wife loved it so much that she has now claimed it for herself.
Pros
Light weight
Spacious
Easy to set up
Comfortable
Bug free
I have a video review of this product as well, you can check out my website in my profile to get it.
The Warbonnet Blackbird must be one of the top hammocks in the hammock camping world. I think just about anyone who is in to hammock camping has tried the blackbird or wants to try the blackbird as it usually always gets great reviews.
When I first received the Warbonnet Blackbird I was really impressed with how small and light it was. This was a double layered hammock with a shelf and bug net, including the webbing it only weighed 36.5 oz and can hold up to 400lb. It is designed for campers who are 6' 8' and under.
I took the hammock out on a cool fall day with my brother. This was an exciting camping trip because when we woke up in the morning it was raining and my brother said, "This is a good opportunity to try and start a fire in the rain". I stayed in my hammock warm and cozy chatting with my brother when it happened. His knife missed the target and hit his hand, keeping knives as sharp as possible as my brother normally does, the knife cut right to his bone.
I then had to quickly jump out of my hammock, in the rain, in my underwear, grab my first aid kit and start operating on him. After the gauze filled with blood faster than I could wrap it I decided we need to get to the hospital. We quickly hiked back to the car, the bleeding had almost stopped by now and I had to learn to drive standard on the way to the hospital. Everything turned out to be ok and my brother now has a cool scar to show off. That was my first night in the Warbonnet Blackbird.
Enough of my stories.
The Warbonnet blackbird has an incredibly comfortable interior with lots of space and a great asymmetrical lie. Part of what contributes to the asymmetrical lie is the foot box. At the end of the hammock there is a foot-box, great and unique design. This really helps in the flat lay but it means that you can only achieve a flat lay in one direction and from one position in the hammock. This can prove to be a disadvantage to some.
Another unique feature to the Warbonnet Blackbird is the shelf in the interior of the hammock. The shelf is 2sq.ft. and can hold a lot of gear. I usually fill it with my water bottle, book, some tissue and a head lamp. There is no other hammock, aside from the new Clark Flex 180 that has this much storage space. The only down side to the shelf is that it eliminates visibility for that entire side of the hammock, again not a big deal to most but it might be for some.
The way the Blackbird is able to have so much room inside is because you tie out the sides of the hammock. There is a tie out for the shelf and another tie out near the entrance. These tie outs are made of a bungee cord so your hammock won't get damaged from stress.  It truly creates a comfortable sleeping space inside.
The bug netting in the Blackbird has proven to be effective and well constructed. If you would like to lounge in the hammock you can simply untie the tie out on the side and flip the bug net over the shelf. This will open it up and make the hammock into a comfortable chair.
I was using the double layered hammock and in it you are able to insert a pad in between the layers for insulation. This is great during colder seasons for that added comfort. It is also useful in this hammock as there is only one option for an asymmetrical lay so you don't have to worry about rolling off the pad. Almost all under-quilts are compatible with the Warbonnet Blackbird and Warbonnet has a specific line of under-quilts that are designed for this model.
The suspension system for this hammock is one of the best. I said in a previous review that I think the Blackbird is the fastest hammock for setting up out there. The hammock uses a 13' webbing system with a loop sewn into each end. There are also carabineers that clip into that loop. You simply wrap the webbing around the tree and clip it into the carabineer and that is that. To adjust the length you just pull the webbing through the cinch buckle. Great system in my opinion.
The Hammock has a structural ridge-line attached that is 100" in length. This is good for hanging gear on and adding more storage areas. This is also good for learning the proper way to hang a hammock because if you ridge-line is too tight you know you need to adjust the suspension.
On top of all those great features this hammock can also be used as a bivy. I have not done this yet and would not really recommend it either. The hammock material is not water proof so you will need a ground cloth and if you somehow slightly damage the hammock on the ground you may compromise the strength when hanging from it later. This could lead to a fall or injury. Plus I don't know how you would keep the bug net out of your face in bivy mode. I think that you would be pushing it to use it as a bivy tent but it is listed as one of its features.
Aside from the bivy mode this is one of the top hammocks and one of the most comfortable out there. I enjoy using this hammock.
Disclosure: The reviewer received a sample of this product from the brand or its representatives in exchange for a review.
Source: tested or reviewed it for the manufacturer (I received a sample of this product from the brand or its representatives in exchange for a review. I kept the product after testing.)

I had always been interested in trying out the world of hammocks, and I finally decided to bite the bullet and buy one. I was able to score a cosmetic blemish hammock for a bit less than the normal retail price. Using a hammock has proved to be one of the best decisions i have ever made. Using a hammock does involve a fairly steep learning curve to properly be able to hang your hammock and use the appropiate insulation to have maximum comfort.

My hammock and tarp setup has proven to be a very versatile combination for backpacking. I am able to sleep through the night in extreme comfort compared to when i used to sleep on a pad on the ground. Using a hammock expands many camping options because they do not require flat ground for setup.
Pros
fast and easy setup
extremely comfortable
ability to setup on uneven terrain or over other debris and obstacles
ability to forgo a sleeping pad/under insulation in summer months (dependent on temps/location)
use as a camp chair
easy to setup on the trail during rest breaks
Cons
no designated location to put your pack like with a tent vestibule
not as much room as a tent interior(depending on the tarp you use)
single person only
Warbonnet Outdoors, Blackbird 1.7 Double Layer Hammock
Weight Capacity: 375lbs
Weight: 40oz
Suspension: Adjustable webbing
Construction:
The Warbonnet Blackbird is made with top of the line materials and is made right here in the USA by a 'cottage industry' (Warbonnet Outdoors) in Colorado. Other than a cosmetic blemish in the bug netting of my hammock there are no other faults with craftsmanship (I purposefully purchased a cosmetically blemished product due to the price reduction).
The hammock is made of a double layer of 1.7 uncoated nylon, and is 65" x 120", and is stated to be comfortable up to a user height of 6'8".
The Blackbird is a mosquito hammock and has a noseeum netting over the entire upper portion of the hammock that is supported by the Amsteel 100" hammock structural ridgeline. This netting can be closed entirely with a full length zipper than attaches the free end of the netting to the body of the hammock. Or if you do not wish to use the netting it can be put back over the ridgeline so that it is out of the way.
The Blackbird also has a 'shelf' on the right hand side which is composed of a roughly 2sqft area of extra material which is handy for placing those esentials that you want to have nearby. The shelf has a tie out attached so that you can maximize the space and make it a bit more sturdy (I rarely use the tie out as I only keep a few small items in the shelf typically).
There is also a tie out on the left hand side of the hammock which is also optional but helps hold the mosquito netting off of you while in the hammock when the netting is zipped closed.
This version of the Blackbird has a double layer design for the body of the hammock which allows a sleeping pad to be placed between the layers for under insulation.
Overall I am very pleased with the design and construction of the Blackbird hammock. It is a very well thought out design, and has all of the features you could ever want without any needless gimmicky items found on some other hammocks.
Suspension:
I chose the Adjustable webbing suspension system. The adjustable webbing adds a little more weight, but the ease of setup and adjustability are worth the weight penalty to me. The webbing is run through a cinch buckle on each end of the hammock.
To setup the hammock is a very simple process, you take the webbing on one end and pass it around a tree and clip it back onto itself with a carabiner and repeat with the other end. Setup and adjustment of the hammock for me takes less than 1 minute typically (the first few times I set it up it took me 10+ minutes to find what angle etc was right for me comfort wise).
Field use and thoughts:
I have had the Blackbird now for about a year and a half, and have used it from late summer 2010 to present (Winter 2011). After I learned how to properly set up the hammock to always get about a 30 degree angle of sag on each end I have slept in blissful comfort every night I have used it. The hammock to me has been extremely more comfortable than any tent setup ever was.
I have used the hammock on many over night trips, and many multi-day trips thus far, and many more nights at home in my backyard. I have spent about 75 nights on the trail, and about 100 nights at home in the Blackbird. I combine the hammock with a Superfly Tarp (also from Warbonnet that I will review later).
I have been through almost any kind of weather you can think of with this setup and have yet to find any condition where my comfort was compromised in any way. With a properly rigged tarp I have always managed to stay warm and dry.
I have found that as long as the air temperature is above 65F or so that I do not need any insulation under me. For temps below 65F I needed some kind of under insulation. I started off by using a Therm-a-rest ProLite 4 pad, and continued to experiment with using a ccf pad, and also a NeoAir pad with much success.
Of all of the pad options I found a partially inflated NeoAir was the most comfortable option. I used pads through the winter of 2010 and was able to comfortably sleep at -10F using a NeoAir pad and a ccf pad, and a 15F sleeping bad with liner and some clothing layers. The double layer design of the blackbird was excellent at containing the pads and preventing them from sliding around in the hammock.
I have since delved into underquilts (which i will also review later) which is basically half of a sleeping bag suspended under the hammock as the under insulation.
I found that I had a literal palace of room under my tarp to sit in my hammock as a chair and relax during bad weather or just in general. I routinely rigged my tarp in a porch mode so that one side is elevated providing a nice view while still providing protection. The hammock has proved to be the best camp chair ever. During the summer months I do not use any under insulation and really enjoy the cool feeling on my back when sleeping in the hammock.
Setup of the hammock has proven to always be fast and easy. The longest part of the setup process is finding a set of suitable trees with no widow makers nearby. Ideally I would find two trees anywhere from 10-15ft apart. I have never had trouble finding a set of suitable trees and the longest I have ever had to look was about 10-15 minutes.
There is no need to find flat level ground or an area free of debris or rocks. I routinely set up on uneven or downright steep terrain and can set up directly over under brush, rock etc if needed. Though, I can usually find a suitable relatively flat and brush free area just as easy in most locations.
I am thoroughly happy with my Blackbird hammock and really wish I would have taken the plunge earlier. I sleep better in my hammock than I do at home in my bed. I strongly recommend if your thinking about trying out hammocks to do so, you may be pleasantly surprised.
Update: February 16, 2012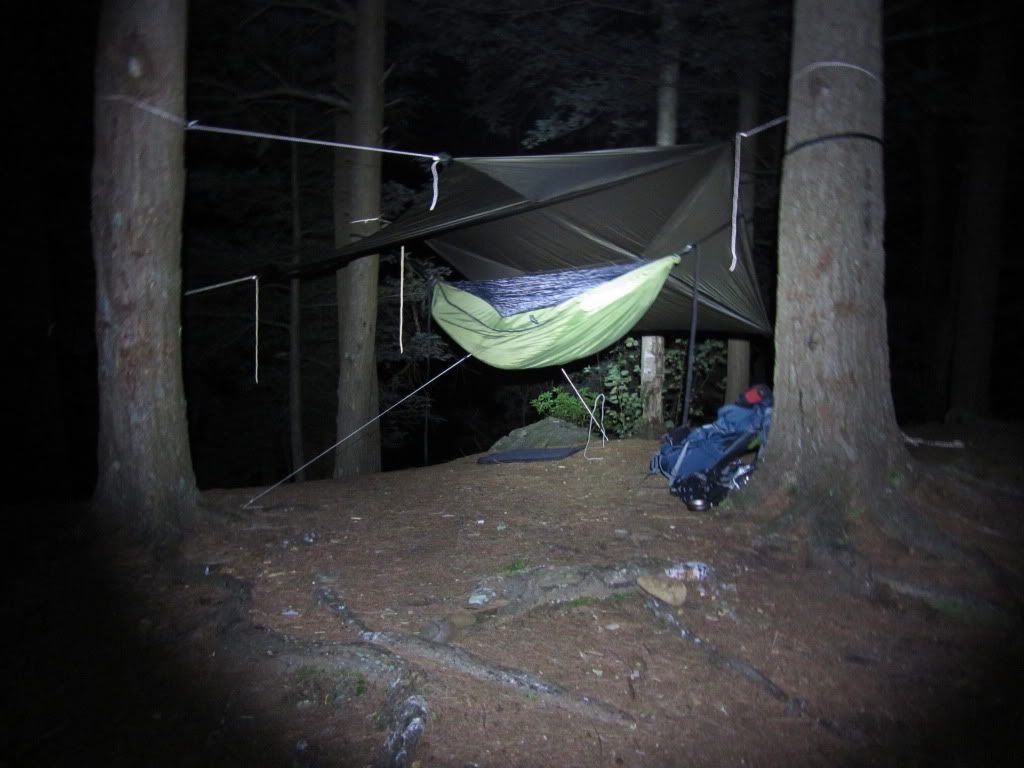 Price Paid: $100

The best hammock I have had the pleasure of using to date. With an interior storage area, attached mosquito netting and a footbox that allows for an asymmetric or traditional lay, this hammock has features that set it apart from the others. I recommend it for beginning or seasoned hammock campers.
Pros
Attached mosquito netting
Footbox for extra room and comfort
Interior storage
Double layer for sleeping pad
Full line of accessories
Excellent product info on website
Excellent customer service
Cons
Some may find the storage area a negative
Reviewer Info: Male - 5' 11" - 230 lbs
Growing up hammocks were for old folks that wanted to catch a nap in the backyard and tents were for camping. A couple of years ago I was introduced to hammock camping and have found it to be an excellent option for sleeping in the great outdoors.
After trying every brand of hammock I could find such as ENO and Hennessy I finally settled on the Warbonnet Blackbird Double Layer 1.7oz Hammock. The hammock is extremely compact, weighs 34.5 to 37oz and can support up to 400 lbs. You can get the hammock in single or double layer versions. I chose the double layer 1.7 not only for the increased weight capacity and comfort but also because of the ability to insert a sleeping pad between the two layers for cold weather camping.
The hammock is simple and fast to set up and comes in a double ended stuff sack that allows you to attach one end of the hammock to a tree, open the other end and stretch out the hammock while the stuff sack acts as a sleeve to hold the hammock off the ground. You have options for types of suspension and I chose the adjustable webbing suspension which is fantastic and is made even more functional by using a couple of lightweight carabiners to connect the straps when wrapped around the tree. The hammock's attached mosquito net is great for keeping out the noseeums and can be zipped open and thrown to the side for a great open air nap.
One of the coolest features is the storage area inside the hammock which allows you to store your phone, flashlight or other items you might need to access quickly. Although I find the storage useful some people may find it to make the hammock feel a little closed in as compared to hammocks without this option. On the other hand the hammock has a very roomy footbox that allows you to lay almost flat by laying at an angle in the hammock and lets you move around and get into different positions.
With the well thought out design and full line of accessories you cant go wrong with a Warbonnet hammock. The hammocks are not available at retail stores and must be ordered on line at warbonnet.com.
You may have to wait a few weeks for your order to arrive but it is well worth it. Get out and get after it!
Source: bought it new
Price Paid: $175

Great camping hammock! Very comfortable. Doesn't come with a tarp but you can purchase one separately.
Pros
Strong and very well built
Comfortable
Compact
Cons
If you cannot find trees with a suitable gap you might be out of luck!
Set up for the Blackbird is pretty simple. It comes with your choice of suspension, ropes or straps, to connect to the trees. If you are using straps you need to make sure you have them set up correctly otherwise you might find yourself on the ground. I chose the straps for ease of use and really like them.
Once you have the hammock connected to the trees you need to stake out two guylines, one in front and one in back. These spread the hammock out, giving more room inside and also stabilize it and keep it from swinging around.  
The Blackbird does not come with a tarp or rainfly so you will need to purchase one separately. Warbonnet Outdoors (manufacturer of the Blackbird) has some as do other vendors.  
Inside there is quite a bit of room. The Blackbird is cut with a footbox to facilitate lying at a diagonal. There is a good amount of room at your feet and by your head (I'm 6'1"). On the backside of the Blackbird is a shelf where you can stash extra clothing and a few items. You can't put a backpack in there but it is enough room for items you might need while you sleep. You can also hang items from the structural ridgeline and from the ends of the hammock where all the fabric is gathered.  
When using a good tarp you can have a lot of space on the ground underneath the hammock. There are even small hammocks you can purchase that hang below your main hammock where you can store stuff if you don't want the items to lay on the ground. I just put my stuff on the ground. I also use a carabiner to hang my backpack from one of the suspension lines connecting the hammock to the tree.  
One of the things I love about a hammock is how small they pack down. This thing packs down to the size of a Nalgene. A mid sized tarp can do the same and then you have your entire shelter system in the equivalent of two water bottles! It's also very light because it has no floor and no poles.  
I really like my Blackbird and recommend it to anyone who is looking for a lightweight camping system.
Source: bought it new
Price Paid: $200

This is my first hammock and I am completely delighted sleeping in it. It is very light, 24 oz, and I use it with the Edge tarp also from Warbonnet, 7 oz. Wish I had it last year on my AT 19-day hike. Very easy to find trees but not always level ground for my TT Contrail.
Pros
The beauty of the Blackbird is the roomy footbox, it lets you sleep in the diagonal for a flatter platform.
The built-in shelf is perfect for storing a headlamp cap etc.
Getting in is easy, just slip it under your butt and swing your legs up.
The 2 zipper closure works great and the no seeum mesh kept me bug free in the Fla. Everglades.
Cons
The only issue I had was my own inexperience with a hammock adjusting my sleeping bag when I entered. Practice will help that.
The Blackbird is extremely easy and fast to set up using the strap suspension system. Use 2 biners around the trees and stake out 2 guys and you are ready in 3 minutes.
I used the Warbonnet Edge tarp and stayed dry during a short shower at dawn. Plenty of ventilation between the tarp and the top line of the hammock. The top line is perfect to hang a small led lantern and to lift yourself up to adjust your body.
The system packs down to a small loaf of bread size. The material and build of the body and screen enclosure is first rate and heavy duty.
I have spent a total of about 20 nights in this hammock and almost hate to get up in the mornings.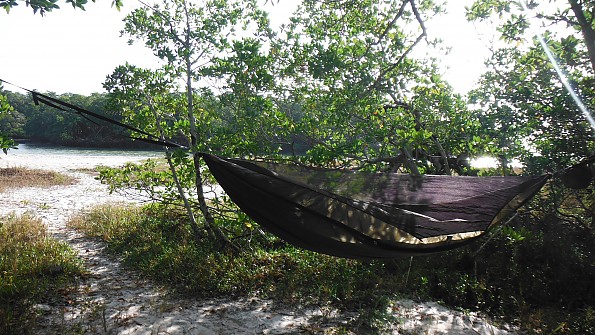 Source: bought it new
Price Paid: $175

Your Review
Where to Buy
Help support this site by making your next gear purchase through one of the links above. Click a link, buy what you need, and the seller will contribute a portion of the purchase price to support Trailspace's independent gear reviews.
You May Like
Specs
Single Layer Blackbird
Lightweight Double Blackbird
Heavyweight Double Blackbird
Price
MSRP: $155.00
Reviewers Paid: $100.00-$200.00

Max comfort range
up to 275 lbs
up to 275 lbs
up to 400 lbs
Max load
350 lbs
350 lbs
400 lbs
Weight
15.75 oz
1 lb 5.75 oz
1 lb 11.75 oz
Fabric
40D Nylon
40d Nylon Outer, 20d Nylon Inner
70D Nylon